A Closer Look at the MSI GTX 980 Gaming 4G
Click Images to Enlarge
MSI keeps their standard in place for the packaging but the front feels  a bit more cluttered as there are three at the top with 4 adorning the bottom left. Overall its nothing too bad but the cleaner look with product name like we have seen before is preferred. The rear carries the key spec detail and delivers messaging as to what to expect from your new Gaming 980.
Click Images to Enlarge
The included accessories are quite common with a  6 pin to 8 pin adapter and the standard fare, however one major inclusion is a Twin Frozr V mouse pad which is rather nice quality cloth style pad.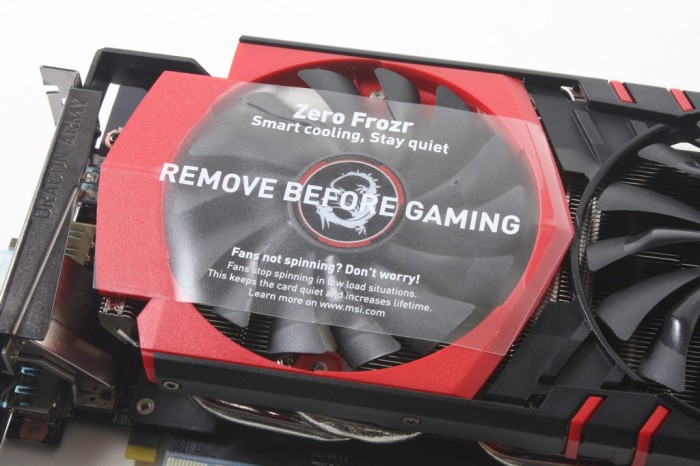 Click Images to Enlarge
The card when first opened wears a sticker on the LH fan to let you know about the Zero Frozr system which allows for no fan movement at all and passive cooling mode in most desktop environments with the heat only needing fan assistance to remove under heavier 3D loading.
Click Images to Enlarge
The whole card itself carries the strong new shroud design with the Red/Black halves and a full custom PCB design to ensure top quality and performance.

Click Images to Enlarge
The display connectivity is about standard for what we have seen on the Kepler based lineup
 DVI
1x HDMI
3x Displayport
This connector arrangement is the same as we saw on the reference GTX 980 and I do like it as displayport can adapt to virtually anything and since display port allows some massive bandwidth such as needed for G-SYNC there is no reason to complain about this arrangement unless of course you have multiple DVI displays with no display port or HDMI connections.
Click Images to Enlarge
The fan is the same dual pitched blade design we saw on the 970 with a single standard swept blade with a following blade carrying a dual curve which allows for excellent airflow characteristics with less noise which was very surprising as when I saw the blade pitch I figured for sure these would be some noise makers.
The IO plate has the Dragon Army name stamped in it to crate a feeling of exclusivity to gamers who buy it as MSI has made a pretty solid push of the gaming dragon and now Dragon Army.
The Gaming 980 employs dual 8 Pin PCIe power connectors which is much more than the dual 6 pin the reference card supplies and gives us a hint that this card may have some potential built in to utilize that extra power for some awesome overclocking performance.
Click Images to Enlarge
The top of the cooler has a MSI dragon which is backlit in a white color which shows really well in a windowed case, especially with a MSI motherboard both shining thru the panel.
the 980 Gaming is outfitted with dual SLI fingers for up to 3/4 way SLI should you feel the need to push a ton of graphics performance in your rig, or lets say 4K surround or something like that.
Stripping the card down we first see the cooler which has a solid plated copper contact plate which I like as it ensure consistent GPU contact across the whole cooler for maximum thermal transfer.
Click Images to Enlarge
On the card side you can see with the cooler removed the card still has the card stiffener/heatspreader which cools the memory chips along with a VRM cooler covering the power ICs to ensure maximum stability during extended gaming sessions.
The plates when removed you can see have good thermal contact with all cooled ICs which is solid because many times I have seen where these kinds of cooling solutions has some depression but to see it this solid really instills confidence that this part is very functional and not just an accessory or show piece.
When removed the card now completely naked you get a good glimpse at the SFP chokes along with the large VRM ready to easily feed the Maxwell GPU.
Click Images to Enlarge
Here we get a good shot of just the VRM and the top quality military class components also pictured here is the digital controller used to keep the card running good and stable.
Click Images to Enlarge
The fan header you can see is a much larger multi pin unit to allow independent control over each fan intelligently. This allows for the ZeroFrozr mode or even each fan to run at separate speeds to properly cool the areas as needed without excess fan noise.
the Memory employed for this card is K4G41325FC-HC28 which when decoding the end string 28 = 0.28ns (7000Mbps) or 7GHz effective speed for the ICs and with 7GHz memory its sometimes hit or miss as to how far it clocks so we will find that out soon.
Review Overview
Performance - 9.5
Value - 9.5
Quality - 9.5
Features - 9.5
Innovation - 9
9.4
The MSI GTX 980 Gaming 4G is an amazing card with performance, thermals and acoustics all taken into consideration for an amazing gaming experience!