SETTINGS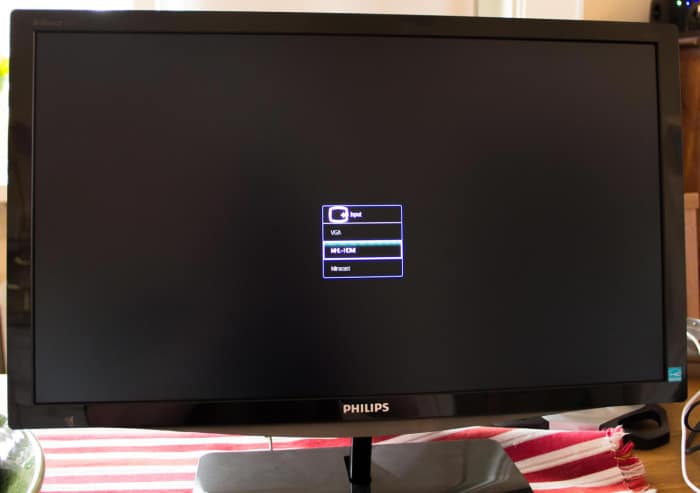 One of the front touch-buttons allows you to switch source. You can choose VGA, MHL-HDMI or Miracast. You can also directly get to Miracast via one of the other touch buttons.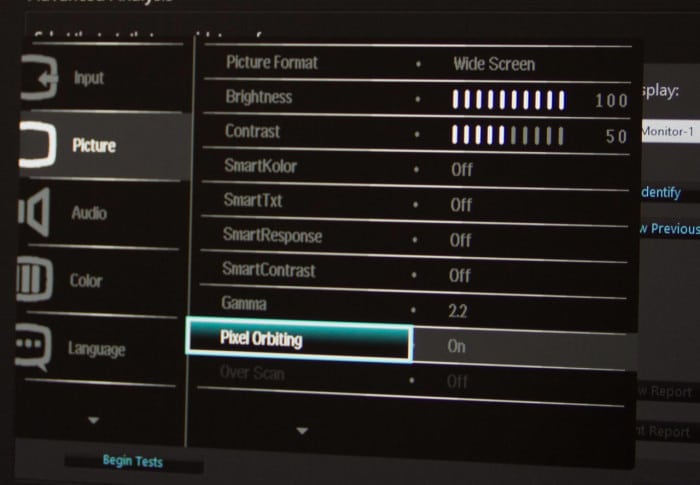 To get to the monitor settings you need to press one of the touch-buttons (the one to the far right). Already here we ran into an weird issue. If we did not have anything hooked up to the monitor we just could not get into the settings. All it allowed us was to set the language. We had to swith to Miracast or turn on a computer on any of the sources to have it actually pop up the settings menu. The settings available are:
Input (VGA, MHL-HDMI, Miracast)
Picture  Picture format, Brightness, Contrast, SmartKolor On/off, SmartTxt On/Off, SmartResponse On/Off, SmartContrast On/Off, Gamma; Pixel Orbiting, Over Scan, DPS On/Off
Audio (Volume, Stand-alone, Mute, Audrio Source)
Color (Colortemp – 6500K-11500K, sRGB, User Define – Red/Green/Blue)
Setup (Resolution Notification, Miracast Update)
We get a bunch of different settings that we can change including expected ones like brightness, contrast and gamma. There are also a lot of other special settings under the "Smart"-moniker that artificially tries to enhance the image. The Miracast Update-menu item is interesting. This starts a WIFI-AP on the monitor which you can connect to. You then access the setup of the monitor via the web browser.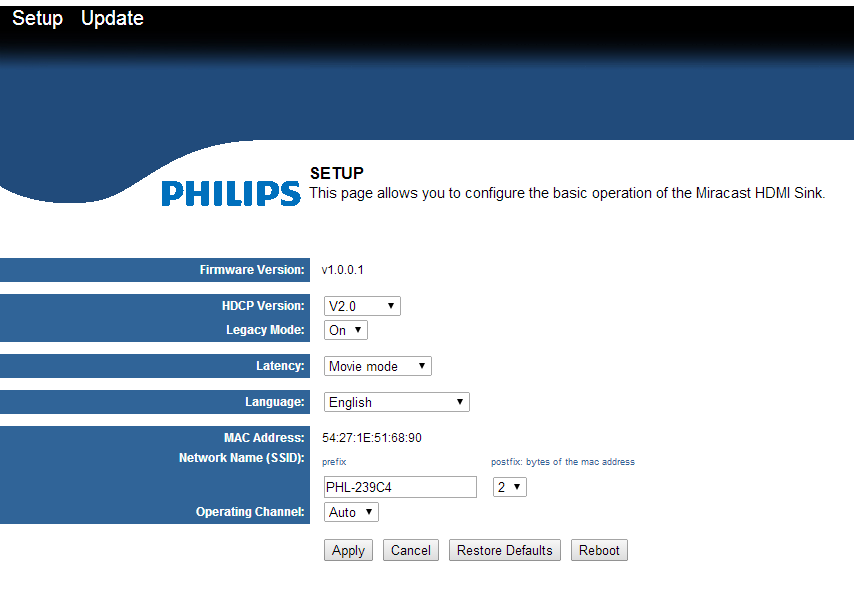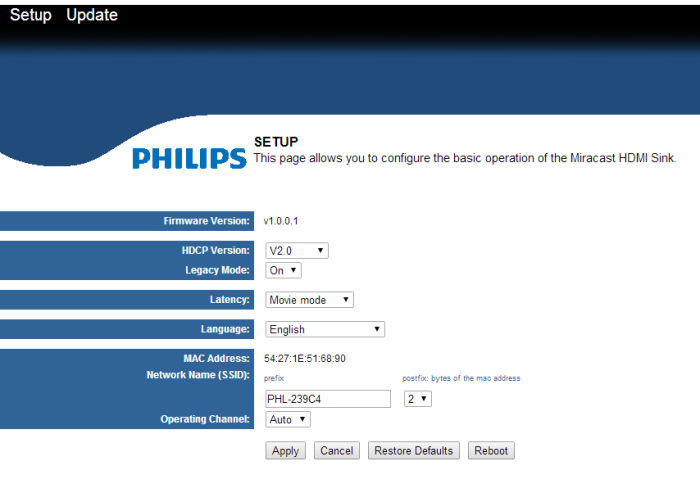 What we find here is the ability not only to update the firmware but even change the HDCP version between 2.0 and 2.1 or even turn it off. We can also change the Latency between Movie and Game mode although we have no idea what each of the settings means.
Let's talk Miracast
Before we get into the testing of the monitor lets talk about Miracast. Miracast is a standard that has been created by the WiFi-Alliance. It allows you to send media via direct WiFi-connection (no router needed) between two certified Miracast-clients and it supports up to 1080p HD video and 5.1 surround sound (AAC and AC3 are optinal but LPM-codec is mandatory).
Both the sending and receiving device needs to support Miracast and since there are not that many monitors and TV's that support Miracast yet there are adapters available to bridge the gap. Since the Brilliance  Blade 2 239C4QHWAB supports Miracast there is no need for an adapter.
Since Android 4.2 and later Miracast support is built it and Microsoft also has built in support in Windows 8.1. Apple of course does not support Miracast instead opting to supports its own AirPlay-feature.
Review Overview
Performance - 6.5
Quality - 7
Features - 7
Value - 6.1
6.7
The Philips Brilliance 239C4QHWAB is a thin IPS-monitor with good image quality and excellent viewing. It comes with Miracast-support which unfortunately does not work as well as expected.