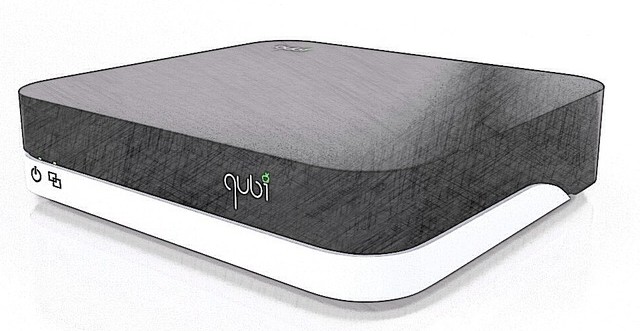 Kickstarter has seen their share of Android-based hardware asking for funds so you might wonder why we are talking about yet another. The reason is quite simple; the Qubi looks like a box that tries to find a nice balance between being a media center and still offer some nice gaming functionality.
if we look at what the box promises it is quite nice hardware, especially for a little media player:
Snapdragon 600 Chipset  
1.7 GHz Quad Core Krait CPU  
Adreno 320 GPU  
Full 1080p HD video decoding  
HDME-CEC  
1.4 HDMI Connection  
HDMI Passthrough  
16 GB storage
2 GB Ram  
Micro SD Expansion Slot  
Dual Band WiFi b/g/n/ac  
Miracast Capability  
Gigabit Ethernet 
Optical Audio  
1 x USB 3 Port  
3 x USB 2 Ports  
Bluetooth 4.0  
iR Receiver  
HD Audio Support Dolby & DTS  
Power plug with all region pins
The Snapdragon 600 is quote a bit faster than the Tegra 3 we find in the Ouya and the same that is used in the 2013 Nexus 7. Even more interesting is the promise of support for Google Play. It might sounds like something natural but for example the Ouya, the Gamestick and the MiiPC all use their own stores and do not ship with the different Google Apps, most probably because they never licensed them from Google. The Qubi also promises support for the Moga-controllers which should mean it could become a nice little game console too.
The campaign is half-way and it looks like Qubi has had some issues gaining traction so if you feel this could be interesting then head over and pledge. Currently you can get one a Qubi for $129 (+ shipping if you are outside US) and considering the hardware it sounds like a good deal, even if it won't be available until next year. 
As always using Kickstarter is NOT like pre-ordering a product. They might run into issues delaying the hardware or even making it impossible to build. Our own experience from countless of Kickstarter campaigns though is that while products might (will) be delayed you usually get a good insight on how much work it goes into building something and that you usually get something cool in the end. 
More information including some videos at their page on Kickstarter.