Testing Methodology
The OS we use is Windows 8 Pro 64bit with all patches and updates applied. We also use the latest drivers available for the motherboard and any devices attached to the computer. We do not disable background tasks or tweak the OS or system in any way. We turn off drive indexing and daily defragging. We also turn off Prefetch and Superfetch. This is not an attempt to produce bigger benchmark numbers. Drive indexing and defragging can interfere with testing and produce confusing numbers. If a test were to be run while a drive was being indexed or defragged, and then the same test was later run when these processes were off, the two results would be contradictory and erroneous. As we cannot control when defragging and indexing occur precisely enough to guarantee that they won't interfere with testing, we opt to disable the features entirely.
Prefetch tries to predict what users will load the next time they boot the machine by caching the relevant files and storing them for later use. We want to learn how the program runs without any of the files being cached, and we disable it so that each test run we do not have to clear pre-fetch to get accurate numbers. Lastly we disable Superfetch. Superfetch loads often-used programs into the memory. It is one of the reasons that Windows Vista occupies so much memory. Vista fills the memory in an attempt to predict what users will load. Having one test run with files cached, and another test run with the files un-cached would result in inaccurate numbers. Again, since we can't control its timings so precisely, it we turn it off. Because these four features can potentially interfere with benchmarking, and and are out of our control, we disable them. We do not disable anything else.
We ran each test a total of 3 times, and reported the average score from all three scores. Benchmark screenshots are of the median result. Anomalous results were discounted and the benchmarks were rerun.
Please note that due to new driver releases with performance improvements, we rebenched every card shown in the results section. The results here will be different than previous reviews due to the performance increases in drivers.
Test Rig
Test Rig
Case
Test Bench
CPUs
Intel XEON E5-2687W
Motherboards
ASUS Rampage IV Extreme
Ram
Kingston HyperX Beast 64GB (8x8GB) 2133Mhz 11-12-11 Quad-Channel Kit
CPU Cooler
Custom Liquid Cooling
Hard Drives
8x Western Digital RE4 2TB 7200RPM 3Gb/s Hard Drives (Raid 5)
SSD
3x Kingston HyperX 240GB SATA III 6Gb/s SSD
Optical
ASUS DVD-Burner
GPU

Nvidia GeForce GTX 760 2GB Video Card

Nvidia GeForce GTX 770 2GB Video Card

Nvidia GeForce GTX 780 3GB Video Card

Nvidia GeForce GTX 680 2GB Video Card

Nvidia GeForce GTX TITAN 6GB Video Card

Nvidia GeForce GTX 690 4GB Video Card

GeForce Drivers

320.14 (GTX 680, 690 and TITAN)  

320.18 (GTX 780, 770)

320.39 (GTX 760)

PSU
Thermaltake Toughpower XT 1475W Gold
Mouse
Tt eSPORTS Theron Gaming Mouse
Keyboard
Tt eSPORTS Meks G1 Illuminated
Synthetic Benchmarks & Games
We will use the following applications to benchmark the performance of the Nvidia GeForce GTX 760 video card.
Benchmarks
3DMark 11
3Dmark 2013
Crysis 3
Far Cry 3
Metro 2033
Unigine Heaven 4.0
Batman Arkham City
Dirt 3 Showdown
Metro Last Light
Sniper Elite V2
3DMark 11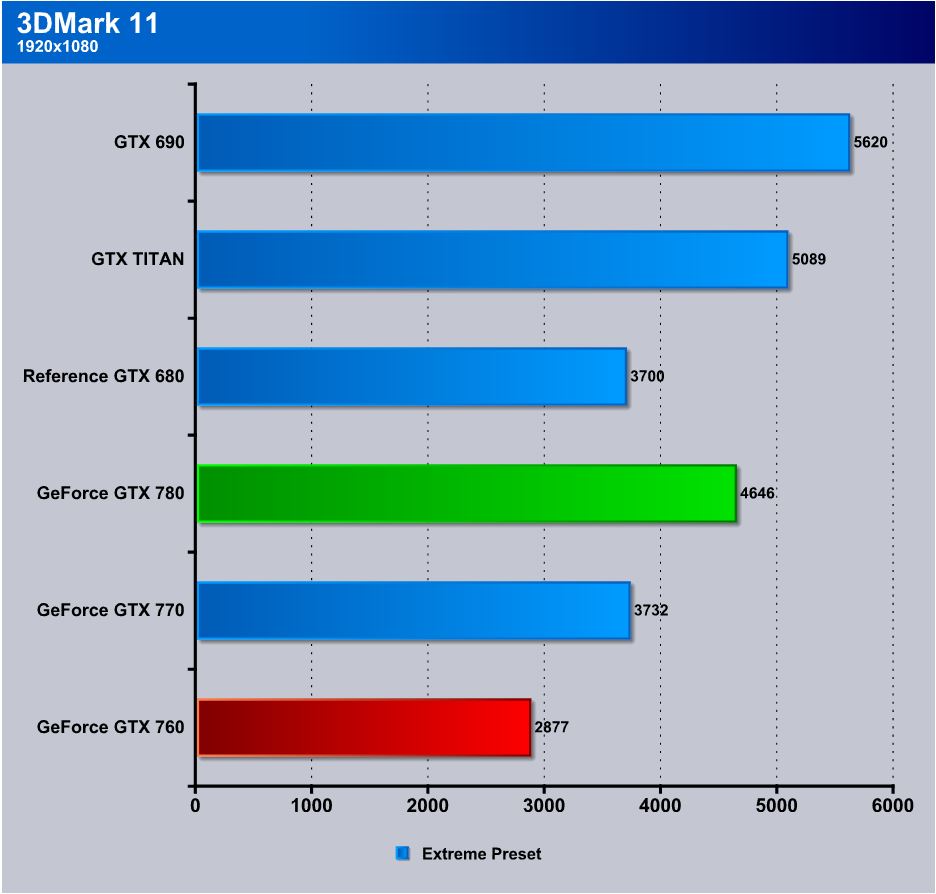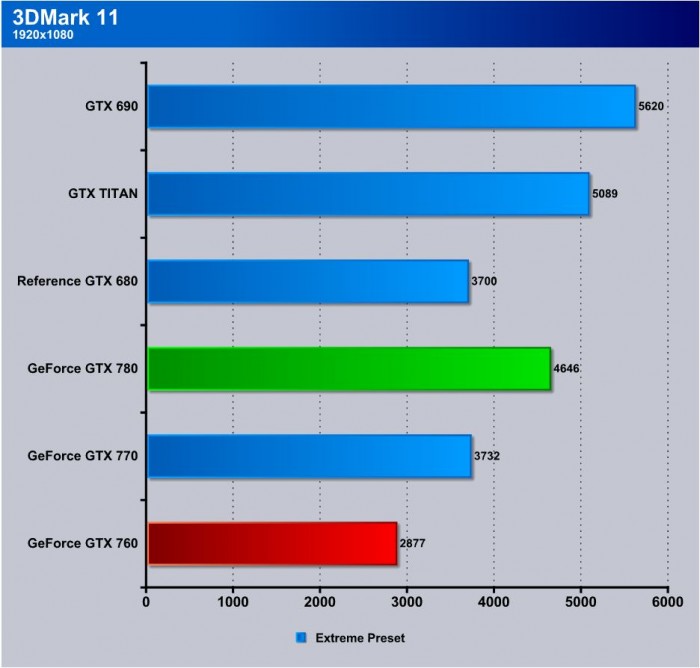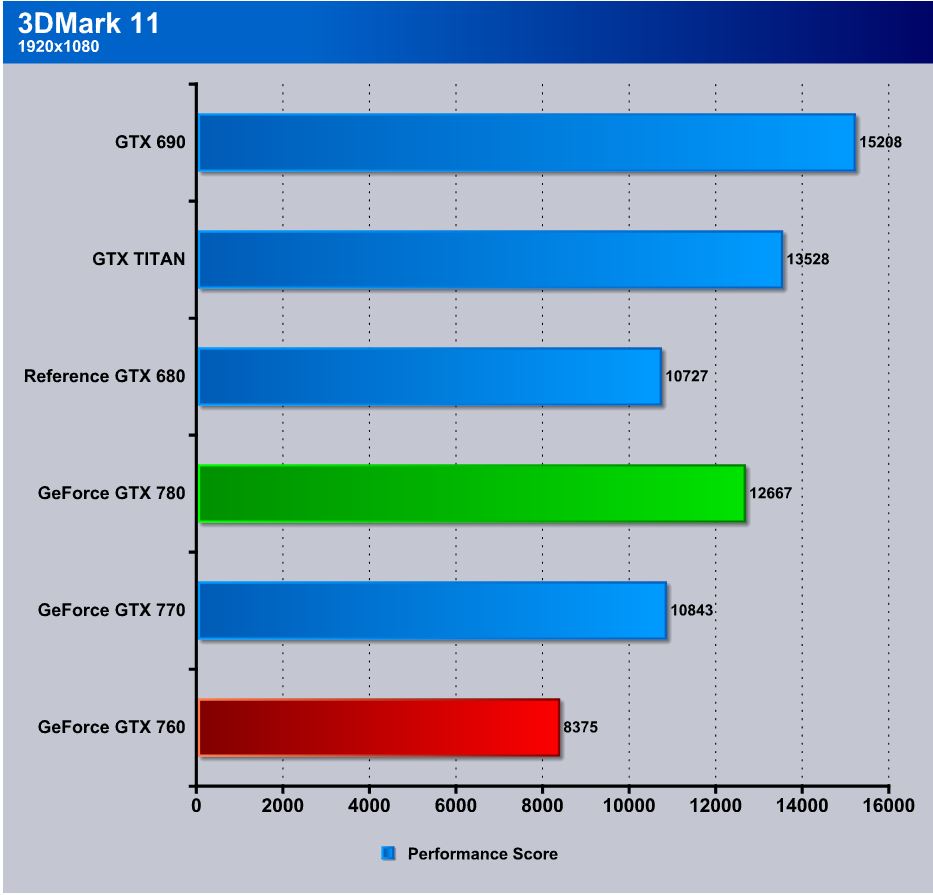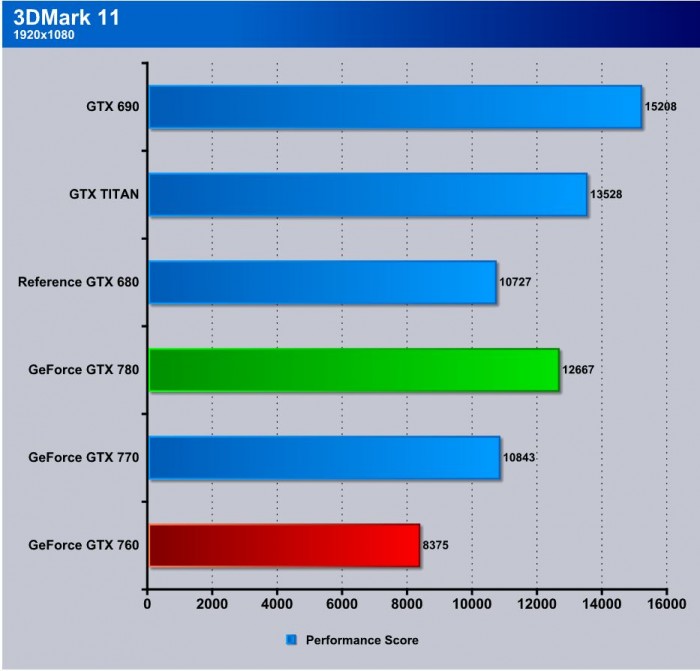 Here you can see the GTX 760 pulls a nice score but the 770 and 780 have a decisive lead and there is a definite divide between the two categories which leaves a big gap open in the line
3DMark 2013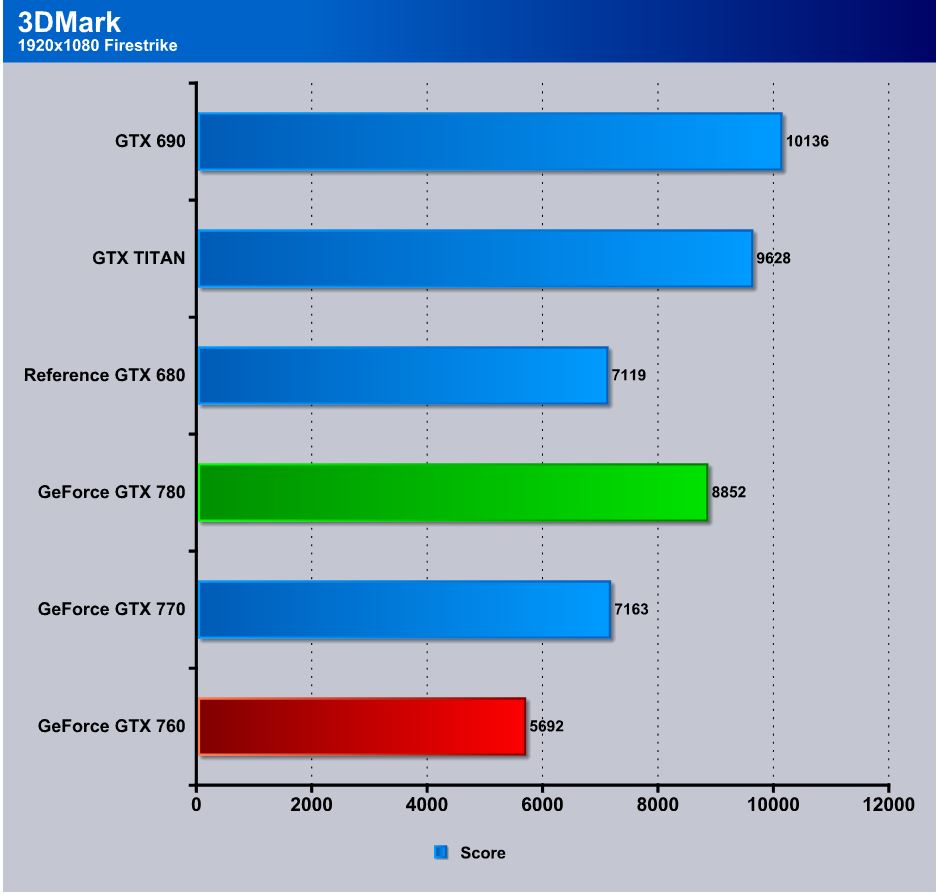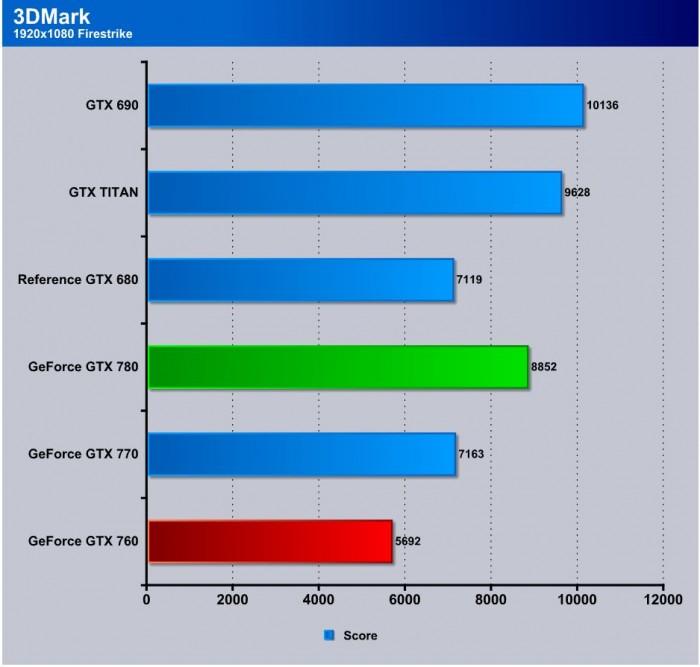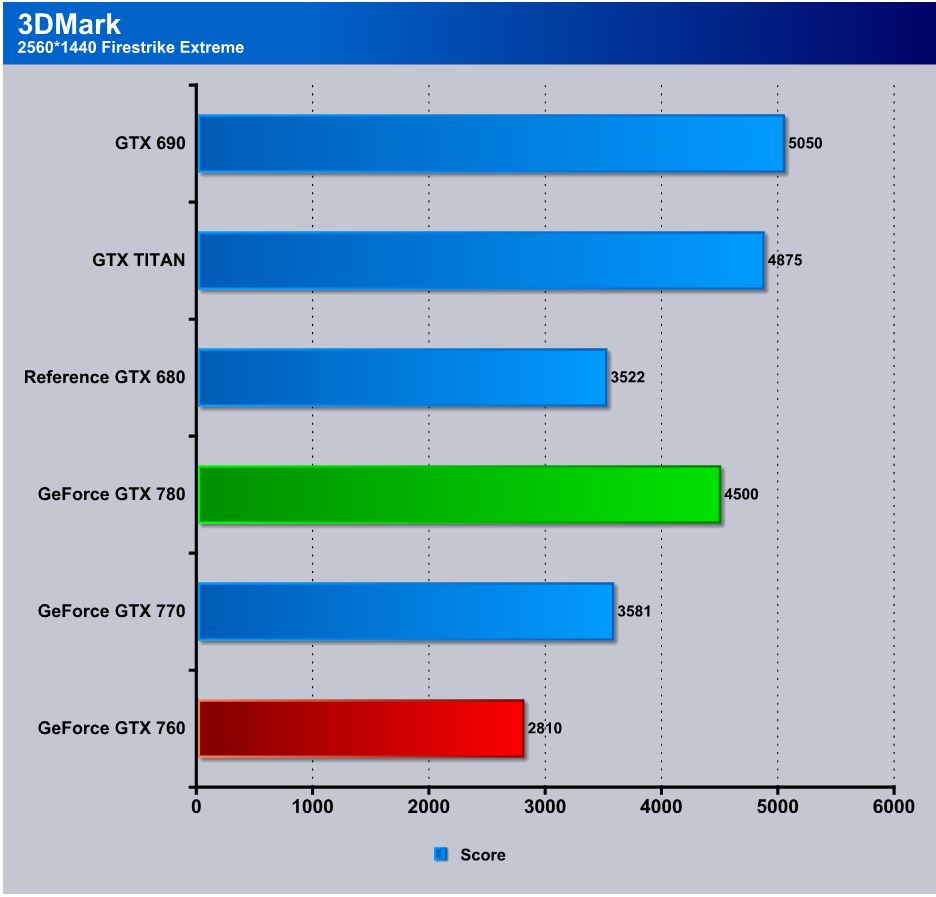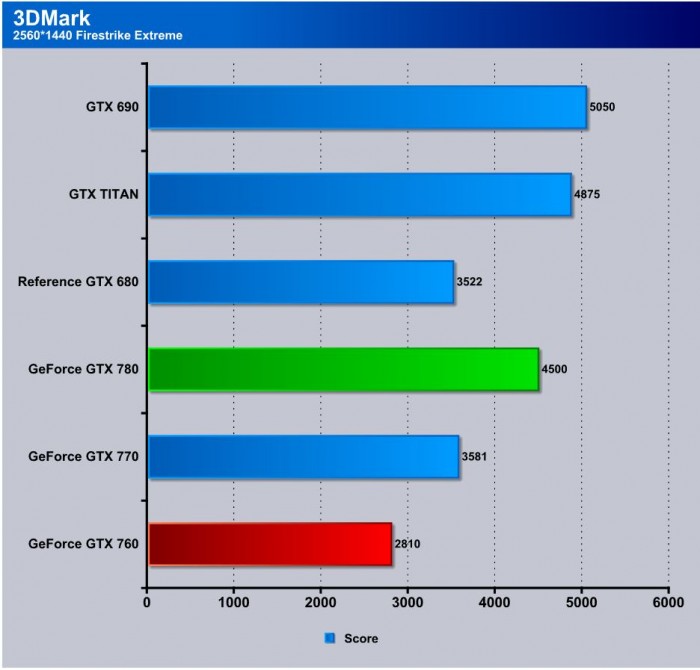 Here once again you see that the card pulls a respectable score but simply is outpaced by its faster big brothers. However, for 150 less this is a easily acceptable result.
Unigine Heaven 4.0

Unigine Heaven is a benchmark program based on Unigine Corp's latest engine, Unigine. The engine features DirectX 11, Hardware tessellation, DirectCompute, and Shader Model 5.0. All of these new technologies combined with the ability to run each card through the same exact test means this benchmark should be in our arsenal for a long time.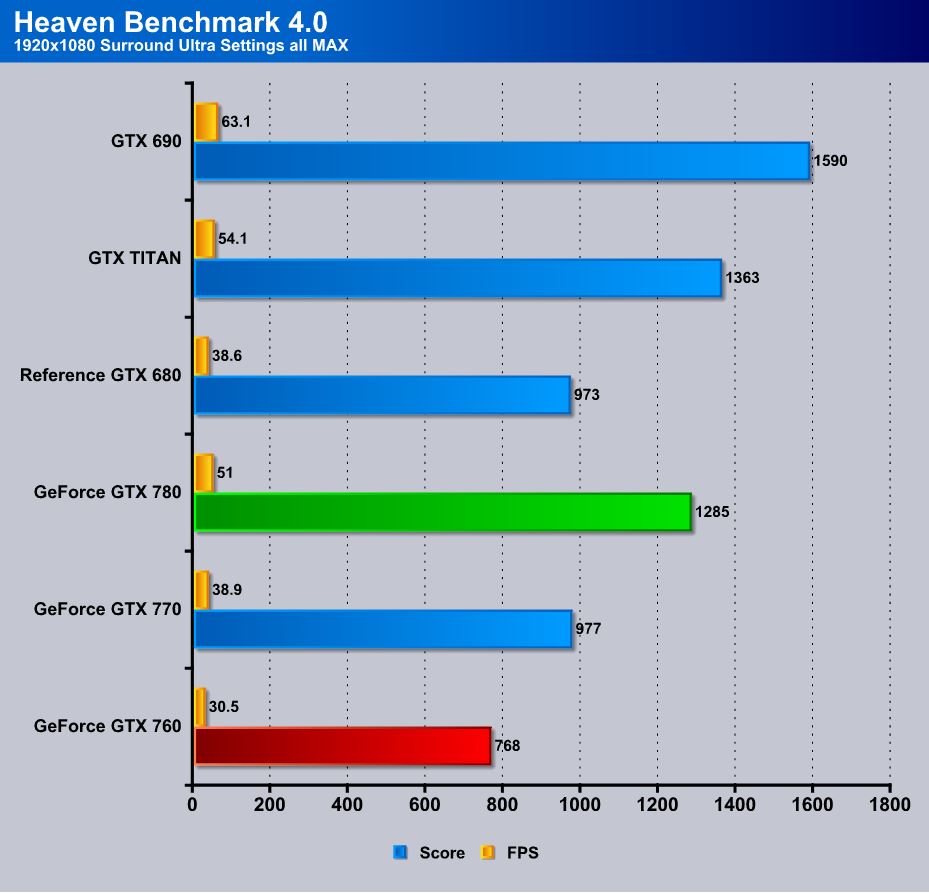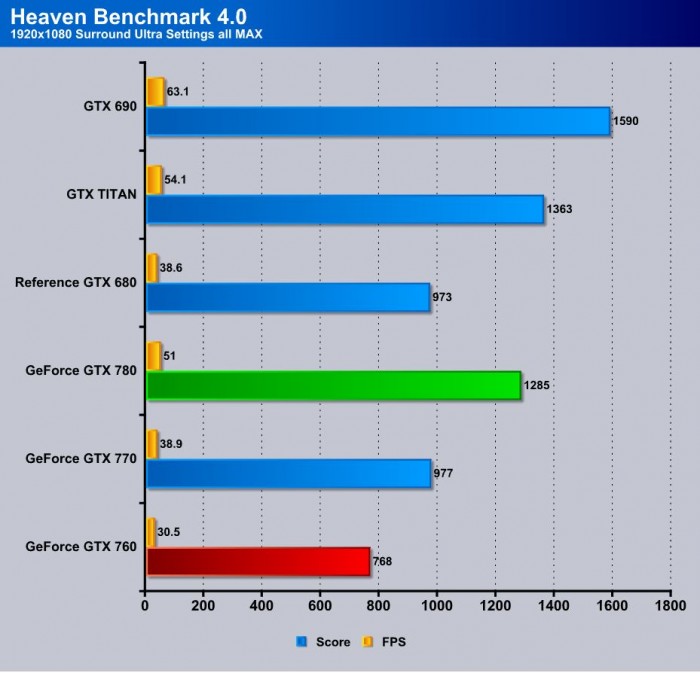 The fact that the 760 can pull over 30FPS average at all maxed out settings on heaven is a testament to the raw power available from the mainstream card since it is working with a GPU with much lower core count and even slower memory. Let us not forget that Heaven is super stressful.
Far Cry 3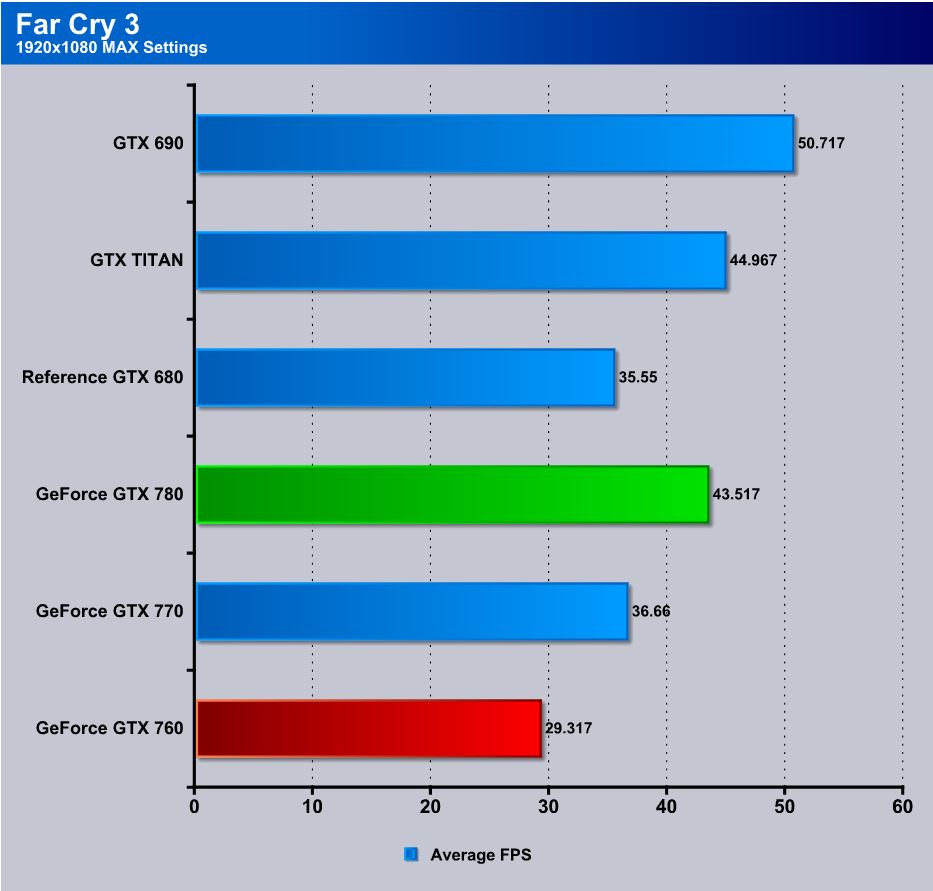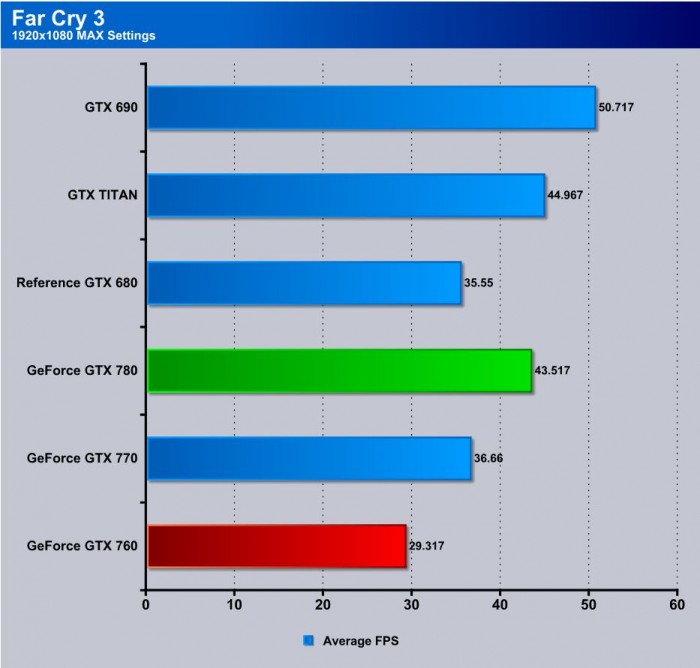 Moving over to Far Cry 3, we used a pre-determined path and re-ran each card to monitor average FPS across the complete run. Each run was completed multiple times to ensure continuity and accuracy. The 760 pushed but had some noticeable stutters so you would need to nudge down settings a bit to get playable, but once again for a single card under 300 dollars it can almost do the latest FPS titles on ultra settings is quite good.
Metro 2033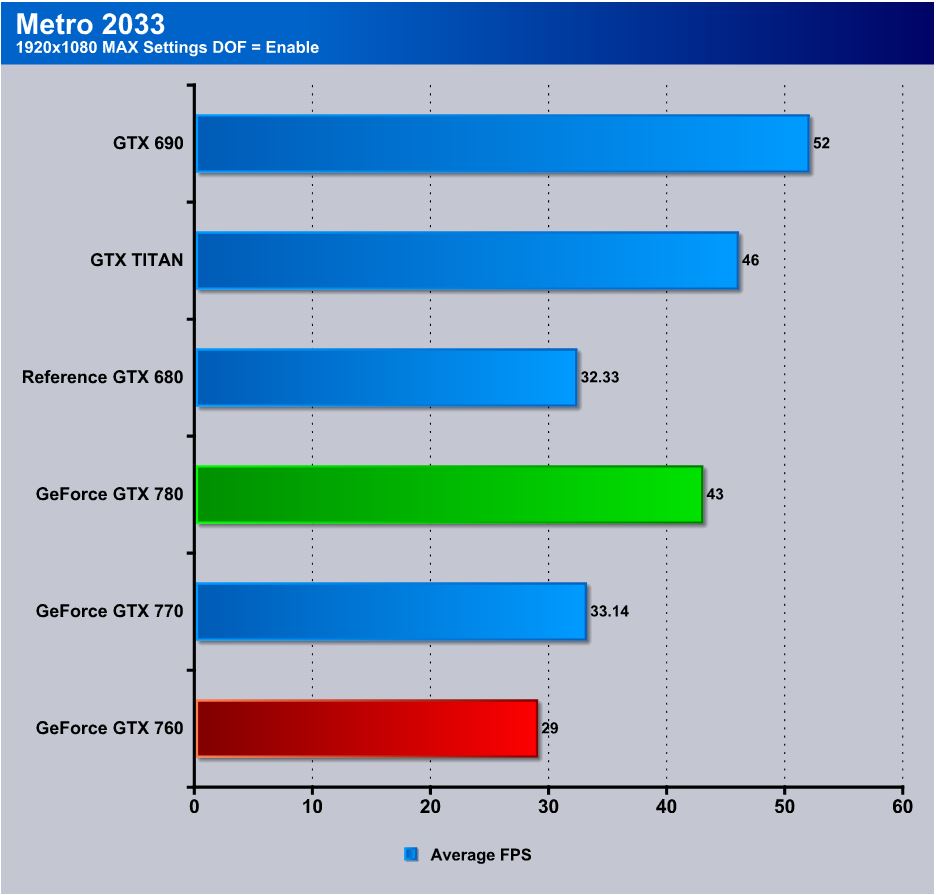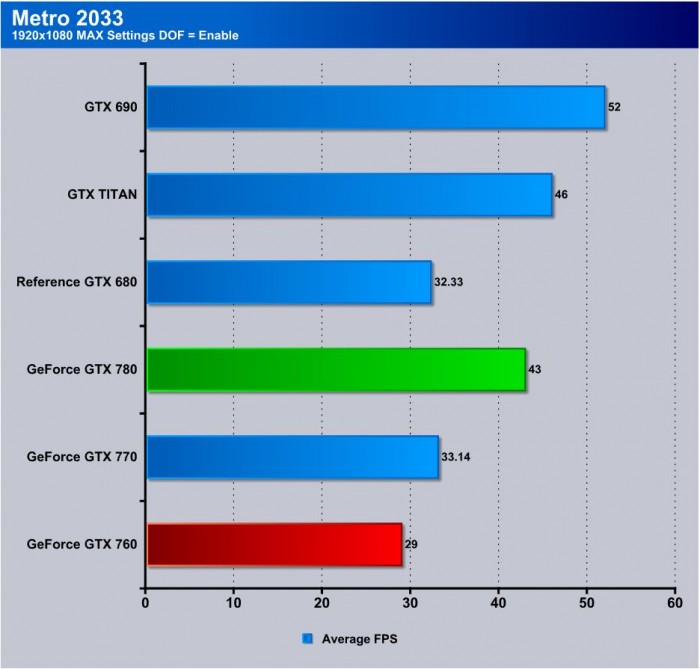 Even after many years, Metro 2033 is still one of the most demanding DX11 video games available to really push the limits of your system. Here we see the 760 fall just shy of 30FPS which really surprised us as this used to be hard on two flagship cards and now you have a mainstream card almost breaking 30FPS average.
Batman Arkham City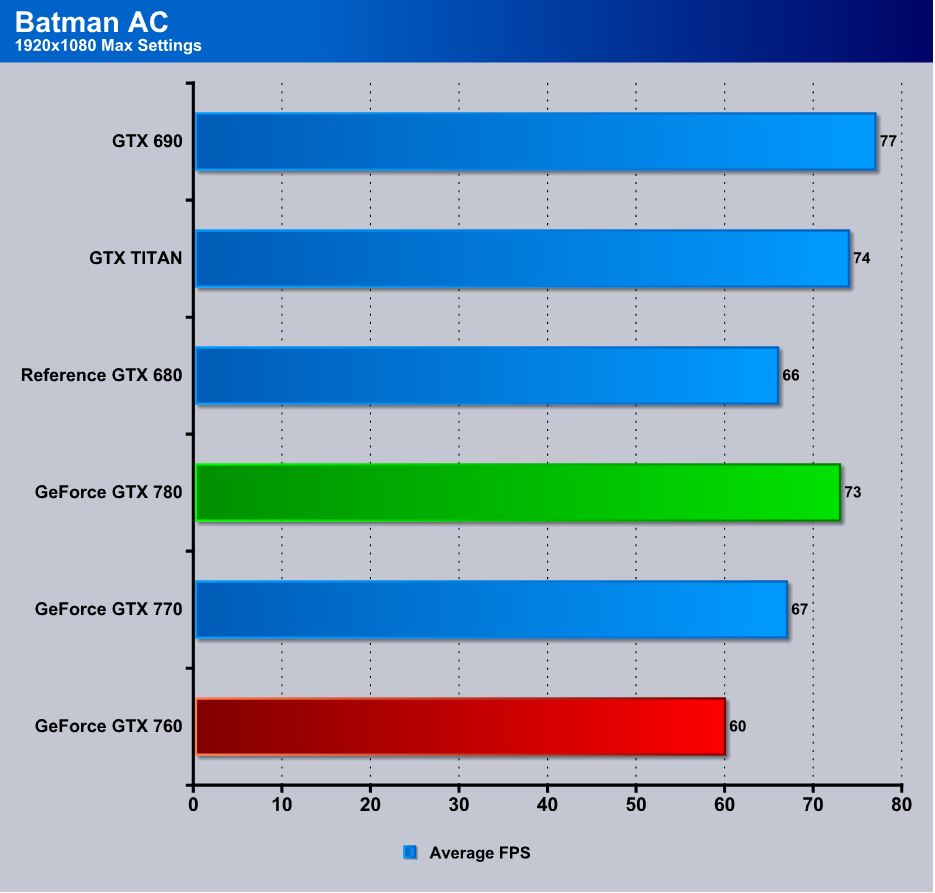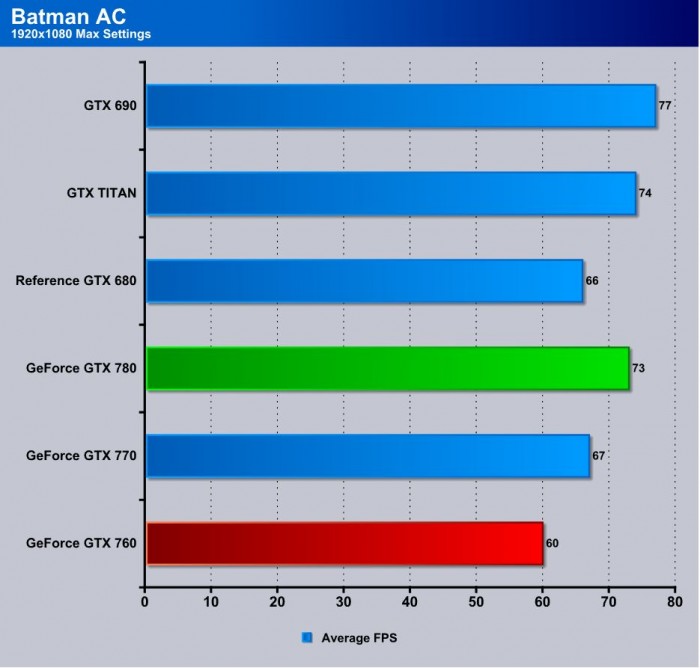 Batman Arkham City is a fun game and utilizes FXAA fully. It is nice to see the full screen anti-aliasing getting picked up by popular titles. The 760 here pulls in just 7FPS behind the 770 and 13 behind the 780 but it pulls an even 60FPS average which means it should be nice and playable at full max detail settings with a single 760.
Crysis 3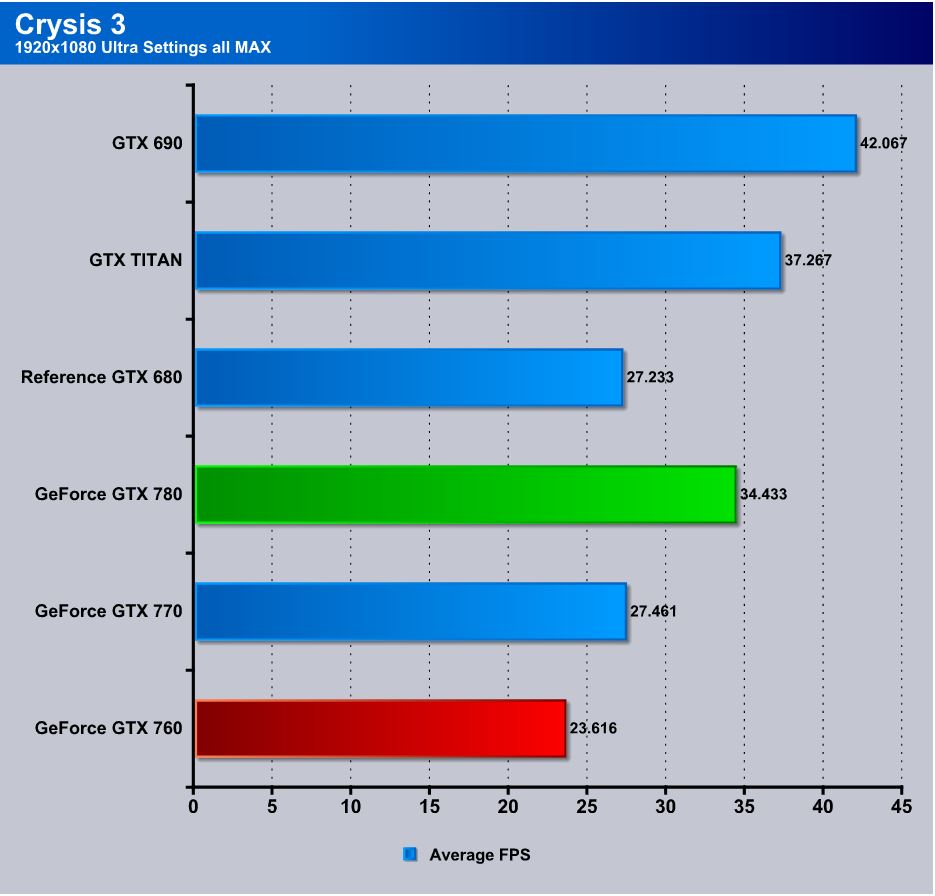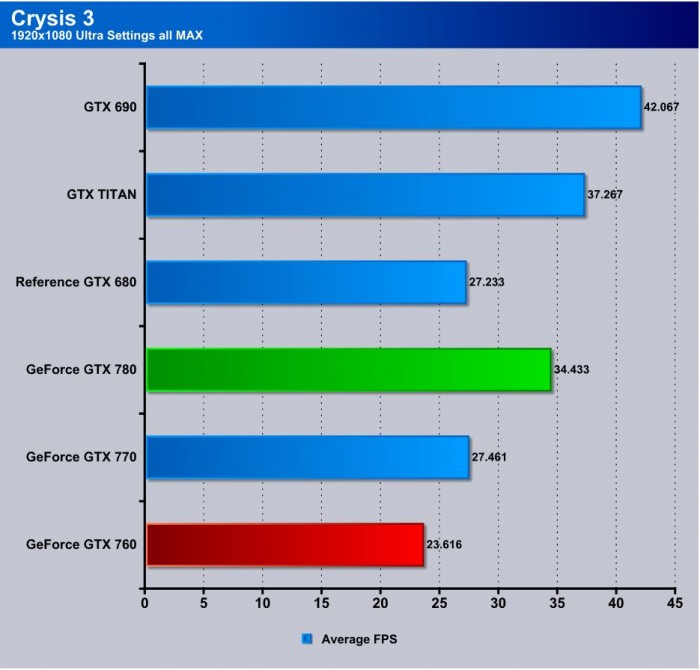 Crysis 3 is much like the original Crysis in that playing it at max settings is painful for even the highest end hardware. The GTX 760 starts to show it here as it simply cannot keep pace at max settings which does not surprise us since the 770 pulled sub-30 FPS numbers as well. For the best performance, you might have to tweak some AA down.
Metro Last Light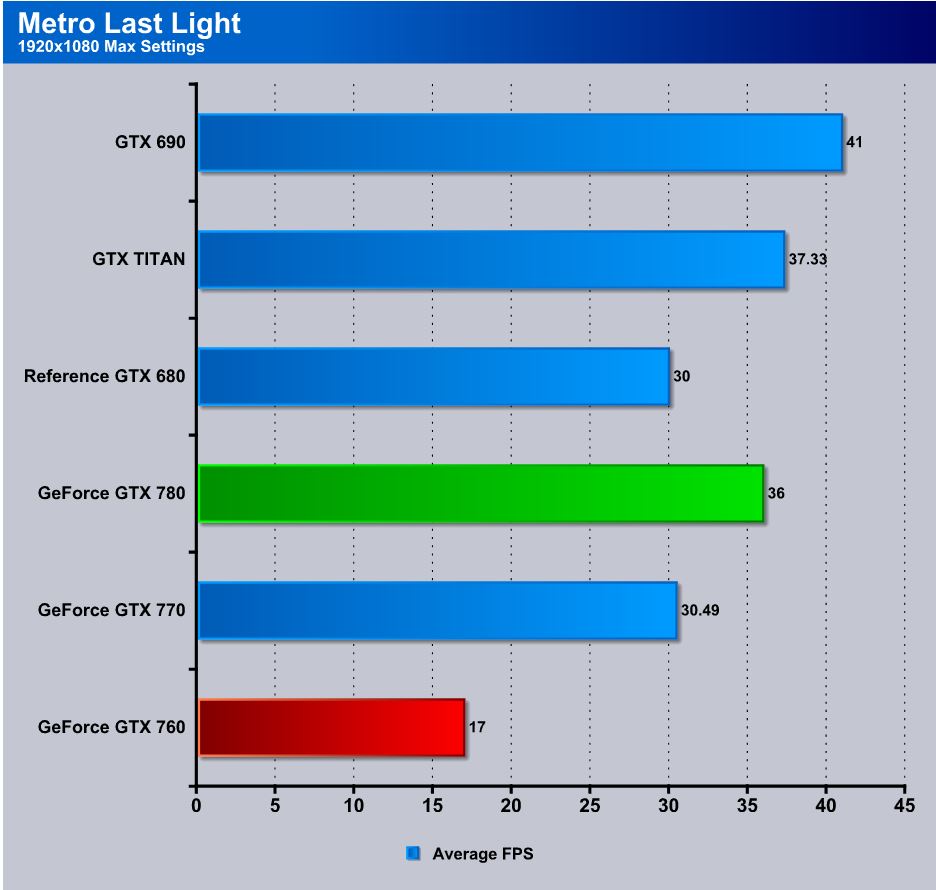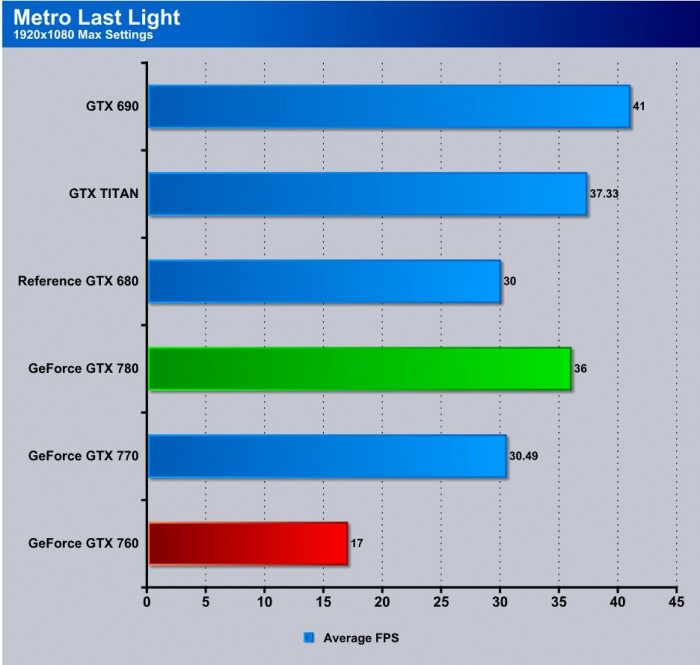 Here we have Metro Last Light which is a brand new game added to our testing platform as it just came out. If you thought Metro 2033 was stressful, you have seen nothing yet. The particles and lighting, as well as the PhysX effects all add up to an amazing looking game that can put a stun even the most powerful system in its tracks. The 760 is simply out matched here and would need some help by either dropping settings or adding a second card.
Sniper Elite V2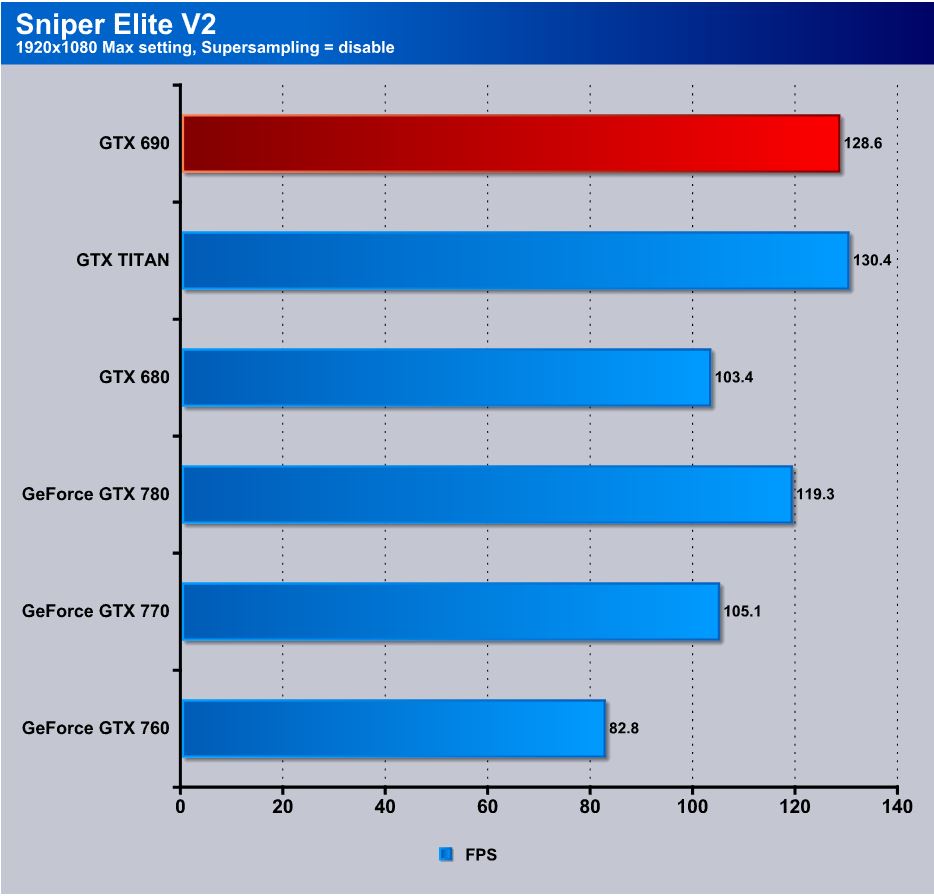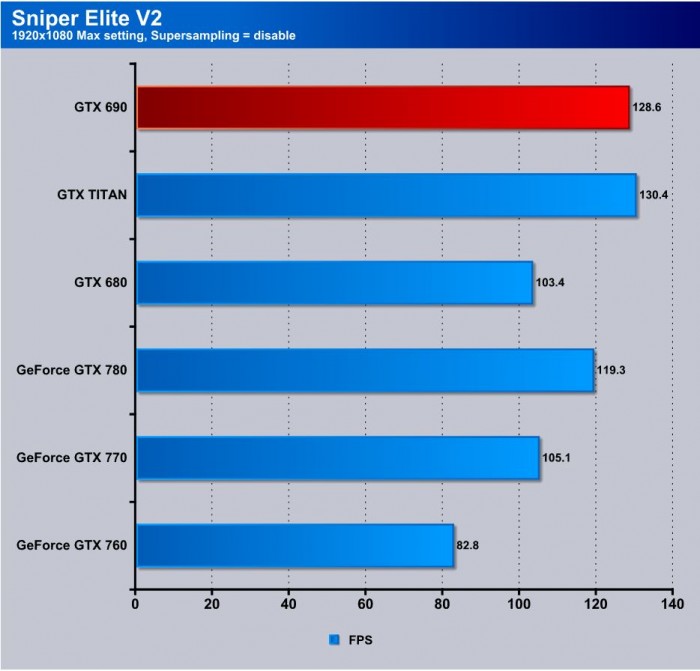 Sniper Elite V2 is a fun game which, when first released, was quite stressful but still playable on most higher end cards. By now, most cards have surpassed it, and all of the cards we are testing here today break the 100 FPS mark. The 760 pulls a over 80FPS average which is more than playable but once again you can see a clear gap between it and its bigger brothers.
Dirt 3 Showdown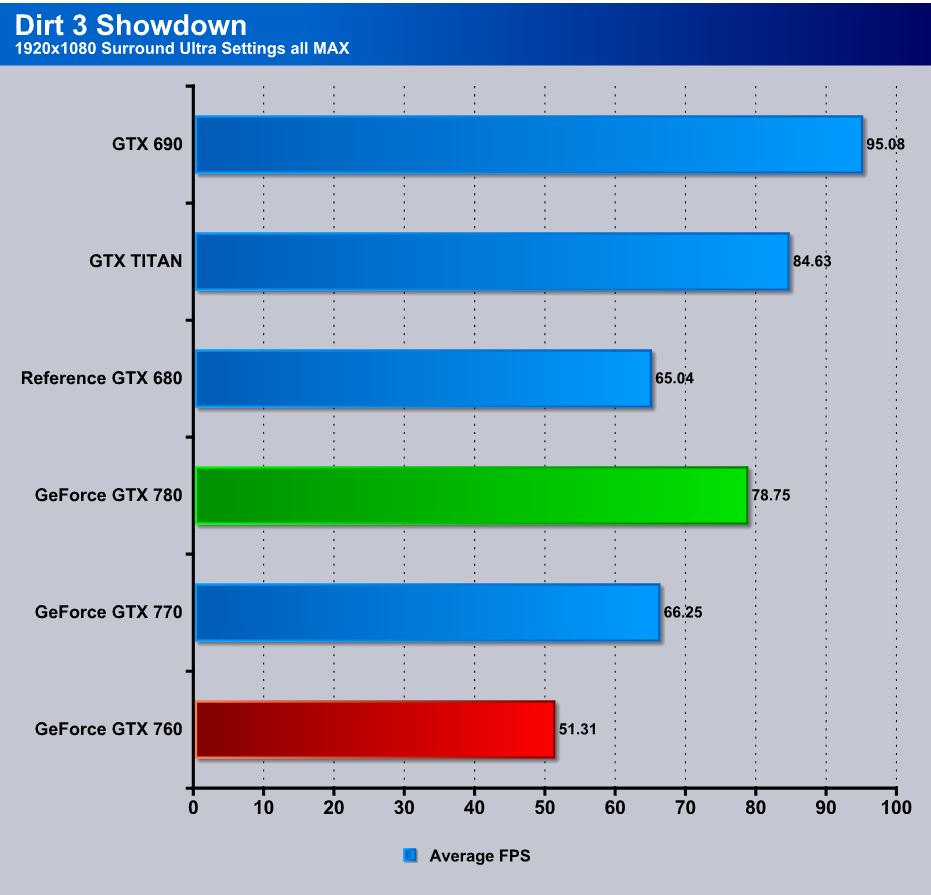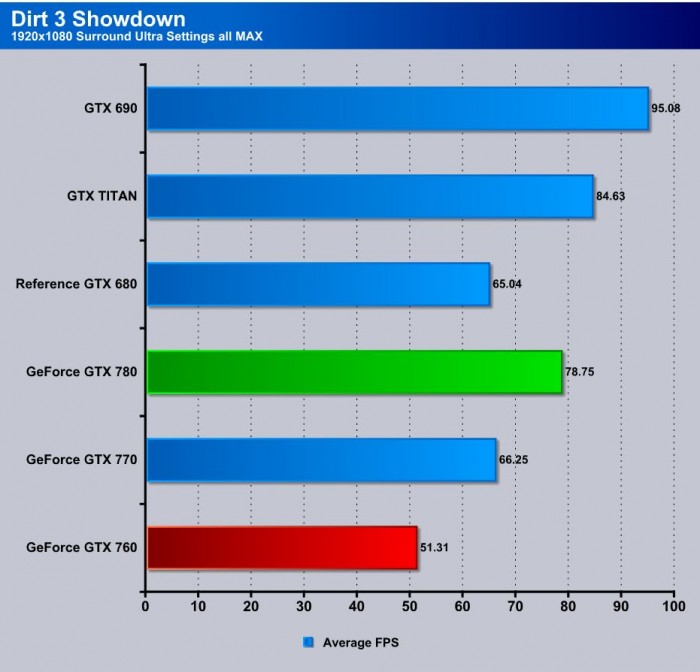 Dirt 3 Showdown is a visually beautiful game with excellent lighting and overall motion blurring creating a real visual spectacle of a game. The 760 pulls a very good showing while it drops below the 60FPS average it still is far above 30 and even the minimum observed was 28FPS which means that stutters are basically non existent at maximum detail.
Overclocking

The new Kepler Architecture with GPU boost has been a bit of a bear when it comes to pushing the clocks. This is due to the throttling mechanisms put in place and the fact that it dynamically clocks. Unlike 500 series where we could set a static clock and it just applied the card, Kepler clocks according to many variables, which means that much more care must be shown when applying overclock settings and even monitoring it during the run.
Things such as the thermal target can play a big role in stonewalling your performance during an overclock session, as everything has to be adjusted accordingly to ensure expected performance levels are met.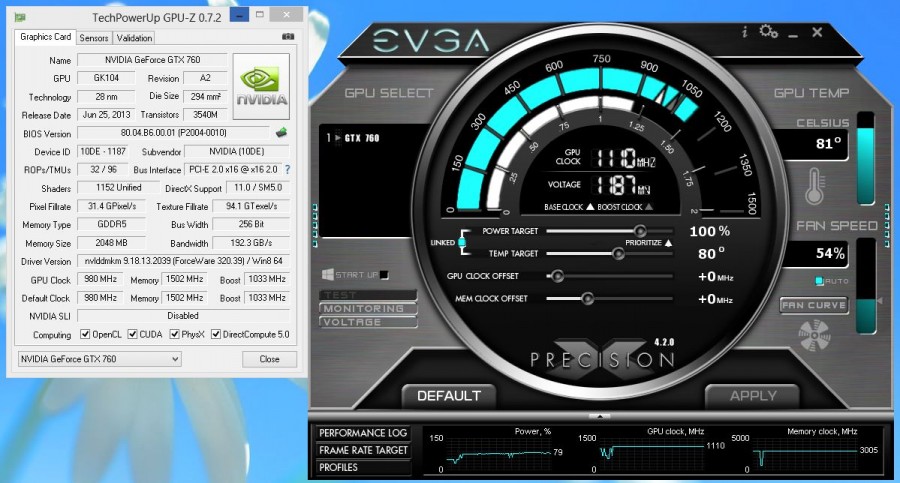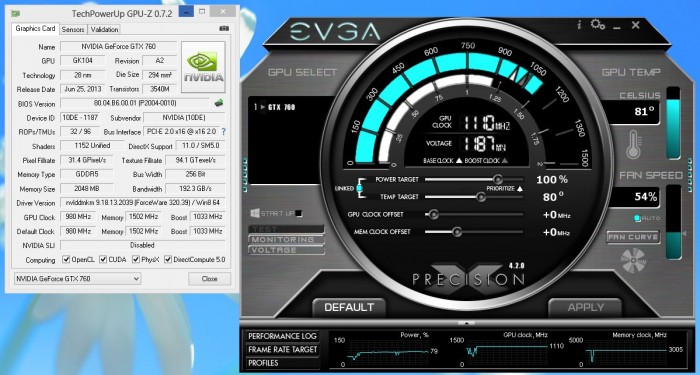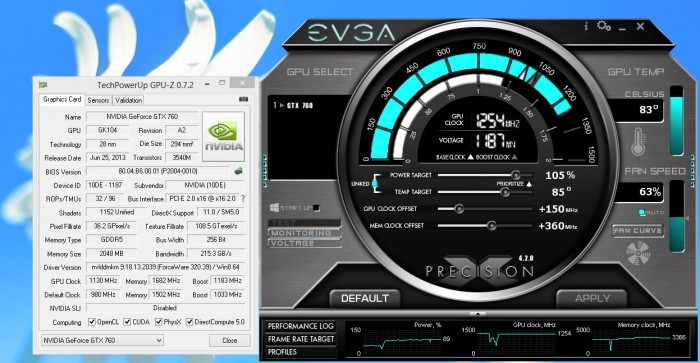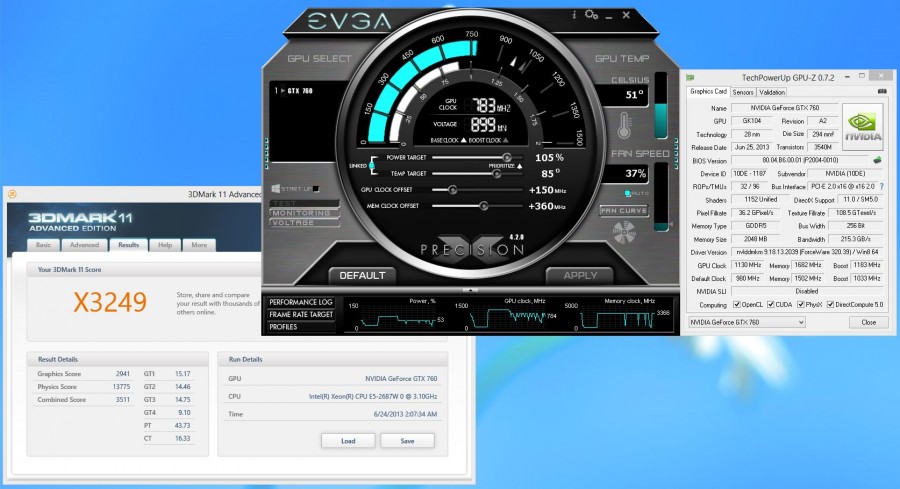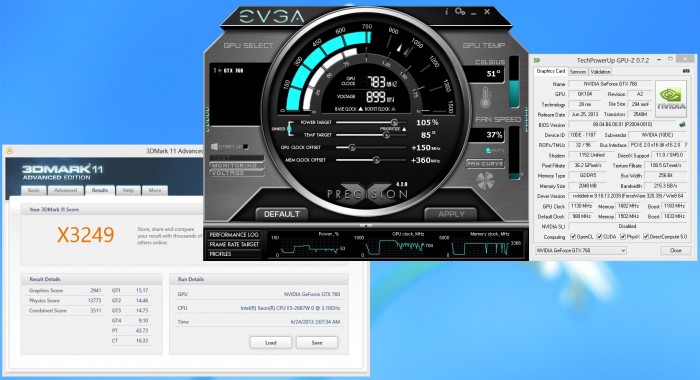 The 760 clocked as well as we could expect from the GK104 core pulling a consistent 1254 Boost clock with the only adjustment being 85C thermal target adjustment. This allows for a sizable jump in performance along with an overall much more powerful card. Even with the thermal target set at 85C, the maximum we saw the card at was 83C GPU temp and that was only for small spikes with most of its time being spent around 80C. This makes us wonder whether an aftermarket cooler would open up more headroom for overclocking, or whether the GPU simply needs to be at cold past this point.
The memory was around what we expected, peaking at around 6728MHz, which is not bad but we have seen it get higher. Now if we could get that on a 4GB model that would be awesome, as some games are starting to tap and exceed the 2GB framebuffer usage mark.
Overall the card as you can see gave off a decent gain in the Xtreme preset with the overclock which says a lot for the capability of the card given you take the time to tweak it up.
TEMPERATURES

To measure the temperature of the video card, we used EVGA Precision X and ran Heaven Benchmark in a loop to find the Load temperatures for the video cards. The highest temperature was recorded. After looping for 10 minutes, Heaven was turned off and we let the computer sit at the desktop for another 10 minutes before we measured the idle temperatures.
| | |
| --- | --- |
| GPU Temperatures | Temperature (Idle/Load) |
| Nvidia GTX 690 | 32C/81C |
| Nvidia GTX TITAN | 31C/67C |
| Nvidia GTX 680 | 31C/72C |
| Nvidia GTX 780 | 30C/65C |
| Nvidia GTX 770 | 34C/79C |
| Nvidia GTX 760 | 31C/78C |
The reference shroud cooler does a good job keeping thermals at bay but we really do wonder how much better a third party cooler will perform in comparison. We have seen as much as 8-20 degree drops with some of the cooelrs out there so keep your eyes peeled for the upcoming ASUS GTX 760 DCII OC review
POWER CONSUMPTION

To get our power consumption numbers, we plugged in our Kill A Watt power measurement device and took the Idle reading at the desktop during our temperature readings. We left it at the desktop for about 15 minutes and took the idle reading. Then we ran Heaven Benchmark for a few minutes minutes and recorded the highest power usage.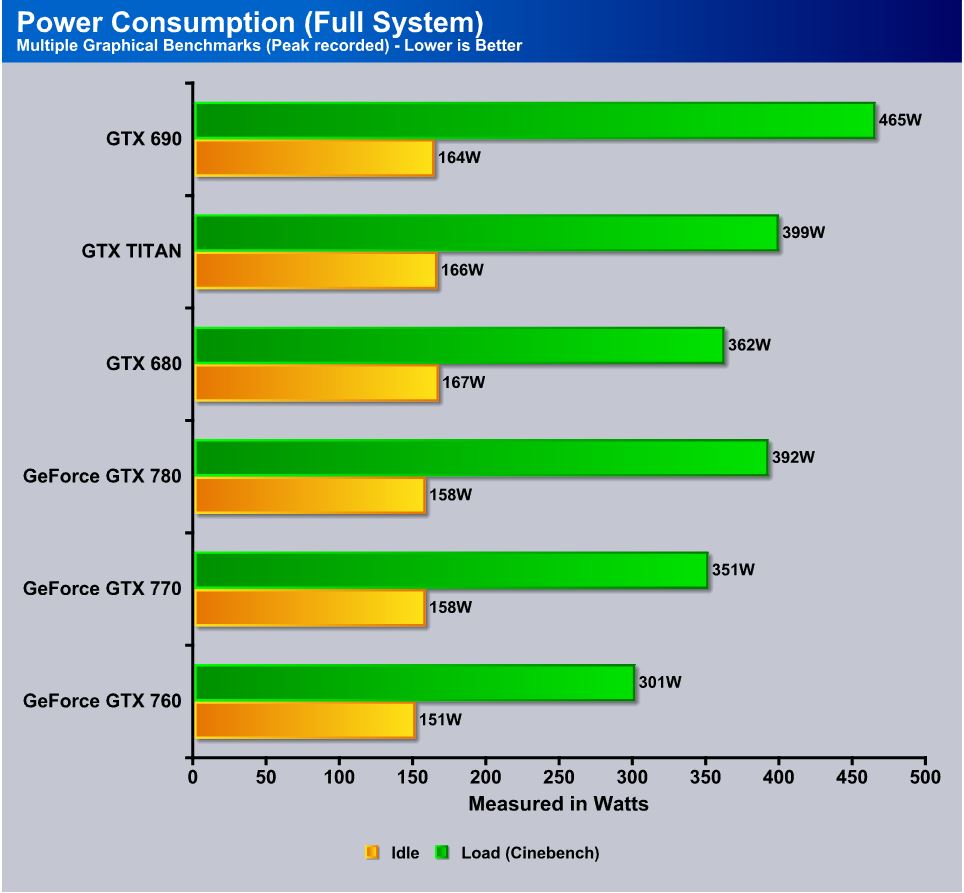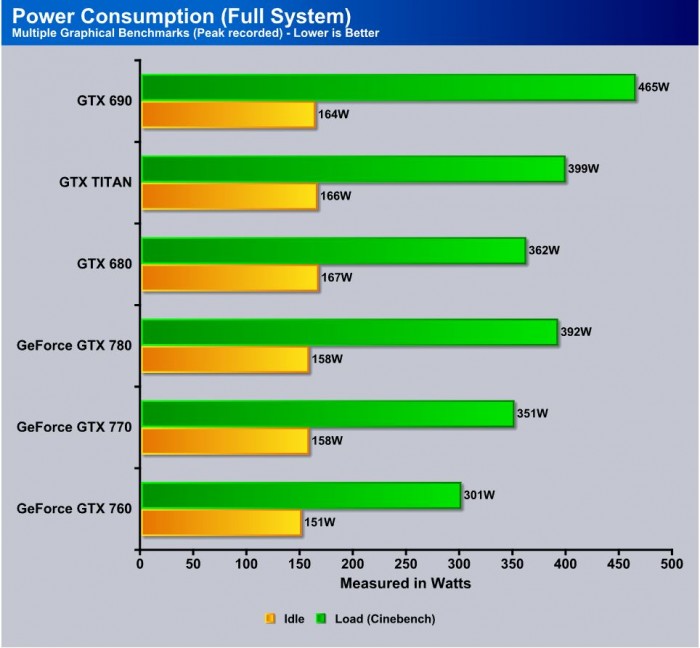 Here you can see the GTX 760 pulls similar idle power as the Kepler GPU is simply very power efficient at Idle, but under load it definitely pulls quite a lot less at 50W less than the GTX770. This is quite the saving, but then again it has less of a GPU to feed when loading up so it makes sense.
Our Final Thoughts
Following the 780 and 770 launch, the 760 slots itself in a comfortable space in a very popular price point which means this could be a midrange killer. Also don't forget that the 660 Ti is not going away and therefore it just solidifies coverage of the mainstream market.
The overclocking of the GTX 760 is very good, almost hitting 1300MHz on the core and 6.8GHz on the memory. This should allow for a nice bump in any games that may be at the edge of performing well such as Metro 2033 which was right at the edge of averaging 30 FPS. Overclocking both the GPU and memory should net a very good performing card especially if your card gets around 1250 core like this one did. This card has great potential for an SLI setup–a 3-way setup with this card would still cost less than a GTX TITAN.
In the case of the 700 series we will say that the software advances are a big plus here as the GeForce experience is now out of BETA and on its way to official support. Adding to this the imminent Shadowplay feature, the aptly named GeForce Experience truly will open a whole new venue to how you experience your GPU and gaming platform. The auto optimization of games alone is huge, as who better to tune your GrForce card than the guys at Nvidia.
Supplementing the GeForce Experience is also the new Shadowplay feature, which gamers should see popping up in the coming months. It allows gameplay recording at HD quality while using the embedded H.264 encoder within the Kepler GPU to allow real-time encoding operations for smaller file sizes and less overall system load during gameplay. This is a really cool feature, as disk space is at a premium for those gamers running a smaller SSD. Having a fast drive to constantly write video data to is a must, so if you use a standard option such as FRAPS, you know how quickly those video files can eat up space.
The GTX 760 comes in at an MSRP of $249, with partner cards likely surfacing in that range and maybe a bit more for 4GB models. This places it in a real sweet spot for many gamers who are always looking for a good price/performance value from their graphics card.