We are featuring the exceptionally large 64GB HyperX Beast kit today. If that doesn't spark your interest, this kit runs at a blazing 2133MHz for extreme enthusiast systems. Continue reading for more…..
Introduction
Kingston RAM is known worldwide as a leader of high performance and value modules. The going buzz is that if you buy Kingston RAM, you are getting the quality you deserve. Although the enthusiast market is pretty niche, they realize catering to their needs is a must. The HyperX lineup has been known as a high performance lineup to bring the best performance at a great cost. Kingston decided that wasn't good enough, and introduced their HyperX Beast line. These kits are expected to go above and beyond for the extreme enthusiast with their high capacities, sleek looks, and blazing speeds. The Beast lineup also boasts a high quality heat spreader to maximize cooling efficiency, and give a sleek but slightly low profile look. This kit specifically brings enthusiasts a high amount of RAM at a high speed for any kind of special purpose you can think of like high performance computing, high RAM usage productivity, or even a high speed high capacity RAMDisk.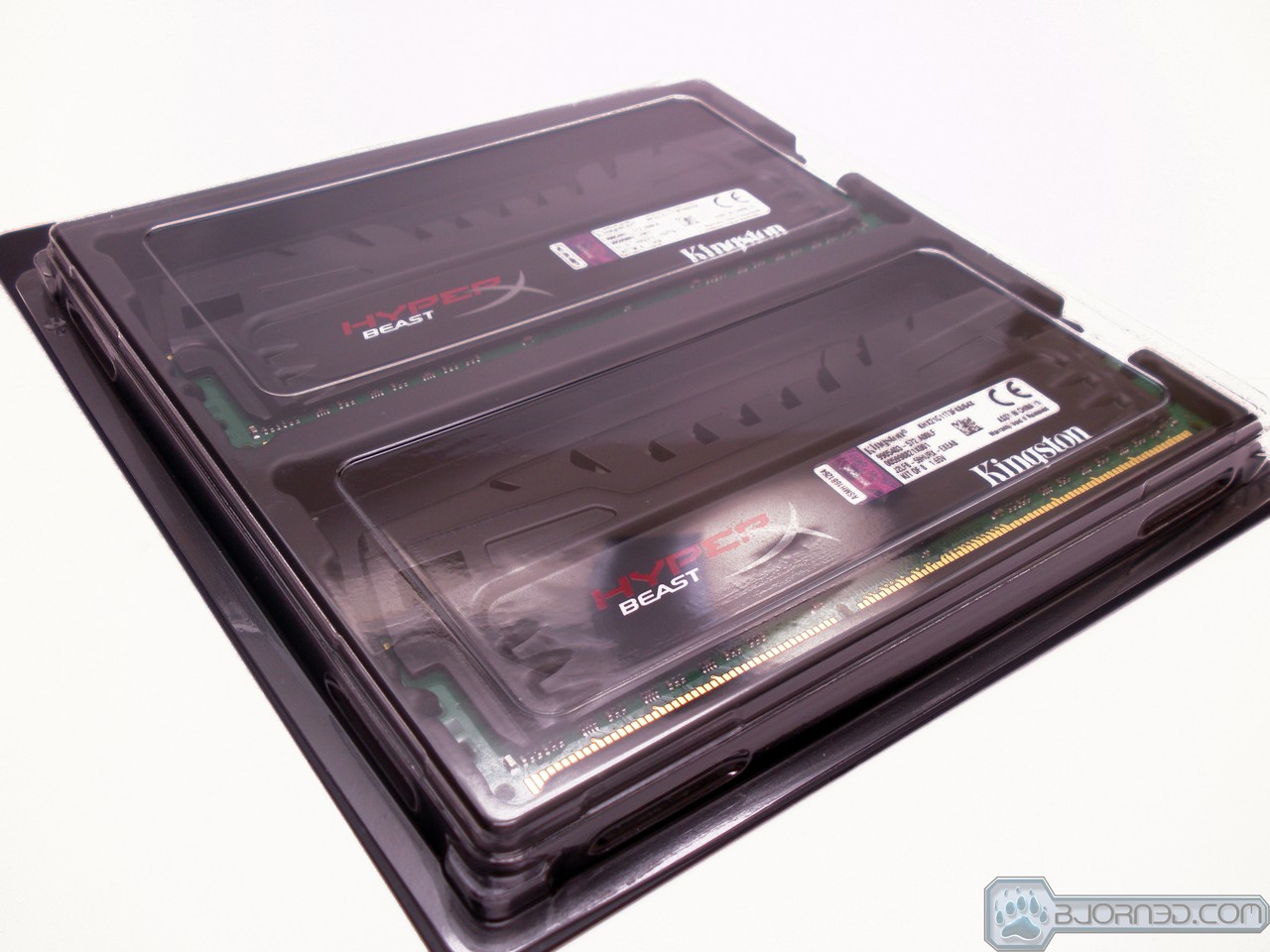 With all high end kits meant for enthusiasts, buyers once had to balance the need for speed over size. However, this is no longer the case. Most gains are marginal when dealing with such high speed RAM, as the memory bandwidth of a typical 1600MHz kit is fine due to the extremely efficient IMC found in Intel's newer processors. We as enthusiasts tend to ignore this though, as we like to overclock our processors to take advantage of these higher speeds. This kit is most definitely for you, especially if you intend to fully utilize the sheer size and capability of this particular kit.
As of writing the 64GB 2133 Beast kit is a whopping $619, and it's even out of stock which should tell you one thing. It comes with not only all of your RAM, but also 2 of Kingston's high performance LED fans to keep your kit cool. Besides that, they just look awesome sitting atop your RAM and illuminate your case with a nice blue glow. Sounds like a bargain to us, so lets take a closer look at what you're getting for your hard earned money.
Product Overview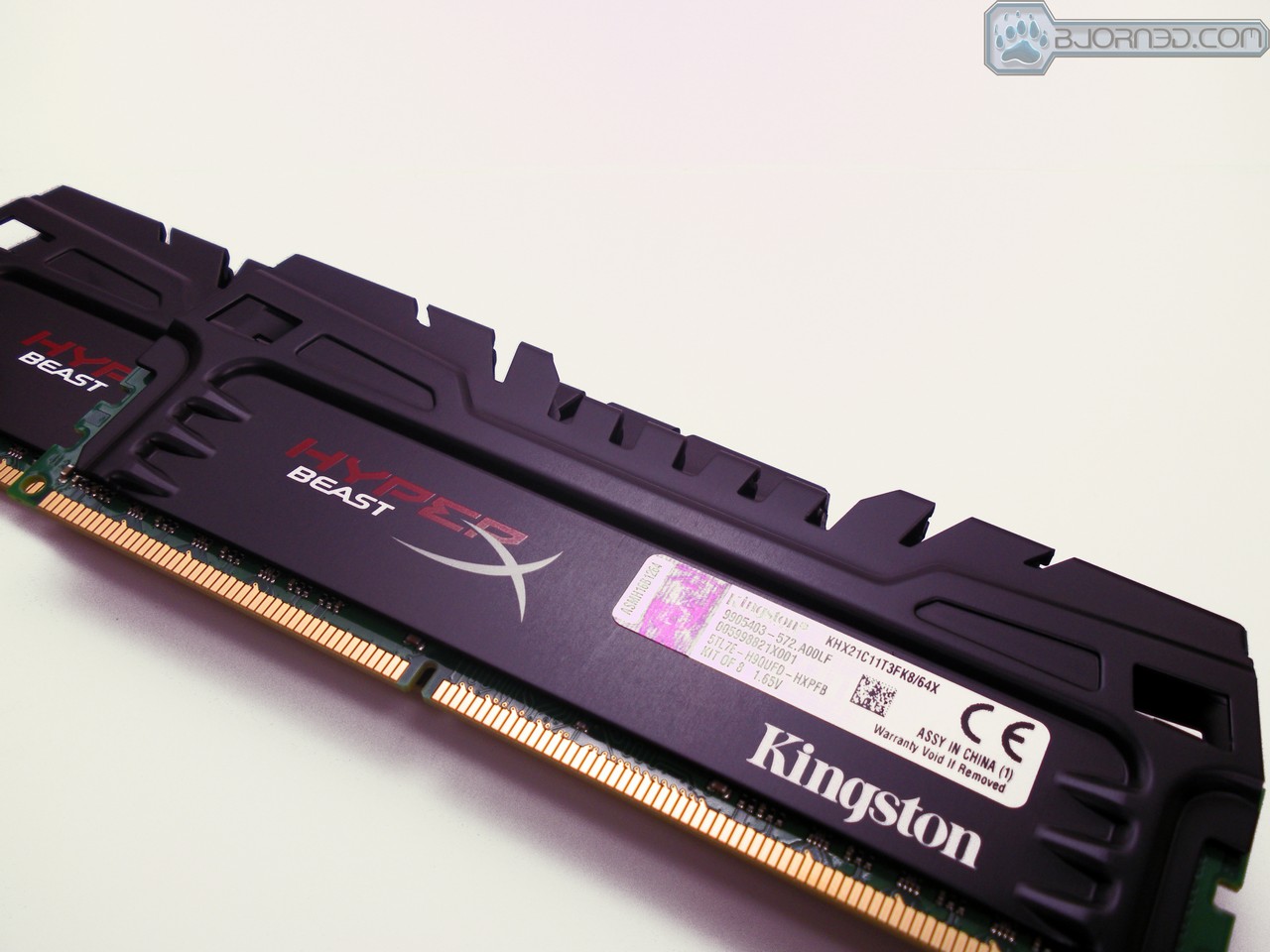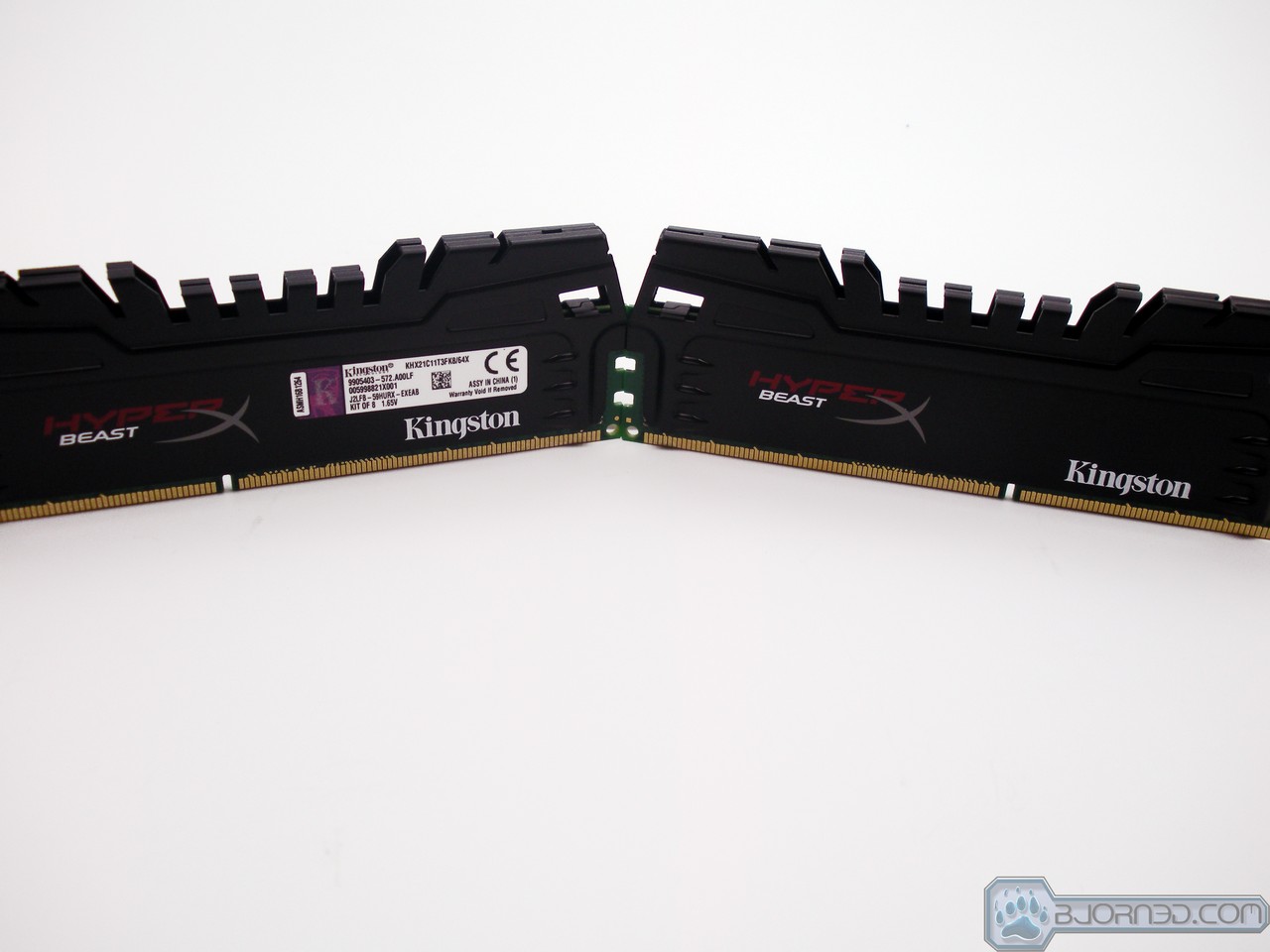 The Beast heatspreader does look nice, and almost completely covers up the green PCB of the RAM. While installed it's practically impossible to see that green. As of the writing of this article, Kingston has already released a version with the black PCB to go along with any builds that have a black theme going on.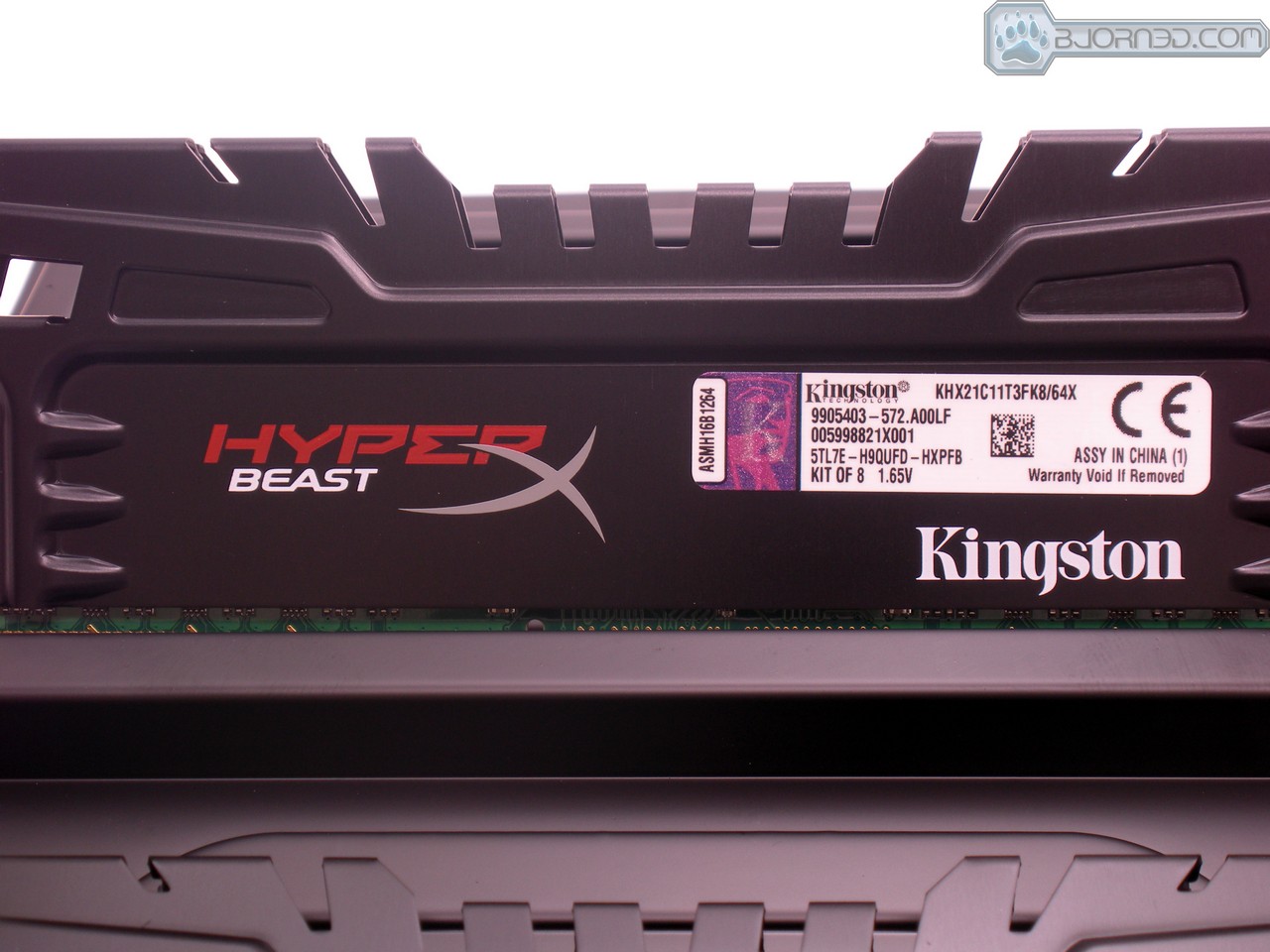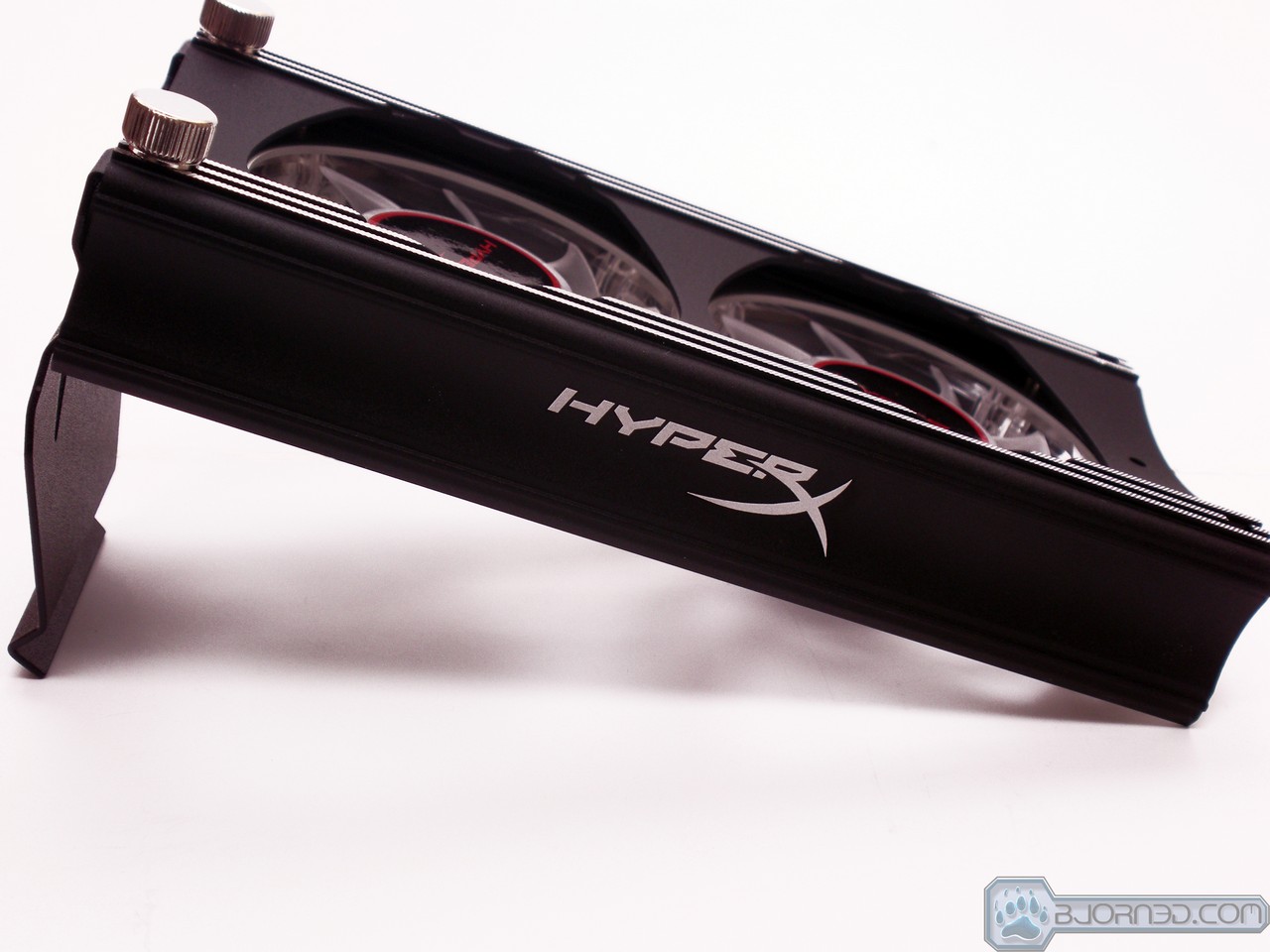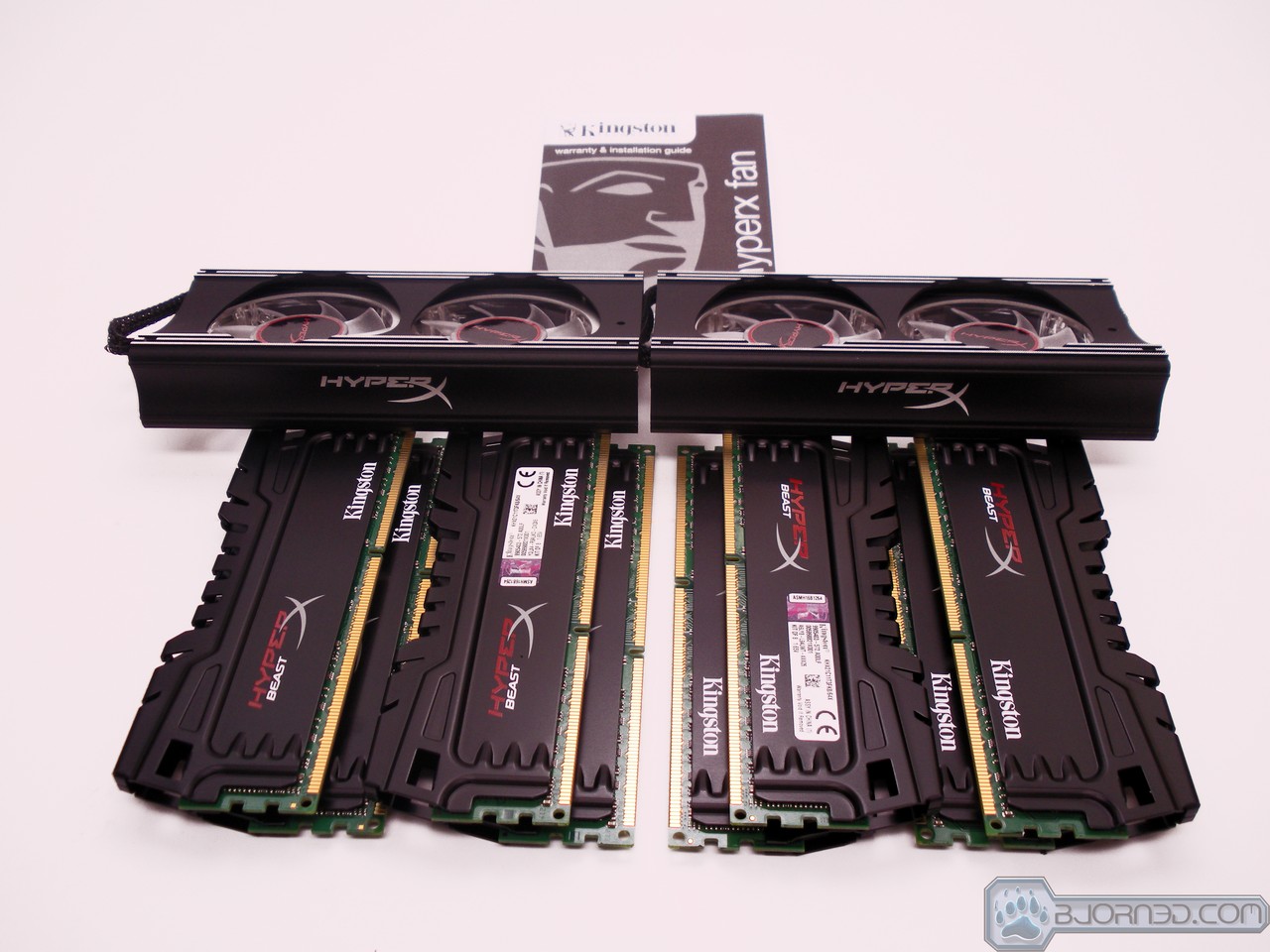 A close up view of the sticker shows that this is a 1.65v kit, but under XMP 1600 they run at 1.5v in case you prefer to go the safe route. In the next picture we can see the sleek looking HyperX fan assembly and then finally a shot of everything you'll receive in the package. When you receive the kit, they come in 4 plastic containers of 2, and each fan assembly comes in its own plastic piece. It's all wrapped up nicely with foam for protection in a cardboard box to ensure you receive your nice RAM kit safe and sound. The cables on the fan assembly are sleeved as well for your convenience.
| | |
| --- | --- |
| M/B Chipset | Intel X79 |
| Latency Timings | 11-12-11-32 @ 2133 |
| Capacity | 64GB (8x8GB) |
| Speed | DDR3-2133 (PC3-17000) |
| Test Voltage | 1.65 |
| Dimensions | 0.33″ (D) x 5.25″ (W) x 1.827″ (H) |
| Registered/Unbuffered | Unbuffered |
| Error Checking | Non-ECC |
| Type | 240-pin DIMM |
| Warranty | Lifetime |
| Features | Intel XMP 1.3 (Extreme Memory Profile) |
Running under the XMP we have our CAS 11 timings and our 2133MHz speed. The timings appear to be a bit loose and you can definitely tighten them up a bit if your board and IMC are sufficient. For testing purposes though, all benchmarks were run at XMP which has been tested to run on practically all systems with ease. The timings are also a bit loose for 2133MHz due to the sheer size of the kit. 8 sticks of 8GB on anything more demanding might not work properly on all rigs for various reasons. Mostly the cause could be the IMC in some 3960x chips. As enthusiasts we like to experiment for the sake of our readers, that will be shown in the overclocking section.
Testing
Memory testing can be tough at times as most look at a number (the frequency) and think the higher the better, but in our testing experience we know that many times there are other numbers at play. Factors such as the timings and subtimings can have anywhere from a minimal to a drastic effect on what kind of performance we see from the system when tweaked to the max. Also price can be a determining factor as well and this is why we will run through a few benchmarks to see how this kit affects system performance running at SPD, XMP and custom tweaking to ensure we get a good idea of exactly what kind of value the end consumer can expect for their money.
Today we put the Beast kit running full steam against a slew of tests to give you an example of what you are to expect with this kit. We run the 2133 XMP setting against the 1600 XMP setting to give you a good example of the speed difference, as well as pit those two against a 32GB 1600MHz Patriot kit to see if the size helps at all in our benches.
 
Test Rig
Case
Corsair 300r
CPU
Intel Core i7 3960X (Sandy Bridge-E) @ 4.6GHz
Motherboard
Intel DX79SI X79
RAM

Kingston HyperX Beast 64GB (8x8GB) 2133MHz Quad-Channel

Patriot Intel Extreme Master Edition 32GB (4x8GB) 1600MHz 9-9-9-24 Quad-Channel

CPU Cooler
Corsair Hydro-Series H80i
Hard Drives
1TB Seagate Barracuda
Optical
LG Blu-Ray / DVD-RW
GPU
eVGA GTX680 4GB FTW+
PSU
ToPower 1000w
Mouse
Logitech G700
Keyboard
Razer Lycosa Mirror Edition
Synthetic Benchmarks & Games
We will use the following applications to test the memory.
Sisoft Sandra 2012
AIDA64 Extreme
3DMark 11
PCMark 7
Metro: Last Light
Sisoft Sandra 2012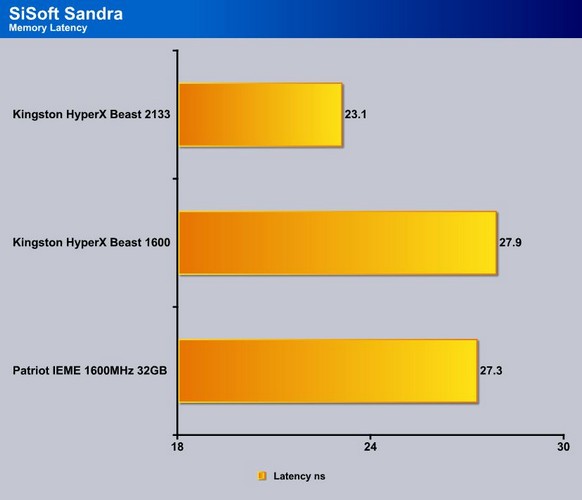 Moving from 1600MHz to 2133MHz shows a pretty good bump in memory bandwidth, and a nice decrease in latency as well. Although, seeing charts and feeling the difference real world won't blow you away. Marginal gains at best, but better than nothing at all.
AIDA64 Extreme
We have the same results following the AIDA tests as well. Again, one would assume that 2133 would of course be faster than 1600. As was said before, although these numbers look impressive it isn't shown very well in real world day to day tasks. We can thank Intel for such an efficient IMC for this, so no harm done.
3DMark 11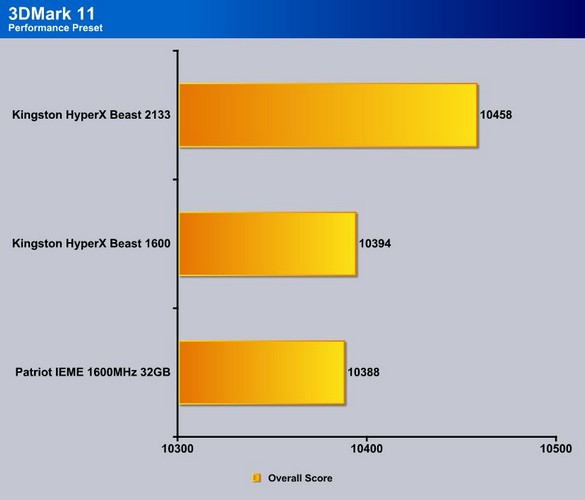 3DMark 11 seems to get a little less than 100 points to gain from having faster memory. One thing to note, we noticed that faster memory definitely helps with multi-GPU configurations that are OCed on 3DMark 11. With a dedicated single GPU the gains are obviously marginal, but if you are trying to benchmark with an IGP the faster the memory the better.
PCMark 7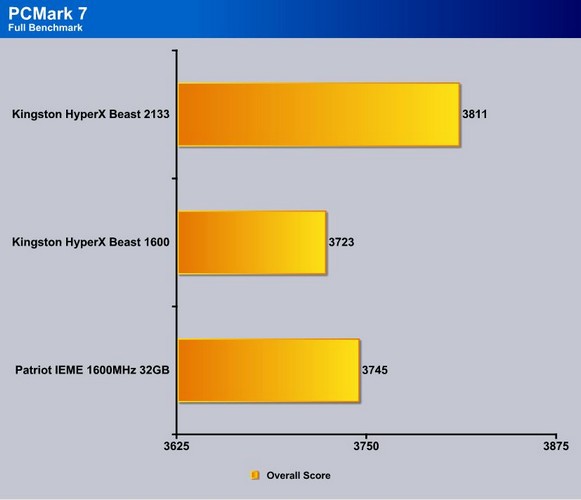 PCMark gives a total system computational score by throwing a wide variety of tests at the computer to give it an overall general score. Some of these tests deal with the computational aspect of your computer where your RAM comes into play. Having faster memory in this case again only shows marginal gains in general computing, and it appears that having more RAM doesn't change much either. Then again, these tests are made to give an idea of how your computer handles for an average user. One thing to take note here, is that these scores might seem a bit low due to using a standard HDD which decreases the storage scoring.
Metro: Last Light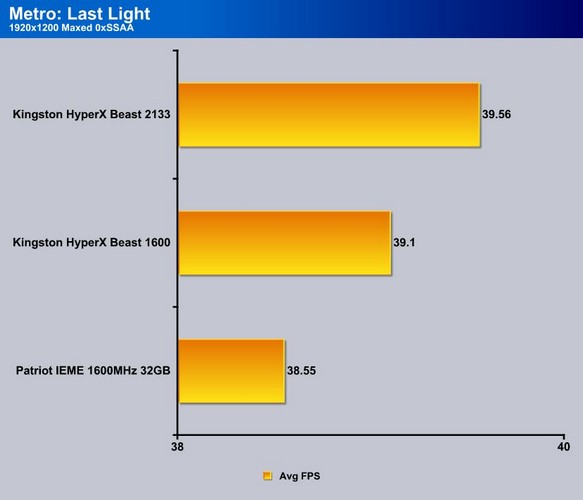 Metro: Last Light is a recent game that utilizes a very GPU dominating engine called the 4A Engine. It has been optimized since the last Metro game, and has added features including extra tessellation, and enhanced SSAA support. As indicated by our charts, memory speed and size doesn't show much of a gain while playing this game.
Large RAM Kit Uses
So by now you're probably sitting there wondering, "what can I use such a large kit for?" There are quite a few things an enthusiast can use this kit for. The first thing that always comes to mind, a very fast RAMDisk. We went over an article about using a RAMDisk previously, but in short a RAMDisk is a very fast "drive" that is stored in RAM to use as a regular drive. There are several advantages to having something like this, especially in very fast RAM such as this Beast kit. Compressing and uncompressing within RAMDisk is exceptionally quick, and you can also use it as a scratch disk for productivity programs like Photoshop. Video editing can also benefit from RAMDisk if you have a particularly fast CPU like the 3960x, 3930k, or even a monster 8 core Xeon. Just store your video to be edited in RAMDisk and watch those wait bars breeze by. As previously mentioned, certain programs like Photoshop, Premier, After Effects, Vegas Pro, Autodesk products, CAD, and much more can greatly benefit from such large amounts of RAM. A rather given with large amounts of RAM is the disabling of the Windows pagefile. Although you miss out on certain Windows features by disabling the pagefile, you can be well assured that with 64GB of RAM you should never run out of room while saving that precious SSD of yours. As of recently, a very large talked about topic would be the new consoles, and their larger portions of RAM. Being 64bit native and several developers claiming PC being the lead platform you can bet on much larger amounts of RAM being used by textures and such because there isn't that pesky 32bit limit to think about while developing. So in this nature, you are rather future proofed for quite a while. Be sure that you have 64bit versions of your OS and productivity programs to take advantage of more than 4GB of RAM.
Overclocking
Having faster RAM means you need a faster CPU to take advantage of anything higher than 1600-1866 on newer Intel processors. A question to ask would be, how much faster can my RAM go? While using the simple auto overclocking "profile" feature of our Intel board we simply raised the ratio up to reach a maximum of 2333MHz with all 8 sticks installed running at 1.65v. This is rather exceptional, considering the board in question. We were also able to lower the timings lower than the XMP provided to 10-10-11-30 while at 2133MHz. When using the RAM at speeds of 1600MHz the XMP profile provides a rather safe timing set of 9-9-9-24 at 1.5v, and after some quick tweaking we were easily able to attain a set of 8-8-8-22 while at 1.65v. We are pretty sure that as enthusiasts, you will want to play around some on your own. A rather educated guess would be if you intended on running less amounts of RAM a higher OC or tighter timing set could be achieved. A very high end motherboard with a proper custom water cooling setup or high end air should reap exceptional gains as well.
CAUTION: Overclocking can damage components, void warranties and cause all kinds of other unforeseen issues. Perform at your own risk and understand the settings we may list are from our own testing risking our own hardware so it is in no way a guide on how you should overclock your system or components.
Conclusion

The Kingston HyperX Beast 64GB kit is very high end, and we expect only the best from high end kits. That being said, we can certainly say this kit delivers and the best part is, the price as of right now is lower than the competition. For a little over $600 you can have a ton of fast RAM at your disposal to do whatever you please. The heat spreaders are a very mild and tame design yet very effective. The kit performs flawlessly with or without the included fans. That being said, if you intend on using this kit with the fans we recommend you check any possible clearance issues within your case as the fans are rather tall. We had to move our h80i unit to the front of our Corsair case to use the fans to check temps while under load.
For the average consumer this kit probably doesn't appeal to you, as the price and size are unwarranted. Considering this kit has enthusiast written all over it we can happily say that more and faster is always better. You can't go wrong with the Kingston HyperX Beast 64GB 2133MHz.
Pros
Cons

Exceptionally large kit

Blistering speeds for the sheer size

Overclocking headroom

Timings can be tightened beyond XMP

Great looking kit

Price
Review Overview
Performance - 9.5
Value - 9
Quality - 9.5
Features - 9
Innovation - 9
9.2
The Kingston HyperX Beast 64GB 2133MHz offers incredible size and speed for a lower than competitor price. The fans look good too. For this it earns the Bjorn3D Golden Bear Award.