A Closer Look at the GTX 760
Click Images to Enlarge
The GTX 760 comes in standard garb we saw on the GTX 660 or 670, which is not really surprising as this a is price/performance card and the TITAN style cooler would increase the price of the card too much, putting it out of reach of the intended market.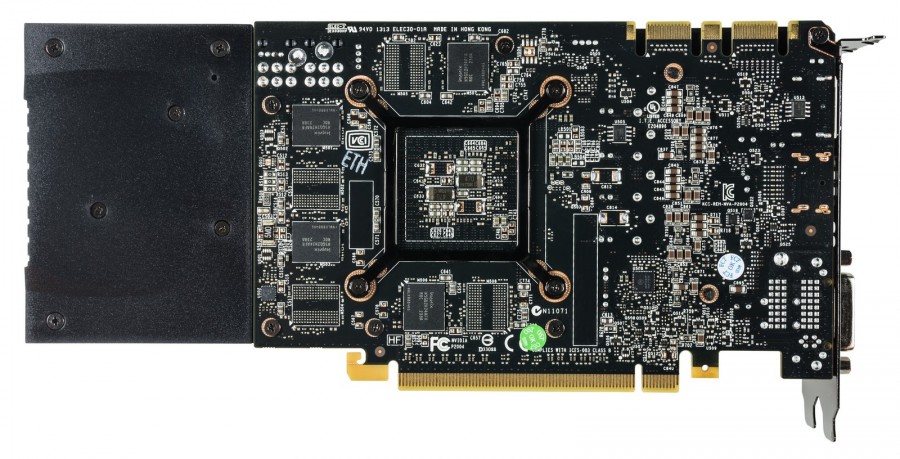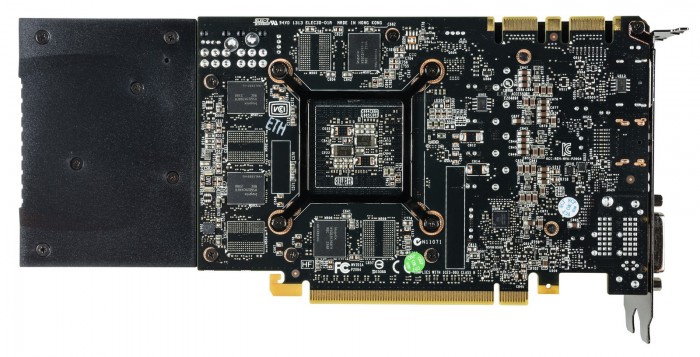 Click Images to Enlarge
The rear of the PCB you see some memory ICs which makes sense as this card will be offered with either 2GB or 4GB framebuffer from partners. The card we have here is 2GB, so half of the pads are empty for a 4GB card.
Click Images to Enlarge
The top of the card houses the all too familiar dual SLI bridge connectors which allow for full 3-Way SLI functionality (we doubt 4 Way was considered but it would be awesome to see it be enabled). These would permit a system to scale well beyond a single GPU's performance potential, should a game require it (Crysis 3 and Metro: Last Light come to mind here).
The display connectivity is about standard for what we have seen on the Kepler based lineup:
2x DVI
1x HDMI
1x Displayport
This all digital connector arrangement allows for maxing out the GPU with up to 4 displays and even a surround plus accessory display array should the need arise.
Click Images to Enlarge
And here after popping the top you can see that the similarity between it and the GTX 670 is not just a coincidence, as it literally looks identical.
Click Images to Enlarge
Here we see even more similarity with both the 650 Ti Boost and the 670, with the aluminum fin array cooling block being separate from the shroud. This looks like it might be the same cooler, since they cool quite well.
Click Images to Enlarge
Here we see the bare card, as you can see the shroud makes it much longer but in reality it is about the same size as an 8600GT being about an inch longer than a PCIe x16 slot. The card uses dual 6 pin connectors and has a rated TDP of 170 Watts.
Click Images to Enlarge
The VRM is quite basic but gets the job done for this card, delivering more than enough power for the GK104 GPU, although we are interested to see what the non-reference boards will do. The memory ICs placed on the card are standard 6GHz units which mean that like previous 6 series cards we can likely see around 6500-7100MHz (Most will be about 6600 – 6800MHz) depending upon luck from memory overclocking. Once again, we wish they put the 7GHz ICs here as they add an extra bit of performance but we understand as some compromises need to be made to hit a target price point and the memory would add a marginal gain in performance for the potential added cost.