Overview of the GIGABYTE GTX 660 Ti Windforce OC
The packaging on the GIGABYTE card is fairly simple as it is a thinner rectangular box with basic specs on front and the robotic eye peering at you. We don't know why, but it feels like the eye is trying to hypnotize us.
Here is a list of all items included in the accessory pack:
Installation Disc

Dual 4 Pin Molex to 6 Pin PCI-E Power adapters

Installation manual
The accessory package is sparse, but it does its job and gives us all the necessary components. We have not used a VGA monitor in quite some time but it might have been a wise choice to include one such adapter for legacy users.
Click Images to Enlarge
Here we have the card ready to run, and with some really huge looking fans. We can see why they call it the Windforce, as this cooler houses dual 100mm fans capable of moving lots of air. The rear of the card shows us a custom PCB design ready to run with a custom PWM ready to do some overclocking. Note that GIGABYTE is serious about its cooling: serious enough that the cooler extends past the PCB edge by about a full inch just to get that little bit of extra cooling power to work.
Click Images to Enlarge
The Windforce cooler is a dense array of aluminum fins fastened to a large heatpipe base just waiting to blow away any heat the GPU will produce. Note that the main fin array attached to the base also has 2 island fin arrays attached via heatpipe to extend GPU cooling just that much further.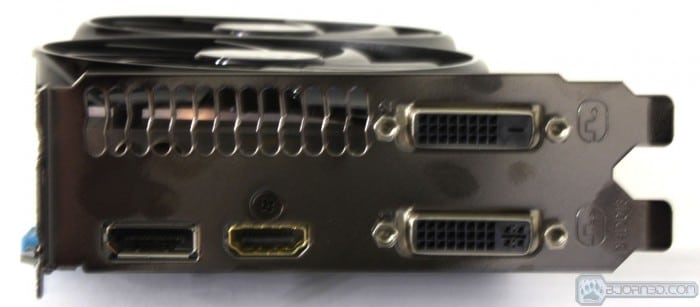 Click Images to Enlarge
The rear I/O supports multiple connectivity options including:
DVI-I
DVI-D
HDMI
DisplayPort
The supported connections are diverse and you should not have an issue finding at least one connection to match your display or displays should you want to run multi GPU. Remember that the 6 series offers connectivity up to 4 displays for ultimate gaming or productivity configuration.
Click Images to Enlarge
Here we get a better look at the heart of the cooler and the 2 massive heatpipes connecting the island heatsinks to the main cooling plate along with the memory and VRM cooling which is all integrated into the Windforce cooling assembly. This is definitely nice as some of the other GTX 660 Ti models do not actively cool the memory and we could see this being a possible issue under extended loading environments especially if running large resolutions or heavy texture loads as that is sure to heat that memory up in a big hurry.
The card itself is a large PCB and definitely not a reference design, but strangely, the area outside the VRAM looks almost blank with multiple connectors that appear to be for extended debug, or possibly signs for connections that may be available on a higher model. Considering the number of connections though, we're not sure it would be anything other than just some debug blank header points.
Click Images to Enlarge
The GTX 660 Ti comes with dual 6 pin PCI-E power just like its bigger brothers and they are arranged at teh far edge of the board which i personally like alot better than the stacked 6 pins like what came on the reference 680. Now to the parts being fed by those power conenctors the VRM which houses the Ultra Durable components mentioned earlier from the solid caps special metal chokes and even the Mosfets designed for high efficiency and better power delivery.
Click Images to Enlarge
The dual SLI connector onboard tells me that the card is definitely a step up form previous get GTX 560 which supported only 2 way SLI as the 660 Ti is now opened up for up to a 3 GPU configuration. This is nice especially as SLI scaling has never been better, and it is improving all the time as drivers are optimized for multi GPU functionality.
Here is the area we mentioned earlier which has a bunch of open solder points. By our guess, these are for debug purposes based off the silk screening on the PCB. We have a dream that in the near future all of these connectors will be used on a supercard for some crazy volt modding made just for LN2 overclockers, for now that is unlikely.