GIGABYTE has made a name for themselves with very overclockable motherboards and their extremely highly clockable "Super overclock" graphics card offerings. Coming from this same brand, we have their overclock offering for the GTX 660 Ti.
Introduction – GIGABYTE GTX 660 Ti Windforce OC
GIGABYTE has a long list of performance offerings ranging from the entry level business system products all the way up to insanely overclocker-centric models such as their SOC cards and OC branded boards. Today we have the newest offering stemming from the new GTX 660 Ti chipset. This is GIGABYTE's overclocked variant it has a performance boost out of the box. The card comes equipped with a Windforce cooler, and like all other 660 Ti models, supports up to 3 way SLI. This card has the exact same GPU as the GTX 690, 680, and 670, so you can bet this will be one hell of a performer.
 GIGABYTE is no stranger to performance 6-series parts as we reviewed a Windforce GTX 670 in the past, and we can say with utmost certainty that it has not only a nice cooler with the Windforce design but also a nice overclock, and great performance.

 The GIGABYTE GeForce GTX 660 Ti Windforce OC has alot going for it and looks like a damn nice card. We will run it through its paces and look over its features and add it all up to give you an idea of the card's capabilities.  As of this time we did not have access to the exact pricing but based on other cards, it should be somewhere in the $299.99 – $329.99 range. Let's take a deeper look at what this card has to offer.
Key Features
Ultra Durable VGA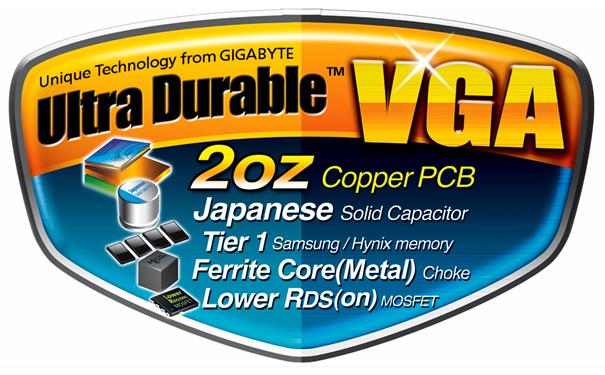 GIGABYTE has coined the Ultra Durable for their motherboards and GPU's for some time now. This simply is a statement from GIGABYTE that they select top shelf components for their product to ensure your card has the best chances of living a nice long happy life no matter what kind of punishment you may dish out to it.
The Ultra durable component choices include full Japanese solid caps, top tier VRAM IC's, ferrite core metal chokes, and Low RDS MOSFETs, all for a package that should run more efficiently with lower temperatures and even provide better overclocking potential over reference components.
Windforce Cooling
Windforce is the name that Gigabyte gives its custom cooler design to ensure you now that this card is setup to blow you away with quiet performance while also keeping the GPU nice and cool for teh best gaming experience.
Triangle cool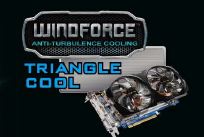 GIGABYTE complimented special shaping into the plate that the fin array is placed on which allows for a optimized airflow pattern to more efficiently move air through and away from the cooler which will help keep heat away from the card and the GPU cooler.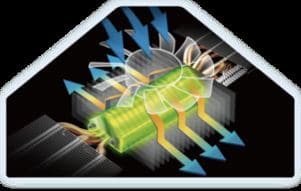 Here we see the Triangle cool feature in action. As the air from the fan enters the cooling stack it is directed through the array and then away as to avoid a cooling dead spot that otherwise might hold hot air in a trapped area or a hotspot behind the cooler.
PCI Express Gen 3 Capable
GIGABYTE wants to ensure everybody knows they are Gen 3 ready not just with their cards but also with their motherboard supporting ful PCI-E Gen 3 spec out of the box.
What is the GeForce GTX 660 Ti?
Nvidia hit the market hard and fast with the introduction of the GTX 680 and delivered a card that was simply a marvel of new technologies such as Adaptive Vsync, GPU Boost, TXAA and more. The GK104 GPU is ultimately efficient and powerful for an excellent price/performance ration no matter which card you chose.
The 680, 690 and 670 round out the highest-end Enthusiast SKU's, and so the natural progression is to replace the aging top performance level SKU in the GTX 560 Ti. This SKU is very important, as it has always marked a middle ground of excellent performance without enthusiast-class price. The 660 Ti utilizes the same GK104 GPU which powers the flagship GTX 690, 680 and 670.
Nvidia does a lot of market research when it comes to GPU's and for this they know that not every gamer upgrades with every new GPU launch so they wanted to make sure that this was something special and worth the upgrade.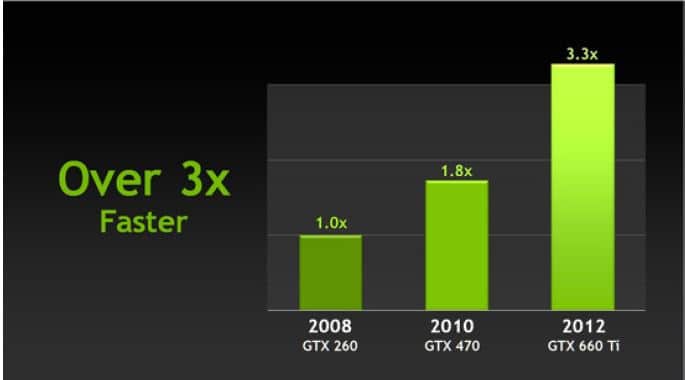 Here we see the chart provided by Nvidia where the GTX 660 Ti clearly blows away previous generation GPU's, and gives gamers a reason for an upgrade with performance levels tripling what is seen on the GTX 260 which is still a card used quite popularly today.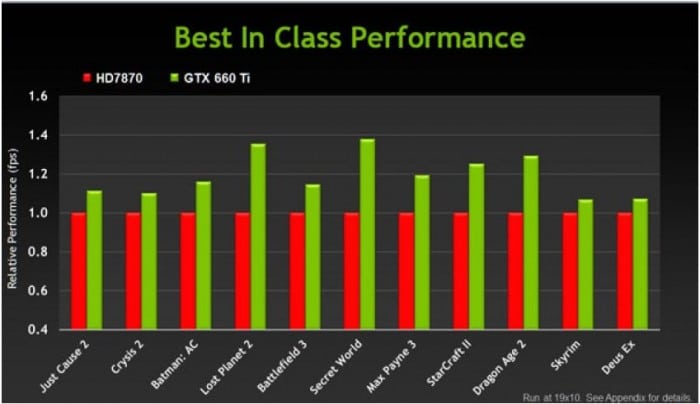 Once again data provided by Nvidia shows that compared to the HD7870, the GTX 660 Ti simply wins hands down and by a large margin in some areas.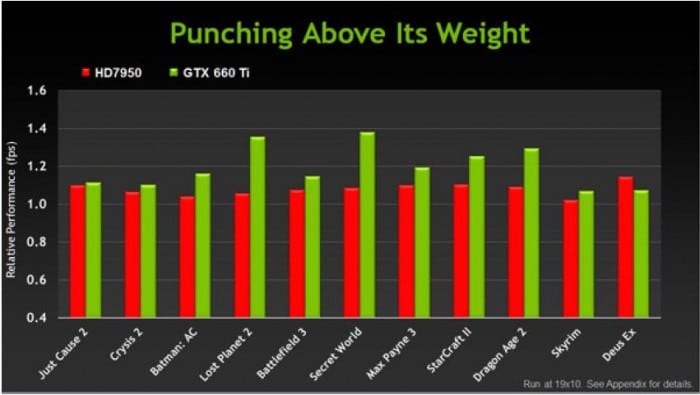 To some this may be a surprise but after testing both the GTX670 and GTX680 we know that these cards not only beat their closest competitors but even take shots at levels above them. Here we see that in some cases the GTX 660 Ti out performs the lowest enthusiast-class GPU from AMD.
The GK104 GPU found in the GTX 660 Ti happens to carry the same shader count and overall spec as the GTX670 which no doubt contributes to its excellent performance. The difference is that the GTX 660 Ti employs a 192Bit memory bus for its 2GB of onboard framebuffer. The TDP of the GTX 660 Ti is 150W which is comparable to the GTX 560 Ti but with performance that can best the previous generation flagship (GTX580).
The GTX 680 was designed to be a powerhouse and well deserved flagship model for the GeForce lineup; the GTX 670 was made to back it up with excellent performance at a little better pricepoint; and finally the GTX 660 Ti is the gamer's card. It is designed to be the card that brings Kepler to the masses, as many gamers simply want to game and don't need or want the very best money can buy, but rather a card that simply plays their games well.
The real question that comes to our minds is whether the GTX 660 Ti is able to overclock to the same level we have seen from the GTX 670, and whether this will be a real performance monster knocking out everything in its path, or simply be a beast of a card with a limit.