MSI pushes ahead with its newest addition built upon the recently released 660 Ti chipset and its Twin Frozr IV cooler design to make one awesome card that could possibly top them all. Let's take a look and see if it has what it takes.
Introduction – MSI GTX 660 Ti Power Edition
MSI builds both Nvidia and AMD cards, as you have seen with our recent HD 7870 HAWK Edition review. Since they occupy roughly the same market space, we'll be pitting this GTX 660 Ti against MSI's own HD 7870 HAWK. So far, the 660 Ti has proven to be a veritable powerhouse. Built upon the same core as the GTX670, 680 and 690 you can bet this card came prepared to fight. The 660 Ti Power edition comes sporting the Twin Frozr cooler and a custom PCB/VRM design to ensure any hurdles will be mere pebbles on its path to excellence.
One thing you will notice is that since this is a Power Edition card, it lacks some of the bells and whistles that comes with the HAWK edition we recently viewed. Features such as the GPU Reactor and backplate have been trimmed off. The Power edition uses SFC components just like the golden ones we had seen before, though these are more of a subtle gunmetal grey color.

The MSI GTX 660 Ti Power edition rolls in at a MSRP of $309.99 which puts it in the performance gaming space, and only $10 ahead of the reference card. The reference design is not bad, but upgraded components and design for only $10 more is a great deal.
Key Features
Military Class III Components
MSI has long touted the Military Class components on their cards due to the fact that they are specially tested components, not just by them but by a third party testing center according to the enclosed certificate. "Military Class components" sounds nice, but are they really necessary on a card or motherboard? Honestly, no, as most times the reference components are good enough to do their job. However, they are not designed to push the limits to the extreme. The answer is better and stronger components. Most manufacturers worth their salt will use better components, so in order to try and stand out, MSI uses "Military Class" components, in an attempt to ensure better hardware reliability.

Here is some info provided by MSI regarding their choice in the SFC chokes and its advantages over standard offerings found on other model cards.


The Hi-C cap or Flat cap as many call them are nice for overclockers who need to insulate for LN2 as barrel caps tend to be much harder to work with when prepping for sub ambient cooling.


These are the barrel caps we mentioned earlier. The big deal here is that they are solid caps which are much more reliable and provide greater stability over the lifetime of the card and components. They also do tend to be more efficient which can help them run cooler as well.

The VRM is a special design with select components to help with not only durability, but overall efficiency for optimum power delivery with minimal waste and excess heat.
Twin Frozr IV Cooler
MSI introduced the Twin Frozr cooler quite some time ago. The Twin Frozr is MSI's version of the custom cooler to keep the GPU and components cool on the card.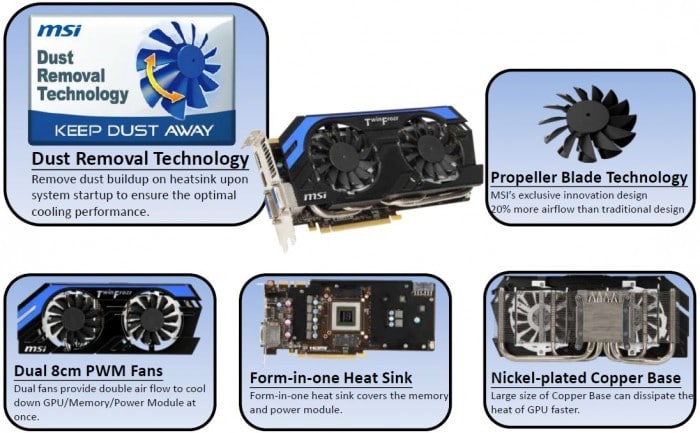 Here we see some advantages of the cooler design, including the dual 80mm fans which work in tandem to ensure plenty of air is moved through the fin array for a cooler running GPU and also onboard components.
The propeller blade design is supposed to offer better airflow and it seems to really move some air but there is a penalty as when the fan is ramped up to full speed, it is simply louder than any of the other 660 Ti cards we tested.
The complete cover heatsink is a nice dual purpose design as it works as a heatspreader for the VRM/memory components but also it helps stiffen the PCB quite a bit which makes for a much stronger and more durable card.
Dust Removal Technology
MSI has implemented a dust removal technology into the card which enforces a reversed rotation of the cooling fans for the first 30 seconds of operation to blow dust away from the cooler and help keep it clean to avoid blockages. This could definitely be helpful as we have seen in many cases of overheating and failure caused by dust that users did not know was there.
MSI Afterburner
MSI offers its own software utility. MSI Afterburner is co-developed with Rivatuner which is very similar to what the other top manufacturers are offering.

There we see it above with multiple options including voltage control and power limit controls to ensure our overclock ceiling is just a little bit higher.

 Here is the Triple overvoltage which can be unlocked for full overclocking potential if a user is so willing to want to push the limits on the card it is there simply waiting for you to flip the switch in the afterburner program.
PCI Express Gen 3 Capable
MSI is one of many manufacturers who offer 6 series Nvidia cards supporting PCIe Gen 3 along with motherboards to place them on.
What is the GeForce GTX 660 Ti?
Nvidia hit the market hard and fast with the introduction of the GTX 680 and delivered a card that was simply a marvel of new technologies such as Adaptive Vsync, GPU Boost, TXAA and more. The GK104 GPU is ultimately efficient and powerful for an excellent price/performance ration no matter which card you chose.
The 680, 690 and 670 round out the highest-end Enthusiast SKU's, and so the natural progression is to replace the aging top performance level SKU in the GTX 560 Ti. This SKU is very important, as it has always marked a middle ground of excellent performance without enthusiast-class price. The 660 Ti utilizes the same GK104 GPU which powers the flagship GTX 690, 680 and 670.
Nvidia does a lot of market research when it comes to GPU's and for this they know that not every gamer upgrades with every new GPU launch so they wanted to make sure that this was something special and worth the upgrade.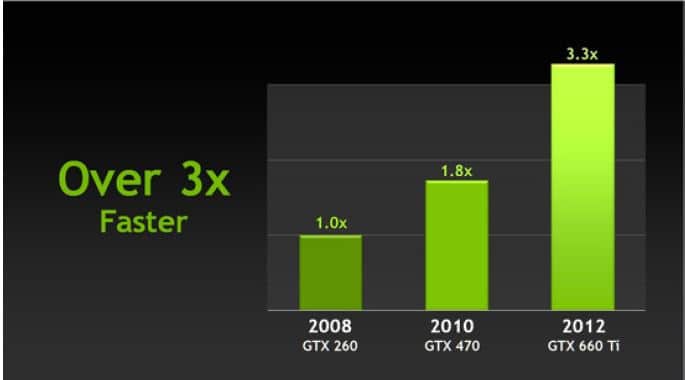 Here we see the chart provided by Nvidia where the GTX 660 Ti clearly blows away previous generation GPU's, and gives gamers a reason for an upgrade with performance levels tripling what is seen on the GTX 260 which is still a card used quite popularly today.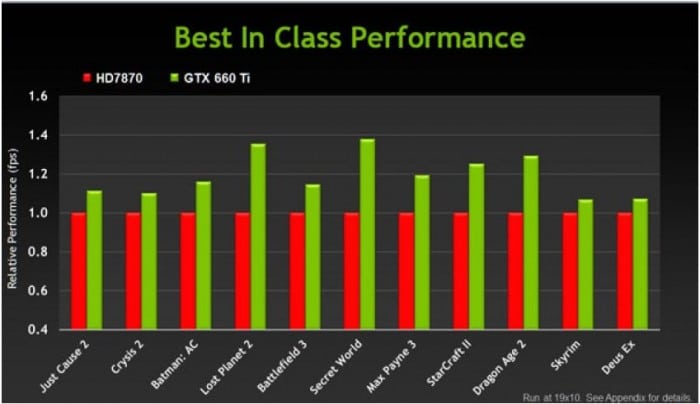 Once again data provided by Nvidia shows that compared to the HD7870, the GTX 660 Ti simply wins hands down and by a large margin in some areas.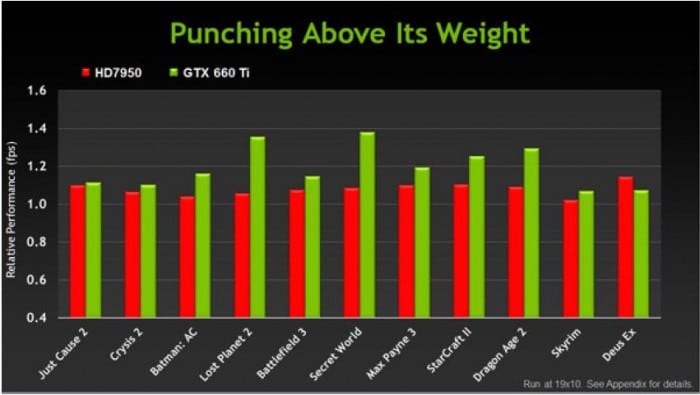 To some this may be a surprise but after testing both the GTX670 and GTX680 we know that these cards not only beat their closest competitors but even take shots at levels above them. Here we see that in some cases the GTX 660 Ti out performs the lowest enthusiast-class GPU from AMD.
The GK104 GPU found in the GTX 660 Ti happens to carry the same shader count and overall spec as the GTX670 which no doubt contributes to its excellent performance. The difference is that the GTX 660 Ti employs a 192Bit memory bus for its 2GB of onboard framebuffer. The TDP of the GTX 660 Ti is 150W which is comparable to the GTX 560 Ti but with performance that can best the previous generation flagship (GTX580).
The GTX 680 was designed to be a powerhouse and well deserved flagship model for the GeForce lineup; the GTX 670 was made to back it up with excellent performance at a little better pricepoint; and finally the GTX 660 Ti is the gamer's card. It is designed to be the card that brings Kepler to the masses, as many gamers simply want to game and don't need or want the very best money can buy, but rather a card that simply plays their games well.
The real question that comes to our minds is whether the GTX 660 Ti is able to overclock to the same level we have seen from the GTX 670, and whether this will be a real performance monster knocking out everything in its path, or simply be a beast of a card with a limit.