Overview of the MSI GTX 660 Ti Power Edition
The packaging for the GTX 660 Ti Power Edition is fairly simple on the cover, but below the surface it is packed with loads of information. On the front we find a fairly sedate P logo for Power Edition. Some key specs adorn the front panel. Once you flip up the front flap, you see the full gamut of data, from Military Class III components to the cooler and pretty much anything else.
Here is a list of all items included in the accessory pack:
Installation Disc

Dual 4 Pin Molex to 6 Pin PCI-E Power adapters

DVI to VGA Adapter
The accessory package is good enough to get you moving along. Since all output ports are standard full size, no special adapters are needed, with the exception of the VGA adapter for legacy users.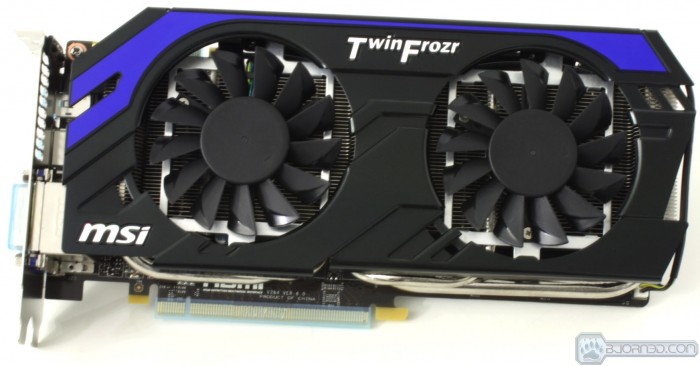 Click Images to Enlarge
Here is the card. It has a full size PCB which allows more space for components and more custom VRM fitment. The dual propeller fans can be seen easily shrouded within the Twin Frozr IV cooler.
Click Images to Enlarge
The cooler from both sides can easily be seen with its large nickel plated copper base and massive heatpipes to carry the heat away from the GPU.
Click Images to Enlarge
The standard power connectivity for the 660 Ti is in place with the dual 6 pin PCI-E connectors.
The rear IO supports multiple connectivity options including:
DVI-I
DVI-D
HDMI
DisplayPort
This connectivity is standard for the 600 series cards and is quite nice now that a single GPU card can support up to 4 displays.
Click Images to Enlarge
The dual SLI connectors tells us that unlike the previous gen 560 Ti, this card supports up to 3 way SLI connectivity for some really awesome performance.
Click Images to Enlarge
The cooler can be seen here; the heatpipes snaking away from it are simply huge. The copper base which contacts the GPU is also very good and flat and makes excellent contact with the GPU, leading to better thermal performance.
The full cover VRM heatspreader works well for dispersing heat away from key components where the cooling air passing through the heatsink can do dual duty and carry this heat away as well. As stated before this cooler design actually serves dual (though perhaps unintended) purpose: it stiffens the PCB by a good amount and makes the card feel a lot more rigid.
Click Images to Enlarge
Here the main cooler/stiffening bracket is removed and you can see the custom VRM. It is not all flashy like the HAWK card's, but appearance is somewhat immaterial as the card has a cooler over it.
Here is a peek at the memory IC's which are Hynix, and at default, come clocked at 1502MHz or QDR 6008 MHz but in our testing we have seen these well above 6900 – 7000MHz.