ASUS has been on a consistent roll recently with every Nvidia 6 series release and it is continuing with the 660 Ti as they drop in again and dressed to impress in full DirectCU II garb and bearing the TOP Edition muscle. Does it have what it needs to top the charts?
Introduction – ASUS GeForce GTX 660 Ti DirectCU II TOP

The ASUS GTX 660 ti DirectCU II TOP is the ASUS version of what a 660 Ti model card should be. As always, ASUS has done things a little differently, such as placing the PCI-E 6 pin power connectors backward on the card which we will show you later on the overview. ASUS ensures that with every GPU they have a TOP model which is the highest-performing model of that GPU, excepting any superclock cards such as the Matrix or MARS models.

The ASUS GTX 660 Ti DirectCU II TOP is a dual slot monster with a hunger for competition. In full dress this card hits the market at $329.99 MSRP which is slightly over the standard clock cards, though the benefit is the extreme binning that goes into the TOP model cards.
Key Features
SAP (Super Alloy Power)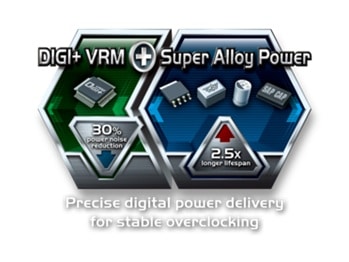 ASUS has great pride in the components they infuse into their graphics offerings very much like the motherboards we have covered previously. ASUS has whats called SAP or Super Alloy Power which covers the components in the very VRM we are discussing. The components are hand picked for quality and performance based around not only power delivery but efficiency as well. The components in the SAP solution are super durable for a rated lifespan of up to 2.5x what reference cards would offer and also with the DIGI+ controller your talking ultimate precision which means better voltage stability, better overclocking potential and overall better power efficiency clock for clock.
Here we see the VRM Chokes, MOSFET/driver assemblies and the solid state caps which make up the SAP components, or to simplify, the super strong and efficient VRM.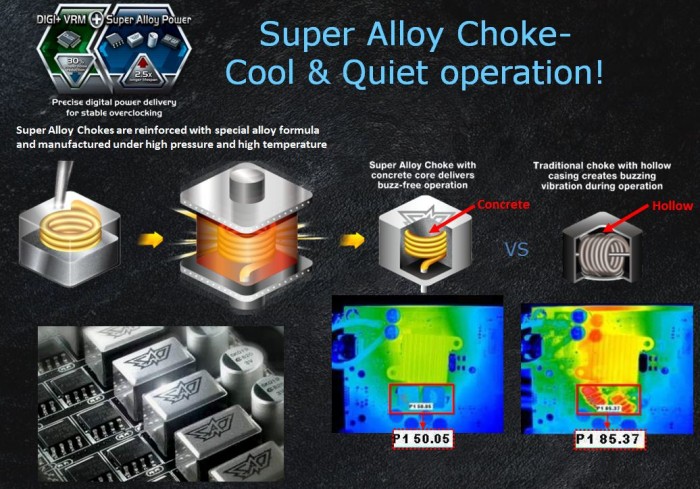 Here we have some good detailing directly from ASUS showing the improvement of the SAP choke component and how it is superior to other designs implemented presently. Other model chokes can make a whine or screeching sound due to the coil vibration, something we're sure many enthusiasts and overclockers have heard before. The ASUS design has a sealed/filled core to inhibit vibration, which means noise free operation under extreme loading conditions. Another thing to remember is movement makes heat and friction, so less movement will mean cooler running components.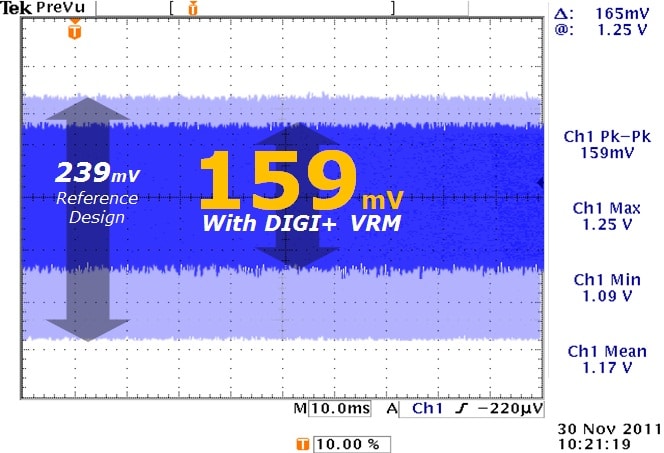 Here we see what makes the difference for the DIGI+ solution which has to do with the accuracy and efficiency of the Digital controller in comparison to the analog VRM control we see on many other solutions. This level of control allows for unprecedented voltage accuracy, along with lower signal noise and overall more overclockability due to the tighter stability offered by the DIGI+ digital controller.
DCII (Direct CU II)

ASUS DirectCU II coolers are the ASUS way of saying maximum cooling and plenty of quiet with one naming scheme. DirectCU II coolers are direct touch heatpipes to the GPU surface ensuring the heat is wicked away from the GPU and up into the cooling fin array as quickly as possible. From there the custom shrouded dual fans push air through the fins effectively but most important quietly to keep the GPU as cool as possible so hopefully it will never hit a temp to need a higher or noisier fan speed. The air pushing through the fin array also helps cool board components and the VRM cooler as well which is a nice little added bonus to this style cooler since we all know cooler components tend to run stronger, longer and with better efficiency.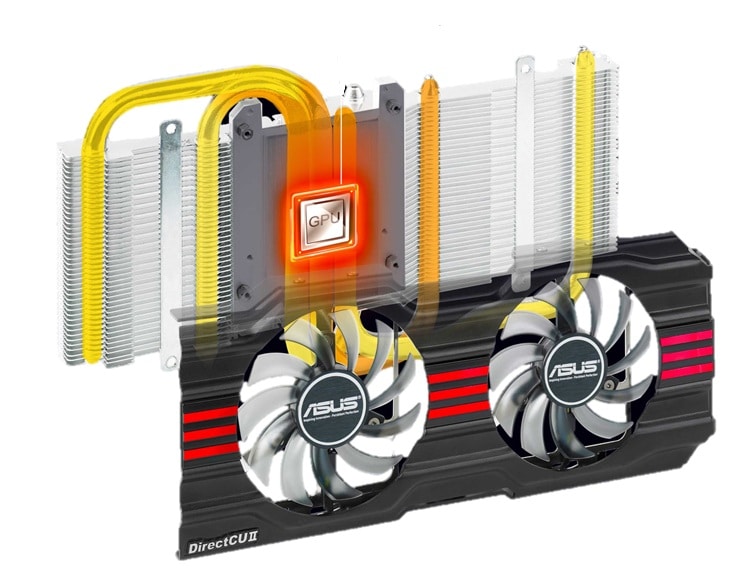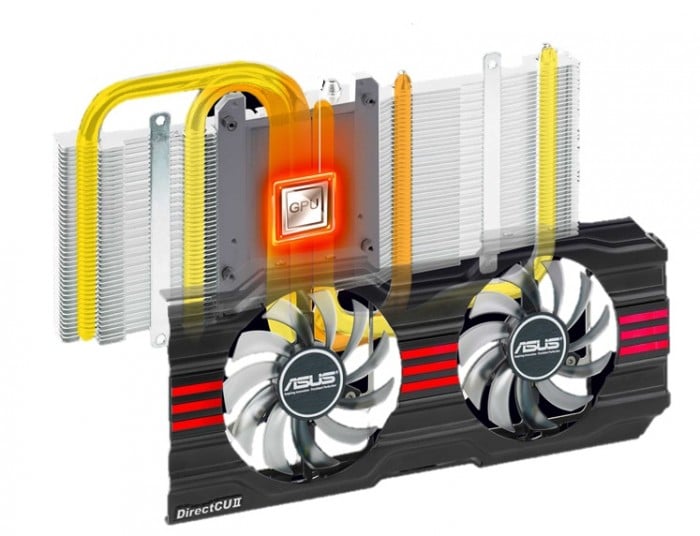 One thing not much mentioned would be the fact that thermals affect the total boost clock that the GPU will see. If the card reaches too high of a temperature regardless of the room left under the power target it will not boost up to a higher clock until the thermal window is within spec. this is how we accomplished the overclock below as the reference cooler we could never get close to this kind of clock.
Dust proof Fan Technology
You would think that by now everyone would know that one of the number one killer of a fan is the dirt and dust it comes into contact with. Many fans simply are not sealed in such a way that it can keep dust out and in many cases they are not sealed at all and you can see the sensitive winding area clearly exposed just by looking at the gap.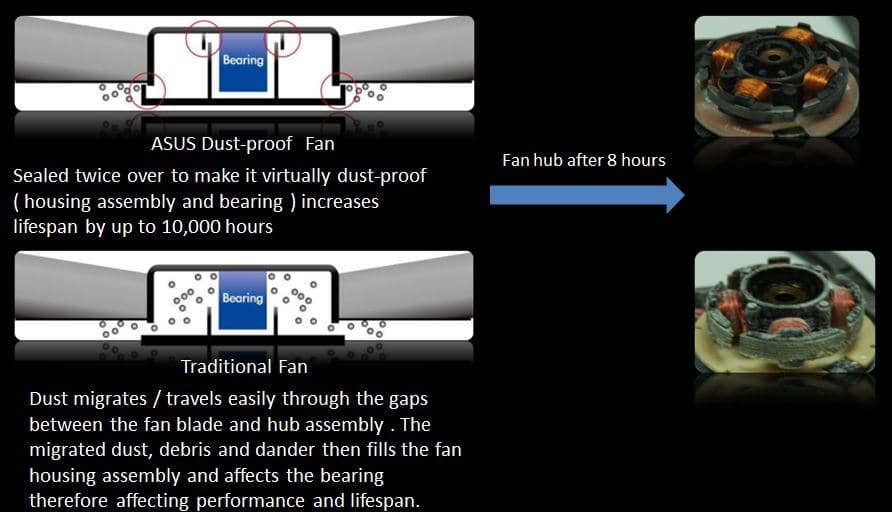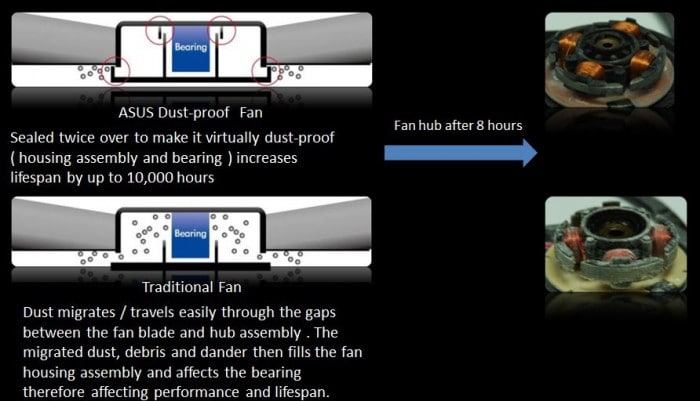 Here you can see that the ASUS solution is not just sealing the hub from dust but having 2 levels of sealing which means that over the lifespan of the cooler you can expect a much lower likelihood that you will get the grinding or simply the failing that you normally get from the unprotected fan as seen above.
We cannot count how many times we have had a perfectly good card or cooler just to have it reduced to useless because the fan died.
GPU Tweak
ASUS offers its own software utility and its functionality has grown with generations just like the cards it supports. Of course the card can be overclocked but also voltages can be tweaked and within the GPU Tweak app we can even launch the GPU info utility which is a full custom version of GPUz. This is a really cool feature and a benefit especially to benchmarkers who we can definitely see using this card with some of the awesome tweaks we will discuss in the card overview.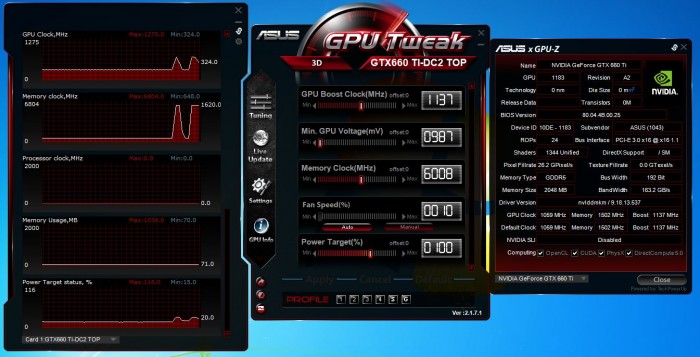 There are many tools within the GPU Tweak menus some a little more hidden than others. First off directly form the GPU Tweak utility itself you can check for BIOS updates and even update from within the program. For anyone who's ever updated a vBIOS before knows that having a tool that can do this in a mere few clicks is really handy.
The charts besides offering real time monitoring can also be setup to log thermals, voltages and clocks so that after benchmark or gaming runs you can see if there was any thermal issues or throttling that may have affected performance.
This is something that is worth mentioning. First on the left you see the max value for teh clocks which of course on air cooling your probably not gonna hit unless you somehow live in a subzero climate. but if pushing the card and cooling can support it you can select the option to enhance overclocking range which as you see on the right allows for significantly higher clock settings and a major performance boost pending your card can pull such speeds.
And another neat feature that many never delve into but its worth visiting is the custom fan profiling. This allows a specialized ramping of the fan according to a graph you set custom for your thermal/acoustic needs. After using this card a while, we would say the fan profile is near perfect as it keeps the card cool when under load and also super quiet when just messing around on the web.
The utility does come on the disk but its always advised to get the latest version HERE and search GPU Tweak in the ASUS page linked.
PCIe Power LEDs
One really cool feature is that there are status LED's on each PCIe connector and these help you recognize that power is actively being sent to each connector of the card.
The dual greens seen above indicate everything is working well. However if the PCIe cable is not active or is not installed at all, it will give you the red light which tells you something is wrong. We could definitely see some value in this when diagnosing multi card setups or even single card issues. A dead PCIe power cable could cause you to pull your hair out without these kinds of indicators.
GPU Boost
Nvidia implemented the GPU Boost feature on the new Nvidia GeForce 6 series GPU's of the Kepler Architecture. This allows the card to have a base clock and it adjusts dynamically or overclocks to a speed of up to a certain amount depending upon the thermal and power envelope. This makes Overclocking these cards a bit different as you now are overclocking with a boost clock and by offsets from the out of the box clocks. We will discuss more of the overclocking aspects in the overclocking section but it does need to be noted. The voltage envelope can be adjusted as well with another offset setting. This will raise the ceiling in most cases for more overclocking headroom pending temps are within check which with this cooler should not be much of an issue.
Adaptive V-Sync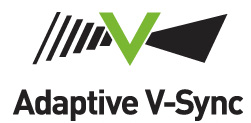 Nvidia also included another feature as of recent called "Adaptive V-Sync" which allows for better performance while also stutter free gameplay by actively enabling and disabling V-Sync depending upon gaming situation and FPS all without any intervention from the user.
PCI Express Gen 3 Capable
ASUS wants to ensure everyone is aware that PCIe 3.0 is here and ASUS is ready with not only cards such as this but boards to support it as well.
What is the GeForce GTX 660 Ti?
Nvidia hit the market hard and fast with the introduction of the GTX 680 and delivered a card that was simply a marvel of new technologies such as Adaptive Vsync, GPU Boost, TXAA and more. The GK104 GPU is ultimately efficient and powerful for an excellent price/performance ration no matter which card you chose.
The 680, 690 and 670 round out the highest-end Enthusiast SKU's, and so the natural progression is to replace the aging top performance level SKU in the GTX 560 Ti. This SKU is very important, as it has always marked a middle ground of excellent performance without enthusiast-class price. The 660 Ti utilizes the same GK104 GPU which powers the flagship GTX 690, 680 and 670.
Nvidia does a lot of market research when it comes to GPU's and for this they know that not every gamer upgrades with every new GPU launch so they wanted to make sure that this was something special and worth the upgrade.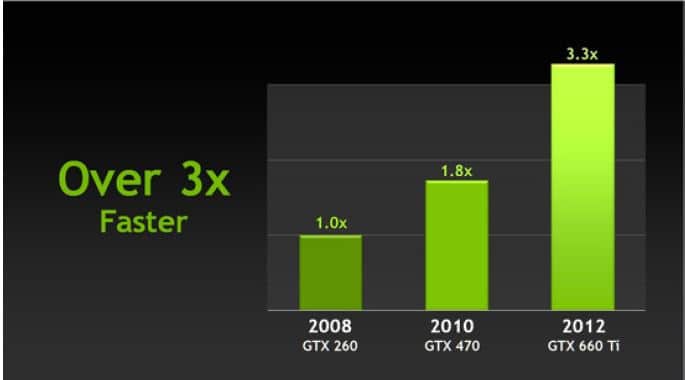 Here we see the chart provided by Nvidia where the GTX 660 Ti clearly blows away previous generation GPU's, and gives gamers a reason for an upgrade with performance levels tripling what is seen on the GTX 260 which is still a card used quite popularly today.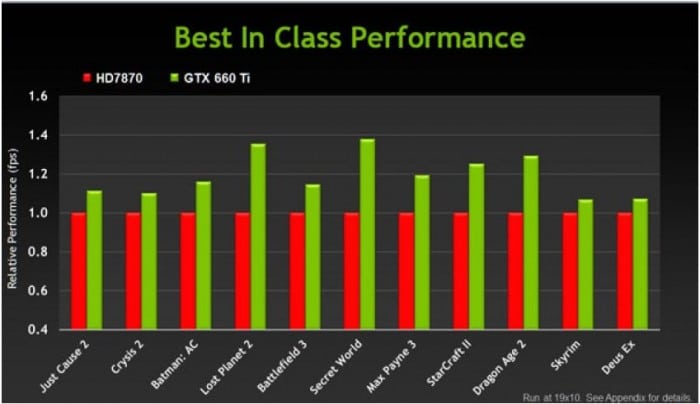 Once again data provided by Nvidia shows that compared to the HD7870, the GTX 660 Ti simply wins hands down and by a large margin in some areas.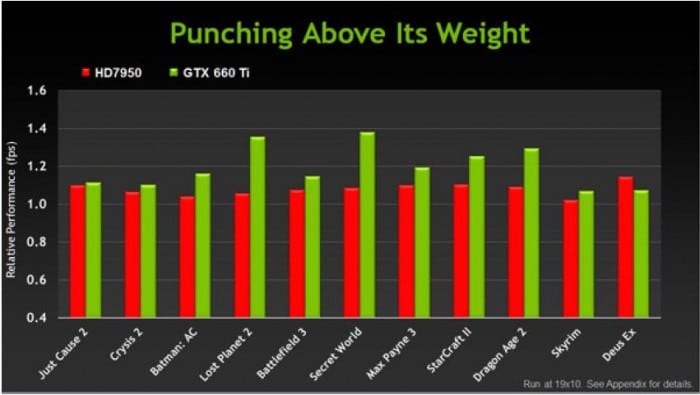 To some this may be a surprise but after testing both the GTX670 and GTX680 we know that these cards not only beat their closest competitors but even take shots at levels above them. Here we see that in some cases the GTX 660 Ti out performs the lowest enthusiast-class GPU from AMD.
The GK104 GPU found in the GTX 660 Ti happens to carry the same shader count and overall spec as the GTX670 which no doubt contributes to its excellent performance. The difference is that the GTX 660 Ti employs a 192Bit memory bus for its 2GB of onboard framebuffer. The TDP of the GTX 660 Ti is 150W which is comparable to the GTX 560 Ti but with performance that can best the previous generation flagship (GTX580).
The GTX 680 was designed to be a powerhouse and well deserved flagship model for the GeForce lineup; the GTX 670 was made to back it up with excellent performance at a little better pricepoint; and finally the GTX 660 Ti is the gamer's card. It is designed to be the card that brings Kepler to the masses, as many gamers simply want to game and don't need or want the very best money can buy, but rather a card that simply plays their games well.
The real question that comes to our minds is whether the GTX 660 Ti is able to overclock to the same level we have seen from the GTX 670, and whether this will be a real performance monster knocking out everything in its path, or simply be a beast of a card with a limit.