ZOTAC always has a unique way of approaching the market, whether it be via unique color profiles or just the simply outlandish cooler designs on the AMP series of cards. Today we take a look at their newly released GTX 660 Ti offering from the AMP Edition lineup and see how it stacks up to what the big boys has to offer.
Introduction – ZOTAC GTX 660 Ti AMP Edition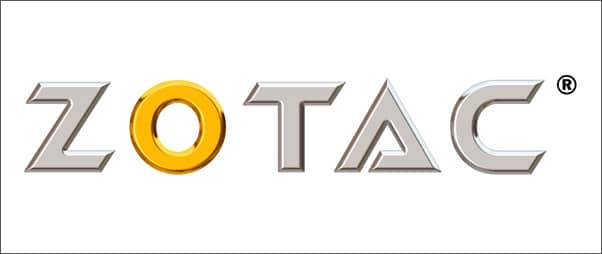 ZOTAC is widely known for their SFF offerings, but the enthusiasts community is a much harder nut to crack, as there are so many long time manufacturers already in this space. This has not deterred ZOTAC in the least as they jumped in quite some time ago with their AMP editions and show no sign of slowing down. Today we have the newest offering from Nvidia's GeForce lineup the GTX 660 Ti which is based on the same GK104 GPU as the 680 and 670 cards we have seen previously.
Some e-tailers will bundle this card with Borderlands 2 which is awesome as it just adds value to the deal.

This card is a very small PCB similar to the reference design on the 670 model we saw recently. This is great as we have seen many cases where these types of cards can deliver great performance and also fit into small enclosures which allows for a excellent performing gaming system without needing a huge chassis to hold it. The ZOTAC GTX 660 Ti AMP comes in at a MSRP of $329.99 which is a little above what we have seen fro some of the other cards we received for testing.
Key Features
Dual Silencer Advanced Cooling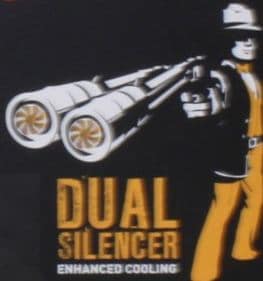 Dual Silencer Advanced cooling is the name that ZOTAC gave their dual fan cooler for the GTX 660 Ti AMP card. This cooler is designed to not only be a better cooler but a quieter cooling solution as well. From our testing this is definitely the case. The card runs quite cool and stable along with even with the fans fully ramped are not excessively loud.
GPU Boost
Nvidia implemented the GPU Boost feature on the new Nvidia GeForce 6 series GPU's of the Kepler Architecture. This allows the card to have a base clock and it adjusts dynamically or overclocks to a speed of up to a certain amount depending upon the thermal and power envelope. This makes Overclocking these cards a bit different as you now are overclocking with a boost clock and by offsets from the out of the box clocks. We will discuss more of the overclocking aspects in the overclocking section but it does need to be noted. The voltage envelope can be adjusted as well with another offset setting. This will raise the ceiling in most cases for more overclocking headroom pending temps are within check which with this cooler should not be much of an issue.
Adaptive V-Sync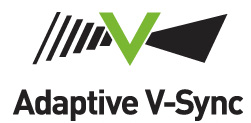 Nvidia also included another feature as of recent called "Adaptive V-Sync" which allows for better performance while also stutter free gameplay by actively enabling and disabling V-Sync depending upon gaming situation and FPS all without any intervention from the user.
PCI Express Gen 3 Capable
As with all GeForce 600 series cards the GT640 supports full PCI Express Gen 3 for uninhibited performance from the system bus. As of this time this is only fully supported on ivy Bridge CPU's with compatible motherboards.
What is the GeForce GTX 660 Ti?
Nvidia hit the market hard and fast with the introduction of the GTX 680 and delivered a card that was simply a marvel of new technologies such as Adaptive Vsync, GPU Boost, TXAA and more. The GK104 GPU is ultimately efficient and powerful for an excellent price/performance ration no matter which card you chose.
The 680, 690 and 670 round out the highest-end Enthusiast SKU's, and so the natural progression is to replace the aging top performance level SKU in the GTX 560 Ti. This SKU is very important, as it has always marked a middle ground of excellent performance without enthusiast-class price. The 660 Ti utilizes the same GK104 GPU which powers the flagship GTX 690, 680 and 670.
Nvidia does a lot of market research when it comes to GPU's and for this they know that not every gamer upgrades with every new GPU launch so they wanted to make sure that this was something special and worth the upgrade.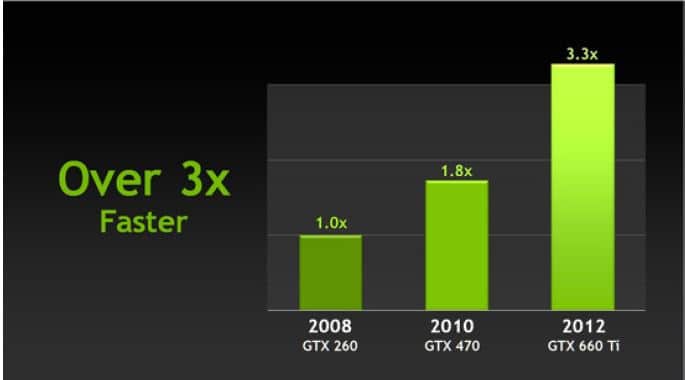 Here we see the chart provided by Nvidia where the GTX 660 Ti clearly blows away previous generation GPU's, and gives gamers a reason for an upgrade with performance levels tripling what is seen on the GTX 260 which is still a card used quite popularly today.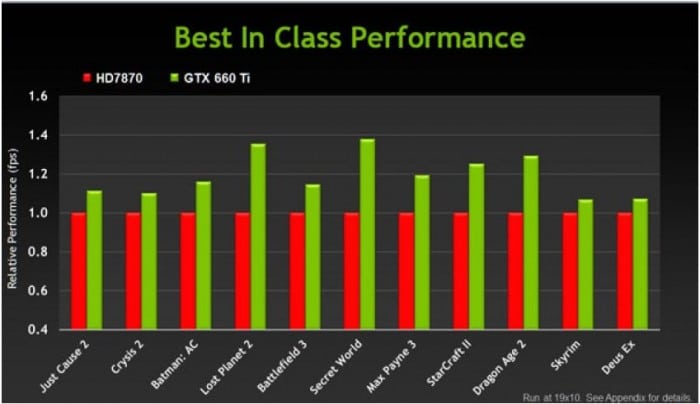 Once again data provided by Nvidia shows that compared to the HD7870, the GTX 660 Ti simply wins hands down and by a large margin in some areas.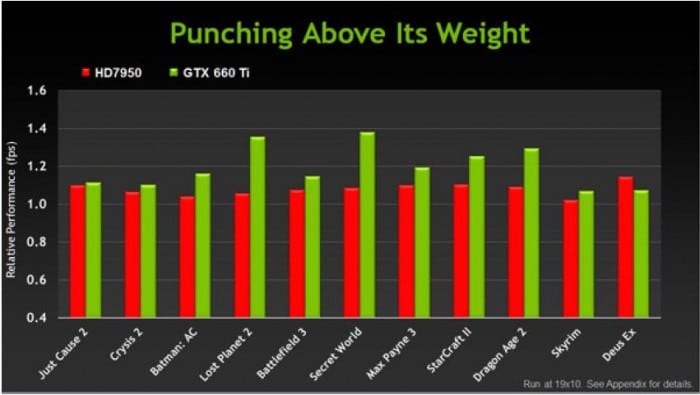 To some this may be a surprise but after testing both the GTX670 and GTX680 we know that these cards not only beat their closest competitors but even take shots at levels above them. Here we see that in some cases the GTX 660 Ti out performs the lowest enthusiast-class GPU from AMD.
The GK104 GPU found in the GTX 660 Ti happens to carry the same shader count and overall spec as the GTX670 which no doubt contributes to its excellent performance. The difference is that the GTX 660 Ti employs a 192Bit memory bus for its 2GB of onboard framebuffer. The TDP of the GTX 660 Ti is 150W which is comparable to the GTX 560 Ti but with performance that can best the previous generation flagship (GTX580).
The GTX 680 was designed to be a powerhouse and well deserved flagship model for the GeForce lineup; the GTX 670 was made to back it up with excellent performance at a little better pricepoint; and finally the GTX 660 Ti is the gamer's card. It is designed to be the card that brings Kepler to the masses, as many gamers simply want to game and don't need or want the very best money can buy, but rather a card that simply plays their games well.
The real question that comes to our minds is whether the GTX 660 Ti is able to overclock to the same level we have seen from the GTX 670, and whether this will be a real performance monster knocking out everything in its path, or simply be a beast of a card with a limit.
Overview of the ZOTAC GTX 660 Ti AMP Edition
The packaging for this card is large and boasts the AMP edition moniker proudly.
 Here is a list of all items included in the accessory pack:
Installation Disc

DVI to VGA Adapter

3 day free pass for Trackmania driving game

4 pin Molex to 6 pin PCIe power dapters (2x)

necessary instruction manuals
The accessory package is simple and functional. The card uses only slot power so no power adapters are necessary and the card should simply plug in and run.
Click Images to Enlarge
Here is the card out of the box. Just look at the PCIe clip on the lower edge and you can see how small this card really is. Some people may frown on small cards, as though smaller cards somehow make a difference in performance, but this is blatantly untrue.

Click Images to Enlarge
The display outputs are standard for the 6 series coming with:
DVI-I
DVI-D
HDMI
DisplayPort
You will be happy to note that also these are all full size ports and therefore do not require any silly adapters to get plugged in and running.
Click Images to Enlarge
The heatsink comes off rather easy just 4 screws each 90 degrees apart in a square around the GPU. Being a smaller PCB there are no PCB stiffeners or full card heatsinks that we have seen on other models which means if disassembling this is a much easier task. The memory is left uncooled but as we see in our overclocking tests this does not hamper it one bit as this card comes out of the box with a massive memory overclock advantage over the competitors and it even has room to push it more.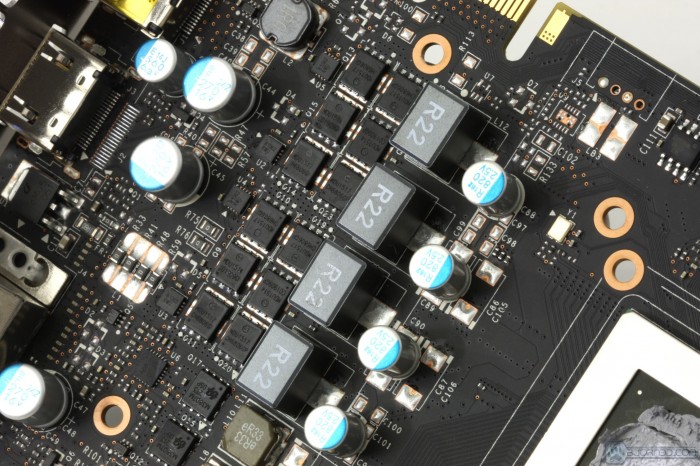 Click Images to Enlarge
The VRM is very standard, and reminiscent of the reference model. This can either be a good or bad thing depending upon how it affects performance. In the case of the AMP edition 660 Ti it is not an issue at all as the card clocks well and keeps on clocking so while it is plain it does work.
Testing & Methodology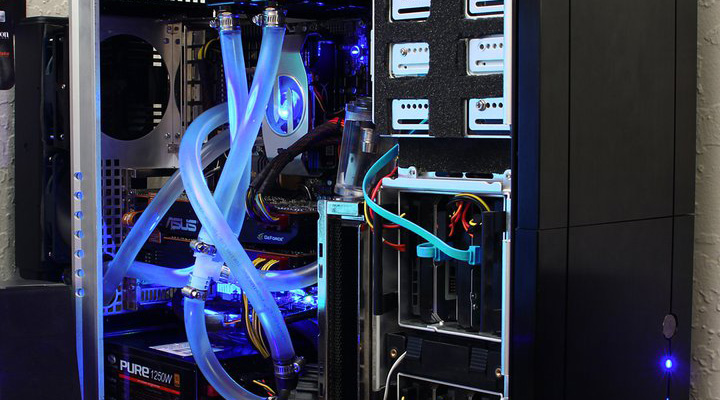 We've expanded our testing suite considerably since the X79 chipset release, and will continue to use the same methods for most of the motherboards and CPU's we test. In the interests of thoroughness and accurate results, we run each test at least three times, and some tests more than that. We average the total of all the tests from each benchmark then report the average here.
The OS we use is Windows 7 Pro 64bit with all patches and updates applied. We also use the latest drivers available for the motherboard and any devices attached to the computer. We do not disable background tasks or tweak the OS or system in any way. We turn off drive indexing and daily defragging. We also turn off Prefetch and Superfetch. This is not an attempt to produce bigger benchmark numbers. Drive indexing and defragging can interfere with testing and produce confusing numbers. If a test were to be run while a drive was being indexed or defragged, and then the same test was later run when these processes were off, the two results would be contradictory and erroneous. As we cannot control when defragging and indexing occur precisely enough to guarantee that they won't interfere with testing, we opt to disable the features entirely.
Prefetch tries to predict what users will load the next time they boot the machine by caching the relevant files and storing them for later use. We want to learn how the program runs without any of the files being cached, and we disable it so that each test run we do not have to clear Prefetch to get accurate numbers. Lastly we disable Superfetch. Superfetch loads often-used programs into the memory. It is one of the reasons that Windows occupies so much memory. Vista fills the memory in an attempt to predict what users will load. Having one test run with files cached, and another test run with the files un-cached would result in inaccurate numbers. Again, since we can't control its timings so precisely, it we turn it off. Because these four features can potentially interfere with benchmarking, and and are out of our control, we disable them. We do not disable anything else.
Test Rig
Test Rig

Case
Thermaltake Level 10 GT
CPU
Intel Core i7-3770K/Intel Core i7-2600K
Motherboard
ASUS Maximus V Gene

Ram
16GbpsB Patriot Viper Xtreme 2400MHz +
CPU Cooler
Swiftech H20-220 Edge
Hard Drive
Western Digital Velociraptor 300GB
SSD
Intel 510 series SATA III 120GB
Optical
ASUS BD-ROM
GPU
ZOTAC GTX 660 Ti AMP Edition

Additional Cards

N/A
PSU
Thermaltake Toughpower Grand 1200W
Mouse
Tt eSPORTS Black gaming mouse
Keyboard
Tt eSPORTS Meka G1 mechanical gaming keyboard
Test Suite
We will use the following applications to test the performance of the graphics card.
Synthetic Benchmarks & Games
Benchmarks
3DMark11
Just Cause 2
Sniper Elite V2
Metro 2033

Unigine Heaven
Overclocking

The GTX 660 Ti AMP Edition clocks very much like the other 660 Ti's, with you setting the boot clock via your overclocking tool of choice.  We prefer to use either what comes with the card, or in the case of the ZOTAC card, the ASUS GPU Tweak utility as it seems to be very stable from all of our testing.
We started off by pushing the GPU and we got around a setting of 1170 Boost clock up from the stock of 1111, but what was amazing is that jumped the maximum Dynamic boost clock up from 1150 to 1300MHz which is also the highest we have seen in our 660 Ti testing.  That is no small feat as ZOTAC has always been the little brother around the big bullies. This time, though, Zotac pulled off a nice slap to the big guys.
| | |
| --- | --- |
| Clock | Max stable MHz |
| GPU Base clock |  1092 |
| GPU Boost Clock |  1170 |
| Max dynamic clock Observed |  1300 |
| Memory clock |  1727 (6908) |
As you can see this thing really took off with an amazing showing in the dynamic boost clock department and it also shows in some excellent performance as well.
 Memory overclocking is quite strong as I saw it up to 6908 effective clock from its stock of 6608 which is 600 MHz higher than all of the other competition and a damn fine showing from ZOTAC on this run.
 In order to ensure no system bottleneck we clocked the CPU to 4.6GHz to ensure there is no reason the system will slow down the cards performance at all.
Some may ask why we chose the mainstream Z77 system, and we can explain. Up until recent the X79 enthusiasts platform did not really support PCIe Gen 3 on the Nvidia 600 series GPU's. Because of the inherent instability many have seen with the X79 platform with Gen 3 products, Nvidia has been hesitant to enable it, and now there is a workaround via registry to get it working. However, in order to ensure the most consistent testing possible, we have stuck to the natively supported Z77 platform.
Important note: Overclocking can cause component failure. Please exercise caution when attempting any level of overclock on system components.
Temperatures

The temperatures were recorded with full loaded Heaven benchmark looping for over 30 minutes or longer depending how long it took for the card to level out in temps and sat at a plateau for more than 10 minutes.
| | |
| --- | --- |
| GPU Temperatures | Temperature (Idle/Load) |
| ZOTAC GTX 660Ti AMP Edition | 32C/71C |
| ZOTAC GTX 660Ti AMP Edition OC | 33C/74C |
The cooling efficiency for this lil cooler is quite amazing as even when ramping the fans up to full tilt they were not in any way annoying and in a enclosed chassis I think you would find it tough to distinguish amongst other fans.
Real world/Gaming Benchmarks
3DMARK 11

3DMark 11 is the newest in Futuremark's suite of benchmarking utilities. Its a fully capable DirectX11 benchmark which also stresses and analyzes the system performance as a whole to simulate a heavy rendering environment such as a high end game or other app the end user may run. This benchmark was run with Performance settings 5 times and all runs were averaged for the result below.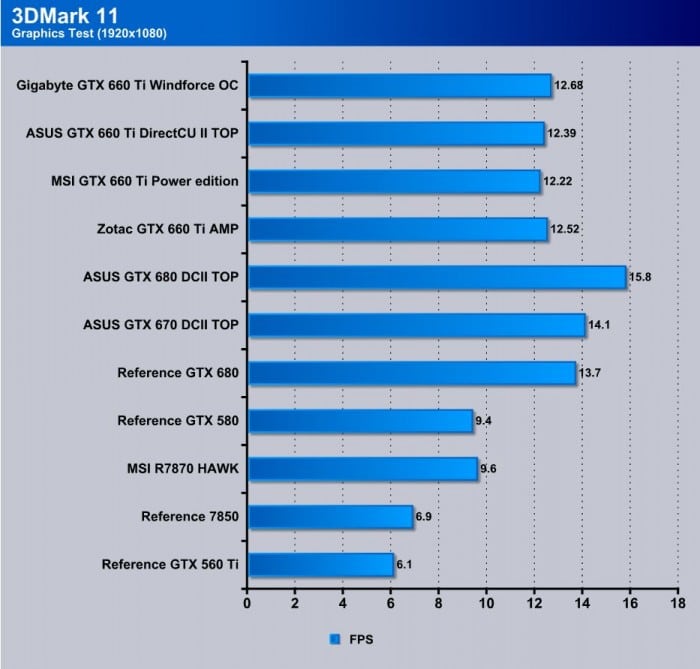 3DMark 11 shows a nice picture of the cards placement as it falls right behind the 670/680's and well ahead of the 580.  Now we just need some 7950's to add to this mix.  The ZOTAC card shows here for being a smaller card it can hold its own as it comes close to besting every card.
Heaven Benchmark 3.0

Heaven Benchmark version 3.0 is the newest iteration from Unigine and a improvement to stability along with I am noticing much more consistent scoring as well.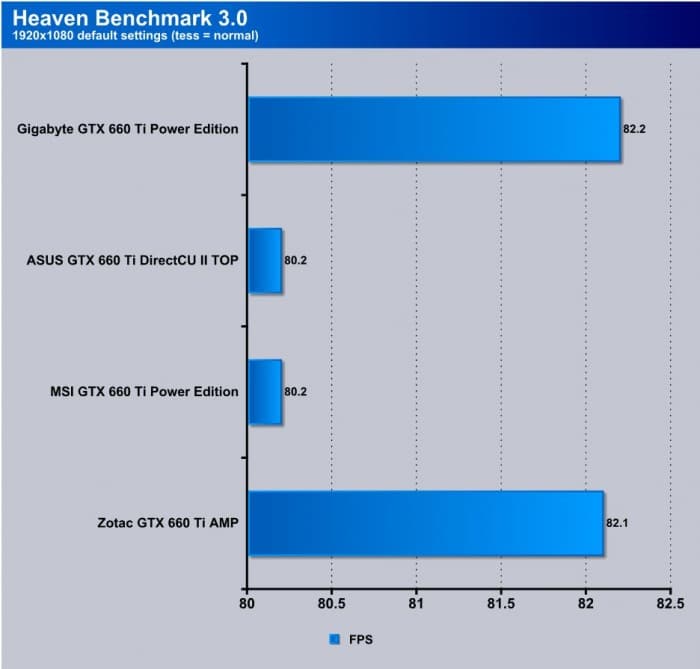 In order to make sure we got these cards tested and up to show off to you guys we did not have time to retest our card suite in this newest benchmark, although we hope to update that very soon. Till then, you can compare the different 660 Ti's we have here.
Metro 2033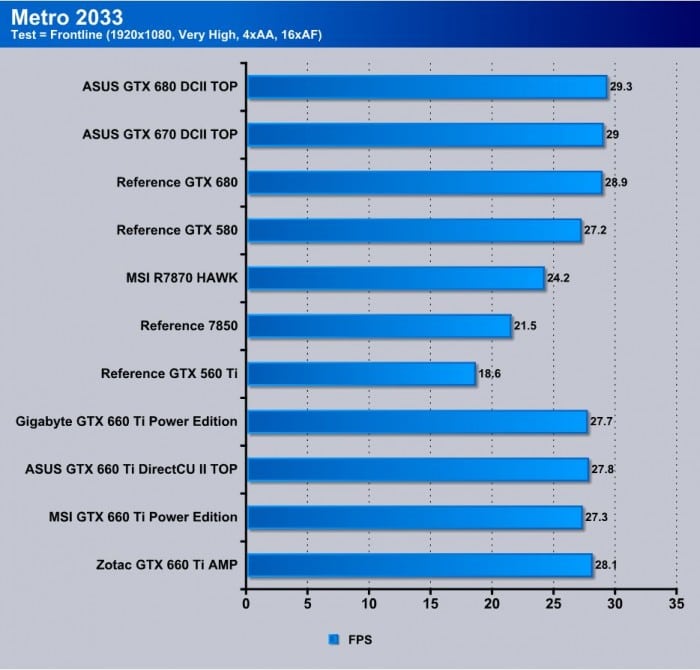 Metro 2033 has always been extraordinarily stressful for GPU's, and this has not changed with time. The 660 Ti cannot play Metro 2033 without minimum framerate, but for a midrange performance card it definitely holds its own as the previous generation flagship GTX580 is bested by this midrange beast.
Here we do see the ZOTAC card pickup some headroom over the pack as its maximum dynamic boost clock is put to good use to nudge itself ahead of the competition.
Just Cause 2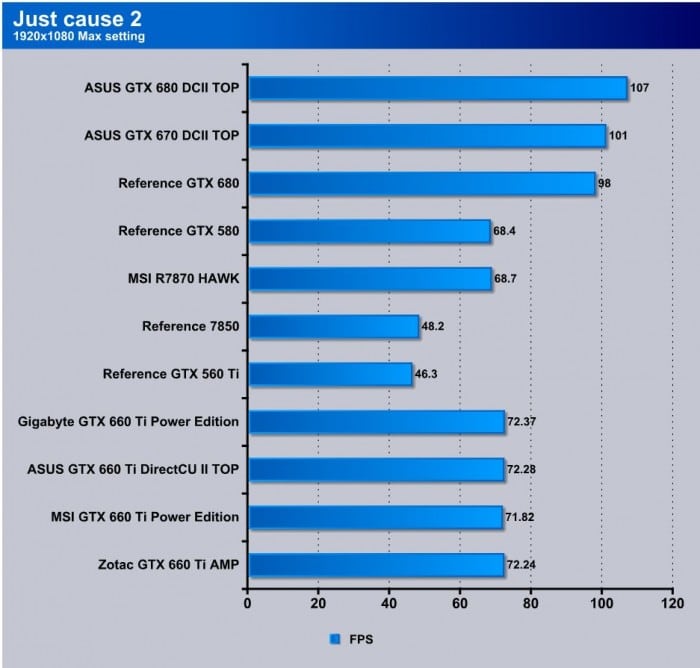 We brought a rather old but good game back for testing this card. The cards run very close to each other here but the ZOTAC just simply cannot pull ahead here and is very slightly behind the other competitors here.
Sniper Elite V2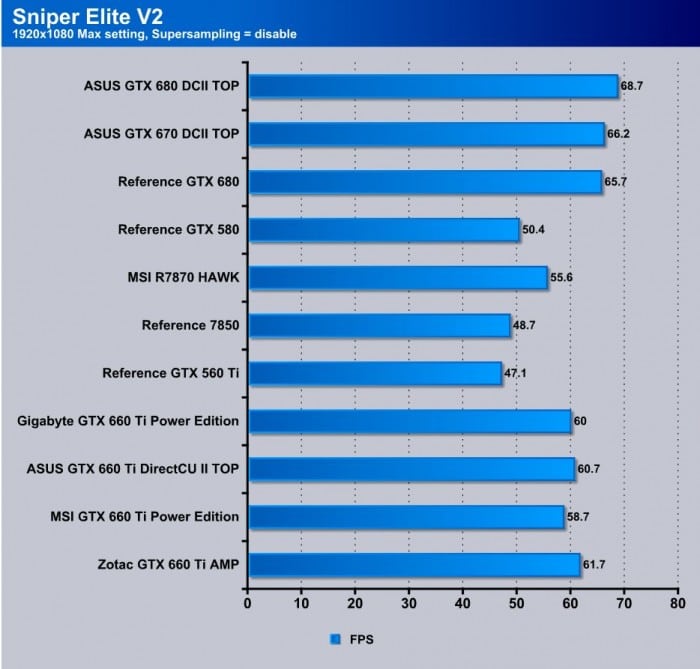 Those of you that have been paying attention to games recently will know that Sniper Elite V2 was recently released on the scene only a few months back. It is a fun game and once we found a benchmark tool we knew we had to put it in a review. The game is as it sounds: you are a sniper and your job is to sneak around and kill pretty much anything that moves. It has an x-ray mode that shows bones breaking or being shattered with hits.
Here again we see the ZOTAC model strut its stuff as it lays a nice little smack down on the competition.
Conclusion
The GTX 660 Ti was released with many models and almost all of them extended PCB's with custom VRM and all kinds of gadgets and bells and whistles. After all of it was said and done ZOTAC pulled some magic pixie dust out of their hat with some amazing numbers.
All things considered the ZOTAC card pulled the highest dynamic boost clock numbers by 25MHz which means they have some background trickery going on. The card is small which means guess what people all of those looking to make a smaller system or a LAN box rig could easily fit this card in there for some awesome gaming performance.
There is a strange stigma around SFF cards, that they are cheap or underperformers, but the rulebook of perception has just been rewritten. ZOTAC has made the mini-card not just legitimate but a downright killer, and one hell of a performer. Out of the box the card is clocked for memory 600MHz QDR: higher than any other 660 Ti we received
The only real issue we have with the card would be the slightly higher price, but as we said before, if the card has features we would  pay a little extra for it. While the card on the surface may seem simple, its overclocking ability makes it a steal.
OUR VERDICT: ZOTAC GTX 660 Ti AMP Edition
| | |
| --- | --- |
| Performance | 9.5 |
| Value | 8.5 |
| Quality | 9 |
| Features | 8 |
| Innovation | 9 |

We are using a new addition to our scoring system to provide additional feedback beyond a flat score. Please note that the final score isn't an aggregate average of the new rating system.

Pros
Cons

Extraordinarily high GPU Dynamic Clock

Mini card that hits hard

Effective dual fan cooler

Highest memory clock out of the box

Price is a bit steep compared to competition

Lack of included overclock software
Summary: The ZOTAC GTX 660 Ti AMP Edition is small enough to make a lanbox or other small form factor gaming rig but powerful enough to blow the doors off most performance segment offerings. For this it receives the Bjorn3D Golden Bear Award.