Can a small heatsink/fan give adequate cooling while reducing system noise? SilenX thinks so. We look at the SilenX EFZ-92HA3 to see if it can cool an overclocked system and stay quiet while doing so.
Introduction
Many consumers are obsessed with cooling, adding better, larger, louder aftermarket coolers. But what does one do if working in a case with limited clearance? Or on an HTPC system where reduced noise levels are also desired? These conditions make many of the current choices unsuitable for consideration. Staying with the stock CPU cooler may solve the size problem, but as we have all noticed, they are usually quite loud. The ones that aren't are usually inefficient, leaving the user with an overabundance of heat. Many of the low profile aftermarket coolers suffer from the same symptoms. So what we would need is a small or moderately sized cooler that can wick the heat from the CPU without sounding like a hurricane, and fit in a somewhat narrow case.
SilenX offers an option for this in their EFFIZO 92mm compact silent CPU cooler. This is a newer product that has just hit the market. The EFZ-92HA3 is a relatively small and attracive CPU cooler, but can it hold the heat to acceptable levels? Can it live up to it's name and do this silently? Let's find out exactly what it's made of, and what it can do.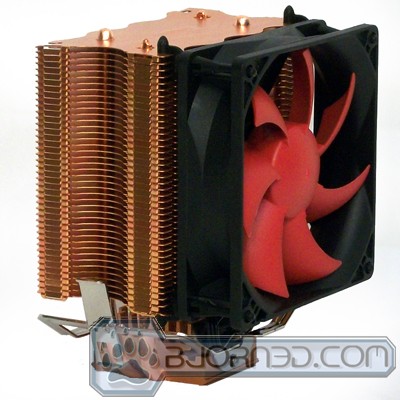 A quick look around the web found prices ranging from $22 – $32 USD. At the time this was written this product was not on the SilenX website.
Features and Specifications
The retention clip will fit every AMD socket from the 939 series on up; it will fit Intel LGA 775, 1155, 1156 and 1366 sockets.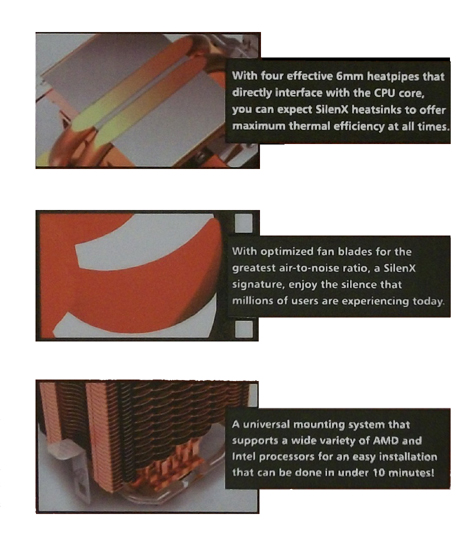 Specifications
Dimensions:
95(L) x 82(W) x 123(H)mm, 92mm fan
Weight:
422g
Material:
Copper Heatpipes, Anodized Aluminum Fins
Speed:
800 – 200 RPM
Noise:
8-24 dba
Airflow:
22 -48 CFM
Voltage:
5 – 12 volts
Current:
0.15A
Power
1.80 watts
Bearing type:
Fluid Dynamic
A Closer look
The packaging for the SilenX EFZ-92HA3 has a bright red eye catching background .
The front features a plastic window giving consumers a peek at the fan and the foot of the heatsink. It also gives us a bit of information about the product, as well as displaying the features SilenX feels will be the primary selling points. The right side of the container shows off the physical attributes that they believe allow it to meet these points.
The rear of the box has an image of the assembly and lists the performance characteristics, along with the icons for the CPUs it is currently compatible with. It also informs prospective consumers that the product comes with a 3 year warranty, lists the website address, and adds the disclaimer that the fan is <18 dB(A) under typical operating conditions with motherboard fan control.  The left panel lists the specifications and includes a compatibility list. The top shows both the SilenX logo and the Pc Cooler logo. This is because the heatsink part of this HSF assembly is in fact from a Pc Cooler S90 HSF. The fan is a SilenX 92mm fan.
Opening the box we see the heatsink assembly and a white box containing the accessories. Removing the contests we find the instruction manual, two adaptors for Intel processors, mounting hardware, extra rubber fan nails, a syringe of thermal grease, and a silica gel pack for protection from humidity. The instruction manual starts off by telling us how to install the fan, however it was already mounted when we opened the box.
The cooler features copper heatpipes and anodized aluminum fins. It contains a separate heatsink above the contact area. The retention clip is mounted with a screw on each side, and has a noticeable back pressure when installing. It requires a bit of effort to get it down on the lock tab. The fan is a 92mm SilenX fan black frame, red fins, with a 3 wire DC connector for the motherboard..
The sides show what has become the industry standard for fin construction, with the edges folded to provide better integrity and even spacing. The top of the cooler shows the PcCooler logo.
The base of the cooler has a smooth finish but is not polished. It comes with a protective covering which must be removed before use. This is the only place on the assembly, other than the clip, that one doesn't see the anodized finish.
Installation & Testing
Installation
Installing this cooler on an AMD CPU is a simple matter of getting the TIM on it, placing it into position, securing the clip and plugging in the fan wire. Using on an Intel CPU requires just a few more steps more.
Following the instructions, installing the ring for the LGA 775 with it's adjustment pins and push pins and mounting the cooler with thermal grease took less than ten minutes as claimed by SilenX. They say it can be done without removing the motherboard. We believe this due to the design, but installing it before mounting the motherboard may be easier.
Testing
Testing the hardware to see if it lives up to the manufacturers claims is one of the most important parts of the review process. To test the SilenX EFZ-92HA3 we will match it against 3 similarly sized CPU coolers, an  OEM AMD all aluminum HSF (the most common type), a Thermaltake TR2-R1 all aluminum HSF, and an OEM AMD low profile heatpipe HSF.  The CPU in this system has been overclocked from 2.2 GHz to 2.51GHz to generate more heat.
All tests will be performed with the side off and all fans, except the one in the missing side, running. We will run each of these in an open case, recording temperatures at idle, and again at a 100% load using a Prime95 torture test (In place large FFT's, maximum heat, power consumption, some RAM tested).
Test System
Case
COOLER MASTER HAF932 ADVANCED (open for testing)

Processor

AMD Phenom II X4 9500 (Agena)

CPU cooler
SilenX EFZ-92HA3 & other test HSF's

Motherboard

Asus M3N-HT Deluxe (bios 3401)

Memory

4 GB Patriot 8500EL series PC2-6400

Drive(s)

Maxtor 7H500F0, WDC WD 1600BEVT

Graphics

Video Card 1:   XFX 9800GX2

Video Card 2:   EVGA GTX260

Video Card 3:   Gigabyte GTX560 oc

Power Supply 1
Antec True Power Trio 550watt PSU

Power Supply 2

XFX 750W POWER SUPPLY BLACK EDITION

PSU switching controller
Add2PSU
Operating System
Windows 7 Ultimate 64bit
Fan controller
NZXT Sentry2
Case fans
Total 5 (excluding PSU fans), Two 230mm, One 140mm, two 120mm
    All video cards were at idle with no discernable load.
Results
Temperature readings were obtained from HWiNFO64™ version 3.88-1400
For more information on HWiNFO™ goto http://www.hwinfo.com/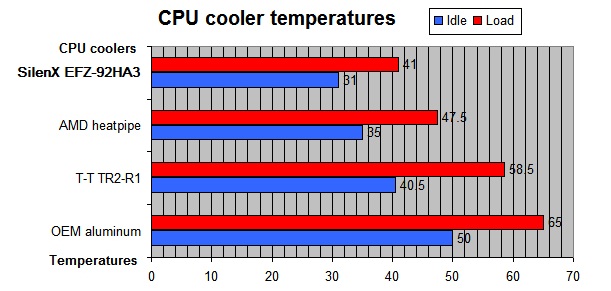 Recorded temperatures were the ones shown once the system stabilized, and stayed consistent.
The coolers tested performed within acceptable limits on this CPU. Anything generating more heat might have serious problems with the OEM AMD all aluminum cooler. It was only able to hold the CPU 5°C below the thermal limit, and actually peaked at the limit of 70°C for a few seconds before stabilizing. The fan on it was very noisy.
The Thermaltake TR2-R1 faired a bit better keeping the temps within a reasonable range but still wasn't quite up to the task of keeping an overclocked CPU nice and cool. It produced noticeable fan noise but wasn't unbearable.
The AMD heatpipe cooler did a decent job but produced a very noticeable whirring noise while doing so, enough to be mildly distracting.
The SilenX EFZ-92HA3 held the idle and load temps to a level that surpassed acceptable. The fan was quiet enough that we were tempted to open it up to confirm that the fan was indeed running.
Conclusions
The SilenX EFZ-92HA3 is an attractive piece of hardware, but good looks will only take you so far. The test results say that it is an efficient cooler which creates a minimum of noise. It is in fact very quiet. In all honesty on opening the box and removing this cooler, we thought this would be an epic failure, we were quite pleased to be proven wrong.
This unit is sturdily constructed, easy to install (just remember to make sure you have clearance to work on it) and compact enough to fit in almost any case. It can handle an overclocked CPU while staying quiet. If building a mobile gaming system, or a an HTPC it is a perfect choice. The retention clip will fit every AMD socket from the 939 series on up; it will fit Intel LGA 775, 1155, 1156 and 1366 sockets. It is compatible with all the recent platforms. Add to that the 3 year warranty and it's hard to go wrong with this unit.
SilenX doesn't try to claim that this cooler will handle a highly overclocked CPU. In fact they specifically aimed this cooler at the user that wants great cooling on a non, or mildly overclocked system at a reasonable price and without the wind-machine sound effects. It was also designed with narrow cases in mind so it will fit in many older cases that some the massive coolers on the market today simply cannot.
This product met or exceeded every claim the manufacturer made. It performed above our expectations. The ratings given this unit are based on it's performance compared to what it is claimed to be capable of, not what it can do compared to other products.
OUR VERDICT: SilenX EFZ-92HA3
| | |
| --- | --- |
| Performance | 10 |
| Value | 9 |
| Quality | 10 |
| Features | 8 |
| Innovation | 8 |

We are using a new addition to our scoring system to provide additional feedback beyond a flat score. Please note that the final score isn't an aggregate average of the new rating system.

Pros
Cons

Good cooling to noise ratio

Good performance

High quality of construction 

Ease of installation

None

 
Summary: The SilenX EFZ-92HA3 is an excellent choice for those looking for better cooling of stock to mildly overclocked systems, or systems in small cases. It is also a great choice for an HTPC, or any other system where less noise is desired. For its outstanding performance, it earns the Bjorn3D Silver Bear Award.