Today we look at the budget friendly Cyberpower gaming notebook. A feature rich offering at a lower mid level price range, check out how well this gaming notebook does.
Introduction – Cyberpower X6 9200 Gaming Notebook

Cyberpower PC has become one of the fastest growing custom PC designers and builders that have entered the scene to date. Cyberpower started in the late 90's and quickly grew in popularity in the performance enthusiasts community, with great performance for an excellent price. This tradition has made them obscenely popular and one of the fastest growing companies, as reported by the Los Angeles Business Journal in 2003. When looking at gaming notebook options, there are prevalent dispositions towards one notebook manufacturer or another. Either way, customers will many times pay end up paying a largely inflated price tag due to the brand name or logo.
Many things need to be considered when looking for a notebook, as upgrades are usually very difficult, since most of the components are proprietary and very difficult (or even impossible) to upgrade. Customers will need to keep their intended use in mind for this reason. For instance, most gaming notebooks usually will have performance close to their desktop counterparts. They cannot usually rival similar desktops due to the cooling limitations imposed on a notebook with the limited amounts of space. Notebook processors and graphics components usually have a much lower TDP to allow lower heat to match the previously mentioned restrictions. Users need to keep this kind of information in mind when selecting a notebook to ensure it fits the needs of their work and gaming needs. When selected wisely, a notebook can actually be a desktop replacement for those who need their systems to be portable as well as powerful.
The specific model the Cyberpower X6 9200 gaming notebook we're looking at today comes packing some impressive hardware for the $900.00 price tag that is presently listed on the company's web store. This notebook carries one of Intel's newest mobile Sandy Bridge processors. The Core i7-2670QM has a standard speed of 2.2GHz and a max turbo frequency of 3.1GHz, in addition to 4 cores with HyperThreading enabled. Additionally, the dual channel DDR3 memory controller opens up more than enough bandwidth for anything users will put on it. This system comes packed with dual 4GB 1333MHz sticks of DDR3 memory to ensure plenty of memory for as much work as we can throw at it. For the gaming and high performance rendering tasks, we have the discrete Nvidia GT540M graphics processor with 2GB memory to ensure plenty of graphics performance for some of the newest games at moderate settings. This notebook is also equipped with Nvidia Optimus technology which allows maximum power savings when heavy graphics loading is not needed, and maximum performance when our games demand it.
It is important to note that the $900.00 range is actually the lower mid-range for performance notebook options, and we need to keep that in mind when gauging performance. Cyberpower offers many models to suit multiple levels of user and gamer alike, but the price levels do match these increases in performance. On this model, we estimate that most games will run at mid level graphics settings with the standard 1366 x 768 resolution. This model also employs a Full HD display with capable resolutions of up to 1920 x 1080 Full HD which allows for more desktop real estate, and also provides support for playback of HD video including Blu Ray content. Games can be played at the 1920 x 1080 resolution, but depending upon the graphics level of the game, the framerate may fall below a smooth level.
So far, the notebook has some great specs, and shows great promise. Let's take a look at what this gaming notebook can do, and the special features that make it worth its $900.00 asking price.
Specifications (as configured)
Here we have a much closer look at the particulars of the notebook we are looking at today. Going by specifications alone, this is quite impressive, as we've seen many other off-the-shelf notebooks that have a similar price but far lower specifications. With the specs we have here we can say that this notebook has plenty of horsepower under its hood and will be a great machine for a high power photo or HD video editor, and it should play some games relatively well also.
OS
Genuine Windows® 7 Home Premium X64
CPU
Intel® Core™ i7-2670QM Processor (2.2GHz-3.1GHz)
Display
15.6″ Full HD 1920X1080
System Memory
2x4GB DDRIII 1333MHz, 2 slots (Max 8GB)
Chipset
Mobile Intel® HM65 Express Chipset
Video Graphics
Intel® HD Graphics 3000 
NVIDIA® GeForce® GT540M 2GB
Supports NVIDIA® Optimus™ Technology
Hard Disk Drive
500 2.5″ 9.5mm SATA HDD 7200rpm
Optical Disk Drive
Slim-Body DVD- Super Multi Dual-Layer Drive
I/O Port
USB(3.0)*2, USB(2.0)*2, HDMI, D-sub, RJ45, Mic-in, Earphone-out,
4-in-1 Card Reader (SD/MMC/MS/MS Pro), DC-in Jack
Audio
Built in Stereo speaker*2, Internal Microphone
Communications
LAN: 10/100/1000Mbps Ethernet Base-T
Wireless LAN: 802.11b/g/n Wireless
Bluetooth: Bluetooth V3.0 + HS
Webcam
1.3 MegaPixel
Security
Kensington Lock
Battery
Li-ion 6-cell Battery pack 4800 mAH
Features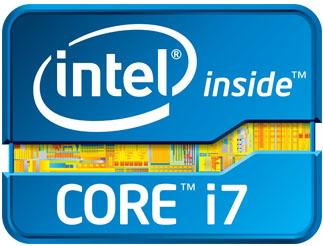 Intel Core i7 2670QM Processor
The Intel Core i7 2670QM Processor is one of the newest processors, recently released by Intel for the mobile platform. It offers 4 cores at a default speed of 2.2GHz and its turbo speed can reach up to 3.1GHz under a single core load. On top of that, the i7 models offer HyperThreading, which allows for up to 8 threads of processing power. The CPU also carries a hefty 6MB of L3 cache to ensure the performance we need is there when we need it. These processor models are from the newest Sandy Bridge family, which supports high memory speeds and also offers a 15-20% increase in performance from previous generation offerings. Also with the Sandy Bridge family comes Turbo Boost 2.0, which allows for even more of a turbo boost by dropping the unused cores to allow for much higher CPU speed while staying under the TDP of 45 Watts. The low 45W TDP allows for a compact cooling solution to be employed, ensuring safe operating temperatures. Integrated into the CPU is also an Intel HD 3000 Graphics Processor, which is the integrated GPU on the Intel Sandy Bridge architecture.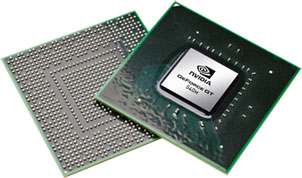 GeForce GT 540M Graphics Processor
The graphics processing power in this notebook comes in the form of the GT540M GPU with a supporting 2GB of frame buffer memory just to make sure high resolution duties are handled without a sweat. The GT540M sports a healthy 96 CUDA cores to enhance the processing power and a memory controller with a 128-bit bus width. This GPU is on the lower end of the mainstream offerings for Nvidia's mobile GPU's, but should not be written off, as many games play quite well at reasonable mobile resolutions with medium or lower graphics settings. The GT540M also supports PhysX technology which is a great feature, since more and mroe games are supporting PhysX. Nvidia PhysX allows for a more realistic gaming experience as in-game objects will interact in a more lifelike way. Also on the slate of Nvidia supported technologies is Nvidia's CUDA, which allows for heavy work loads to be completed quickly and very efficiently by the GPU core.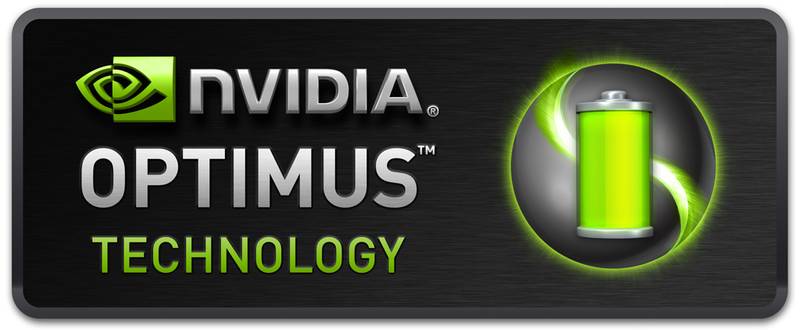 Nvidia Optimus Technology
Nvidia Optimus Technology is a feature we have seen before. It involves switching graphics between the low power integrated graphics processor and the much higher powered discrete graphics processor when needed. This feature has definitely become a lot more common with the introduction of Intel's Z68 chipset. The Z68 chipset allows graphics switching using the Lucidlogix Virtu software.
Our time using the Optimus enabled notebook has proven to be a rather pleasurable one with no visual or noticeable signs of the switch between graphics processors. Another strong point we noticed was the long battery life when using standard desktop applications such as Microsoft Word or Outlook to create emails. Later, we test our battery life results with light desktop usage.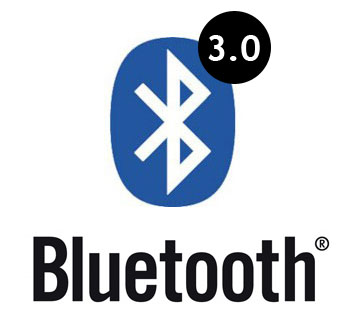 WiFi b/g/n & Bluetooth 3.0
The Cyberpower X6 comes with full wireless functionality with both WiFi b/g/n connectivity and Bluetooth 3.0 to ensure constant connectivity. The WiFi worked very well and was lightning fast with all of our testing. The Bluetooth was equally well implemented and even on every system startup it had a small notification on the lower left that let us know if our Bluetooth was set to be discoverable or not.
Overview of the cyberpower x6 9200
Click Image to Enlarge
The Notebook arrived in a standard brown color box bearing the Cyberpower logo and website. This is nice to see as we usually throw boxes away or reuse them so none of the purchase price had to be inflated with flashy packaging.
Next as we opened the package we were greeted with the accessory pack for the notebook which was everything needed to get started and even recover if needed.
Charger/power pack
Power cord for notebook (3 prong grounded)
Windows restore/installation disc
Windows support disc
As a side note it is nice to see a restore/installation disc included as many notebooks now come with a recover partition on the drive which constantly uses drive space and becomes totally useless in the event of a hard drive failure.
Click Image to Enlarge
Next we removed the notebook from its cardboard/safety enclosure to find yet another layer of padded covering over the notebook. This was cool to see as it shows Cyberpower goes out of their way to make sure every measure possible is taken to ensure the notebook shows up in top shape.
After removing this we found the notebook to be protected from scratches or blemishes by a stick on clear plastic which should help avoid any rubbing blemishes or wearing from vibration or bumps during the shipping process.
Click Image to Enlarge
There is a standard Windows key/label also affixed to the lower area of the laptop, so be sure to make a copy of this as this decal can wear off completely over time. The lower area has a single very large panel at the bottom as opposed to some which have multiple small panels to access the internal components.
Flipping open the screen we see a separate film sheet covering the screen, plastic over the keyboard, and a protective cloth in between the keyboard and the display. Cyberpower ships the notebook well protected to ensure that end-users receive a laptop in excellent shape.
Click Image to Enlarge
Here we see the notebook with the protective cloth removed. Even without the cloth, the laptop was very well protected. Unlike some notebooks we have see,n this one has the glossy finish well laid out all the way from between the keys to above the keyboard it all has a very uniform flow to it.
One thing to note is this kind of surface can show fingerprints and smudges very easily. Even dust seems to just keep getting stuck to it like a magnet. A lens cloth should be able to clean smudges or dust off the piano finish well.
Click Image to Enlarge
Here we see the custom laser etched Cyberpower logo, which is very discreet and subtle compared to some manufacturers' offerings. There are no large stand out light up logos or huge identifiers, it just looks like a simple clean notebook with nothing excessive that could bother more simplistic users.
When looking at the right side of the notebook we see the included DVD writer combo drive. Ahead of that we also see dual USB 2.0 ports and a microphone input port coupled with a speaker output port. 
Click Image to Enlarge
Here we take a straight on look at the front of the notebook which is fairly standard, only employing space on the right side for a multimedia card reader that reads SD cards or other such media.
Looking at the left side we see the other array of ports such as the the dual USB 3.0 ports and a HDMI port. The Ethernet jack allows for wired connection for up to a gigabit network. Also the DC charge port can be found here and the opening slits that allow exhausting of heated air from the notebook's cooling system. 
Click Image to Enlarge
Here we look at the lower section of the notebook. One thing we noted previously is that the access panel is a very large single piece instead of multiple smaller access panels. This works very well as it allows access to all components. The battery is easy to access as it does not protrude outward from the bottom of the notebook so the notebook can sit flush on our lap or on a desktop without resting at an awkward angle. Release of the battery is accomplished with 2 lock switches to avoid accidental removal or falling out of the battery pack during use.
Upon opening the lower panel which required the removal of only 6 small screws and the complete panel can be removed to allow access to the key internal components for service or upgrade. Opening this panel gives us access to:
GPU cooler
CPU/cooler
Hard Disk Drive
Memory modules
BT 3.0/WiFi module
Cooling Fan Assembly
One thing to note is that Cyberpower does support the removal of this panel which means users do not need to worry about voiding the warranty by opening this panel. Upgrades to components such as hard drive or memory are not an issue as well, though users should be sure to keep the original components in case warranty service is needed.
A Closer Look At the cyberpower x6 9200
Click Image to Enlarge
Here we are taking a much deeper look at the individual components and how they can make our lives easier. First up we look at the left side of the notebook. The HDMI port towards the frong allows for connection to many new display models and televisions carrying an HD signal and audio. Next to the HDMI are dual USB 3.0 ports which allow up to 10X the transfer rate of USB 2.0 ports. The inclusion of USB 3.0 ports is a great addition as many devices are starting to appear with the newer USB 3.0 interface which allows for much faster data transfer and much quicker charging of mobile devices. The USB 3.0 ports are backwards compatible with USB 2.0 and previous as well.
Moving toward the rear we see the DC power port. Then we have the Ethernet port which supports 10/100/1000 speeds for up to the quickest gigabit networks. Lastly we see the D-sub or VGA port which can allow connection to many displays including older CRT's some television displays or most prominently a projector in a conference room.
Click Image to Enlarge
Next we move to the other side where there is the pair of audio jacks for both a microphone input along with a headphone output as well. There are also a pair of standard USB 2.0 ports, bringing the total of USB ports to 4.
Here we see on the lid where Cyberpower has added their logo with their custom laser etching. This service is presently not offered for notebooks but is a very popular option for their desktop offerings as the chassis side windows can be etched with some excellent custom designs.
Click Image to Enlarge
The lower panel removed gives us access to many of the key components which can now be easily accessed removed or upgraded. Firstly we see the dual 4GB DIMMs of ADATA memory for an impressive 8GB of total DDR3 memory running at a frequency of 1333MHz and CAS 9 timings. These can be removed and replaced with some higher speed modules if the higher bandwidth is needed for our applications. We may have to test this in the future to see how the Sandy Bridge architecture responds to the higher memory clock rate and if it responds similarly to what we have seen in desktop counterparts. This can definitely increase productivity by giving data a bigger pipeline to work with.
Next above the memory we see the WiFi card which allows us to have even better access to our data by allowing wireless b/g/n connectivity along with Bluetooth 3.0 connectivity. Though there are relatively few Bluetooth 3.0 devices out at the moment, the inclusion of Bluetooth 3.0 ensures that the laptop is future-proof.
Click Image to Enlarge
Here we have the battery pack which is actually quite compact for how much life it offers. It is has 4400 mAH and  47 W-H which was a bit disappointing, and we do hope that in the future a higher capacity model will be available.
The hard drive that shipped with this notebook is a Hitachi 500 GB with a spindle speed of 7200RPM which offers better performance than many drives we have seen. The great thing is that as prices fall on SSD models this may soon be replaced with a relevant sized SSD, which would remove all bottleneck from the storage side as the hard disk usually poses the largest bottleneck to contend with.
Click Image to Enlarge
Here we see the cooling system of the CPU and graphics chipset. We can truly attest to the heat transfer ability of these small heatpipes, as when running some of the gaming benchmarks we could feel the heat from the exhaust vents, which tells us they are doing their job. The maximum operating temperature of the CPU is 100C and the CPU never reached within 20 degrees of that even on the most strenuous testing, which is a testament to the cooling system and how efficiently it operates in its small enclosure.
Click Image to Enlarge
Here we see the indicator lights at the top of the front panel on the wrist rest of the notebook. All of them light up blue to indicate activity with the exception of the charge indicator which lights red when charging.
Power LED
Charge Indicator
HDD Activity
WiFi Indicator
Caps Lock Indicator
Num Lock Indicator
Click Image to Enlarge
Here we see one of the key components to a long portable battery life which is the key to portable devices. Nvidia Optimus provides seamless graphics switching, and is one of the best implementations we have seen to date with no glitches, screen flickers, or visual indications that a processing switch is occurring. This allows for better battery power by using the lower power integrated Intel GPU when less demanding tasks are employed and the discreet Nvidia GPU when needed for 3D rendering.
Next we see the Nvidia logo for the discrete GPU: the Nvidia GT540M. This is an excellent GPU for high resolution video work or even accelerating tasks in Photoshop via OpenGL acceleration. For gaming it does quite well in standard notebook resolutions such as 1366 x 768, and most games can play quite smoothly with only minor hitches in more demanding games. We do need to keep in mind though that though this notebook has its strengths in many areas including a 1080 mobile display and ability for light/mild gaming, users looking for a heavy gaming laptop should look for a more powerful computer.
Click Image to Enlarge
Here we see one of the dual integrated high quality stereo speakers.  Sound reproduction is quite good but a little high in the mids as it drowns out the highs and muddles out the sound a bit depending on the output source.
Above the keyboard are a row of capacitive switches which allow control over most of the multimedia features along with control over some of the key functions. Starting from the left we have:
WiFi Enable/Disable
Audio Mute/Unmute
Play/Pause
Stop
Track (back)
Track (Forward)
Volume Down
Volume Up
A helpful addition is that the screen displays the function when keys are pressed.
Click Image to Enlarge
Next we see the function keys which have a dual purpose with the blue marking showing the function of the key press. A nice addition is that when the lower function key is pressed a menu will show at the bottom of the screen showing the function of every one of the "F" keys as they would be pressed.
This notebook employs a keyboard using what are referred to as "chiclet" keys which after a little time, we got used to and the feedback of these keys we actually now prefer to the other notebooks we have around the office. The keys  type very well and transferring from key to key is surprisingly easy, while still offering a very springy feel with instant return to their position after press. Other high line models also employing the chiclet keys would be the Macbook Pro and also the Asus Ultrathin.
Testing & Methodology
We've expanded our testing suite considerably since the Z68 chipset release, and will continue to use the same methods for most of the motherboards and CPU's we test. In the interests of thoroughness and accurate results, we run each test at least three times, and some tests more than that. We average the total of all the tests from each benchmark then report the average here.
The OS we use is Windows 7 Pro 64bit with all patches and updates applied. We also use the latest drivers available for the motherboard and any devices attached to the computer. We do not disable background tasks or tweak the OS or system in any way. We turn off drive indexing and daily defragging. We also turn off Prefetch and Superfetch. This is not an attempt to produce bigger benchmark numbers. Drive indexing and defragging can interfere with testing and produce confusing numbers. If a test were to be run while a drive was being indexed or defragged, and then the same test was later run when these processes were off, the two results would be contradictory and erroneous. As we cannot control when defragging and indexing occur precisely enough to guarantee that they won't interfere with testing, we opt to disable the features entirely.
Prefetch tries to predict what users will load the next time they boot the machine by caching the relevant files and storing them for later use. We want to learn how the program runs without any of the files being cached, and we disable it so that each test run we do not have to clear pre-fetch to get accurate numbers. Lastly we disable Superfetch. Superfetch loads often-used programs into the memory. It is one of the reasons that Windows occupies so much memory. Vista fills the memory in an attempt to predict what users will load. Having one test run with files cached, and another test run with the files un-cached would result in inaccurate numbers. Again, since we can't control its timings so precisely, it we turn it off. Because these four features can potentially interfere with benchmarking, and and are out of our control, we disable them. We do not disable anything else.
Test Rig
Test Rig

Case
Cyberpower Laptop Chassis
CPU

Intel Core i7-2670QM

Motherboard
Cyberpower x6 9200 Mainboard
Ram
8GB (2x4GB) ADATA SODIMM 1333 (9-9-9-24)
CPU Cooler

Stock

Hard Drive
Hitachi 7200RPM 500GB
Optical
DVD-RW Slim Combo Drive
GPU

Intel HD3000 Integrated GPU

GT540M 2GB (Discreet) W/Optimus technology

Case Fans

Main Cooler (Bower Style)

Additional Cards

N/A
PSU

Notebook Power Brick

Mouse
Integrated Touchpad
Keyboard
Integrated Island Chiclet Keyboard
Test Suite
We will use the following applications to test the performance of the Notebook
Benchmarks
PCMark 7
Cinebench R10
Cinebench R11.5
3DMark 11
3DMark Vantage
Wprime
X264HD
Heaven Benchmark
HDTune
SuperPi
Metro 2033
Lost Planet 2
Just Cause 2
SiSoft Sandra 2011
This test list may look lengthy but we need to remember that this is a full system so we need to test as many aspects we can. We also need to remember that while this is a gaming notebook it is a "lighter" version of a gaming notebook. The harsh reality is that power and portability are usually mutually exclusive. However, we do notice there are different markets for different models and this model fits really well for the mobile professional who needs the horsepower to do some heavy editing or graphics work, and the notebook can handle light gaming as well.
SiSoft sandra 2011
"SiSoftware Sandra (the System Analyzer, Diagnostic and Reporting Assistant) is an information & diagnostic utility. It should provide most of the information (including undocumented) you need to know about your hardware, software and other devices whether hardware or software. It works along the lines of other Windows utilities, however it tries to go beyond them and show you more of what's really going on. Giving the user the ability to draw comparisons at both a high and low-level. You can get information about the CPU, chipset, video adapter, ports, printers, sound card, memory, network, Windows internals, AGP, PCI, PCI-X, PCIe (PCI Express), database, USB, USB2, 1394/Firewire, etc."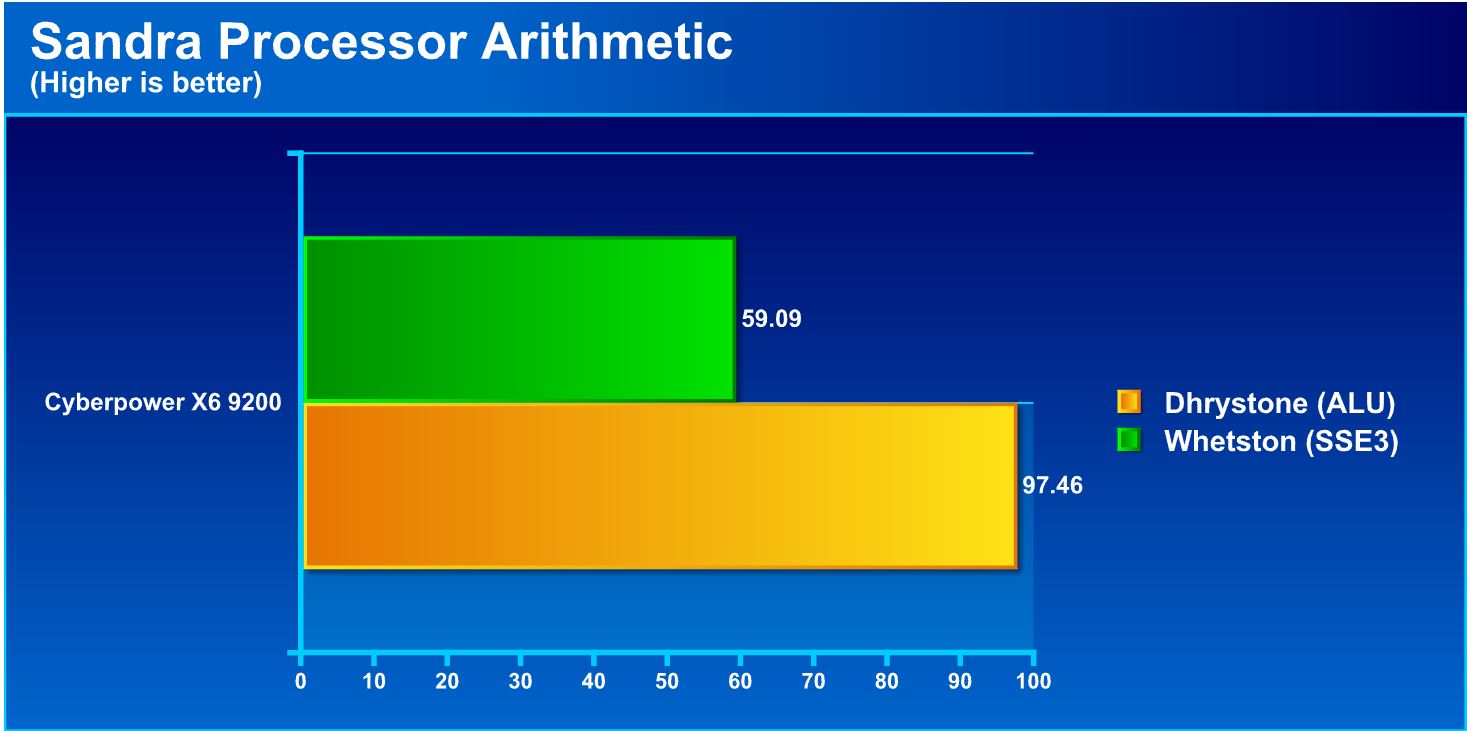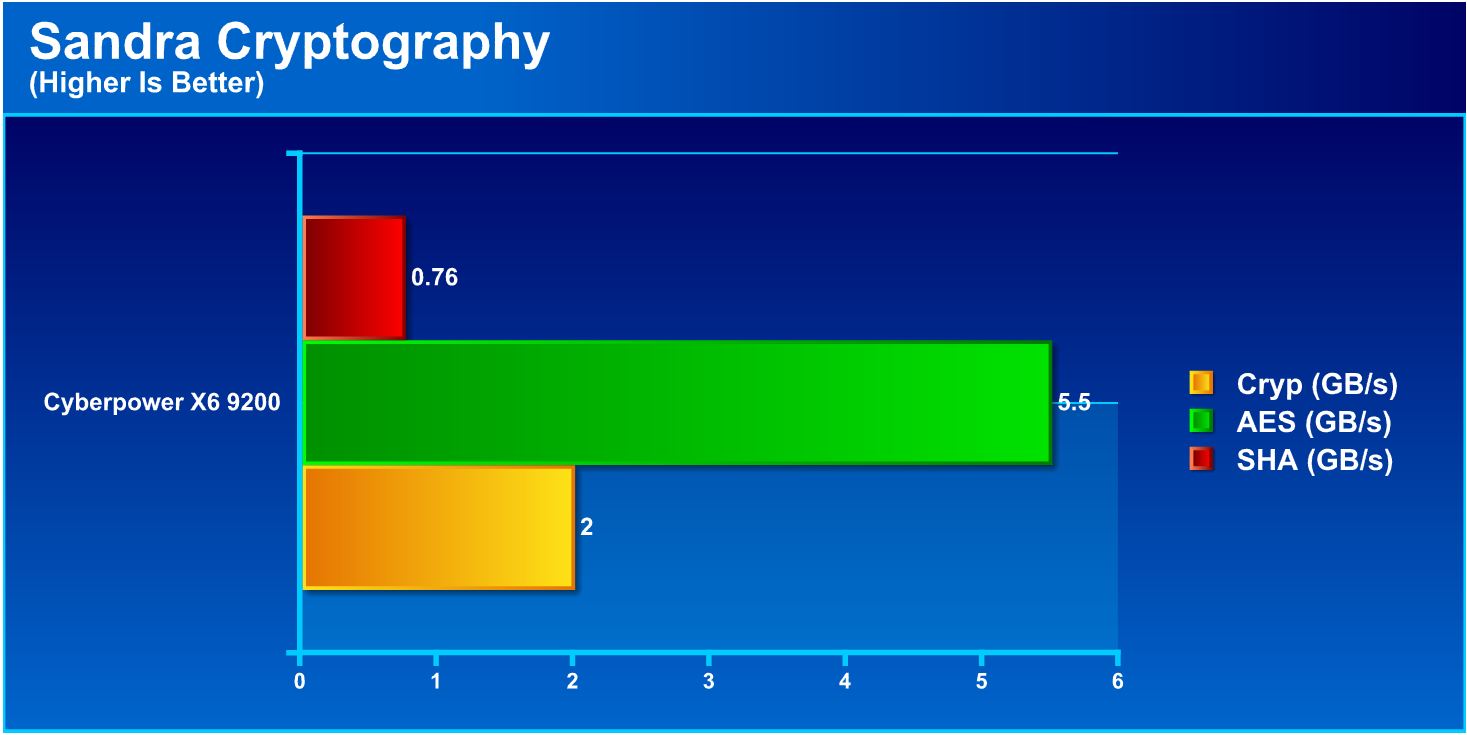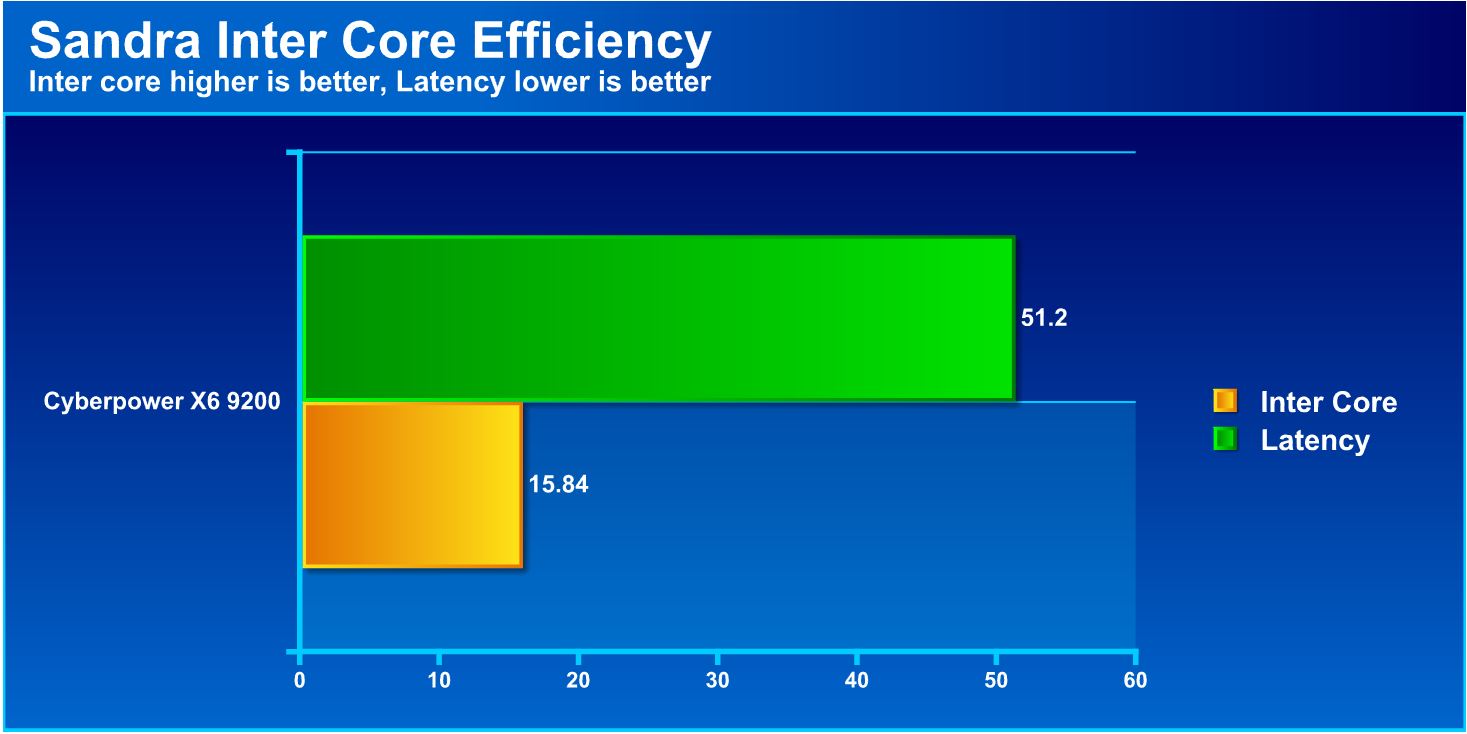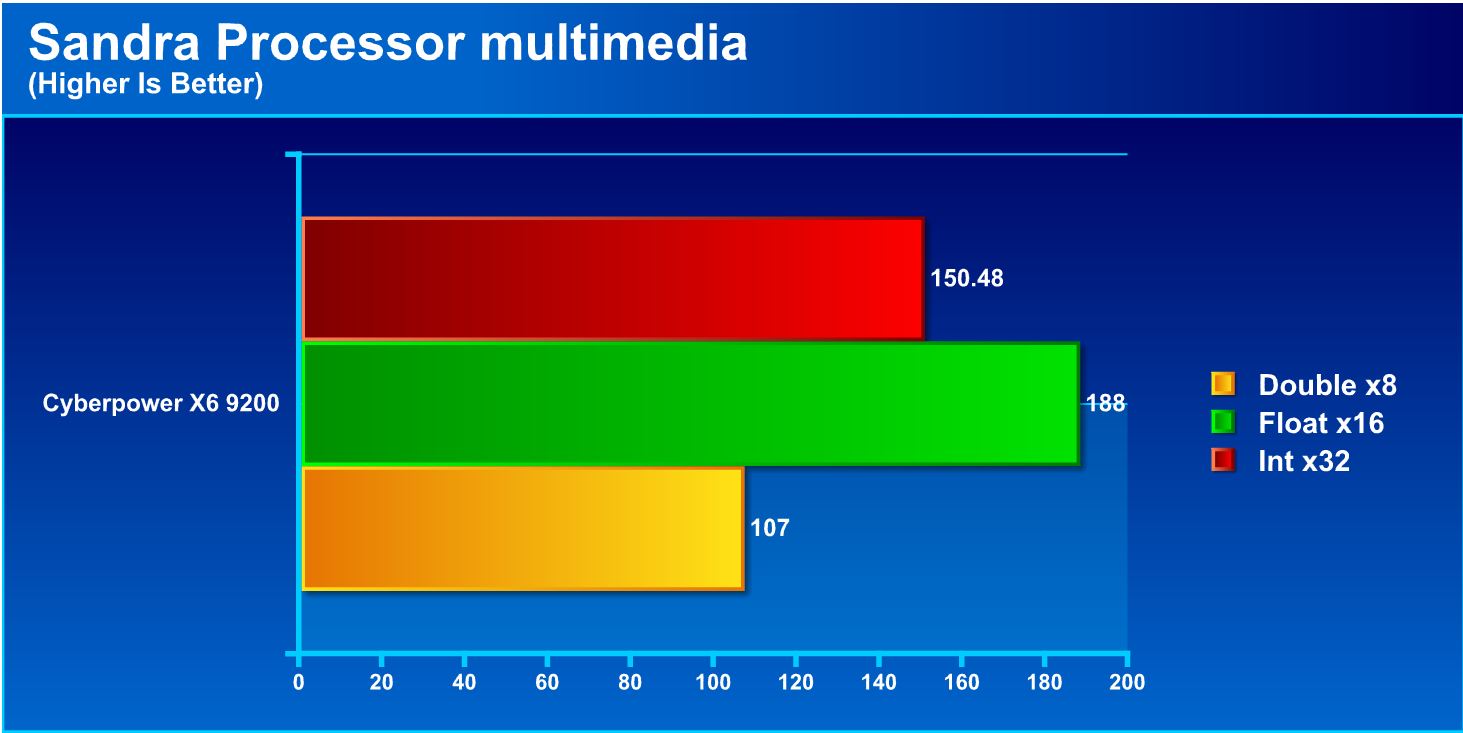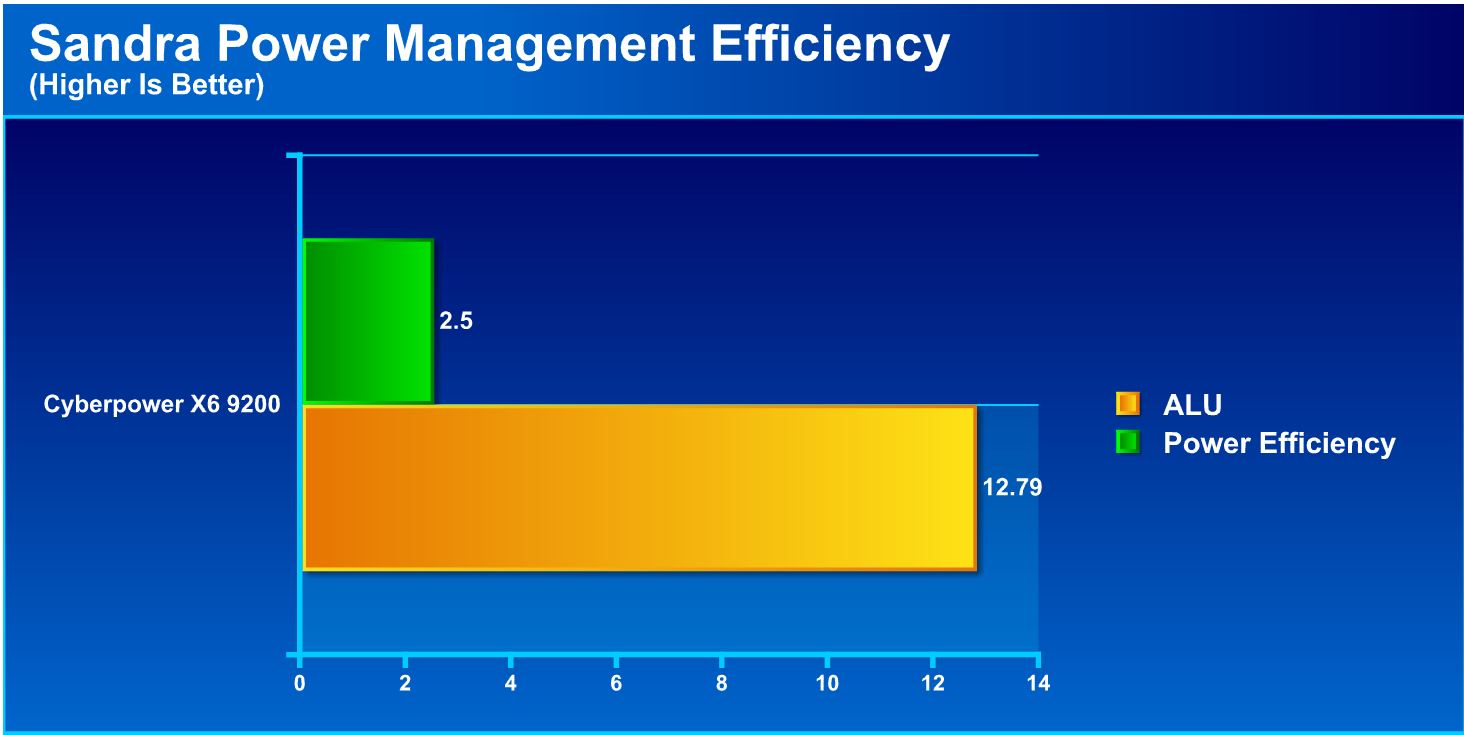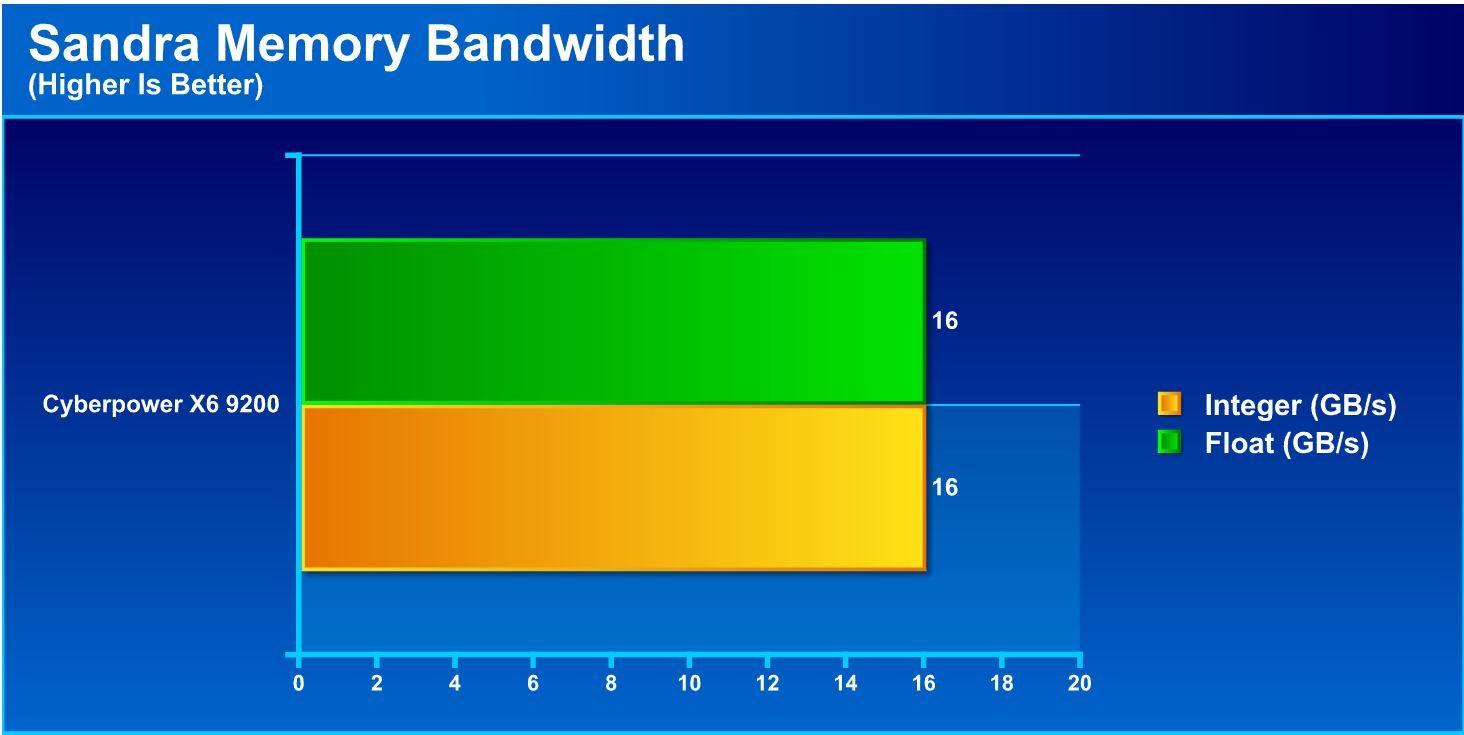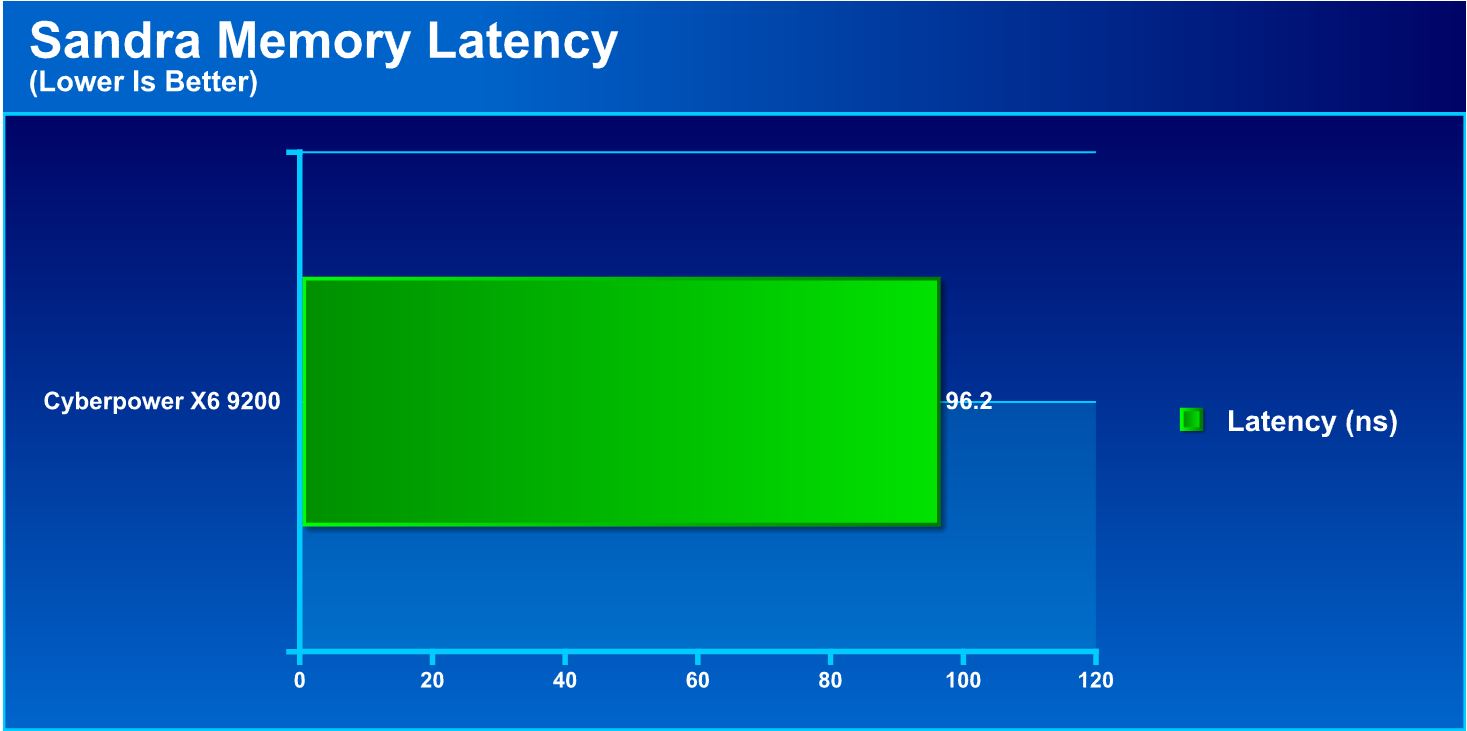 This notebook has very impressive performance for a mobile platform. This is a great result, and while clockspeed is reduced to keep temps at bay, the multithreaded performance really shines in these tests, which means tasks like media encoding or image processing can be finished quicly. While this system may not hold a candle to a 2600K based system, we need to remember that with a notebook, this is amazing performance. Desktops yield better performance at the expense of portability.
PCMARK 7
PCMark 7 is the latest system benchmark tool from Futuremark. The benchmark consists of tests such as application launches, file searches, web browsing, video playback, photo editing, and gaming.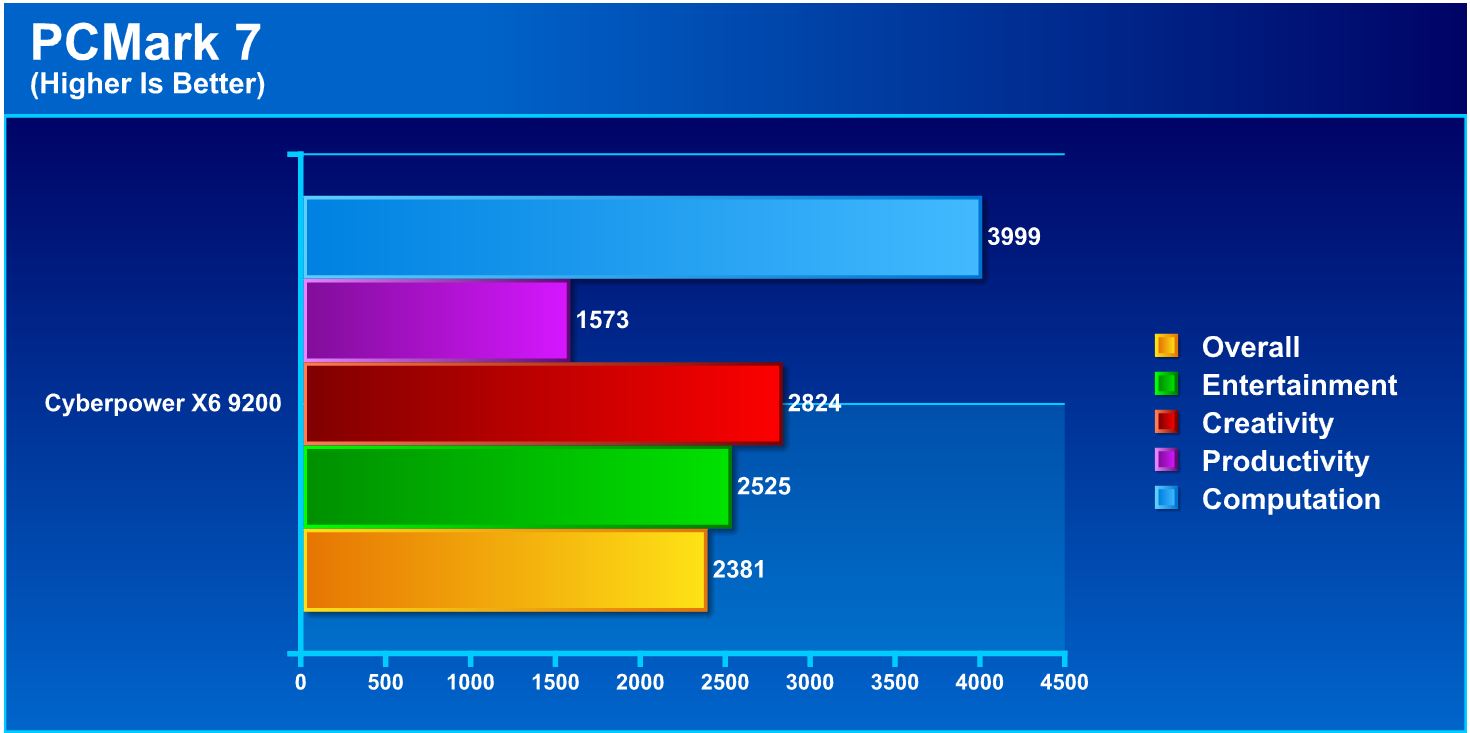 Here we see that the collection of components really does pay off with some impressive scores for a mobile device. Overall productivity and work ability is huge and it shines with this benchmark's multi-core optimization.
Wprime
Wprime is a processor heavy multithreaded benchmark which crunches numbers of a specific data set and gives the end user an output time which can then be used as a guage to compare system performance.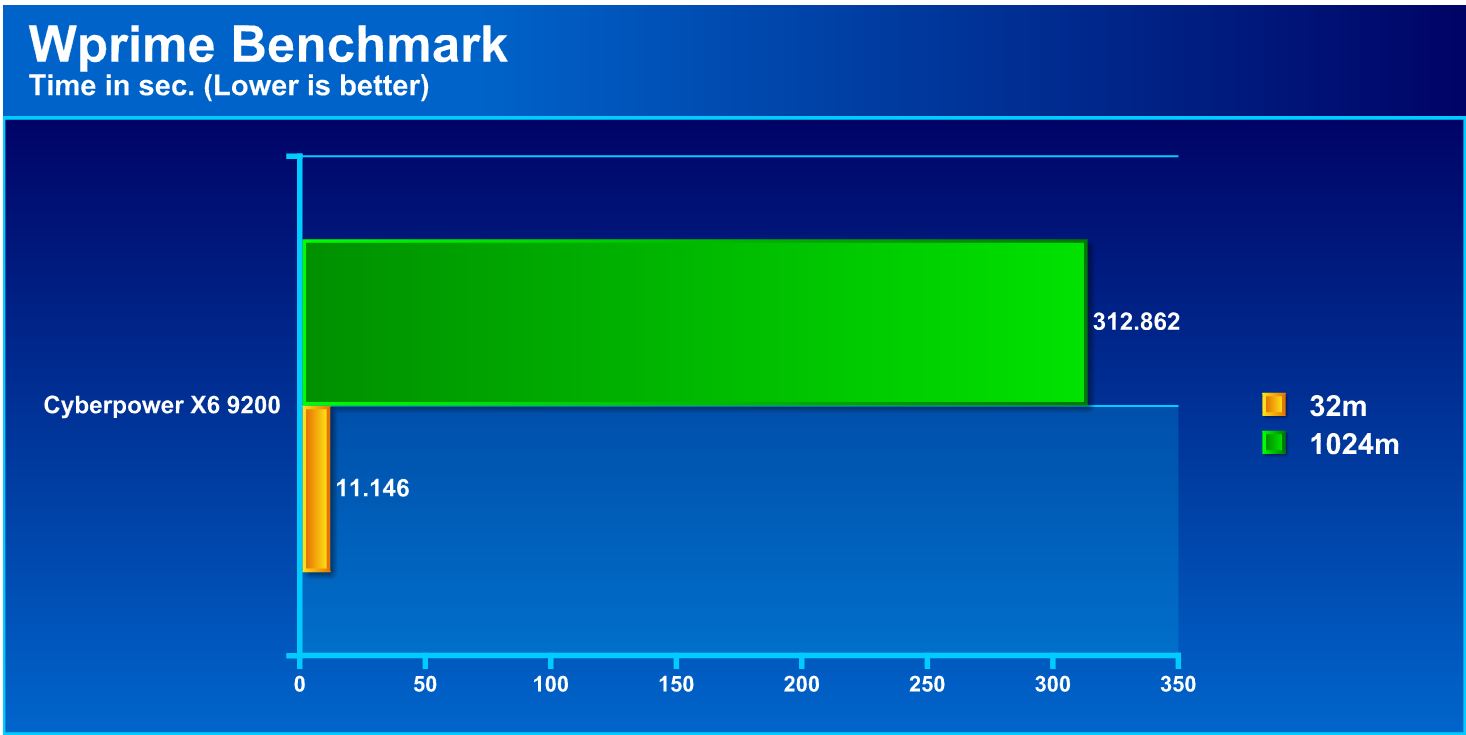 Once again the multi-core optimization here pays off as 8 threads really help crunch out this benchmark in great time. Just as an example, a T4400 dual core processor from one of our other notebooks in house ranks at a 32M time of 35.833, which is over 320% higher.
Superpi
SuperPi is a single threaded benchmark which measures efficiency and is heavily influenced by architectural changes as much as it is by clockspeeds.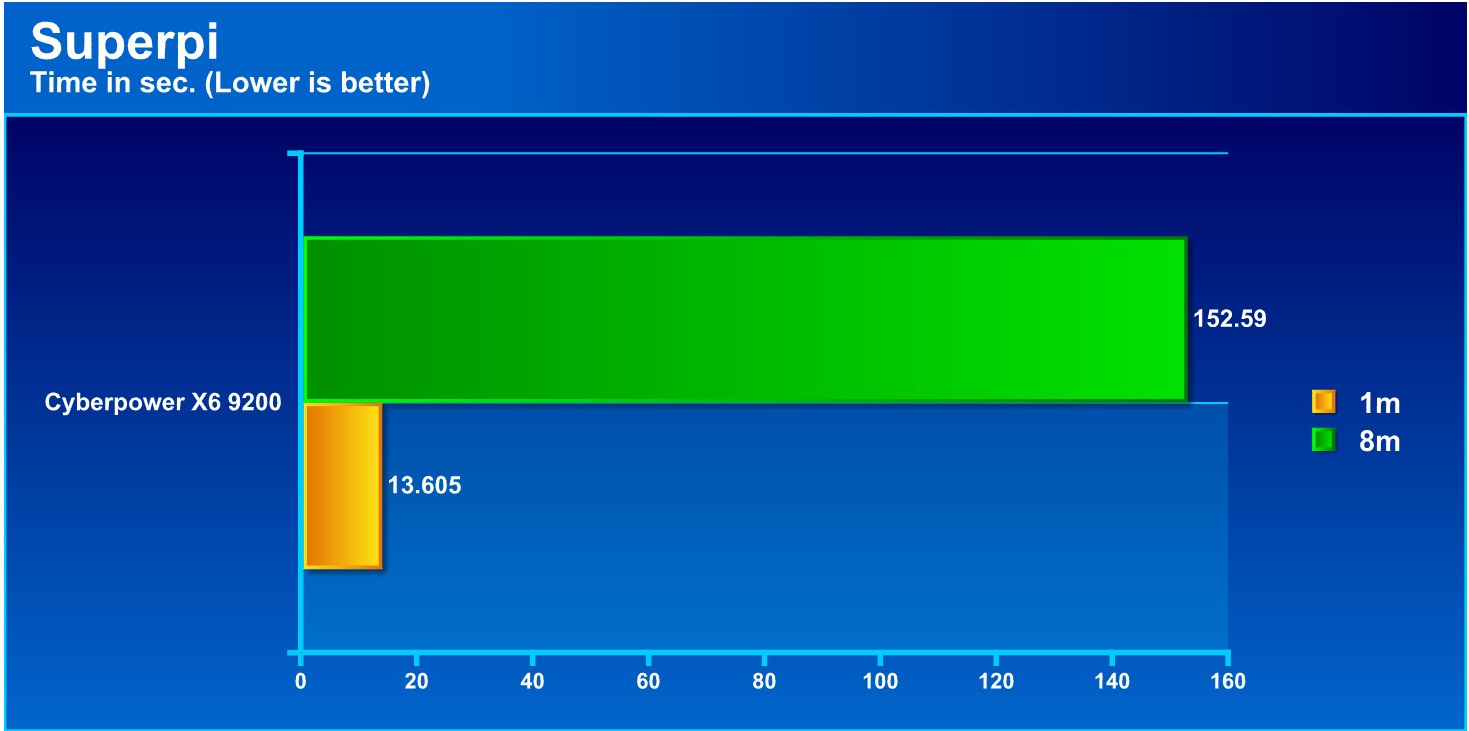 SuperPi is a much older benchmark, and some may argue its obsolescence, but with some newer processors scoring poorly in this test, it is always good to include it. This test does not factor in cores or threads, only raw frequency performance, and efficiency of the architecture. The Sandy Bridge architecture has an excellent increase in performance clock for clock versus previous architectures. We see that the increase in clockspeed does net a very decent performance improvement in this benchmark as well. When comparing again with our in-house T4400 powered laptop we have a speed of 26.613 for the T4400, which is almost twice the speed to do the same work. Keep in mind  this has nothing to do with threading as this is a single threaded benchmark and therefore based absolutely on frequency and clock for clock performance. This shows in a huge way how efficient this new architecture is and how well the inclusion of Intel turbo technology can increase productivity.
CINEBENCH R11.5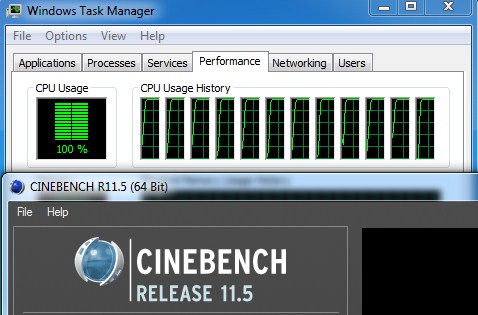 "CINEBENCH is a real-world test suite that assesses your computer's performance capabilities. MAXON CINEBENCH is based on MAXON's award-winning animation software, CINEMA 4D, which is used extensively by studios and production houses worldwide for 3D content creation. MAXON software has been used in blockbuster movies such as Spider-Man, Star Wars, The Chronicles of Narnia and many more. MAXON CINEBENCH runs several tests on your computer to measure the performance of the main processor and the graphics card under real world circumstances. The benchmark application makes use of up to 16 CPUs or CPU cores and is available for Windows (32-bit and 64-Bit) and Macintosh (PPC and Intel-based). The resulting values among different operating systems are 100% comparable and therefore very useful with regard to purchasing decision-making. It can also be used as a marketing tool for hardware vendors or simply to compare hardware among colleagues or friends."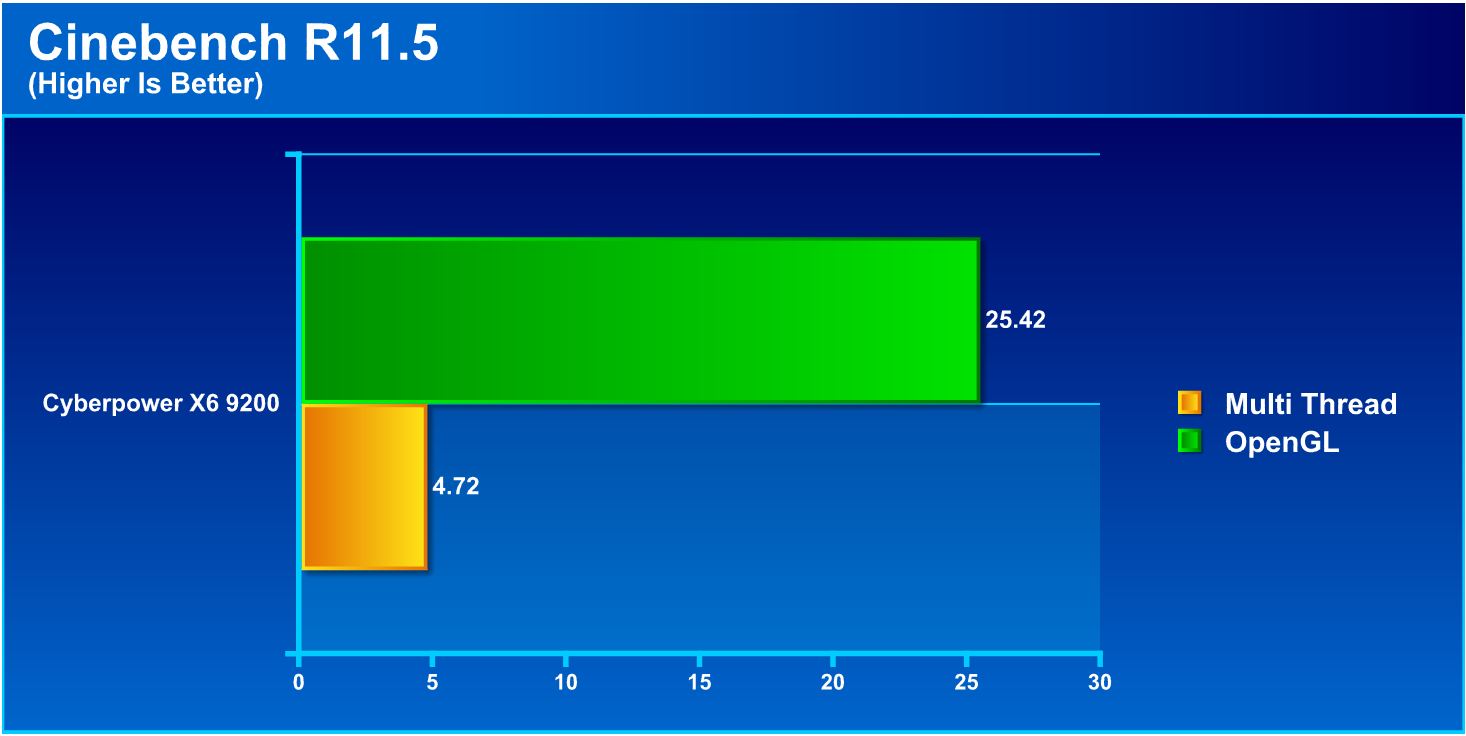 Cinebench 11.5 returned similar and impressive results on the multi-threaded CPU based testing. The OpenGL test did quite well with the GT540M GPU.
Cinebench R10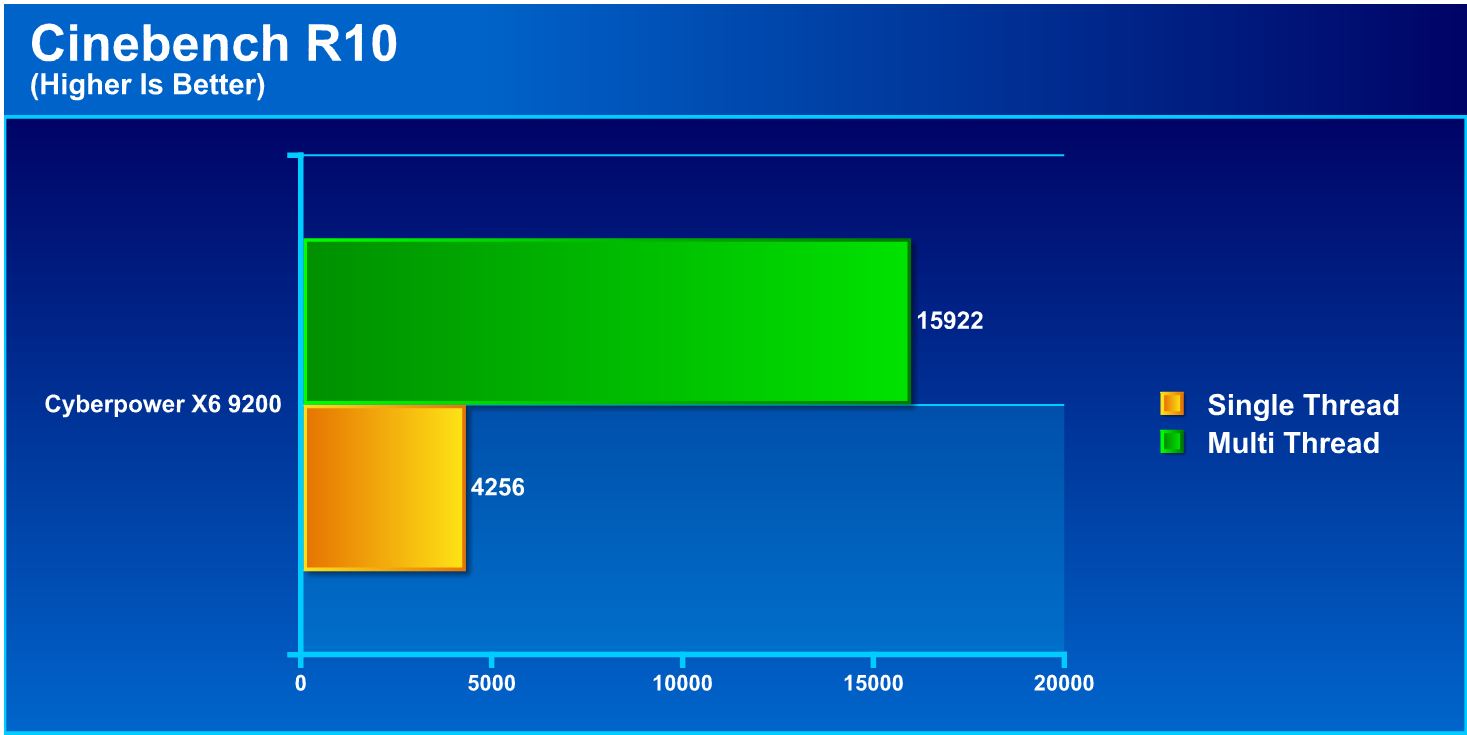 Here the older version of Cinebench shows the performance difference between single and multithreaded performance which jumps from 4k to 15k, so we know that the extra available threads once again help greatly in the performance potential for this notebook.
3DMARK VANTAGE

For complete information on 3DMark Vantage Please follow this Link:
www.futuremark.com/benchmarks/3dmarkvantage/features/
The newest video benchmark from the gang at Futuremark. This utility is still a synthetic benchmark, but one that more closely reflects real world gaming performance. While it is not a perfect replacement for actual game benchmarks, it has its uses. We tested our system at the 'Performance' setting.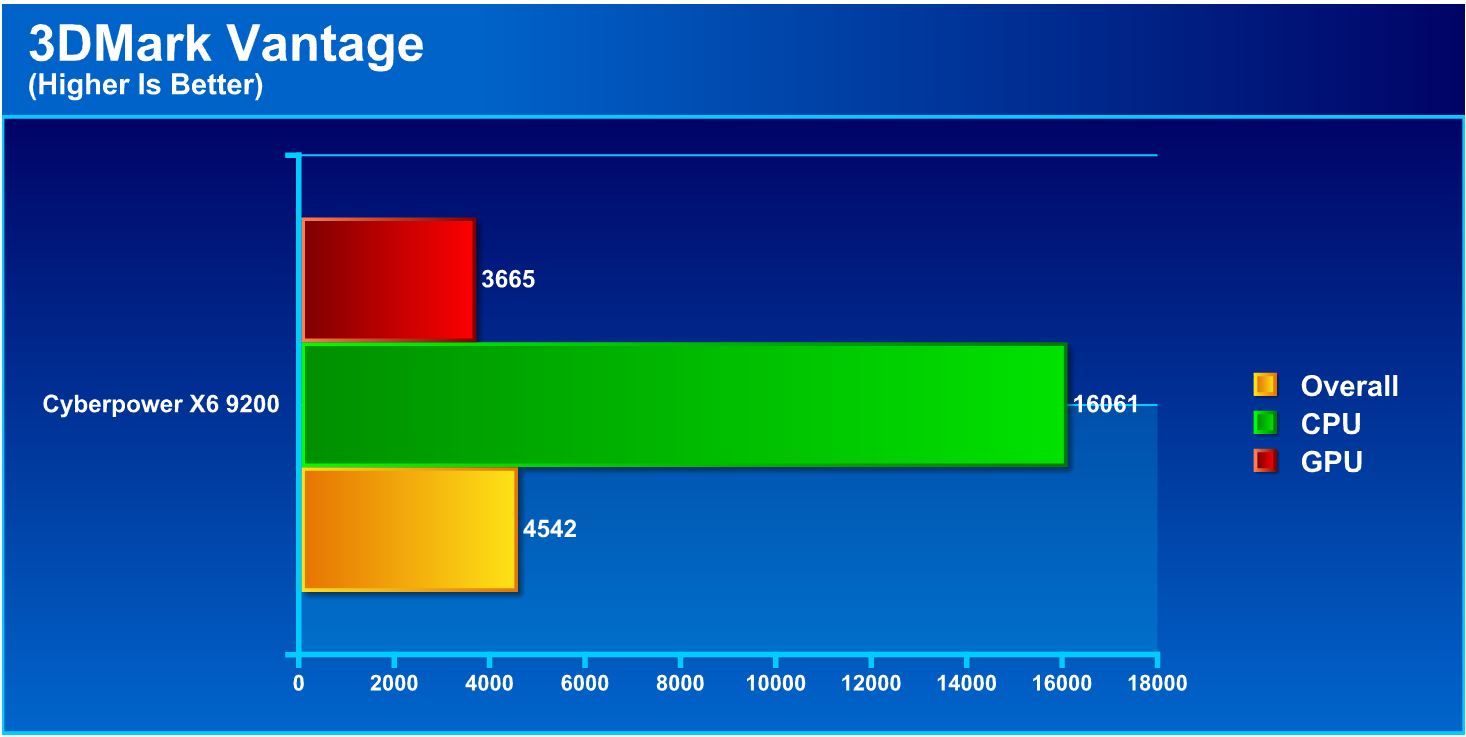 Here we see what we expected: the CPU performance jumps really high on the charts, but since Vantage is a high end 3D rendered benchmark, we start to see the limitation of the GT540M graphics chipset.
3DMARK 11

3DMark 11 is the newest in futuremark's suite of benchmarking utilities. It's a fully capable DirectX11 benchmark which also stresses and analyzes the system performance as a whole to simulate a heavy rendering environment such as a high end game or other app the end user may run.  This benchmark was run with Performance settings 5 times and all runs were averaged for the result below.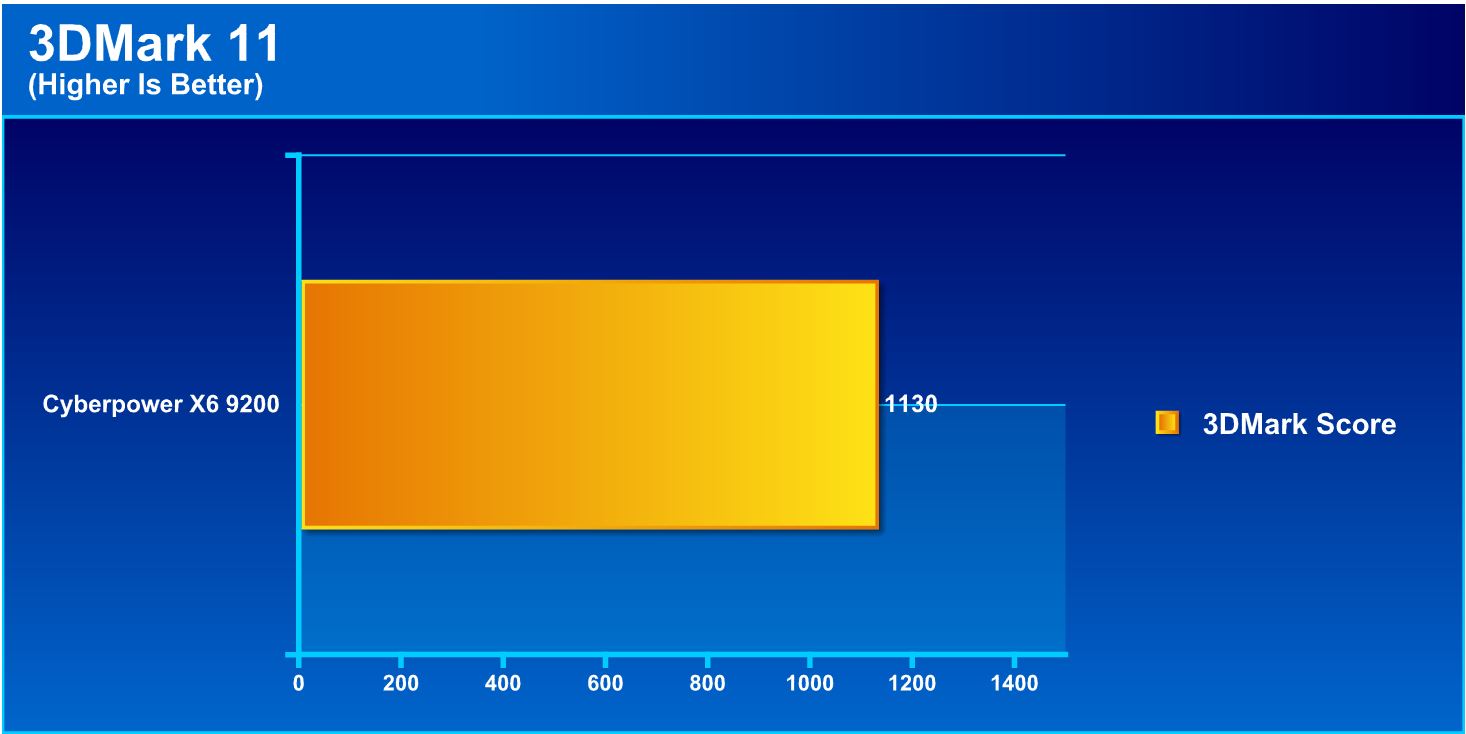 3DMark Vantage and 3DMark 11 both showed the raw performance of the notebook and also showed the limitation imposed by the GT540M graphics. We are very impressed as to how well this notebook handled these tasks compared to what we expected. 
X264HD
The X264HD test is an easy to run and compare benchmark that shows how quickly your system can encode a HD video clip into an HD X264 video file. The great thing about this benchmark is that with our testing we found that our results were repeatable and therefore an accurate representation of performance for the productivity of a system. The score is shown as FPS or Frames Per Second that can be processed.
Above we see as a processor bound encoding method where the Sandy Bridge architecture once again really shines.
HDtune PRO
HDTune Pro is a great benchmark to gauge performance of the Storage (HDD/SSD) and see how fast exactly we can transfer data.  Performance is tested of read speed of the drive.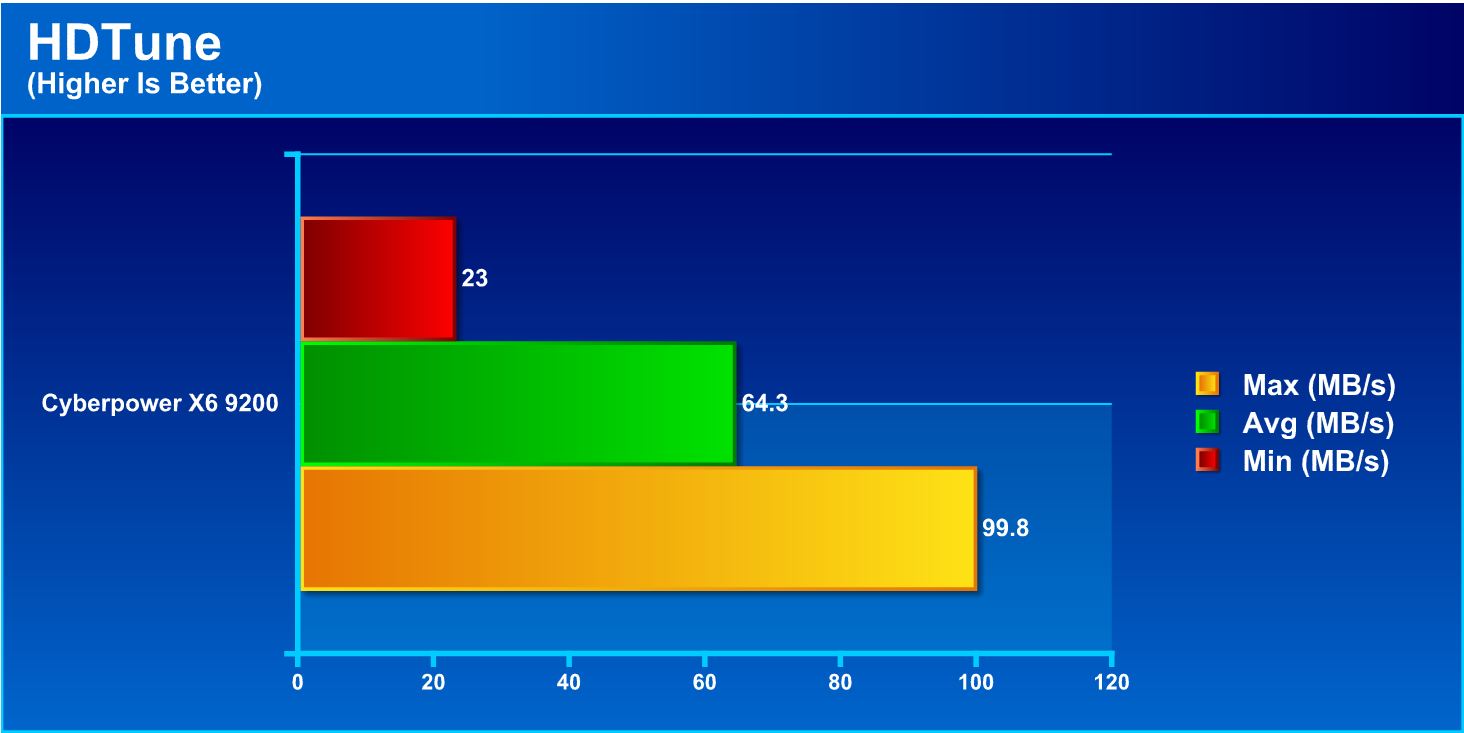 Here we see the Hitachi drive is a pretty good option but could be improved if so desired with either a better drive or even an SSD.
Lost Planet 2
Lost Planet 2 is a stellar game with impressive visuals and is very stressful to the graphics component of any system.
We ran Lost Planet 2 using both medium and minimum setting at resolution of 1366X768 and DirectX 11. We tested Low AA setting.
We tested this game and saw approximately what we expected: at lower settings, the game is playable easily but once settings start to raise settings, we see performance drop. However, for a GT540M, we were rather happy to see this game playable at all.
just cause 2
Just Cause 2 has been out for almost a year now, but instead of running lower resolution tests, we were also interested in checking out what to expect at higher resolutions where graphics performance might get in the way. This will give a great example to those people playing games at much higher resolutions.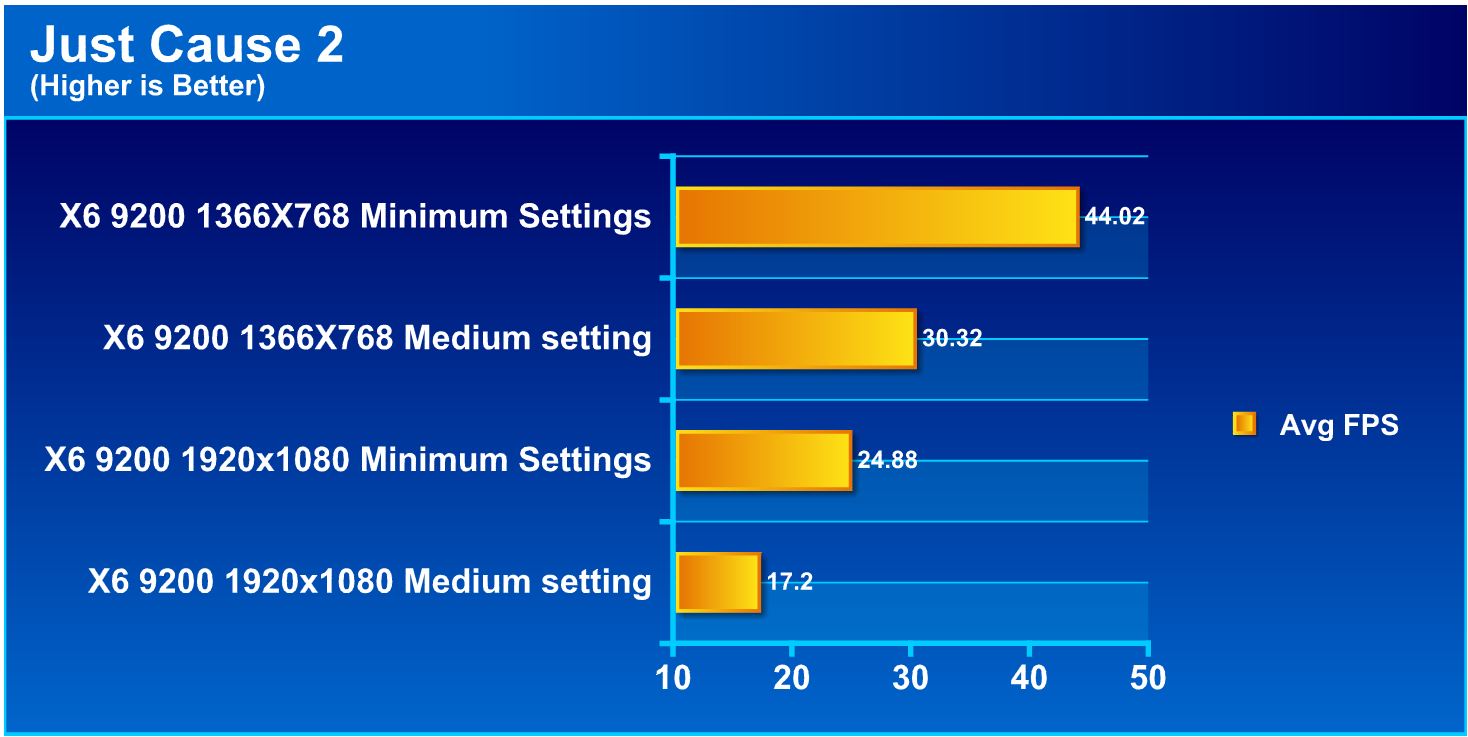 We decided to run Just Cause 2 at multiple detail levels and resolutions to give an idea of how the game scales with settings adjustments. We were very happy to see that this game ran quite well with the standard desktop resolution at medium settings which really does speak volumes to the capabilities of the mobile Nvidia GPU.
Metro 2033

Metro 2033 is very hard on the graphics card similar to how Crysis used to be the benchmark for every card when it first had come out. This tests the card very heavily and will show us exactly how well the notebook can handle extremely detailed 3d gaming.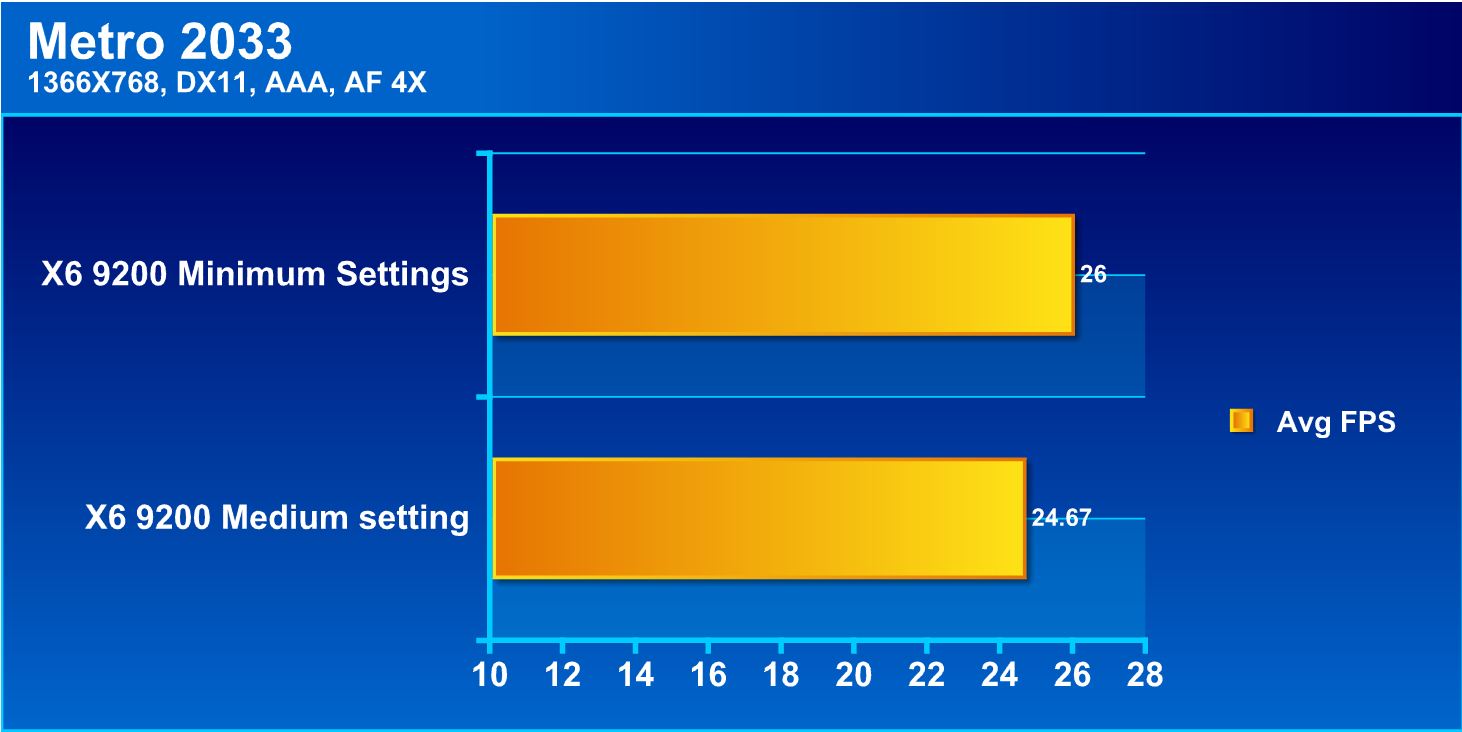 We were surprised to see somewhat playable frame rates, with only occasional stutters. Metro 2033 is notoriously taxing, and to play this game on medium or high settings taxes usually requires a dual-GPU setup in even the most powerful desktop systems. This notebook definitely held its own from our point of view, as this is one of the most stressful gaming benchmarks in our arsenal.
Unigine Heaven 2.5
Unigine Heaven is a benchmark program based on Unigine Corp's latest engine, Unigine. The engine features DirectX 11, Hardware tessellation, DirectCompute, and Shader Model 5.0. All of these new technologies combined with the ability to run each card through the same exact test means this benchmark should be in our arsenal for a long time.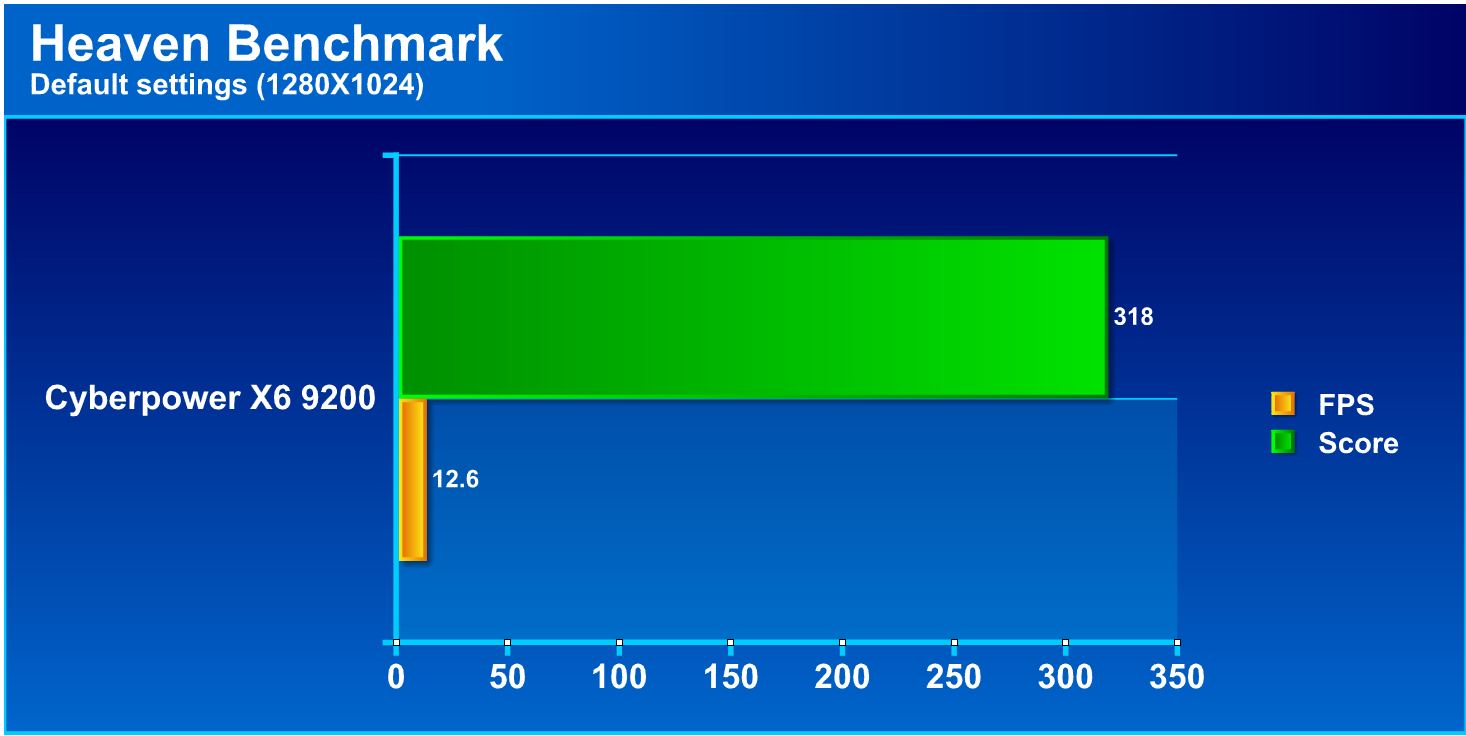 Unigine Heaven at default settings with a 1280 x 1024 resolution showed us how taxing it can be as it quickly put the hurt on our GT540M. We were not at all surprised to see the performance we did. When all was said and done we believe that our initial impression was correct as this notebook performs very well at lower mid-level gaming and is excellent at productivity tasks.
In our tests, we tried to give an impression of how the device will perform in a real-world environment. Since decibel levels can be difficult to contextualize, we have given qualitative measurements of noise and speaker levels.
Battery Life Measurements
Battery life was measured a few ways. First we measured how long the battery lasted just doing normal tasks such as web browsing, downloading, writing emails and so on. We then moved to playing HD movies, then lastly, we moved to full high load 3D benchmarks that stress the GPU and CPU on a loop until the battery reached 5% battery so that we get a good idea as to the expected lifespan when performing such tasks on the road.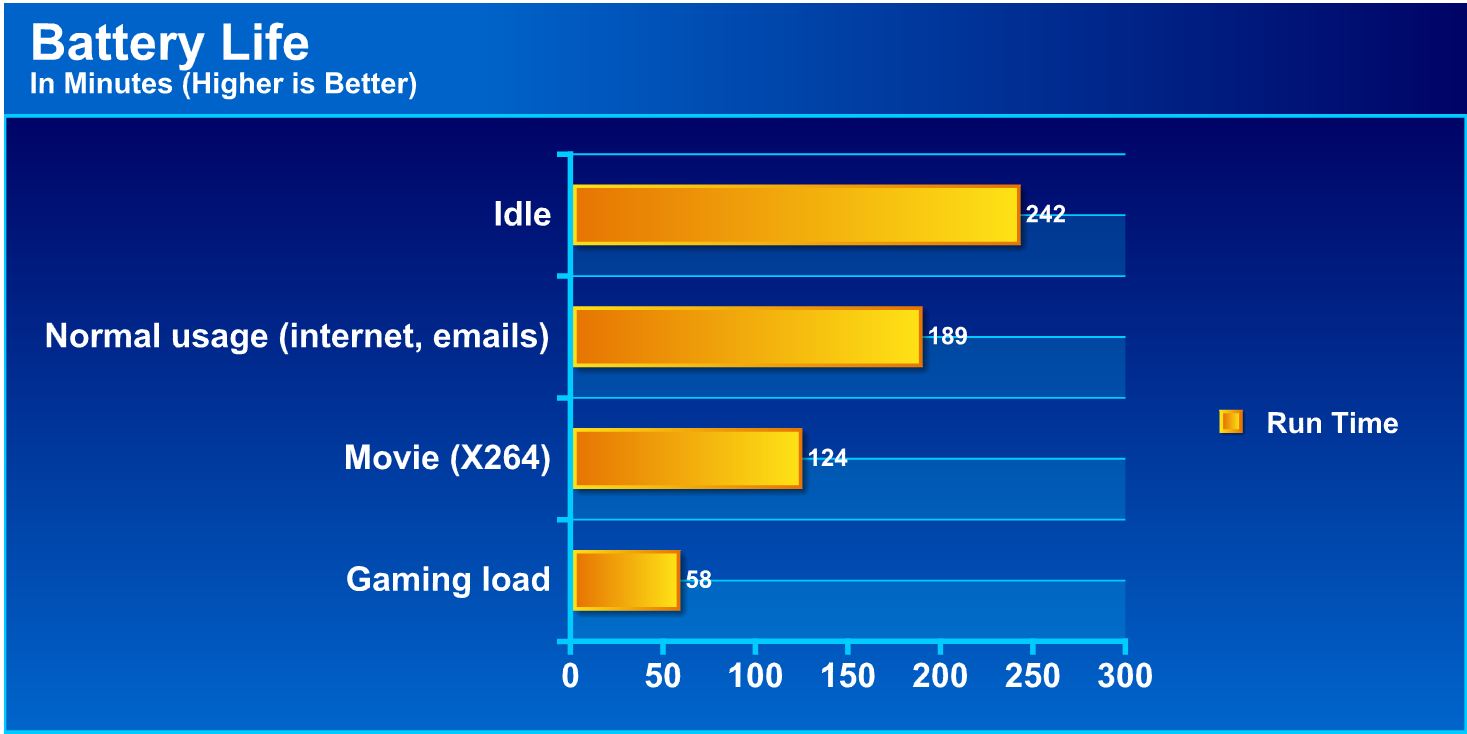 Battery life was a bit of a surprise here as the battery comes standard as a quite unimpressive 47Wh unit, and honestly we were surprised to see almost a full hour of extremely heavy 3D benchmark loading before we got it down to 5%. Depending on the game we could likely eek more out of it, but it is impressive nonetheless to see such stamina on the battery with a full discrete card running very heavy graphics and CPU loading. We hope in the future to see an even stronger battery offering as a replacement for the notebook, which would extend the life even further. All things considered, on a nice long flight this notebook could last users for a good duration without needing a recharge.
Temperature (Components and Feel)
Before we present the results, we would like to note that the cooling fan at low load and even during stress was not really audible if at all during CPU testing. While this is good for the sound side of things we do believe this can negatively affect temps due to the tight space constraints on cooler size: usually there is a decent amount of airflow needed to ensure adequate cooling.
Here we see that the idle temperatures are fairly respectable for a quad-core processor crammed into a laptop chassis.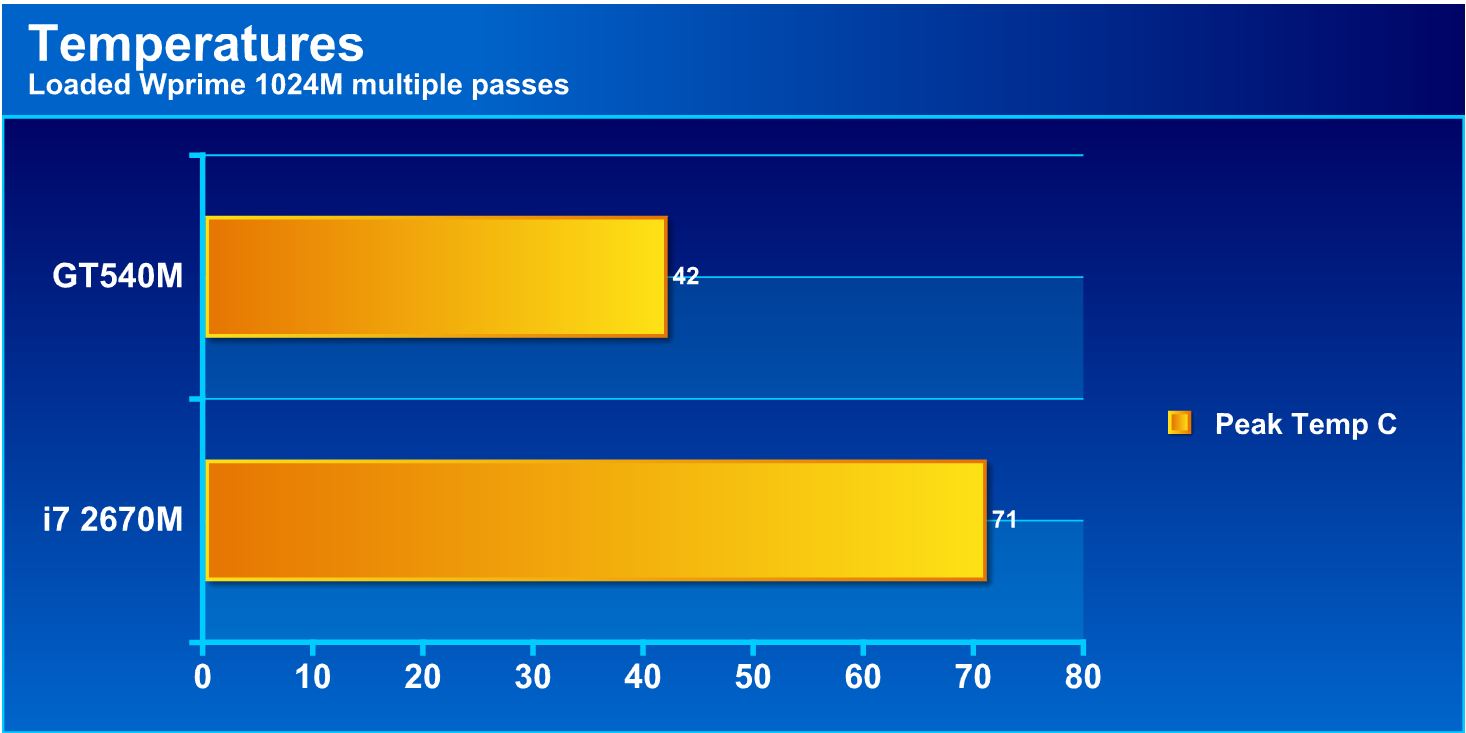 Here we see where we put the CPU under stress, and while the discrete GPU has no real load, the heat does show up there by a small 2 degree increase. This is likely caused by the close proximity of the graphics chipset to the warm CPU, and also the fact that the two share a common cooling fin array ,so it is likely that some of the heat carried to the heatpipe and to the GPU itself. In such tight confines though, a 2 degree Celsius difference is nothing to complain about. Now we will turn up the heat on both the CPU and GPU in hopes of maximizing stress to the cooling system.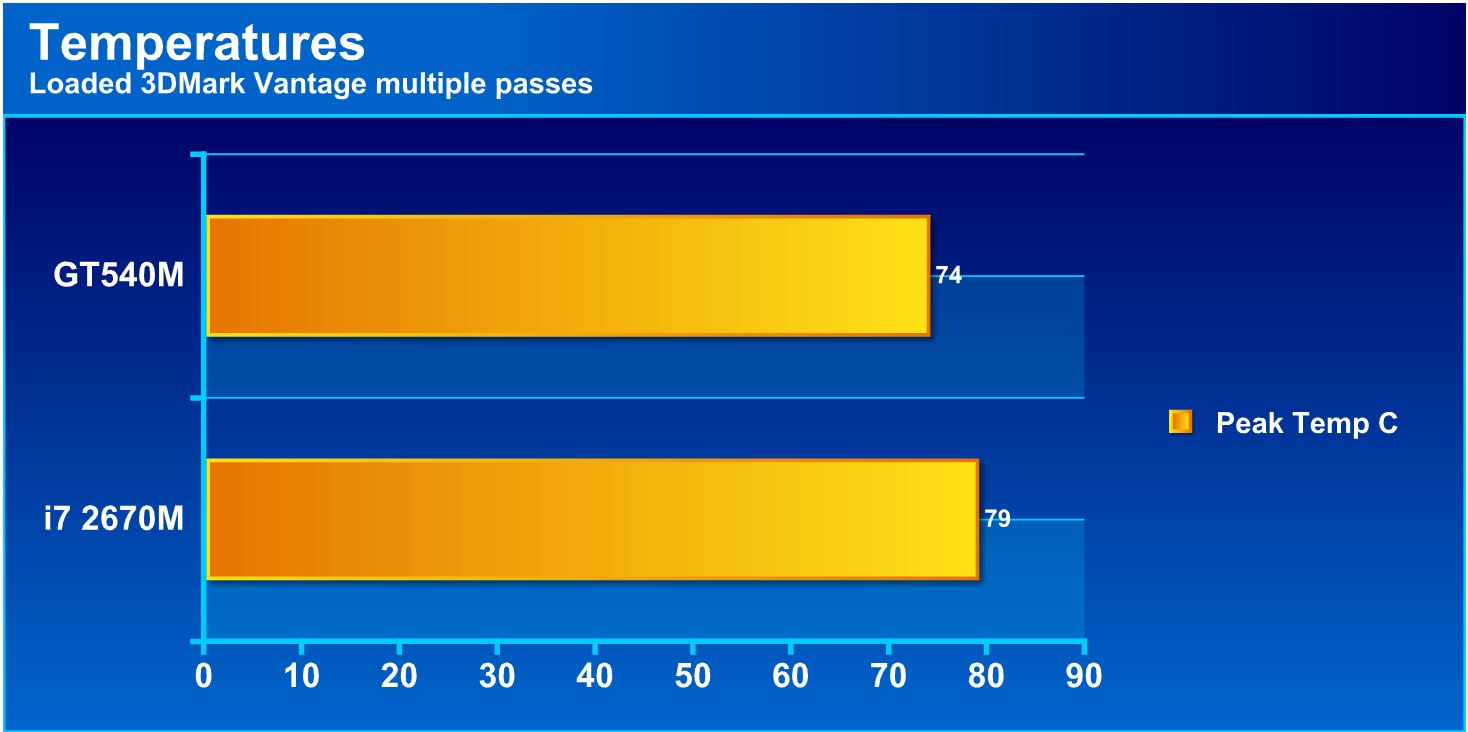 If this were a desktop setup, we would not be pleased with these temps, but considering the cramped nature of the system and the level of stress, 20C below maximum is a good temperature result for the notebook.
When running the tests we ran Wprime 1024M back to back multiple times to get the highest temp possible and we were quite surprised that the CPU did not pass 79C during the runs. The reason for the surprise was due to the fact that the cooling fin array was quite small and we had concerns as to temps under a heavily loaded quad core, but these concerns have diminished as usage and time has proven us wrong.
Once we switched to GPU testing we found the max GPU temperature measured in game or during benchmark runs was a core temperature of 74C, but that was for a very short time and it averaged more in the range of 64-69C. The GPU temp increase was seen to cause a increase in CPU temperature as well but that was to be expected and overall this is very impressive to see such massive amounts of power harnessed so well.
Noise
Noise is something that everyone has on their mind recently as everything is moving toward silent or passive solutions to ensure the quietest environment possible. Unfortunately in the notebook's case, that is just not possible as the heat has to go somewhere. The notebook utilizes blower style fans which can move a decent amount of air without a huge amount of noise, and even when pushing a lot of air for heavy loading situations it should not make too much noise.
The feel when using the Cyberpower X6 9200 Notebook was quite nice as even under heavy CPU loading we were only able to detect the cooling fan on a few occasions. Even then it was not loud enough that we felt it bothersome. Now when moving to GPU-heavy tasks or mixing CPU and GPU, the noise definitely became more pronounced, but still not in a range that would be considered bothersome. We have used an Alienware M17X previously, and under the same stress the M17X definitely was louder than anything we have seen from the X6 9200. However, we must note that the comparison is not fully consistent, due to the difference in hardware configurations and cooling setups in the two notebooks.
Speakers
The speakers included on the unit are pretty standard in terms of design as they are stereo speakers and there was really nothing noteworthy we could find. The first thing we did was started some audio playback to get a feel for what we have.
For gaming we normally use Tt eSPORTS Isurus in-ear earbuds as they are very portable, and audio quality is very good for gaming duties. Due to the fact that we are testing this system as a whole, they will sit out this round and be used merely for comparison. During gaming the speakers included on the notebook fare rather well: they came up a little low on bass reproduction, but overall mids and highs faired pretty well. Explosions and vocals within the game sound fine. Overall, the speakers are very sufficient for everyday gaming, and if anything better is needed, most gamers would use a headset.
Music reproduction is a similar experience as audio quality for such small drivers is surprisingly good. Save for some areas where audio can get slightly muddled, overall the quality is rather good and definitely better than many notebooks we have seen previously.
Conclusion
There is a lot that can be said when it comes to notebooks and how to judge them, so we looked at what we would expect to begin with. Then we looked at the hardware included and the other models available from Cyberpower to see where this unit fit into their lineup. This model falls into about the midrange of their performance notebook offerings and its about where it fell in our testing. The notebook is very well balanced with an excellent feel and an almost unexplainable snappiness to it that is tough to put into words. There was no lag we could find that would turn us away from this notebook at all. Instead of comparing the notebook to a $2000+ unit, we are comparing it to similar notebooks in the price range, and from what we see, this notebook is very impressive and packed with features.
The only limitation so to speak would be the graphics chipset. We should keep in mind, however, that this is intended to be a lower range gaming notebook, and is not intended to max out most recent games. If were looking to play higher end games at higher detail levels, we would select a higher model from Cyberpower's lineup. This being said, we were quite happy with the performance, as tasks like using Photoshop were lightning fast thanks to the OpenGL acceleration.
For the sake of comparison we built some similar features into other models and it was rather impressive to see the difference in pricing.
Cyberpower X6 9200 – $900.00 (as configured)
Dell XPS 15 same specs – $1424.99 (as configured)
Ibuypower Battalion 101 CZ-12 – $989.00 (similar configuration but only 1x USB 3.0)
AVADirect W150HNQ (Custom configured) – $1060.00 (similar configuration)
This goes to show the awesome value for components and features we get with this notebook. Though Cyberpower could easily mark up the price, it is by our calculations very close to the sum of its parts.
Reviewer's Opinion:  Since my game of choice is Starcraft II, I put the notebook through its paces on many occasions during the testing. Running at full HD 1080P at medium settings, I found that the notebook did very well and never dropped below 30 FPS, even with the map loaded with a 200 v 200 unit battle, which really stresses the graphics to the max. Additionally, running multiple programs for everyday tasks was quite a pleasure, as the HD resolution allowed for plenty of screen real estate, and no matter how many tabs I had open or what work I was doing even in Photoshop, the notebook did not bog down or show any strain at all. The chiclet keys took about an hour to get used to but now I really enjoy their responsiveness. Since I travel quite a bit, I can see the benefits of this system, especially as a mobile companion and gaming machine.
Anyone in the market for a notebook of any level should not hesitate giving Cyberpower a look,  the quality is top notch, the performance is all there and the price simply cannot be beat.
Our Verdict: Cyberpower X6 9200 Gaming Notebook
| | |
| --- | --- |
| Performance | 9 |
| Value | 9 |
| Quality | 9 |
| Features | 10 |
| Innovation | 9 |

We are using a new addition to our scoring system to provide additional feedback beyond a flat score. Please note that the final score isn't an aggregate average of the new rating system.

Pros
Cons

Great Hardware

Optimus Technology

1080P Full HD display

WiFi b/g/n

Bluetooth 3.0

Chiclet Island keyboard

Multimedia card reader

Dual USB 3.0 ports

1.3 mp webcam

8GB memory

Shiny sleek black styling

Can play many games well

Shiny piano finish attracts fingerprints easily
Summary: Considering the price, the Cyberpower X6 9200 Gaming Notebook is a great product. With the addition of the GT540M 2GB GPU, this notebook is an awesome choice for any mobile light gamer or graphic designer. For great performance and outstanding features, the Cyberpower X6 9200 Gaming Notebook earns the Bjorn3D Golden Bear Award.