In the digital age something as simple as a dead battery on your phone, tablet or other device can feel like the apocalypse and the world ending.  Our dependence of our devices and staying connected is crucial in our daily lives, so what are you supposed to when your battery goes dead and you can't get to an outlet? This is where something as simple as a power bank is a must have in this digital world.    Rosewill takes the Plasma to the next evolutionary step by incorporating an AC wall outlet into the Plasma, thus allowing you to charge any device and not just USB devices like other power banks.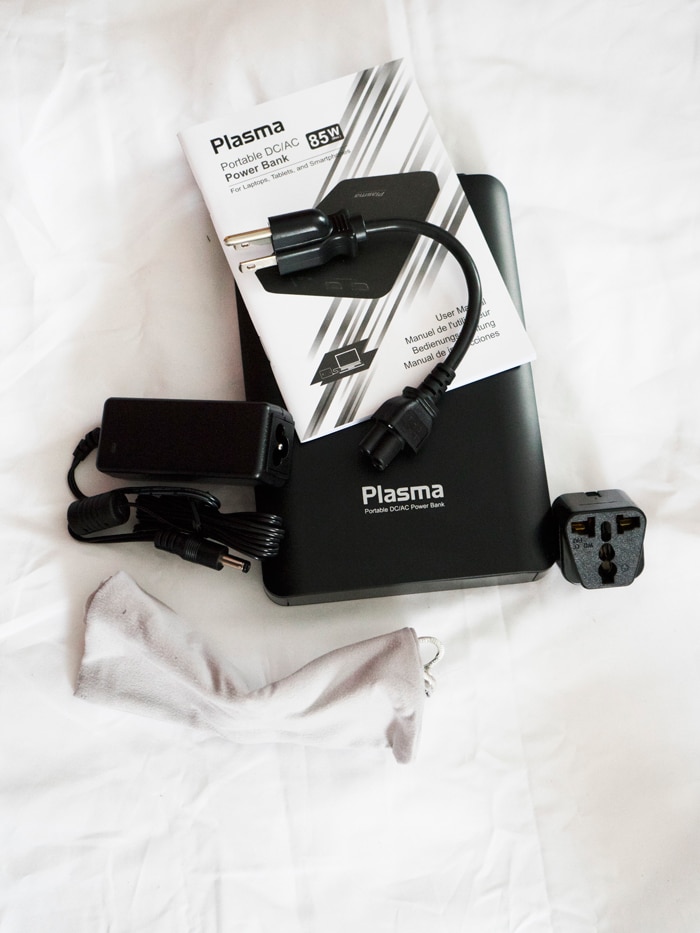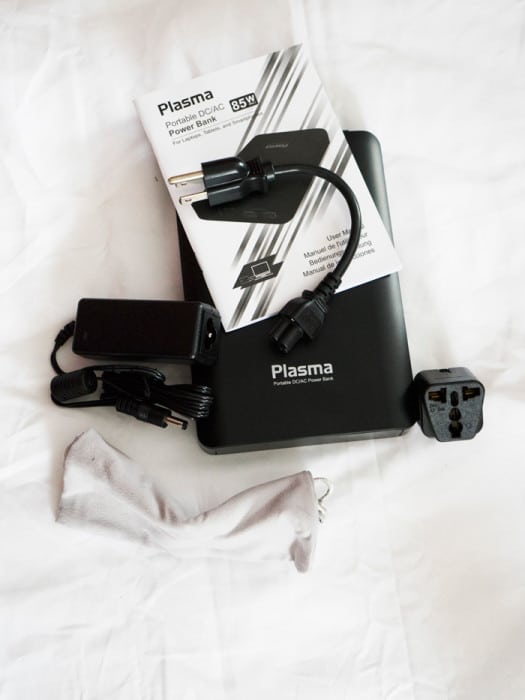 Rosewill was founded back in 2004 with the endeavor to bring quality hardware and lower cost together to expand the quality gaming products market to entry-level gamers and enthusiasts.  To achieve this lofty goal, Rosewill competes not only when it comes lower cost solutions, but also on product quality, customer service and satisfaction.  Rosewill is also a Newegg brand and power banks like the Plasma are one of the many Rosewill product lines.
Special thanks to Rosewill for sending us the Plasma to review.
Specifications
Plasma
Type
AC Portable Power Bank
Capacity
18,000 mAh
Input
DC 19V/2A
DC Output
DC 5V/2.4A (Dual Ports, MAX. 2.4A)
AC Output
AC 120V 60Hz
Life Cycle
500+ Recharges
Dimensions
7.32″ x 5.08″ x 1.10″
Weight
1.34lbs
Packaging and Overview
Rosewill uses a glossy packaging with the front, bottom and back in black and the sides finished in blue with white print that stands out and looks professional.  The overall layout of the packaging allows the Plasma to catch people's attention on a store shelf without being an eyesore, but yet makes you want to pick it up and look at it more.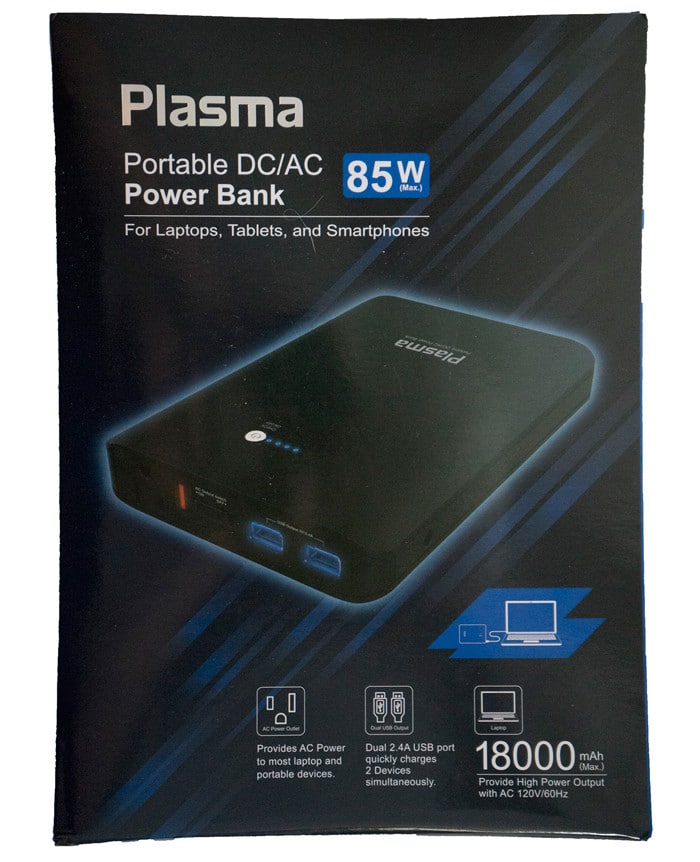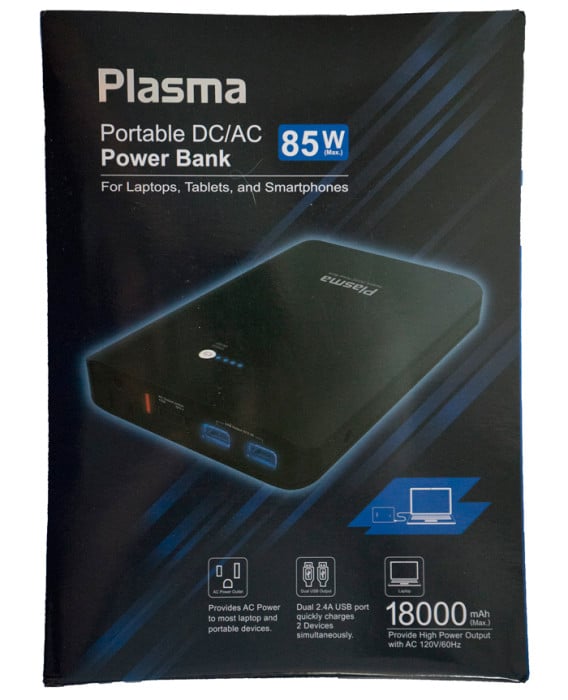 The front of the box is fairly simple: Plasma in silver lettering, simple product description, primary features, capacity and a picture of the product. The product picture blends into the black packaging and I am not sure why they went with black instead of the blue that is found on the sides.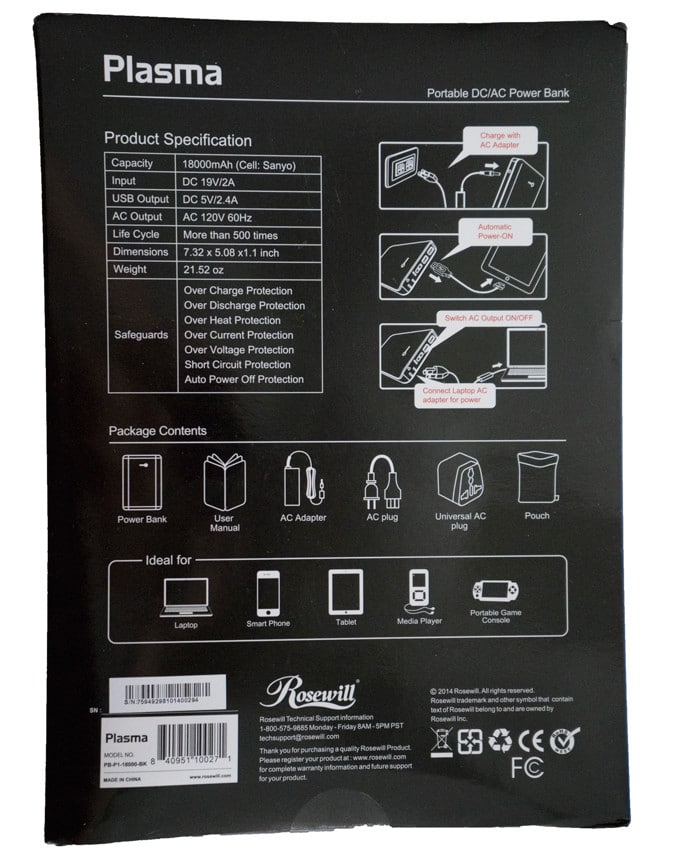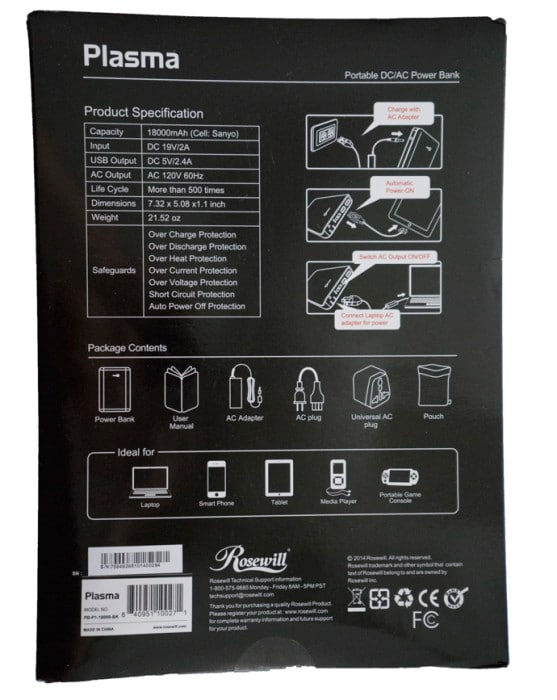 The rear includes a list of the features, specifications, contents and instructions pertaining to the AC outlet that differentiates the Plasma from other power banks.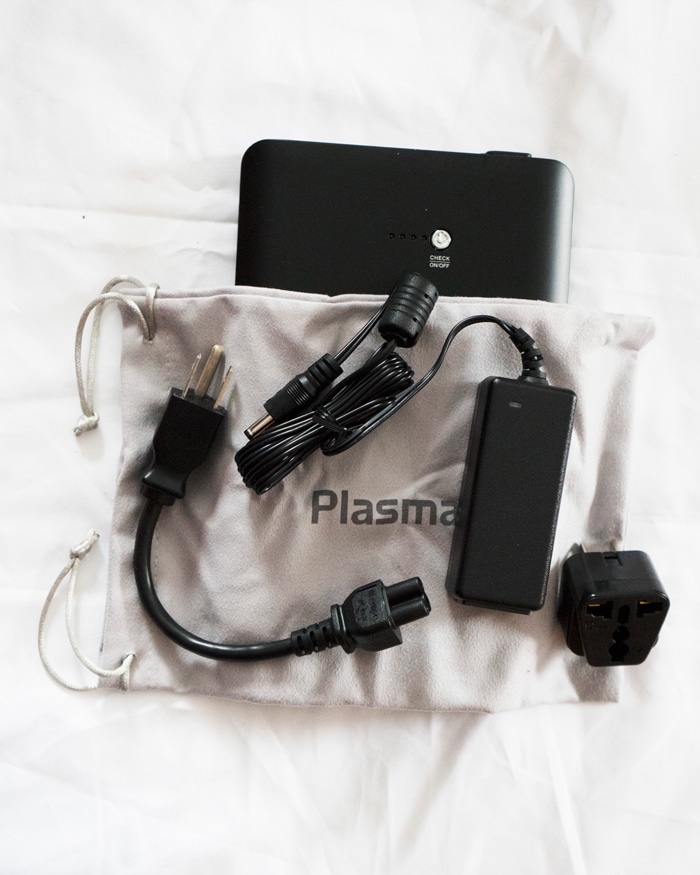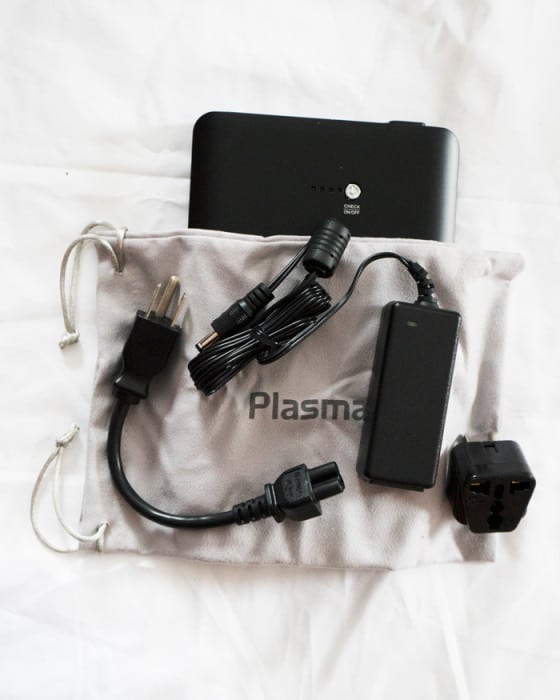 Upon un-boxing the Plasma we get to the contents, which include the power bank, user manual, AC adaptor and plug,  universal AC plug and the microfiber carrying pouch. While the universal AC-plug might seem as an odd inclusion at first the idea of course is that if you take the Plasma somewhere where another plug-type is used you still should be able to use it with products from that country (as long as they can handle 110V).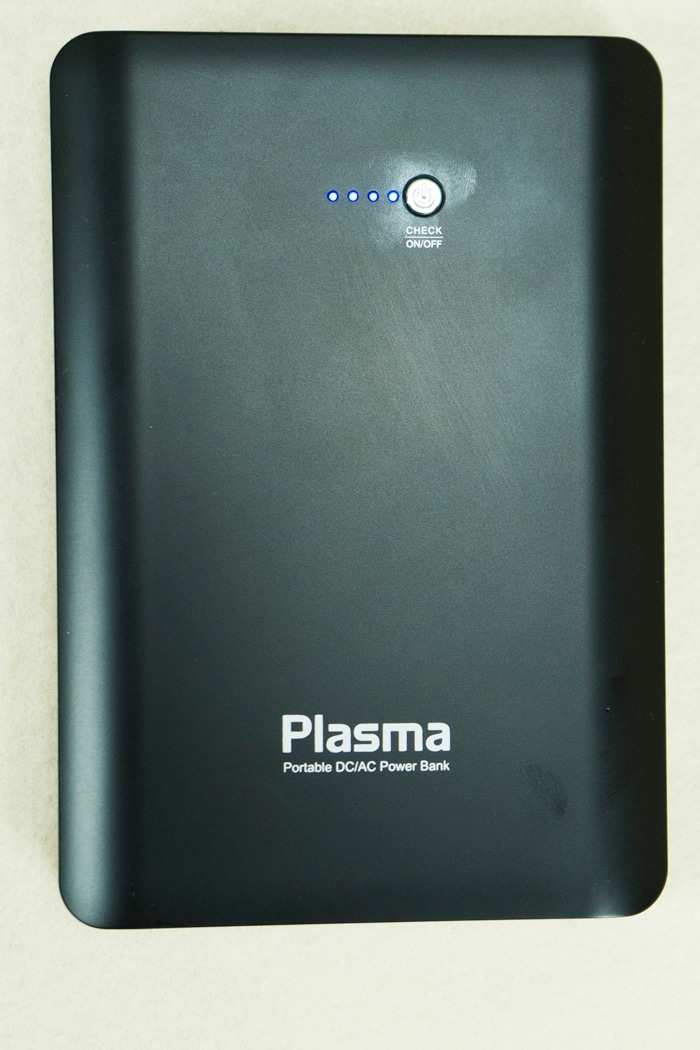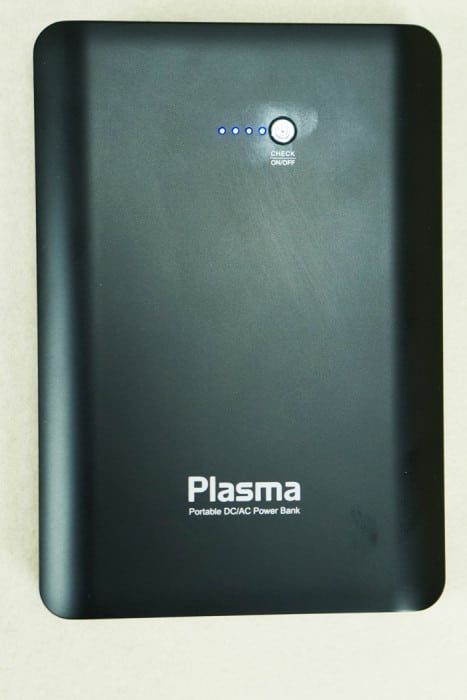 The Plasma's top features the power button with 4 blue LED's and the Plasma logo.  On the left side is the port for the charging cable. The business end on the Plasma features two USB 5V/2.4A charging ports followed by an on/off switch for the AC outlet that is capable of supplying up to 85W. On the Plasma's backside is a specifications sticker along with a S/N sticker.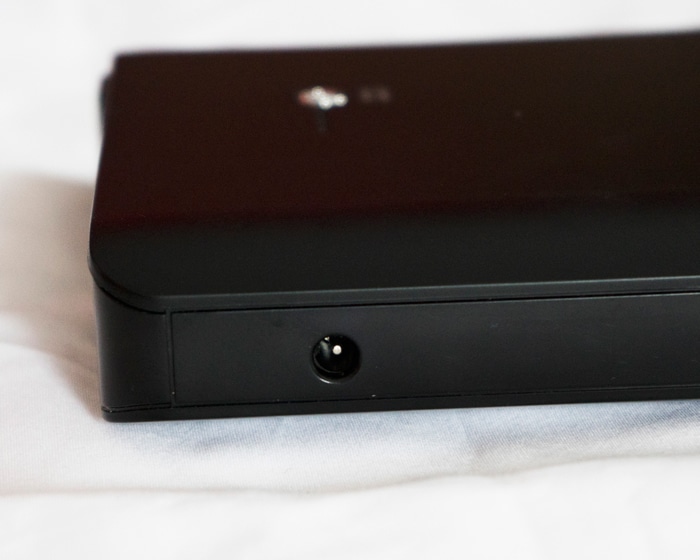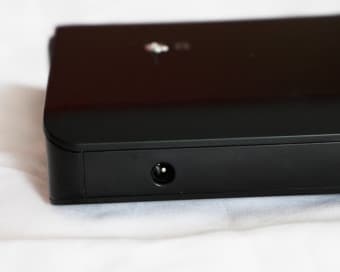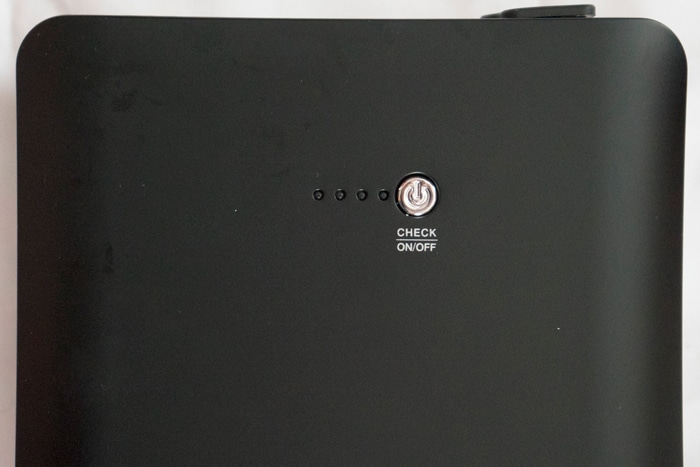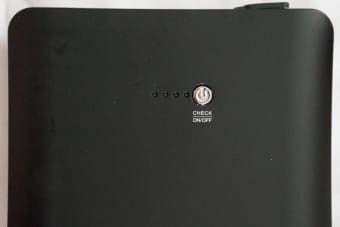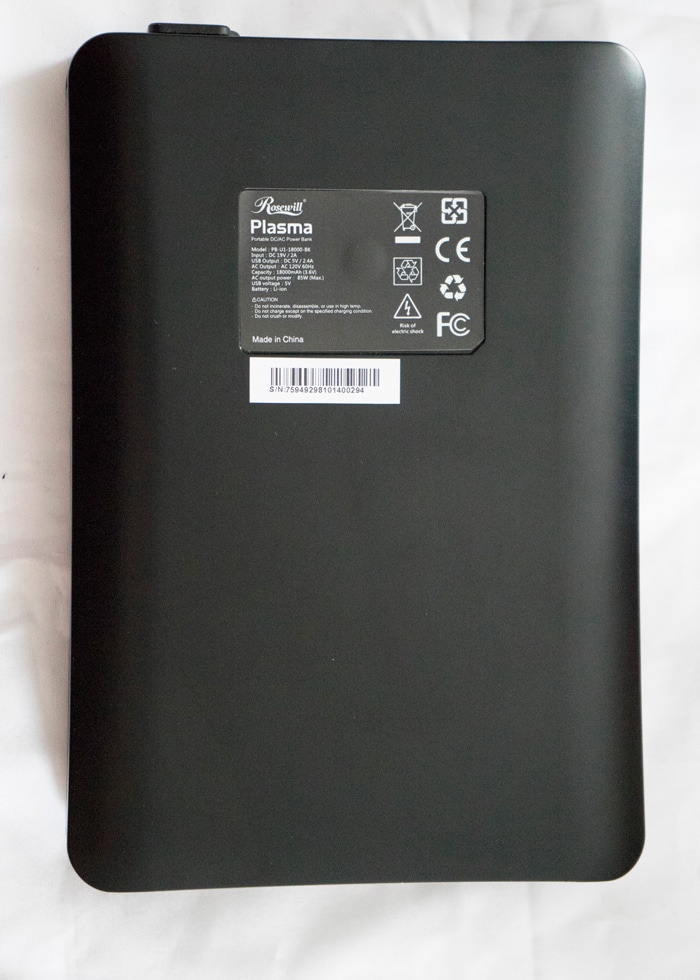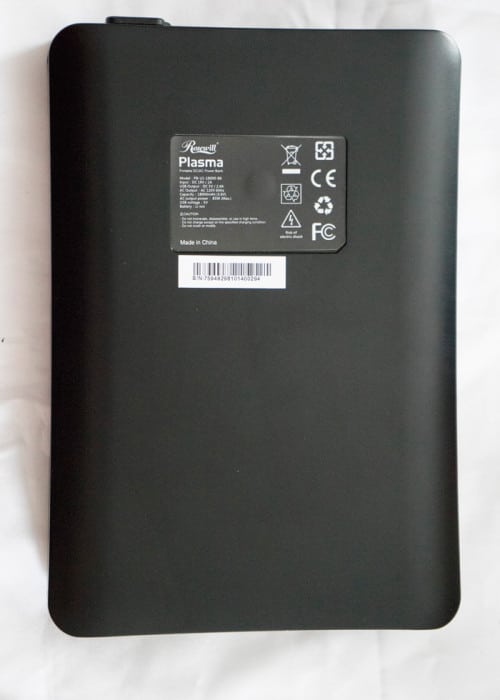 The Plasma is a bit of a porker coming in at 1.34 pounds and its dimensions are 7.32″ x 5.08″ x 1.10″, making the Plasma one of the biggest power banks we have tested.  However, it is also the only one we have tested that has had an AC outlet allowing us to charge or power non-USB devices like laptops and other small electronics that require less than 85 Watts. To get the W of your laptop charger take the Voltage and multiply with the A.
Testing
For the first charge, I plugged the Plasma in using the power adaptor and within 5 hours it was fully charged.
For my first round of testing to make things interesting I plugged in my Sony A7 DSLR at 7% battery, Samsung S4 at 3% battery remaining and I also plugged in my ASUS TF700 tablet into the AC outlet when it was at 54%.  Then to make it more fun, I plugged in my Samsung Blu-Ray player into the AC outlet and watched Fury. After all of this the Plasma still had some charge left in its battery, although it was below 25% since none of the blue LED's were lighting up.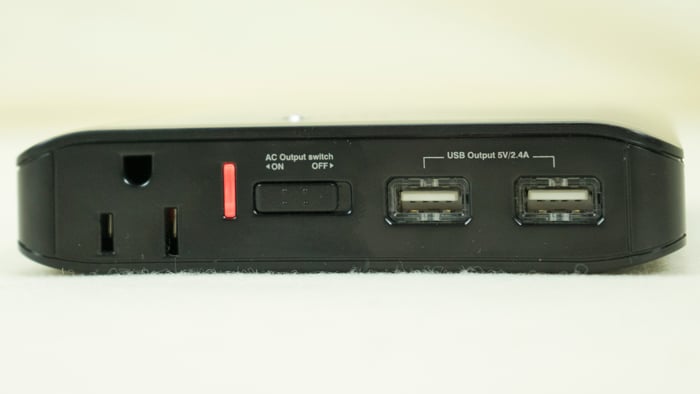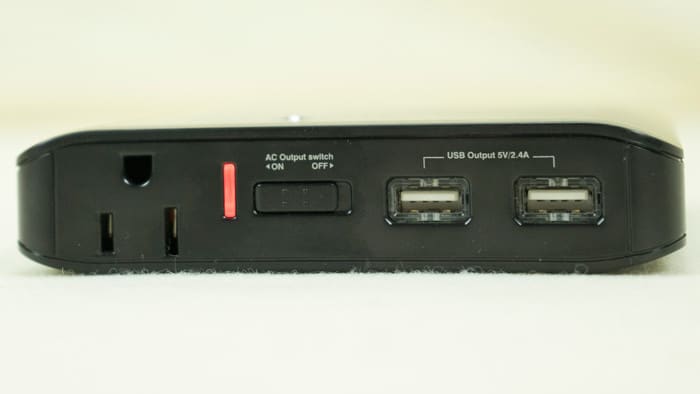 After a recharge I plugged in a Luxa2 TX-P2 power bank that was completely dead along with my Samsung S4 at 37% and my ASUS TF700 Tablet which was also completely dead and the Plasma managed to fully charge them all and still had a little charge left in its battery.
Conclusion
The Plasma uses a Lithium Ion battery which is rated for 500+ recharge cycles giving it a long lifespan.   With 18,000mAh the Plasma was more than capable of charging the multitude of devices during testing, no matter how power-hungry they were.
Overall I feel that with the addition of an AC outlet to the Plasma it really opens up the range of products you can charge with it as long as it does not require more than 85 Watts.  This allows you to charge things like laptops and even power other devices like my Samsung Blu-Ray player.
However even with the attributes that the Plasma has, minor things like the finish of the power bank drove me nuts.  The plastic used is extremely susceptible to finger prints and with any handling of the Plasma, oil from your skin transfers instantly and becomes highly visible and impossible to clean.
Also while the Plasma features an AC outlet and a universal adaptor it is currently selling for $131.61 on Amazon.  This price is high in relation to other power banks on the market even with the AC outlet feature. If you shop around a little you can find it cheaper though as we found it on Newegg for just 85$ (this is though a limited offer until 11 july 2015).
Pros
Cons

Lots of stored power that will charge a lot of gadgets before getting depleted
AC-output offers the ability to att some charge to a laptop as long as it doesn't need more than 85W

Big
Extremely susceptible to finger prints
Quite expensive for a 18000 mAh power bank