2016 will be an exciting year for AMD as the company will finally release the highly anticipated, brand-new, next gen x86 microarchitecture codenamed "Zen". While AMD is not yet to fully disclose the new CPU architecture, it has released some detail about the next gen CPU at the 2015 financial analyst day event.
New "Zen" Core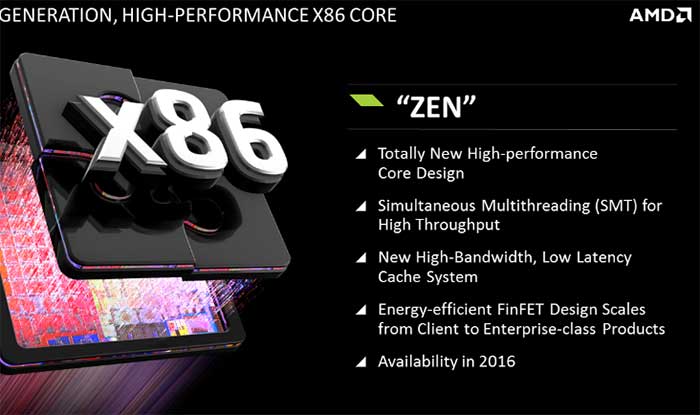 The next-gen x86 "Zen" core will be manufactured with FinFET technology, presumably at 14nm. The CPU will feature high-core count with multi-threading technology for high throughput performance. This is more traditional CPU design with a single integer unit and FPU as oppose to the Bulldozer's Clustered Multithreading (CMT) design where a two integer units are paired a single FPU. Zen will also feature new high-bandwidth, low latency cache system. It will also support DDR4 memory.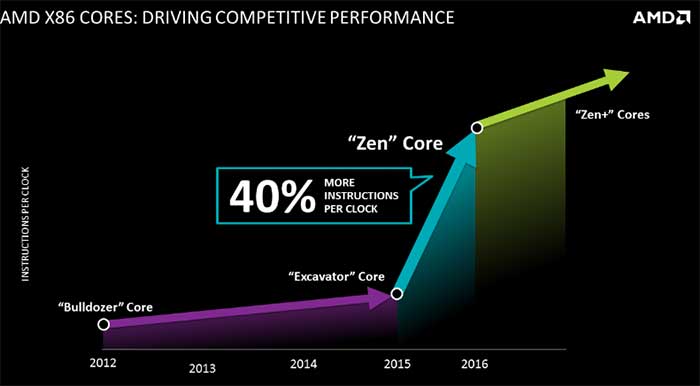 According to AMD, the Zen APU will deliver 40% higher IPC compare to current "Exavator" core. This is rather impressive result considering that we have seen AMD delivers single digit gain over the last year years with their CPU improvement. If AMD's claim is true, next year's CPU battle between Intel and AMD would be very interesting as AMD is finally able to compete against Intel in the high performance CPU market. AMD emphasis that the performance improvement is based on the microarchitecture change, ie cache, chip design, etc, and not the reduced fabrication process.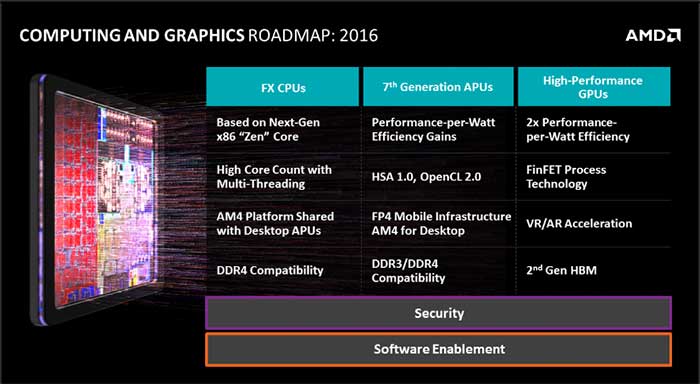 The Zen core is designed to be scalable. The Zen core will be used for the entire desktop processor portfolio. Both the high performance CPU and mainstream APU will be utilizing Zen core. Making this the first time that AMD is using the same microarchitecture across their entire line of desktop processors. Not only that the CPU cores will be identical, both the CPU and the APU will fit into the new AM4 socket, further unifying the platform. While the CPU will support DDR4, the APU will support both DDR3 and DDR4. We do not yet know if it will be possible to swap out a CPU for APU (or vice versa) on the same motherboard. Something nice to have for those who want to upgrade without buying a new board. The mobile APU will also using Zen Core as well but they will be using FP4 socket.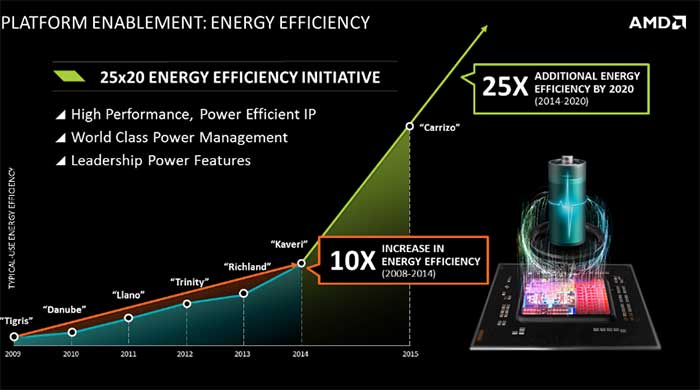 Of course, AMD APU will feature onboard graphics and the 7th gen APU will also feature HSA 1.0, OpenCL 2.0, and presumably DirectX 12 support. We do not yet know if the APU will use GCN 2.0 or 3.0 architecture or whether or not AMD will implement HBM onto the APU as it is doing on the discreet graphic card. Performance per watt is the biggest design focus on the APU and AMD is planning to further increase the power efficiency by 25 times by 2020.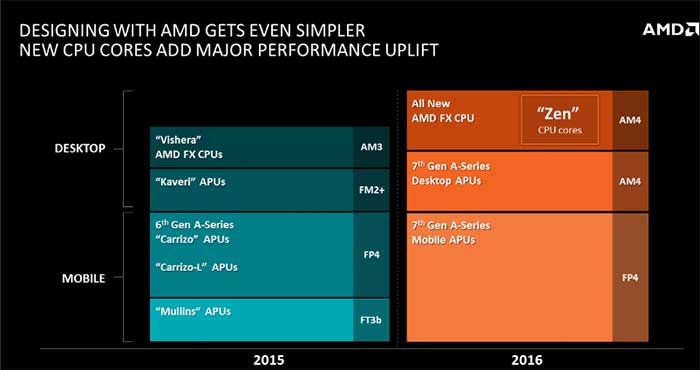 Looking at the roadmap, we can see that AMD has simplified its entire product line from four segments into three. Two segments for desktop: FX CPU and A-Series APU. Only one segment for mobile that will carry the same A branding.