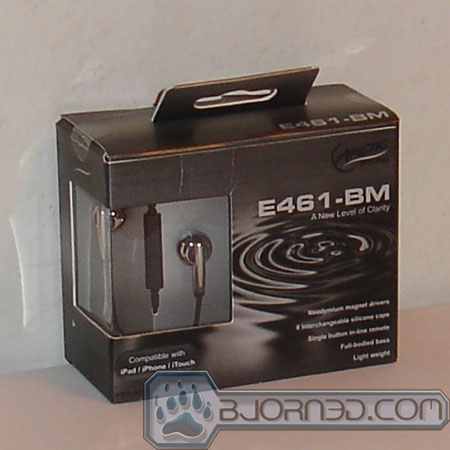 Sporting a chrome looking in-ear bud, the Arctic E461-BM headphone comes with in-line control and has a response frequency of 17Hz to 26KHz. Is this shiny gadget worth your money? We take a look.
INTRODUCTION
Headphones are such a common item nowadays, and most people go through at least one set a year. Often, the cord will get in the way so that users inadvertently tug it too hard and eventually will rip the cord off from the earbuds.
Headsets that are bundled with a smartphone or MP3 players are often cheap, and are not durable and do not yield good audio. True audiophiles often look for after-market units in order to enjoy the true fidelity of the sound. Arctic is the latest company that is aiming to bring a better audio quality experience with their E461-BM in-ear headphones.
| | |
| --- | --- |
| Arctic E461-BM | |
| Frequency Response (Hz-kHz) | 17 Hz – 26 KHz |
| Sensitivity (dB/mW) | 96 |
| Impedance (ohm) | 12 |
| Plug | 3.5mm Jack |
| Cable (m) | 1.3 |
| Limited Warranty | 2 years |
| Dimensions (Packaging) | 113 L x 53 W x 90 H mm |
| Product Net Weight | 14 g |
| Item Number | ERASO-ERM35-GBA01 |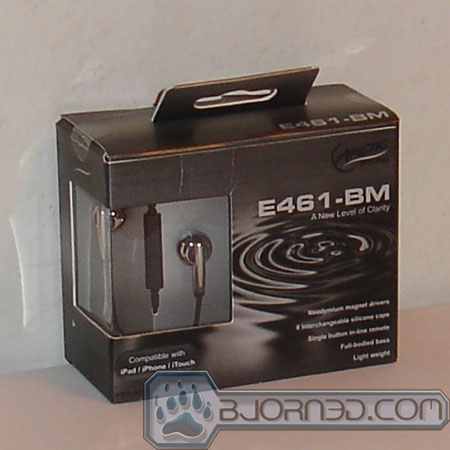 The Arctic E461-BM is shipped in a rather large box for an earphone. The box gives a quick glimpse of the earphone and its controls. We can see that the earphone has response frequency of 17Hz to 26KHz, 12ohms impedance, and 1.3 meters of cable length.
Arctic E461-BM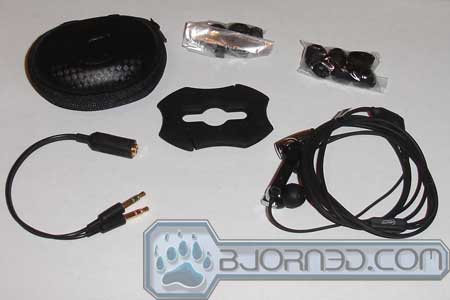 Opening the package, we can see that in addition to the headphone, we also get a handy cable winder and a carry case to help keep the headphone organized while traveling. In addition, a cable clip is included as well for those who wish to use the headphone on a PC or a laptop that uses a separate connector for audio and mic.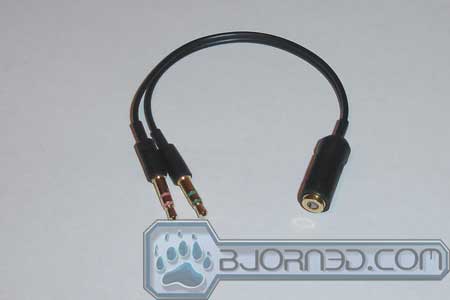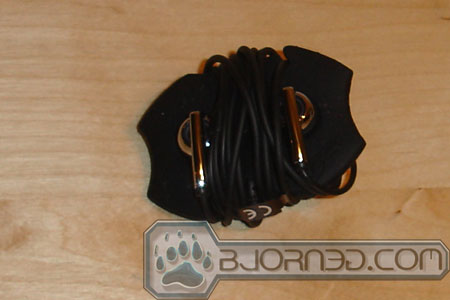 The E461-BM looks like any standard in-ear headphones that are inserted in the ear canal. The headphones feature stainless steel mesh filter that is designed to protect the user from ear wax and other debris. Furthermore, the aluminum headphone capsule is designed to provide higher audio quality and improves lower bass. Inside the earphone is a neodymium magnet driver.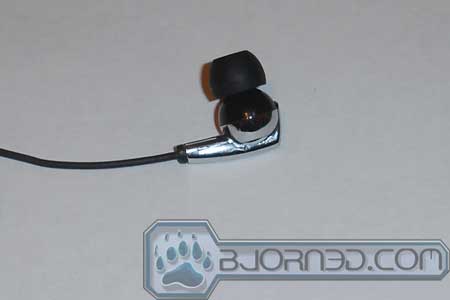 The cable seems to be sturdy enough to suffer rough handling. The overall build of the headphone is pretty good. There is a reinforcement on the cable that get split into the left and right. Also, the connector is reinforced and angled. However, the end where the capsule is located does not seem to be reinforce. I am not sure how it will handle through accidental pulling or tugging. The connector is is angled.
Like many in-ear headphones, these have silicone caps surrounding the driver. The silicone caps on the E461-BM are interchangeable and Arctic provides three different sizes of the caps for users to choose from.
In-ear headphones often block more ambient noise and offer better audio quality. They also often cause slight discomfort after a few hours of use. However, the E461-BM is rather comfortable to use.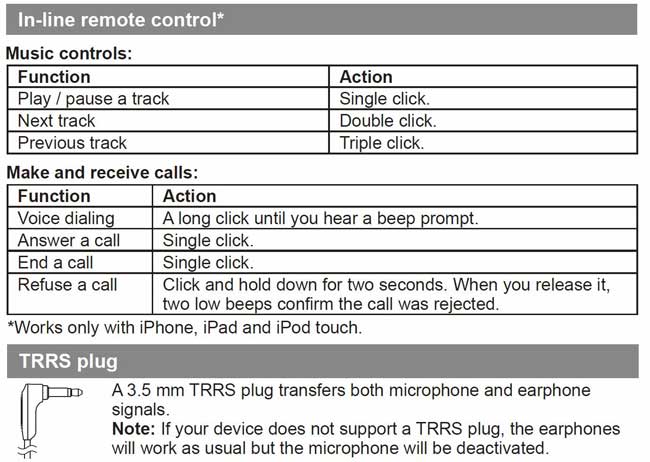 The in-line control and microphone features a single button. For iPod Touch, iPad, or iPhone users, these earphones can also control music playback or make and receive calls. In order to use the control, the device must support TRRS. However, Apple devices' TRRS uses slightly different layout than some smartphones so the control may not work with non-Apple device. The Mic and earphone still works without much trouble. We did a test on our Tilt 2 and Motorola Xoom and can hear and record voice. We were able to use the single click to play and pause the music playback on the Xoom but the double click is not working.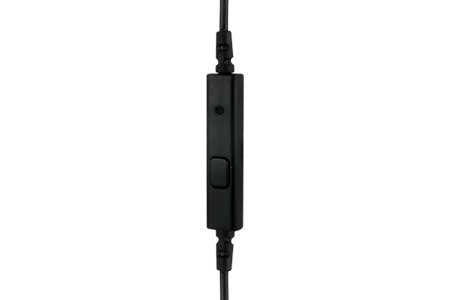 The button on the control is a bit stiff. Since it uses one button to control many functions, we feel that it may be difficult to press the right number of clicks.
We found the audio quality for the headphone is not as impressive as its specification. The audio playback does feel more surround possibly due to the in-ear design that provides a better blocking of ambient noise. However, the audio range is not as wide. While the middle frequencies are clear, the high feels flat and low it is not as full. Also, the audio quality of the headphone feels a bit hollow and its volume is a tad low so we had to crank up the volume higher than other headphones.
For casual use, the Arctic E461-BM does its job and the in-line control is nice to have albeit with limited usage for non-Apple users. The headphone is not going to satisfy any audiophiles. While its construction is very nice and it is very comfortable to use, it ultimately failed to impress us with its sound quality. We do want to emphasize that audio quality is very subjective, as what sounds good to one person may not sound good to another. The best practice when buying a headphone is try it yourself.
OUR VERDICT: Arctic E461-BM
| | |
| --- | --- |
| Performance | 7 |
| Value | 7 |
| Quality | 9 |
| Features | 8 |
| Innovation | 7 |

We are using a new addition to our scoring system to provide additional feedback beyond a flat score. Please note that the final score isn't an aggregate average of the new rating system.

Pros
Cons
Quality buildIn-line control for iPod Touch, iPhone, and iPod

Comfortable to use

Build in mic

2 year warranty

Audio quality is not that impressiveVolume is lower
Summary: The Arctic E461-BM is a nice little headphone with good build quality. Unfortunately its audio quality is a bit flat in the low and high region.