We'll take a closer look at OWC's Mercury Extreme Pro 6G 240GB SSD, along with their Data Doubler Adapter and Value Line SuperSlim Optical Drive External Solution for Early 2011 Macbook Pro users.
Upgrade Parts and products
There is no doubt that the early 2011 MacBook Pros built with the latest Intel Core i5 and i7 Quad-Core Sandy Bridge architecture processors and AMD's HD6xxx discrete graphics are a great combination to boost overall system performance. As a matter a fact, with the latest Intel Sandy Bridge processors, users can achieve double the performance of previous 2010 generation MacBook Pros, especially in media related tasks and rendering. However, the storage devices used in the latest MacBook Pros are nothing to brag about. Users that still run 5400RPM or 7200RPM hard drives in their system do not realize that their storage device is a major bottleneck for their system. It is possible to achieve much higher performance in everyday tasks like booting to OS X or Windows 7 through Bootcamp, surfing the web, opening up applications, reading massive video files during editing, or even loading multiple images with the proper storage device upgrade.
Current systems come with updated chipsets and controllers that can handle much higher Input/Output (I/O) operations than previous chipsets. Because the processor and other components in a system heavily rely on data stored on a storage device, having a faster storage device means better overall system performance. With the latest chipsets, like the one used in current MacBook Pro models, systems can support up to a 6Gbit/s data throughput. This is equivalent to about 750MB/s throughput performance.
A few years ago, when Solid State Drives (SSDs) were introduced to the market, they were not affordable to the majority of people, and were not significantly faster then current hard drives. SSDs are still quite expensive, however, many are starting to consider upgrading because of the performance the latest SSDs can offer with recent systems. Today we will be taking a look at OWC's complete upgrade kit for a MacBook Pro user, that is considering to upgrade their system with an SSD, but also keep their current hard drive as a storage device for their files and documents.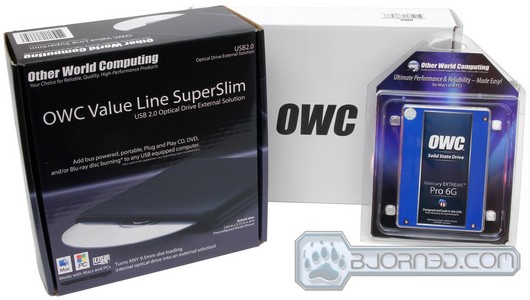 What do users need to know when upgrading their MacBook Pro with an SSD? Because of space limitations and Apple's compact design for their MacBook Pro laptops, there is only one slot designed for storage devices. If the user wants to keep their current hard drive as a back-up or as extra storage for data, they must consider another mounting method when installing their SSD. This option would be to take out the current DVD player installed with the MacBook Pros, and replace it with an adapter that would hold the SSD in place. Then the DVD player from the MacBook Pro would be put into an external USB optical drive enclosure that would allow the user to still use their MacBook slim DVD player even when it's not installed internally.
Here are the products users would need for such setup, and we'll explain why soon:
OWC 120GB/240GB/480GB Mercury EXTREME Pro 6G SSD (Electra is OWC's slower model)
OWC Data Doubler
OWC Value Line SuperSlim
Of course it is not a problem to go with other brands, however OWC's products are specifically designed for Apple products, so users are guaranteed to get a compatible product. So, why not just get an upgrade from Apple? The difference between Apple's SSDs and other SSDs is that they most likely use different controllers which provide different performance. For example, recent SSDs we've seen from Apple use Toshiba's T6UG1XBG SATA II controller with updated firmware, while OWC's SSDs use the latest SandForce SF-2282 SATA III controller. This plays a significant difference in speed, as the SATA III controllers can make full use of SATA 6Gbps bandwidth (equalling 750MB/s throughput), whereas the SATA II controllers are limited to a maximum of half that amount.
Also, before we continue, we would like to give a quick introduction to each product we will be testing today. The OWC 240GB Mercury EXTREME Pro 6G SATA III SSD is going for $499.99 currently at MacSales.com. This is the main solid state drive that will provide the high performance for data stored on it. OWC claims up to 559MB/s read and 527MB/s write speeds with their SSD, which is phenomenal compared to even 4 hard drives in a RAID 0 configuration. The OWC Data Doubler is the adapter designed to hold the second drive that will be installed in place of the DVD player in a MacBook Pro. The Data Doubler is currently on sale for $74.99. Finally, we have the OWC Value Line SuperSlim enclosure, which will hold our internal DVD player that we take out from our MacBook Pro. The Value Line SuperSlim is sold for around $44.99. All told, the package will total around $620 (prices may vary by store).
Limitations of Early 2011 Model Macbook Pros
Many early buyers of the 2011 Macbook Pros were quite disappointed and frustrated that their systems might not fully support SATA III. Even though the main chipset used for the SATA III controller is present on the motherboard, many suffer from not being able to achieve a 6Gb/s throughput, or even having a 6Gb/s option. In short, this means that performance is drastically degraded and the price-efficiency of that new MacBook Pro might just have flown out the window. Here is a quick description of each model and compatibility for the Early 2011 models: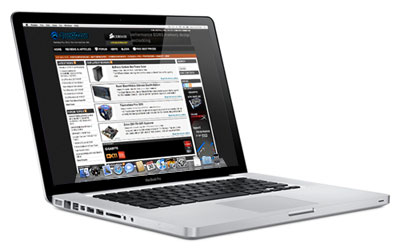 13" – 100% no issues with 6Gbp/s SSD in any bay that has 6Gbp/s available
15" – 100% no issues with 6Gbp/s SSD in main bay, no-go with 6Gbp/s SSD in optical bay.
17" – Hit or Miss for main bay with 6Gbp/s SSD, no-go with 6Gbp/s SSD in optical bay.
So what does this mean to an average user or an enthusiast trying to upgrade to an SSD? Since certain models, like the 17″ or the 15″, have issues on some or all SATA ports, it is possible that a 6Gb/s drive like the OWC Mercury EXTREME Pro 6G drive might only perform at a 3Gb/s throughput. This would limit the performance of a 559MB per second SSD to about 300-350MB/s. A user might as well just get an SSD that runs at 3Gb/s and save a bit of money.
We will be testing the OWC's products on our latest 2011 model 15″ MacBook Pro, running Intel's i7-2720QM Quad-Core processor at 2.2GHz (3.3GHz with Turbo), AMD's HD6750M 1024MB discrete graphics and 8GB of Kingston's Plug-n-Play 1600MHz DDR3 memory. We have also figured out that our MacBook Pro does have it's 3Gb/s limitation on the main optical drive bay, which is the secondary SATA Port inside the MacBook Pro. This helps us to determine exactly how we will install our new OWC Mercury EXTREME Pro 6G SSD. We'll explain that on our installation page.
To figure out whether your MacBook supports the new 6Gb/s ports, go to the "About This Mac" option under the Apple logo button, in the top menu bar. Then click the "More Info…" button (may depend on OS X version). Next, click on "System Report", and you will find the information under the Serial-ATA tab. You should now see two Intel 6 Series Chipset drop down menus in the Device Tree menu. If you click on each, it will give you the specification of each port. What we are looking for is the Link Speed. If you see 6Gb/s on both menus, then you have a perfect MacBook Pro without any problems. If you see one as 6Gb/s and the other at 3Gb/s then you know your second port is only compatible with SATA II performance drives. Finally if both are 3Gb/s then you will not be able to use 6Gb/s drives with 6Gb/s performance.