NVIDIA 3D Vision for YouTube is finally here. Users can enjoy sharing their favorite family moments and stream 3D Movies straight from YouTube with Nvidia's 3D Vision glasses.
NVIDIA 3D Vision for YouTube
Up until today, May 26th, 2011, YouTube had several options for users to watch 3D videos online, however, YouTube never had support for one of the most widely used 3D products for PC users. With online movie renting on YouTube becoming more widely used and sharing 3D images and videos filmed by users around the world becoming more popular, there is no doubt a need for proper 3D support. There has been a big increase in 3D ready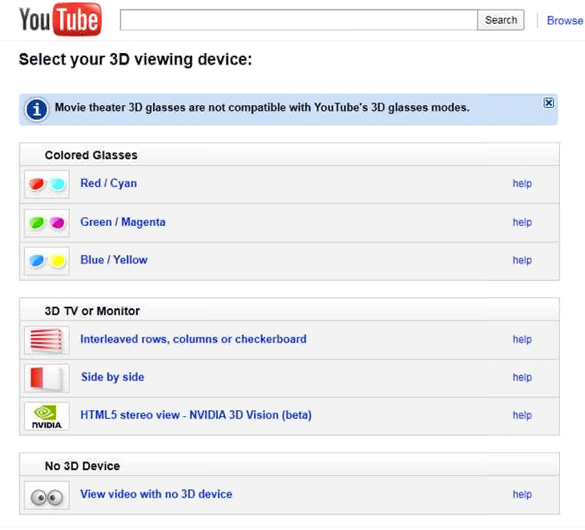 devices and users running NVIDIA 3D Vision on their systems, so why not add this feature to YouTube? Well we are happy to say that NVIDIA 3D Vision for YouTube is finally here.
Users running the latest version of Firefox 4, including the latest NVIDIA 3D Graphics drivers should have full BETA NVIDIA 3D Vision support. NVIDIA's 3D Vision support requires HTML5, and unfortunately, at the moment, it will only work with the latest version of Firefox. After talking with NVIDIA, they mentioned that they are working on bringing 3D Vision support to other browsers as well, but for now users can enjoy 3D Vision on YouTube on Firefox.
Now we are assuming that since 3D Vision support just got introduced to YouTube and because it is a BETA, there might be some smaller glitches, though since we haven't had too much time to play around with it yet, we cannot say for sure. We'll see in the following few days. Now to clear a few things up, all the latest and past generation video cards ranging from the 5xx series all the way back the 8 series GeForce cards should work fully with 3D Vision. The user need to make sure they have a 120Hz 3D compatible LCD monitor, have the NVIDIA 3D Vision Kit and ensure that they have downloaded the latest beta drivers from NVIDIA's website. With all that done, they should be able to enjoy the 3D Vision features on YouTube and any 3D related applications like games.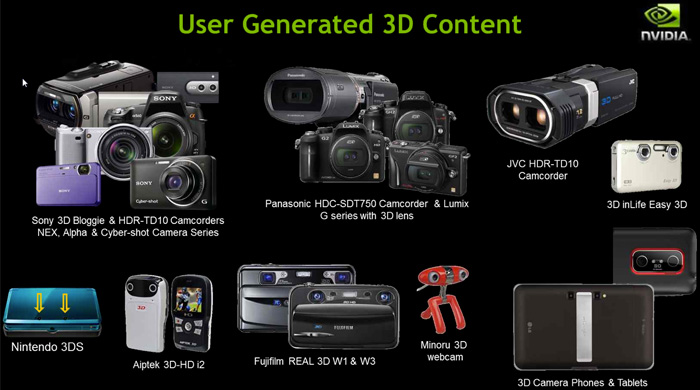 One very nice feature about having 3D YouTube options with NVIDIA's 3D Vision is that users that already use 3D based cameras or video cameras will be able to share their memories online with friends and family. Because YouTube allows their videos to be embedded just about anywhere on the world wide web, this also means that users will be able to share their 3D videos on their own website or on social networking sites.
Some of the current possibilities with NVIDIA 3D Vision include 3D Gaming, 3D Movies, 3D Photos, and 3D Web Streaming. Of course the most widely used from these four different 3D experiences is the 3D Gaming, since the NVIDIA 3D Vision Kit was mainly developed for 3D gamers, however, now with YouTube providing 3D Vision possibilities, users can now enjoy 3D Movies and 3D Web Streaming. NVIDIA provides a software with their 3D Drivers which also provides users to experience 3D Photos, which look absolutely stunning. Users around the world can also share their pictures on their 3D Vision Live website.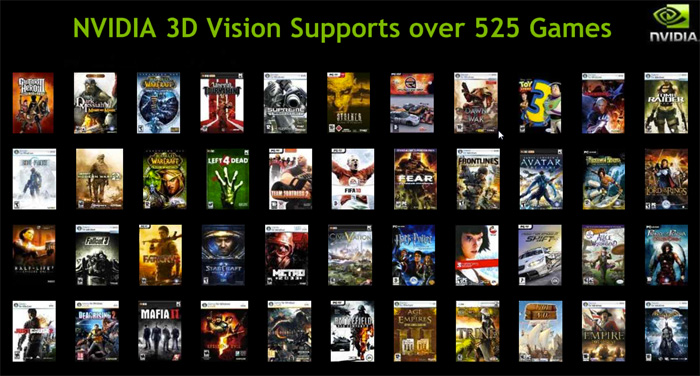 Here are just some of the games shown that support NVIDIA 3D Vision, though according to NVIDIA, there are over 525 games that are fully supported through their drivers. 3D gaming experience will depend on how well the game is optimized for 3D gaming.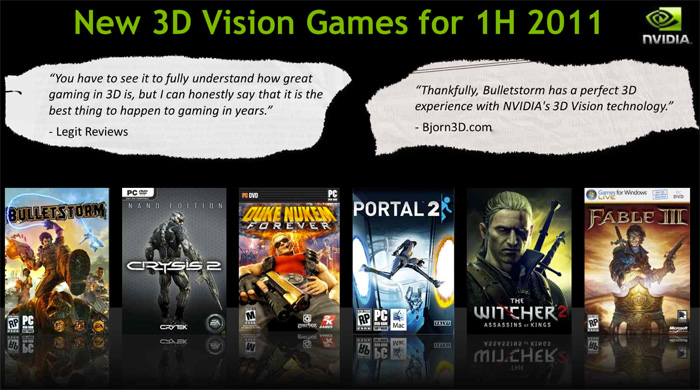 For newer games, especially the ones developed last year and this year have exceptional 3D gaming experience. NVIDIA works closely with game developers to ensure that the latest games coming to the market have an "excellent" 3D rating. Some of the games that we have checked out this year with 3D Vision support turned out to be a lot more fun with 3D enabled. It opens a new type of gaming for the gamers.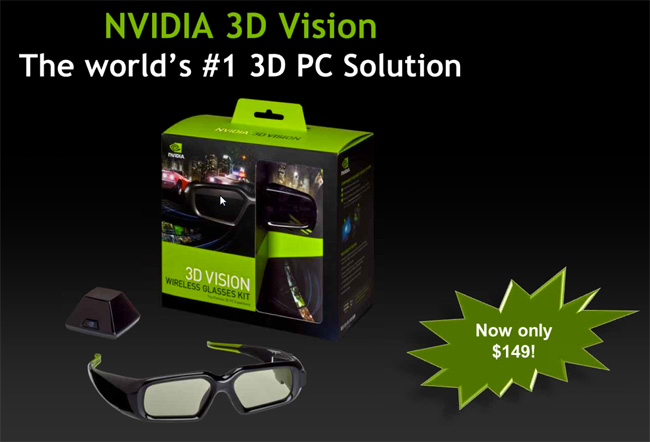 Finally, NVIDIA lowered the price on their 3D VISION Wireless Glasses Kit a few weeks ago. Instead of the standard $199, the 3D Vision Kit is now available for $149. It is good to look around online to make sure that you get your kit for the best price possible. There will be more goodies coming from NVIDIA in the following days, so stay tuned, check back at our site often to make sure you don't miss out on the latest news about NVIDIA's 3D products.