The Cubitek Tattoo Pro is a new case from Cubitek. It features a unique design and some new features but the quality could be a concern.
introduction
Everybody knows that computer cases are important for a variety of reasons; as a result there are quite a few manufacturers out there. The Tattoo Pro case comes from one of the newer manufacturers, Cubitek. While the Tattoo is not their only case design, it is likely to be their most popular. As always it is important for a computer case to not only look good, but also perform well. After all, there is no sense in buying a computer case that looks great but doesn't keep your stuff cool.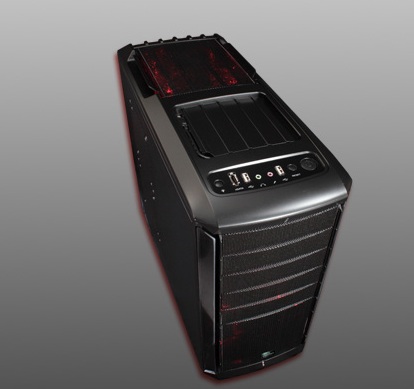 Click Image to Enlarge
We'll be taking a look at performance, quality, and other aspects of this case from Cubitek to see if it can compete with the big names in computer cases.
Specifications
| | |
| --- | --- |
| Model Name | Tattoo Pro |
| Model Number | CB-TA-P510 |
| Drive Bay | External: 5.25" x 5 ( including a 5.25" to 3.5" converter) |
| Internal: | 3.5" x 5 + 2.5" x 2 |
| Size | 202 x 470 x 485mm (W, H, D) |
| Material  | ABS Plastic / Steel Mesh / 0.7mm SECC steel |
| M/B Type | ATX / M-ATX / Mini-ITX |
| Front I/O | USB 2.0 x 2 / HD+AC-97 audio / Mini USB Type B |
| PCI Space | Maximum Graphics Card length: 290mm |
| CPU Cooler Height | Maximum CPU Cooler height: 160mm |
| PSU Space | Maximum PSU length: 290mm |
| Fan | Front: 140mm LED lit fan x 1 (with LED on/off switch) |
| Rear | 20mm silent fan x 1 |
| Top | 140mm LED lit fan x 1 (with LED on/off switch) |
| Side Panel | Transparent window side panel |
| Internal Finishing | Black; Matt / Powder coating |
Features
Streamlined Design to make your life better
Inspired by Tattoos worn by Maori warriors, the "tattoo" graphics on the case make them aesthetically powerful. The power coming from these warriors pass on to you as the user.
Available in 3 finishes
Convenient top panel tray with USB charging cable for phones
Small top storage space
I/O and control panel located on top of case for easy access
Quick Bezel removal for easy 5.25" device installation and dusting
Toolless install for 5.25" and 3.5" devices as well as PCI cards
Bottom located PSU mount
Overall the features and specifications of this case are pretty much on par with everything else we've seen from other vendors. The design is somewhat unique and the tattoo look is quite interesting as well. As with any case, quality is equally as important as the design itself. The fact that Cubitek included the CPU cooler size restrictions as well as the graphics card length restrictions is great because it makes it much easier for customers to determine if their components will fit.
pictures & impressions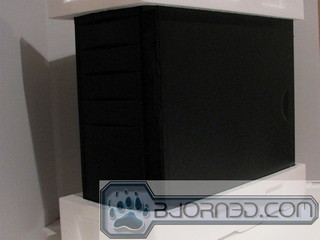 Click Image to Enlarge
The packaging from Cubitek was surprisingly simple. The case came in a box with very little writing or information on it; fortunately they did include plenty of foam packaging to protect the case.
NOTE: It is important to note at this point that the original case we received from Cubitek was damaged in transit because the case was not packaged at all, it was simply put into a thin cardboard box. When properly packaged in what we assume to be the retail packaging, it survived just fine.
Click Image to Enlarge
This is the overall design and shape of the Cubitek Tattoo Pro. The case features a sleek design with very little flair to it; it is a somewhat simple design that still looks good. From the outside it definitely looks good without being too showy or flashy.
Click Image to Enlarge
As mentioned in the features section, all of the buttons and USB ports for the front panel are actually on the top. There is also a unique USB charging cable for smartphones that works very well. The back panel of the case is exactly what would be expected. Everything is where it should be (standard ATX) and Cubitek even included water cooling ports for those interested in that. One interesting thing about the front panel was that it didn't seem to completely work properly. Despite our best efforts, we absolutely could not make the power button function; seems to be a quality issue.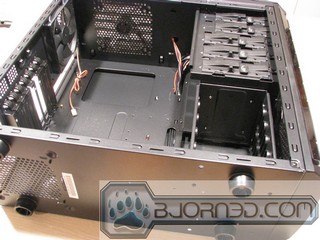 Click Image to Enlarge
The above image shows the full side panel view of the case. The simple and sleek design continues into the case, where Cubitek chose to make the entire inside of the case black which is a nice touch. Cubitek clearly marked the motherboard mounting holes based upon motherboard size; this is another nice touch that really helped ease the installation.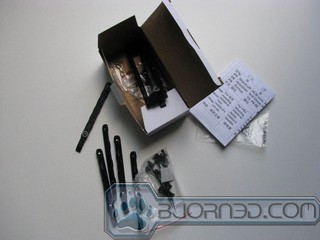 Click Image to Enlarge
Finally, we have a look at all of the stuff included with the Cubitek case. The standard items (screws, standoffs, etc.) are all included. Cubitek also included quite a few hard drive rails, a USB converter (for the top panel) and other assorted goodies that would be expected from a quality case.
Hardware Installation
Installing components into the Cubitek Tattoo was not difficult. There were a few hiccups and issues along the way that we will point out, but overall things worked quite well.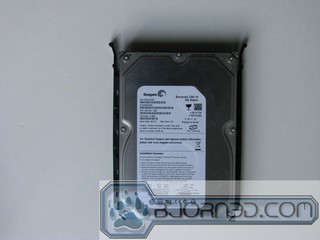 Click Image to Enlarge
First we have the hard drive rail mounting system; the rails are very similar to those used by other case manufacturers and they snapped onto the hard drive very easily. From there the drive slid directly into place without a problem. It is important to note, however, that Cubitek didn't include any sort of mounting system for solid state drives.
Click Image to Enlarge
The toolless designs of this case are pretty much standard as well. The front panel toolless design is functional though it doesn't secure the drives very well; while transporting the case our DVD drive actually fell out even though it was locked in. The PCI toolless design also has some minor issues; the biggest of which is the connectors. Just like most other cases, the system used to hold cards in simply swivels out of the way and then snaps into place. While attempting to open the locking mechanism, two of the tabs broke which basically renders them entirely useless.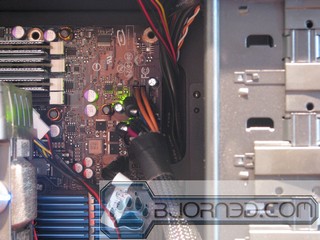 Click Image to Enlarge
At last we see the motherboard actually installed. There weren't any issues with installation other than those already mentioned. The cable management system is also quite lacking for this case. Cubitek chose to run all of the fan and front panel connectors underneath the motherboard in this spot which caused a bit of difficulty when installing the motherboard. There was also very little room left over for my cables to be hidden underneath the motherboard tray; larger cables just absolutely wouldn't fit.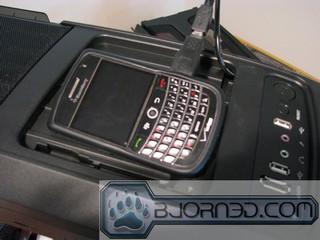 Click Image to Enlarge
Lastly, we can see how the top storage area works. Our phone fits great and it charges just as expected. It is a very convenient and unique feature that Cubitek built into this case.
Test Rig
| | |
| --- | --- |
| Case | Cubitek Tattoo Pro |
| CPU | Intel i7 920 |
| Motherboard | Intel DX580 |
| CPU Cooler | Cooler Master V6 GT |
| Hard Drive(s) | 1TB Seagate, 320GB Seagate, 80GB Intel SSD |
| GPU | Asus 4870 DK |
| PSU | Sparkle Computers 1000W |
Methodology
For testing purposes, all of our testing runs were carried out three times and an average of the three runs is what is shown in the chart below. This ensures that we don't have any random error in our results. The software used to stress components was LinX for the CPU, and Cinebench for the GPU, each for two hours. Our ambient temperature is shown in the chart for comparison.
Results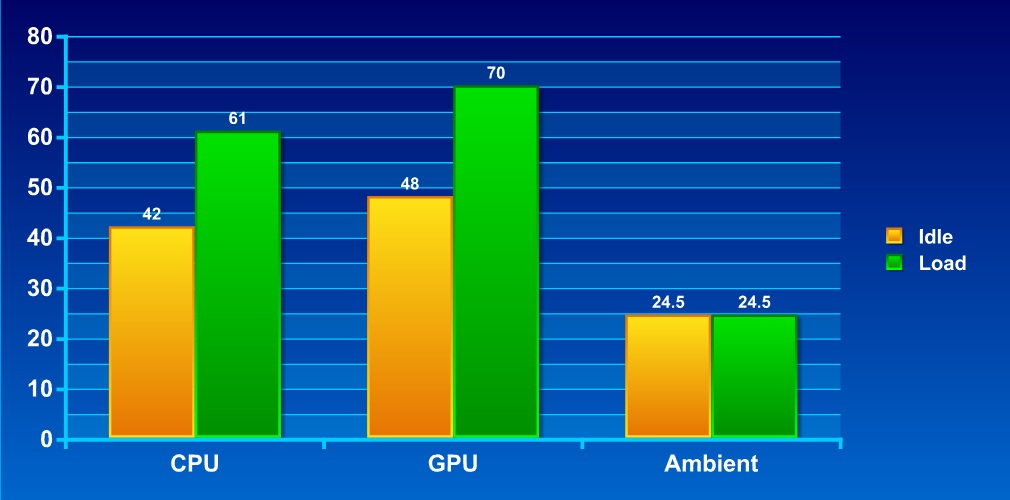 The temperatures from testing the Cubitek Tattoo Pro are pretty good all things considered. The case performed much better than we anticipated and with some serious cable management work we believe the temperatures might come down slightly as well. In general cases of this style seem to perform about as well as this case does; nothing in particular is outstanding about the cooling but it is definitely adequate for most purposes.
Conclusion
In the end, the Cubitek Tattoo has a very interesting story and design. The appearance is sleek and interesting while still remaining very low key and not flashy at all. Unfortunately the Tattoo Pro is missing a few things that many people consider to be very important in a case. Cable management is nearly nonexistent in this case, the small amount of space behind the motherboard is not large enough for most power supply cables and the case cables already seem to fill much of the space.
Perhaps the bigger issue with the Cubitek Tattoo Pro is the quality of the case. Small things always seems to be either very fragile or just flat out broken which gets pretty annoying. The fact that Cubitek also shipped the first review case without any protection or covering also shows that there is a quality issue in some departments. The quality of the actual chassis is OK; it's a fairly solid case for what it is. All of the other things that didn't work or simply broke easily however would concern me.
OUR VERDICT: Cubitek Tattoo
| | |
| --- | --- |
| Performance | 8 |
| Value | N/A (Pricing Not Announced) |
| Quality | 4 |
| Features | 7 |
| Innovation | 8 |

We are using a new addition to our scoring system to provide additional feedback beyond a flat score. Please note that the final score isn't an aggregate average of the new rating system.

Pros
Cons

Acceptable Cooling

Unique Features

Cool Design

Quality Issues With Various Parts

Lack of Cable Management

No SSD Mount

Somewhat Restrictive CPU Cooler Size Limit

 
 

 
Summary: Overall the Cubitek Tattoo Pro did alright as an entry level case. The cooling system is adequate for most hardware, though it would likely be pushed to the limit if serious overclocking took place. The biggest concern is still the quality of the parts; multiple failures or broken parts are not good things for products like thi,s and that definitely hurt the Cubitek Tattoo Pro.