The Icy Dock MB974SP-B Internal HD Bay is a unique and effective way to swap hard drives without actually opening the case. The unique tool less design makes it remarkably simple to use.
Introduction
When it comes to SATA hard drives, one of the greatest features is the ability to swap out drives on the fly. Hot swapping hard drives is useful in a variety of situations, but without the right hardware it can be nearly impossible to do in a convenient and quick way. This is where the Icy Dock MB974SP-B really shines as a hot swap hard drive cage. The MB974SP-B is available for $125.99 currently from Newegg.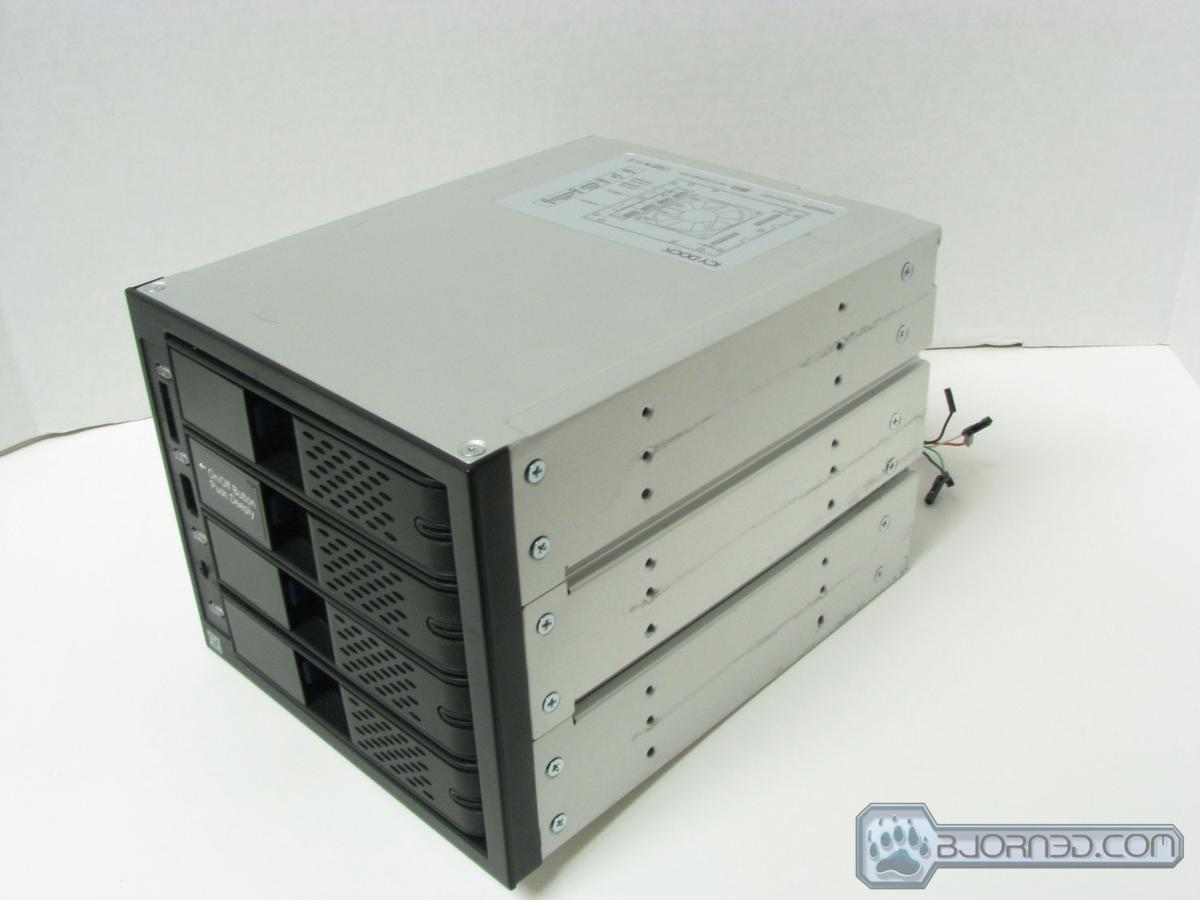 The MB974SP-B hot swap bay is essentially a cage designed to hold multiple hard drives while also allowing users to disconnect, remove, and swap them out with ease. It fits in any standard ATX case and only requires 3 5.25" drive bays. Not only is the MB974SP-B great for swapping out hard drives; it also offers plenty of other unique features.
Features
Fits 4 x 3.5″ SATA HDD into 3 x 5.25″ Device Bays
Screw-less, tool-less design for genuine plug &play and hot swap use
On-demand power system – Fan power only when a drive is powered on
Fan is replaceable with aftermarket fans that use 2-pin or 3-pin connectors
Front side USB and eSATA ports for convenient external storage connections
Individual power switches and LEDs for each drive
Child-proof power buttons to avoid accidental power shut down
Multi-locking door latches to prevent accidental drive ejection
Internal SATA cable and USB header cable built into rear of device
Perhaps the most unique and interesting features present in this product are the various security systems included. Accidentally bumping the power or reset button is a common problem, but thanks to the unique childproof design of this Icy Dock product, that problem is eliminated. In order to actually power down a hard drive, users must fully press the button, and because of the depth, it can be quite difficult to do accidentally.
It is also nice that Icy Dock was able to create a security system to prevent users from accidentally removing a drive. Simply pulling the release and starting to open the drive bay will not remove a drive.
Specifications
Model Number : MB974SP-B
Color: Black
Drive Fit: 3.5" SATA 1.5/3/6 Gbit/s hard drive x4
Host Connection: 7 pin SATA ports for HDD and eSATA port
USB Connection: 5 pin USB 2.0 Connector
Device Space: 3 5.25" device bays
Transfer Rate: Up to 6Gbit/s (depending on hard drive)
Insert & Extract Connection Via: Direct SATA connection
Front Panel Contents: eSATA Port, USB Port, Adjustable Fan Control
Structure: Aluminum body w/partial plastic
Drive Cooling: Removable rear cooling fan w/aluminum heat dispersion
Cooling Fan Type: 80mm ball bearing fan with 2 or 3 pin connector
Power Indicator: Blue LED
HDD Access Indicator: Flashing blue LED
Dimensions: 210x148x126mm (LxWxH)
Weight: 1210g
Pictures & Impressions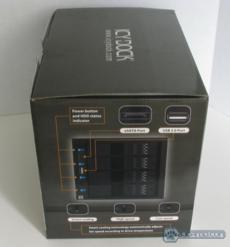 Click Image to Enlarge
The packaging of the MB974SP-B is fairly simple and straight forward. Just as we would expect, all of the important features and specifications are detailed on the box. The Icy Dock brand logo is also present along with plenty of bullet points that highlight important features such as the SATA 6Gb/sec support. In the end all of the important features are present and that is what really matters when it comes to the packaging.
Click Image to Enlarge
The contents list for this product is surprisingly short, yet at the same time it is all that is really needed. Inside the box is the MB974SP-B unit itself, as well as a small instruction manual and a package of screws to hold everything together inside your case. One thing that was absent from the manual however was a set of directions regarding the USB connection. The image above shows the USB connection used; unfortunately Icy Dock decided to use individual pins rather than a standard USB header which made it quite difficult to install, especially without any instructions.
Click Image to Enlarge
At this point it is easy to see the internal structure of the MB974SP-B. Just as Icy Dock said the entire thing is in fact tool less when it comes to installing a hard drive. Installing a hard drive simply requires sliding the hard drive into an open slot. Closing the front panel will automatically connect everything to the power and SATA connection on the back of the unit.
Obviously the MB974SP-B supports any and all standard size hard drive; the only downside is that there is no real way to use a solid state drive with this enclosure. Of course in most cases there is no real need to hot swap or quickly change out a solid state drive so this isn't too big of an issue.
Click Image to Enlarge
As for the actual unit, everything is remarkably simple. Icy Dock was nice enough to include a detailed diagram of all the rear panel connections (left) to make it easier to find the correct connections. The unit is very simple; after sliding it in place through the front panel, users must only screw in the unit on each side to secure it.
Click Image to Enlarge
One unique feature of the MB974SP-B is that it features a removable and controllable fan. On the lowest setting this fan is quiet enough that users probably won't hear it over the other fans. When turned up to high the fan is obviously much louder, but at the same time more cooling is offered. It is also very helpful that Icy Dock included a built in SATA connection for the eSATA port. Unfortunately, due to the design of the rear panel, it can be quite difficult (though not impossible) to connect the SATA cables once the unit is installed in the case.
Testing
In order to provide conclusive and objective results, two well-known and proven benchmarks as well as real life testing were used on the hard drive installed via the Icy Dock MB974SP-B. The system used for testing was the following.
| | |
| --- | --- |
| PC Configuration |   |
| Case | Silverstone RV02 |
| CPU | Intel Core i7 920 |
| Motherboard | Intel DX58SO |
| RAM | 6GB OCZ Platinum Kit |
| CPU Cooler | CoolerMaster V6GT |
| Hard Drive | Seagate Barracuda 7200.12 |
| GPU | Asus 4870dk |
Benchmarks Used
Crystal DiskMark 3.0.1
HDTach 3.0.4
Results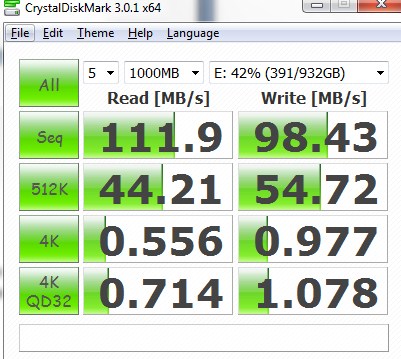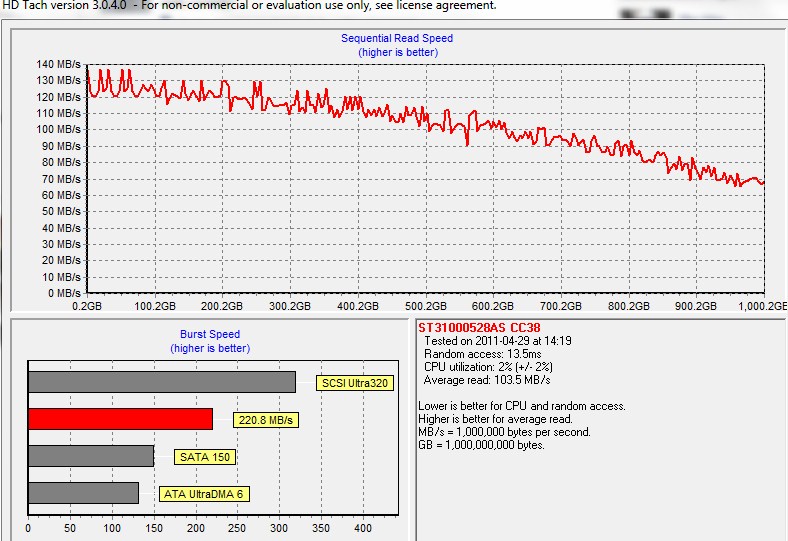 From the test results it is pretty clear that this enclosure doesn't affect the read or write speeds of the hard drives it houses. Each drive achieved basically the same speeds no matter how it was attached. This was also seen in real life testing; through a week of use and abuse no slowdown was experienced despite using the hot swap housing.
Conclusion
Through various tests the Icy Dock MB974SP-B performed quite well in terms of ease of use and function as well as speed. Having the ability to quickly change out hard drives is very useful and that is precisely what this product offers. Perhaps the nicest feature Icy Dock included is the safety and security systems that prevent accidental shutdowns; no longer will users have to worry about accidentally hitting a button and crashing their computer.
As far as function and quality goes the Icy Dock MB974SP-B is great; the price however may be a bit of an issue for some people. At $125, it is not really expensive, though there many cheaper options available.
OUR VERDICT: MB974SP-B
| | |
| --- | --- |
| Performance | 9 |
| Value | 7 |
| Quality | 9 |
| Features | 9 |
| Innovation | 8 |

We are using a new addition to our scoring system to provide additional feedback beyond a flat score. Please note that the final score isn't an aggregate average of the new rating system.

Pros
Cons

No Performance Loss

Good Build Quality

Tool Less Design

USB Header Difficult to Install

Poorly Located SATA Ports

Cannot install SSDs
Summary: Overall the Icy Dock MB974SP-B performed well and did what it was supposed to do. Everything works as it should, and with a little patience it isn't difficult to use or install. It may not be the cheapest hot swap system but it has the most features, and has good build quality. For its outstanding quality, it earns the Bjorn3D Seal of Approval.