The Hornettek Viper and Goliath U3 enclosures provide one of the fastest two terabyte enclosures currently available and do it in style.
Introduction
Living in the digital age, everyone is becoming increasingly aware how important our precious data is, and how to back it up. Hornettek, a company which provides portable tools for such backup and storage, takes great care from application to innovation in providing a full line up of those tools. Today we are looking at two full speed USB 3.0 enclosures that can support up to 2 terabytes each: the smaller and much thinner Viper U3 and the heavy duty version with fan Goliath U3 (both priced at $60 at Amazon at time of this review).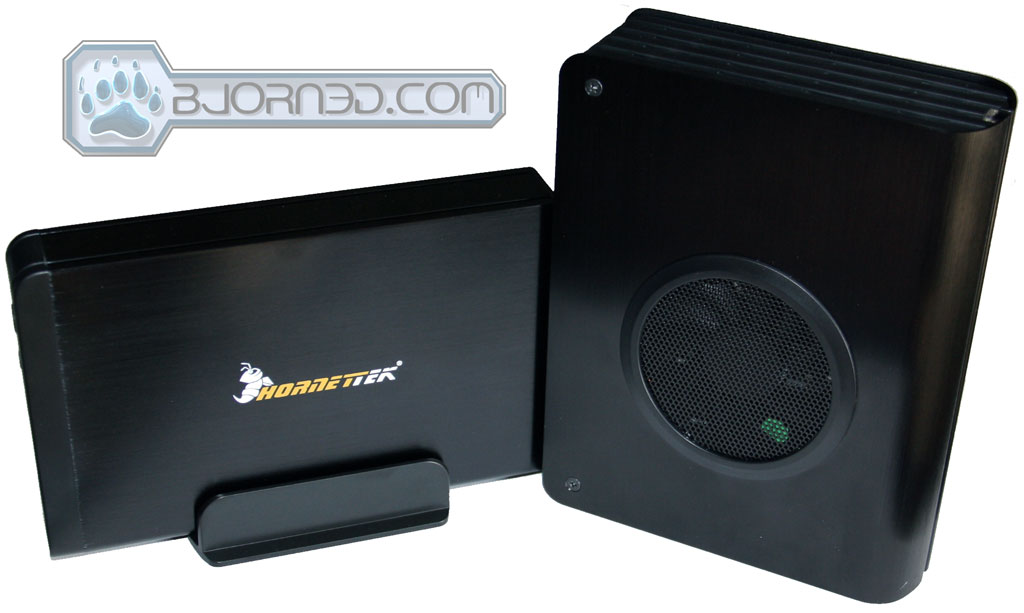 Features & Specifications
The key features that both the Goliath and Viper models share: backwards compatibility with USB 2.0 and 1.0, hot-swappable plug and play without rebooting, and a universal fitting for a 3.5″ SATA I/II/III HDD. The Goliath additionally supports the thin 3.5″ HDD and sports an auxiliary cooling fan that can be toggled on or off via a switch.
Model
Viper U3
Goliath U3
Interface

USB 3.0

HDD Support

3..5″ SATA I/II/III HDD

HDD Capacity

Support up to 2 TB

Fan
none
80mm
Dimensions
7.5″x4.5″x1.25″
8.75″x5.25″x4.25″
Product Weight

1.75lb

2.35lb
Plug and Play

Yes

File Transfer

USB 3.0 at 5.0 Gpps max

Material
Front / Side Aluminum w/ ABS panel
OS System Support
2000/XP/Vista/7, Linux 2.4.1.0 & up, Mac 8.6 & up
Click Images to Enlarge
Both enclosures provide everything needed to get users up and running (note that a USB controller card is not included). A high quality heavy duty shielded USB 3.0 cable is included as well as the power adapter. 
Pictures & Impressions
Click Images to Enlarge
 The Goliath's box is stacked full of the specifications, features, charts, and several languages on the back side.
Click Images to Enlarge
The Viper's box has a smaller footprint and all the essential information is presented.
Click Images to Enlarge
The Viper's case has an excellent aluminum anodized finishing giving the exterior some sharp looks. On the side are the power indicators.
Click Images to Enlarge
Here's where all the connections happen with a USB 3.0 connector and the power supply.

Click Image to Enlarge
A close-up shot of the bracketing where the HDD interfaces.
Click Images to Enlarge
The Goliath has an equally appealing case that is slightly fatter to accommodate the 80mm cooling fan.
Click Images to Enlarge
Here's the top of the Goliath and to the right is the metal tray to nestle the HDD up against the interface.  A small plastic lever located toward the rear top swivels down and locks the drive in place.
Testing & Results
Test Hardware : "Blue Storm"
Case

In-Win Ironclad Full Tower

CPU

Intel i7 920 @ 3200

Motherboard

Asus P6T Deluxe version 2

RAM

Patriot Viper II 6GB (3 x 2GB)

Hard Drives

(x2) WD VelociRaptor 150GB 10000 RPM
(x2) Intel X25-M 80GB Solid State

Optical

Asus DRW-22B1ST
Asus DVD-E818A3T

GPU

MSI GTX 560 Ti

Audio

HT Omega Claro Plus

External Drive

1 TB Seagate Barracuda 7200 rpm

USB 3.0 Internal
NEC Controller Card

 
Software Testing Suite
CrystalDiskMark
ATTO
HdTach
The Goliath and Viper are being compared to a previously tested enclosure: the ThermalTake 3GMax. Both USB 2.0 and 3.0 benchmarks are run per test.
CrystalDiskMark

The Goliath and Viper, though different in physical design, share almost identical benchmarks for USB 2.0. 

USB 3.0 performance is solid, just trailing behind the 3GMax enclosure. 
ATTO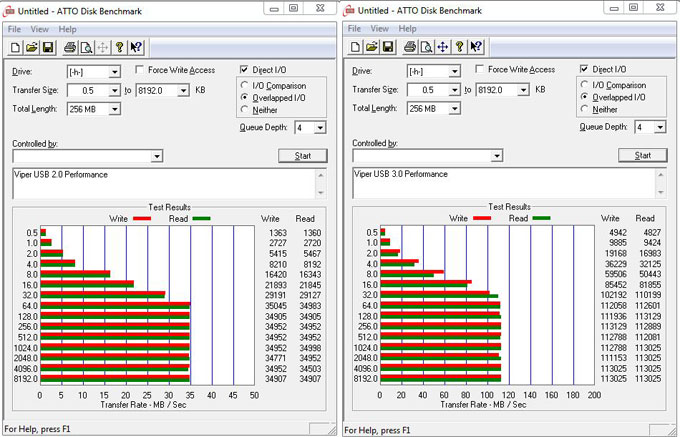 In the ATTO test, the Viper pulls 78 MB / sec more for USB 3.0 then the standard USB 2.0, an almost incredible 70% increase in sustained transfer rate.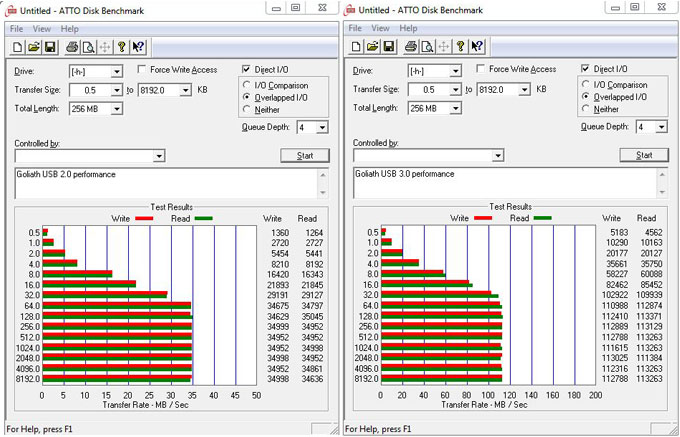 The Goliath mirrors the Vipers performance in transfer rate.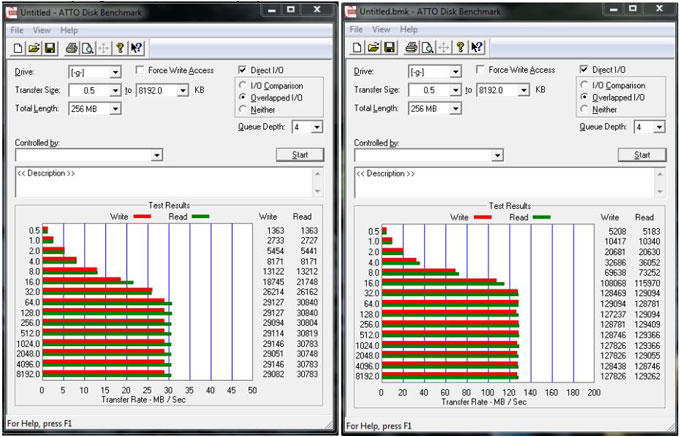 The 3GMax slightly underperforms on USB 2.0 but makes up for the loss with a slight boost in USB 3.0. 
HD Tach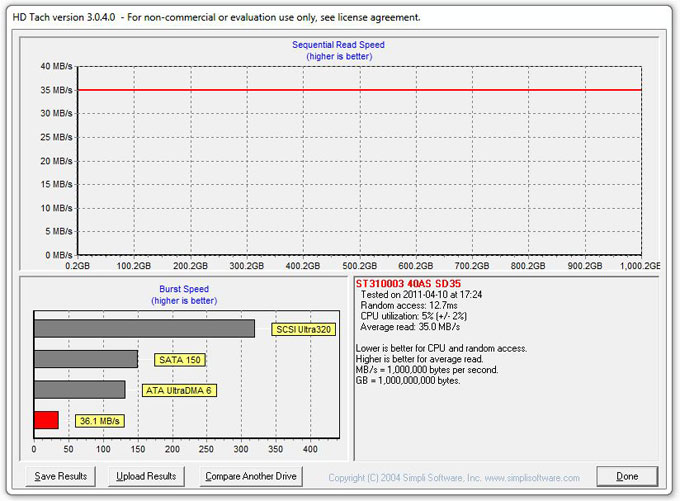 HD Tach is actually designed for testing hard drives, but we are using it here to test the throughput of USB 2.0 interface. The rock solid 35 MB/s concurs with the previous tests.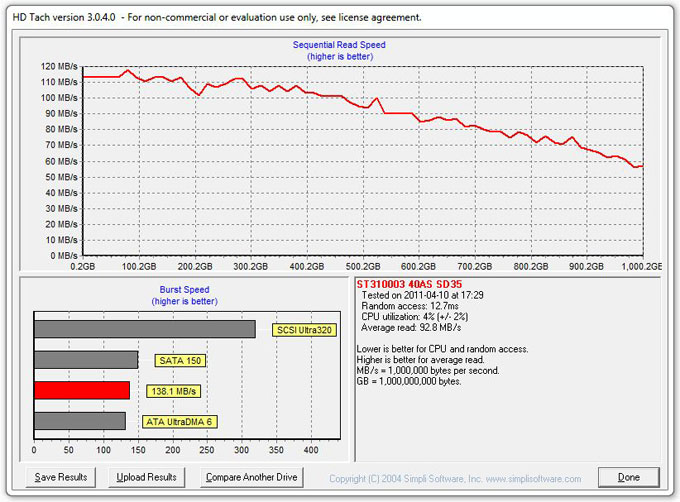 On USB 3.0 the throughput burst speed is almost as good as a hard drive using the SATA interface.
Conclusion
Both Hornettek's Viper and Goliath perform admirably (using a USB 3.0 interface) and stand toe to toe with the ThermalTake 3GMax enclosure that was previously tested. The pricing for both of these products is extremely competitive at $60 standard price and sometimes can even be found on sale for almost half of this at times, making this an extraordinary value. The outside finish of these cases are top-notch and nothing felt cheap about the actual construction and build quality. As far as features and extras go, the specially insulated USB 3.0 cable was a nice touch; however, there really isn't much extra we can expect from such a product without being anal-retentive.  Special points have been given for innovation, purely because of the Goliath's cooling fan, which can be really important for prolonging life on the larger hard drives.
OUR VERDICT: Hornettek Viper and Goliath

| | |
| --- | --- |
| Performance | 9 |
| Value | 9 |
| Quality | 8 |
| Features | 7 |
| Innovation | 7 |

We are using a new addition to our scoring system to provide additional feedback beyond a flat score. Please note that the final score isn't an aggregate average of the new rating system.

Pros
Cons

Fastest portable on-demand storage available

Very affordable backup solution

Tough and stylish form factor

USB 3.0 controller card not included

 
Summary: Hornettek's Viper and Goliath U3 enclosures provide one of the fastest two terabyte enclosures currently available and do it in style. For performance and value, they earn the Bjorn3D Silver Bear Award.