The MSI N560GTX Twin Frozr II pairs a unique cooling setup with military class components to offer gamers more bang for their buck. Find out how much this card can take!
INTRODUCTION
Today NVIDIA released the GeForce GTX 560, situated performance and price wise between the GTX 460 and GTX 560 Ti. The new, non-Ti version of the GTX 560 sports 336 CUDA cores, 56 texture units and a 256-bit memory interface. MSI has taken the OEM design and applied their custom configuration to the GTX 560, resulting in the card we are looking at today, the N560GTX Twin Frozr II/OC. Follow along as we pit the new GTX 560 against not only NVIDIA cards, but rival AMD cards as well.
The GTX 560 is based on the same GPU used in the GTX 560 Ti, the GF114. The GTX 560 is designed to give gamers an affordable videocard capable of playing DX11 titles in HD (1920×1080) resolutions. Speaking of affordable pricing, the MSI N560GTX Twin Frozr II/OC is priced at a very affordable MSRP of $209.99.
FEATURES
MSI implements a ton of great features into their graphics cards, and the GTX 560 Twin Frozr II is no different. The capacitors and chokes used meet the military class standard to ensure high efficiency, and greater stability at not only stock speeds but when overclocked as well.
Military Class II Components:
SFC (Super Ferrite Choke) has higher current for better overclocking ability
HI-C CAP for GPU provides more precise voltage
All solid CAPs have longer lifespan
In addition to the high quality electronic components, MSI has implemented a very high quality cooling solution for their iteration of the GTX 560. The Twin Frozr II system is comprised of a large nickel-coated copper base with two 8mm "SuperPipes" and two 6mm heat pipes that transfer heat away from the GPU. The four heat pipes then work their way into a massive aluminum heatsink that is kept cool by two low-profile 80mm PWM fans.
Twin Frozr II Thermal Design:
Dual 80mm PWM fans for 50% more airflow
SuperPipe technology and nickel-plated copper base for better heat dissipation
Only 30dB under full thermal load
MSI Afterburner overclocking utility:
Supports over-voltage function of GPU
Supports advanced fan speed control
Supports burn-in stability test
PhysX & 3D Vision Surround technology:
Supports PhysX technology effects for realistic physics effects
Supports 3D Vision Surround technology in SLI mode to provide 3 monitor output simultaneously and real 3D image experience (With 3D monitor and 3D glasses)
SPECIFICATIONS
| Specifications | MSI N560GTX Twin Frozr II/OC |
| --- | --- |
| Model Name | V238 |
| GPU | NVIDIA GeForce GTX 560 |
| Codename | GF114 |
| CUDA Cores | 336 Units |
| Core Clock | 870 MHz |
| Processor Clock | 1740 MHz |
| Memory Clock | 4080 MHz |
| Memory Size | 1GB GDDR5 |
| Memory bus | 256 bits |
| Output | Dual DVI-I + mini HDMI |
| TDP | 150w |
| Card Dimension | 238 x 112 x 40mm |
| Form Factor | ATX |
| Direct X | 11 |
| OpenGL | 4.1 |
| CUDA | Yes |
| SLI | Yes |
| PhysX | Yes |
| PureVideo HD | Yes |
| HDCP | Yes |
PICTURES & IMPRESSIONS
The packaging for the N560GTX Twin Frozr II/OC gives quite a bit of information about the card held safely inside. The front of the box even lifts up to give a view of the video card behind a plastic panel and give more information regarding the components and features of the card.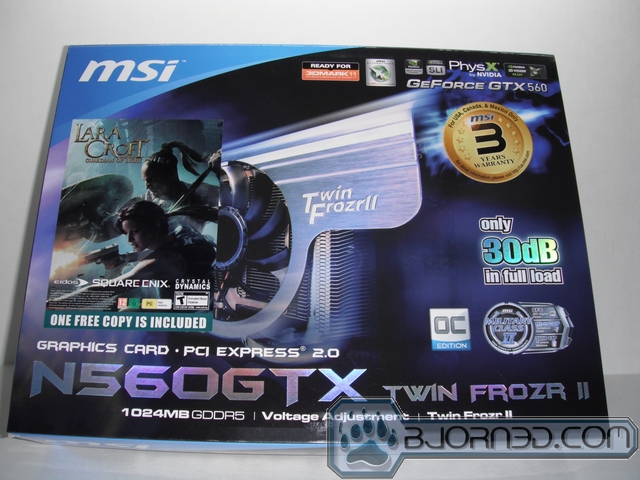 Content wise, the video card comes with the basics. Two 4-pin to 6-pin power adapters allow for installation with a power supply that may not have the needed 6-pin connections. A quick user guide and manual provide installation tips and information, and a driver and utility disk is included as well. A standard DVI to VGA adapter is included as well as a mini-HDMI to HDMI adapter. This model also included a free copy of Lara Croft and The Guardian of Light.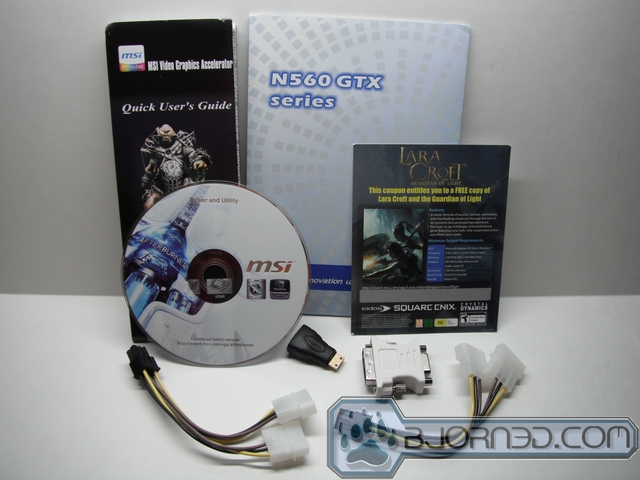 The back or bottom side of the card is clear of any fanfare other than a sticker with model number, serial number, etc. At the top edge of the image below, the support bar that MSI installed on this card is visible. This support bar helps to prevent any warping or bending of the graphics card under the weight of the cooling solution.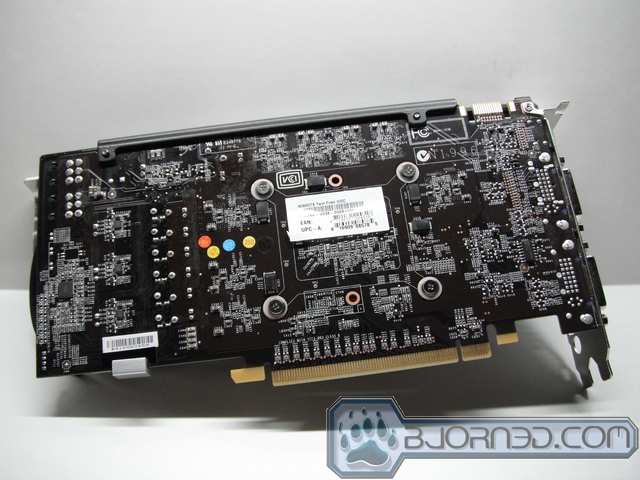 The top of the card is where all the action takes place. Below we see the dual 80mm low-profile fans that keep the massive heatsink cool, which in-turn keeps the GPU cool. These fans are PWM models so no fear of fans stuck on full speed. MSI's claims of low sound output are definitely accurate, as even with two fans, the Twin Frozr II design was inaudible throughout testing.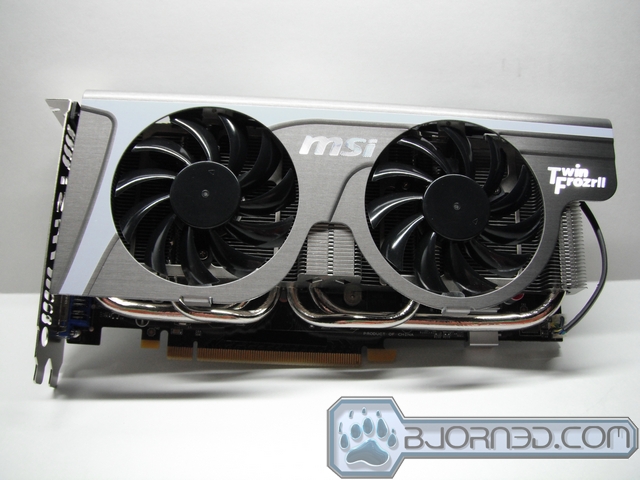 The shot below gives a look at the four heatpipes employed by MSI. The two outer pipes are 8mm, while the inner pipes look to be 6mm. All four pipes are connected to a nickel-plated copper heatsink as well as a very large aluminum heatsink.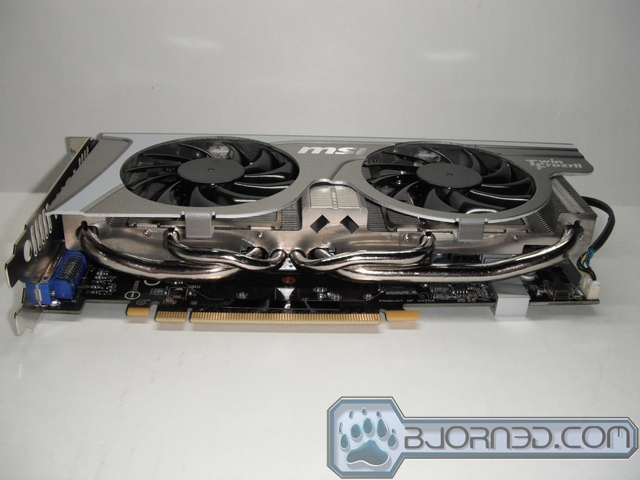 Below we get a look at the dual DVI-I ports and the mini-HDMI port. While there is ventilation on this side of the card, the air from the two fans is not directly exhausted here. With the proper case ventilation and positive case pressure, exhaust could be achieved more directly here.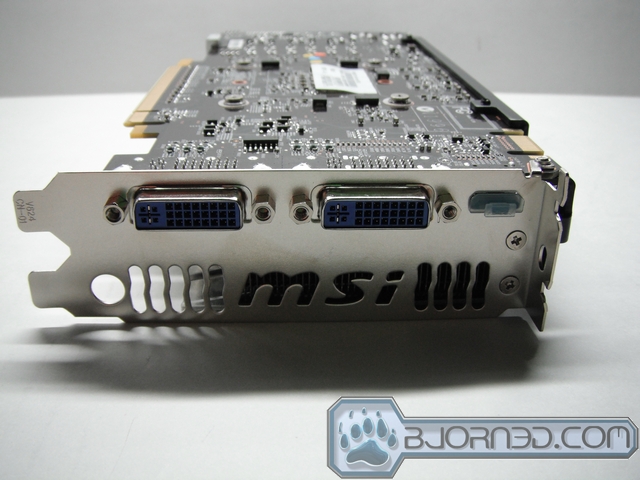 The N560GTX Twin Frozr II/OC only requires two 6-pin power connections. While it is not quite as beefy as two 8-pin connections, it is still a good idea to make sure the power supply being used to power this video card is capable of the task.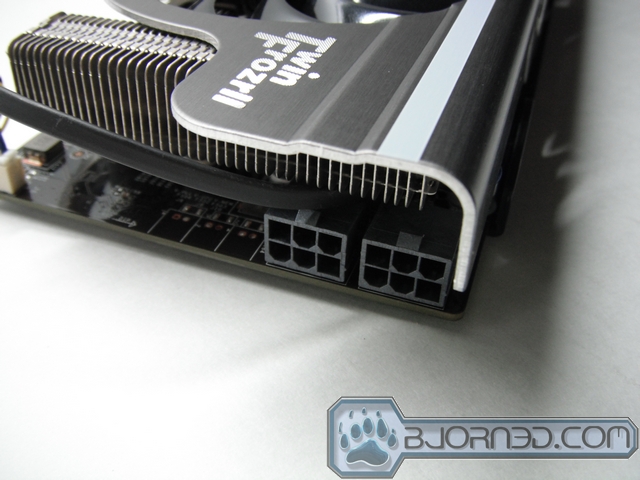 TEST SETUP
Test Platform

Processors
AMD Phenom II X4 975 BE
Motherboard
ASUS M4A88TD-V EVO/USB3
Memory
Kingston HyperX DDR3 1600 4GB Kit
Hard Drives

250GB Western Digital SATA 3.0Gb/s 16MB cache
Video Cards
MSI N560GTX Twin Frozr II/OC

ASUS HD6970

ASUS ENGTX460 DirectCU

ASUS EAH6850 DirectCU

Power Supply
Thermaltake Toughpower XT 750
Case
Antec P182B
Operating System
Windows 7 Ultimate 64-bit
OVERCLOCKING
Although the MSI GTX 560 came overclocked from the factory, we wanted to see how much further we could push the card. We were pleasantly surprised at how much extra we were able to pull from the card using MSI's very own Afterburner application. Our final GPU clock was 990MHz, up from 840MHz. On the memory side of things, we increased from 2040MHz to 2130MHz. Benchmarks for all speeds are included to show the gains that can be attained from overclocking components.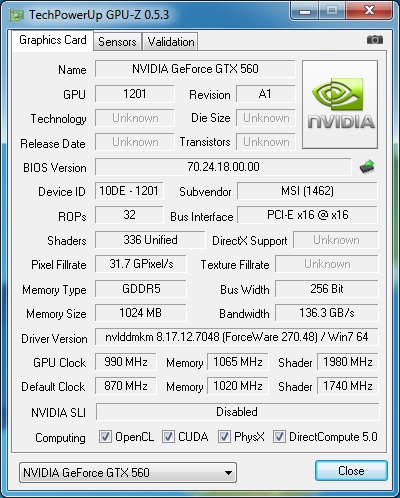 TEMPERATURES
Temperatures of the GTX 560 stayed pretty low thanks to the Twin Frozr II design that MSI implemented. The idle temperatures were below 30C at both stock and overclocked speeds. Load temperatures stayed below 70C for both speeds. Another thing to note related to temperature is that this video card is virtually silent. The two low-profile 80mm PWM fans regulate their speed automatically, and even at a load for an extended period of time, the video card could not be heard above any other components.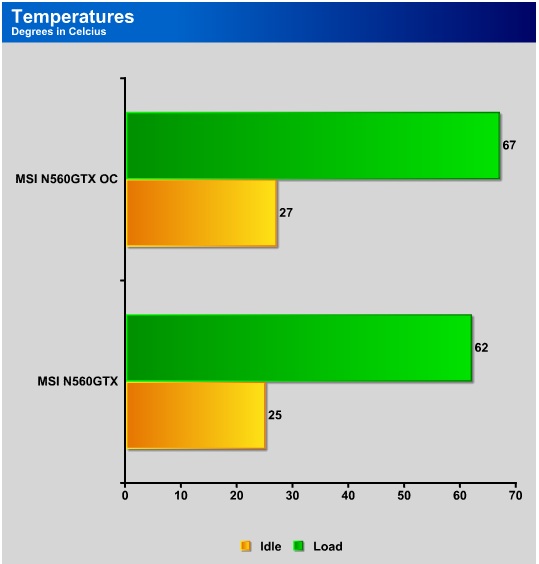 POWER CONSUMPTION
The power requirements of the GTX 560 at idle when at stock speeds and when overclocked are very minimal. We only saw an 8 watt increase in power consumption between to two. Under a load the power requirements were very close to each other again, with an 11 watt difference between stock and overclocked speeds.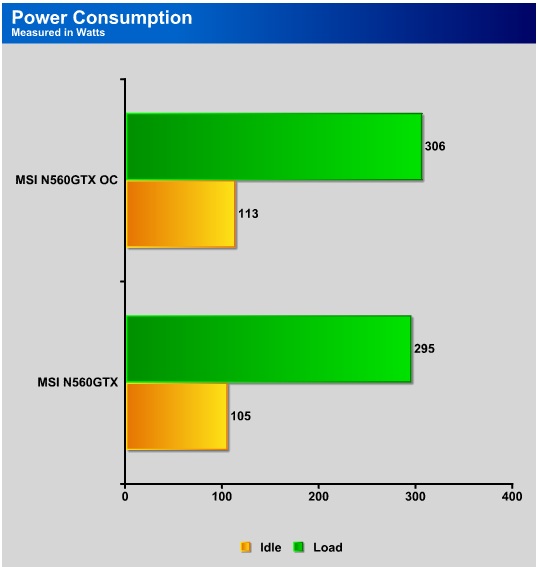 3DMark Vantage

This utility is still a synthetic benchmark, but one that more closely reflects real world gaming performance. While it is not a perfect replacement for actual game benchmarks, it has its uses. We tested our cards at the 'Performance' setting.
While we see the HD6970 outperforming the N560GTX, it is also in a class above this card. To no surprise, the MSI card shows an increase in performance over both of the lower tier cards, even when they are overclocked. When overclocked, the N560GTX is able to bridge the gap between the lower end cards and the slightly more powerful HD6970.
3DMark 11

"3DMark 11 is the latest version of the world's most popular benchmark for measuring the graphics performance of gaming PCs. Designed for testing DirectX 11 hardware running on Windows 7 and Windows Vista the benchmark includes six all new benchmark tests that make extensive use of all the new features in DirectX 11 including tessellation, compute shaders and multi-threading. After running the tests 3DMark gives your system a score with larger numbers indicating better performance. Trusted by gamers worldwide to give accurate and unbiased results, 3DMark 11 is the best way to test DirectX 11 under game-like loads."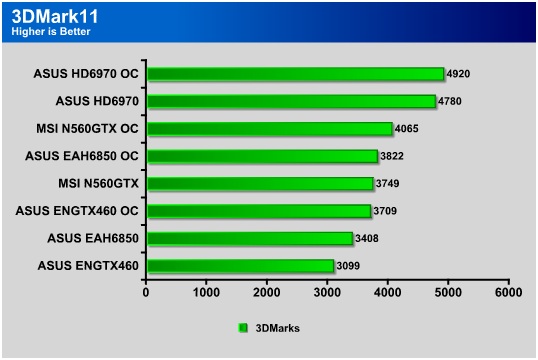 Our 3DMark 11 scores again have the MSI card placed slightly in between the HD6970 and the other two cards. The overclocked 6850 actually outperforms the N560GTX and the overclocked 460 comes close. This is not unexpected, as both cards are being pushed to their limits.
Unigine Heaven

Unigine Heaven is a benchmark program based on Unigine Corp's latest engine, Unigine. The engine features DirectX 11, Hardware tessellation, DirectCompute, and Shader Model 5.0. All of these new technologies combined with the ability to run each card through the same exact test means this benchmark should be in our arsenal for a long time.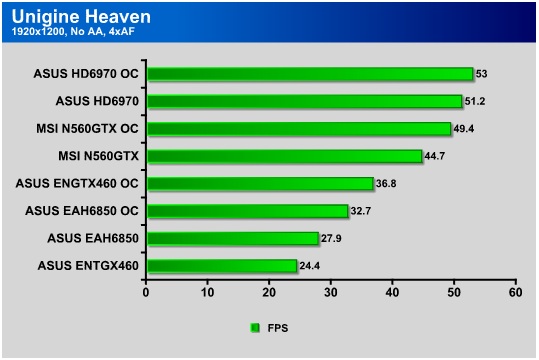 Here we have a smaller gap between the performance of the MSI 560GTX and the HD6970. The N560GTX also sports a comfortable lead above the two lower cards, showing just how much of an improvement can be gained by moving from one generation of technology to the next.
Just Cause 2

"Just Cause 2 is an open world action-adventure video game. It was released in North America on March 23, 2010, by Swedish developer Avalanche Studios and Eidos Interactive, and was published by Square Enix. It is the sequel to the 2006 video game Just Cause.
Just Cause 2 employs the Avalanche Engine 2.0, an updated version of the engine used in Just Cause. The game is set on the other side of the world from the original Just Cause, on the fictional island of Panau in Southeast Asia. Panau has varied terrain, from desert to alpine to rainforest. Rico Rodriguez returns as the protagonist, aiming to overthrow the evil dictator Pandak "Baby" Panay and confront his former mentor, Tom Sheldon."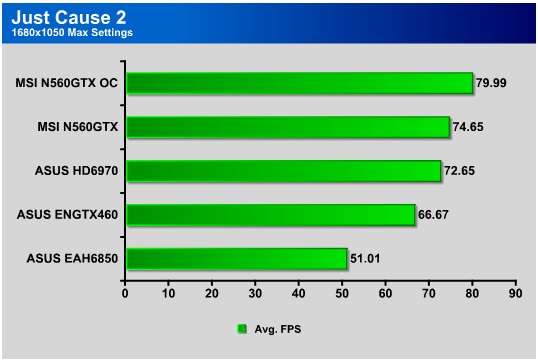 In DX10 gaming, the MSI N560GTX Twin Frozr II/OC comes through with flying colors at the lower resolution. While the other cards are just slightly behind, there is something to be said about outperforming cards of a higher caliber, such as the HD6970.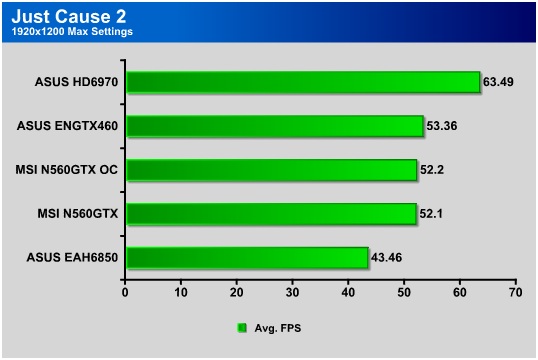 Here we have very similar results for both NVIDIA cards at a higher resolution, with the GTX 460 actually performing slightly better than the MSI card. The HD6970 beats the other cards by a decent margin.
Mafia 2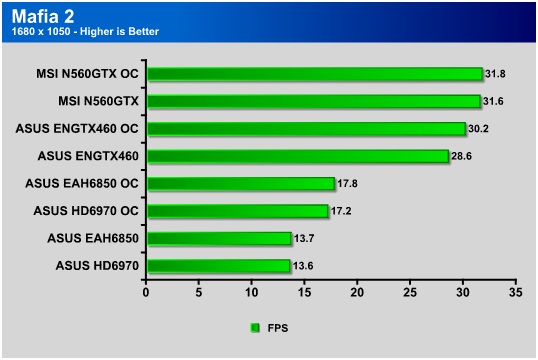 This may be an unfair match up, but it is important to note the differences seen between the NVIDIA cards and AMD cards when physics are involved. The NVIDIA cards both support PhysX processing and therefore are able to produce much more desirable frame rates. The MSI card nearly doubles both AMD offerings in this test.
The same thing is seen here at a higher resolution. If the extra eye-candy goodness that advanced physics calculations can provide is important, users should definitely look into a video card that supports PhysX.
Lost Planet 2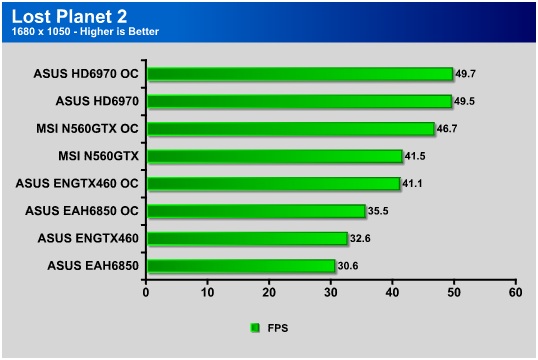 This futuristic DX11 shooter returned results similar to those seen in previous benchmarks, with the HD6970 leading the pack. While that may be the case, the MSI card comes close to the performance of the HD6970 when overclocked.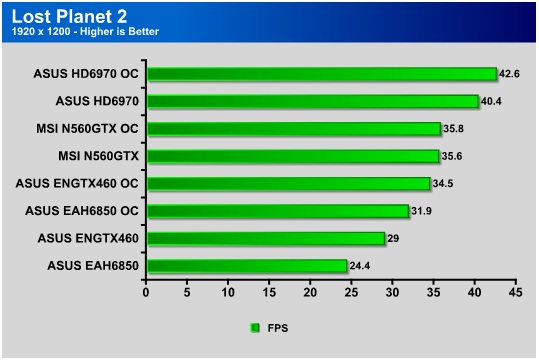 Here we see the 560 fighting to retain its lead over the lower tier cards while lagging behind the AMD-based card slightly.
H.A.W.X. 2
Tom Clancy's H.A.W.X. 2 plunges fans into an explosive environment where they can become elite aerial soldiers in control of the world's most technologically advanced aircraft. The game will appeal to a wide array of gamers as players will have the chance to control exceptional pilots trained to use cutting edge technology in amazing aerial warfare missions.
Developed by Ubisoft, H.A.W.X. 2 challenges you to become an elite aerial soldier in control of the world's most technologically advanced aircraft. The aerial warfare missions enable you to take to the skies using cutting edge technology.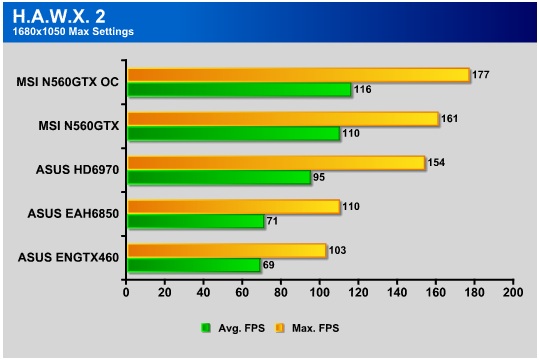 Here we see the MSI N560GTX really kick into high gear. With all of the settings maxed out, this card just kept on pumping out very high framerates. The average FPS of this card is much higher than what the human eye can perceive. A definite win here.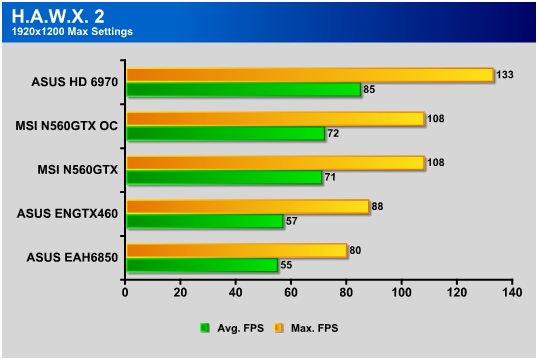 The higher resolution here brought the HD6970 back above the MSI card, but the 560 was once again able to outperform the lower tier cards by quite a noticeable difference.
conclusion
Often times it can be hard to reason upgrading components in a PC. With the release of the 560 GTX from NVIDIA and the subsequent release of the MSI N560GTX Twin Frozr II/OC, it may have become slightly easier to justify buying that new card.
As seen in the benchmark results, the 560 was constantly outperforming lower tier cards that have been on the market for around a year. These cards were very popular at the time of their release and thus are installed in many systems. With new games being released all the time, the need for a new graphics card to support these games is a valid concern. MSI has combined a solid video card with a 3-year warranty and a $210 price point to make the jump to a higher level that much more justifiable. Whether or not the gains of the 560 over the previous tiers of cards is enough to justify a purchase is ultimately up to the buyer, but this card is definitely a contender.
OUR VERDICT: MSI N560GTX Twin Frozr II/OC

| | |
| --- | --- |
| Performance | 9 |
| Value | 9 |
| Quality | 9 |
| Features | 9 |
| Innovation | 9 |

We are using a new addition to our scoring system to provide additional feedback beyond a flat score. Please note that the final score isn't an aggregate average of the new rating system.

Pros
Cons
Great performance

High quality components

Nearly silent cooling

May be stuck in mid-range "limbo"
Summary: The high quality components and custom cooling solution of the MSI N560GTX Twin Frozr II/OC combine to provide excellent performance at a cost that won't break the bank, and that earns the MSI N560GTX Twin Frozr II/OC a 9 out of 10 and the Bjorn3D Golden Bear Award.