The Zotac ZBOXHD-ID34BR-U is a small laptop-sized All-in-One Mini-PC designed for watching High-Definition Blu-Ray 1080p videos straight on your home HDTV.
Introduction

Considering the latest 3D features and better image quality that new HDTVs offer, many consumers seem to look for a nice compact solution allowing them to watch their Blu-Ray and Blu-Ray 3D videos while also having the functions of a Desktop PC. The ZOTAC ZBOXHD-ID34BR-U is a small form factor All-in-One Mini-PC or HTPC (Home Theatre Personal Computer) that allows users to easily play Blu-Ray videos with the included Cyberlink PowerDVD software. This PC is designed to be very simple and easy to use: the owner need only plug in their wireless keyboard and mouse, and the ZOTAC ZBOX to the HDMI port on the TV. For different audio inputs, the user also has the option to use a standard headphone jack or a Digital Optical Output S/PDIF-Out connector. When a Blu-Ray disk is inserted into the PC, PowerDVD will automatically launch and start loading the movie. Within several seconds of loading the Blu-Ray disk into the ZOTAC ZBOXHD-ID34BR-U, the movie starts playing without any lags.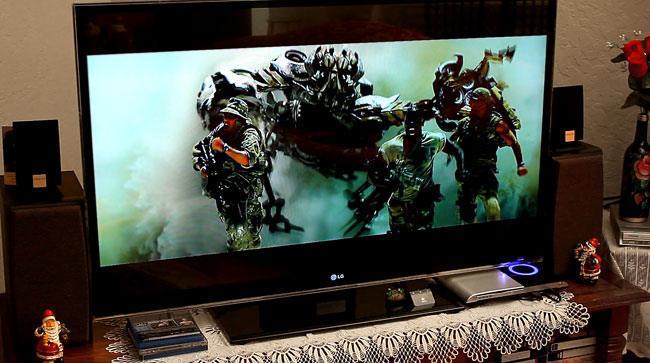 The ZOTAC ZBOXHD-ID34BR-U playing Transformers at 1080p –  
As mentioned earlier, the ZOTAC ZBOX is a small form factor HTPC, or as ZOTAC calls it, an "All-in-One Mini-PC". This means, that it runs and operates just like any other PC on the market. Users can have their preferred operating system running on it (Windows 7 compatible, but not included), with Wireless Internet connection (with home WiFi Router). The HD-ID34BR-U comes with a top of the line low-power Intel Atom D525 Dual-Core (4 threaded) processor clocked at 1.8GHz, and an NVIDIA ION graphics processor (16 CUDA cores). The ATOM CPU and ION GPU run on the Intel NM10 Express chipset, which accomodates up to 2 x 200-pin DDR2 800 MHz Memory Modules (RAM). The combination of the Intel NM10 Express chipset along with the integrated ATOM and ION processors provide for very efficient computing that will save money on the electricity bill. Come and read along as we take a look at what comes with the ZOTAC ZBOXHD-ID34BR-U All-in-One Multimedia PC, and also take a look at its performance in playing back several types of video formats. We'll also take a look at online surfing and online video playback.
Features
Blu-Ray (1080P playback)
Nvidia ION GPU
Intel Atom Processor (Overclockable)
Overclocking & Temperatures
Just by playing around with the ZOTAC ZBOXHD-ID34BR-U, we came to notice that it is overclockable both for the processor and the graphical processing unit. The processor unfortunately does not have much overclocking headroom due to locked voltage settings, but we were able to get it up to 1854 MHz from 1800 MHz. This was done in the BIOS by adjusting the FSB to 206 MHz. Because the ATOM processor has a 9x multiplier, 206MHz x 9 = 1854 MHz. The standard FSB is 200 MHz.
The Nvidia ION GPU was overclocked with MSI's Afterburner application. With this application, we can monitor the temperature of the GPU, and even as we were adjusting the GPU and Memory frequency, the system continued running without any stability issues. The Nvidia ION GPU has 16 CUDA cores running at 535 MHz, with a shader of 1230 MHz, and 790 MHz memory clock speed. We were able to easily overclock the integrated ION processor to 640 MHz on the core clock, 1471 MHz on the Shader Clock, and 901 MHz on the Memory Frequency. We believe that these numbers can go even much higher because the temperatures are still within the 60C range during load, however with no way of changing the integrated GPU on this system, we didn't push it too far so as to prevent damage to the processor.
| ZOTAC ZBOXHD-ID34BR-U | Temperature |
| --- | --- |
| CPU Load (Core Temp) | 53C |
| CPU Load OC (Core Temp) | 54C |
| CPU Idle (Core Temp) | 43C |
| GPU Load (SMI Afterburner) | 65C |
| GPU OC Load (MSI Afterburner) | 69C |
| GPU Idle (MSI Afterburner) | 51C |
We can see that the temperatures are well within the CPU Tjunction limit of 100C that Core Temp reported. Intel's specifications report 100C for maximum temperature before the processor starts down throttling. It would be safe to say that the voltage could be raised to overclock the CPU a bit further, but the Zotac ZBOX's motherboard does not come with this feature. Even with Hyper-Threading disabled, overclocking is just as difficult as when it is on. Maximum FSB reached was 207 MHz.
Power Consumption
| ZOTAC ZBOXHD-ID34BR-U | Power Consumption |
| --- | --- |
| Load | 46W |
| Idle | 13W |
| Load OC (CPU and GPU) | 49W |
| Idle OC (CPU and GPU) | 15W |
One of the beauties of the ZOTAC ZBOXHD-ID34BR-U is that it uses very little power. We used LinX to load the CPU, and ran a Blu-Ray video to load the GPU. We then used a Kill-A-Watt power measuring unit to measure the wattage the system required. We got only 46W pulled from the wall while the system was at full load. That's very impressive because an average consumer level PC uses about 200-300W of power during load. Laptops use around 40-90W, depending on the model and performance. High end gaming computers use around 500-700W of power. This little HTPC uses only 46W of power, but still has enough performance to play full High-Definition video. We'll go into more detail about that on the following pages.
For latest updates BIOS versions for the ZBOXHD-ID34BR-U, please visit the link HERE.
Specifications
MODEL

ZBOXHD-ID34BR-U

CHIPSET

Intel NM10 Express

CPU SOCKET

NA (Integrated CPU)

CPU

Intel Atom D525 (Dual-Core, 1.8 GHz)

DIMENSIONS

7.36in x 11.02in x 1.5in – 187mm x 280mm x 40mm

FSB

800 MHz

MEMORY SIZE

2GB Installed (up to 4GB RAM)

MEMORY SLOTS

2 x 200-pin

MEMORY TYPE

DDR2-800 SODIMM

GPU

Next-Generation Nvidia ION w/ 512MB DDR3 Video Memory

ONBOARD AUDIO

Onboard Analog Stereo High-Definition Audio/ 7.1-Channel LPCM Digital Audio (HDMI)/ Optical Digital S/PDIF Audio Output

ONBOARD LAN

10/100/1000Mbps, WiFi 802.11N/G/B

ONBOARD VIDEO

Nvidia ION Graphics Processor

OPTICAL DRIVE

4x Blu-Ray Disk Dribe, 8x DVD±R/RW/ROM Compatible, 24x CD-R/RW/ROM Compatible

NETWORKING

Gigabit LAN (10/100/1000 Mbps)

802.11B/G/N WiFi (300Mbit/s)

CARD READER

SD/SDHC/MMC/MS/MS PRO/XD

PACKAGE CONTENTS

1 x ZOTAC ZBOX Blu-ray HD-ID34

1 x VESA Mount

1 x DVI-to-VGA Adapter

1 x AC adapter

1 x Power cord

1 x Warranty card

1 x User manual

1 x Driver CD

1 x Cyberlink PowerDVD w/Blu-ray playback

POWER CONNECTOR

DC19V

SATA

1 SATA (3.0 Gbps), 1 Combo eSATA / USB 2.0 port

USB

2 Front (1x USB 2.0, 1x USB 3.0) 1 Back (1x USB 3.0)

VIDEO PORTS
HDMI + DVI-I
A very nice feature of the ZBOXHD-ID34BR-U is that it comes with a Renesas USB 3.0 Host Controller and connectors. This provides for much higher performance for USB 3.0 devices (up to ten times the performance of USB 2.0). Unfortunately, we noticed that only the front USB 2.0 slot works during boot-up, meaning that users must plug their keyboard into the front USB 2.0 slot in order to access to the BIOS. This can be frustrating when the ZBOX is laying on something and the cable just pops out from the front of the system (this happened to us in the videos we filmed of the ZBOXHD-ID34BR-U).
BIOS
Unboxing the Zotac ZBOXHD-ID34BR-U
Click Image For a Larger One
The ZOTAC ZBOXHD-ID34BR-U comes in a very neat and small package. The package itself is very light, but ZOTAC includes a carrying strap on the top of the box for easy carrying. The graphics look nice and show all the main features and specifications of the system. On the front, the box has the title with the Blu-Ray text added to it so the buyer knows that this machine has Blu-Ray compatibility. It also shows the 250GB hard drive and 2GB pre-installed DDR2 800 MHz memory. The back of the box shows all the connectors on the PC, and explains the features and ways the system can be used.
The cover of the main box is a thin cardboard cover. When the main box is taken out of the cover box, it is actually a plain black thick cardboard box. This ensures that the system is protected during shipment.
Click Image For a Larger One
When we opened up the black box, we were presented with some documentation of the ZBOX, including the User's Manual, and other helpful information. On the second picture, we can see that the ID34BR-U is in a soft cushioning. This prevents damage to the PC in case the box is punched or hit. There is a box right behind the system, which includes the accessories to the ZBOX. Also, the VESA wall mount is packaged right under the system.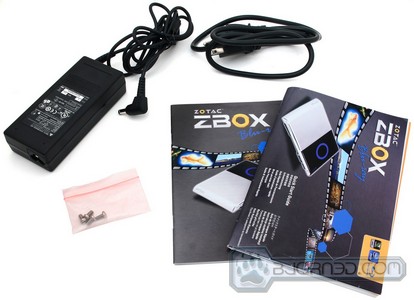 Click Image For a Larger One
The accessory box and the included accessories are shown in the 3 images around the text. In the first image on the top we can see the Power Supply for the system, which is a 95W certified PSU. Since the system only uses the around 46W during full load, the 95W PSU just ensures that if there are power jumps during load, the system will not crash. It's a sort of failsafe region. We also have four screws for the VESA mount, and two more documents: the Quick Start Guide, and User's Manual. The black bag that we saw in the previous pictures has two DVDs in it. One of them is the Driver DVD that includes all the drivers for the ZBOX, while the other one is PowerDVD. Unfortunately, our package did not have this because it was a review sample, but retail packages will come with the Driver DVD and PowerDVD.
Click Image For a Larger One
Here is a closer look at the Power Supply unit the ZBOX comes with. We can see that it is not the standard PSU connector that appear on most laptops and all-in-one PCs, so replacing a malfunctioning unit might be slightly more difficult than would be with a laptop Power Supply. However, we are sure that one can be acquired straight from ZOTAC if there is a problem.
The VESA mount is located in the right picture. This will help when mounting the ZBOX onto the wall, or on the back of a monitor designed to support such mounting. The ZBOX does not have to be mounted onto a wall or monitor; it can also lay flat on a table or any hard straight surface.
Unboxing Video:
A Closer Look
Click Image For a Larger One
The ZOTAC ZBOXHD-ID34BR-U HTPC has a fantastic, simple, yet very stylish look. It's very thin, and its overall size measures about two average spread out hands placed next to each other. Starting off with the overall design, the top cover seems to be a hard brushed aluminum and black plastic design with a circular transparent area where a blue ring appears when the system is on.
Continuing on to the buttons and connectors the system has, the first two pictures show the front connectors and buttons, while the last two pictures show the back connectors of the system. On the front, there are two buttons. One of the is the System Power on button, which is located on the far right of the system. The eject button is right under the Blu-Ray player, located on the silver side of the PC. In the front, we can also see a memory card reader just below the Blu-Ray player, one USB 2.0 slot which can be used even during the booting process, one USB 3.0 connector controlled by the Renesas USB 3.0 Host Controller, and one headphone and microphone jack.
The back connectors on the ZBOX include one USB 3.0 port, one LAN (RJ-45) connector, a Combo USB 2.0/eSATA connector, Dual-link DVI-I Port, HDMI Port, Optical S/PDIF port, a Kensigton Lock, and the Power Input (DC19V).    
Click Image For a Larger One
The next 4 pictures shown above show a dismantled ZBOX. It is not fully disassembled, but it does have the Memory and Hard Drive removed. We'll take a closer look at how to remove and upgrade the hardware in the video on the bottom of this page. To understand the way the ZBOX is assembled, it is easier to just watch the video provided below, but these high-resolution pictures are at-a-glance snapshots of what to look at when upgrading this system. Just to understand the basic layout of this system, we can see a black cooler on one of the edges of the system. This cools off the GPU and CPU in the system. The back side has ventilation holes on the sides where the hot air is blown out and circulated throughout the system. The last picture shows the memory installed into its 200-pin socket.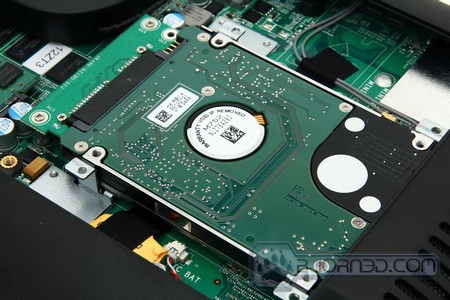 Click Image For a Larger One
On this picture we can see a 2.5″ SATA hard drive installed upside down. When the system is turned upright, the hard drive will be nicely sitting upright as well.
Click Image For a Larger One
In the first picture we can see that where the hard drive is installed, there is a black back plate the holds the drive in place after installation. Once the user cleans up or upgrades their PC, there are 6 screws in the back that hold the cover for the chassis. We can see that the GPU has holes out on the back of the chassis where it sucks in all the cool air. The hard drive has an opening as well where it can ventilate.
Click Image For a Larger One
We have removed the Hard Drive and Memory so we could take a look at what hard drive model and memory module the system comes with. The Samsung hard drive is a 5400RPM 2.5″ hard drive. This should be enough to playback HD videos smoothly, however, loading times for applications might take longer due to the slower hard drive RPM. Most standard desktop hard drives spin at 7200RPM, so we would have liked to see a 7200RPM drive in the ZOTAC ZBOX as well. However, this is a minor issue unless the user wishes to play lots of older video games that would be compatible with the ZBOX. In that case, loading the levels would take longer than usual. The memory is a Samsung 800MHz 2GB (2x1GB) kit. Once again, on the top-of-the-line model ZBOX that ZOTAC offered last year, it would have been nice if they had used all memory slots in the system to provide up to 4GB of memory.
Click Image For a Larger One
Finally, we have a VGA to DVI adapter for those using monitors that still use the VGA connectors. Users running an HDTV can take advantage of the HDMI connector on the ZBOX.
Testing & Methodology
To test the ZOTAX ZBOX thoroughly, we have done the following: When we received the product, we made sure everything in the BIOS was set to optimal settings (factory settings). Then when we restarted the system, inserted Windows 7 Pro installation DVD into the Blu-Ray player in the ZBOX and booted from the DVD to install Windows 7 Pro. After the Windows installation started, we formatted the 250GB 5400RPM hard drive that came with the ZOTAC ZBOXHD-ID34BR-U and continued on with the installation. Upon installation, we visited ZOTAC's home page and went to the download section on their site to find the latest drivers for the ZBOXHD-ID34BR-U. Once there, we downloaded the latest drivers for the ZBOXHD-ID34BR-U and also made sure the NVIDIA drivers and other drivers ZOTAC provided were up to date. We continued by installing all the Windows 7 Pro updates that we could get from Windows Update, and we also updated DirectX, and installed the most used latest web browsing plug-ins including Adobe's Flash Player 10.1.102.64, Java Version 6 Update 23, and Microsoft Silverlight 4. For testing purposes we also installed Firefox and Chrome browsers to make sure that all perform the same way, or to note any performance increase. We'll explain more of this later on during testing.
We also got PowerDVD 10 which has 3D support, though we will not be testing 3D HD playback in this review because ZOTAC only provides the PowerDVD 9 suite with their ZBOXHD-ID34BR-U. Their latest model, which they announced at CES 2011, has 3D support, meaning that they come with Cyberlink's PowerDVD 10 software.
To run our real-life benchmarks, we are going to try to replicate an average HDTV user's daily applications, which include watching Blu-Ray disks, downloaded movies in different video formats, including Transformers in M2TS (AVCHD) format at 4000kbps, or MKV format videos in 1080p format. We will also try to stream online videos from YouTube, Hulu, and Netflix.
Finally, at the end, we will run some synthetic benchmarks including 3DMark Vantage at the entry level for VGA's performance, Cinebench R10 for CPU and VGA performance, and HAWK for some gaming performance at 3 different resolutions but all maxed out in visual settings.
Video Playback
Here is the video playback and it's performance explained in detail:
Cinebench R10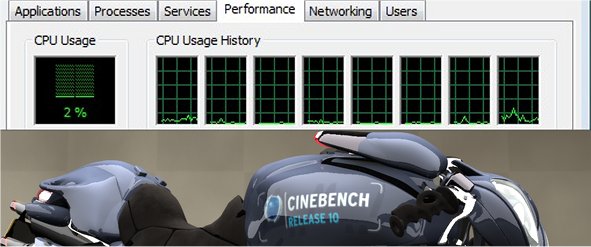 "CINEBENCH is a real-world test suite that assesses your computer's performance capabilities. MAXON CINEBENCH is based on MAXON's award-winning animation software, CINEMA 4D, which is used extensively by studios and production houses worldwide for 3D content creation. MAXON software has been used in blockbuster movies such as Spider-Man, Star Wars, The Chronicles of Narnia and many more. MAXON CINEBENCH runs several tests on your computer to measure the performance of the main processor and the graphics card under real world circumstances. The benchmark application makes use of up to 16 CPUs or CPU cores and is available for Windows (32-bit and 64-Bit) and Macintosh (PPC and Intel-based). The resulting values among different operating systems are 100% comparable and therefore very useful with regard to purchasing decision-making. It can also be used as a marketing tool for hardware vendors or simply to compare hardware among colleagues or friends."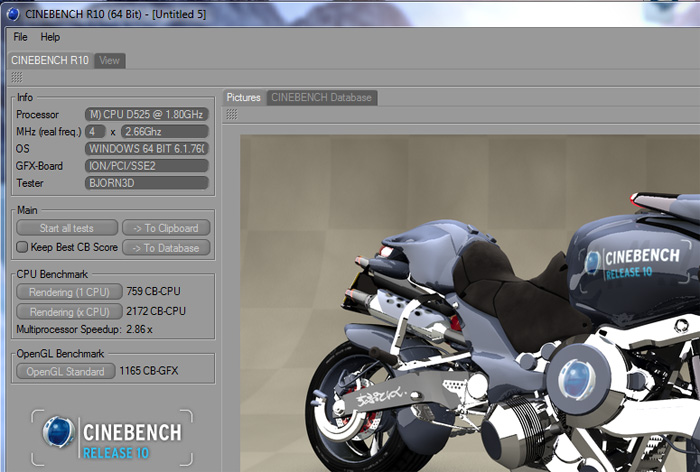 Cinebench R10 is a great application to measure CPU performance due to its ability to run Single and Multi-Threaded tests in the same application. It can also measure the OpenGL performance of the video card installed in the system. We can see that the Multiprocessor Speedup is 2.86x, which means that the multi core rendering is about 2.86x faster than the single-threaded rendering. This is because of the Intel Atom D525 processor, which not only has two cores, but also supports Hyper-Threading. Hyper-Threading provides more performance by providing two extra threads for the processor. These threads are not true cores, however they do provide more throughput for information, especially for applications that can utilize multi-threaded processors. A great example of this would be converting videos with multi-threaded applications. This would provide for a much faster conversion over standard Dual-Core or Single-Core Atom processors.
While the overall rendering score is quite low, it's actually still quite nice for applications that do not require many CPU calculations. The CPU power consumption is extremely low, maxing out at a TDP of 13W.
3DMark Vantage

For complete information on 3DMark Vantage Please follow this Link:
www.futuremark.com/benchmarks/3dmarkvantage/features/
This utility is still a synthetic benchmark, but one that more closely reflects real world gaming performance. While it is not a perfect replacement for actual game benchmarks, it has its uses. We tested our cards at the 'Performance' setting.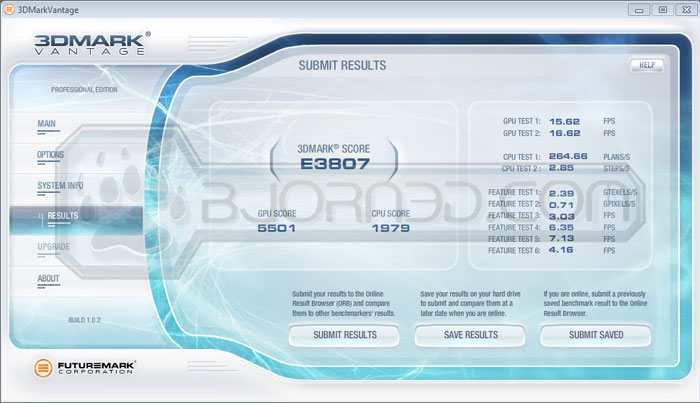 While the included ION GPU in the ZOTAC ZBOXHD-ID34BR-U is not very powerful, it does show some potential in 3DMark Vantage. This means that older video games should still be able to run on this system without a big loss in frames per second. Of course, the user won't be able to play the latest games on average settings, but minimum settings should still get the user by at decent resolutions. The 16 CUDA cores should be plenty to render full 1080p Blu-Ray HD videos as well as play back some of the latest online movies, especially on Netflix and YouTube.
HawX

The story begins in the year 2012. As the era of the nation–state draws quickly to a close, the rules of warfare evolve even more rapidly. More and more nations become increasingly dependent on private military companies (PMCs), elite mercenaries with a lax view of the law. The Reykjavik Accords further legitimize their existence by authorizing their right to serve in every aspect of military operations. While the benefits of such PMCs are apparent, growing concerns surrounding giving them too much power begin to mount.
Tom Clancy's HAWX is the first air combat game set in the world–renowned Tom Clancy's video game universe. Cutting–edge technology, devastating firepower, and intense dogfights bestow this new title a deserving place in the prestigious Tom Clancy franchise. Soon, flying at Mach 3 becomes a right, not a privilege.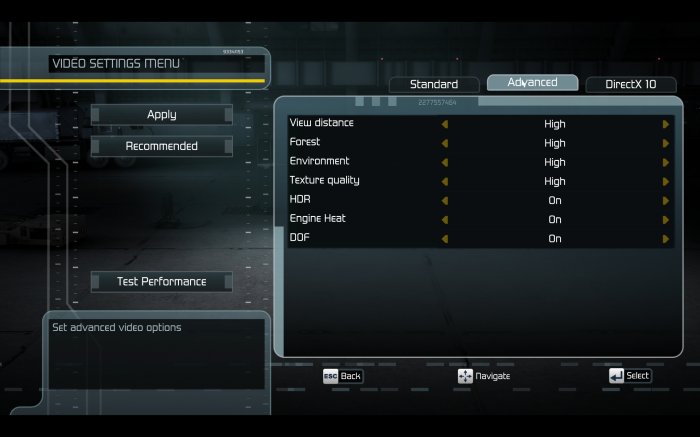 The Settings we used for benchmarking HawX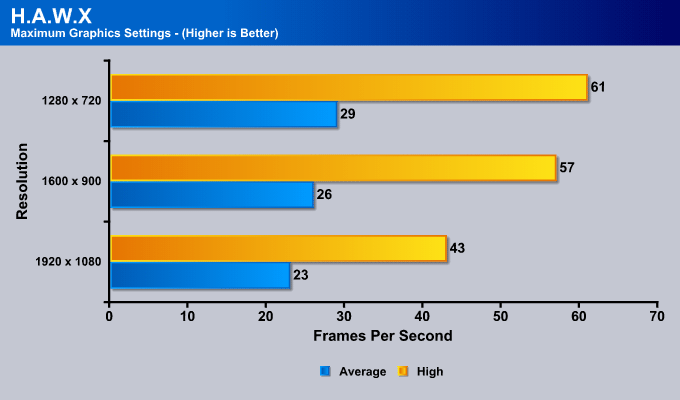 We decided to run a video game benchmark to also get back to those wanting to know how well this system performs in video games. We decided to benchmark HAWX because it has decent graphics at higher resolutions, though it also portrays older video games. We can see that the game should be playable at 1280 x 720 without any problems, since average FPS are around 29, while the highest FPS was at 61. This should be plenty for a bit of action after a long day of work. Higher resolutions show lower frames per second. At 1920 x 1080, the system was still able to get as high as 43 frames per second, but its average was around 23 frames per second, which might be a bit hard to play video games on, especially in scenes where there are lots of action going on.
Conclusion
The ZOTAC ZBOXHD-ID34BR-U is a fantastic and quite powerful system for it's size. By upgrading the ZBOXHD-ID34BR-U even further by installing more memory into the system, or perhaps installing a mini-PCI-E SSD card, the ZBOXHD-ID34BR-U could provide for even faster load times and also become more responsive during system operation. The ZOTAC ZBOX continues to impress us in everyday applications, and its slim and small design is excellent for those looking at placing their system right under the HDTV where they would have easy access to the Blu-Ray player and other features like the USB 3.0 slots.
While it is very nice to have USB slots on the front of the system, it would have been nice to place the main USB 2.0 slot on the back of the system rather than on the front. This is because the system can only go into the BIOS if the keyboard is connected to the front USB 2.0 slot. Once in windows, all the other slots are fully functional due to the drivers being installed. Also, having the sound port on the front was a bad choice because having the system pointing out right under the HDTV creates messy cable entanglements.
Video playback on the ZOTAC ZBOX is flawless besides Hulu. We have tested Blu-Ray playback through PowerDVD 10 and on YouTube, and Netflix. Since Hulu was lagging for us, we contacted ZOTAC to see what they had to say about the problem. They subsequently asked NVIDIA, and we got the following in reply: "This is a Flash 10.1 issue. Hulu has a number of overlays in its video content and because of this the CPU is responsible for the composition of the video. Then the content needs to be sent back to the system memory for final composition by the CPU overlaying additional content. This will be resolved in Flash 10.2 with StageVideo where all composition is on the GPU but it is up to Hulu to make the switch." For now we will have to wait till Flash 10.2 is released and Hulu updates their player, but hopefully this will not take long, and sooner or later we will be able to watch Hulu videos flawlessly. Netflix uses Silverlight to playback videos, and we have not yet seen any lags with Silverlight.
We'd also like to add that there is a strange sluggish delay for the mouse and keyboard on this system, though the user can easily get used to this. It's about a half a second of delay, but if the system is not used too quickly, it is still nicely usable and it does not really cause any problems. The Blu-Ray player also has a very small button which is not very accessible on the ZBOX, so it is sometimes difficult to press it without sliding the ZBOX around (especially when the ZBOX is on a cloth surface as we placed it).
Other than that, the system shows high overclocking possibilities on the GPU, lower overclocking possibility on the CPU, though the possibility does exist. Overall, we were very satisfied with the system, and it ended up in our living room as the main HTPC for our large LG 48″ 480HZ 3D LED HDTV.
OUR VERDICT: ZOTAC ZBOXHD-ID34BR-U
| | |
| --- | --- |
| Performance | 8 |
| Value | 8 |
| Quality | 9 |
| Features | 8 |
| Innovation | 9 |

We are using a new addition to our scoring system to provide additional feedback beyond a flat score. Please note that the final score isn't an aggregate average of the new rating system.

Pros
Cons

Small, Stylish, and Cool Design with Fantastic Performance.

Plays Blu-Ray disks, Netflix, and Youtube videos at 1080p flawlessly.

Has gaming potential at minimum-to-average settings on older games.

CPU and GPU Overclocking potential.

USB 3.0 support for fast file transfers

Potential memory slots available for future upgrades.

By default, the system runs quietly, even under high loads.

Sluggish delay in mouse movement, and typing.

Hulu lags due to CPU rendering rather then GPU rendering. Flash 10.2 should fix this problem once Hulu updates their player (It will use GPU rendering)

Front USB 2.0 ports are the only functional ports during booting. Doesn't look good when you need to use these ports and your system is nicely put under the HDTV.

Blu-Ray Player button really small and hard to press.
Summary: The ZOTAC ZBOXHD-ID34BR-U impressed us in many ways, including looks, overall size, features, and overall innovation. While its performance lacks, even with the fastest Intel ATOM processor, Blu-Ray video playback is fantastic, and online streaming should not be a problem on websites like Hulu once Flash 10.2 is released. Netflix and YouTube are a pleasure to watch. Because of this, the ZOTAC ZBOXHD-ID34BR-U deserves an 8 out of 10 points and the Bjorn3D Silver Bear Award.