Today we are looking at the Zotac GTX GeForce 980 AMP! Omega Edition video card. As the name implies this is one of Zotac's top cards which comes with a lot of extra bells and whistles compared to a regular GTX980. Not only is the card overclocked from start, you also get access to the OC+-feature which promises even more control over the overclocking.
SPECIFICATIONS
We are not completely sure why Zotac is doing this but they actually list 6 different GeForce GTX 980-cards on their site. 2 "normal" cards and 4 different AMP!-edition cards.
Zotac GTX980
Zotac GTX 980
AMP! Edition
AMP! Omega Edition
AMP! Extreme Edition
Memory Size
4GB
4GB
4GB
4GB
4GB
Memory Interface
256-bit
256-bit
256-bit
256-bit
256-bit
Core clock
1126 MHz (base)
1216 MHz (boost)
1139 MHz (base)
1240 MHz (boost)
1165 MHz (base)
1266 MHz (boost)
1202 MHz (base)
1304 MHz (boost)
1291 MHz (base)
1393 MHz (boost)
Memory Clock
7010 MHz
7010 MHz
7010 MHz
7046 MHz
7200 MHz
Cores
2,048
2,048
2,048
2,048
2,048
As this table shows the Zotac GeForce GTX 980 AMP! Omega Edition is the second highest clocked AMP!-edition card. Compared to the regular GTX 980 we get about 7% higher clockspeed of the GPU. It's not a lot but still nice to have.
The card is being cooled by 2 fans that are encased in a nice gunmetal shroud.
One interesting feature is the OC+-unit which uses a mini-USB to hook up to the computer. Together with the FireStorm-software it gives you a lot more control over a wide variety of settings in the card as well as allows you to flash the card.
CLOSER LOOK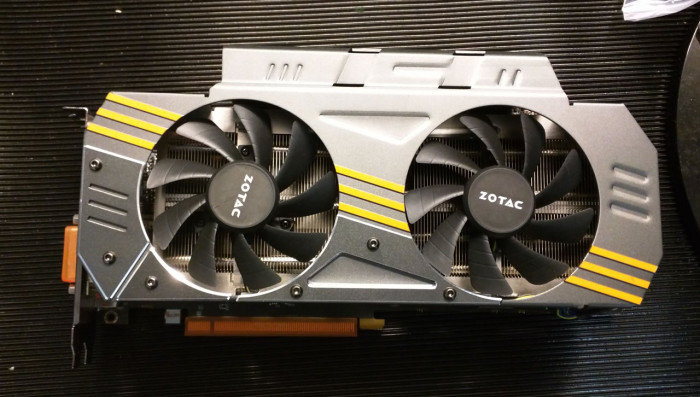 This is a big card that will fill up your case. Two huge fans handle the cooling. You get no "bling" with led's lighting up during operation but to be honest that does not bother us at all. The fans actually are one of the differences to the AMP! Edition and the AMP! Extreme Edition (phew) cards. Both those cards come with 3 fans while Zotac has made due with just 2 fans on this card.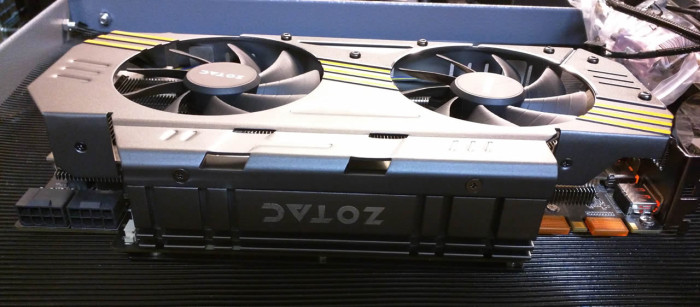 A view from another angle showing off the size of the card. Of course it is a 2-slot card.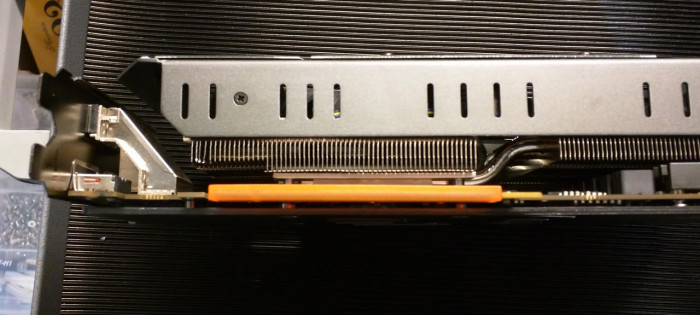 The GPU and the memory is cooled by heat-sinks with lots of f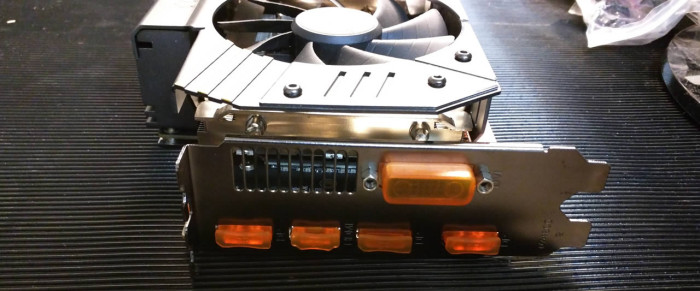 You get a full compliment of ports with the card. 1 DVI-D,  x HDMI and y DisplayPort.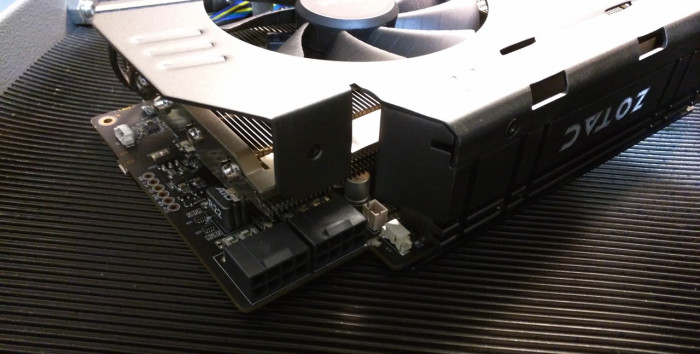 The card needs power from two 8-pin PCI-Express power connectors.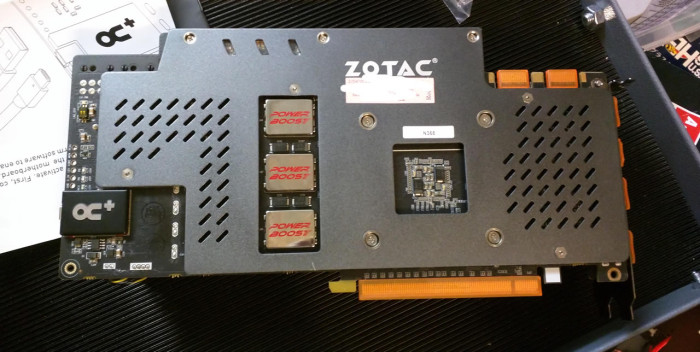 Turning around the card we find stickers for "Power Boost" as well as the big OC-unit at the end of the card. This unit also has a mikro-USB-port which is used to hook it up to the motherboard.

A manual for OC+ is included although it doesn't actually say much about how to use the FireStorm software.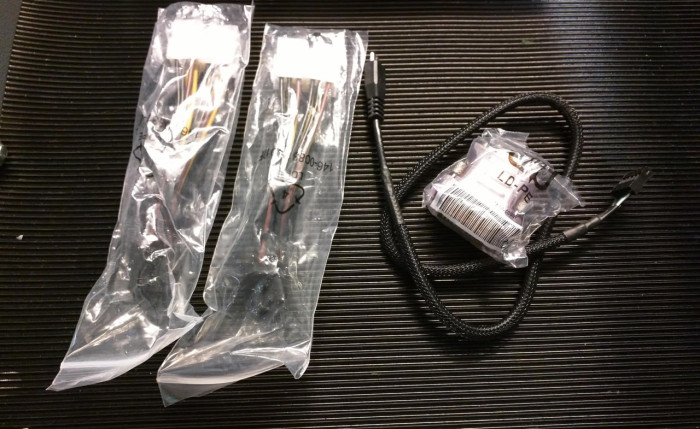 In addition to the card and the manual we get a micro-USB to USB-cable (for OC+), two molex to 8-pin power-connectors and an DVI =>VGA-adapter.