Need a portable mouse? Check out the Rosewill's latest RM-8500 as it is designed for those who game on the road. It is packed with five buttons and has the ability to switch between 800 and 1600 DPI settings all at the cost of $40.00 MSRP. Is it worth sheading your hard earn money? Find out.
INTRODUCTION
The computer mouse is one of the most overlooked peripherals, in my opinion. We often upgrade everything inside of a computer but overlook one piece of hardware that is frequently used. Choosing the right mouse is a challenge because you need to balance budget, comfort, and performance. And it's especially true if you are into gaming and want a mouse that has a fast DPI (dot per inch) and is comfortable enough so that you will not feel the pain on your wrist after hours of playing games.
For average users, a mouse is just a pointing device, but for hardcore gamers having a mouse with high DPI and precision is a matter of life and death in the virtual battleground. The reality is that for even average users who are using large displays, they will also benefit from a high dpi mouse because it helps to move around the screen without much need for hand movements. Just try to move across the screen with 500 or 800 DPI mouse if you are using a 22" display or larger and try to do the same thing with a mouse with 1000 DPI or higher and you will notice how quickly and easily you can move across the screen.
There is no shortage of mouse manufacturers. Name brands such as Logitech, Razer, and Saitek come to mind. Even some big names in computer industry, whose name that are not often associated with mice, are coming out with mice. Names such as Gigabyte, OCZ, and Microsoft. Rosewill is yet another company that has a gaming mouse that is trying to compete for your hand's touch.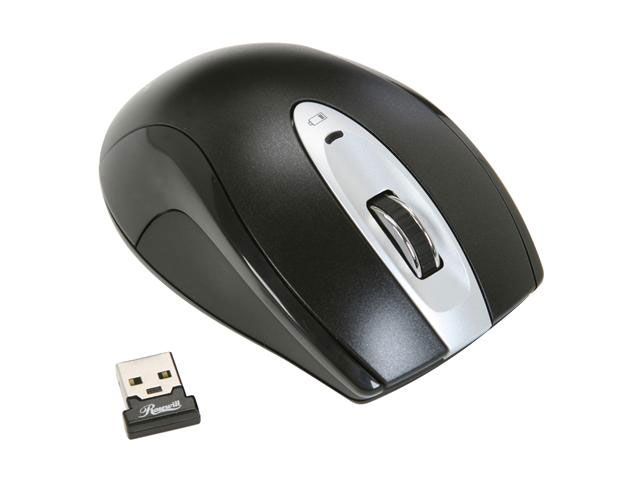 It should not be a major surprise that Rosewill has a mouse because the company is known for making some peripherals for computers. Their products ranges from just about any peripherals imaginable, cases, PSUs, fans, DVD-ROMs, heatsinks, keyboards, and mice are among their list of products. Their latest, the RM-8500 is a portable notebook style laser mouse that is wirelessly connects to your PC through the 2.4GHz wireless band. Can it compete against other players? Let's take a look, shall we?
FEATURES AND SPECIFICATION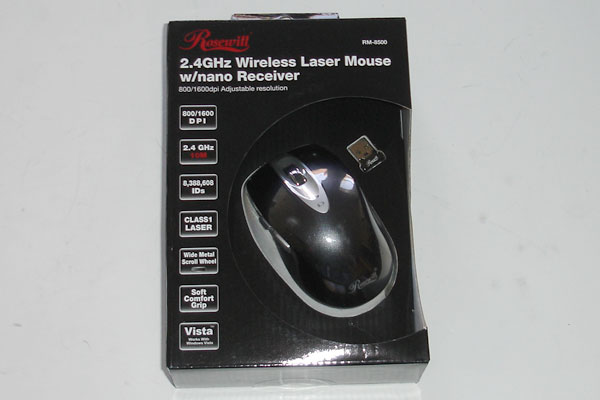 Rosewill RM-8500 is packaged in a plastic shell with the front and the back of the mouse clearly visible from the outside. The plastic shell is placed inside of a cardboard box where you will find some marketing information and the specifications of the mouse. We really liked the fact that the mouse is visible outside of the packaging as it will give the potential buyer a visual perspective of the color and the size of the unit.
Opening up the box and we get a clear view of the physical mouse. The first impression that I have with the RM-8500 would be its small size. Not only that the mouse is small, its receiver is even smaller. This is one of the smallest receivers that I have ever seen with any wireless device. As the mouse is designed to be portable, it makes sense that both the mouse and its receiver would be small. In addition to the mouse and the receiver, users will also get a simple manual and a carrying pouch.
The mouse comes with 800/1600 DPI settings.  It connects to the computer via 2.4 GHz wireless technology where it can receive signals of up to 10 meters in length. The mouse supports Windows ME, 2000, XP, and Vista. Windows 7 is not listed but I would presume that there is no problem.
Despite the fact that the official specification does not indicate that the mouse supports Mac, we checked the PDF manual on Rosewill's site and confirmed the information with their rep that the mouse does, indeed, work with Mac systems. Unfortunately, for Mac users out there the mouse only works partially as it can only be used as a three buttons mouse. Something we thought we would mention in case you recently purchased a Mac system.
FEATURES
Works at full 360° up to 10 meters better range and less interference with 2.4GHz RF technology.
Multi-channel design supports 8,388,608IDs for improved performance and an operating distance of up to 10M.
800 / 1600 DPI Switchable Laser Resolutions
On/off switch to maximizes battery life.
Super small size for nano dongle receiver.
Two conveniently located side-buttons allow you to easily go back and forward in your web browser.
Two user settable sensor sensitivity settings – 800 and 1,600 DPI resolutions
Laser technology provides better tracking power than LED optical mice
Unique and ergonomic shape for maximum comfort and also has easy to hold rubber coated side grips.
SPECIFICATION
Title of the table

Specification

Model

RM-8500

Interface

2.4 GHz (Wireless)

Resolution

Laser (800/1600 DPI)

Button Number

5 buttons

Power On/Off

button and battery low indication

Dimension

104 (L) x 61.7 (W) x 41.3 (H) mm

Receiver Interface

Up to 10 M

Receiver Dimension

17.8 (L) x 15.2 (W) x 4.7 (H) mm

System Requirement

Compatible with: Windows ME/ 2000/ XP/ Vista
Microsoft Internet Explorer 5.0 or later
Available USB Port

Safety

FCC / CE / BSMI / ROHS / USB / Recycle marks

Package Contents

Wireless mouse
Nano receiver
Battery (1xAA)
Travel pouch
User Manual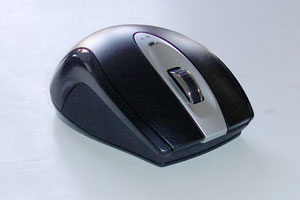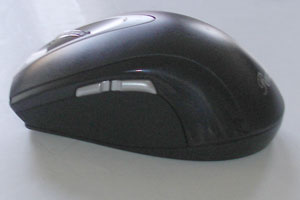 As you can see from the image, this mouse is designed for right-handed folks only. The RM-8500's black exterior is accented with a silver color in the middle where the scroll wheel is located. The mouse is made with plastic and rubber with a quality feel to it. The left and right side of the mouse, where your thumb and fingers reside, are made with rubber to provide a better grip to the mouse.
This is a five buttons mouse. Two are on the left side of the mouse for forward and backward. The usual left and right buttons and a scroll button are on the top of the mouse. The left and right buttons cover a large area that they can be pressed approximately all the way toward the third of the one third of the mouse. Such a large area makes it very easy to press the buttons.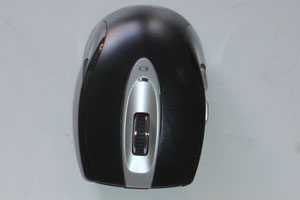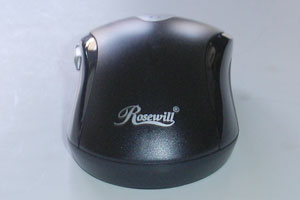 Two buttons are placed just above the thumb on the left side of the mouse. They are easy to press and the buttons are large enough. One little annoyance is that Rosewill assigns the forward to be the back button and the backward to be the front button. I have used mice where the buttons are in the reverse position, so it takes awhile to get used to it. In my mind, it makes more sense to have the forward button to be the front and backward button to be the back. Despite some annoyances, after a week of use, I feel quite comfortable with the button placement.
A scroll bar is included with metal rim and rubber body in the center. It actually feels quite smooth and the metal rim helps smooth scrolling while the rubber center adds a little bit of friction. Altogether, they make the scrolling very smooth. The scroll wheel does not have the distinctive click feel that you may get from other mice. For me, I do not mind it too much because after using the scroll button, I feel that it is very smooth and precise in its scrolling, but some people may prefer more of a click feel. The scroll wheel unfortunately does not have tilt function where you can scroll left and right direction.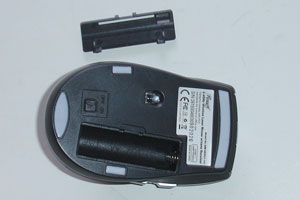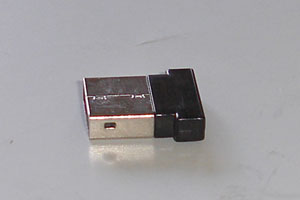 As you can see from the image above, a little battery indicator is located just behind the scroll wheel. The indicator will light up, when the battery level is approaching low, to signal the need for a battery replacement. The mouse requires a single AA battery. Although the package states that one AA battery is included, our review sample actually does not. Rosewill specification states that the mouse can be used up to six month if it is used for average of four hours per day. Though we cannot verify this information, we have been using the mouse for over a month on a daily bases for approximately ten hours per day with a single AA battery and so far it's still going strong without the need for a replacement.
Underneath the mouse is where you will also find the Teflon pads to provide better movement on the surface. A handy power on/off switch is located on the button of the mouse to save more power.
Rosewill does not include any software with the mouse. The mouse simply uses the default Windows built-in driver. This is a major blow in my opinion. Without the software, users would have to use the Windows mouse driver and its limited functionality. This means that you cannot reassign the buttons for special functions. Also, it means that you will not get any pop up window when the battery level is low (luckily, at least you get an indicator on the mouse).
Rosewill's manual fails to mention how to switch between the DPIs. I would have to visit their website in order to find the instruction. We are quite surprise by this because without any driver, the RM-8500 will not be able to switch the DPI setting with the default Windows driver. To switch between the DPIs, you would have to press the left button and the scroll button simultaneously. Although, somewhat inconvenient, it is not too hard to do so. We had no problem changing the DPI with just one hand. The nice thing about such option is that users would have the option to change the DPI on-the-fly in the middle of a game.
IMPRESSIONS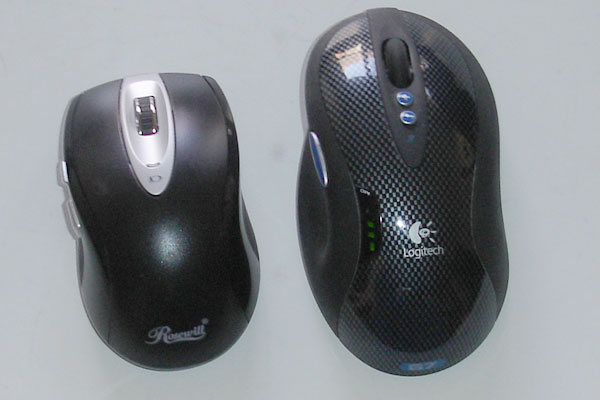 As you can see from the image, the top of the mouse is covered with a single piece of plastic just like the Logitech G7 mouse. Rather than having separate buttons, you simply push the plastic down. Placing the mouse next to the G7 mouse that I use you can immediately tell just how small this is.
I have a rather large hand and often prefer to have a slightly larger mouse because it gives me a better grip. The Rosewill RM-8500 is surprisingly comfortable. At first, I thought it may not be the mouse for me because of the small size. However, after using the mouse for like a week or so, I got used to its small size. And after testing it for over a month, I am fairly comfortable of using it in my day-to-day work.
The overall design of the mouse is surprisingly comfortable. The button placement is good and easy to access. The large buttons are easy to press and the two thumb buttons are in a good placement. Because of its size, I was not able to put my hand over the mouse, rather, the fingers rest on top of the mouse with the palm on the back of the mouse. With my G7 mouse, I have my hand hovering above the whole mouse. I am not too certain which design would be more ergonomic but I do not have any discomfort with the mouse while using it. I must mention that I have a writ rest on my mouse pad to reduce some stain on my wrist, so that could explain why I did not encounter any discomfort.
I found that the two DPI settings are too limited. I feel that 800 DPI is a too slow for desktop use, especially if you have a larger display. On the other hand, the 1600 DPI is too fast for desktop. I did get used to the fast movement after awhile but it can be somewhat annoying when you need a move the mouse to a precise position like when you are trying to select a certain area in an image. If you come from a mouse with lower DPIs, you certainly may need some adjustment period. I ended up using the 1600 DPI all the time even on desktop because I simply cannot stand the 800 DPI.
In games, 1600 DPI definitely helps. It is fast enough for most gamers and with my 24'' display. The mouse offers decent control and movements. I have to confess that I am not a super die-hard fan of the fast action, shoot 'em up type of games so my gaming skills sure would not be placed on the top of the chart. Users would sure come into appreciate the on-the-fly DPI switch though simultaneously pressing two buttons in a game can be somewhat challenging. I think a single button DPI switch would have been a far better choice.
CONCLUSION
Being a portable mouse, the RM-8500 is surprisingly comfortable for its small size. I like its easy to use and responsive buttons and the smooth scroll button. The mini receiver and low power consumption are something that people who carries the mouse around would sure come to appreciate.
The RM-8500 is not without any flaw. One of my biggest complaint would be its lack of proper documentation and manual, especially with its DPI switching function. We also would prefer to have software to help with DPI switching and also a warning in Windows when the battery level is low. We also would love to see more DPI settings as we feel that 800 and 1600 DPI settings are too limited for everybody.
At retail price of $34.99, the Rosewill RM-8500 is not terribly expensive for a gaming mouse with 1600 DPI. Its small size means that it would be a good choice for those who are using their laptops or want to play games on the go. Being slightly cheaper than competitors, you are getting a mouse without any software or many DPI adjustments. If you can live without these options, this would be a good choice of mouse for those who need one on the go.
We are using an addition to our scoring system to provide additional feedback beyond a flat score. Please note that the final score isn't an aggregate average of the new rating system.
Performance 8
Value 8
Quality 9
Warranty 9
Features 8
Innovation 8
Pros:
+  Small and portable
+  DPI changes on-the-fly
+  Comfortable for its size
+  Only requires a single AA
+  Buttons are easy to use and responsive
+  Very smooth scrolling
+  Tiny receiver
Cons:
– Poor documentation
– No driver or software
– Our review unit does not include a battery (even though it is advertised)
 
For a budget portable mouse, the Rosewill RM-8500 has to make some sacrifices such as more DPI settings and a software. If you can live without these features, it maybe an ideal mouse for those who games on the go.
Final Score: 8.5 out of 10.