Not all laptops can sit on your lap for too long due to the heat they generate. We review the NZXT Cryo S to see how it keeps your lap, and laptop cool.
INTRODUCTION
With portability and space constraints becoming a necessity in today's busy world, people are leaving their desktops behind for powerful laptops. To keep those powerful laptops cool, NZXT has released the Cryo LX and most recent the Cryo S. We give the Cryo S a test drive to see how well it does with a work-focused based laptop.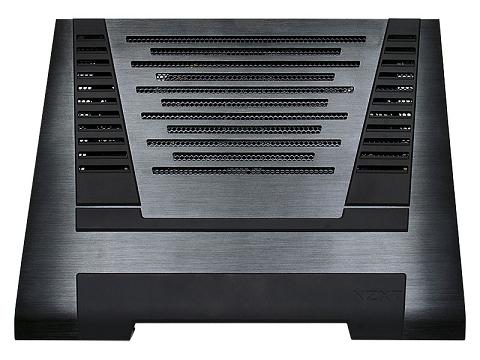 About NZXT
NZXT, a company built upon gamer's dreams, hopes to create products that put consumers first. With the objective of designing unique products catered for hardware enthusiasts and gamers, NZXT has grown into a globally renowned brand recognized for dedication towards creating the next great gaming product. NZXT has won numerous awards from media and publications from across the globe with a product line spanning from gaming chassis, power, and gaming input devices. As a corporation formed by gamers, NZXT continues to expand into new horizons and push the limitings further with each product unveiling.
Our dedicated sales and customer service team will also work diligently to earn your trust and loyalty. All our products are built with high quality material and engineered in the best conditions.
NZXT products are designed and engineered in the United States and manufacturered overseas in China and Taiwan.
NZXT was established in 2004 in Los Angeles, California.
SPECIFICATIONS 
Effectively supports 10″ to 15″ laptops
Constructed of 3mm thick aluminum
Slanted surface for a comfortable angle
Rubberized surface to keep the laptop in place
Rubberized feet to keep the cooler in place
Two controllable 120mm fans
Two USB ports
Ideal for reducing heat in performance laptops
 
Pictures & Impressions
Click Image For a Larger One
The Cryo S comes packaged in a standard cardboard box and is wrapped in plastic. With the cooler is an AC adapter, USB cable for the two port USB hub on the back, a USB cable that powers the cooler, and instructions.
Click Image For a Larger One
I would have liked to see a little more packaging protection within the Cryo S box on the top. Aside from the box itself, there is only plastic protecting the top surface of the cooler. A 1/4″ thick piece of foam would easily suffice. Aside from that, the cooler is packaged well, as are the peripherals.
Click Image For a Larger One
The cooler itself is definitely attractive. Being aluminum and black in color, the black rubber pieces add a nice visual appeal. The fans underneath are also black and fit well with the cooler. On the back is the two port USB hub, power connection, and fan speed dial.
Click Image For a Larger One
Overall, the Cryo S is a nice looking product. Our 15″ widescreen laptop fits perfectly on the Cryo S. Now that we've seen how things look, its time to do some testing.
Testing
To test, we used an HP Compaq 6730b business laptop and Lavasys' Everest. The laptop is powered by an Intel Mobile Core 2 Duo P8400 (2.26GHz), 2GB DDR2 400MHz, 120GB Hard drive, and an Intel 4 Series GPU. To see how the Cryo S dealt with temperature increases, we ran the Everest stability test with the two 120mm fans at full speed.
Stock cooling results
Cryo S cooling results
Temperatures
Idle Stock
Motherboard: 40C
CPU: 42C
Idle Load
Motherboard: 55C
CPU: 80C
Cryo S Idle
Motherboard: 37C
CPU: 39C
Cryo S Load
Motherboard: 51C
CPU: 78C
Conclusion
We honestly didn't think we'd see much of an internal temperature change but we were pleasently surprised. The Cryo S was able to drop the CPU temperature 2C and the motherboard temperature 4C over the stock laptop's cooling solution. Considering how the Cryo S functions, that is an awesome result. We like that the fan speed is adjustable as we could see some users being picky about the fan noise. Having the option to change the fan speed is definitely a plus. The fans at full speed are noticeable, but not so noticeable that its annoying. The look of the Cryo S is appealing as well. I personally think it looks better than the LX due to it being all black. We liked the option to use an AC adapter in place of the USB cable as battery life would be reduced. Overall, the Cryo S is a solid laptop cooler.
We are trying out a new addition to our scoring system to provide additional feedback beyond a flat score. Please note that the final score isn't an aggregate average of the new rating system.
Performance: 8.5
Value: 8.5
Quality: 8.5
Warranty: Awaiting feedback
Features: 8.5
Innovation: 8 
Pros:
+  All aluminum
+  Fans are adjustable
+  Appealing theme

Cons:
–  Not foldable like the Cryo LX 
 
We give the NZXT Cryo S an 8.5 out of 10 and the Bjorn3D Seal Of Approval.