Many users put their stock in well known PSU's from brands like Thermaltake or CoolerMaster. Are these better than more obscure brands like Rosewill? Today we take a look at the Rosewill Lightning 1300W PSU to test this.
Introduction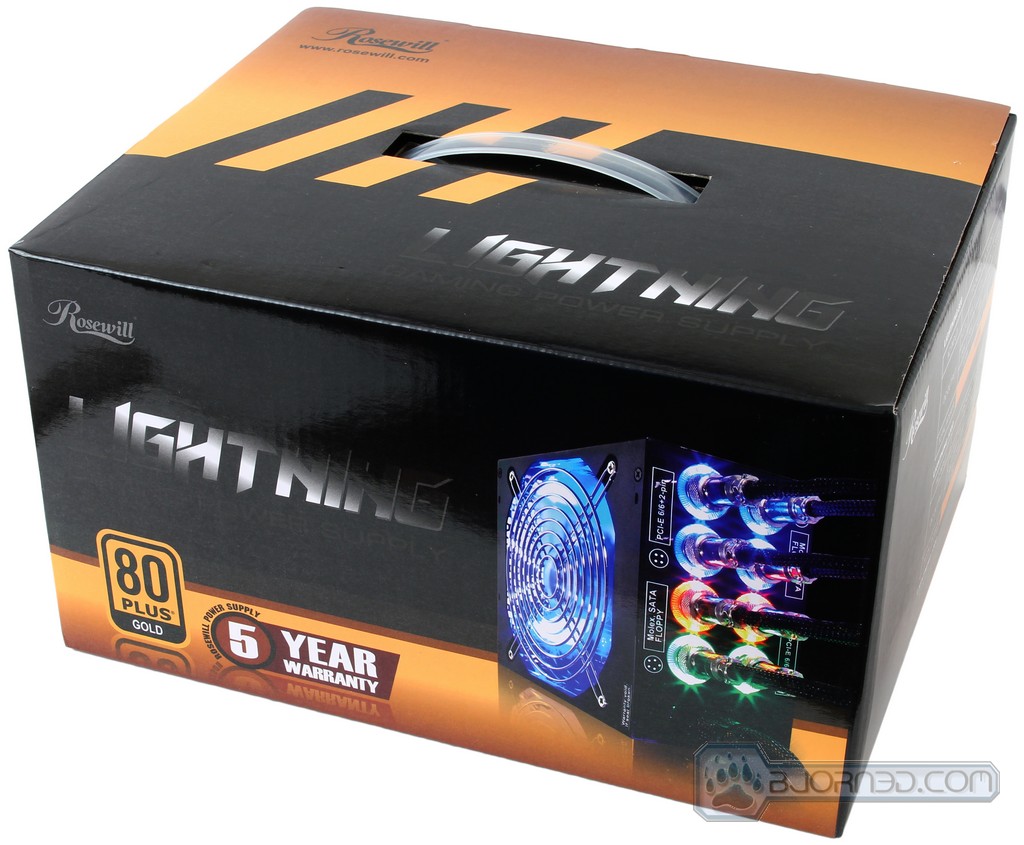 Antec, Corsair, Cooler Master, Thermaltake and Seasonic are some of the major power supply brands we always hear about, but what about the other companies? Are they any good? We hear a lot from people warning others to stay away from some of the other brands that might not be as popular or well-known. We'd like to shine some light on some of the other branded power supplies on the market. This time we'll take a look at Rosewill's latest Lightning 1300W semi-modular power supply.
Rosewill is a house label for Newegg.com, so technically any product coming from Rosewill will most likely only be available at Newegg. Their products range from very low-end to high-end enthusiast products, and users can find pretty much anything they're looking for.
The Lightning 1300W modular power supply seems to be a great competitor to some of the other power supplies on the market, like Antec's HCP-1200, or Thermaltake's ToughPower Grand 1200W PSU. All of these power supplies are designed to provide enormous amounts of power for enthusiast users running high-end gaming hardware. However, nobody wants to buy a product and then realize over time that they wasted a lot of money on a cheap product that does not deliver. Rosewill does provide 5 years of Warranty for their Lightning series of power supplies, which is always very nice to see. We'll put the Rosewill Lightning through some extreme tests pushing the power supply to levels that others might never see during their standard system operations. We will also take a look at ripple, the Lightning's voltage regulation, its pros and cons, and much more.
Features
Specifications
Model
LIGHTNING-1300
Series
LIGHTNING
Type
ATX12V v2.3 & EPS12V v2.92
Maximum Power
Continuous 1300W@50°C
Fans
1 x Silent 140mm LED Fan (Blue, Red, None)
PFC
Active
Main Connector
20+4Pin
+12V Rails
Single
PCI-E Connectors
6x 6+2-pin
Modular Cabling Support
Yes
SLI Support
Yes
Power Good Signal
100-500ms
Hold-up Time
> 16ms
Efficiency
> 87%, Up to 92%
Over Voltage Protection
Yes
Overload Protection
Yes
Input Voltage
100 – 240 V
Input Frequency Range
47 – 63 Hz
Input Current
20A
Output
+3.3V@24A,+5V@24A,+12V@108A,[email protected],[email protected]
MTBF
100k hours at 25°C, max. load, nominal input
Approvals
UL, CUL, TUV, CB, FCC, ROHS
Connectors
1x 20+4-Pin Main Connector
1x 4+4-Pin ATX12V/EPS12V Connector
6x 6+2-Pin PCI-E Connector
8x 4-Pin Peripheral Connector
8x 5-Pin SATA Connector
2x 4-Pin Floppy Connector
Dimension
7.09″x 5.9″x 3.39″
Weight
5.5 lbs
Warranty
5-year
A Closer Look
Click Image For a Larger One
The Rosewill Lightning-1300 power supply comes in a sturdy box with an orange and black contrast design. The key features are highlighted on the front of the box, including the 5 Year Warranty and the 80Plus Gold certification. Usually knowing that the power supply is pretty efficient already tells us that there are better components used, but that does not mean that it is prefect in delivering clean power. We'll go into that on the following pages. We can see that the power supply has LEDs built in for the fan and the modular cables that are connected to the power supply. Interestingly, the Lightning-1300 PSU allows the user to change between blue or red fan LED colors.
On the sides of the box, we see the different amp distribution and specifications for each rail on the Lightning series power supplies.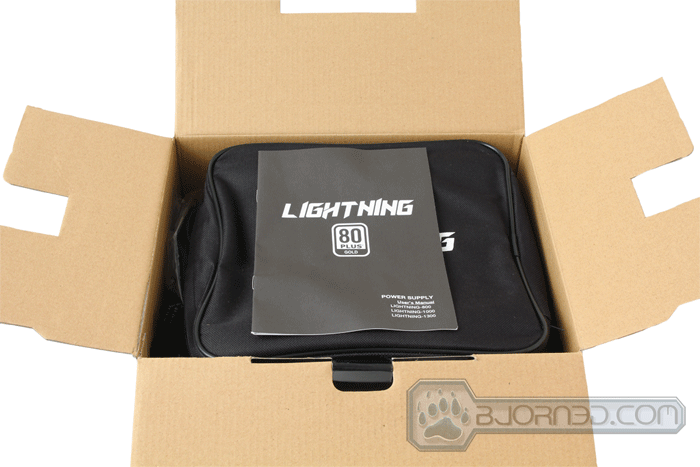 Now lets take a look inside the box…really…. see? We're taking the parts out of the box. But overall, there is plenty of protection for the power supply from all sides and everything is packaged separately.
Click Image For a Larger One
Taking a look at the accessories, we have everything that is required to install your power supply and do proper cable management. Even though there are 5 cable management zip-ties included with the power supply, it would have been nice to see at least 10. This is great especially when someone wants to tidy up cables in their case. However, it is appreciated that at least the provided zip-ties are strong zip ties. We've seen other companies include zip-ties that would rip even with just a little bit of force. The thumb screws are a nice addition for simple installation, and the user's manual has all the information needed to understand how to install the power supply and how to use the modular cables, etc. Finally, a nice carrying bag is included to hold all the modular leads for the Lighting-1300.
Click Image For a Larger One
The following power leads can be connected to the Lightning-1300:
4x 6+2-Pin PCI-E Connector (580mm)
8x 4-Pin Peripheral Connector (550mm + 150mm + 150mm + 150mm)
8x 5-Pin SATA Connector (550mm + 150mm + 150mm + 150mm)
2x 4-Pin Floppy Connector (150mm – on the above peripheral power connector cables)
All the cables are fully sleeved, and come with very interesting modular connectors. These connectors first attach to the power supply, and the ring around the connector wraps around the socket on the power supply, much like a like a DIN-type connector. These connectors can be screwed in to make sure the cables will never fall out of the socket. This is a great feature, however, we doubt anybody would be yanking at the cables. Also, we did not actually like the quality of the metal used with these connectors, and the ending of each connector felt a bit cheap. The ring security system around the connector feels like a toy ring that one might get for their child, but it still works really well. Even though there is no problem with the connectors, they did feel slightly cheap.
Click Image For a Larger One
Here are the rest of the cable connectors that come hard-wired in the Lightning-1300:
1x 20+4-Pin Main Connector (580mm)
1x 4+4-Pin ATX12V/EPS12V Connector (580mm)
1x 8-Pin ATX12V/ESP12V Connector (580mm)
1x 6-Pin PCI-E Connector (580mm)
1x 6+2-Pin PCI-E Connector (580mm)
When we add up all the cables that come with the Lightning-1300 power supply, we realize that there are only 6x 6+2-Pin PCI-E connectors. We would have like to see at least 8x 6+2-Pin PCI-E connectors since most other 1200W+ power supplies come with more connectors than the Lightning-1300. This would be perfect for those trying to run 4-way SLI setups. Even though the market is very slim for such systems, we do expect a 1300W power supply to have plenty of connectors for just about any hardcore enthusiast system. Finally, we can clearly see the connectors on the power supply. They are covered with soft silicone covers to prevent any problems during operation.
Click Image For a Larger One
Let's take a close look at the actual power supply. Our first thoughts weare not so positive, however after examining the power supply extensively, it is not the worse construction quality we have seen. The material used is very thin and that alone makes it feel like Rosewill is trying to save on production cost. The fan is not very interesting either and is a Rosewill branded 140mm ball-bearing fan. We can see a red switch right above the main power connector. This switch allows the user to switch between red, blue, or no LED on the fan. Finally the overall design of the power supply is much like the ABS' Tagan BZ Series power supplies.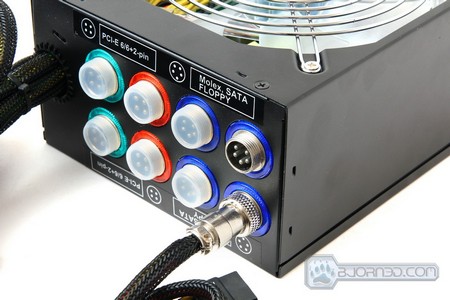 Click Image For a Larger One
Finally, there is not much artwork or information on this power supply. The only place we see any stickers or information about the brand and specifications is the top of the power supply. Most systems that will have the power supply on the bottom of the system will see this label, however other cases will most likely never see it. Finally, we have a closer picture showing how the cable looks once it is attached to the power supply.
Understanding PSU RAILS
We have all no doubt been told when purchasing a power supply, that the number to look for is the amps on the 12V rail. What are each of the different rails for though, and why is the 12V rail typically the most important? Why the heck are they called rails? Let's take at look at each and see.
-12V – This rail is pretty much obsolete now and is only kept on to provide backward compatibility with older hardware. Some older types of serial port circuits required both -12V and +12V voltages, but since almost no one except industrial users use serial ports
anymore you as a typical home user can pretty much disregard this rail.
-5V – Again this is another obsolete rail, the -5V was used for old school floppy controllers and some ISA bus cards. Again, no need for the typical home user to worry about this rail.
0V – Though not listed on any manufacturer spec sheet, every power supply
has a 0V ground line. The ground signal is used to complete circuits with other voltages and provide a plane of reference against which other voltages are measured.
+3.3V – Finally we are starting to get into something useful! The +3.3V rail was introduced with the ATX form factor in order to power second generation Pentium chips. Previously the CPU was powered by the +5V rail (along with the system memory and everything else on the motherboard), but a reduced voltage was needed in order to reduce power consumption as the chips got faster.
+5V – As mentioned above, the +5V used to run the motherboard, CPU and the majority of other system components on older pre ATX based systems. On newer systems, many of the components have migrated to either the +3.3V or +12V rails, but the motherboard and many of its onboard components still use the +5V rail so it is of importance to the typical home user.
+5V SB – The +5V Standby or "Soft Power" signal carries the same output level as the +5V rail but is independent and is always on, even when the computer is turned off. This rail allows for two things. First, it allows the motherboard to control the power supply when it is off by enabling features such as wake up from sleep mode, or wake on LAN technology to function. It also is what allows Windows to turn your computer off automatically on shutdown as opposed to previous AT supplies where you had to bend over and push the button. Every standard ATX power supply on the market will include this rail.
+ 12V – The +12V, also known as the mother of all rails, is now used to power the most demanding components in your system including the CPU, hard drives, cooling fans, and graphics cards. Historically the +12V rail was used only to power drives and cooling fans. With the introduction of the 4-pin CPU plug on P4 motherboards and then eventually AMD based motherboards, in order to supply newer power hungry CPUs, the +12V rail suddenly started to grow in importance. Today, multi core based motherboards require an 8-pin +12V connector to supply their power needs. High end GPU cards have also jumped on the +12V rail, which has required PSU makers to adapt. Where previously there was only a single +12V rail, there are now two or more, each designated to power specific devices in order to ensure that nothing is underpowered.
Testing
When it comes to power supplies, what we're really looking for is good clean voltage and plenty of it. Industry standards are 5% variance on any rail maximum, which is a little more lax than our standard of 3% max everywhere except the +5vSB (+5v stand by), which is always on, even when the power supply and computer are off. On the +5vSB it's not unusual to see 5% and since it's only for wake on LAN or by device feature it's not a big deal.
Like a lot of enthusiasts out there, our PC's are an ongoing work of art that we have a lot of cash invested in. If a PSU won't hold to 2 or 3% load/idle no matter what we do to it, we won't use it or recommend it.
Finally, we pushed the Power Supply close to their Full load to accurately represent a real-life high load scenario. We recorded Idle and Load voltages, Wattage, Ripple, and fan noise.
Testing Equipment
Rosewill Lightning-1300 Power Supply
Testing Equipment
Multimeter
RadioShack Digital Multimeter
Wall Voltage
Kill-A-Watt Measuring Tool
Oscilloscope

Hitachi Oscilloscope V-212
Phonometer

Extech Instruments 407730 Sound Level Meter w/ tripod
To test the Voltages on each rail and then measure the overall wattage used by the whole computer system, we used two different pieces of equipment. We used the RadioShack Digital Multimeter to measure the voltages on each rail (+5V, +12V, +3.3V). To measure the overall wattage used by the computer system we used a Kill-A-Watt Measuring Tool. The device plugs into the wall and we attach the power supply directly to the Kill-A-Watt. The results were precisely recorded in a document. To test the power supply's ripple, we used a Hitachi V-212 Oscilloscope. To measure the ripple we measured the +12V, +5V, and +3.3V rails with the oscilloscope and measured the AC current. To test for ripple, the AC current needs to be measured instead of the DC. Finally, we used Extech Instruments' 407730 Sound Level Meter on a monkey bar tripod about 1 foot away from the power supply to record the fan noise. The results for each of the tests performed can be found below.
Test Rig
Test Rig

Case
Test Bench
CPU
Intel Core i7 2600K @ 4.4 GHz (Load)Intel Core i7 2600K @ 5.2 GHz (High Load)
Motherboard
GIGABYTE Z68X-UD7-B3
Ram
Patriot Gamer 2 Series 1600 MHz Dual-Chanel 16GB (4x4GB) Memory Kit
CPU Cooler
Noctua NH-D14 CPU Cooler
Hard Drives
1x Seagate Constellation ES.2 3TB SAS Hard Drive2x Western Digital RE3 1TB SATA Hard Drive
SSD
1x Zalman SSD0128N1 128GB SandForce SSD
Optical
ASUS DVD-Burner
GPU

2x Nvidia GeForce GTX580 in 2-way SLI (Load)3x Nvidia GeForce GTX580 in 3-way SLI Overclocked to 930 Core 2350 Mem (High Load)

GeForce GTX 560 Ti (PhysX) (Load)

PSU
Rosewill Lightning-1300 (1300W) PSUThermaltake ToughPower Grand 1200W PSU

Cooler Master Silent Pro Gold 1200W PSU

Mouse
Razer Mamba
Keyboard
Thermaltake Meka G1 Keyboard
Monitor
Asus VG236H 23″ 120Hz 3D Monitor (1920×1080)
Speakers
Logitech Z-2300 2.1 THX Certified Speakers
Two different tests will be done with this testing system. One test will be conducted under stock settings, while the second test will be conducted under overclocked settings on the CPU and Video Card. To put the system under load, we used OCCT's Power Supply tester to stress the whole system while running FluidMark in the background to load the PhysX card. Let's take a look at the results.
results

PSU Results
Power Output Results(V) – Overclocked System (GPU, CPU)
Measured With RadioShack Multimeter And
Kill-A-Watt Power Consumption Measuring Tool

Power Rail

Rosewill Lightning 1300W PSU

Cooler Master Silent Pro Gold 1200W PSU

Thermaltake Toughpower Grand 1200W PSU

Idle

Load

High Load

Idle

Load

High Load

Idle

Load

High Load

3.3v

3.36V

3.31V

3.29V

3.31V

3.30V

3.29V

3.328V
3.290V
3.25V

5v

5.16V

5.04V

4.99V

5.00V

5.00V

4.99V

4.98V
4.96V
4.89V

12v1

12.25V

12.18V

12.13V

12.08V

12.03V

11.98V

12.288V
12.02V
11.84V

12v2

N/A

N/A

N/A

N/A

N/A

N/A

12.290V
12.03V
11.86V

Wattage Used

(Out of the Wall Power Consumption)

220W

835W 

1229W

218W 

832W

1220W 

220W

834W
1230W
The Rosewill Lightning 1300W PSU performed quite nicely compared to the Thermaltake Toughpower Grand 1200W PSU which had some bad voltage regulation. The Lightning-1300 managed to keep all the voltages within reasonable ranges from idle 200W all the way to high loads in the 1200W range. For the 3.3V rail, the voltage dropped only 0.01V below the standard 3.3V at around 90% load. The 5V rail saw exactly the same results though the difference between idle and load were quite high. We are looking for something like Cooler Master's Silent Pro Gold results where the 5V rail only had a 0.01V difference from the idle to full load operation. Finally, even though the 12V rail did see a slightly bigger difference in voltages, at full load, the actual voltage was even better than at idle, considering that it had a more accurate voltage compared to the requirements. There should not be any problems here.
Ripple Test Results
Example Images for our testing – Click Image to enlarge
| Rails Tested | Overclocked System – Hitachi Oscilloscope V-212 – Ripple Results |
| --- | --- |
| 12V |  ~25mV ripple max |
| 5V |  ~8mV ripple max |
| 3.3V |  ~15mV ripple max |
The ripple test showed some very nice results: some of the lowest numbers we have seen for ripple across several power supplies we have tested in the past. This is definitely good when considering a power supply with clean power.
Fan Noise Results
Condition
Acoustic Level Measured – PSUs
Thermaltake Toughpower Grand 1200W PSU
Cooler Master Silent Pro Gold 1200W PSU
Rosewill Lightning 1300W PSU
Idle
LOW dB (A)
LOW dB (A)
LOW dB (A)
Load
41dB (A)
LOW dB (A)
41dB (A)
Finally, the one thing the Lightning-1300 could have done slightly better on was the acoustic noise. The Lightning-1300 can be slightly audible to people with sensitive ears, though if the system is used mainly for gaming, this shouldn't be a problem since most gaming systems usually have much louder internal fans. For someone sensitive to noise, the Silent Pro Gold 1200W PSU might be a better choice.
Conclusion
To be honest, the Rosewill Lightning 1300W PSU has surprised us. Not only did it perform very nicely with good voltage regulation on the 12V rail but also had low ripple and high wattage output. The Lightning-1300 did not have a problem pushing our system as far as we could take it. We're glad we took a look at this power supply as we tend to hear many complaints about less popular brand power supplies performing poorly compared to other well known power supplies. In fact, the Rosewill did better than Thermaltake's ToughPower Grand 1200W PSU, which has been Thermaltake's flagship power supply for the past year and a half. Not only that but the buyer will also get 5 years of warranty for the power supply, which is very nice compared to the 1-3 years that other companies provide.
However, we found a few things we did not quite like about the Lightning-1300. These include the overall build quality of the chassis and modular power connectors of the power supply, the fan bearing, only 6x PCI-E power connectors, slightly loose voltage regulation on the 3V and 5V rails, and price. With the Cooler Master Silent Pro Gold 1200W PSU for $219.99 on Newegg, it is hard to spend an extra $50 on a power supply that provides only 100W more. The point is, that there are other power supplies that can be bought for a more competitive price.
OUR VERDICT: Rosewill Lightning 1300W PSU
| | |
| --- | --- |
| Performance | 9.5 |
| Value | 8 |
| Quality | 8 |
| Features | 9.5 |
| Innovation | 8.5 |

We are using a new addition to our scoring system to provide additional feedback beyond a flat score. Please note that the final score isn't an aggregate average of the new rating system.

Pros
Cons
Lots of Power for extreme systems.Plenty of Amps due to single RAIL solution

Sturdy modular cable connectors.

Blue, Red or no LED color fan switch

All Japanese Capacitors

5 Year Warranty

Fan not the quietestOverall cheap quality build feeling.

Would have been nice to see more PCI-E connectors.

Loose Voltage regulation on 5V, 3V rails
Summary: For gamers or heavy-duty users, the Rosewill Lightning 1300W PSU should have no problem keeping the system running without any crashes. For its performance and features, the Rosewill Lightning 1300W PSU earns the Bjorn3D Silver Bear Award.