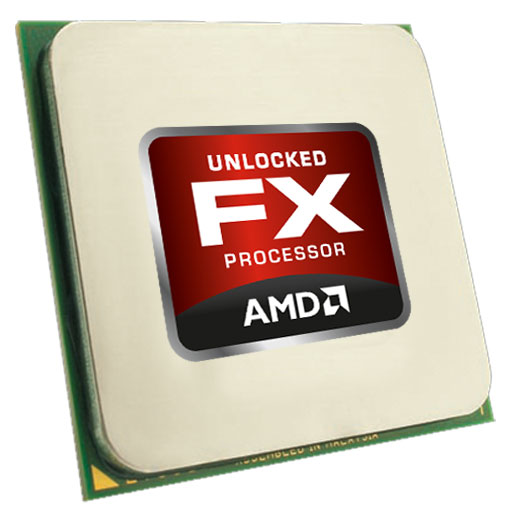 The long-awaited Bulldozer is finally here. How does it stack up against its biggest competitors? Does it live up to our expectations? Keep reading to find out!
Introduction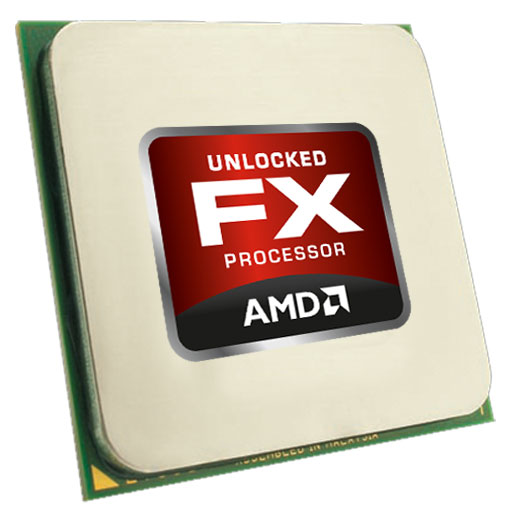 AMD's new architecture has been in the works for a very long time. Development of the highly-anticipated Bulldozer chip has been delayed in favor of AMD's new pet project, the E-series and A-series lines of Accelerated Processing Unit (APU).
In August, we were invited to AMD's FX launch event in Austin, TX, where AMD unveiled their Bulldozer lineup. The desktop line, called Zambezi, will feature seven processors, each at different price points and frequencies. The top three processors, the FX-8100, FX-8120, and FX-8150, all come with a whopping eight cores in modular design. Each module consists of two cores. The 8-core models also have 8MB of L2 and L3 cache. The frequencies for each processor vary, with the FX-8150 starting at 3.6GHz, and going up to 4.2GHz with max turbo enabled. The FX-8120 goes from 3.1GHz to 4GHz, and the FX-8100 goes from 2.8GHz to 3.1GHz. Note that with frequency and voltage adjustments, the chips can go higher.
Following that, AMD will also debut the 6-core FX-6100, which runs from 3.3GHz to 3.9GHz. AMD is also releasing three 4-core models: the FX-4170, FX-B4150, FX-4100. Every processor except the FX-4170 has three modes of operation: CPU Base Mode, CPU Turbo Core, and CPU Max Turbo.
All this power isn't just intended for one chip, however. AMD's purpose with the Bulldozer core seems to be to develop a building block which can be used as the basis for future product lines. Indeed, the next iteration of the Bulldozer core (codenamed Piledriver) will be implemented as the CPU on Trinity, the successor to the popular Llano A-series APU. At the event, AMD told us that the main difference between the two A-series APU and the FX CPU is that the FX CPU has overclocking capabilities, high-res processing, and Eyefinity support, all of which the Llano APU lacks. However, importing the Piledriver core onto the A-series APU could bridge many of those differences. This is, of course, speculation on our part as AMD did not outline a definite roadmap for the A-series APUs. We'll bring more updates on this later.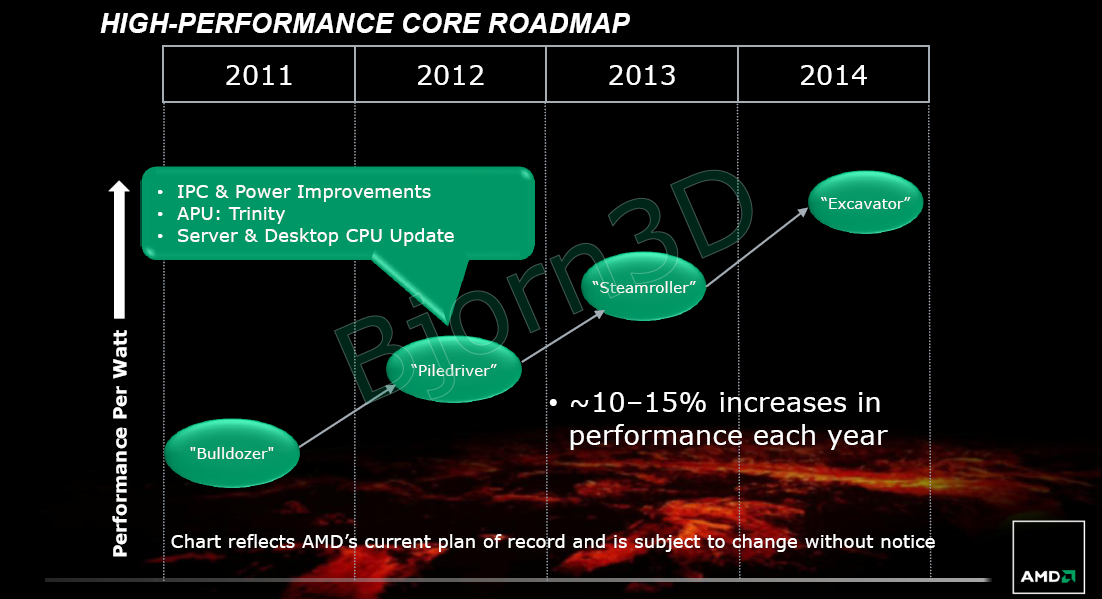 The latest roadmap that AMD put forth indicates that the Bulldozer core will have four versions: Bulldozer (2011), Piledriver (2012), Steamroller (2013), and Excavator (2014).
At launch, the following processors will be available with the suggested pricing below:

Looking at the pricing we can see that AMD places flagship processor FX-8150 in direct competition against the Intel Core i5 2500K that is retailing at $216. The FX-8120 will be competing against the Core i5 2500 (non K-series). At the at the other end, the FX-4100 will be competing against the Intel Core i3 2100. AMD has other models planned that will fill the gap in between. The good news is that all FX processors will feature unlocked multipliers for greater overclocking potential, something that Intel only reserves for enthusiasts with the K-series processors.
The pricing shown above is for air-cooled Bulldozer chips only. AMD does plan to also release liquid cooling bundles in a  few select regions. We were informed that the pricing for the liquid cooled bundles has not yet been finalized but it is expected to be roughly $100 more than the base price.
We did not receive our review sample with a retail air-cooling heatsink. However, AMD did ship us a liquid cooling unit. The liquid cooling unit is a self contained all-in-one unit manufactured by Asetek that looks a lot like the Antec KÜHLER 920. It features a dual fan design with a 150x120x49 mm aluminum radiator and a copper base. Dangling off the base are fan cables and a USB header used to monitor and control the fan setting.
Keep in mind that Bulldozer is the same size as the older Phenom II processor, so older heatsinks that are designed for AM2+ or AM3 should be compatible with Bulldozer. Users planning on upgrading their current AMD systems to Bulldozer should be able to use the same heatsink.
The AMD 990FX Chipset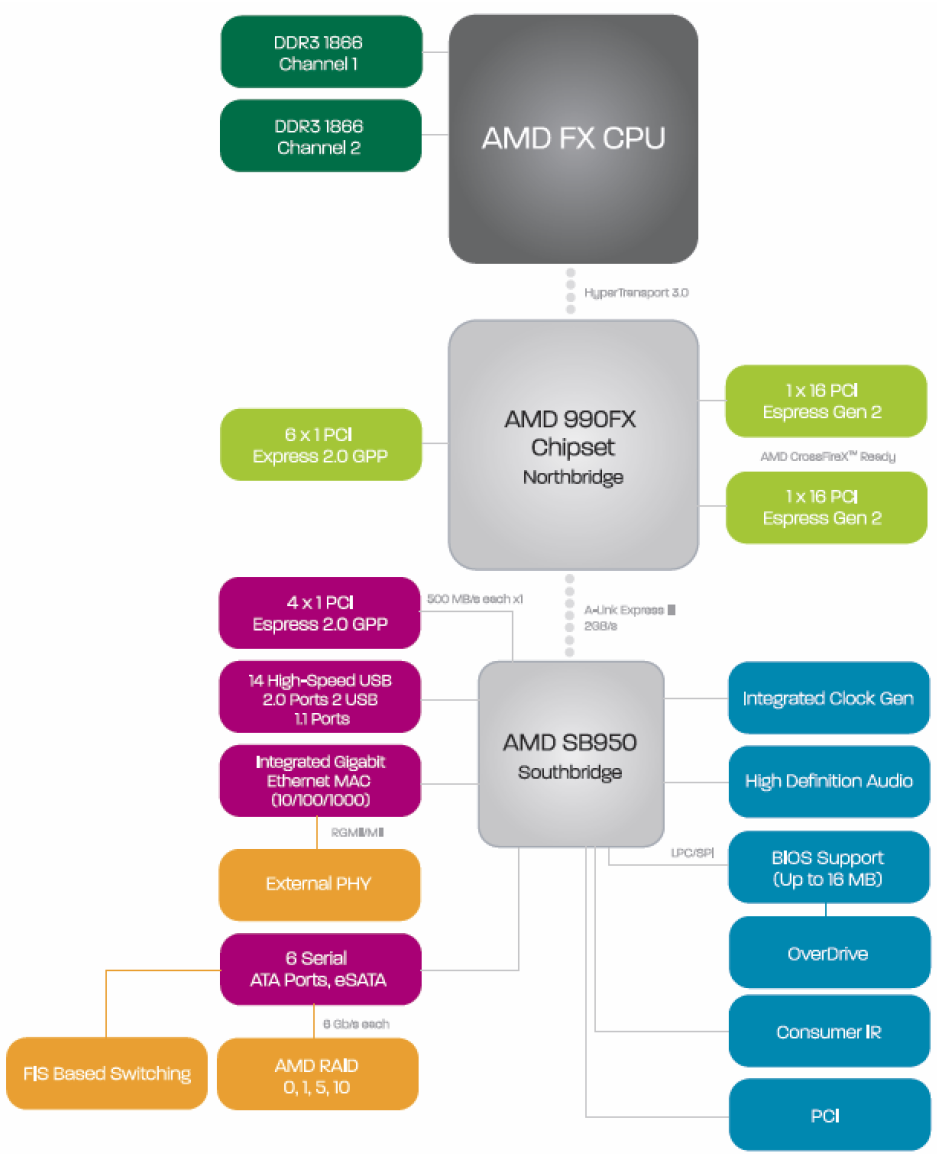 The 990FX represents the flagship chipset targeting the enthusiasts and hardcore gamers. This will also be the first time that a performance-level CPU carries the North Bridge chipset on-die. The Llano series of APU, however, also carries the North Bridge on-die.
The 990FX is essentially the same chipset as the 890FX. The chipset is manufactured by the Taiwan Semiconductor Manufacturing Company's 65nm fabrication process just like the 890FX. The 990FX sports 42 PCI Express 2.0 lanes. 32 of the 42 lanes are split between the two PCI-E x16 slots for multi-GPU support in x16/x16, x16/x8/x8, or x8/x8/x8/x8 configurations. It is not a surprise that the board will support AMD CrossFireX in 2 or 3-way configurations. However, the new chipset finally brings NVIDIA SLI support back to the AMD platform. After a few years of preventing AMD systems from running SLI and forcing motherboard manufacturers to rely on third-party chips like the LucidLogix HYDRA, NVIDIA finally granted the SLI license to AMD. The new 990FX chipset supports 2-way and 3-way SLI. The 990FX's 10 extra PCI-Express 2.0 lanes are split in one PCI-E x4 and six PCI-E x1 which can be used for additional expansion cards or to interconnect other devices such as USB 3.0 and Ethernet.
The South Bridge for the new platform is still the same old SB850, renamed to SB950. While the chip is a year old, it's not completely outdated so it is still a good choice. It supports six SATA 6Gbps and 14 USB 2.0 ports. The lack of native USB 3.0 support is a disappointment. To be fair though, the latest Z68 chipset only supports 2 SATA 6Gbps and does not offer USB 3.0 support either. Still, we would prefer to see USB 3.0 natively supported. There are four additional PCI-E 2.0 x1 lanes available on the chip. Finally, keeping with backward compatibility, the chip still supports the aging PCI 2.2 and parallel ATA bus standards.
The AMD Bulldozer Architecture
Since Bulldozer will be the building block for AMD CPUs in the foreseeable future, we thought it well worth going into a detailed explanation of the architecture. Bulldozer will feature eight cores in four two-core modules, one on each corner of the die. So far, we have no news yet of future fabrication processes or die sizes, but Bulldozer is a 32nm process with a 315 mm2 die. Each chip contains roughly 2 billion transistors.
AMD will also use the same die for all versions of the Bulldozer CPU: the desktop version, codenamed Zambezi, and the server versions, codenamed Valencia and Interlagos.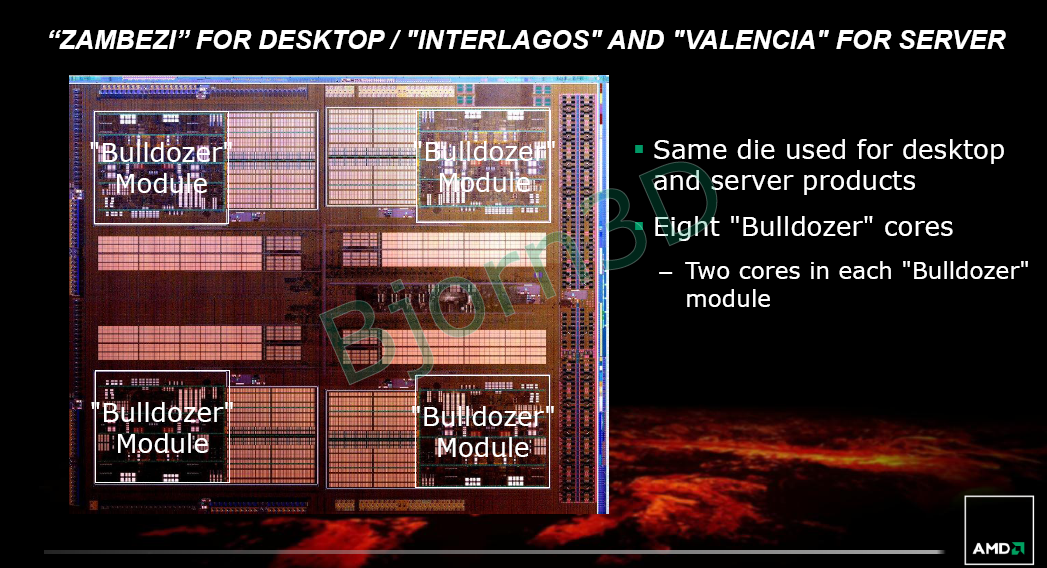 Each Bulldozer CPU is also accompanied on-die by a stunning 8MB L2 and 8MB L3 cache. As seen below, each module has 2MB L2 and 2MB L3 cache, shared between each core of the module. The right side of the die also has the CPU's Integrated Northbridge. On-die Northbridge is actually a relatively recent development, first introduced onto the CPU by Intel this year in their Sandy Bridge series processors, and then by AMD on their Fusion APU's.
The CPU's Northbridge also runs at a stock speed of 2.2GHz for the FX-8150. AMD also has four 16-bit HyperTransport links. HyperTransport is an interconnect developed in 2001 to replace the Front Side Bus and provide greater interconnectivity between different processors, and AMD has supported HyperTransport on their processors since the Athlon 64 days.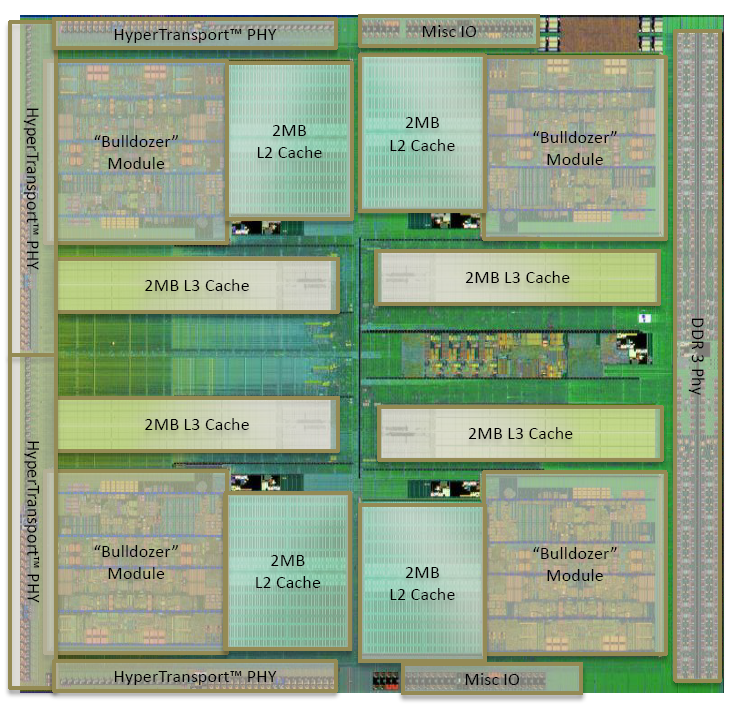 Bulldozer also has two 72-bit DDR3 memory channels built into the CPU die, and will continue to support dual-channel DDR3 memory. The Bulldozer architecture will have native DDR3-1866 support, as compared to Sandy Bridge's DDR3-1333 support. However, we'll take a look at how much that affects the CPU's performance in our testing.
To be clear, we would like to state that there is no integrated graphics chip on AMD Bulldozer. This is likely common knowledge to most by now, but we've restated it in the interests of clarity. However, this raises questions as to how well AMD Bulldozer can do against Intel Sandy Bridge (and the upcoming Ivy Bridge).
Returning to the architecture, AMD has designed Bulldozer to be essentially a one-module (two-core) building block. The concept AMD used was to fit two independent cores into a module.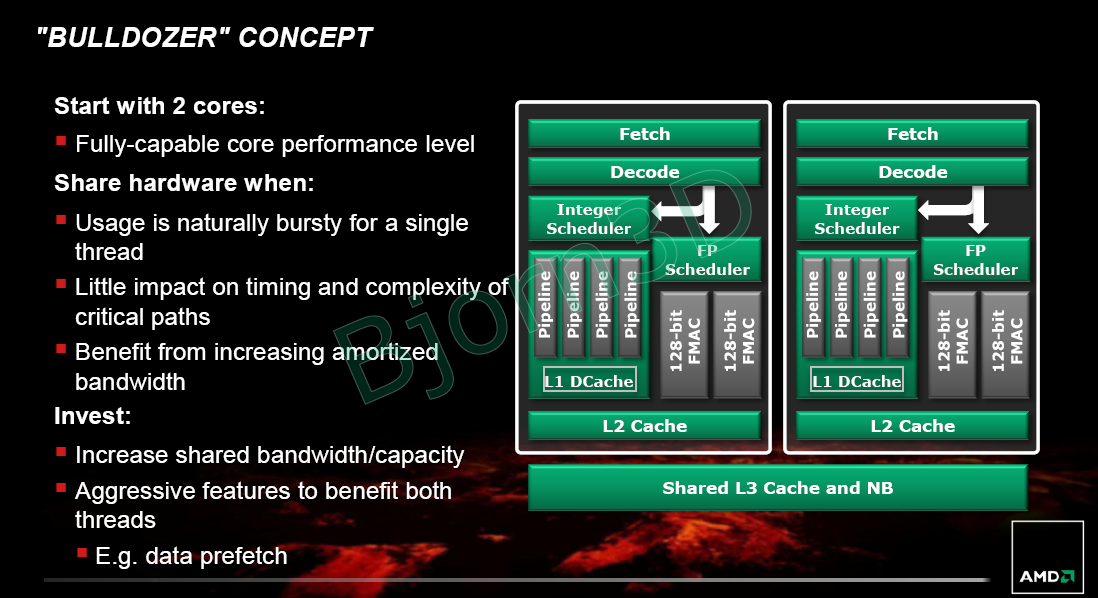 However, the Bulldozer CPU does not really have two true cores per module. AMD opted for a middle route, and decided to integrate two integer calculation units and one floating point unit per module. This raises some questions as to the effectiveness of the module, as the integer units will have to compete for a shared resource.
The monolithic dual core block features a shared frontend with the fetcher and decoder, which sends data to the integer calculation threads or the floating point thread as needed. In the event that two integer calculations have corresponding floating point calculations, the eight integer pipelines will compete for the shared resource of the floating point calculator. Each module also has a shared 2MB L2 cache.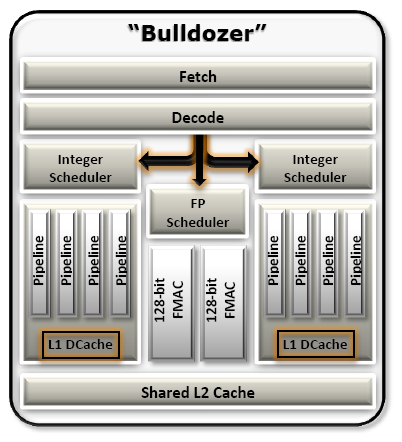 AMD's intention when designing the Bulldozer module was to conserve die area while still delivering great performance, so they did take the competition for floating point operations into account, and increased the floating point unit. The goal was apparently to allow two integer units to use a larger higher-performance floating point unit whenever they need it, as opposed to having a separate, smaller floating point unit for each integer unit.
This resource sharing is not just limited to the floating point unit, however. The fetch and decode units are also  shared across the whole module. Bulldozer features decoupled predict and fetch pipelines and prediction-directed instruction prefetchers. As a result, each Bulldozer module is able to decode up to 4 instructions per cycle, one more than the previous Phenom II.
The prediction pipeline in Bulldozer produces a sequence of addresses and stores them in the instruction cache. The Fetch pipeline will then pull the data into the fetch queue, which feeds the four x86 decoding pipelines. The data is then passed onto the appropriate integer or float point scheduler for calculation. The results are stored in a physical register file (PRF) which serves to reduce power by eliminating data movement and data replication.
While there is only a single floating point unit on each module, it is capable of doing two 128-bit instructions per core, or one 256-bit instruction. This is twice as much as the Phenom II CPU's were capable of. Furthermore, AMD added additional instruction sets to enhance the floating point calculation performance. The new instructions include SSSE3, SSE4.1, SSE4.2, AVX, FMA, and XOP. Intel Sandy Bridge also supports many of these instructions, with the exception of FMA and XOP. According to AMD, the new floating point calculation is able to achieve 8 FLOPS per cycle for double precision x87, 64 FLOPS per cycle for 128-bit AVX (twice as much as Sandy Bridge), and 64 FLOPS per cycle for 256-bit AVX.
The New Turbo Core
Bulldozer also features an enhanced Turbo Core. Like Intel's Turbo Boost, the Turbo Core allows a processor to run at higher clockspeeds than the specified speed when fewer cores are active. AMD first implemented Turbo Core in the "Thuban" line of Phenom II X6 processors.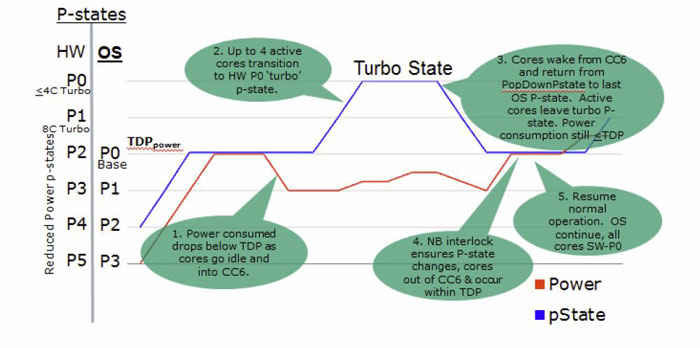 The new Turbo Core can now turbo to All Cores for a time when there is extra TDP headroom allowed. Compared to the older Turbo Core system, which only allows the processor to Turbo one or a few cores, Bulldozer can take advantage of the extra frequency for multi-threaded applications with Turbo enabled on all eight cores.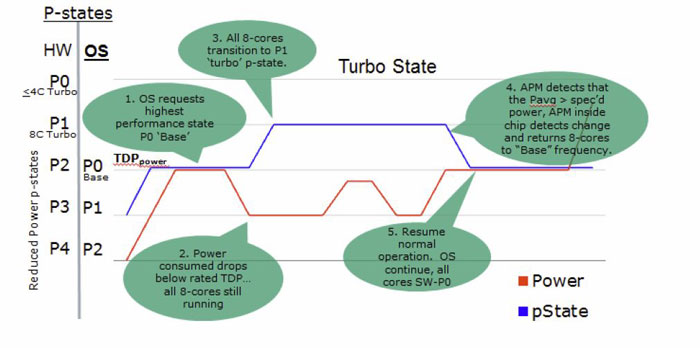 Under lightly threaded applications, half of the cores will be active at higher clockspeeds to maximize the performance.
As we can see, AMD's intention with the new architecture is to make Bulldozer the building block for its CPU line. The real question is, however, can the CPU perform well with this layout? We'll take a look at this in the following pages.
Scorpius: Motherboards For Bulldozer

With Bulldozer, AMD has introduced the final installment of their Scorpius platform for gaming. Scorpius consists of a motherboard with an AMD 9-series chipset (990FX/990X/970), an AMD FX CPU (FX-8150/FX-8120/FX-8100), and an AMD Radeon HD 6000 series card (HD 69xx/HD 68xx). The HD 6000 series of cards have been out for a while, but for those who aren't familiar can check out our coverage of the HD 6850, HD 6870, HD 6950, HD 6970, and HD6990.
In addition, we thought we'd include some details on motherboards available for the Bulldozer CPU. Keep in mind that if you already have a 9-series board, you will still need a BIOS update to use Bulldozer. Be sure to check with your motherboard's manufacturer to make sure your BIOS is fully up to date.
ASUS Crosshair V Formula
To use the latest Bulldozer processors, users will need a motherboard that supports AM3+ socket with the AMD 9-series chipset. Since the AM3+ socket is a modified version of the AM3 socket, motherboard manufacturers like GIGABYTE, ASUS, and MSI have announced that some of their current AM3 motherboards will be compatible with a BIOS update. If you currently own an AM3 socket board, you should check with your motherboard manufacturer to see if your board will be compatible with Bulldozer. However, keep in mind that using Bulldozer in an AM3 board is not officially supported by AMD and some features like power saving may not be fully functional.
| | | | | | | | |
| --- | --- | --- | --- | --- | --- | --- | --- |
| Chipset |  PCIe Config | PCIe Gen | SATA 6G | USB 2.0 | USB 3.0 | RAID | SOCKET |
| 990FX + SB950 | 2×16 or 4×8 | 2 | 6 | 12 | External | 0,1,5,10 | AM3+ |
| 990X + SB950 | 2×8 | 2 | 6 | 12 | External | 0,1,5,10 | AM3+ |
| 970 + SB950 | 1×16 | 2 | 6 | 12 | External | 0,1,5,10 | AM3+ |
There are three chipsets to choose for AM3+ board and they all feature PCI Express 2.0, six SATA 6Gbps, 12 USB 3.0, and RAID support. The main difference between the three chipsets is the number of PCI Express lanes available. The top of the list is the 990FX with 32 lanes of PCI Express, while the middle 990X has 16x lanes capable of splitting to 2×8 configuration, and the 970 has only a single 16x lanes. This means that if you plan to run CrossFireX or SLI, you should choose a 990-based board, as the 970 chipset does not support multi-GPU configuration.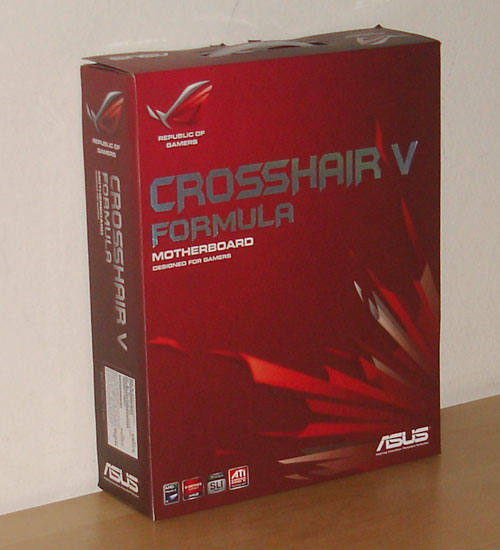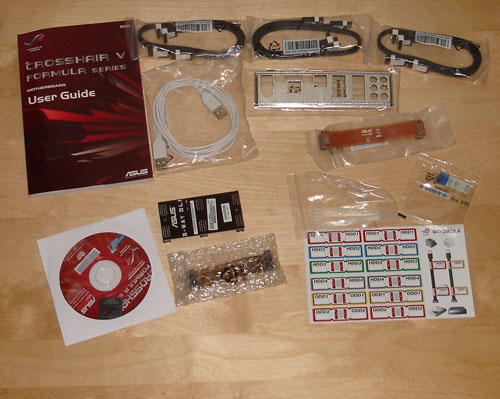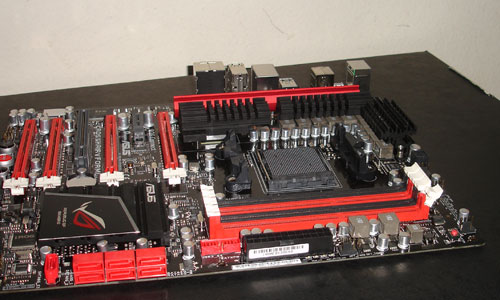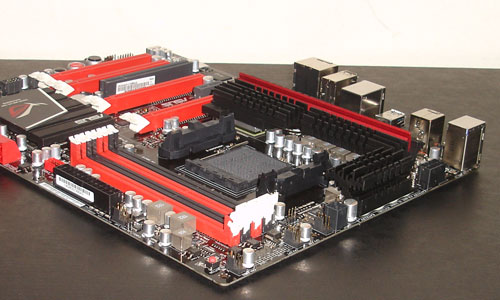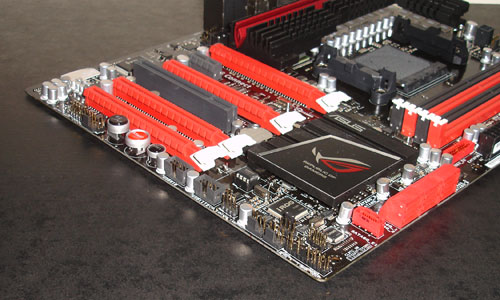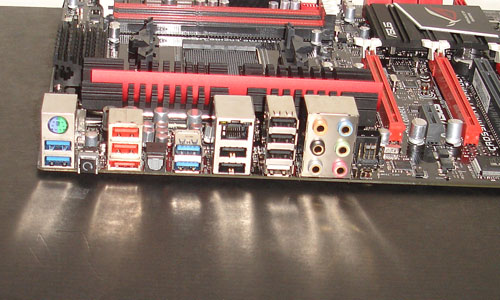 The ASUS Crosshair V Formula is the board AMD shipped with our FX sample. It is a top-of the line gaming board and features support for up to 3-Way SLI/CrossFireX, and comes with a whopping seven SATA 6Gbps ports. It also supports 32GB memory up to 2133MHz, and has full USB 3.0 capability for both the fronta nd back panel. The ASUS Crosshair V Formula is priced at $229.
ASUS Sabertooth 990FX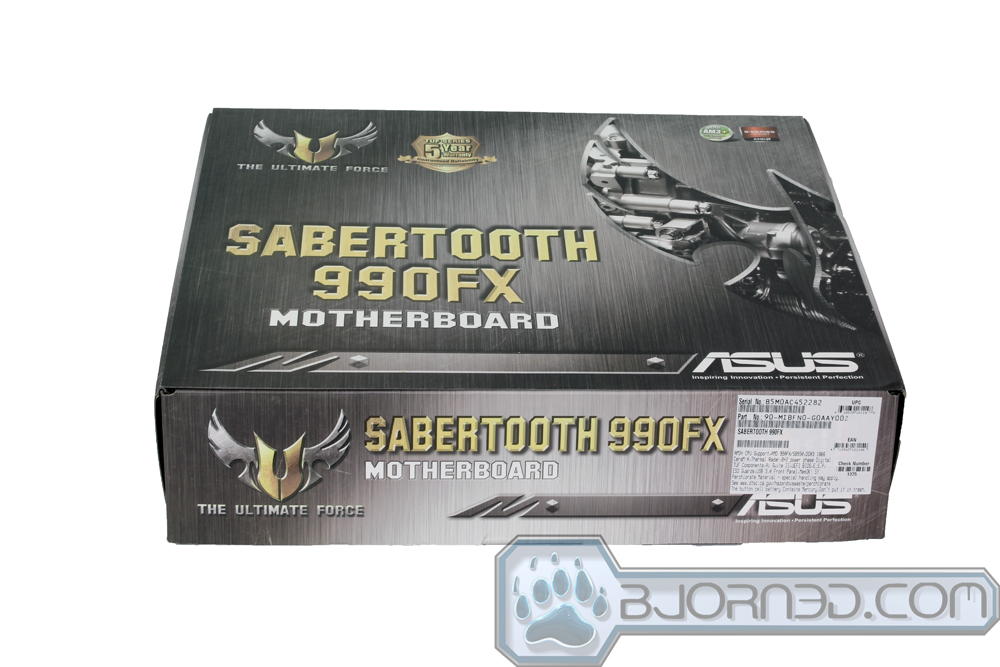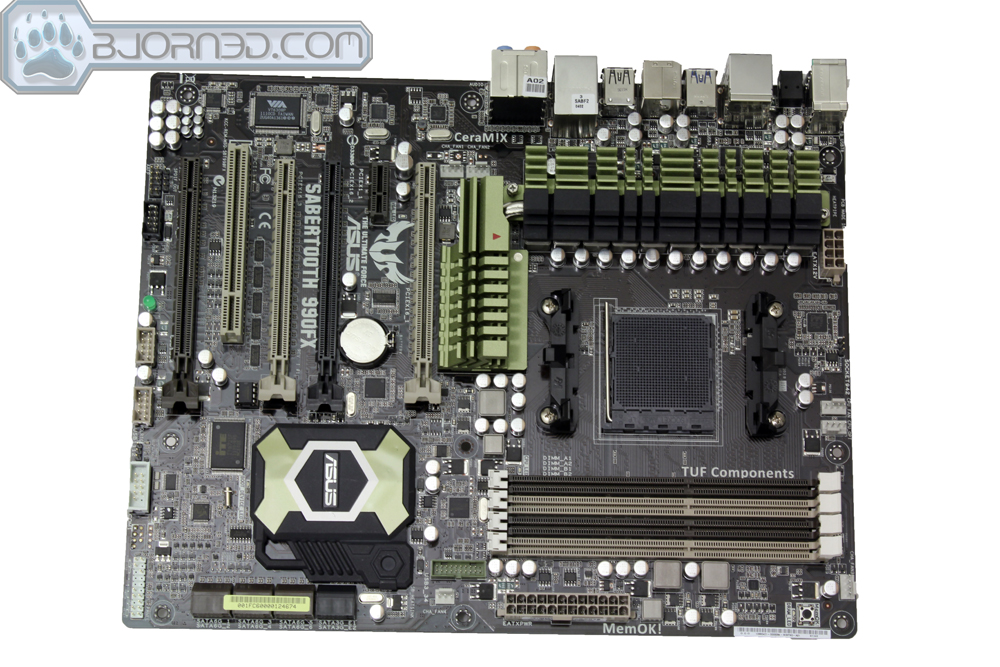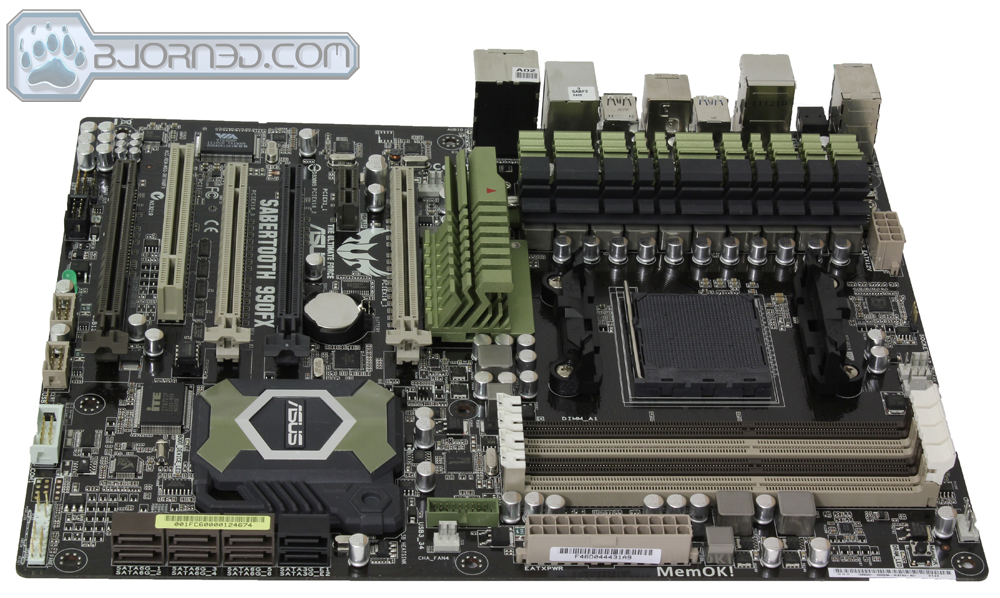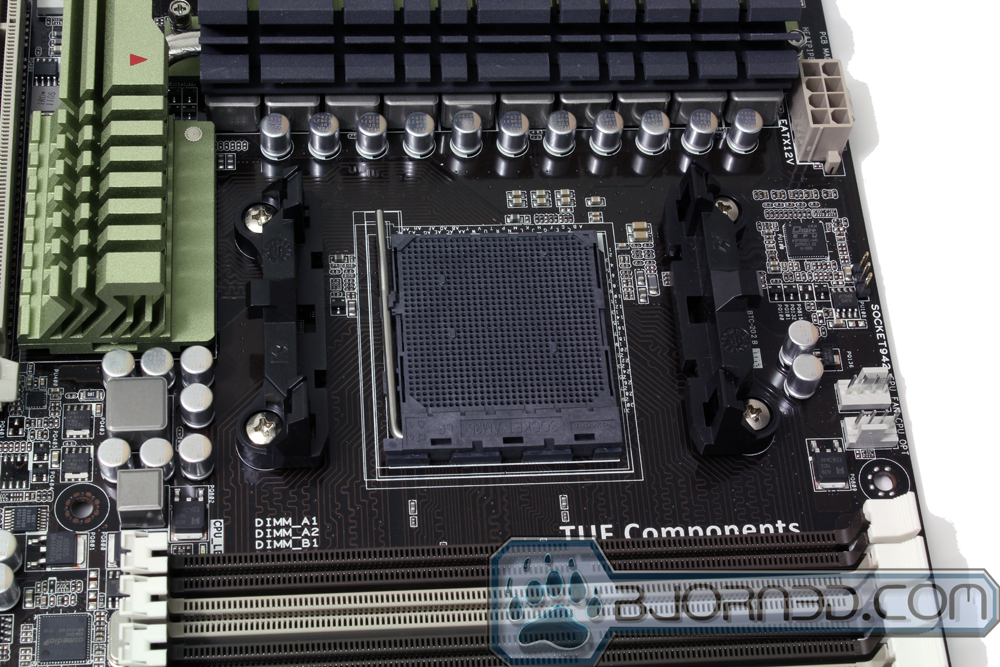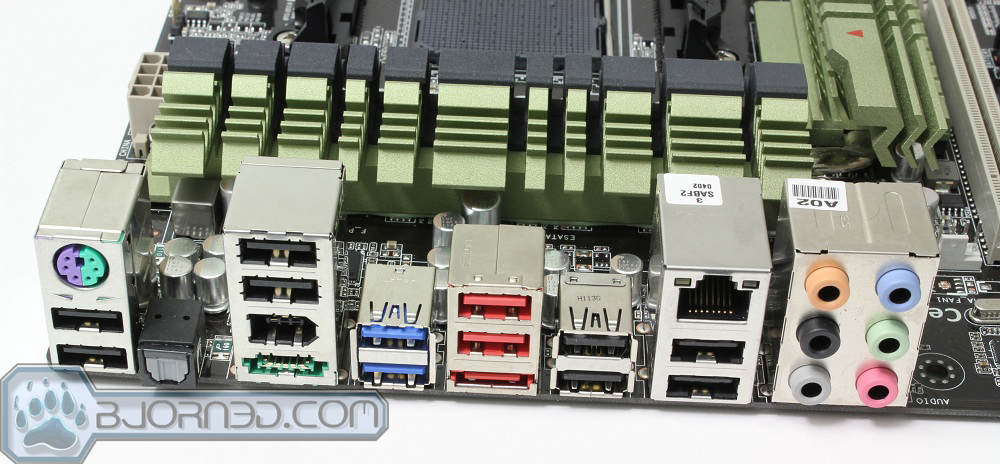 ASUS' main focus with this board is bringing the TUF brand to AMD platforms. Up till now, AMD boards have been mostly overlooked for performance enhancements in favor of Intel boards. With the 990FX chipset and the release of Bulldozer, however, ASUS has decided to bring its well-known TUF brand to AMD platforms.The board's features are clearly visible here, including the six SATA 6 Gbps ports, two SATA 3 Gbps ports, and four dual-channel DIMM slots. The board supports up to 32GB of DDR3 1866/1600/1333/1066 MHz memory.The board uses an AMD AM3+ socket, which fits most modern AMD processors from the Phenom II, Athlon II, Sempron, and FX lines. It supports a maximum of 8 CPU cores, with a maximum CPU TDP of 140W (this is within the range for Bulldozer CPU's). The ASUS Sabertooth 990FX is priced at $185.
MSI 990FXA-GD80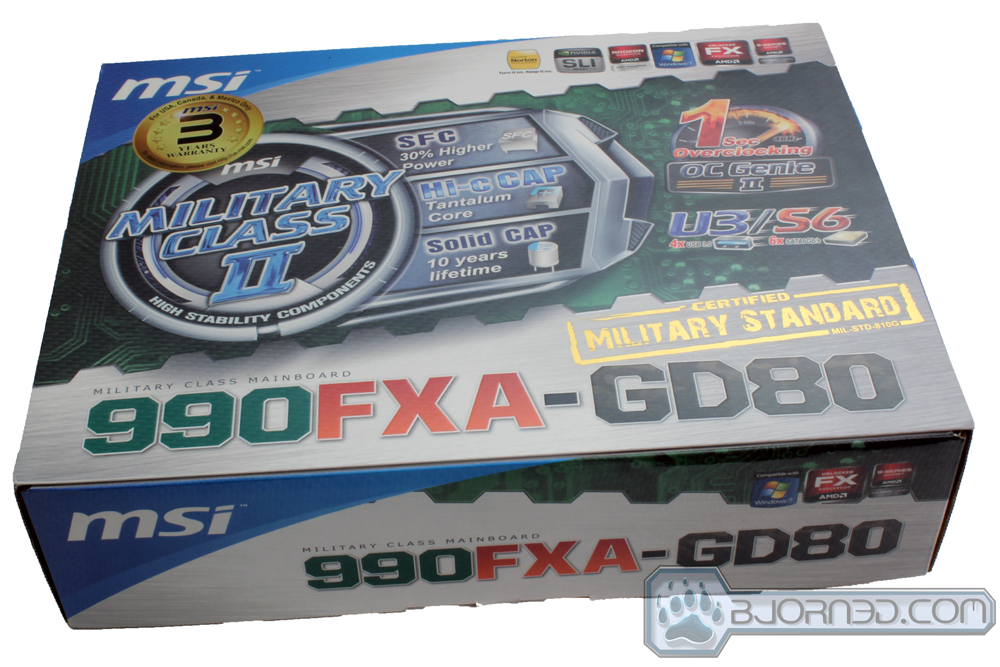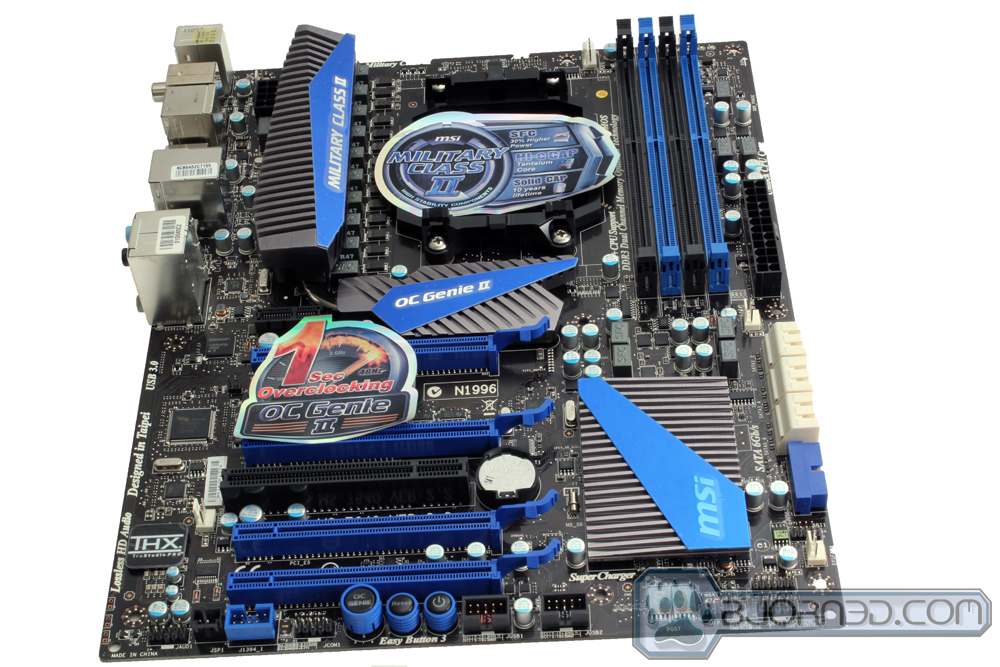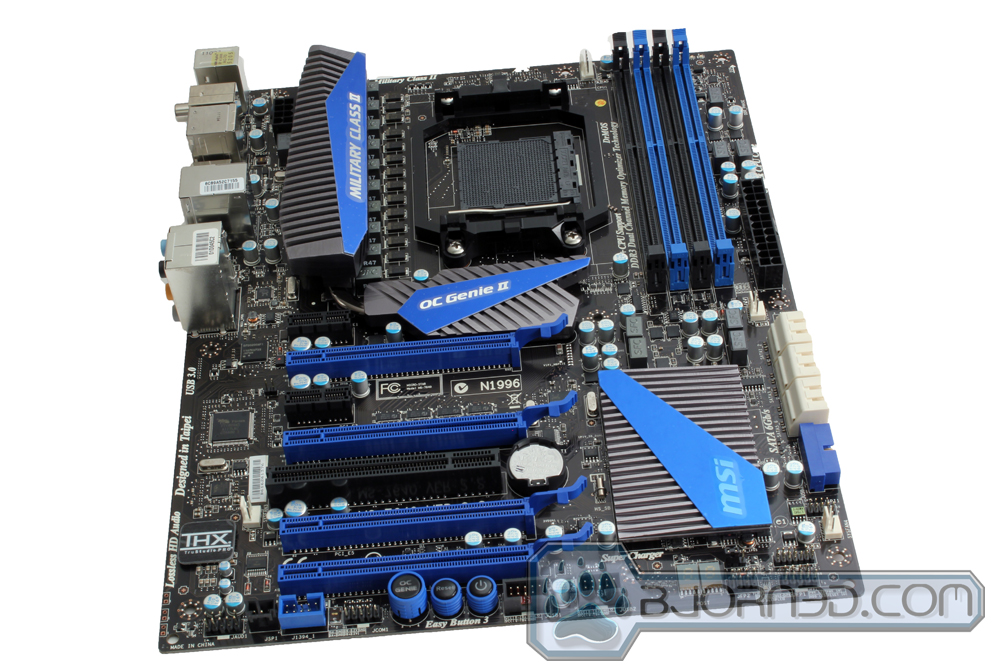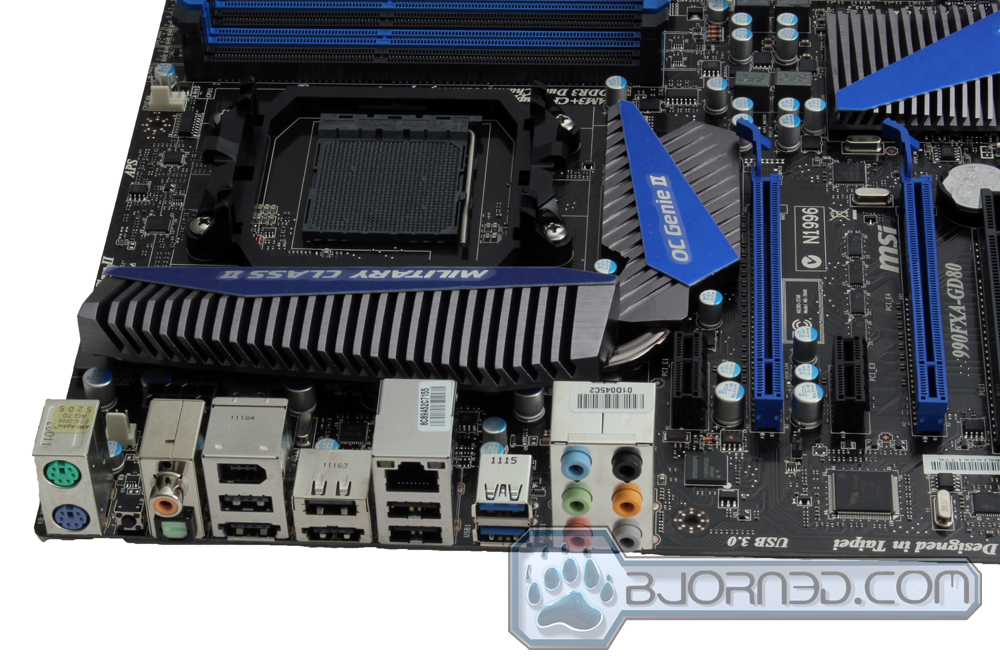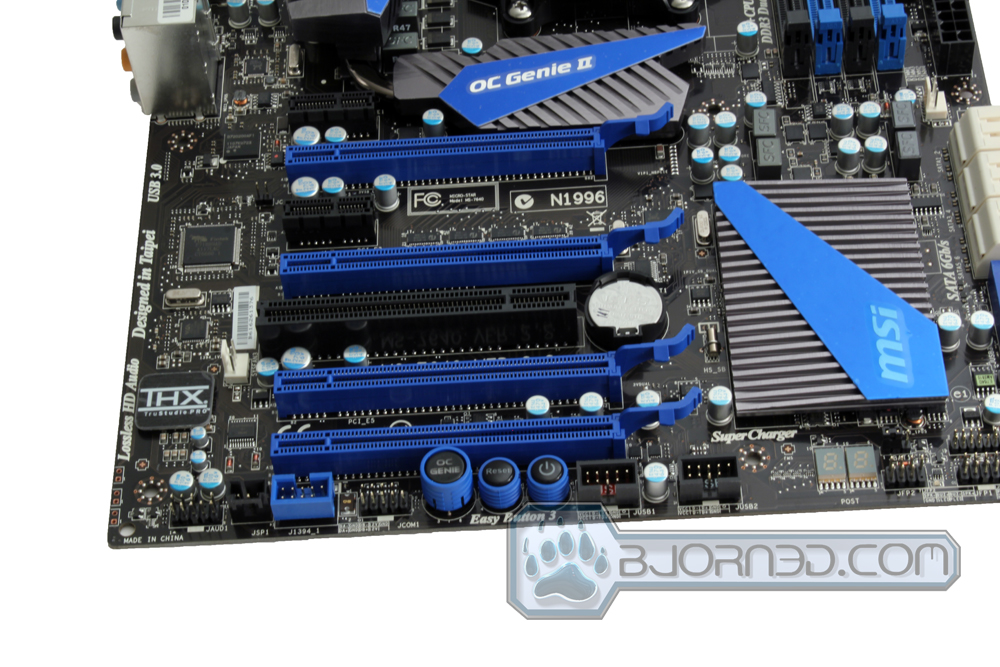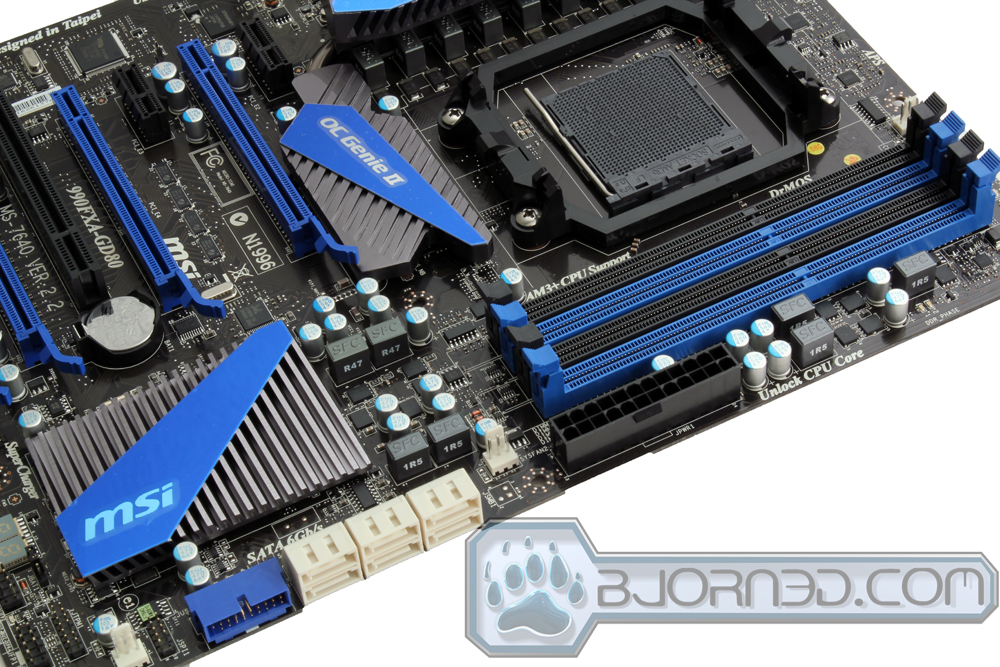 The MSI 990FXA-GD80 is MSI's premiere board for the Bulldozer architecture. Featuring a new BIOS an excellent high quality components, the 990FXA-GD80 is definitely a contender in the market. The MSI board features six SATA 6Gbps ports for storage, four PCI-E x16 slots for up to four-way SLI/CrossFireX support, and a variety of other features. It also comes with three SLI bridges for users who want to run more than 2-way SLI. The board also supports USB 3.0 back panel and front panel ports. Additionally, MSI has implemented UEFI on the 990FXA-GD80 for 3+ TB HDD support and future upgrade capability to Windows 8. All in all, it is a great choice to think about for a Bulldozer system. The MSI 990FXA-GD80 is priced at $185.
GIGABYTE GA-990FXA-UD7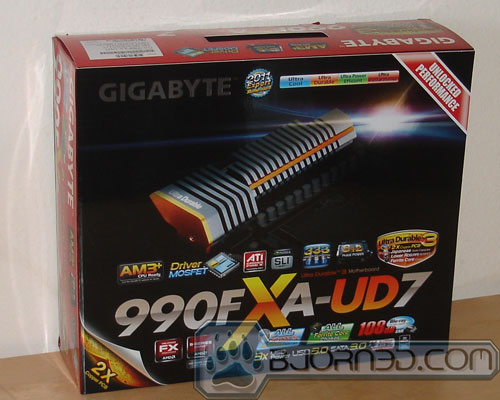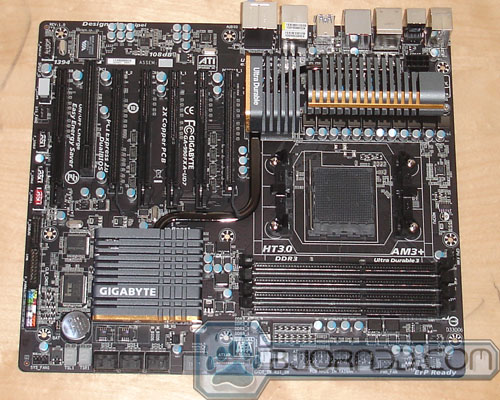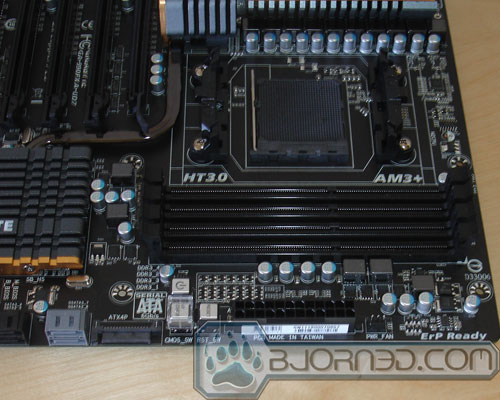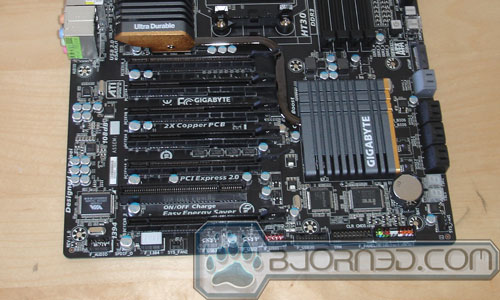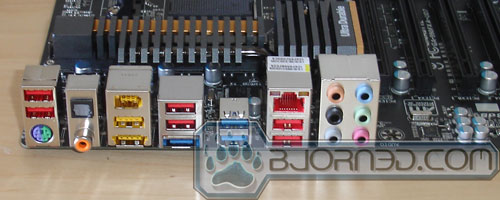 The GIGABYTE GA-990FXA-UD7 is one of the top of the line AM3+ boards available on the market today. The board has plenty of neat features such as six PCI-E slots for 4-way multi-GPU support, On/Off USB charging, and Turbo HXD. The onboard debug code, reset CMOS button, power button, and the low-profile heatsink are all welcome features for an enthusiast. While we would like the board to feature a UEFI BIOS like ASUS boards do, we are at least glad to see the board will support 3+ TB drives despite lacking the UEFI interface. The GIGABYTE GA-990FXA-UD7 is priced at $250.
TESTING & METHODOLOGY
We did a fresh load of Windows 7 64 bit on the test rig, then once we updated the software and drivers to the latest versions, we made a clone copy of the hard drive because we're going to run this beast like we stole it. We ran each test a total of three times and the average of each test is reported here.
Test Rig

Case Type
None
CPU
Intel: Core i5 2500K, Core i7 2600K, and Core i7 920AMD Phenom II X6 1100T (AMD), Phenom II X6 1100T, and FX-8150
Motherboard
Asus P8Z68-V Pro Asus Crosshair V Formula
Ram
Kingstone HyperX 1600
CPU Cooler
Thermalright SI-128
Hard Drives
Seagate 7200.11 1.5 TB
Optical
None
GPU
Gigabyte GTX 580 SOC
Case Fans
None
Docking Stations
None
Testing PSU
Cooler Master UCP 900W
Legacy
None
Mouse
Microsoft Intellimouse
Keyboard
Logitech Keyboard
Speakers
None
Test Suite
We will use the following applications to test the performance of the Motherboard. Benchmarks
Benchmarks
PCMark 7
Sandra 2011
Cinebench R11.5
3DMark 11
TrueCrypt 7.1
Metro 2033
Lost Planet 2
Crysis 2 – DX11
Warhammer 4000
aida64 v1.80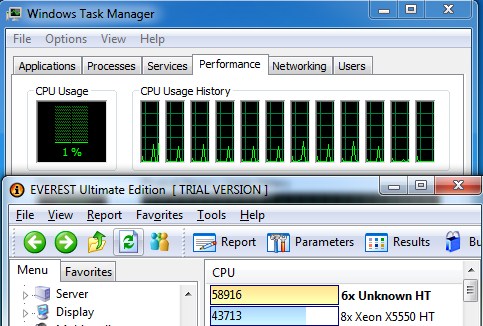 "AIDA64 Extreme Edition is a streamlined Windows diagnostic and benchmarking software for home users. AIDA64 Extreme Edition provides a wide range of features to assist in overclocking, hardware error diagnosis, stress testing, and sensor monitoring. It has unique capabilities to assess the performance of the processor, system memory, and disk drives. AIDA64 is compatible with all current 32-bit and 64-bit Microsoft Windows operating systems, including Windows 7 and Windows Server 2008 R2."
CPU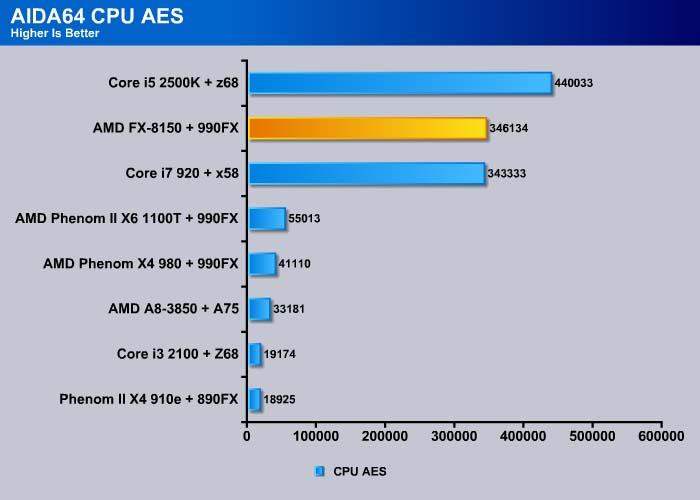 CPU AES tests the CPU's encryption capability using simple AES encryption on the x86 instruction set. The AES test is multi-core aware, and the the 8-core AMD FX-8150 comes in above all but the Sandy Bridge Core i5-2500K here. However, it soars leaps and bounds over previous AMD Phenom CPU's, and even beats out the old Intel Nehalem series CPU's.
The drastic increase in performance over the Phenom II architecture is partly due to the addition of the AESNI instruction set extension, which allows hardware acceleration on chips that are compatible with this instruction.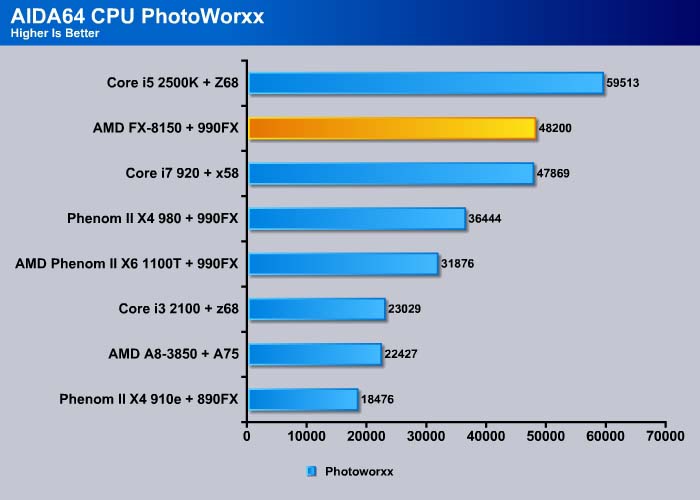 PhotoWorxx stresses processor's integer arithmetic and multiplication execution unit and the memory subsystem. Once again, the FX-8150 comes in above all but the Core i5-2500K.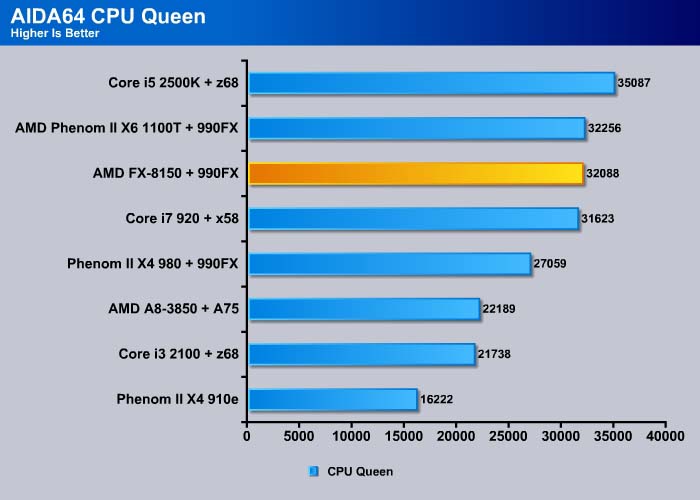 CPU Queen is a simple integer benchmark that stresses branch prediction and integer arithmetic. The FX-8150 comes in third place here, losing second place to the Phenom II X6 by about 130 points. This was somewhat surprising to us (especially considering the Phenom II does not support the SSE2 and SSSE3 instruction optimizations that this benchmark uses). However, it may have to do with execution pipeline length on the CPU's integer units, as chips with shorter execution pipelines will achieve higher scores.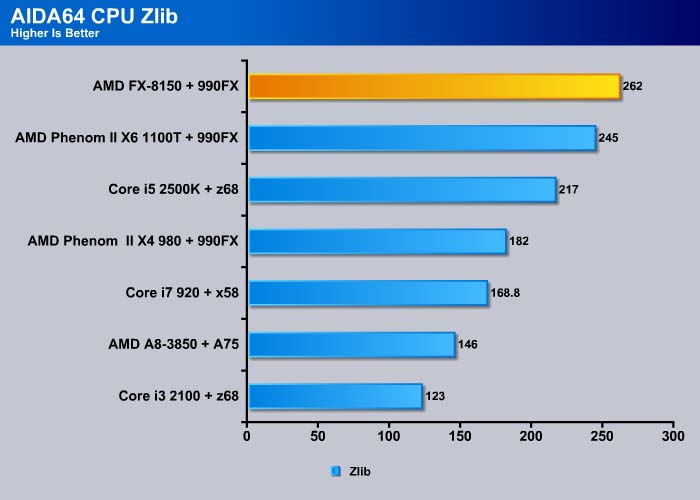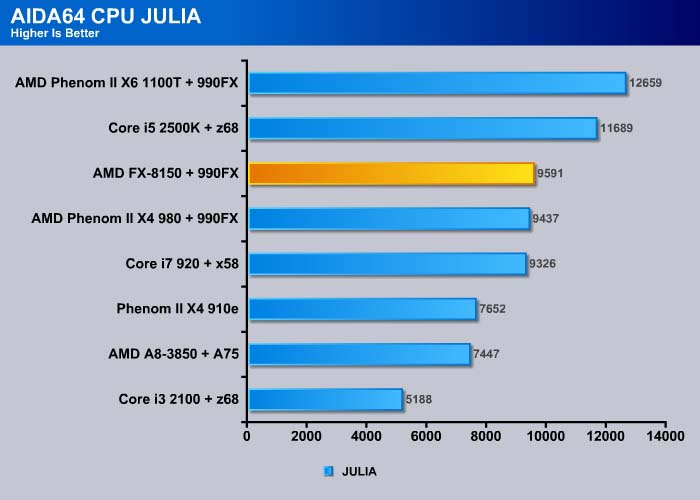 This test measures the single precision (32-bit) floating point performance. AMD systems have traditionally  been better at the floating point calculation, but the FX-8150 loses out significantly here because of its shared floating point unit. In fact, the FX-8150 comes in 2100 points below the Core i5-2500K, and a staggering 3000 points below the Phenom II X6 (which is not only an older architecture than the FX-8150, but is also advertised as having cores).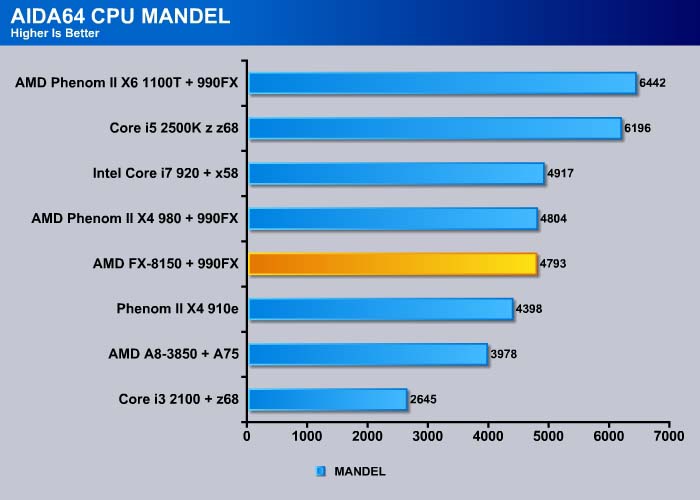 The Mandel benchmark tests the double precision floating point performance, and like what we saw with the single precision floating point, the FX-8150 comes in below most of the CPU's.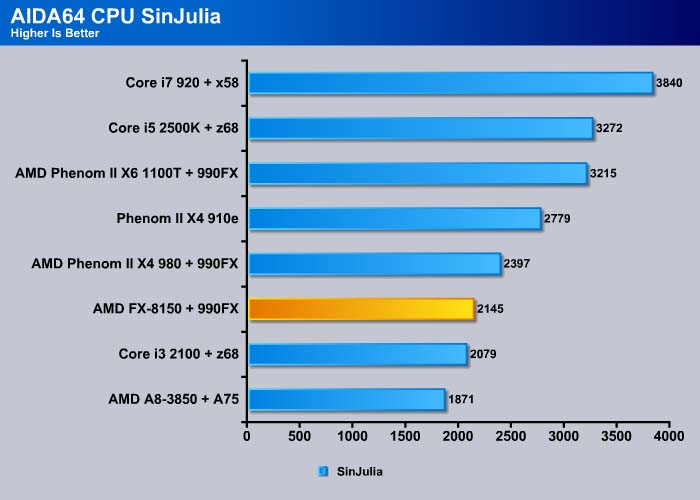 Another test of the floating point performance. Here the benchmark tests the extended precision (80-bit), and the FX-8150 performs worse than almost every other CPU, and falls far short of almost every CPU on the list. The floating point performance really is one of the FX CPU's biggest weaknesses.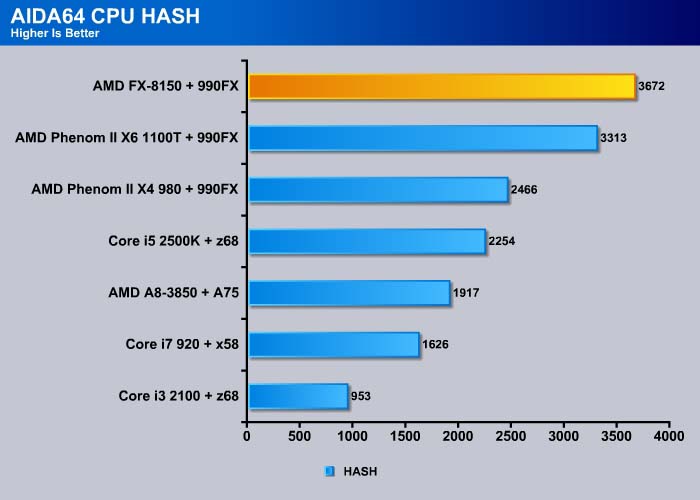 CPU Hash is a benchmark in the AIDA64 that tests the processor's performance using the SHA1 hashing algorithm. Clearly this test depends on both the number of cores and the frequency of the processor. The AMD FX-8150 takes the top spot in this benchmark, clearly because of its high core count and frequency scalability.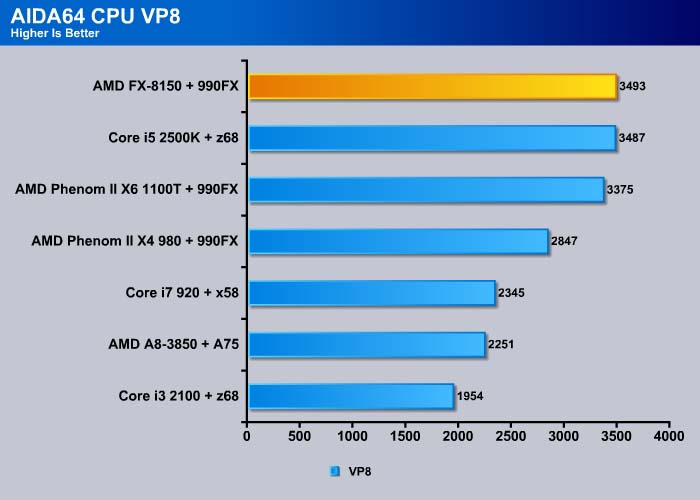 Another new benchmark in the suite, VP8 tests the video compression performance using the Google VP8 video codec. The FX-8150 is just a shade faster than the Intel Core i5-2500K in this test.
Memory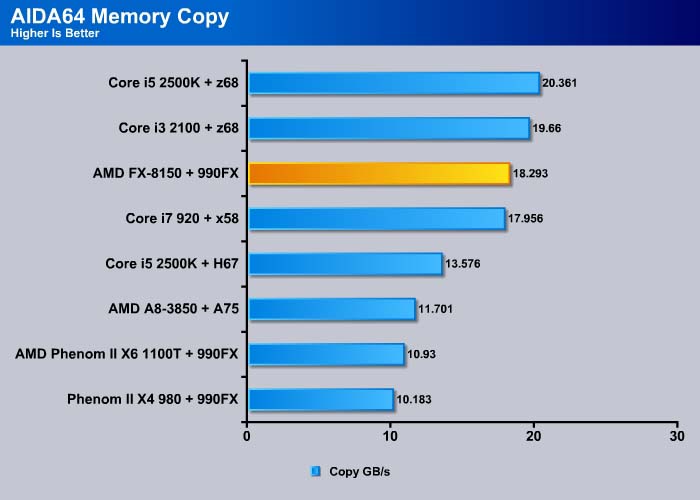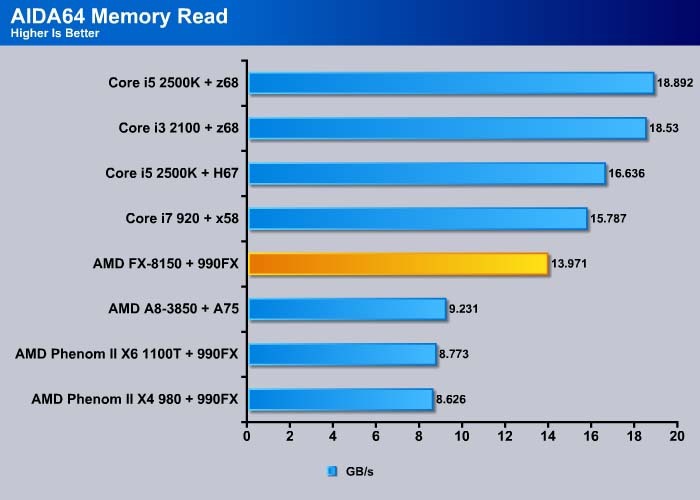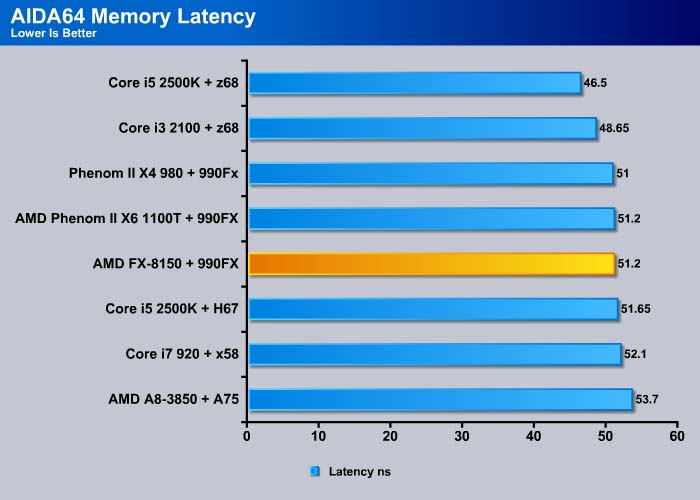 The FX-8150 performs fairly well in memory copy and latency tests, but falls short in the read and write tests.
Despite the fact Bulldozer supports DDR3 memory speed up to 1866MHz, its memory bandwidth is still falling behind the Sandy Bridge. However, compare to Phenom II's DDR3-1333, Bulldozer has 60% additional memory bandwidth. This additional memory bandwidth is much welcomed to alleviate some bottlenecking that was on the Phenom II processor.
Cache Perfomance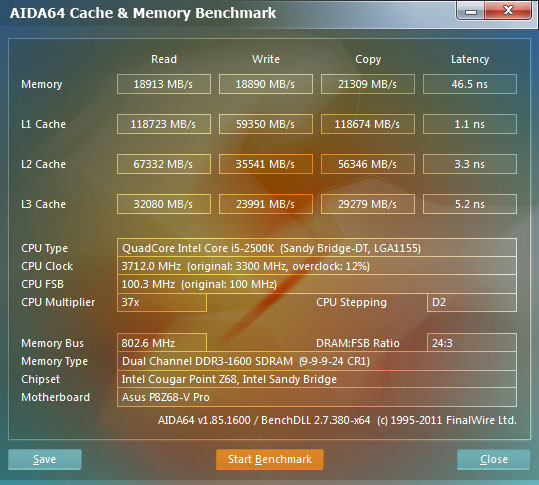 Intel Core i5 2500K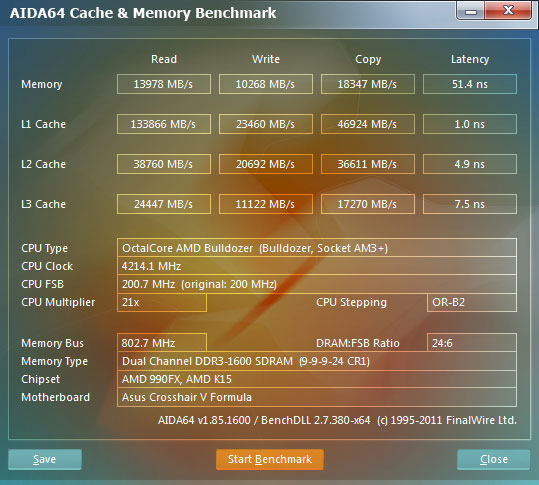 AMD FX-8150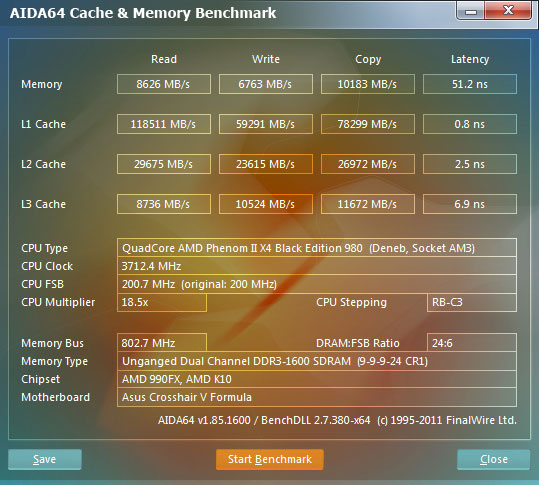 AMD X4 980
The L1 read cache performance has been improved on Bulldozer but the write and copy performance is slower than the Phenom II, as is the latency. In fact, the cache latency on all three levels on Bulldozer is worse than the Phenom II processor.
Sisoft Sandra 2011b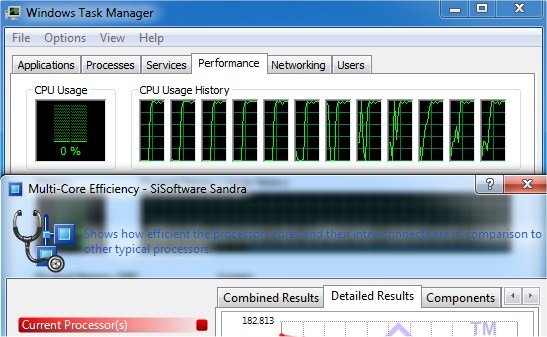 "SiSoftware Sandra (the System Analyzer, Diagnostic and Reporting Assistant) is an information & diagnostic utility. It should provide most of the information (including undocumented) you need to know about your hardware, software and other devices whether hardware or software. It works along the lines of other Windows utilities, however it tries to go beyond them and show you more of what's really going on. Giving the user the ability to draw comparisons at both a high and low-level. You can get information about the CPU, chipset, video adapter, ports, printers, sound card, memory, network, Windows internals, AGP, PCI, PCI-X, PCIe (PCI Express), database, USB, USB2, 1394/Firewire, etc."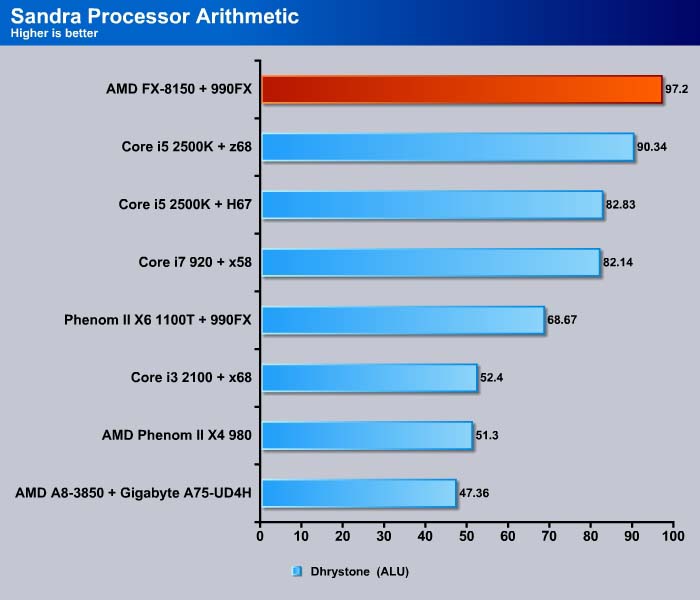 Sandra's Dhrystone tests the processor's integer performance and with 8 integer unit on the chip, and Bulldozer is about 7% faster than the Core i5 2500K. It is also 18% faster than the Core i7 920 and significantly faster than the older Phenom processors.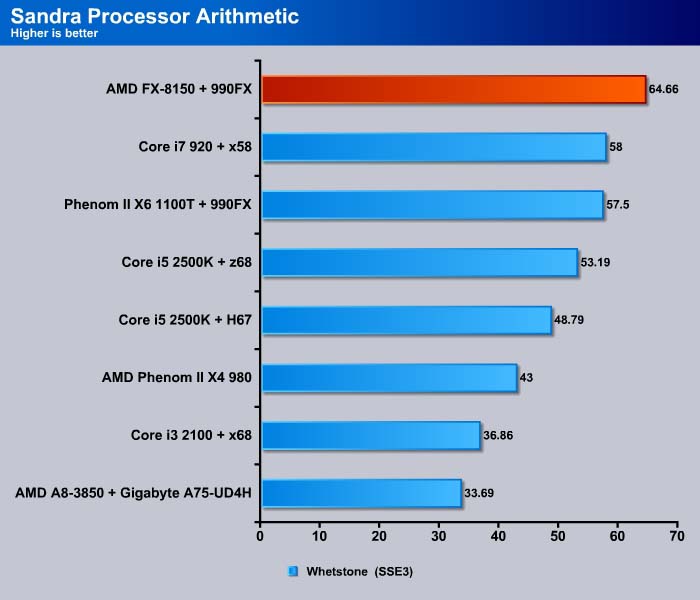 Whetstone tests the processor's floating point calculation. Bulldozer is 10% faster than Core i7 920 and Phenom II X6. It also scored 20% faster than Core i5 2500K. Compared to the Phenom II X4 980, the FX-8150 is 50% faster.
Sandra's Multi-Media tests benchmark the processor's SIMD unit, showing how well a processor handles multi-media instruction. Here, Bulldozer's 8 integer units allow it a clear advantage over other processors.
Its floating point performance is comparable to the six core Phenom II X6 and is faster than Intel processors.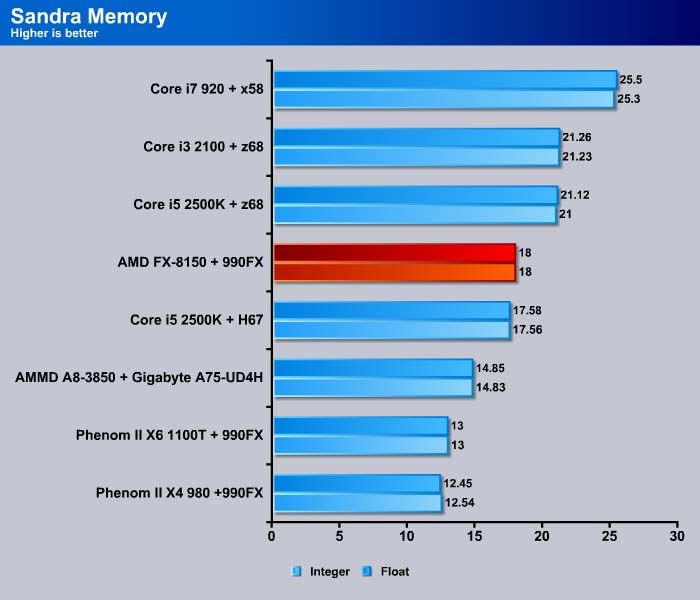 While a big improvement over the Phenom II, Bulldozer's memory bandwidth is only comparable to Intel's Sandy Bridge processor at DDR3-1333 (the H67 supports memory speed only up to 1333Mhz).
Updated Sandra with AVX and FMA
The latest build of Sandra (10.17.80) adds support for AVX and FMA support so we re-ran the test again on a few processors to see performance difference.
| | | | |
| --- | --- | --- | --- |
| Arithmetic | Aggregate | ALU Dhrystone | SSE3 Whetstone |
| Intel Core i5 2500K | 78.28 | 113.25 | 54.11 |
| AMD FX-8150 | 84.60 | 108 | 66.29 |
| AMD Phenom II X4 980 | 49.54 | 57.29 | 42.89 |
The updated benchmark shows a slightly different result. Despite having eight integer calculation unit, the FX-8150 is slower than the Core i5 2500K in the integer calculation (ALU Dhrystone) but it comes ahead in the float-point calculation (SSE3 Whetstone). Compare to the Phenom II, Bulldozer's integer calculation is doubled and the floating point calculation is 25% faster.
| | | | | |
| --- | --- | --- | --- | --- |
| Multi-Media | Aggregate | Integer x32 AVX or Integer x16 | Float x16 AVX or Float x8 | Double x8 AVX or Double x4 |
| Intel Core i5 2500K | 201.56 | 181.24 | 224.2 | 126.07 |
| AMD FX-8150 | 211 | 283.15 | 157.19 | 84.43 |
| AMD Phenom II X4 980 | 81.7 | 63.42 | 105.26 | 57.66 |
With 8 integer cores, the FX-8150 has about 56% better throughput over the Core i5 2500K in multi-media tests. However, its floating point calculation is 30% slower than the Intel processor.
| | | | |
| --- | --- | --- | --- |
| Crypto | Bandwidth (MB/s) | AES256-ECB (MB/s) | SHA256 (MB/s) |
| Intel Core i5 2500K | 2670 | 7000 | 1000 |
| AMD FX-8150 | 1580 | 5450 | 469 |
| AMD Phenom II X4 980 | 713 | 755 | 674 |
Bulldozer finally brings support for the AES encryption instruction to AMD platforms. As a result, we can see that the processor is able to offer about 7 times the bandwidth over the Phenom II at data encryption. Unfortunately for AMD, Intel's latest Sandy Bridge architecture still has higher bandwidth. Nonetheless, it is a great to see AMD is finally able to compete against Intel in the data encryption front.
Data Encryption
While Sandra gives us a sense of how much bandwidth is offered by each processor, it does not necessarily translate into real-world performance. We use TrueCrypt to assess processor' ability at handling data encryption. We ran TrueCrypt 7.1 benchmark with 1GB buffer size.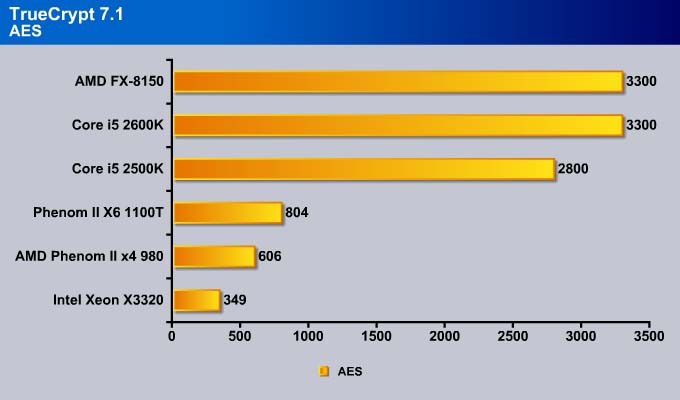 We start off by looking at the AES encryption result. Here we can see that both the Intel Core i7 2600K and the AMD FX-8150 perform equally. The FX-8150 is also 18% faster than the Core i5 2500K. With the hardware encryption support, Bulldozer is about 4 times faster than the Phenom II X6 1100T.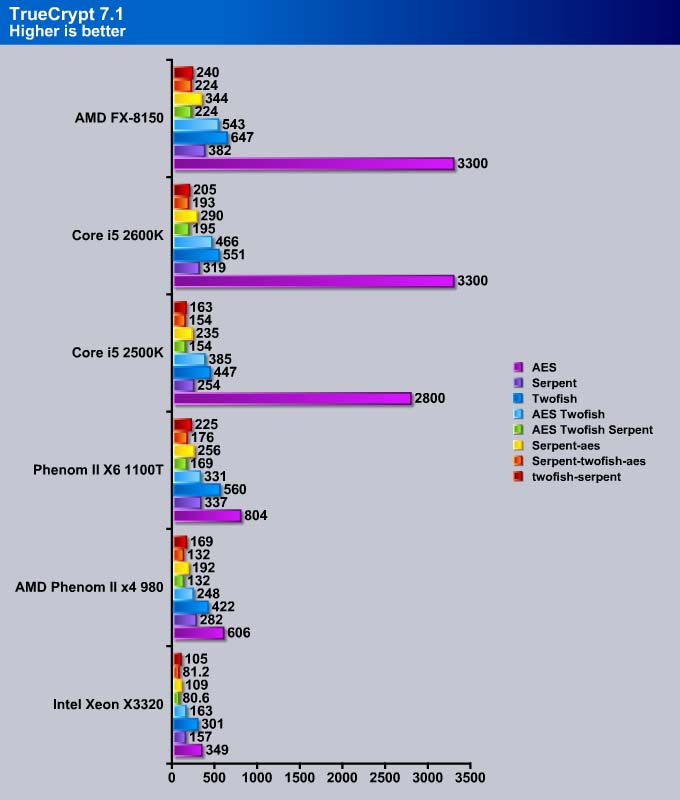 TrueCrypt tests how processors fare in algorithms other than AES. We can see that AMD FX-8150 comes ahead of the Core i7 2600K in every single test. The FX-8150 would be an ideal chip for users who need on-the-fly data encryption.
Video rendering
Cinebench R11.5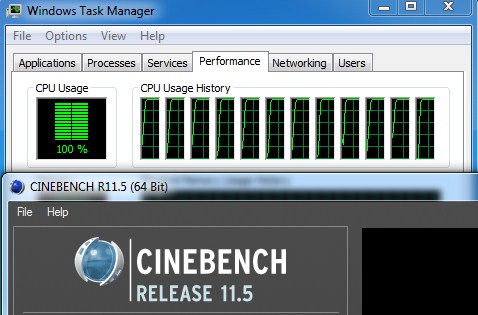 "CINEBENCH is a real-world test suite that assesses your computer's performance capabilities. MAXON CINEBENCH is based on MAXON's award-winning animation software, CINEMA 4D, which is used extensively by studios and production houses worldwide for 3D content creation. MAXON software has been used in blockbuster movies such as Spider-Man, Star Wars, The Chronicles of Narnia and many more. MAXON CINEBENCH runs several tests on your computer to measure the performance of the main processor and the graphics card under real world circumstances. The benchmark application makes use of up to 16 CPUs or CPU cores and is available for Windows (32-bit and 64-Bit) and Macintosh (PPC and Intel-based). The resulting values among different operating systems are 100% comparable and therefore very useful with regard to purchasing decision-making. It can also be used as a marketing tool for hardware vendors or simply to compare hardware among colleagues or friends."

Single thread performance for Bulldozer is extremely slow, comparable to the Core i7 920. However, it is slower than the Phenom II X4 980 or the Phenom II X6 1100T. Intel Sandy Bridge is clearly the processor of choice for light, single threaded tasks.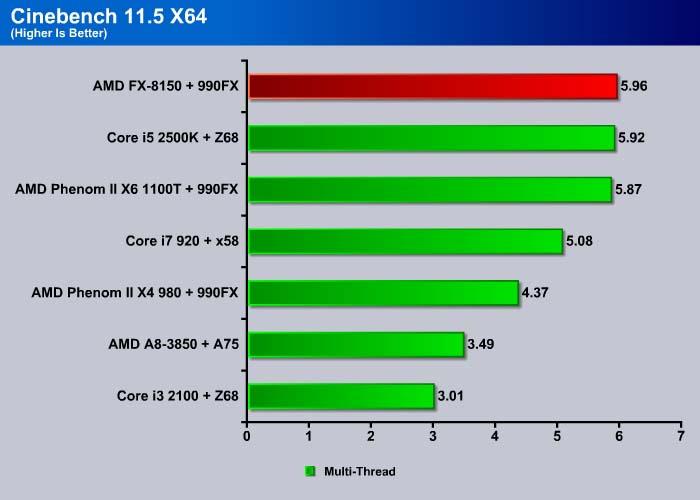 For 3D rendering, Bulldozer does better in the multi-threaded test here. It is comparable to the Intel Core i5 2500K.
X264 HD v4
HD Media transcoding is where the new AVX, XOP, and FMA instructions will have the biggest advantage. Currently, there are not many applications that can take advantage of Bulldozer's new AVX (this instruction is common across AMD and Intel platforms) and XOP/FMA instructions. We used x264 to test Bulldozer's performance at video transcoding. We also used the software provided by AMD to test the benefit of AVX and XOP instructions at video transcoding.
Interestingly, the Intel Core i5-2500K comes in ahead of the Core i7-2600K by a significant amount. However, the AMD FX-8150 comes in below both Intel chips, and also below the old AMD Phenom II, even when we use its XOP and AVX instruction sets.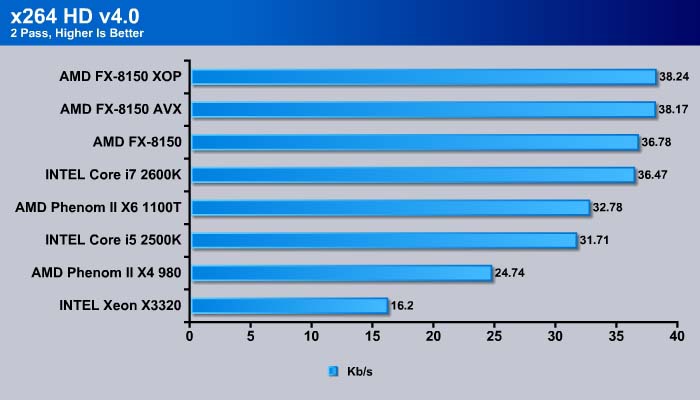 The processor finds redemption in the two pass x264 HD test, taking the the top spot, edging out the Core i7 2600K. It is also about 17% faster than the Core i5 2500K.
PCMARK 7
The latest benchmark Suite–PCMark 7, puts a greater stress on the system than the PCMark Vantage. In contrast to the PCMark Vantage, the latest edition stress type of workloads rather than individual tasks. It consists of Lightweight, Productivity, Productivity, Entertainment, Computation and Storage benchmark. Readers can refer to the PCMark 7 whitepaper for the detail list of applications and tests run for each suite.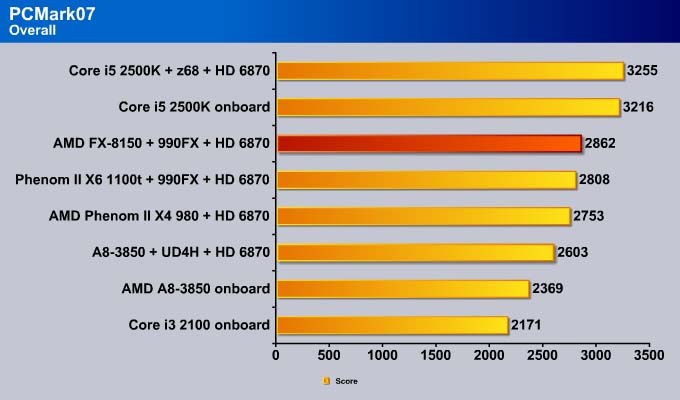 The overall test for PCMark 7 shows the FX-8150 scoring ahead of the Phenom II X6 1100T and below the Core i5-2500K.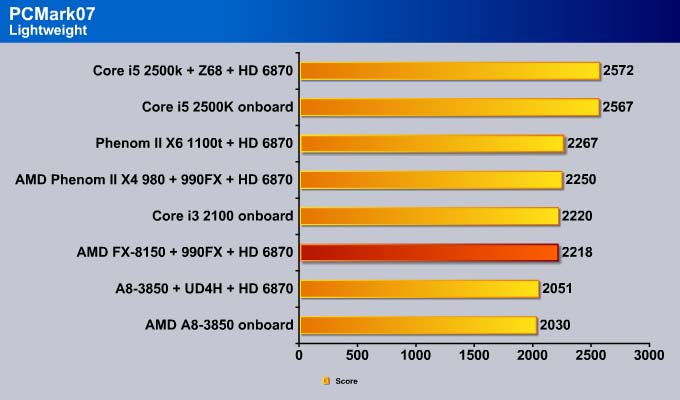 The Lightweight test consists of application loading, text editing, image manipulation and light multi-tasking involving web browsing with 3 tabs. Here, as expected, the older Phenom processor is faster than the Bulldozer, which is slower than all but the APU.
The Productivity test consists of application loading, web browsing and decryption, and text editing. Bulldozer is slightly faster here than the Phenom II X6 but is still slower than the Core i5 2500K.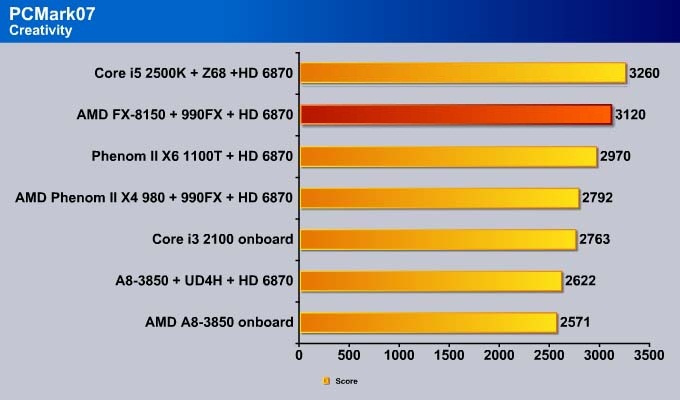 The Creativity test involves image importing and manipulation, and video editing and transcoding. Unsurprisingly, Bulldozer shows a wider gain here over the Phenom II X6 1100T.
The Entertainment test involves video playback and transcoding, gaming, and web bowsing. There is virtually no difference between any AMD processor here.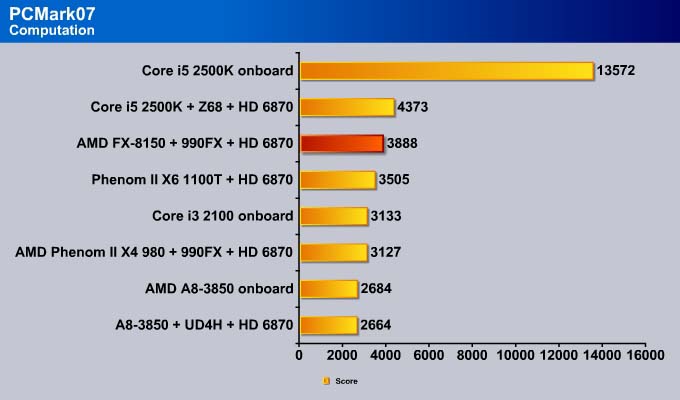 The Computation test involves video transcoding and image manipulation. This is where we can see what AMD really has been working on over the last few years as the processor is 10% faster than the Phenom II X6 1100T. However, Bulldozer falls flat when compared to the Core i5-2500K, which comes in nearly 10000 points higher.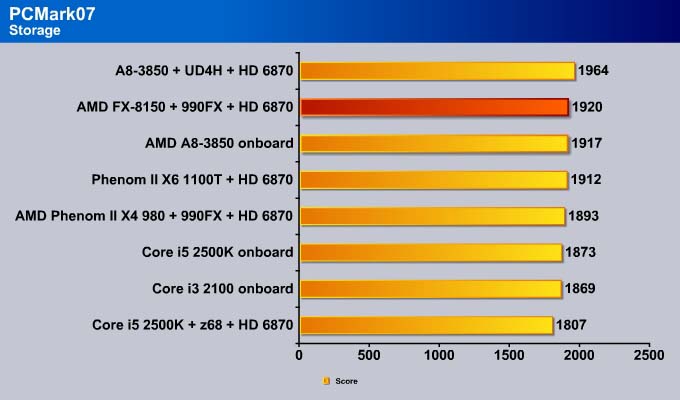 Storage tests are mostly limited by interface bandwidth or drive type, and are very rarely affected by the CPU. There is almost no difference between any processor here.
Gaming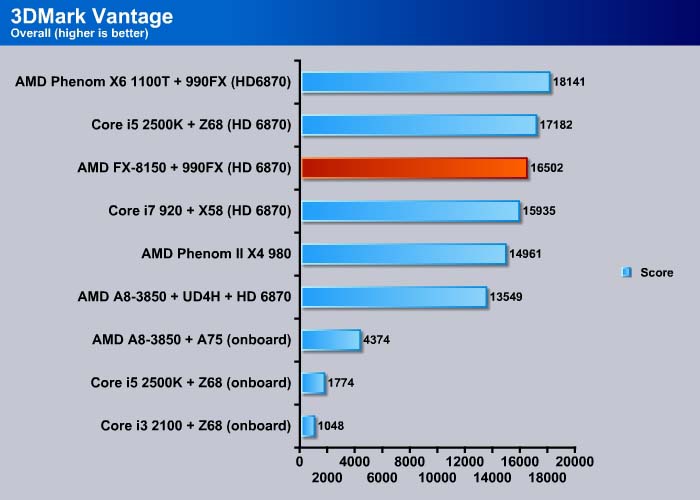 3DMark Vantage's overall score combines CPU and GPU scores, and here Bulldozer is faster than the Core i7 920 but slower than the Core i5 2500K.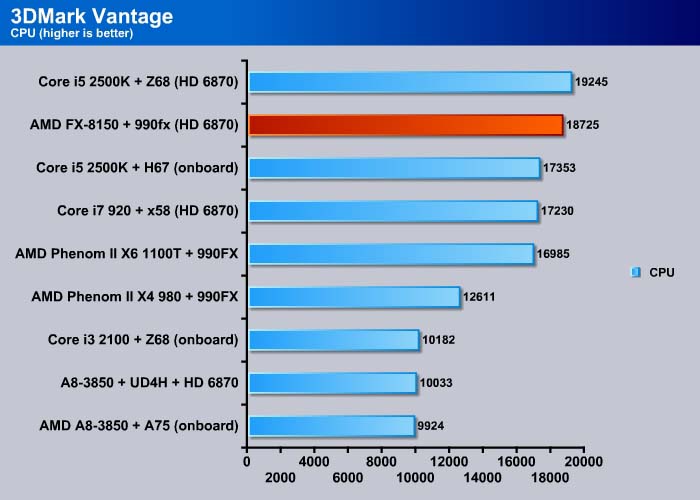 Looking at the CPU performance, the Bulldozer is just a tad under the Core i5 2500K.
Medium Game Settings
We decided to run two types of gaming tests. The first set of tests consists of games that do not stress the GPU.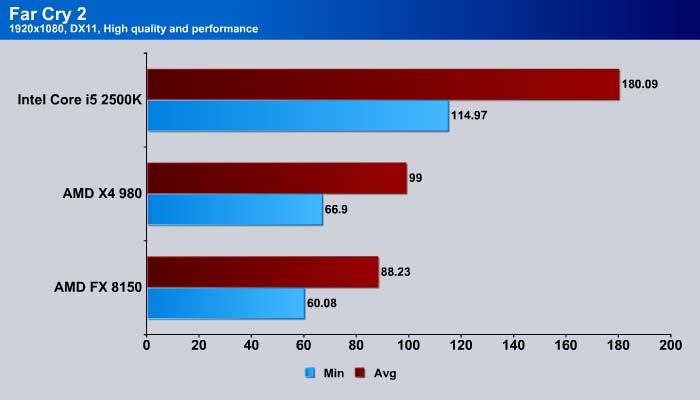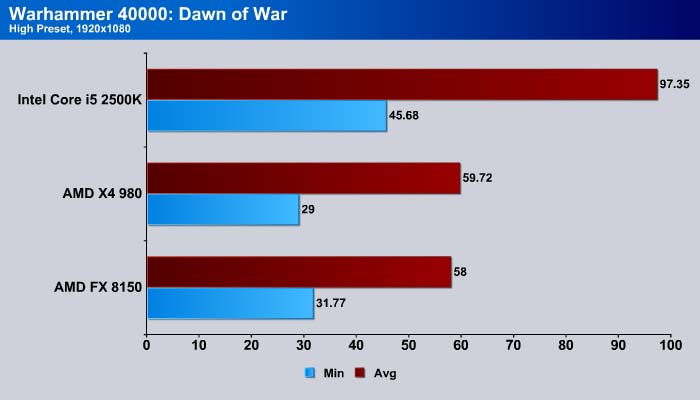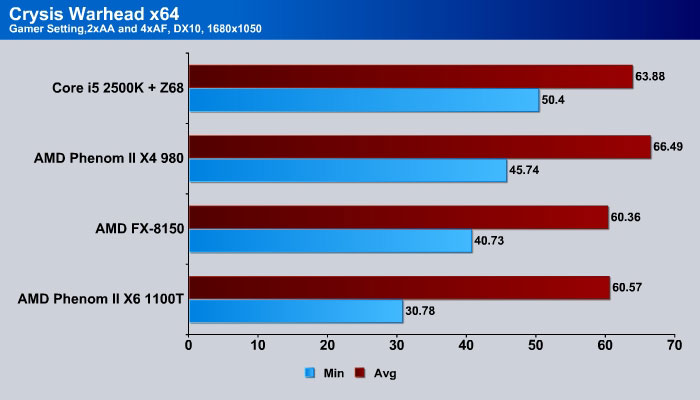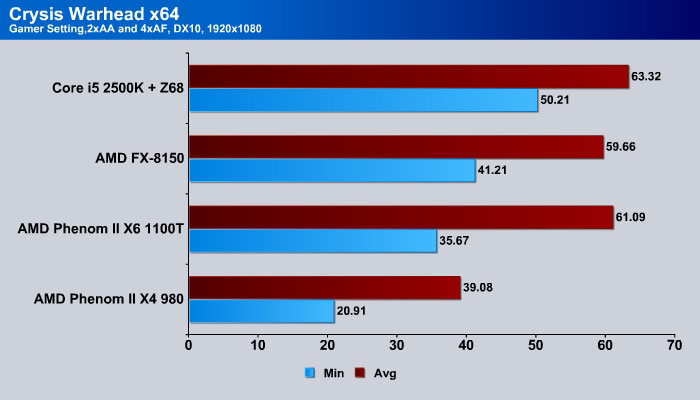 This is not good news for AMD: Bulldozer's performance is either equivalent to or worse than the Phenom II processors in gaming. This is most likely because Bulldozer has an overall weak floating point unit, and relies primarily on a high core count with high frequencies for its performance punch. However, most games don't recognize more than two cores, and this makes Bulldozer CPU's weak in lightly threaded applications like games.
It is worth noting, however, that Bulldozer is only a building block, and despite its weakness in FP calculations, more and more chip-builders are moving floating point units to the GPU. With that in mind, we must remember that the Bulldozer core will be implemented in the Trinity APU's; even though scaling back on the FP unit is a weakness for the first iteration, it may prove to be a wise choice in the future.
High Game Settings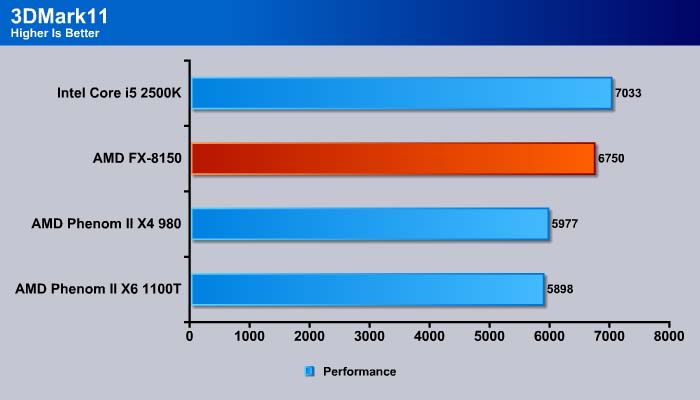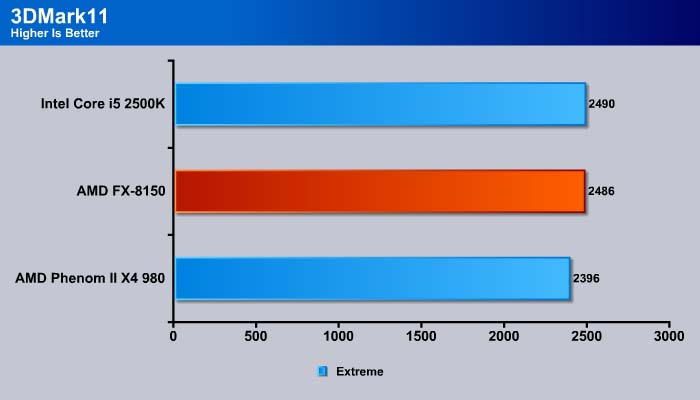 At higher game settings, the GPU takes greater workload and it often becomes the limiting factor in the overall gaming performance. We can see with 3DMark 11, Bulldozer scored well ahead of the Phenom II X4 980 in the Performance preset, but under Extreme preset the performance difference between three processors have narrowed significantly.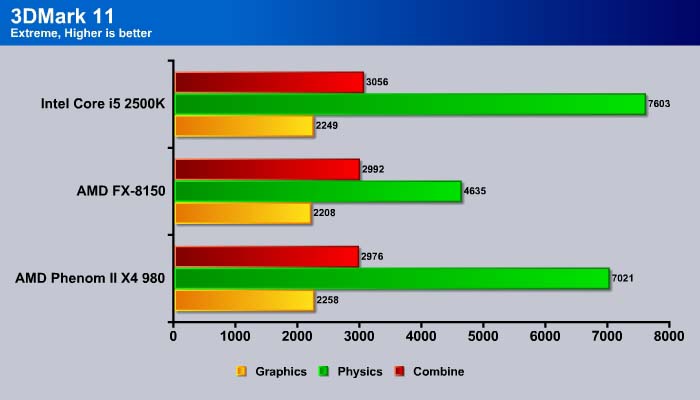 Looking at the individual Graphics and Physics scores, we can see that Bulldozer falls far short of not only Intel Sandy Bridge, but the aging Phenom II as well. The weak floating point calculation in the Bulldozer architecture drags down performance significantly.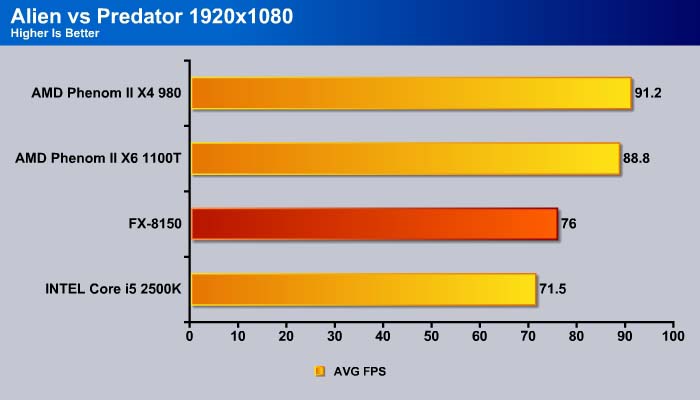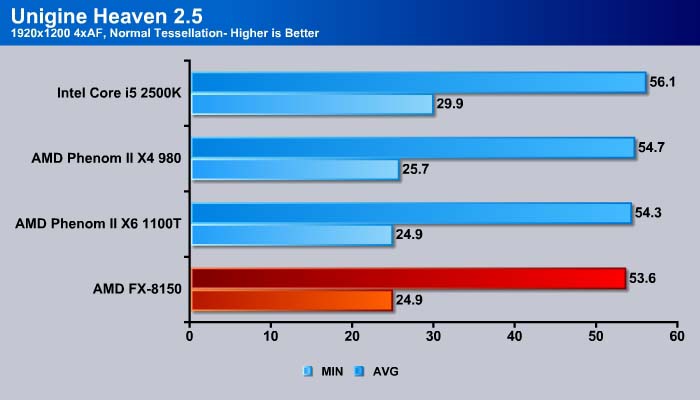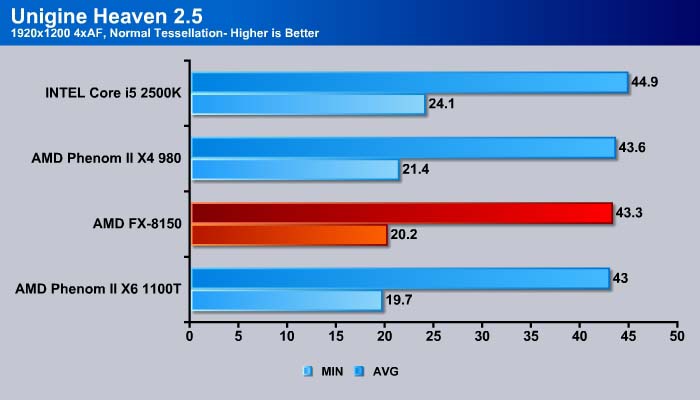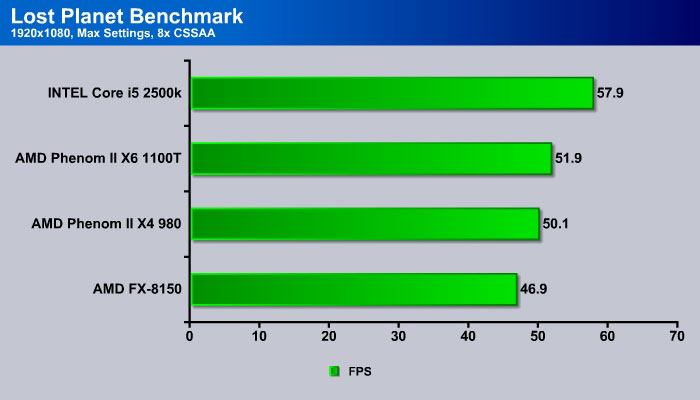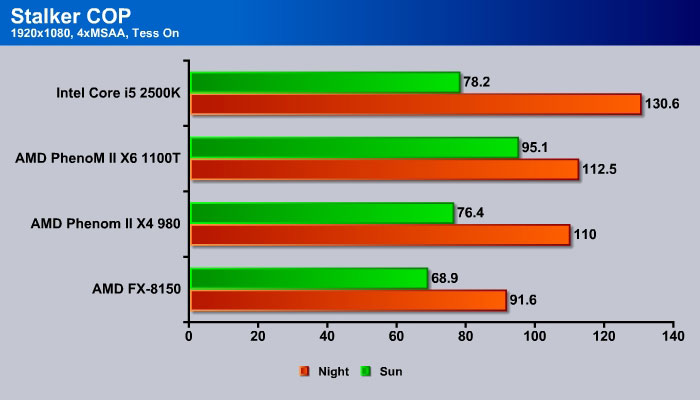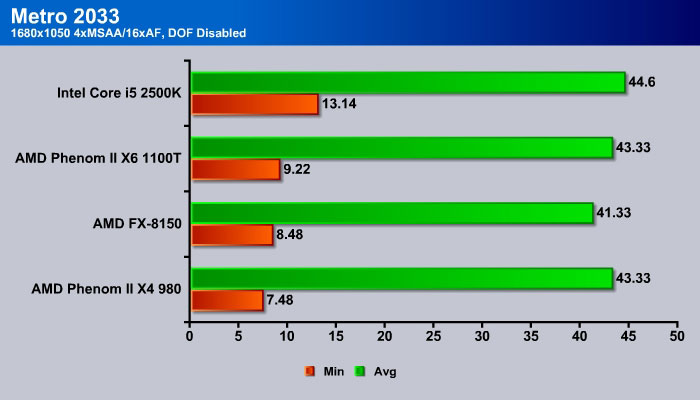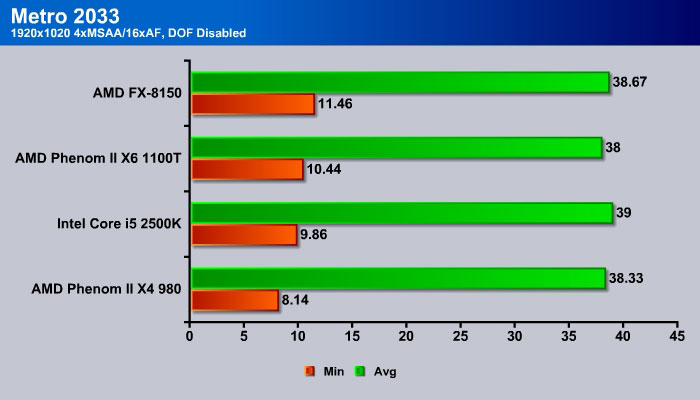 At higher game settings, Bulldozer can potentially lead to far lower performance, as seen in games like Alien vs. Predator, and S.T.A.L.K.E.R. When games do not load the GPU enough for it to limit performance, the Bulldozer architecture's weakness will show through, and it will be slower than even the Phenom II.
TEMPERATURES, Power consumption and overclocking

We ran Prime95 to stress the CPU in order to measure the overall system power consumption. All of the power saving features (C&Q and SpeedStep) have been enabled, as we envision this is how most people will be running their system.
Despite moving to a 32nm fabrication process, Bulldozer still consumes the same amount of power as older Phenom II processors. We see that the processor consumes slightly more power than Sandy Bridge idle but it gobbles up 30 more watts under load. This is not a huge surprise as Bulldozer has a max TDP of 125W while Sandy Bridge's max TDP is 95W. It is also fitting considering that Bulldozer has eight cores to Sandy Bridge's four.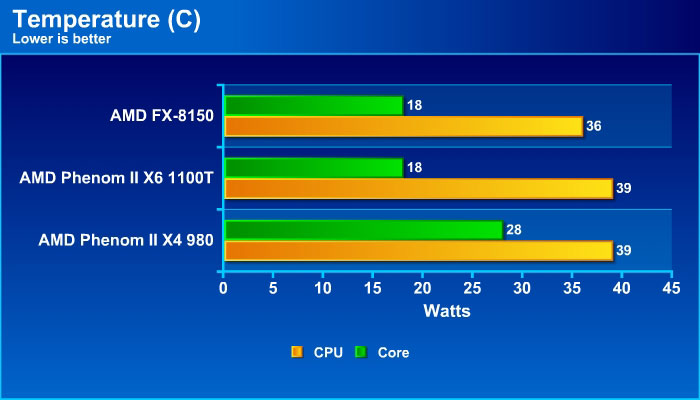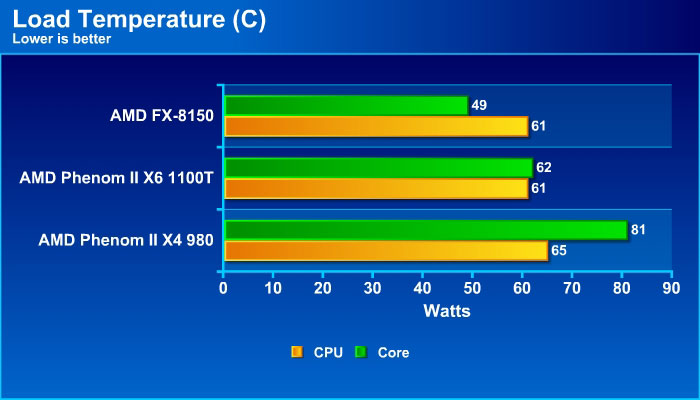 Luckily the temperature result bodes well for AMD. Bulldozer features an updated power management that is similar to the Thuban-based Phenom (Phenom II X6 1100T) so we can see that under idle, the processor core is at the same temperature as the Phenom II X6 1100T. However, the CPU temperature is 3°C lower than the Phenom II X6 1100T.
Under load, Bulldozer's core is 13°C cooler than the Phenom II X6 1100T.
OVERCLOCKING
It is almost a requirement for both Intel and AMD to release enthusiast processors with unlocked multipliers for easy overclocking. With the Bulldozer architecture, however, all CPU's will feature unlocked multipliers, not just a select few. Unfortunately for AMD though, Bulldozer's overclocking ability will not be limited by the processor's temperature but rather by its power consumption. In our limited time, we were able to overclock Bulldozer to 4.4GHz without much trouble by simply setting the CPU voltage to 1.45V, loadline calibration to 120%, voltage over current protection to 120% and PWM mode to extreme on our ASUS Crosshair V Formula.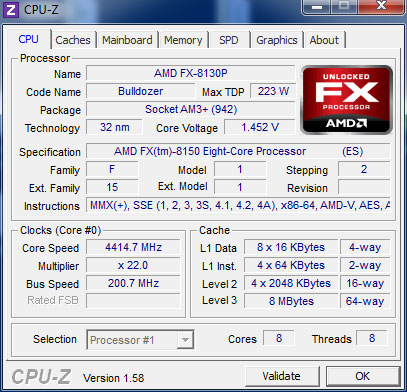 With these settings, we were able to boot the system up at 4.5GHz, but the system would crash when we ran Prime95. We brought it down to 4.4GHz and it ran stable. Due to time constraints, we could not test the liquid cooling so we cannot know the true potential of the Bulldozer's overclocking at launch. However, we will update information as we get more time to experiment with the chip.
Conclusion
It is extremely refreshing to see a new architecture from AMD after such a long time without one. Bulldozer is the world's first eight-core consumer CPU, and is marketed towards the consumer and enthusiast gaming crowd. The new chip does have many attractive features: unlocked multipliers across all models, a base frequency of 3.6GHz (unparalleled even by Intel), and a whopping eight cores per CPU.
Despite the nice specifications, there are some considerations we must take into account. Even though we say "eight cores", and AMD uses that term also, the Bulldozer architecture doesn't actually have eight true cores. The Bulldozer module's resource sharing of execution and front-end units means the FX chip will be weak in several areas of computing. Despite having the Turbo speed of 4.2GHz, the CPU falls very short in single-threaded (or even lightly-threaded) processes, even below the old Phenom II CPU's at lower clockspeed. We saw an example of this in some games, and in benchmarks like AIDA64, where the low floating point performance of the FX CPU resulted in performance lower than almost any other CPU.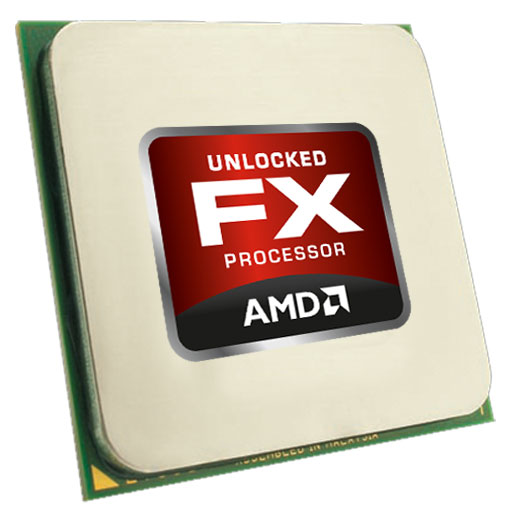 The FX CPU also stands out in data encryption, though for the opposite reason. As new module architecture is designed not only for desktop system but also for server systems, we are glad to see that AMD has finally added AESNI instruction to its processor. In TrueCrypt, the FX CPU takes the top spot in every test. One of the advantages is the higher number of cores, and the addition of the AESNI instruction set extension. This allows the application to use the CPU for hardware acceleration. It is clear that for data encryption, the FX platform is the CPU of choice, so users who anticipate doing heavy encryption should definitely go for Bulldozer.
We hope the Piledriver die shrink, which will be released in 2012, will retain Bulldozer's strengths. We also hope that AMD will change some of the Bulldozer core structure to better suit lightly-threaded applications and games, as this is unfortunately an area where Bulldozer falls flat. This may be because AMD plans to implement Bulldozer on their Trinity APU's and perhaps move the bulk of floating point calculations to the graphics side of the APU, but we hope that the desktop CPU version of Bulldozer is also upgraded.
The FX CPU is by no means terrible. It does have a few shortcomings in its architecture that we hope AMD will improve upon. Nonetheless, it can perform solidly in multi-threaded programs and takes the cake in calculations that involve data encryption and integer calculations. It would be a good CPU for people who want the power of a full eight-core chip and do a lot of multi-threaded applications. Due to poorer single-threaded performance, it doesn't perform well in games. Overall, this CPU is better suited towards heavy-threaded productivity, and might be a better choice for those situations. We now await AMD's next iteration of Bulldozer to see how that performs.