Today, we're looking at the G.Skill Ripjaws X series memory, an Intel XMP compatible memory that runs at 2133MHz. Keep reading to find out how it performs!
Introduction – G.skill F3-17000CL9d-8gbXM
Today we're looking at the G.Skill RipjawsX series of memory. This is an 8GB kit with two modules at 4GB each. These memories are perfectly suited for P67 and Z68 series boards as they are natively 2133MHz certified, and even come with a pre-programmed Intel XMP profile, which means we can simply enable the XMP profile and the memory will set the speeds and timings to 2133MHz without any intervention. As many may know we can never leave anything alone so we had to stack it up against some other kits to see what users really gain from this top end 2133MHz frequency.
In this review we will look at the specifics of this memory kit and test how it performs. Even more importantly, we'll take a look at whether the higher speed makes this kit worth purchasing over a standard lower speed kit in real world applications. Let's see how it does and if it is worth the $109.99 price tag it carries presently.
Pictures & Impressions
Click Image to Enlarge
The packaging for memory is not really anything to write home about, as memory modules don't have a laundry list of features like we see on other components. As we see here the modules are secured safely within a clamshell plastic style enclosure to ensure that even the roughest handling should not affect the modules. After removing these units from the packaging we tried to find the best way to stand them up so we could show what they will look like and give a good profile of the complete module and how they may look installed. For this we employed the help of our trusty 2.5″ laptop drive as support.
Click Image to Enlarge
Here we see a few detailed images of the modules, kind of an in depth look at the specifics of the modules such as the specific details and what makes them special. First we look at the module's label and the information it holds. On the label we see the specs such as the rated speed.
M/B Chipset

Intel Z68

Intel P67

CAS Latency

9-11-10-28-2N

Capacity

8GB (4GB x2)

Speed

DDR3-2133 (PC3 17000)

Test Voltage

1.65 Volts

Height

40 mm / 1.58 inch  

Registered/Unbuffered

Unbuffered

Error Checking

Non-ECC

Type

240-pin DIMM

Warranty

Lifetime

Features

Intel XMP (Extreme Memory Profile) Read

y
These modules are listed as rated for PC17000 or 2133MHz which is excellent for P67/Z68 boards, as this is the max memory divider for the Sandy Bridge chipset so there is no adjustment of the BCLK just to enable the XMP profile. The timings are not necessarily the best we have seen offered for the 2133 kits but as time has gone on we have noticed that the available memory IC's have been increasing in speed quite dramatically, and the timings have increased with them. Since this kit is 2133 MHz, its CAS 9 latency means that it's roughly in the middle of the road for present offerings.
The heatsink is a stamped metal unit which is about par for the course for most high performance modules. The heatsink does a good job of transferring heat away from the IC. One thing to note is that inclusion of very large heatspreaders on present DDR3 modules are usually more for appearance than for performance, as most modules do not even produce enough heat to need supplemental cooling except a little bit of airflow.
As we take a look at the side of the modules we can see something that actually impressed us as it is often overlooked. All too often, we see a heatspreader which is either making partial or very little contact with the thermal compound so the heat transfer of the heatsink is drastically reduced. This is not the case with the RipjawsX modules we have here, as both modules had perfect contact with the memory IC's which will ensure that they do their job and not just look cool.
Testing & Methodology
Memory testing is a little tough especially when considering the kit we have today is the maximum strap offered by the Sandy Bridge (P67/Z68) platform. To test performance we will run through various suites at multiple common performance frequency settings to get a feel for how it will benefit the end user.
We will be testing against multiple frequencies including 1333MHz (9-9-9-24) 1600MHz (9-9-9-24) and of course the XMP 2133MHz profile that comes pre programmed to these modules.
Test Rig
Test Rig
Case
Thermaltake Level 10 GT
CPU

Intel Core i7-2600K

Motherboard
GIGABYTE G1.Sniper 2
RAM
8GB Gskill F3-17000CL9D-8GBXM (2x4GB)
CPU Cooler

Swiftech H20-220 Edge

Hard Drive
Western Digital Velociraptor 300GB
SSD

Intel 510 series SATA III 120GB

Optical
ASUS BD-ROM
GPU

2x GTX 580 SLI

Case Fans

Front (intake): 200 x 200 x 20 mm ColorShift Fan x 1 (600~800RPM, 13~15dBA)

Rear (exhaust): 140 x 140 x 25 mm Turbo Fan (1000PRM, 16 dBA)

Top (exhaust): 2x120mm fans mounted to Radiator for Swiftech H20-220 Edge kit

Side (intake): 200 x 200 x 30 ColorShift Fan (600~800RPM), 13~15dBA)

Additional Cards

N/A
PSU

Thermaltake Toughpower Grand 1200W

Mouse
Tt eSPORTS Black gaming mouse
Keyboard
Tt eSPORTS Meka G1 mechanical gaming keyboard
Test Suite
We will use the following applications to test the performance of the memory. Benchmarks
Benchmarks
Sandra 2011
PCMark vantage x64
3DMark vantage
Cinebench R11.5
SiSoft sandra 2011
"SiSoftware Sandra (the System Analyzer, Diagnostic and Reporting Assistant) is an information & diagnostic utility. It should provide most of the information (including undocumented) you need to know about your hardware, software and other devices whether hardware or software. It works along the lines of other Windows utilities, however it tries to go beyond them and show you more of what's really going on. Giving the user the ability to draw comparisons at both a high and low-level. You can get information about the CPU, chipset, video adapter, ports, printers, sound card, memory, network, Windows internals, AGP, PCI, PCI-X, PCIe (PCI Express), database, USB, USB2, 1394/Firewire, etc."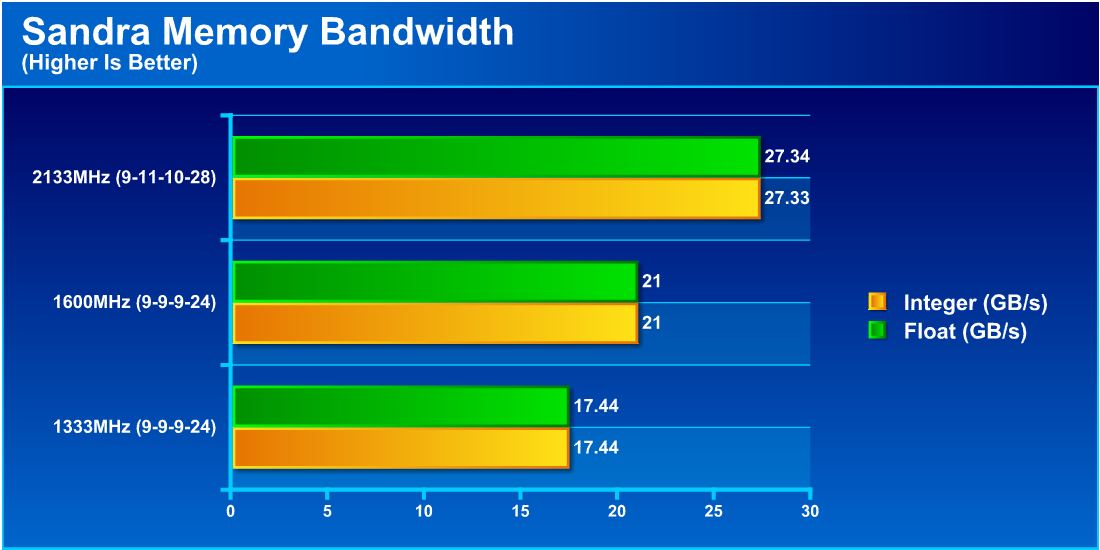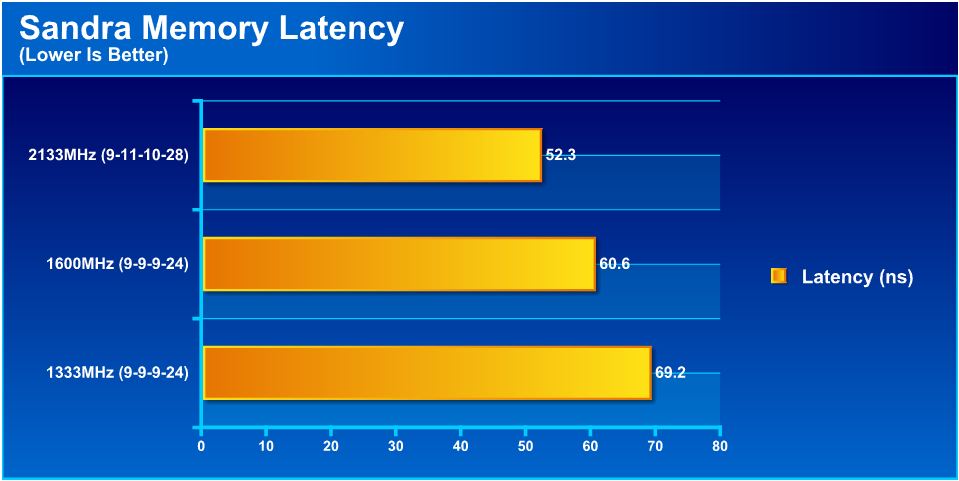 Here we see how the frequency affects the bandwidth of the memory. While looking at numbers doesn't really represent the actual performance well, it is quite promising as programs that are bandwidth intensive will see a substantial performance improvement. However, note that not all programs are bandwidth intensive.
Looking at the Latency results, we can see that the latency drops off dramatically as the frequency climbs. This means that work can be done quicker. Even though the latency numbers measured here may not be noticeable, latency is important because it can add up when multiple workloads are stacked together, or when transitioning from one workload to the next.
PCMARK VANTAGE
PCMark Vantage is the latest system benchmark tool from Futuremark. The benchmark consists of tests such as application launches, file searches, web browsing, video playback, photo editing, and gaming.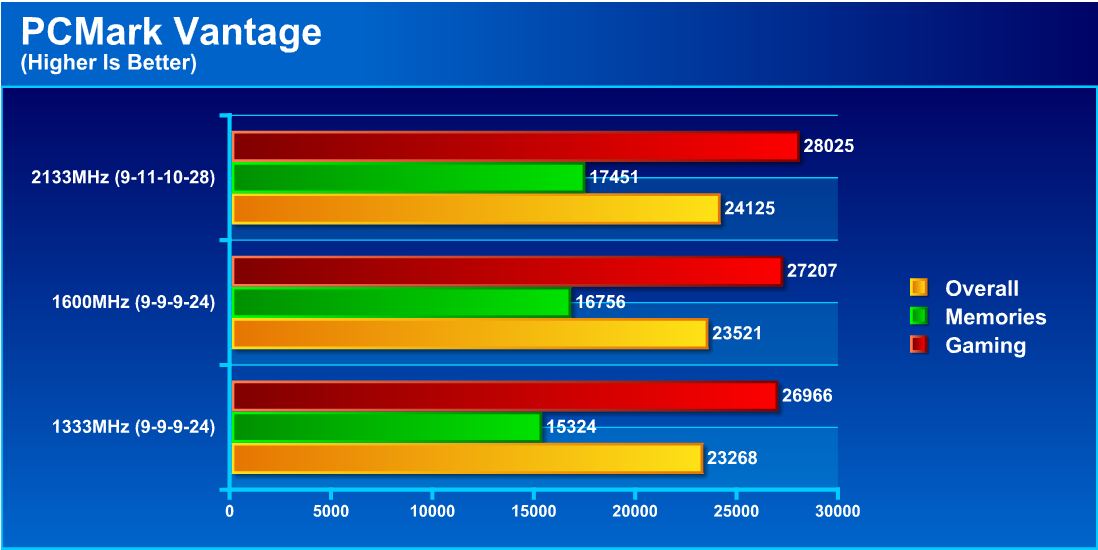 Looking at the results we got here, we can see that overall, computer usage should be more efficient with this memory.
Wprime
Wprime is a processor heavy multithreaded benchmark at which it crunches numbers of a specific data set and gives the end user an output time which can then be used as a guage to compare system performance.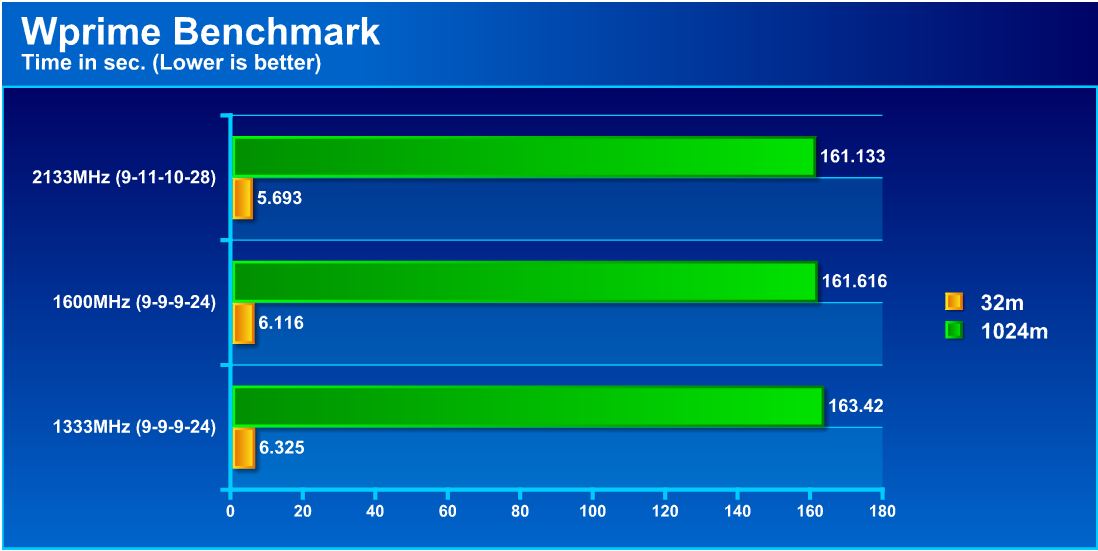 Wprime is a multi-threaded benchmark which is usually used to test the efficiency of processor overclocks. We see as the frequency scales up the results get better which tells us this memory definitely improves the system efficiency.
Superpi
SuperPi is a single threaded benchmark which measures efficiency and is heavily influenced by architectural changes as much as it is by clockspeeds.
SuperPi is a much older benchmark, but it is a great measure for efficiency especially with the 32m process. We see an excellent increase in efficiency in the 32m benchmark which again shows that more work can be done in the same amount of time.
CINEBENCH R11.5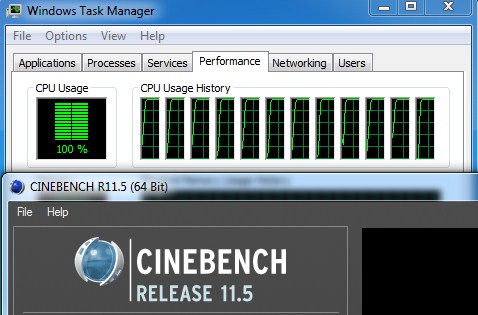 "CINEBENCH is a real-world test suite that assesses your computer's performance capabilities. MAXON CINEBENCH is based on MAXON's award-winning animation software, CINEMA 4D, which is used extensively by studios and production houses worldwide for 3D content creation. MAXON software has been used in blockbuster movies such as Spider-Man, Star Wars, The Chronicles of Narnia and many more. MAXON CINEBENCH runs several tests on your computer to measure the performance of the main processor and the graphics card under real world circumstances. The benchmark application makes use of up to 16 CPUs or CPU cores and is available for Windows (32-bit and 64-Bit) and Macintosh (PPC and Intel-based). The resulting values among different operating systems are 100% comparable and therefore very useful with regard to purchasing decision-making. It can also be used as a marketing tool for hardware vendors or simply to compare hardware among colleagues or friends."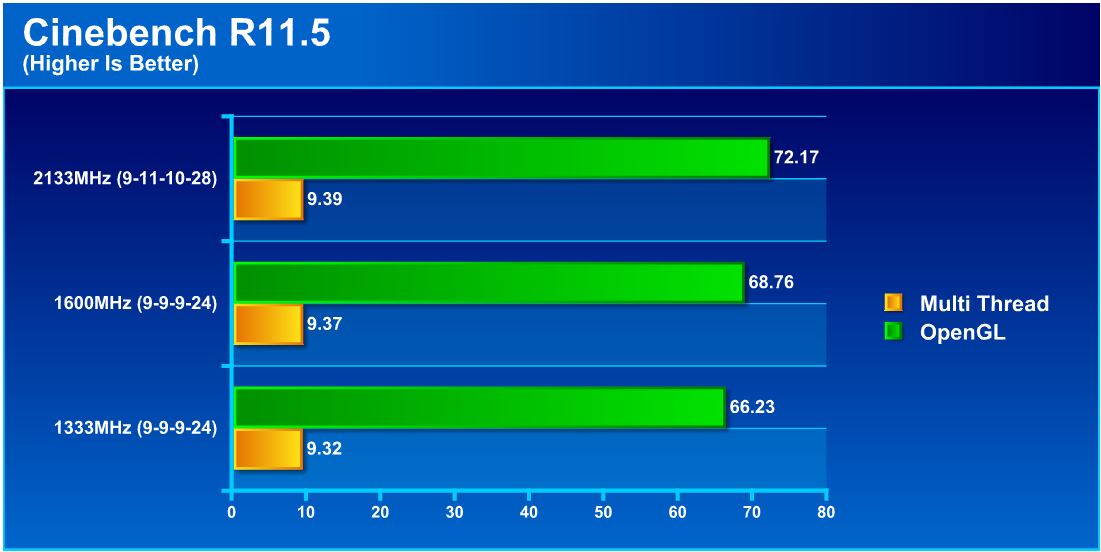 Cinebench 11.5 has not only a multithreaded CPU performance benchmark but an OpenGL test, and both results increased in scale with the memory frequency. This just goes to show that the overall efficiency actually is improved quite a bit with the higher speed memory.  This proves that even with the newer Sandy Bridge architecture there is enough data being moved around that the increased memory bandwidth will allow for better performance.
3DMARK 11

3DMark 11 is the newest in futuremark's suite of benchmarking utilities. It's a fully capable DirectX11 benchmark which also stresses and analyzes the system performance as a whole to simulate a heavy rendering environment such as a high end game or other app the end user may run.  This benchmark was run with Performance settings 5 times and all runs were averaged for the result below.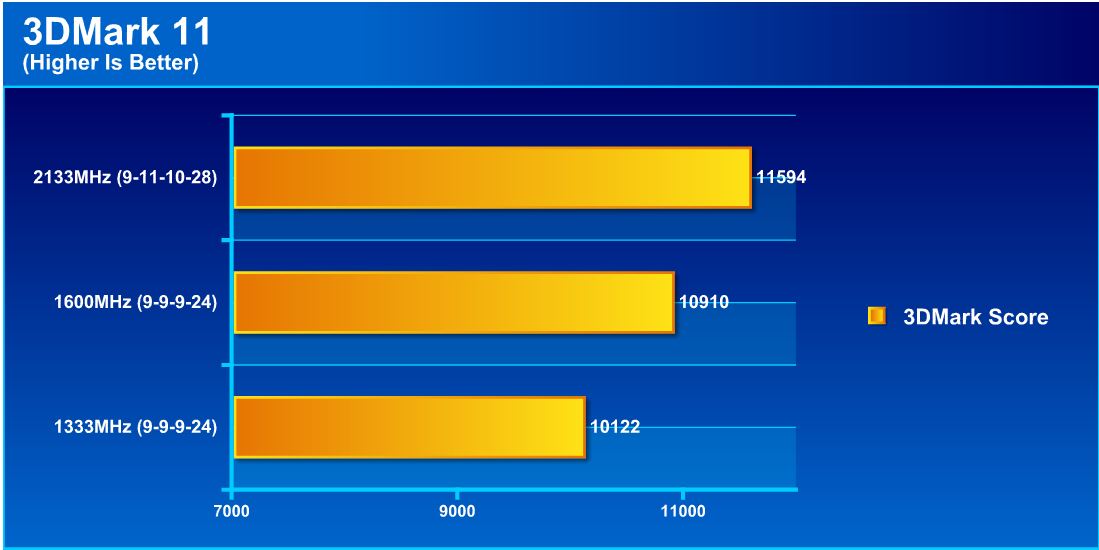 3DMark 11 is a good 3D benchmark that allows us to see the overall system performance increase, especially to interpret gaming increases that we could expect with the improvements. As we see, this memory didn't increase performance by large margins, but there would be some FPS increase in games.
CONCLUSION
The RipjawsX memory modules have awesome looking heatspreaders which will be a great addition to any modder's or gamer's rig. That being said the 2133MHz frequency allows for a marked increase in performance and even an improvement in latency, which means that even if just in a workstation system the efficiency will be improved which will net better performance. We know that most workstations are not looking for high performance memory but all in all, they perform very well and with the XMP compatibility, this kit is very user-friendly.
The heatspreader quality is good, has an excellent look and the blue color should fit many designs. The thermal application of the heatspreader is very impressive, as we have seen many other kits which had poor contact with the IC's.
Overall, with the price point these modules ask, they perform very well and offer some nice style. These can be recommended for any gamer or enthusiast looking for a memory upgrade. With the dropping price of modules these days, and renowned G.Skill quality, these modules are hard to pass up. Anyone looking to build a Sandy Bridge system or even just a memory upgrade these are worth a look.
OUR VERDICT: 8GB G.Skill F3-17000CL9D-8GBXM
| | |
| --- | --- |
| Performance | 9 |
| Value | 9 |
| Quality | 9 |
| Features | 9 |
| Innovation | 8 |

We are using a new addition to our scoring system to provide additional feedback beyond a flat score. Please note that the final score isn't an aggregate average of the new rating system.

Pros
Cons

Aluminum heatspreaders offer styling and cooling performance

Excellent performance

XMP profile

Lifetime warranty

Solid Quality feel

Great value

Tall heatsink may pose clearance issue for some CPU coolers

 

 

 
Summary: The 8GB G.Skill Ripjaws X kit performs well and has a stylish design and XMP compatibility that makes it easy to use. For its performance and value it earns the Bjorn3D Silver Bear Award.