The MSI 990FXA-GD80 is MSI's offering for the AMD 990FX lineup. See how well this beast performs under the new Bulldozer architecture.
Introduction
Ever since the release of the AMD FX-8150, the field has been widened for 990FX based motherboards. Many 990FX motherboards were released prior to the launch of AMD's Bulldozer, however, their potential was limited by the fact athat they were working off the old Phenom architecture of CPU. The launch of Bulldozer allows the 990FX to unleash its true potential, and the motherboard manufactuerers have release some excellent motherboards in anticipation of that. The MSI 990FXA-GD80 is one of these boards, and today, we'll be taking an in-depth look at it.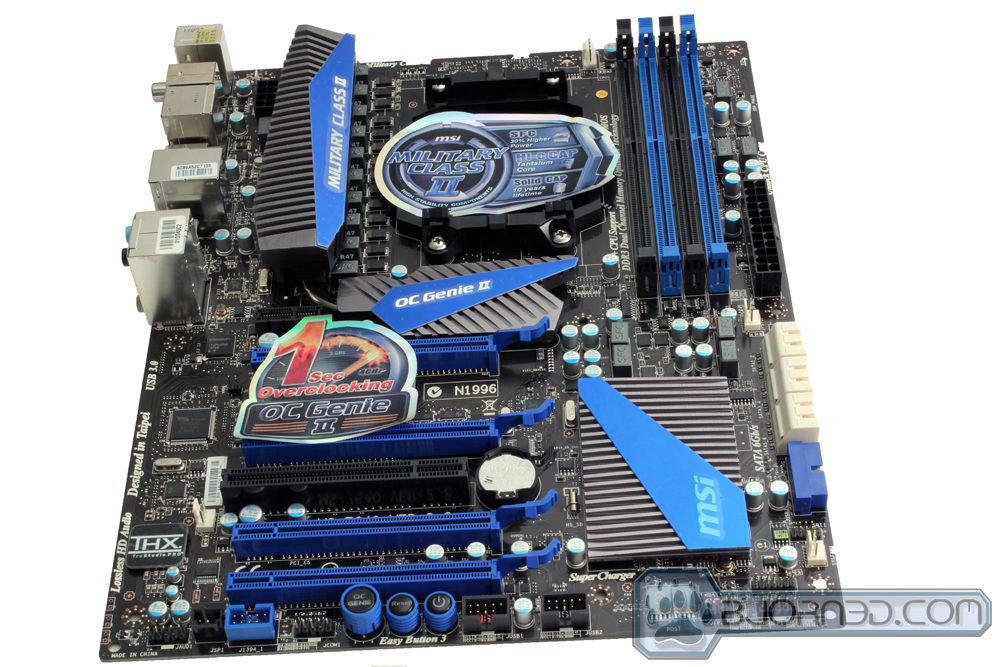 The 990FXA-GD80 is a shiny addition to the MSI gaming line, and comes stacked with attractive features such as stronger capacitors and more powerful core chokes. It also has the ability to run a 3-way SLI or 4-way CrossFireX configuration. Even more attractively, it features full support for SATA 6Gbps and USB 3.0. All these features add up to an extremely powerful board, that looks nice and sounds like it can deliver. Stay tuned as we take a look at whether the MSI 990FXA-GD80 is worth its $195 price tag.
Features Worth Noting
MSI offers a 5 year warranty for their 990FXA-GD80 motherboard within the United States and Canada. MSI believes that their Military Class II components including Hi-C Cap, SFC, Solid Caps, and more deliver not only performance, but also quality and reliability. We'll try to torture this motherboard as far as we can to see where we can push our hardware. However, do remember to register your board within 30 days of purchase, or else the 5 year warranty will go to waste.
The new Military Class II components that MSI is advertising on their latest motherboards like the 990FXA-GD80 consist of only component upgrades. Some of the components are really nice while others are just the traditional Solid Capacitors that most of the other high-end motherboard manufacturers also use. Besides the Solid CAPs, the Hi-C Cap is a new nice design for solid capacitors which we have seen on both ASUS's top-of-the-line ROG boards as well as on GIGABYTE's GA-X58A-OC overclocking motherboard. Many newer non-reference video cards also use the Hi-C Caps which come handy for overclockers. The nice thing to know about MSI's components is that they use the same Military Class II components on the majority of their mid to high-end motherboards (GD55, GD65, GD80, Big Bang Series), unlike other manufacturers which only have these components on their most expensive motherboards in the 300-400 dollar range. MSI's SFC (Super Ferrite Choke) is a newly improved ferrite choke that is Super-Permeable. This means it will run cooler for better stability. More on the Military Class II components on the next page, and on the motherboard overview page.
Most of us that overclock our processors and video cards have heard of the magical 1 second overclock button that ASUS offers. ASUS's 1 second overclocking tool works through the BIOS, where a user clicks on the OC Tuner Auto Tune feature and it overclocks the processor to somewhere in the 4GHz range provided the CPU is a K-series Sandy Bridge processor. MSI also has a feature just like this, but they make it even easier by providing a button which can be clicked to enable 1 second overclocking. This feature is called OC Genie II. The feature is accessible as a button on the motherboard or through the ClickBIOS Windows based BIOS application.
Features
The MSI 990FXA-GD80 has a very impressive list of features. The higher quality of parts, tougher components, extensive multi-GPU capability, and more all make it sound like the motherboard to be beat. We'll examine these claims as we go through the review.
Military Class II

The perfect trinity of quality, stability and efficiency all exist at one mainboard to meet end user expectations. The MSI Military Class II series products provide the long lifespan, unparalleled quality, extreme performance and ultimate efficiency.


Hi-c CAP
8X Lifespan than solid Capacitor!!
Insisting on the best stability, MSI utilizes Hi-c CAPs on Military Class series.  Made of the rare element Tantalum, often used on space shuttles and satellites, which sustains very high temperatures and shows an amazingly high electrical conductivity.


SFC
SFC(Super Ferrite Choke).The super Ferrite Chokes use a Ferrite core that is Super-Permeable. Compare with traditional choke, the Super Ferrite Chokes run at a 35 degree Celsius lower temperature. The lower working temperature will enhance mainboard stability.



Solid CAP
10 years long lifespan
For providing the highest quality products, we built-in Solid CAP in the entire Military Class series. This not only makes bursting capacitors a non-issue but also ensures a dramatically extended lifetime and ultra-low ESR.

OC Genie II – Overclock & Unlock CPU Core in 1 Second

OC Genie II, the most powerful and easy overclocking technology is implemented on MSI's AMD 9-Series mainboards. MSI's OC Genie II completely automates advanced overclocking functions and offers up to 248% higher performance with the simple click of a button. It does not matter if you're a first time hardware owner, or a veteran overclocker, activating MSI OC Genie II will unlock your hidden CPU cores, overclock your CPU and your memory to simply give you the best and stable performance for free on MSI AMD 9-Series mainboard available.





Benefits:
– Automatically overclock & unlock hidden CPU core(s) in 1 second
– Instantly boost system performance up to 248%

NVIDIA SLI

SLI technology allows using multiple Nvidia graphics cards in a single computer system with a mainboard equipped with an nForce SLI MCP. Users need an a mainboard with two PCI-Express 16x graphics slots and two matching GeForce graphics cards which are "SLI Ready". Most NVIDIA's PCI-Express graphics cards starting from the 6600 GPU can enjoy the benefits of SLI.

THX TruStudio PRO

THX is a trade mark of a high-end audio/visual reproduction standard for movies, home theaters, computer speakers and other audio devices. THX Certified Audio products are designed to let users experience movies & videos as live show. The true sound effect can make high definition video more powerful.

Features
– A high-fidelity sound reproduction standard
– Accurately reproduce the fullest audio experience of movie, music and game soundtracks

AMD CrossFireX

AMD CrossFireX™ is the ultimate multi-GPU performance gaming platform. Enabling game-dominatig power, AMD CrossFireX technology enables two or more discrete graphics processors to work together to improve graphics performance. AMD CrossFireX technology allows you to expand your system's graphics capabilities. It allows you the ability to scale your system's graphics horsepower as you need it, supporting up to four AMD Radeon™ HD graphics cards, making it the most scalable gaming platform ever. With an AMD CrossFireX gaming technology, the traditional graphics limitation exists no more, allowing you to enjoy higher performance as well as visual experience.

SATA 6Gb/s

SATA 6Gb/s provides double the bandwidth of traditional SATA 3Gb/s, and increases the data transfer rate between your mainboard and internal storage devices, such as 7200RPM HDDs, 10000RPM HDDs and SSDs. It's also the current trend for upcoming high-speed internal storage devices to to break the existing bottleneck of a PC's performance.

Features
– 2X Faster Than SATA 3Gb/s
– Up to 6Gb/s Data Transfer Bandwidth
– Unleash True Performance of New HDDs/SSDs

Super Charger

Mobile consumer appliances are getting more and more attention in current day fast moving life style, with smart phones and tablets almost becoming a fashion accessory. However, many ordinary personal computers cannot charge some of these devices, making it difficult to stay connected.  The MSI Super Charger is a Windows resident program capable of revising the power supply mode of your USB port to become more powerful. Once your phone or tablet is connected to your USB port, the Super Charger sends a signal to initiate its charging circuit, making it a really smart and convenient charging solution for mobile computing needs.

Features
– Instant MB info monitor
– Green Power: CPU Phase, system fan speed controlled with max power saving
– Smart Mode: 4 instant OC modes

M-Flash

Compared to common mainboard which need extra BIOS chips, MSI's M-Flash has a double advantage which doesn't need extra components and secondly, all your BIOS data will be saved in the USB drive. The stored data does not only have backup and upgrade function, moreover it can also be seen as a portable BIOS chip which is actually able to boot up your PC.

Features
– Backup/Restore Your BIOS to/from Any USB Flash Disk
– Avoid Unnecessary Repair Due to Accident Failures During The Upgrading Process
– Earn more BIOS Lifespan by Reducing Unnecessary Rewriting Process

USB 3.0

Compared to the 480Mbps provided by traditional USB 2.0, the all-new USB 3.0's 5Gb/s offers 10 times the transfer bandwidth, so transferring a Blu-ray movie takes less than one minute.

Features
– 10X Faster Than USB 2.0
– Up to 5Gb/s Data Transfer Bandwidth
– Boost Transfer Rate Between Your PC and External Storage Devices

APS (Active Phase Switching)

Active Phase Switching, APS, technology is an intelligent design that helps to save energy on MSI's mainboards. The underlying idea is to switch off the power supply as soon as no electricity is needed, and when the system needs more resources again, APS will automatically adjust electricity supply accordingly. APS will automatically detect your processor's loading at any given time and save energy accordingly. This is only possible by means of a very advanced power controlling technology. Other than software-based solutions, APS technology stands out from MSI's own research. The specially developed IC chip can operate automatically depending on the demands of the power supply, which is to reduce the total power usage. 
 

Lossless 24-bit/192KHz HD Audio

Onboard PC audio gets better! MSI is the first to implement the most high-end HD Audio codecs available. Don't be fooled by other inferior audio solutions onboard (sometimes you can't even find the driver!) Only MSI offers the Loss-less 24-bit/192KHz HD Audio function with an incredible 109 SNR dB value to provide the most clear & vivid HD audio quality and support 7.1 channels surround sound playback with a 2-channel independent stereo output (multiple streaming) through the front panel 3.5 inch phone jack.



 

Winki 3

Winki 3 is a free Linux-based O/S which is based on the Linux core. With an ultra-fast  booting speed and a multi-language interface, the built-in Winki 3 provides an easy-to-use internet environment that includes the most popular functions such as internet surfing, web mail, instant messaging, picture browsing, and more. It's the most practical way to be online in the shortest time.

Features
– User friendly & totally free applications
– Power on to run applications in 25 seconds
– Multi-language interface support

USB Safeguard

USB Safeguard can prevent mainboards and USB devices from being damaged by short-circuit and ESD (Electro-Static Discharge) with Anti-ESD chips built-into the mainboards. Additionally, the safeguard can protect against such dangers multiple times, and greatly improves product lifespan.

Features
– All MSI mainboards use USB Safeguard's anti-ESD chip for thorough protection against ESD damage
– USB Safeguard is protected against a short circuit and/or ESD without the need for a fuse. It also supports stand-by power supply

Live Update 5

MSI Live Update 5 is a powerful and useful application for updating the latest BIOS and Drivers, saving you time and lowers the risk of updating. End-users can install and run the Live Update 5 software on their computers with the companion CD or downloading the app from the MSI website.

Features
– Automatically Detect the BIOS/Driver/VGA/Utility Update
– Support Microsoft Windows XP/Vista/7 32/64bit

DrMOS

In order to provide customers stable and high quality products, starting from P45 series mainboards, MSI is leading the industry to introduce the world's most advanced power supply component, DrMOS (Driver-MOSFET), which integrates Driver IC, Top MOSFET and Bottom MOSFET into one chip. Except for its outstanding performance in power saving, DrMOS possesses switch frequency which is 400% faster than traditional MOSFET and has great improvement in stabilizing power supply and voltage control. Even under heavy loading and overclocking conditions, DrMOS can still provide the most stable and efficient power supply and quality.

Cool'n'Quiet

AMD Cool'n'Quiet™ Technology reduces heat and noise so you can experience amazing performance without distraction. Combined with core enhancements, included in the AMD processors, that can improve overall power savings, deliver better multitasking and energy efficiency. Cool'n'Quiet technology can automatically adjust processor ratio to throttle CPU speed with four modes.

Features
– Independent Dynamic Core Technology
– Dual Dynamic Power Management™ 
– AMD CoolCore™ Technology
– AMD Wideband Frequency Control
– Multi-Point Thermal Control

3TB+ Infinity

3TB+ Infinity is not only breaking through the limit of traditional BIOS, but also enhancing the utilization of hard drives efficiently. In addition to supporting the latest 3TB hard drives, MSI 3TB+ Infinity technology can use the 3TB hard drive as boot disk when installing a 64-bit operating system. Compared to competitors, MSI 3TB+ Infinity is an industry-leading technology which substantially presents an advantage of development and application in the future.

Features
– All the latest 3TB hard drivers on the market can be supported
– Make the 3TB hard drive as boot disk when installing a 64-bit operating system
Specifications
The 990FXA-GD80 also has great specifications. We were very satisfied to see that the board has full SATA 6Gbps compatibility. Even though the SATA III interface does not give that much of a performance improvement for HDD's (hard drives are limited by their spin speed and inherent mechanical nature), it allows users to connect NAND-based devices such as SSD's without limitations. In the past, SSD's were severely limited by the lower transfer rate of SATA II.
| | |
| --- | --- |
| Socket | AM3+ |
| CPU (Max Support) | FX |
| AM3 CPU Ready | N/A |
| FSB/BCLK/Hyper Transport Bus | up to 5200MT/s |
| Chipset | AMD® 990FX+SB950 |
| DDR3 Memory | DDR3 800/1066/1333/1600/1800*/2133*(OC) |
| DDR2 Memory | N/A |
| Memory Channel | Dual |
| DIMM Slots | 4 |
| Max Memory (GB) | 32 |
| PCI-Ex16 | 4 |
| PCI-E Gen | Gen2 (2×16, 1×8, 1×4) |
| PCI-Ex4 | N/A |
| PCI-Ex1 | 2 |
| PCI | 1 |
| IDE | N/A |
| SATAIII | 6 |
| SATAII | N/A |
| RAID | 0/1/5/10 |
| LAN | 10/100/1000*1 |
| TPM | 1 |
| USB 3.0 ports (Rear) | 2 |
| USB 2.0 ports (Rear) | 6 |
| Audio ports (Rear) | 6+Coaxial SPDIF/Optical SPDIF |
| Serial ports (Rear) | N/A |
| Parallel ports (Rear) | N/A |
| 1394 ports (Rear) | 1 |
| eSATA | 2 |
| Display Port | N/A |
| VGA | N/A |
| HDMI | N/A |
| DVI | N/A |
| VGA Max Share Memory (MB) | N/A |
| DirectX | N/A |
| Form Factor | ATX |
| DrMOS | Y |
| APS | Y |
| Sideport Memory | N/A |
| SLI | Y |
| 3-way SLI | Y |
| Hybrid SLI | N/A |
| CrossFire | Y |
| Hybrid CrossFire | N/A |
| Dual Graphics | N/A |
| D-LED2 | N/A |
| Green Power Genie | N/A |
Features Explained
Military Class III
MSI has a continuing trend that we have seen before. The military class III is a feature which is strictly component-based. These select components make up the board as a whole, and 'military class' means they meet the strictest performance requirements and some of the roughest durability conditions known to man.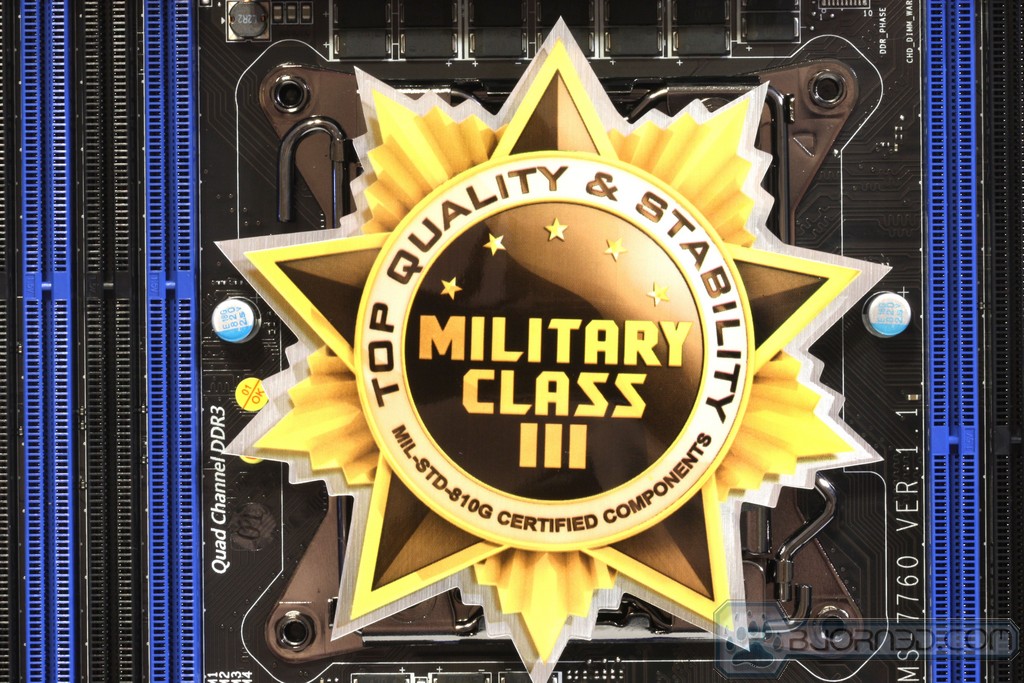 Super Charger
The Super Charger Feature is increases the utility of USB 3.0 ports over the older USB 2.0 standard. As USB-charged devices have become commonplace now, the higher power provided by USB 3.0 ports is a handy tool.
The MSI Super Charger feature allows for faster and stronger charging of devices, which means that the user will spend less time charging and more time using their mobile devices. This is accomplished via a software which revises the way the power is delivered to the USB port for optimized charging conditions which will allow for a better and faster charging experience.
Winki 3
Winki 3 is a very light and very fast Linux distro which allows quick boot and access for the user if they do not need the full functionality of Windows.
This feature may not seem like much on the surface but with the imaging software that is integrated, it could be a lifesaver in the event of a boot fault in Windows. Users can boot into Winki 3 and just image the drive and save data without formatting and losing everything due to the OS not booting. This still seems a little far fetched as far as real world usability goes but the feature can definitely be useful if the situation presents itself as we never really notice how important our data is until we lose it.
Click Bios II
MSI's Click BIOS II is a very clean looking integration of a GUI UEFI interface. In addition, MSI worked very hard to make the interface of their Windows-based application very similar to that of the BIOS.
This is not really a new feature as we have seen this previously in various implementations, but the way it was designed and styled to closely mirror the actual UEFI BIOS is well done. It is a great and smooth interface so that the user does not need to learn 2 different modes.
A Closer Look at the MSI 990FXA-GD80
The MSI 990FXA-GD80 comes in a standard cardboard box, and is well protected inside. The box prominently displays the "Military Class II" components used on the board, and notes other features such as OC Genie and U3/S6 (USB 3.0 and SATA 6Gbps) capability. Under the flip-open panel is a detailed and labeled diagram of the board itself, with close-ups of every feature. This can be very helpful to buyers in stores, as opposed to a traditional plastic window showing the product itself. The reason for this is that for buyers who are not computer enthusiasts, a view of the product itself is useless, as they do not know the significance of the components. A labeled diagram, on the other hand, explains each feature in detail and provides a much better knowledge base for the consumer than a simple see-through window.
Here is the board itself in all its glory. MSI has retained their blue-and-black color scheme, which we must say is very attractive. The board comes with stickers over the PCI-E slots and the AM3+ socket. These are easily removed to show the components underneath. Unlike Intel boards, AMD boards do not have a plastic protector over the socket. The most likely reason for this is because on Intel boards, the "socket" actually contains the pins, and the CPU contacts are flat circles; the socket protector keeps the pins in the socket from being damaged. On AMD boards, the pins are on the CPU, so the socket does not need protection.
The board's AM3+ socket is surrounded by the standard AMD retention bracket, preserving compatibility for coolers. The board also has an excellent cooling solution for its power regulators. The heatsinks over the VRMs and core chokes are heavy, and look very sturdy. The two heatsinks are linked via heatpipe, so heat is spread evenly across the heatsink and does not build up in one place. This is very good for systems that are cramped or in smaller cases.
This board has a lot of features for overclockers and gamers alike. At the very edge of the board, above the DIMM slots, are the LED phase indicators. This feature may seem very helpful, but it is really more for looks than for actual use, as the user will most likely already know what phase is used when setting up their PC. There are also two indicators to the right of the DIMM slots that show DDR phase power. The HDD LED at the bottom of the board shows whether the HDD is running. Near the bottom of the board we can also see the two-digit LED POST indicator. This indicator is extremely handy for overclockers, as well as normal users, as it can display any issues during POST. We find this to be the easiest and quickest way to do troubleshooting for hardware failures, as it gives immediate information on which hardware component failed.
Here we can see the four PCI-E x16 slots. This board is capable of fitting four graphics cards in a multi-GPU configuration. The board supports 3-way SLI and 4-way CrossFireX, making it a very powerful addition to any gaming system. Of the board's four PCI-E x16 slots, however, only two (the first and the third) are electrically x8. When running a 2-way multi-GPU configuration, the two x16 slots will stay at x16/x16. However, for three-GPU configurations, they will rearrange to x16/x8/x8.
The PCI-E slot spacing on this board is very well designed. The large amount of space between the PCI-E slots ensures that there will not be a lot of heat built up between the video cards. The one concern we can see here is that the top PCI-E slot is extremely close to the North Bridge heatsink. Heat from the highest video card and the North Bridge could cause a buildup of hot air inside the case, though this should not be too much of an issue with proper ventilation. Also, during installation or hardware changes, screws falling between the slot and heatsink could get trapped.
On the picture to the right, we can also see the front panel connectors: one audio connector, an 1394a connector, a serial port connector, the OC Genie II button, power and reset buttons, two USB connectors, the POST LED display, the case front panel connectors, the Clear CMOS jumpers, and a TPM connector. Of the two USB connectors, the one marked red (to the left) supports the MSI SuperCharger technology, which allows quicker charging of USB devices connected to that port. We'll go into further detail on that later in the review. The OC Genie button allows for instant one-hit overclocking of the system, and also unlocks the extra cores of the installed CPU. We'll test out how much this feature actually adds to our performance.
This board also has excellent connectivity–it fully supports USB 3.0 and SATA 6Gbps. This is excellent for future users, as it means the board is definitely future-proof. All six of its SATA ports are capable of 6Gbps bandwidth, and are based off the AMD SB950 south bridge chip. This is also a definite plus, as natively controlled ports show a higher transfer rate than ports controlled by a third-party chip. All the ports are angled 90 degrees to make the installation easier on the user. The board supports RAID 0/1/5/10 modes.
The board also has full USB 3.0 connectivity, with a USB 3.0 front panel header right next to the SATA ports. The header is also angled 90 degrees, which we found very helpful, as most front panel extension bays have short cables. The board's two rear USB 3.0 ports and front panel USB 3.0 header are all based off the NEC D720200 chip. Near the SATA and USB headers we can see the four DIMM slots on the board. The 990FXA-GD80 supports a maximum of 32GB of dual-channel DDR3 1066/1333/1600/1800/2133.
The 990FXA-GD80 has a THX TruStudio Pro label on the board to designate support of lossless high-definition audio. We'll take a look at the THX software later on in the review, but the audio chip itself is nothing extraordinary–a standard Realtek ALC892. This is what most motherboard manufacturers use on their motherboards. Some might use the Realtek ALC889 chipset, which has a better signal-to-noise ratio at 108dB. The ALC892 on the other hand has lower DACs (Digital-to-Analog Converter) with 95dB Signal-to-Noise Ratio, ADCs (Analog-to-Digital Converter) with 90dB Signal-to-Noise Ratio. The difference between the two Realtek chips should be minimal, but from what we've heard the ALC892 is better for 5.1 and 7.1 audio solutions, while the ALC889 is better for Stereo, though should still support surround audio.
Here we can see the board's specially designed SFC (Super Ferrite Core Chokes) and solid Japanese and HI Cap capacitors. The HI-C Caps that MSI uses on this board have a tantalum core, and supposedly lead to 8x longer product lifespan. The tantalum core gives higher thermal stability and eliminates mechanical issues, making for a more stable motherboard.
The Super Ferrite Core chokes also lengthen the lifespan of the 990FXA-GD80. According to MSI, the new core chokes can withstand 30% higher current than the previous ones, for a total maximum current capacity of a stunning 130 Amperes. The added durability and longevity of the core chokes and capacitors will go a long way towards ensuring better overclocking. This is especially important considering that the 990FX chipset and the AMD FX CPU were made to push the boundaries of overclocking.
The 990FXA-GD80 also has a full spate of rear I/O connectivity:
2 PS/3 ports
1 Clear CMOS button
1 Coaxial S/PDIF-Out
1 Optical S/PDIF-Out
4 USB 2.0
2 USB 3.0
2 eSATA/USB 2.0 Combo
1 Gigabit Ethernet LAN
1 IEEE 1394
6 audio ports for 8-channel audio
In terms of accessories, the board has an extremely rich accessory bundle, something we were surprised to see. Motherboards nowadays barely come with the essentials. However, the MSI 990FXA-GD80 comes with 6 SATA hard drive cables, one Molex-to-SATA power connector, three 2-way SLI bridges (one of them extra long to accommodate spacing), a two-port USB 3.0 rear extension unit, a driver CD, front panel header adapters, I/O shield, software and hardware guides, and other associated documentation.
BIOS
This is the main BIOS screen and the Settings menu. This is where most general system settings can be accessed. This is not where the OC menu is located–MSI has created a special section just for overclocking.
This is the System Status and Advanced Settings menu. This is where most of the System settings can be tweaked.
This is the rest of the Settings menu. Users can tweak settings such as Boot priority, fan control, Legacy USB support, Wake-up settings, Power saving, and more. This is a great tool, and has an excellent layout that is very easy to navigate.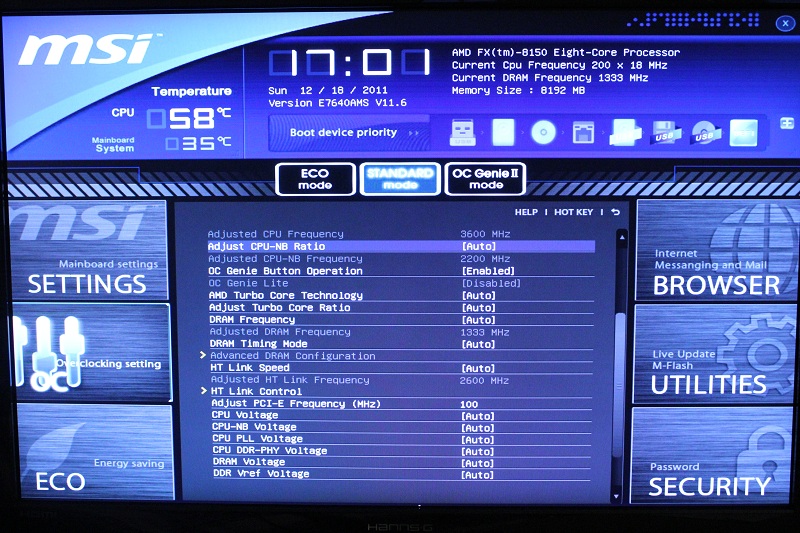 This is the overclocking center of the MSI 990FXA-GD80. Everything the user needs to know or change to overclock their system is right here. MSI also makes it easy by placing the two most commonly changed settings (FSB and Multiplier) at the top of the list, along with the readout for target CPU frequency.
This is the Eco menu, where users can adjust power-savings settings such as phase control and C1E/C6 CPU states. This also has a readout of PC Health Status, including voltages for VCore, DRAM, 3.3V, 5V, and 12V.
This is the Utilities and Securities area, where users can access security options and utilities such as HDD backup and M-Flash. The M-Flash utility is an excellent tool, and makes it extremely easy to flash the BIOS. We tried to get the in-BIOS browser to work, but it would not load, and would crash the system whenever we tried it. Even re-updating the BIOS and re-installing our Windows did not work.
Testing & Methodology
We've expanded our testing suite considerably for the 990 chipset, and will continue to use the same methods for most of the motherboards and CPU's we test. In the interests of thoroughness and accurate results, we run each test at least three times, and some tests more than that. We average the total of all the tests from each benchmark then report the average here.
The OS we use is Windows 7 Pro 64bit with all patches and updates applied. We also use the latest drivers available for the motherboard and any devices attached to the computer. We do not disable background tasks or tweak the OS or system in any way. We turn off drive indexing and daily defragging. We also turn off Prefetch and Superfetch. This is not an attempt to produce bigger benchmark numbers. Drive indexing and defragging can interfere with testing and produce confusing numbers. If a test were to be run while a drive was being indexed or defragged, and then the same test was later run when these processes were off, the two results would be contradictory and erroneous. As we cannot control when defragging and indexing occur precisely enough to guarantee that they won't interfere with testing, we opt to disable the features entirely.
Prefetch tries to predict what users will load the next time they boot the machine by caching the relevant files and storing them for later use. We want to learn how the program runs without any of the files being cached, and we disable it so that each test run we do not have to clear pre-fetch to get accurate numbers. Lastly we disable Superfetch. Superfetch loads often-used programs into the memory. It is one of the reasons that Windows occupies so much memory. Windows fills the memory in an attempt to predict what users will load. Having one test run with files cached, and another test run with the files un-cached would result in inaccurate numbers. Again, since we can't control its timings so precisely, it we turn it off. Because these four features can potentially interfere with benchmarking, and and are out of our control, we disable them. We do not disable anything else.
Test Rig
Case
Zalman Z9 Plus Mid-Tower Case
CPU

AMD FX-8150 (Bulldozer)

Motherboard
MSI 990FXA-GD80
Ram

Kingston H2O 8GB (4x2GB) DDR3 2133MHz 9-9-9-27

CPU Cooler
Thermalright Venomous X CPU Cooler
Storage
1x Seagate Constellation.ES2 3TB 7200RPM
1x OCZ Synapse Cache 64GB SSD (SATA III)
Optical
ASUS DVD Burner
GPU

1x Nvidia GeForce GTX 560 Ti

Fans

2x SilenX 120mm Ice Blue Quiet LED Fan (bottom left side panel)
1x 120mm (rear panel)
1x 120mm (bottom front panel)
2x 120mm (top panel)

PSU

Corsair HX Series 750W Modular Power Supply

Mouse
Razer Lachesis
Keyboard
Logitech Keyboard
Test Suite
We will use the following applications to test the performance of the Motherboard. Benchmarks
Benchmarks
PCMark 7
Just Cause 2
Cinebench R10
Cinebench R11.5
3DMark 11
3DMark Vantage
Dirt 2
AIDA64
PCmark 7

The latest benchmark Suite–PCMark 7, puts a greater stress on the system than the PCMark Vantage. In contrast to the PCMark Vantage, the latest edition stress type of workloads rather than individual tasks. It consists of Lightweight, Productivity, Productivity, Entertainment, Computation and Storage benchmark. Readers can refer to the PCMark 7 whitepaper for the detailed list of applications and tests run for each suite.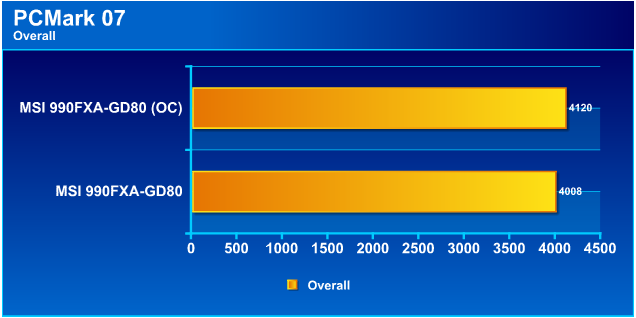 The overall test for PCMark 7 shows the MSI 990FXA-GD80 scoring fairly well for its range. For comparison, our FX-8150 system on the ASUS Crosshair V Formula and HD6870 scored around 2862.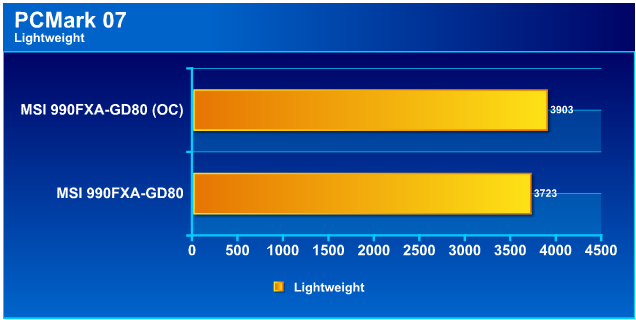 The Lightweight test consists of application loading, text editing, image manipulation and light multi-tasking involving web browsing with 3 tabs. The MSI 990FXA-GD80 scores well in this benchmark. For comparison, our FX-8150 system on the ASUS Crosshair V Formula and HD6870 scored around 2218.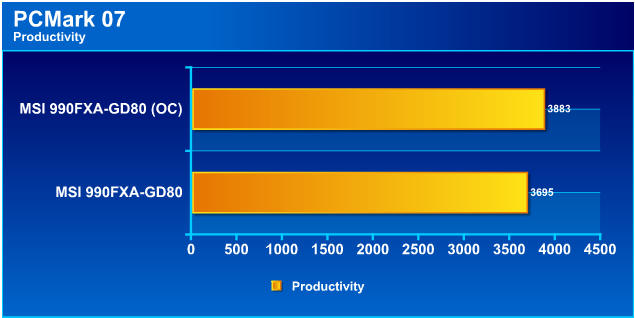 The Productivity test consists of application loading, web browsing and decryption, and text editing. The 990FXA-GD80 once again scores in the 3500-4000 range. For comparison, our FX-8150 system on the ASUS Crosshair V Formula and HD6870 scored around 1977.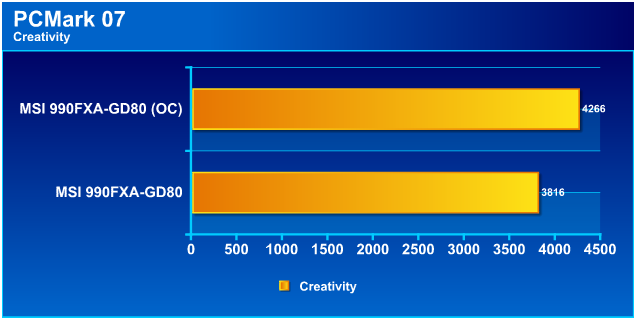 The Creativity test involves image importing and manipulation, and video editing and transcoding. The overclock on the 990FXA-GD80 gives a considerable boost to the score in this test, providing an 11% increase in score. For comparison, our FX-8150 system on the ASUS Crosshair V Formula and HD6870 scored around 3120.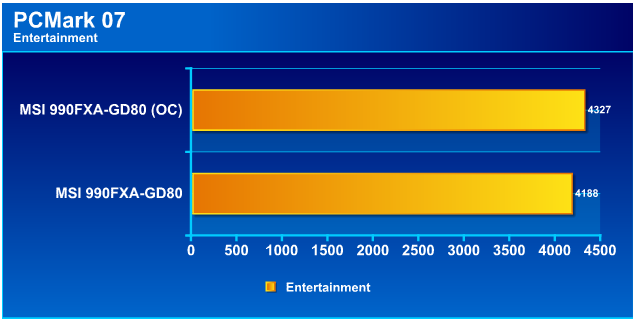 The Entertainment test involves video playback and transcoding, gaming, and web bowsing. The overclock does not contribute much towards a score increase here, which is unsurprising as the Entertainment test is usually GPU-bound rather than CPU-bound. For comparison, our FX-8150 system on the ASUS Crosshair V Formula and HD6870 scored around 3630.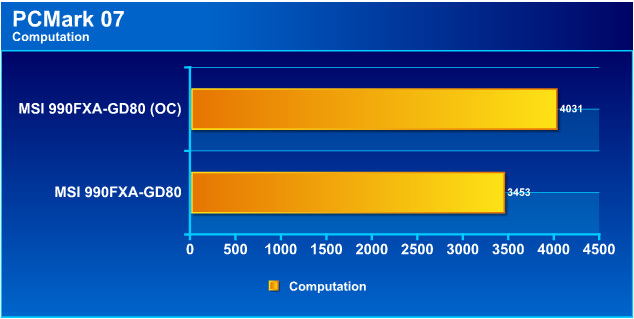 The Computation test involves video transcoding and image manipulation. The overclocking on the 990FXA-GD680 really shows its strength hear, giving a boost of almost 600 points (an increase of about 16%). For comparison, our FX-8150 system on the ASUS Crosshair V Formula and HD6870 scored around 3888.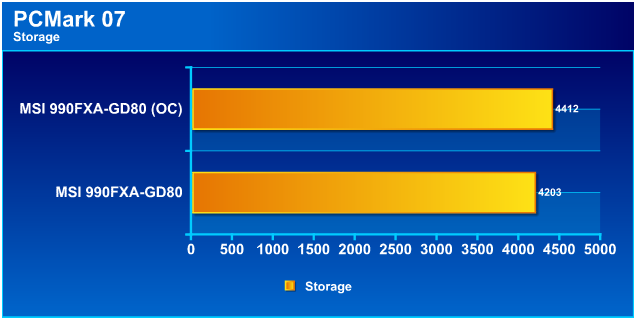 Storage tests are mostly limited by interface bandwidth or drive type, and are very rarely affected by the CPU. There is almost no difference between the OC and stock-clocked scores here. For comparison, our FX-8150 system on the ASUS Crosshair V Formula and HD6870 scored around 1920.
aida64 v1.50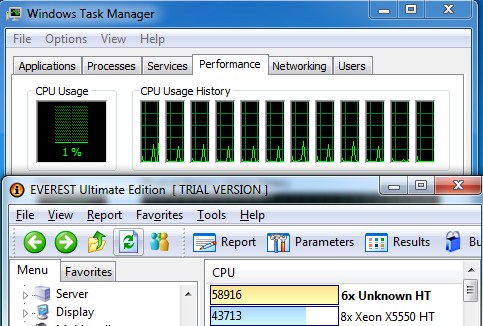 "AIDA64 Extreme Edition is a streamlined Windows diagnostic and benchmarking software for home users. AIDA64 Extreme Edition provides a wide range of features to assist in overclocking, hardware error diagnosis, stress testing, and sensor monitoring. It has unique capabilities to assess the performance of the processor, system memory, and disk drives. AIDA64 is compatible with all current 32-bit and 64-bit Microsoft Windows operating systems, including Windows 7 and Windows Server 2008 R2."
CPU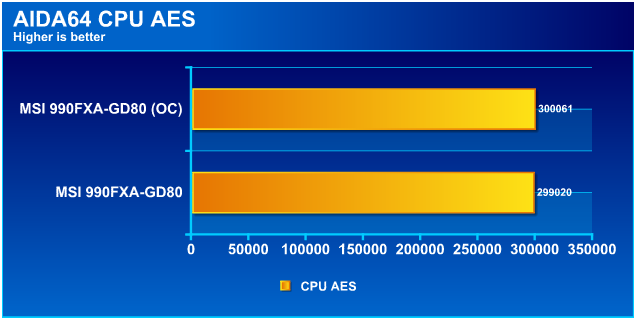 CPU AES tests the CPU's encryption capability using simple AES encryption on the x86 instruction set. The CPU AES encryption test shows a high score for the MSI 990FXA-GD80, though the overclock barely helps the score increase.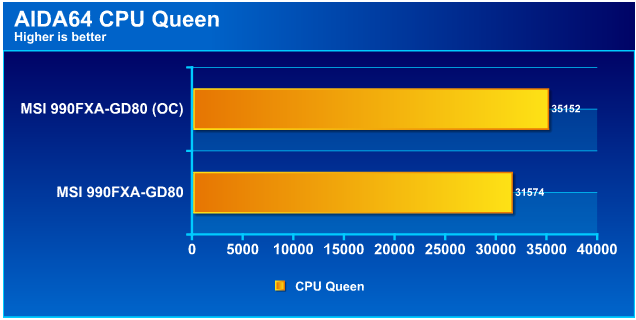 CPU Queen is a simple integer benchmark that stresses branch prediction and integer arithmetic. The overclock gives a considerable boost to the score, yielding an increase of about 11%.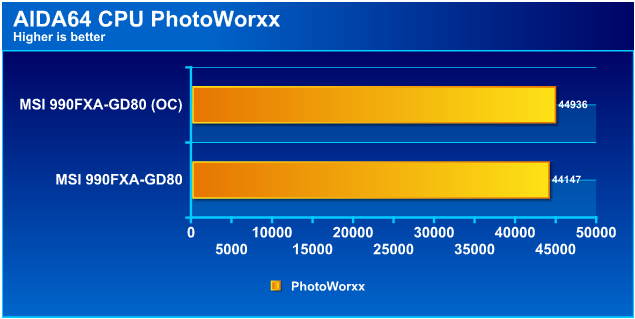 PhotoWorxx stresses processor's integer arithmetic and multiplication execution unit and the memory subsystem. As with CPU AES, the overclock barely increases the score in the PhotoWorxx test.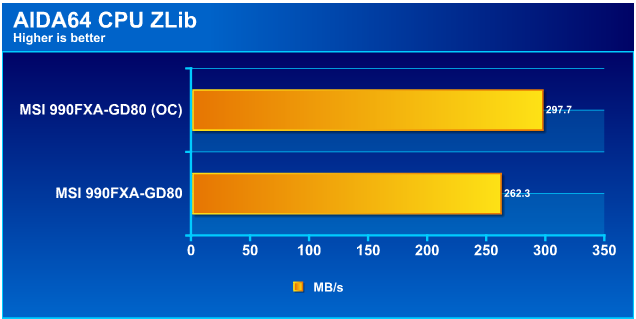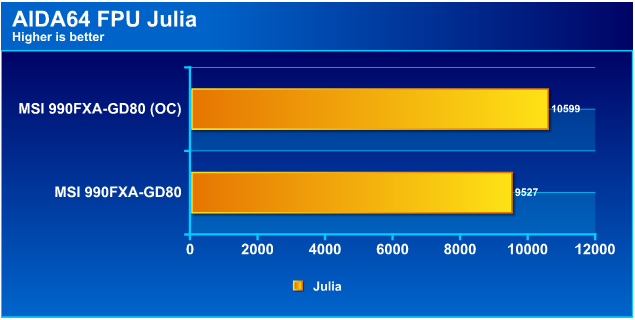 This test measures the single precision (32-bit) floating point performance. The AMD FX CPU's are weak in floating-point calculations due to their inherent architectural weakness, but the overclock does bridge the gap somewhat, giving a 5% increase.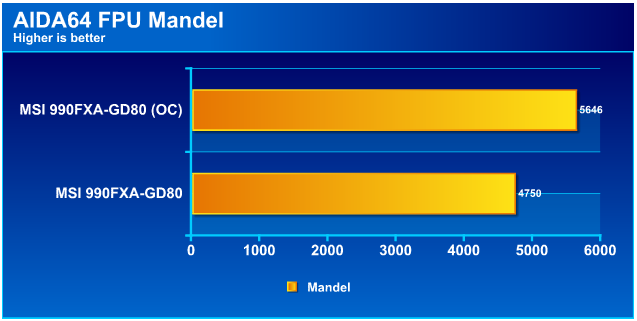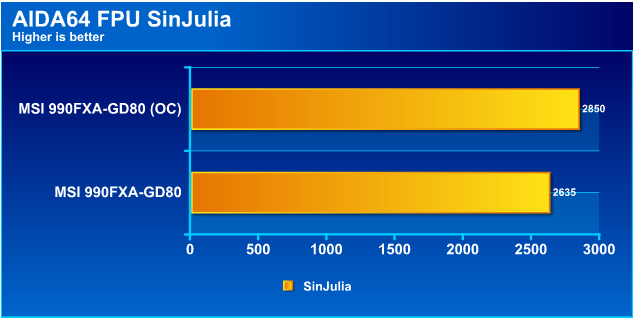 Mandel and SInJulia test the double precision floating point performance, and extended precision (80-bit) floating point performance respectively. The inherent weakness of the Bulldozer architecture means that the floating point performance is weaker than Intel-based systems (with scores about 2000 points higher), though our overclock goes a considerable way towards bridging that divide.
Memory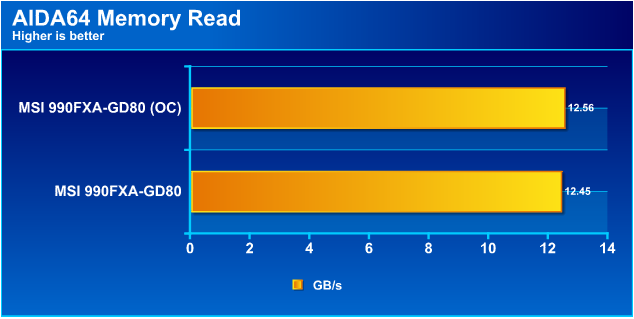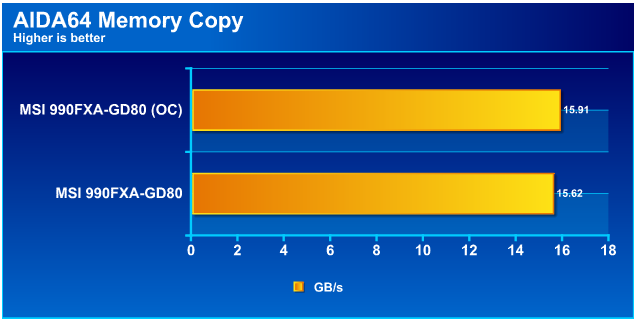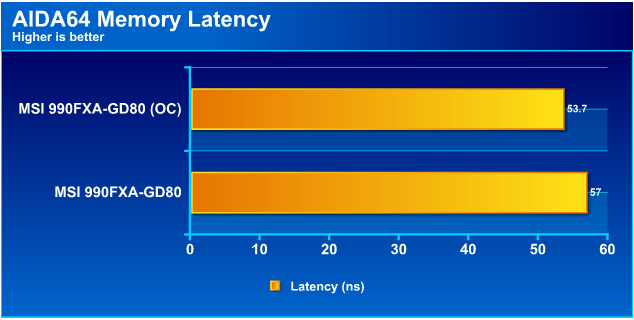 The MSI board does fairly well in these, lagging a little in the read and write tests. The overclock does not help much.
Cinebench R10 & R11.5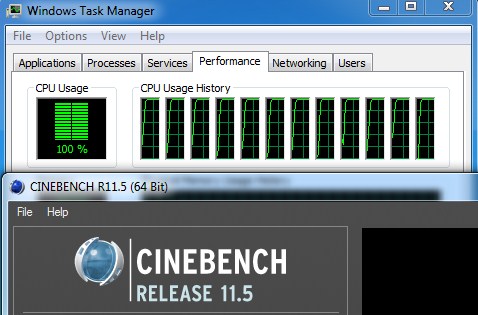 "CINEBENCH is a real-world test suite that assesses your computer's performance capabilities. MAXON CINEBENCH is based on MAXON's award-winning animation software, CINEMA 4D, which is used extensively by studios and production houses worldwide for 3D content creation. MAXON software has been used in blockbuster movies such as Spider-Man, Star Wars, The Chronicles of Narnia and many more. MAXON CINEBENCH runs several tests on your computer to measure the performance of the main processor and the graphics card under real world circumstances. The benchmark application makes use of up to 16 CPUs or CPU cores and is available for Windows (32-bit and 64-Bit) and Macintosh (PPC and Intel-based). The resulting values among different operating systems are 100% comparable and therefore very useful with regard to purchasing decision-making. It can also be used as a marketing tool for hardware vendors or simply to compare hardware among colleagues or friends."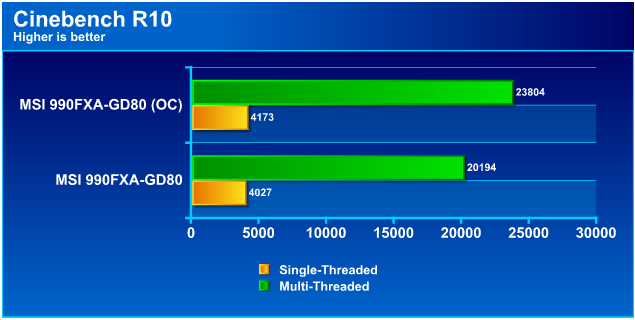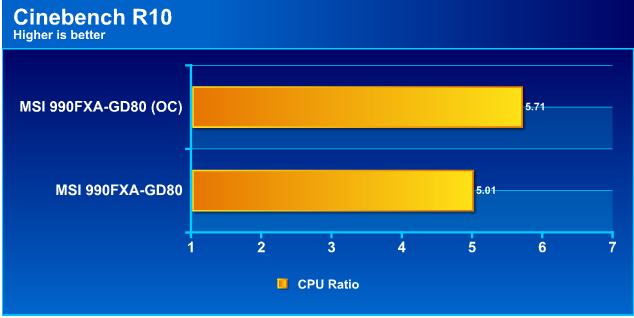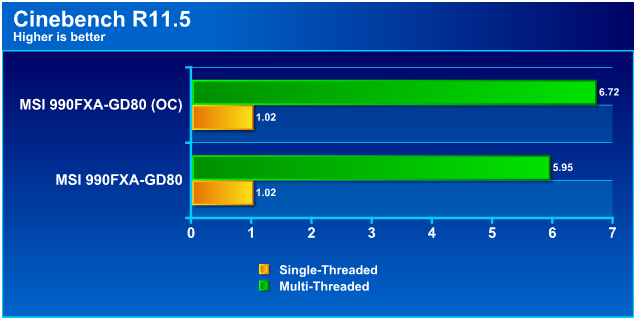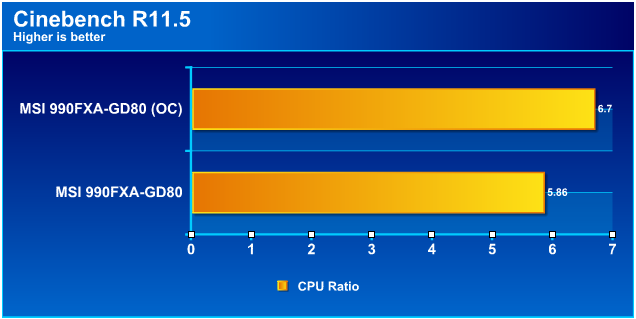 The scores for Cinebench R10 and R11.5 almost exactly match the ones for the ASUS Crosshair V Formula from our review of the FX-8150 CPU, and the overclock gives a similar boost in performance. This test is a stellar example of the fact that significant performance differences between motherboards in the same class are rare, and the major deciding factors between motherboards are their features rather than differences in performance.
3DMARK VANTAGE

For complete information on 3DMark Vantage Please follow this Link:
www.futuremark.com/benchmarks/3dmarkvantage/features/
The newest video benchmark from the gang at Futuremark. This utility is still a synthetic benchmark, but one that more closely reflects real world gaming performance. While it is not a perfect replacement for actual game benchmarks, it has its uses. We tested our cards at the 'Performance' setting.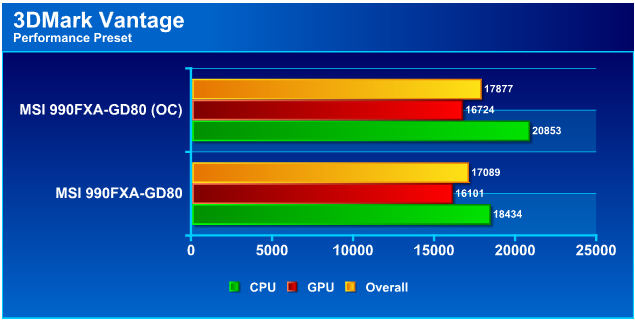 The MSI board posts a decent score in 3DMark Vantage, and the overclock helps considerably.
3DMARK 11

3DMark 11 is the newest in futuremark's suite of benchmarking utilities.  Its a fully capable DirectX11 benchmark which also stresses and analyzes the system performance as a whole to simulate a heavy rendering environment such as a high end game or other app the end user may run.  This benchmark was run with Performance settings 5 times and all runs were averaged for the result below.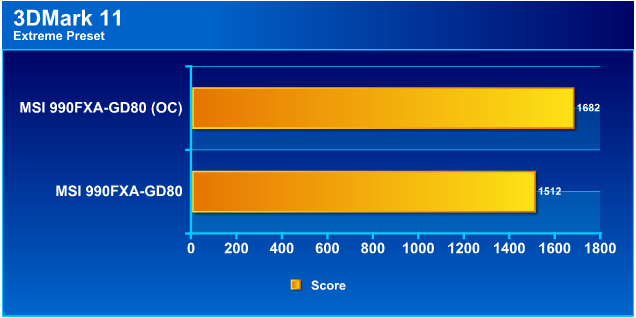 The MSI board again does decently in 3DMark 11. It is within an acceptable range. It is important to note that the results here and the results from our FX-8150 CPU are not comparable, as we tested the FX-8150 with an overclocked GTX 580, and this review was done with a GTX 560 Ti.
just cause 2
Just Cause 2 has been out for almost a year now, but instead of running lower resolution tests, we were also interested in checking out what to expect at higher resolutions where graphics performance might get in the way. This will give a great example to those people playing games at much higher resolutions.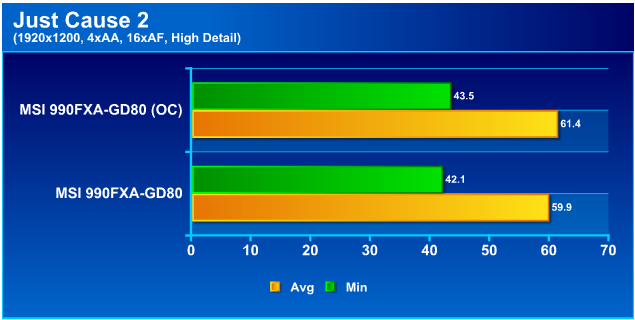 The results in Just Cause 2 are decent, but the overclock does not help much. This makes sense, as games (though representative of real-life applications) are more dependent on the GPU than on the CPU.
Dirt 2

Colin McRae: Dirt 2 (known as Dirt 2 outside Europe and stylized, DiRT) is a racing game released in September 2009, and is the sequel to Colin McRae: Dirt. This is the first game in the McRae series since McRae's death in 2007. It was announced on 19 November 2008 and features Ken Block, Travis Pastrana, Tanner Foust, and Dave Mirra. The game includes many new race-events, including stadium events. Along with the player, an RV travels from one event to another, and serves as 'headquarters' for the player. It features a roster of contemporary off-road events, taking players to diverse and challenging real-world environments. The game takes place across four continents: Asia, Europe, Africa and North America. The game includes five different event types: Rally, Rallycross, 'Trailblazer,' 'Land Rush' and 'Raid.' The World Tour mode sees players competing in multi-car and solo races at new locations, and also includes a new multiplayer mode.
Colin McRae: Dirt is the first PC video game to use Blue Ripple Sound's Rapture3D sound engine by default.
A demo of the game was released on the PlayStation Store and Xbox Live Marketplace on 20 August 2009. The demo appeared for the PC on 29 November 2009; it features the same content as the console demo with the addition of higher graphic settings and a benchmark tool.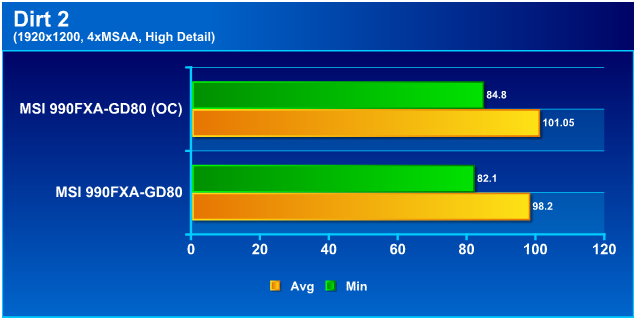 The MSI board does well here again. The overclocking results here are consistent with our results for Just Cause 2, which once again reflects on the GPU-bound nature of gaming benchmarks.
Overclocking

The FX-8150 CPU is intended to be very overclocking friendly. Unfortunately for AMD though, Bulldozer's overclocking ability will not be limited by the processor's temperature but rather by its power consumption.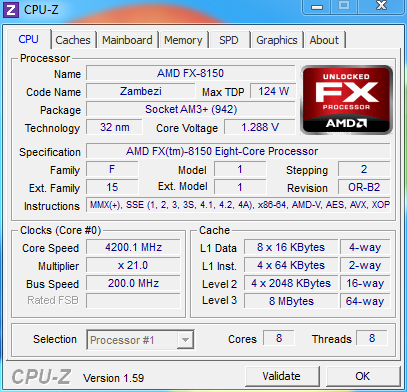 The MSI board makes overclocking a snap with the handy Click BIOS and real-time monitoring tools. We started out by adjusting the multiplier up a few levels. Since adjusting FSB speeds too egregiously can cause system failures, we opted to go through the multiplier one step at a time. We were able to push the system comfortably to 4.2GHz with the standard 200MHz FSB and a 21x multiplier. We were able to actually get it to about 4.42GHz, but the system would crash when we ran Prime95, and we experienced intermittent BSOD's when trying to boot to Windows.
Important note: Overclocking can cause component failure.  Please exercise caution when attempting any level of overclock on system components.
Temperatures

The temperatures were recorded with Realtemp while running Wprime 1024 right before the end of the 5th run. The results were recorded carefully. After the results were recorded, we waited for 30 minutes before taking Idle temperature measurements. The results were as follows:
| | |
| --- | --- |
| CPU Temperatures | Temperature (Idle/Load) |
| MSI 990FXA-GD80 OC (4.2GHz) | 36C/47C |
| MSI 990FXA-GD80 | 28C/35C |
| Chipset Temperatures | Temperature (Idle/Load) |
| MSI 990FXA-GD80 OC (4.2GHz) | 32C/48C |
| MSI 990FXA-GD80 | 24C/35C |
Our Thermalright Venomous X CPU cooler was a great cooling solution, and the temperatures stayed reasonable throughout our benchmarking runs. A well ventilated case also contributed to lower temperatures and more stability. As we said above, we were able to comfortably push the FX-8150 CPU to 4.2GHz on air cooling. For much higher overclocking, liquid cooling is recommended.
Power Consumption

The power consumption was tested while running Wprime 1024 for a few minutes at stock settings. The results were recorded carefully with a Kill-A-Watt power consumption measuring tool at the wall. After the results were recorded, we waited for yet another few minutes minutes before taking Idle power consumption measurements.
| | |
| --- | --- |
| Configuration | Power Consumption (Idle/Load) |
| MSI 990FXA-GD80 OC (4.2GHz) | 130W/259W |
| MSI 990FXA-GD80 | 113W/167W |
The board's power consumption was well within acceptable range. However, since the graphics cards contribute significantly to overall system power draw, SLI/CrossFire users will see higher power levels.
Conclusion
The MSI 990FXA-GD80 is an excellent addition to MSI's lineup of AMD boards. It comes stacked to the brim with attractive features and high-quality components. We really liked the military class components on the board, and though there is no way to test if they are actually up to component standards, we never once experienced a component failure on our sample, even during overclocking. The board also has decent internal connectivity, with a full spate of SATA 6Gbps ports. This is encouraging to us, as solid state drives are now large players in the storage market, and can make full use of the 6Gbps bandwidth, where traditional mechanical hard drives cannot. We do wish the board came with better USB 3.0 connectivity, as more and more users are switching to the USB 3.0 standard. The board only has two rear panel USB 3.0 ports, and can fit an additional two through the included add-on. However, this add-on potential is conditional upon users having enough expansion slots on their case, and is in any case, inconvenient.
The 990FXA-GD80 also has good overclocking potential, and its Click BIOS is an excellent tool, though for some reason, its included OS-based software did not work for us. We were able to overclock the board to 4.2GHz without any problems, and it performed wonderfully. The board's value also makes it an excellent choice for users who have just bought an AMD FX CPU, or who are looking to upgrade older AMD systems. It has a great component layout and overall design, and we are sure it will be a good choice for any user, gamer or enthusiast.
OUR VERDICT: MSI 990FXA-GD80
| | |
| --- | --- |
| Performance | 9 |
| Value | 9 |
| Quality | 9 |
| Features | 8 |
| Innovation | 8.5 |

We are using a new addition to our scoring system to provide additional feedback beyond a flat score. Please note that the final score isn't an aggregate average of the new rating system.

Pros
Cons

Good overclocking potential

Good performance

High-quality components used

Great price

UEFI BIOS

LED error display

USB SuperCharger

Included software did not work

Only two USB 3.0 ports

 
Summary: The MSI 990FXA-GD80 is a great motherboard for any AMD user. It has great performance for its class, and is extremely easy to navigate and overclock. In addition, its low price makes it a great buy. For its great performance for a good value, the MSI 990FXA-GD80 earns the Bjorn3D Silver Bear Award.