Rosewill RK-V1TP is a slim keyboard with multi-finger trackpad designing for HTPC and multimedia center. It features wireless connection and 10 special multi-media buttons for Windows Vista Media Center.
INTRODUCTION
The current style trend for computer input devices seems to be slim and sleek. Apple released the Magic Trackpad with multi-touch functionality for desktops. Their latest aluminum keyboard is also thin as cardboard, with its anodized aluminum housing and Chiclet keys.
Though keyboards are not as glamorous or as expensive as CPUs or video cards, they are an indispensable piece of hardware that we rely on daily. After all, what use is the best CPU in the world, if we have nothing to control it with? A keyboard with poor tactile response or awkward spacing simply will not get the job done in a comfortable manner. Some keyboards are sticky or stiff, requiring users to press hard on the keys. Others have awkard key placement, resulting in gross misspellings and grammatical carnage.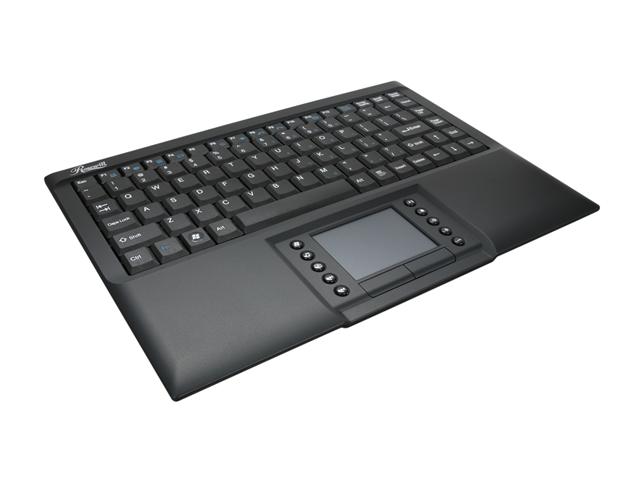 While aesthetics may attract attention, the worthiness of a keyboard is ultimately determined by its utility. If a keyboard is shiny but does not work well, it defeats its own purpose. Though Rosewill's RK-V1TP might never compete against Apple's keyboard in the aesthetic department, it does have some visual appeal with its slim design. Would this be a good choice for PC users who want a slim keyboard? Let's find out.
RK-V1TP Keyboard and Mousepad
Keyboard
click for larger image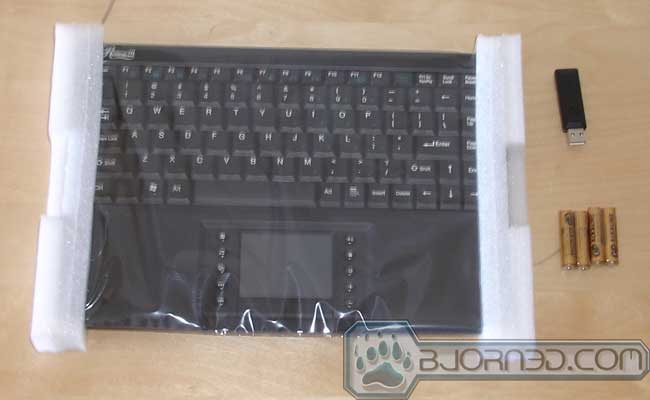 The keyboard looks and feels very much like a laptop keyboard, with its super slim design and trackpad. The thickest part of the keyboard is only 14mm, and the keyboard is quite light with its all-plastic exterior. The plastic matted black body feels a bit flimsy, but strong enough to survive everyday use.
Four AAA batteries are used to power the keyboard. There is an auto-sleep mode to optimize battery life. A USB adapter connects the keyboard to a computer up to 20 meters away via a 2.4GHz wireless channel. The keyboard will work with Windows, Mac, and Linux operating systems. No additional software is needed to use the keyboard as it uses default Windows driver.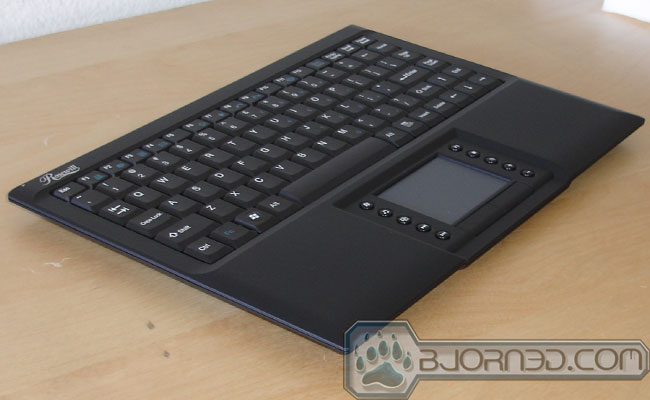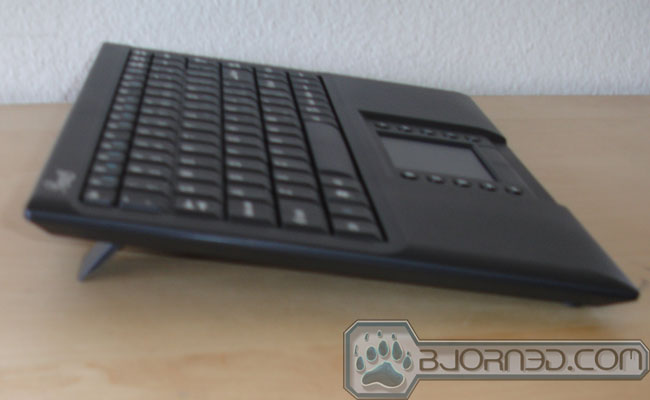 This is a standard 88 key keyboard. The keys are full-sized and well spaced. The main character keys do not feel crammed. Users comfortable with laptop keyboards should find this a nice fit. Since the keyboard mimics the notebook design, keys are not raised as high as full-size keyboards, so users who prefer a deeper tap feeling may not prefer this one.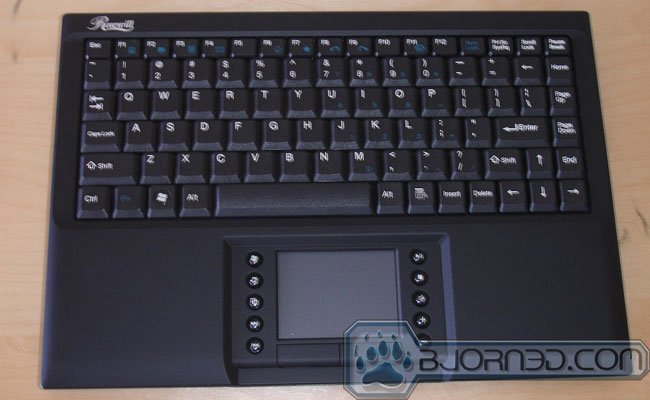 The keyboard includes the usual function keys, such as the Page Up, Page Down, End, and dedicated arrow keys on the right side of the keyboard. The F1-F12 keys have been reduced slightly in size. They also function as special function keys when combined with Fn key. Simultaneously pressing the Fn and one of the F keys will launch common used applications such as My Computer, Search, Calculator, Email, Web browser, and Favorites. There are also a few dedicated buttons for flipping forward and backward in a web page.
Unfortunately, the keyboard has no dedicated Numpad. Like many laptop keyboards, there is a Num lock key that will lock the U-I-O columns into numerical keys. Since this can be used for a desktop however, we would rather see a dedicated numpad. One major omission we noticed is the lack of a Num lock on and off indicator.
Since Rosewill markets the keyboard for HTPC, we were surprised that the keyboard lacks power management buttons that allow users to turn their computer On/Off or put it in standby mode. Since the keyboard does not come with any software for key mapping, there is no way for users to add such a feature.
Rosewill uses tape for the letters and the symbols on the keyboard. We would prefer that Rosewill etch these characters onto the keyboard buttons, as tape is usually subject to extensive wear and tear. Considering the keyboard may be used in a living room where it can get dirty easily, a more durable label would be a better idea. Also, the keyboard is unfortunately not water-proof. Given to the fact that it can easily be spilled on in a living room, we would definitely love to see it water-proofed.
Trackpad
The touchpad included with the keyboard is rather unusual. It comes with certain movements (similar to the ones Apple has on theirs) that users can perform on the touchpad. For example, users can swipe two fingers up and down to scroll the page, tap with two fingers functions to middle click, and tap with three fingers to right click. There are a total of 7 gestures.
The 3.25 inches touch pad can be a tad small for users with a large screen, but it works well traveling across a 24'' display.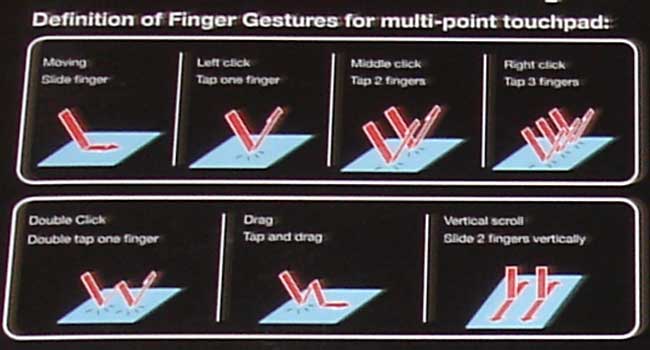 We also found an additional gesture not on the list: scrolling with both fingers horizontally, will zoom the web browser in and out. However, this feature does not work well in other applications (such as MS Word).
Around the keypad are two rows of multimedia buttons. These buttons further enhance the keyboard's functionality for HTPCs. We liked the inclusion of a dedicated 3D Flip button, as it allows users to quickly switch between active windows. For those who prefer to use a physical click button, the touchpad comes with the standard left and right buttons, however we found that the multimedia buttons and the left and right click buttons are a bit sticky and make an annoying clicking sound.
Features
Laptop style full sized keys, save space with excellent comfort
Multi-point finger gesture touch-sensitive operations
Ultra Slim body with thickest section of only 14mm
Enjoy total control of your PC of up to 20 meters from receiver in radius .
Power saving technology with auto sleep for efficient battery life to over 3 months.
Subtle, Refined design to bring excellent comfort to users.
Ideal for Home Theater, VOIP, presentation and security systems facilities.
Full functionality of a standard layout keyboard including built-in numeric keypad.
Quiet keyboard & mouse buttons with tactile feedback.
Simple USB Plug & Play – no driver & software required.
10 shortcut keys for : Vista Media Center, Media Player, Email, Internet Browser & Audio Controls.
Note: The Numlock is automatically activated,  please press "Fn+Numlock" to unlock.  
Reviewer's FEEDBACK AND IMPRESSION
The size of the Rosewill keyboard is fairly easy to get used to. The slightly smaller right shift was annoying, and I sometimes accidentally hit the "/" key instead of shift while trying to capitalize a letter.
The Delete and Insert keys are atrociously placed however. Rosewill placed these keys in the lower right hand corner next to the arrow keys, instead of the usual upper right hand. It is a common laptop keyboard layout, but I always prefer to see these buttons in the upper right hand corner. I do use the delete key often when typing, and I found myself having to search the keyboard for the delete key because the area is so crammed.
The keys have a good tactile response. As mentioned before, users used to a laptop should have no issues switching to this keyboard. Typing on the keyboard is quite comfortable thanks to the large palm rest. One of the positive things I noticed is the lack of lag. I am a decent typist and with some keyboards, the delay between keying a letter and it appearing on the screen is obvious and unbearable when I am typing reviews. However, with this keyboard, I did not notice any delay. One issue I did find is the dysfunctional "M" key. Sometimes I have to hit the "M" key a bit harder for it to register. Instead of typing "I am", it will display "I a". This only happens with the M key, so it is possible that the problem is only restricted to this one sample.
I do not particularly like the sensitivity of the trackpad and scrolling function. Also, scrolling is imprecise and can be so extreme that at times, it will either not respond at all, or scroll all the way to the bottom of the page. In addition, three fingers tapping can sometimes be registered as two fingers tapping.
CONCLUSION
Overall, we liked the slim design of the Rosewill keyboard and, felt that for HTPC users where typing is not the most critical function, the keyboard can get the job done with its dedicated multimedia keys. The included touchpad provides basic scrolling so there is no need for a separate mouse. However, the touchpad and multi-touch function tend to be erratic and do not function at times. Though the multi-touch feature is a nice idea, we would prefer a simple touchpad that works well to an advanced touchpad that only works intermittently.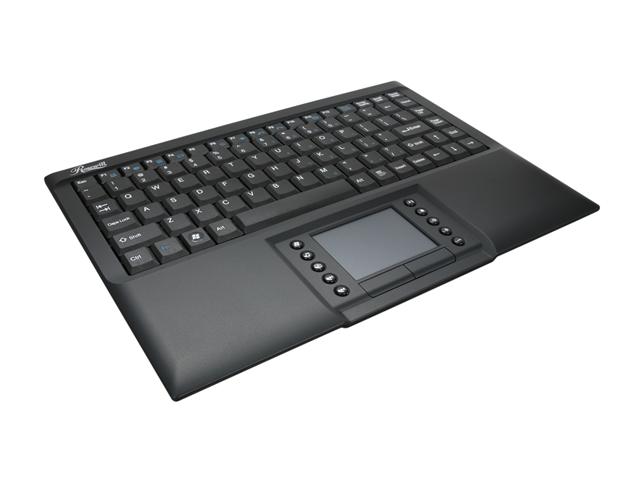 The keyboard's fast response is a definite plus, however we would have liked to see dedicated power management buttons. While we appreciate the keyboard is easy to setup without the need to install any driver, we would like to see some sort of program that allows users to remap keys or reconfigure the special buttons. Without dedicated software, it limits users to only use it with Windows's default software, leaving those who use other operating systems for their HTPCs with their hands tied.
OUR VERDICT: Rosewill RK-V1TP Multimedia Keyboard and Touchpad
| | |
| --- | --- |
| Performance |  6.0 |
| Value |  7 |
| Quality |  7 |
| Features |  7.5 |
| Innovation |  7 |

We are using an addition to our scoring system to provide additional feedback beyond a flat score. Please note that the final score isn't an aggregate average of the rating system.

Pros
Cons

Slim design

Good tactile response

Full-size keys

Easy to type with

No delay

Dedicated multimedia keys

 

Sticky multimedia and trackpad buttons

Multi-finger gesture does not always work

Hard to use delete and insert key placement

Smaller right shift key

Touchpad is erratic

No dedicated power management

No key remapping feature

 

 
Summary: Rosewill RK-V1TP is a decent keyboard to type with. The slim design and dedicated multimedia buttons are a definite positive. Unfortunately, the  trackpad is too erratic and dysfunctional.