This summer, at IDF 2010, Intel revealed the newest processor microarchitecture: Sandy Bridge. We take a look at this brand new technology, expected to be released in 2011.

Intel Developer Forum 2010 – sandy bridge
This year, at the Intel Developer Forum, the industry giant revealed their new Sandy Bridge microarchitecture.

Sandy Bridge is a "second generation 32 nm based microprocessor with on-processor graphics," said Steve Smith, VP and Director of PC Client Operations. This "visually smart architecture," as Smith termed it, will make the job of video producers and editors much easier. According to the Intel blog, the Sandy Bridge processor is meant to focus on "the areas where most users are computing today: HD video, 3-D, mainstream gaming, multi-tasking, and online socializing and multimedia." Opher Kahn, a Senior Principal Engineer, said that the integration of graphics, cores and memory would bring a new level of performance.
Sandy Bridge, given the chipset designation "P67," is the successor to the wildly popular Nehalem architecture used in the Intel Core i series. Whereas Nehalem used the same manufacturing techniques as the old 45nm Penryn (used in the Core 2 line), Sandy Bridge takes the manufacturing methods used in Westmere (the 32 nm die shrink of Nehalem), and applies it to a new microarchitecture system. The Sandy Bridge architecture was revealed at IDF 2010, and its first processors will be released in 2011 in keeping with Intel's "tick-tock" policy. Before we examine Sandy bridge in more detail, here is a short timeline of past, present, and future Intel microarchitectures:
July 2006: 65nm Core (Core 2 series) microarchitecture released
November 2007: 45nm die shrink (Penryn) released
November 2008: 45nm Nehalem (Core i series) microarchitecture released
January 2010: 32nm die shrink (Westmere) released
Expected 2010/2011: 32nm Sandy Bridge microarchitecture will be released
Expected 2011: 22nm die shrink (Ivy Bridge) will be released
Expected 2012: 22nm Haswell microarchitecture will be released
Expected 2013: 16nm die shrink (Rockwell) will be released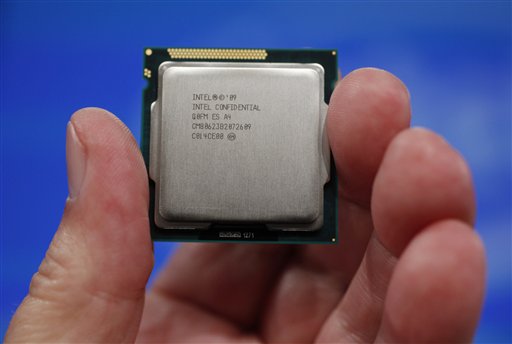 The new "Sandy Bridge" CPU looks only slightly different from the older "Nehalem" CPUs
For us to gauge how effective the Sandy Bridge architecture will be, however, we must first look at its specifications:
The Sandy Bridge processor will use Socket LGA 1155 (for desktops) and Socket LGA 2011 (servers)

I

t will have a 2.3-3.4 GHz clock speed (3.0-3.8 GHz with Turbo Boost enabled)

It will feature Hyper-Threading Technology like its Nehalem and Pentium predecessors

It will feature a default of 4 cores (6 and 8 core processors will be released in mid 2011)

Integrated graphics core at 1 to 1.4GHz

Integrated memory controller supporting DDR3-1600 dual channel (25.6 GB/s max bandwidth)

Maximum default TDP of 95W

8MB L3 cache (shared with the integrated graphics core)
The Sandy Bridge specifications in more detail:
Sandy Bridge Desktop CPU Specifications
Processor Name
Base Frequency
L3 Cache
Cores / Threads
Max Single Core Turbo
Intel HD Graphics Frequency / Max Turbo
Unlocked CPU
TDP
Intel Core i7 2600K

3.4GHz
8MB
4/8
3.8GHz
850 / 1350MHz
Yes
95W
Intel Core i7 2600

3.4GHz
8MB
4/8
3.8GHz
850 / 1355MHz
No
95W
Intel Core i5 2500K

3.3GHz
6MB
4/4
3.7GHz
850 / 1100MHz
Yes
95W
Intel Core i5 2500

3.3GHz
6MB
4/4
3.7GHz
850 / 1100MHz
No
95W
Intel Core i5 2400

3.1GHz
6MB
4/4
3.4GHz
850 / 1100MHz
No
95W
Intel Core i3 2120

3.3GHz
3MB
2/4
N/A
850 / 1100MHz
No
65W
Intel Core i3 2100

3.1GHz
3MB
2/4
N/A
850 / 1100MHz
No
65W
The Intel P67 chipset is supposed to be a microarchitectural marvel. It is supposed to support both CrossFire and SLI, and many suspect that Intel worked in some features from Nvidia's NF200 SLI chipset for added performance.
The line does stop here, however. As Intel unveiled of the two new socket types, GIGABYTE was quick to seize the opportunity. The first Gigabyte motherboard supporting the Intel P67 chipset and Socket LGA 1155 was seen at IDF 2010. The P67A-UD5 and P67A-UD7will have many of the same features as their X58 chipset counterparts. These include a 24 phase power VRM design, 6 Gb/s SATA 3.0 support (this support is now embedded within the Intel chipset), USB 3.0 support, ON/OFF charge, and onboard acceleration. The new line of P67 boards will also support Dual Channel DDR3, so as to work with the processor's onboard memory controller.
Click Image For a Larger One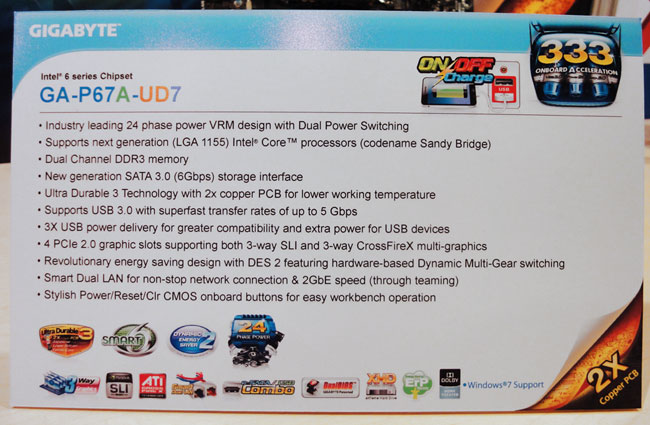 Neither GIGABYTE nor Intel have yet released the price of their new hardware, but it is sure to be steep. Through the years, Intel's processor lineups have consistently shown excellent performance. Whether the Sandy Bridge will live up to its predecessors is not 100% certain, but based on the specifications, we are hard pressed to call it anything but excellent. This advancement of technology is a welcome sight, and we at Bjorn3D eagerly await 2011, when the release of the Sandy Bridge processor will once again revolutionize personal computers.

Click Image For a Larger One