For Gaming benchmarks, We chase to consolidate to key newer titles and consolidate them on to targeted pages for easier navigation and less work for you to find what you need. Below are all gaming showing how these parts stack up. Please keep in mind that both systems are running a stock Nvidia GeForce GTX 1080 Ti.
Rise Of The Tomb Raider

Now we're getting into the territory of a game more optimized for the higher performance GPUs. Rise of the Tomb Raider is an awesome game and part of a long lasting franchise. It is a little older as Shadow of the Tomb Raider just launched but it still deserves to be included.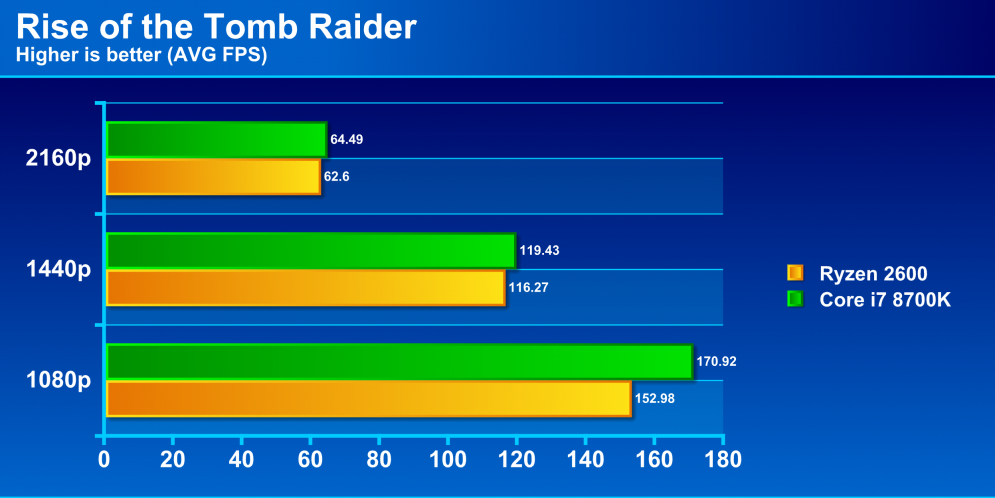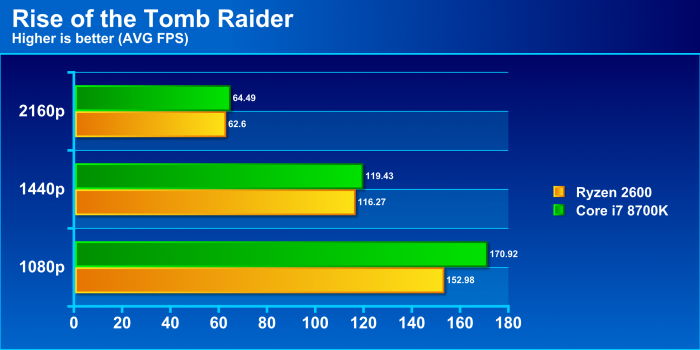 Rise of the Tomb Raider shows that it definitely has some love for the 8700K's higher performance at 1080P (10% lead) as its more load on the CPU and less on the GPU. The story changes in a big hurry once you get to 1440P and 4K where you find the difference being a couple FPS to even near parity.


Shadow of the Tomb Raider just launched and I must say, the game is beautiful. It should be a worthy stress test and a validation point for newer GPUs. It is also worth mentioning if you didn't catch it on the list, but it will be employing some of the new RTX card features soon which means it will look even better!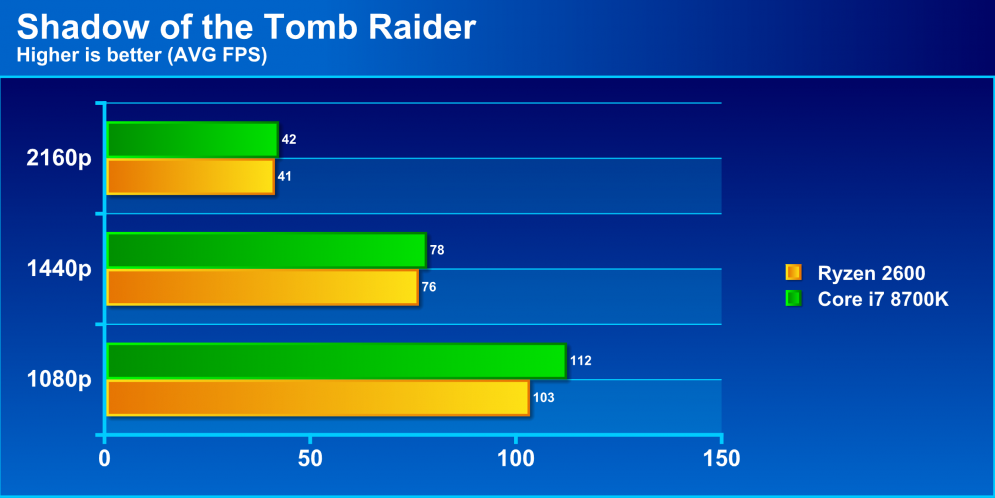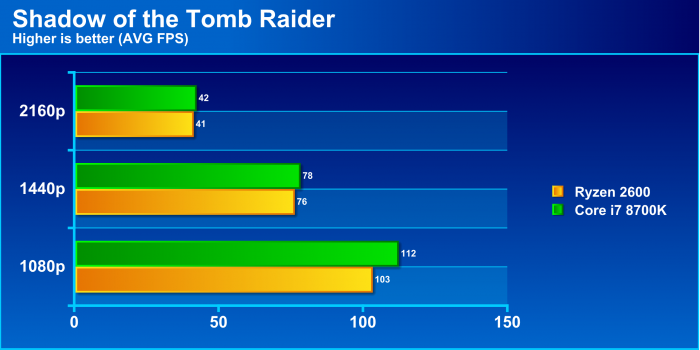 Here we see the same as the engine is similar but more load as the newer game drops FPS across the board but this time the RYZEN part is within striking distance even at 1080p (8%).


Assassins Creed Origins is the newest entry into the long lineage of Assassins Creed games. It takes place in ancient Egypt and has some amazing visuals and is very taxing on your graphics subsystem.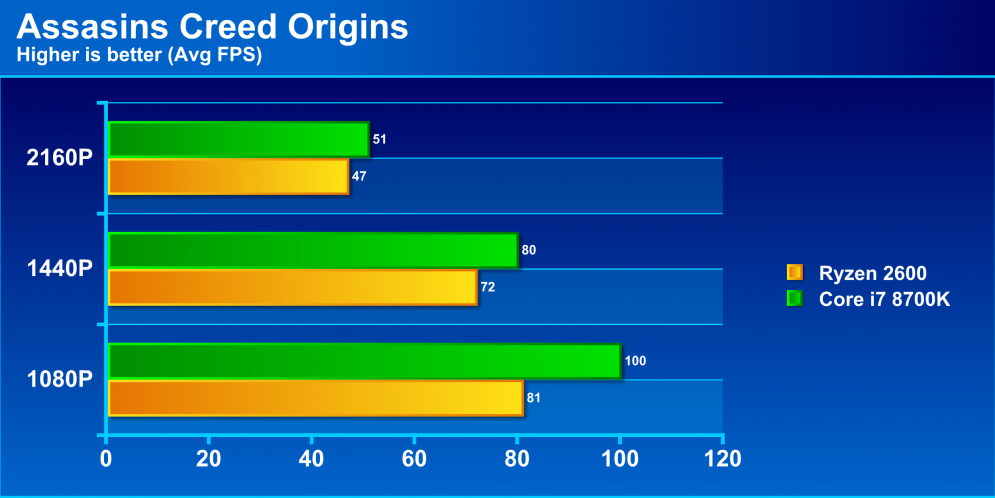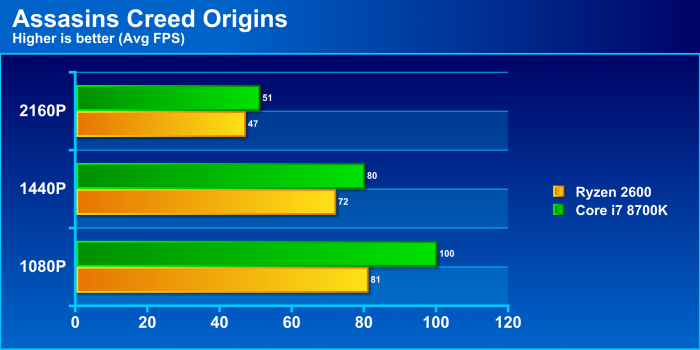 Assasins Creed shows a bit more favor across the board and at 1080P a clear 19FPS (19%) difference but the gap closes again as the resolution rises.


Far Cry has been a great series of games and the newest takes on a cult-like group in the rural USA. This entry into the Far Cry franchise has some great visuals and can definitely put your GPU to work being a much newer game.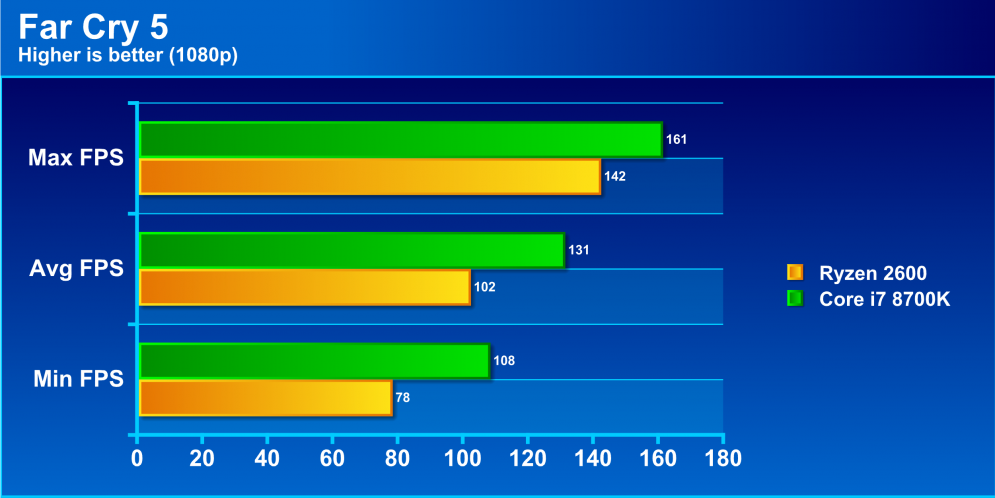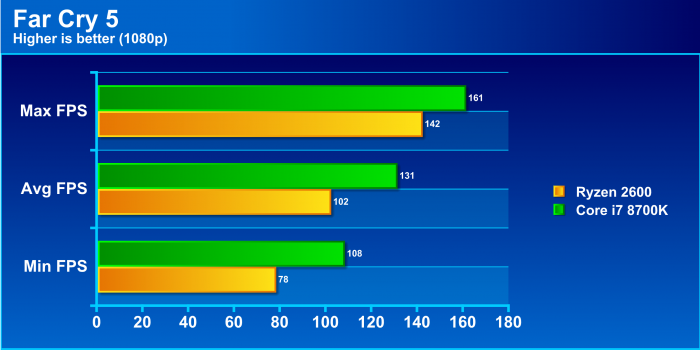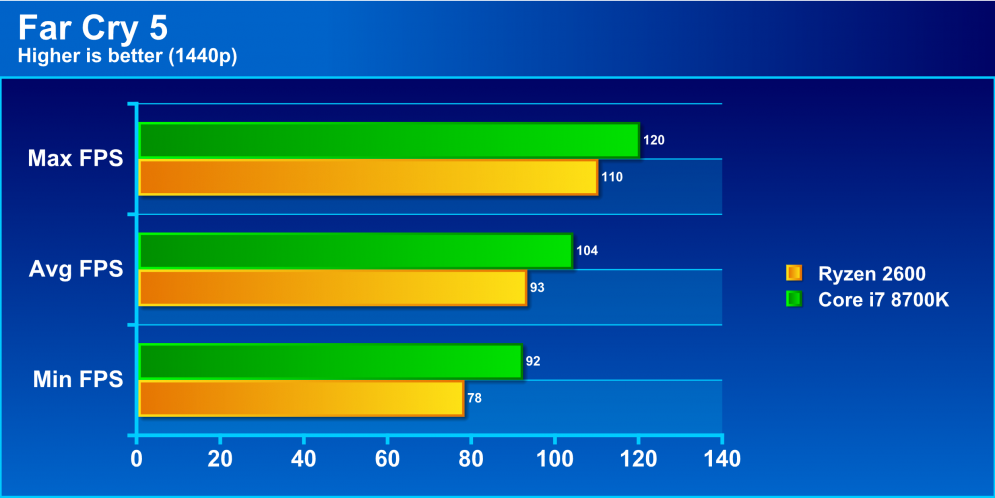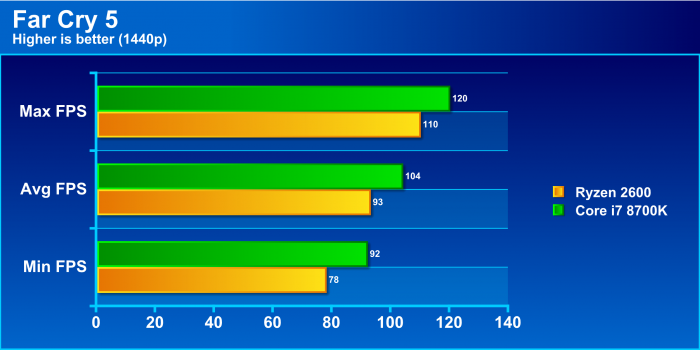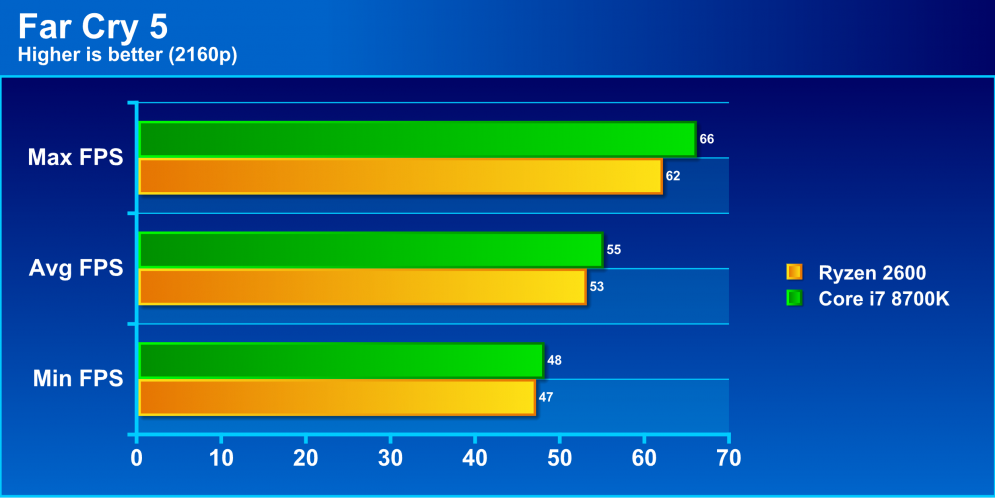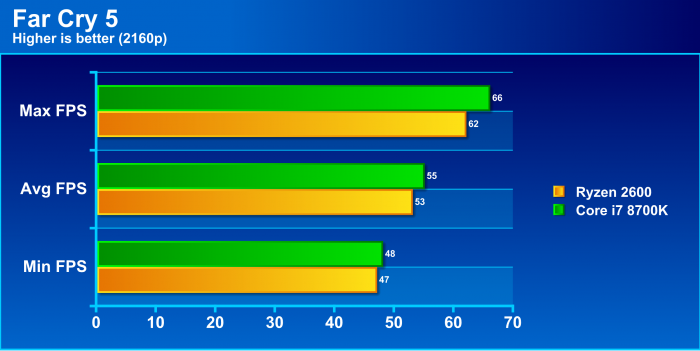 Far Cry is a newer game and when pushing into the performance it definitely shows a bit of favor with a 23% lead for the higher performance 8700K at 1080p but move up to 1440p and you see that drop to  10% and at 4K we see 2% disparity.


Ghost Recon Wildlands is an awesome squad-based shooter which has tons of varying terrain, vehicle play and plenty of eye candy via explosions and particle effects to make your GPU cry.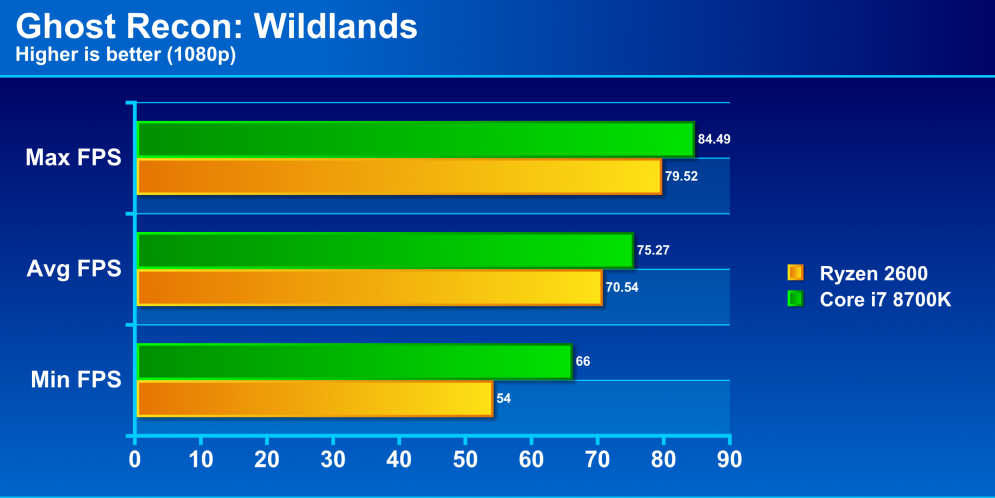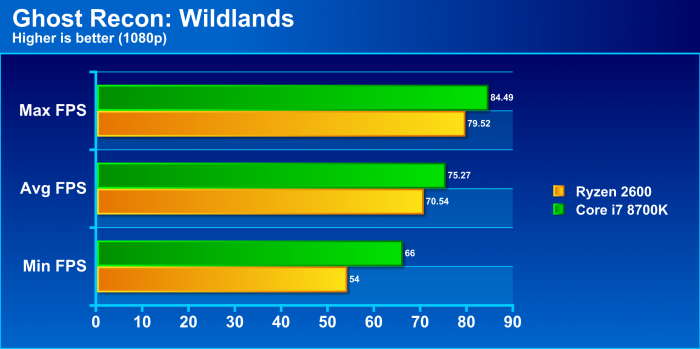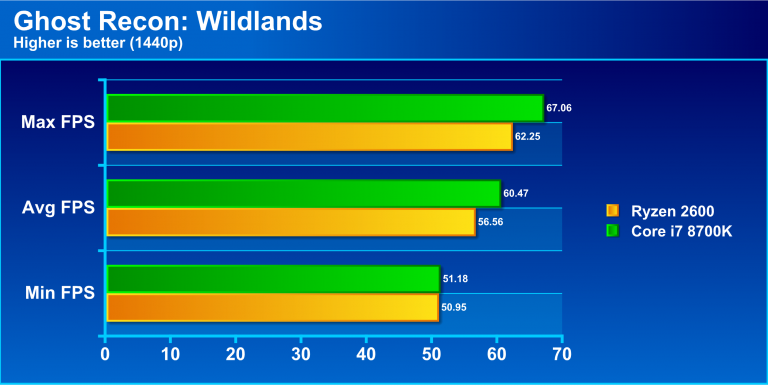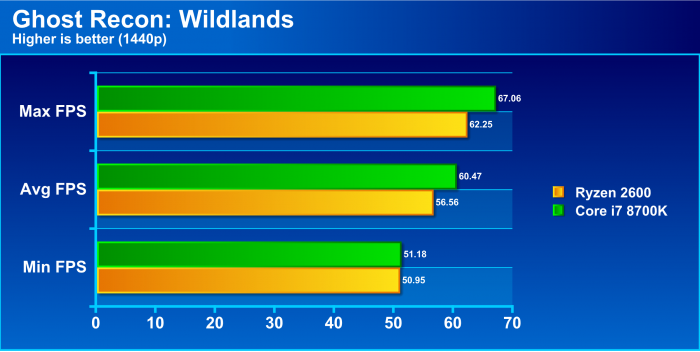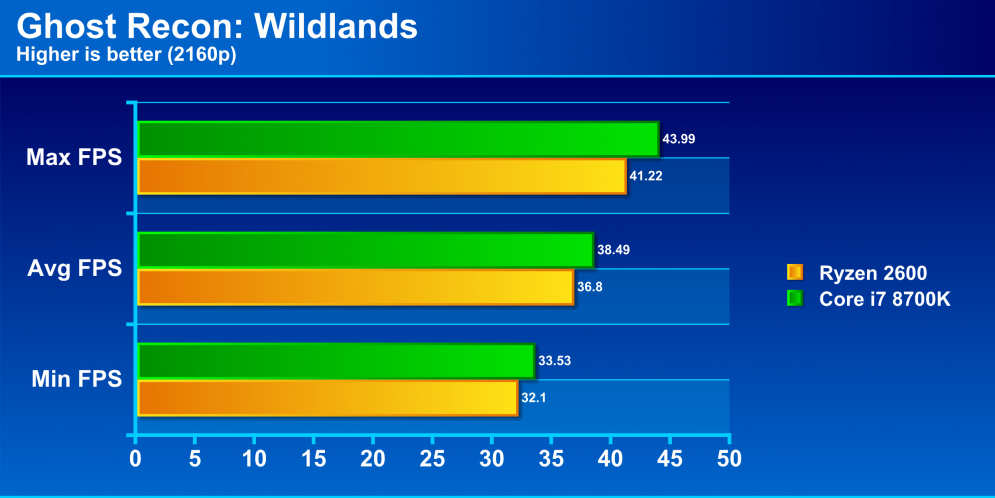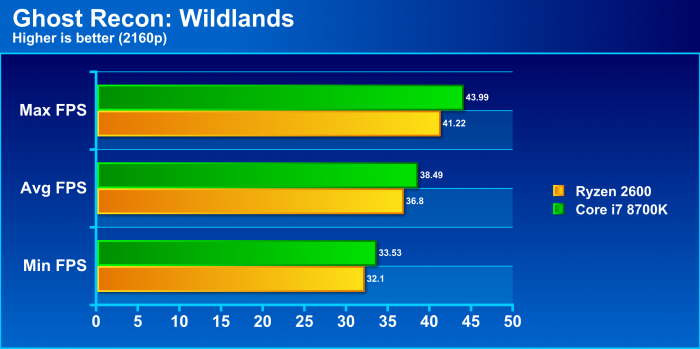 Ghost Recon: Wildlands gets along well with both platforms and shows the 8700K pulling a paltry 6% FPS lead at both 1080p and 1440. Move to 4K and the gap slims down to 4%.


Again with the squad-based shooters, Rainbow Six Siege allows you to team up with friends and battle it out breaching buildings and using tactical measures to get the drop (sometimes literally) on the opposition.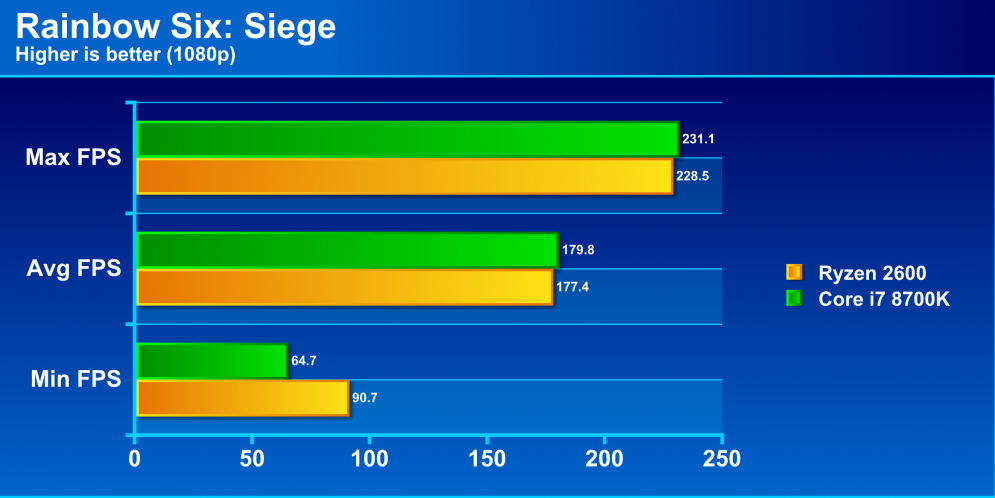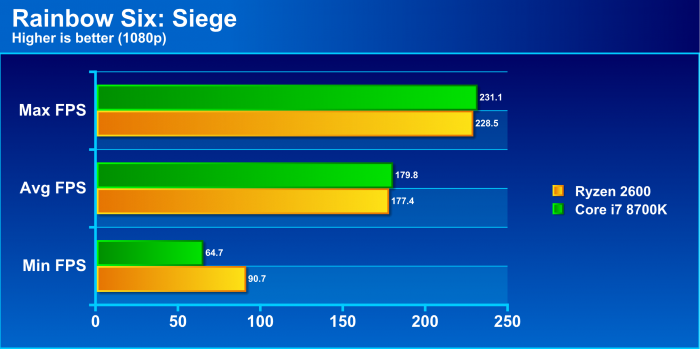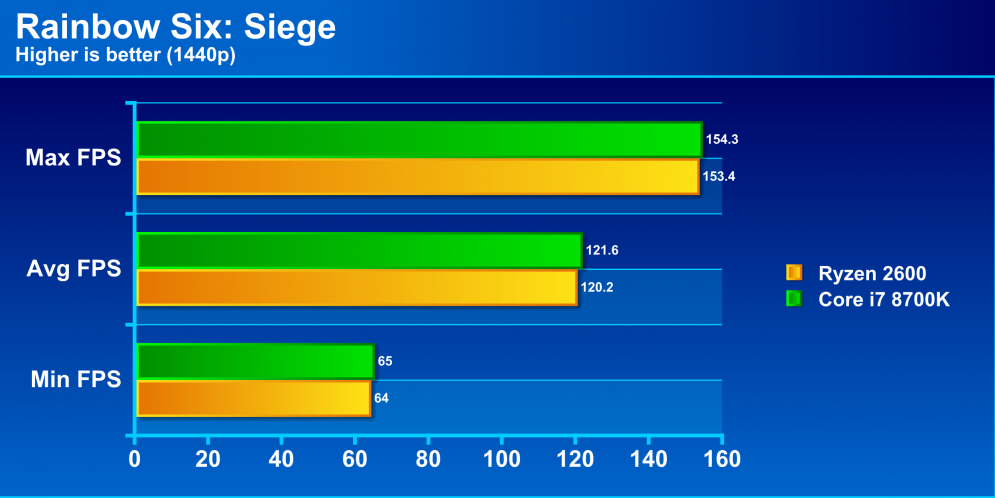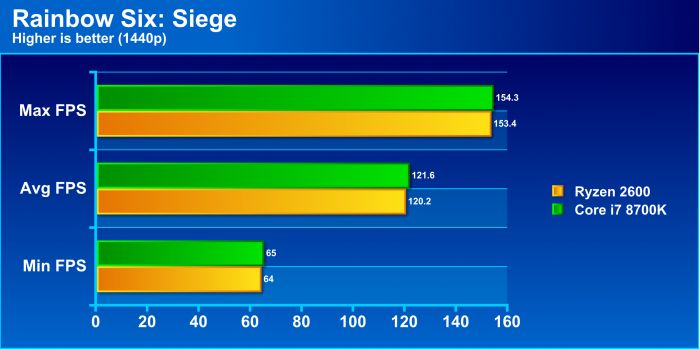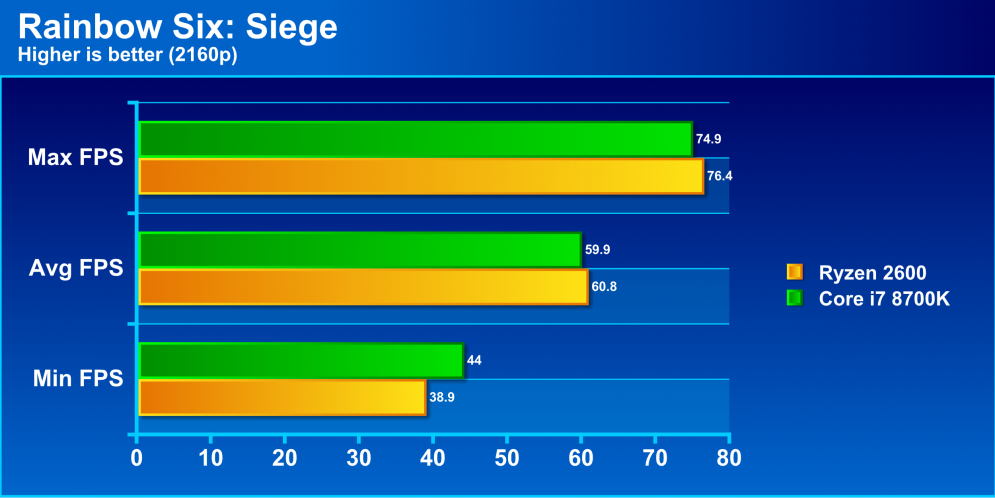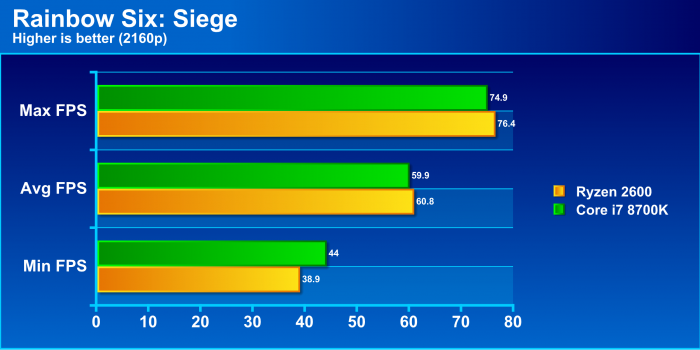 The final test is Rainbow Six Siege which I was truly surprised to see held almost party between the two models and at 4K the 2600 actually bested the Avg FPS of the 8700k based rig ever so slightly.