CrystalDiskMark
CrystalDiskMark is a piece of software that allows you to benchmark your hard drive or solid state drive, the purpose of benchmarking is to make sure that your HDD or SSD is performing optimally. CrystalDiskMark is only available on Windows and can be all major Windows Releases, it even works on Windows 10 Tech Preview.
CrystalDiskMark lets you select any drive that you want and perform a number of tests on them to measure performance for reading and writing. It will run sequential read and write tests as well as random read and write tests and will display the results in MB/s and IOPS.
0Fill 500MB Totally Compressable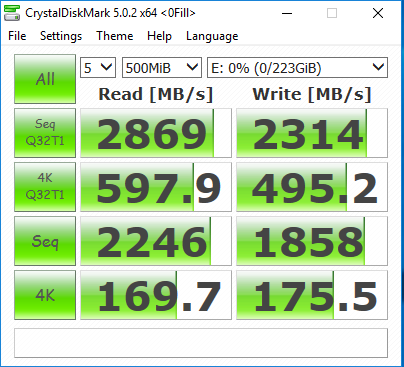 CDM shows a Sequential read speed of 2869MB/s (2.869GB/s) and a write speed of 2.314GB/s and as we were running the benchmarks a friend observing lab procedure gasped "Ridiculously fast" which pretty much sums up our feelings about the Force MP500 drive!
0Fill 32GB Totally Compressable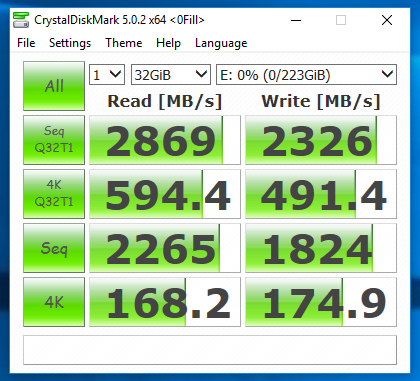 The previous run of CDM was 0Fill 500MB run length so we kicked it up to 32GB run length and despite the run length size speeds remained high running from 2.869GB/s Sequential read to 168.2MB/s on the brutal 4K read test.
Random 500MB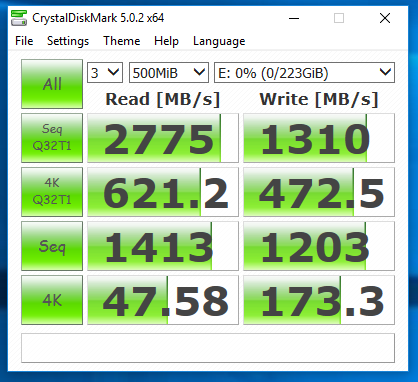 CDM running the Random 0Fill to incompressible test slowed the Force MP500 down a little bit, especially the write test, but as you can see speeds remain high.