MasterCase Maker 5t
Hello hardware enthusiasts. Cooler Master has unveiled their latest addition to the MasterCase series, the MasterCase Maker 5t. While any case from the MasterCase series can be made into whatever type of build you want, the Maker 5t is aimed specifically at the top-tier gamer. The MasterCase line as a whole is based around a completely modular design that offers builders the freedom to pick and choose what hardware is necessary to achieve the perfect end build. Nearly every component in the case can be adjusted or manipulated in some way. Combined with the available MasterCase Accessory line, builders have a long list of options to build with. At a quick glance the most notable updates to the MasterCase 5t are the dual tempered glass side panels, metallic red and black theme, and new top grip handle. The MasterCase series of towers have always looked great sitting on a desk and the new two-tone theme really sets this case off. Let's look over the specifications chart and then see what other tricks the MasterCase 5t has up its sleeve.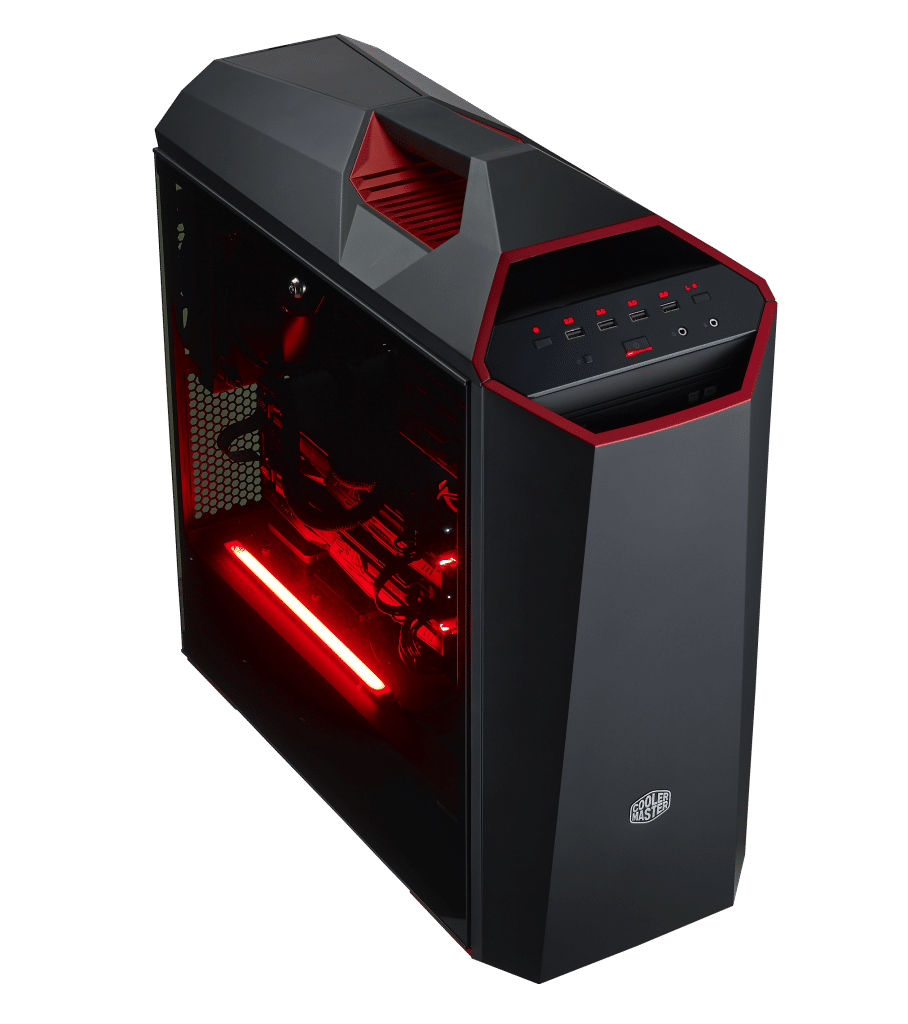 Specifications
Product Name
MasterCase Maker 5t
Model Number
MCZ-C5M2T-RW5N
Available Color
Metallic red-black
Materials
Steel body, Plastic mesh bezel, Tempered glass panels (both sides)
Dimensions (LxWxH)
544 x 242 x 574 mm
Net Weight
13.5kg
Motherboard Support
ATX, Micro-ATX, Mini-ITX
Expansion Slots
7
Drive Bays
5.25″
2
3.5″
2
2.5″
2+2
I/O Panel
USB 3.0 x 4
Audio In & Out (supports HD Audio)
Fan Speed Control H/L
LED light control button (light on, breathing light, light off)
Pre-installed Fan(s)
Front
140mm x 2 (1200RPM)
Rear
140mm x 1 (1200RPM)
Fan Support
Front
120/140mm x 3
Rear
120/140mm x 1
Top
120/140mm x 2
Liquid Cooling Support
Front
120mm / 140mm / 240mm / 280mm radiator
Rear
120mm / 140mm
Top
120mm / 140mm / 240mm / 280mm (maximum 297mm radiator length)
Clearance
CPU Cooler
190mm / 7.48″
PSU
200mm / 7.87″
Graphics Card
296mm / 11.7″ (with 3.5″ HDD cage)
412mm / 16.22″ (w/o 3.5″ HDD cage)
Cable Routing
Behind Motherboard Tray
35mm
Dust Filters
Top, Front, bottom
Power Supply
Bottom mount, ATX
Lighting Support
Red LED strip x1 (pre-Installed)
4 LED connections in total available (3 available out of the package)
Extra features
MasterCase M-Port Graphics Card Holder
Standout Features
Dual Tempered Glass Side Panels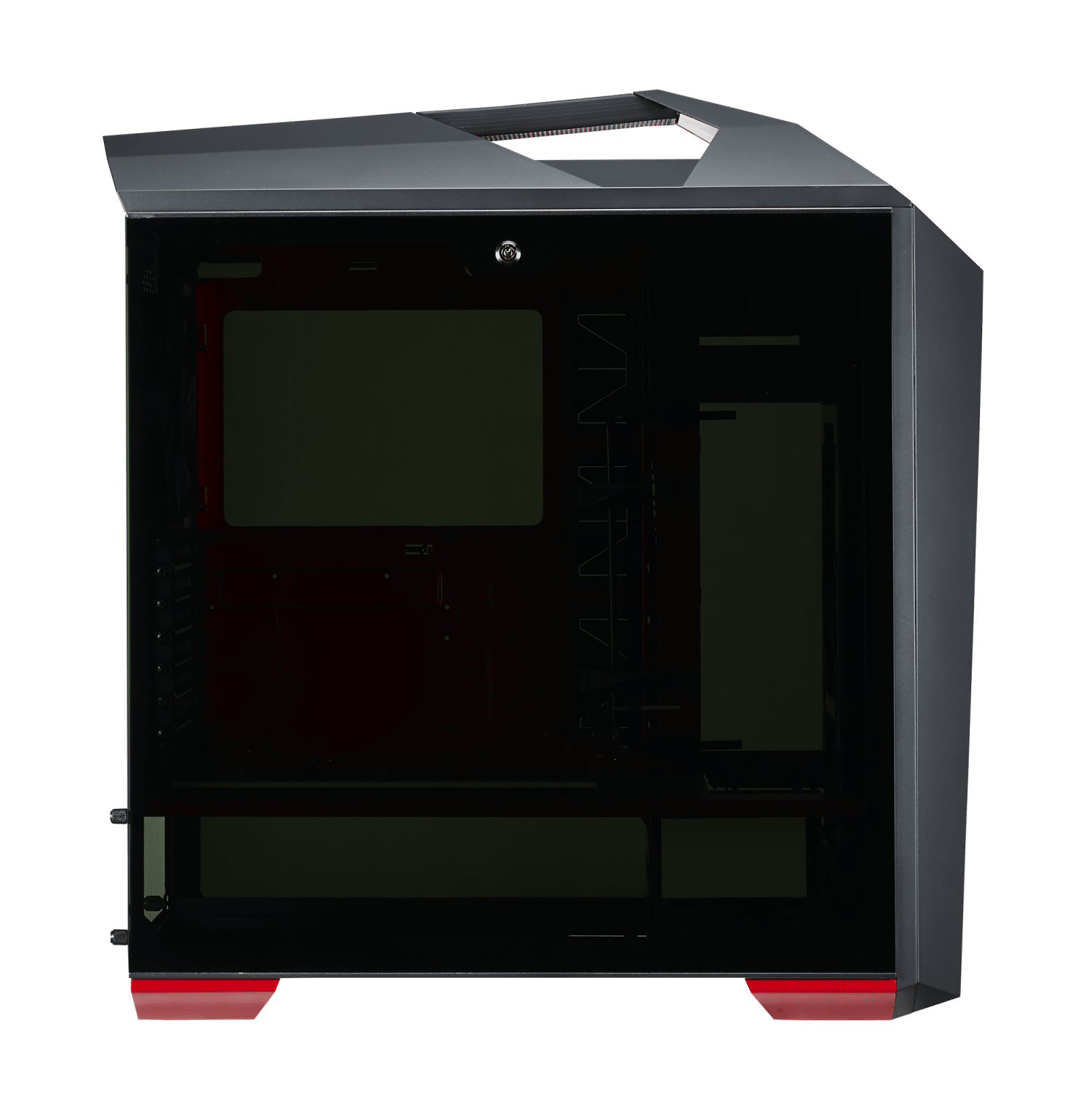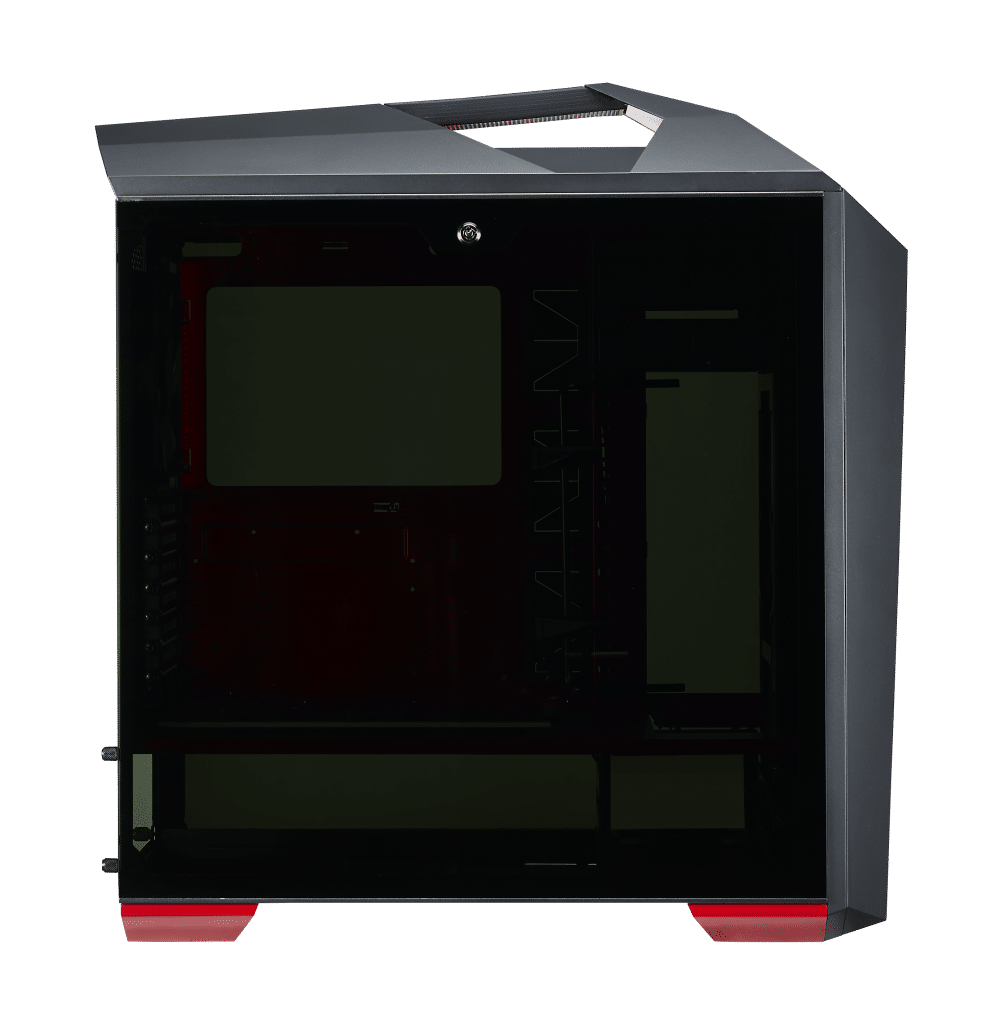 The dual glass side panels give the MasterCase 5t a futuristic look about it. Tempered glass seems to be the big rage right now and it's easy to see why; it looks amazing. These particular panels have a smokey look to them, but they are not too dark. The panels are easy to remove and have a locking mechanism to insure one of your panels does not accidentally come free and suffer damage.
Metallic Red / Black Theme

The red / black color scheme on the Maker 5t has just the right amount of color in the right spots. The red is metallic and shines a bit under the light. The paint feels high quality and that it won't chip easily. The included red LED bar accents the metallic paint. With a magnetized back, the LED bar can be easily placed wherever you like in the tower.
Top Handle Grip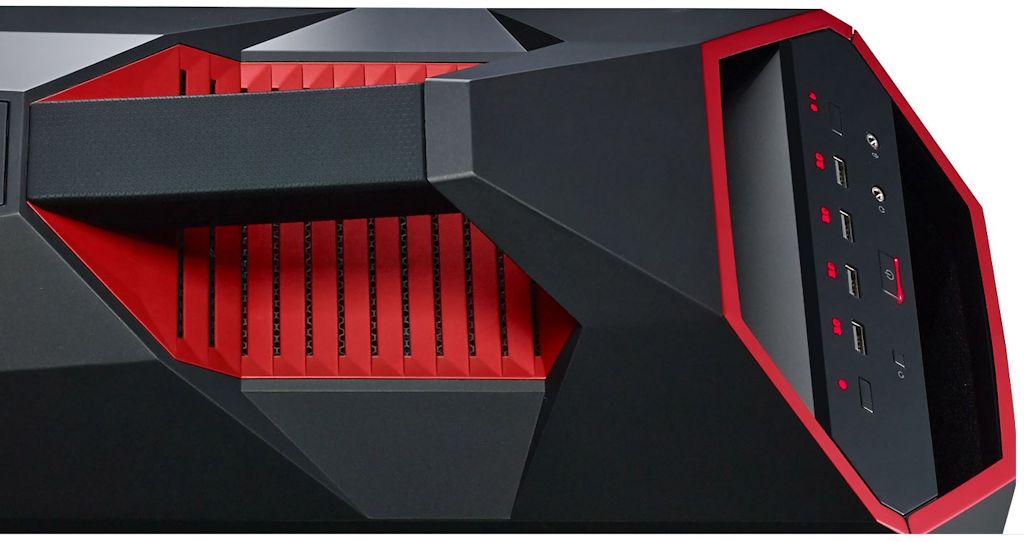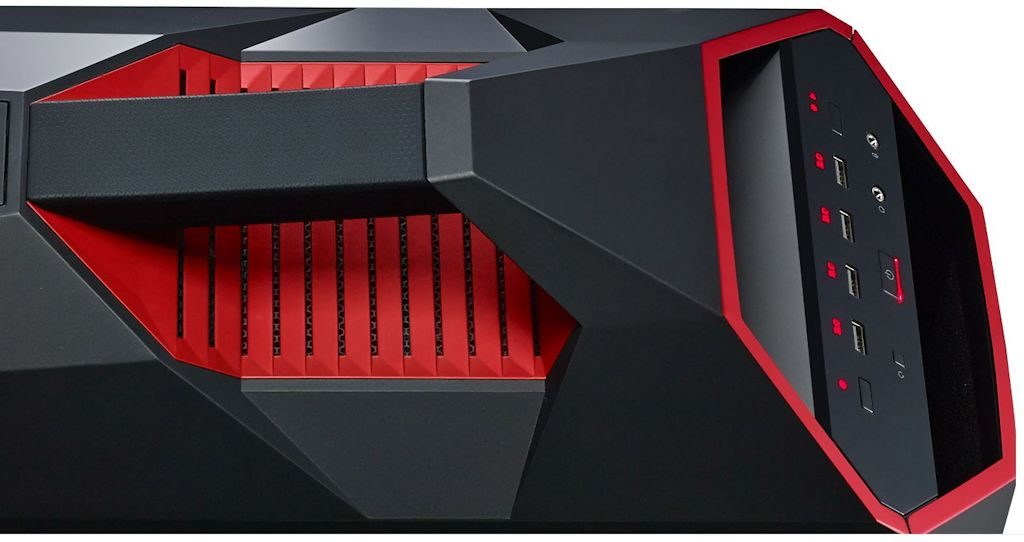 Borrowing from the design of their Trooper tower, Cooler Master has added a handle onto the MasterCase 5t. High end hardware can get pretty heavy, especially when you consider the weight of the two tempered glass side panels added on. The handle was a great logical addition to the MasterCase 5t.
MasterCase GPU Holder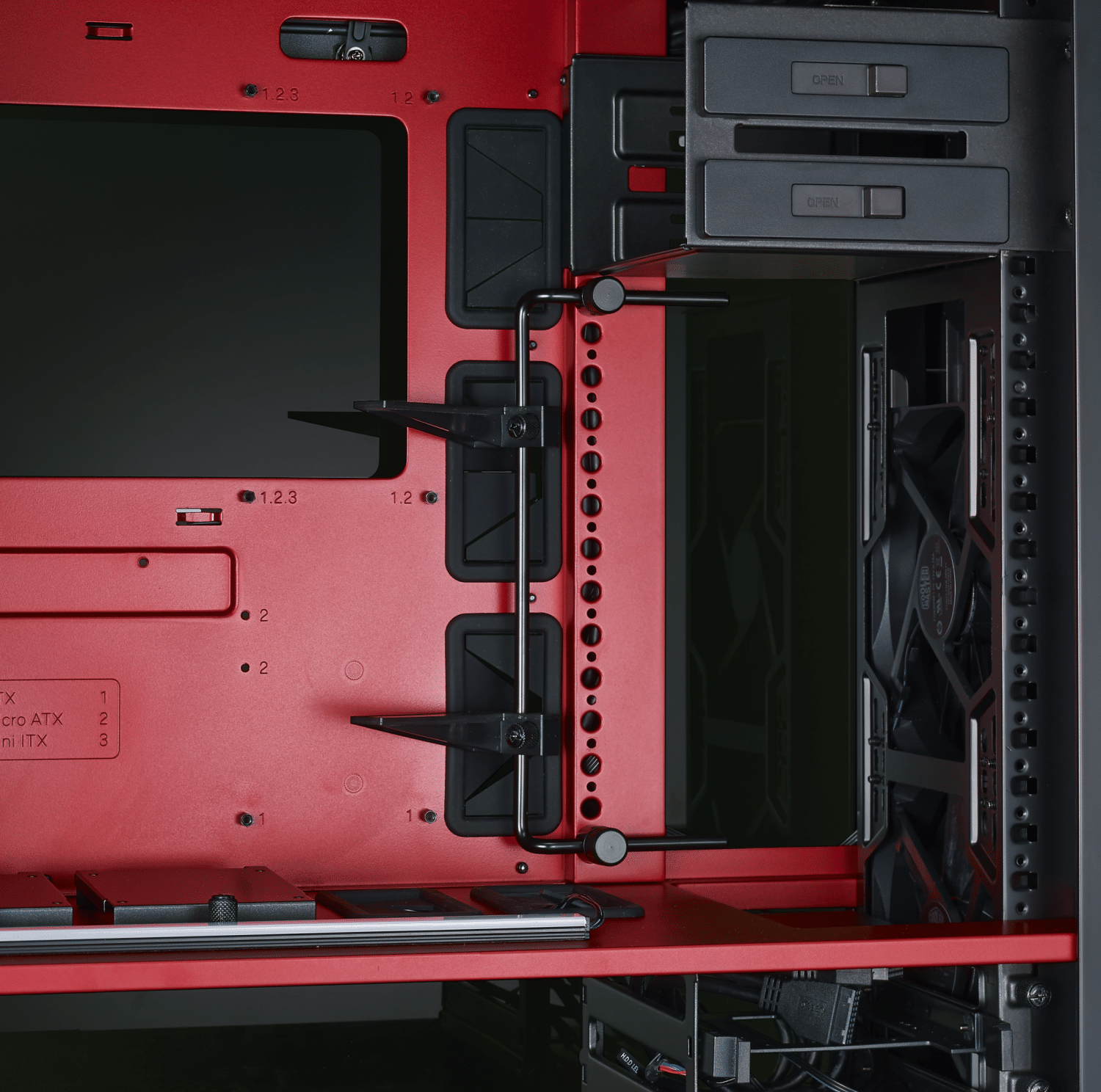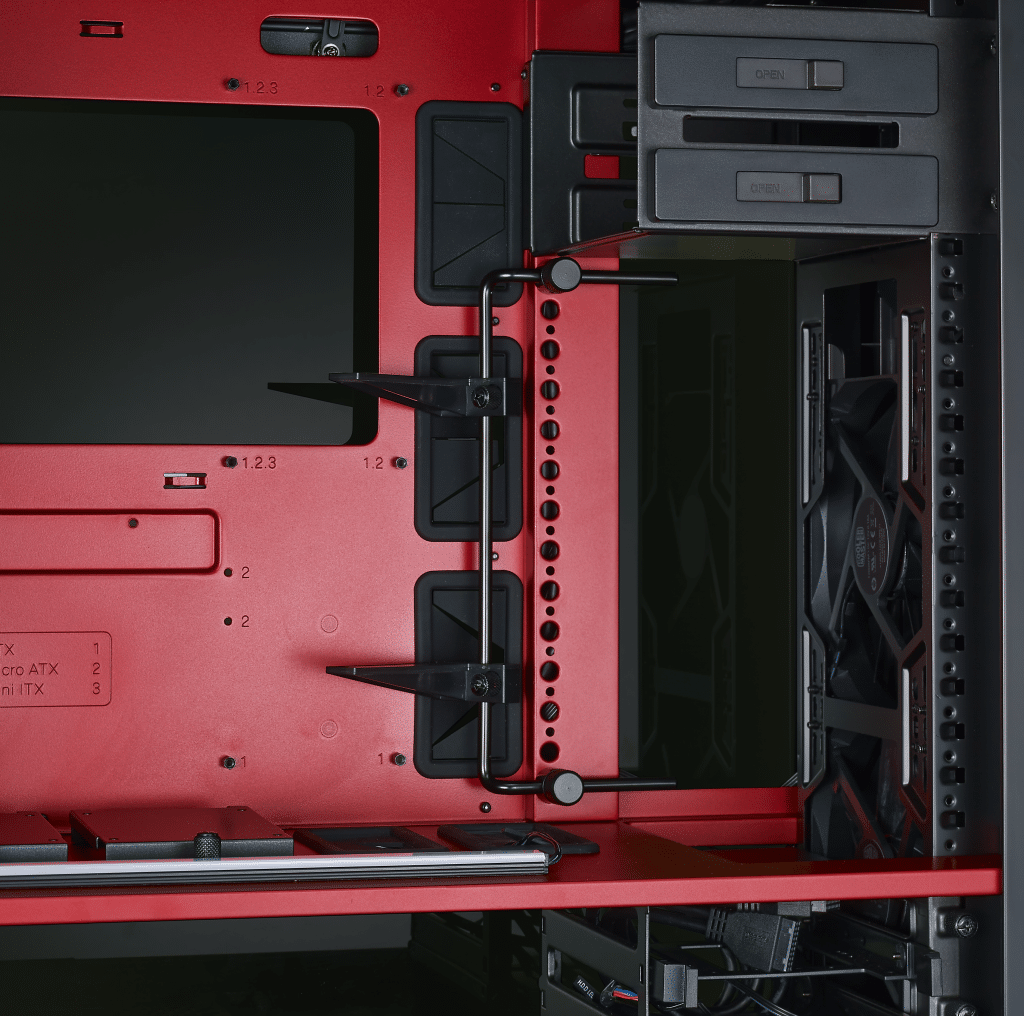 The MasterCase Maker 5t is targeted at high end gaming systems that will most likely have an extra large GPU or two inside. There is a GPU support accessory sold for the maker line but with the Maker 5t it comes integrated into the case. No more saggy GPUs. This is great for the GPU's PCB and your motherboard's PCIe slots.
Upgraded front I/O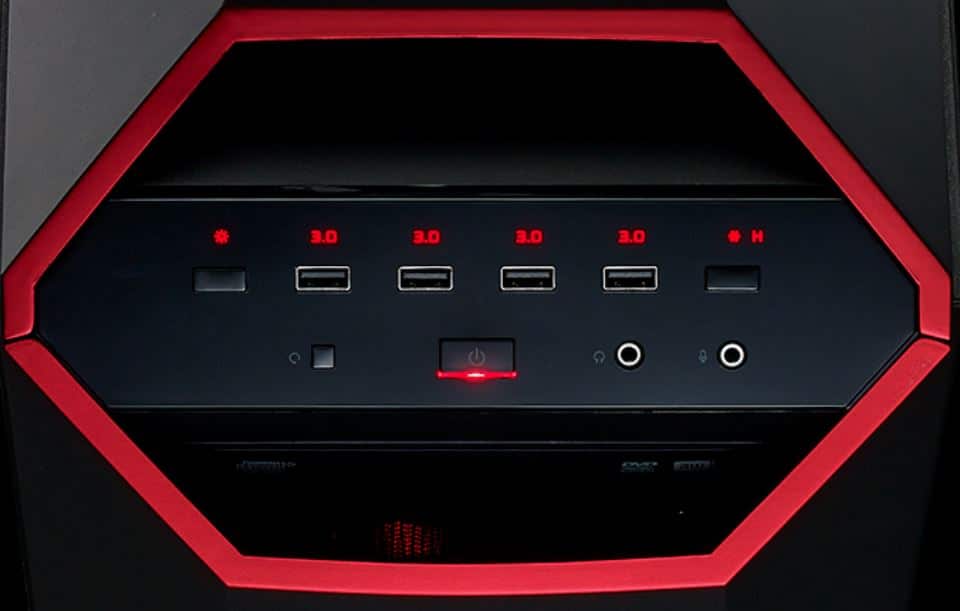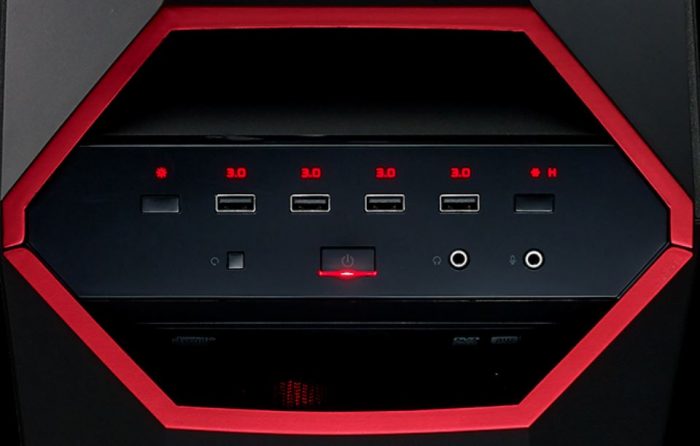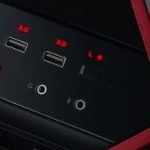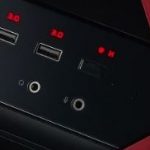 The MasterCase 5t has an updated front panel that includes four USB 3.0 ports. You will also see your LED control and fan speed buttons as well as power and reset. Last but not least are the front audio jacks. LED indicators let you know which fan speed is currently selected.
Modular Design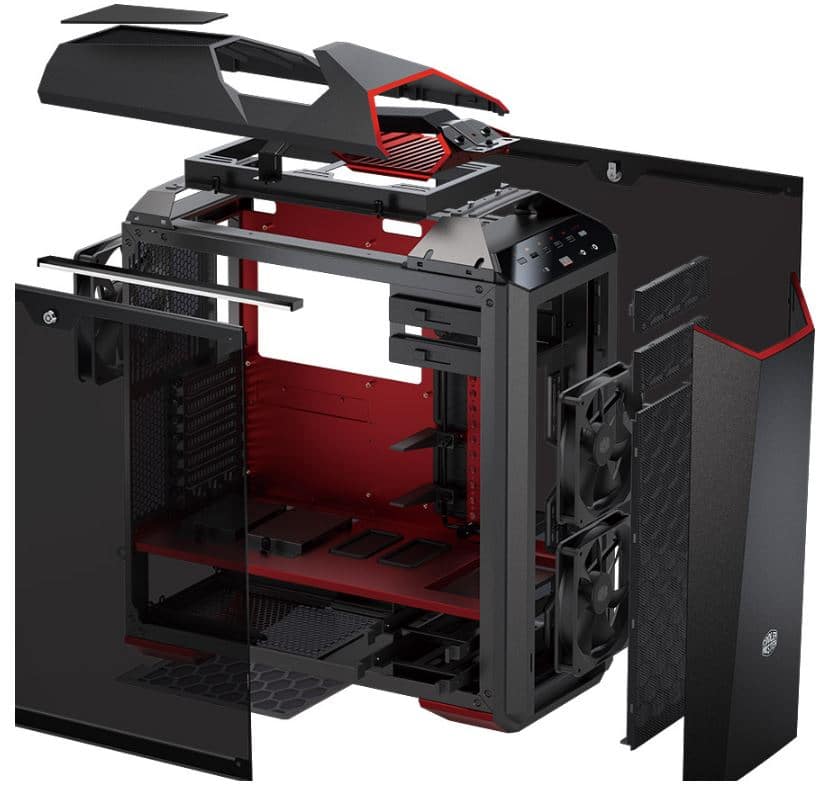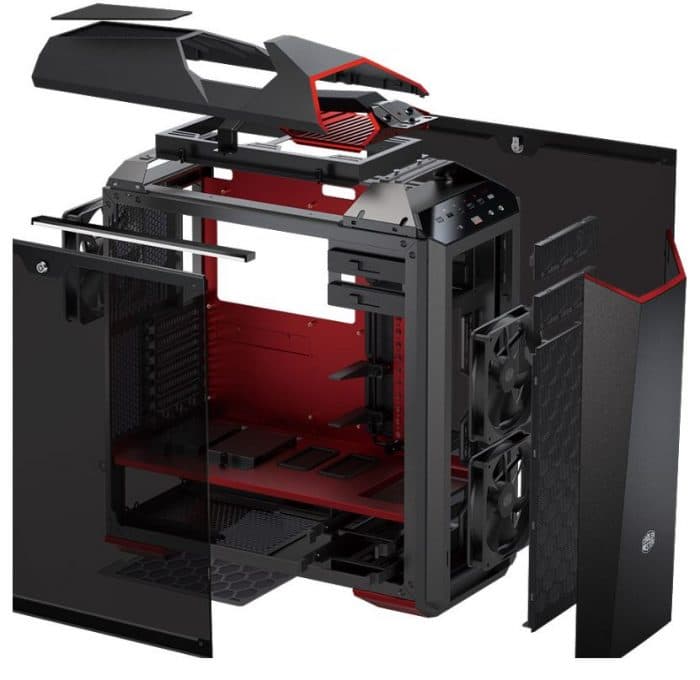 The MasterCase design lets you use what you need and store what you don't, which makes for some super clean builds that aren't too cluttered. All the external pieces are held by magnets which gives a really high end feel to the case. Everything is easy to take apart and a full build can almost be done without tools. This is one of the easiest cases we have worked with, thanks to the design.
PSU Mounting Bracket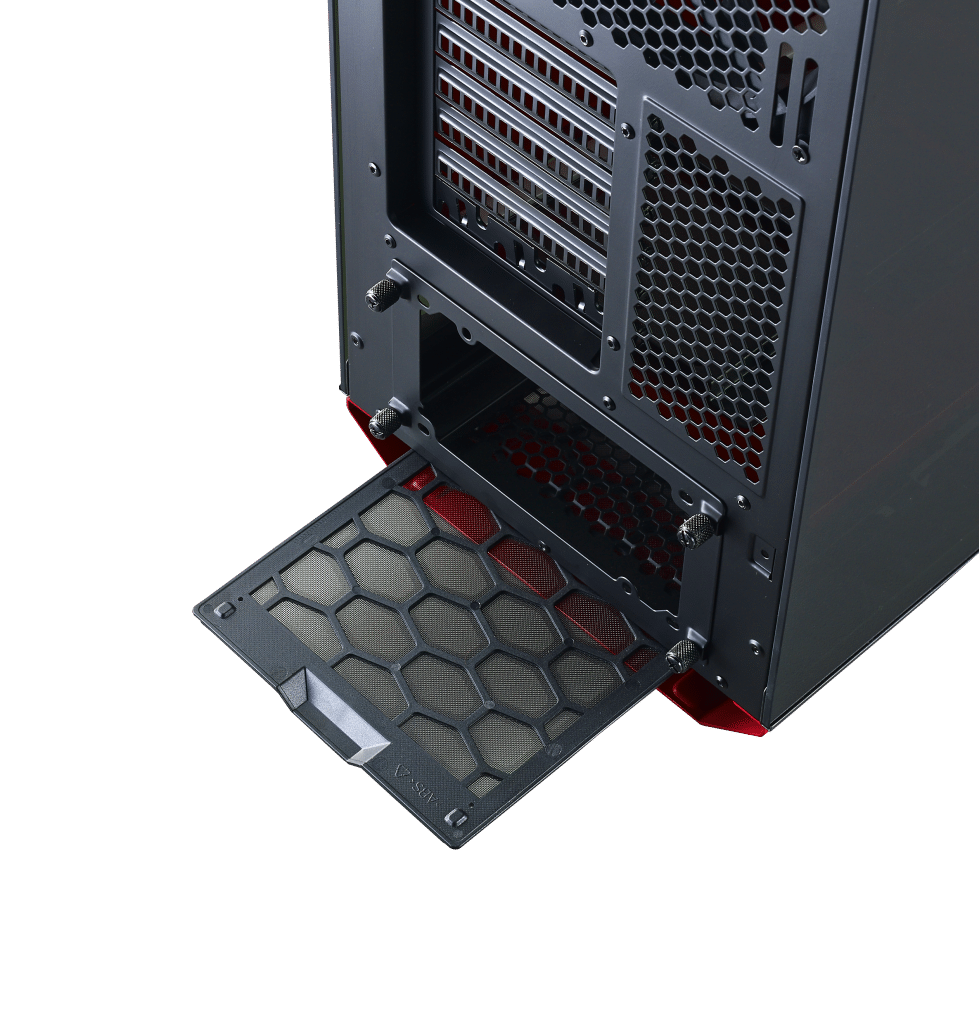 We aren't certain which company was the first to start the detachable PSU mounting bracket trend, but it is one of our favorite features to pop onto the scene. Here we also see the bottom dust screen to keep unwanted crud out of your PSU. We are also glad dust screens have basically become industry standard on towers.
For another look at the MasterCase line of towers please see our previous review of the MasterCase Maker 5 by clicking the following link: