Final Thoughts & Conclusion
We spent a couple of weeks with the Razer DeathAdder Elite running everything from FPS, RPG, MMORPG and strategy games. Razer Synapse, a familiar tool in our box, helped to customize the side keys and let us program macros as needed. Gameplay was crisp and the precision of the mouse was only matched by other 16,000 DPI mice. Activation clicks were easy and effortless, but we experienced no false clicks from to light settings on the Razer OMRON switches. The DPI on the fly is a nice feature but we really prefer a small OLED screen that tells us what DPI setting or profile we are using. Now you can set unlimited profiles on the DeathAdder Elite, but switching profiles can't be done in-game. There are less expensive mice out there with built in memory to store profiles locally and you can change profiles on the fly with an OLED screen to confirm you are on the right profile. Designed with a top-end optical sensor that scales to 16,000 DPI in 1 DPI increments, then depending on software and exiting the game to switch from an offensive profile to a defensive profile is a bit of a omission on Razer's part.
Now if you are a run and gun gamer that only uses one profile, which no doubt most gamers are, then the Razer DeathAdder Elite fits your bill to a tee. You will experience unparalleled precision from the 16,000 DPI optical sensor with 99.4% resolution accuracy and 450 IPS / 50 g acceleration on the 5G optical sensor. The Ultra polling at 1000Hz is the expected polling from Razer, and the mouse itself is good quality and has a luxury feel. It's a hard call for us, being Razer fans, but it's either a close hit or a close miss depending on how you look at it.
Given ginormous hands, if we found a display model and in-store testing, we would probably look for a larger mouse. The rubberized sides are a plus, but there's no wing to rest your thumb on which would be an additional perk.
Gaming was easy and precise and maybe we demand to much from our mice, but for an eSports mouse to be world class, it would need a few more features. On the flip side of that coin, 16,000 DPI is impressive and nearly future-proofed, but currently a bit overkill. The DeathAdder Elite is good to the point of being a killer mouse for 85% of end users, but the other 15% with big hands probably wouldn't like the proximity of the thumb to the index finger when clenching the mouse. With the technology tied up in the DeathAdder Elite and the 16,000 DPI sensor and 16.8 million colors and all the positive features, we award the Razer DeathAdder with the Bjorn3D Silver Bear Award for great technology, but deny it Gold for falling short in the versatility arena.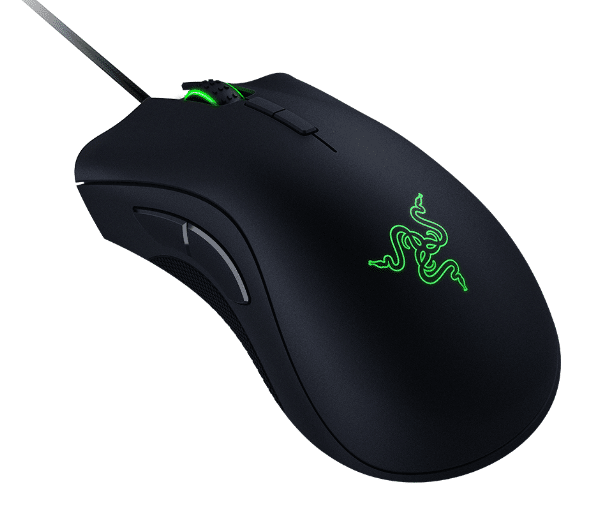 Pros
Cons

16,000 DPI
1000Hz UltraPolling
Braided Cloth Cord
5G Sensor
Up to 450 IPS / 50 g acceleration
On The Fly DPI Adjustment
Precision

Synapse Updates Too Often (Requires Reboot)
Not Big Hand Friendly
No On-board Memory For Fast Profile Switch
Price/Feature Deficit