COOLER MASTER Silencio FP 120 PWM Fan Performance Edition
Tons of money have been spent on one seemingly easy thing, computer fan performance. We've gone from little 80mm screamers wedged against the back of aluminum and steel cases when the noise would chase a pack of Wolves off a fresh kill. Then we'd stick an all copper based heat sink on the un-lidded CPU's and 80mm downward blowing mind numbing loud fans striving to keep our overlocked machines cool. Previous to that we actually had CPU's that didn't need heat sinks and fans but as computing power grows so does the number of transistors in the processors. The more transistors in a processor the more heat it generates when we compute with them.
Without all that research and different end users needs for specialty fans we wouldn't see the thousands of fans available to do just one job, cool your computer. The crowning glory of COOLER MASTERs fan selection is the Silencio line of fans. The COOLER MASTER Silencio FP 120 PWM Fan Performance Edition is the one we've been waiting for and represents the cutting edge of performance with relative silence.  Pushing the envelope isn't anything new for COOLER MASTER and the whisper quiet performance of the Silencio FP 120 PWM Performance Edition is the culmination of COOLER MASTERs efforts on smart cooling.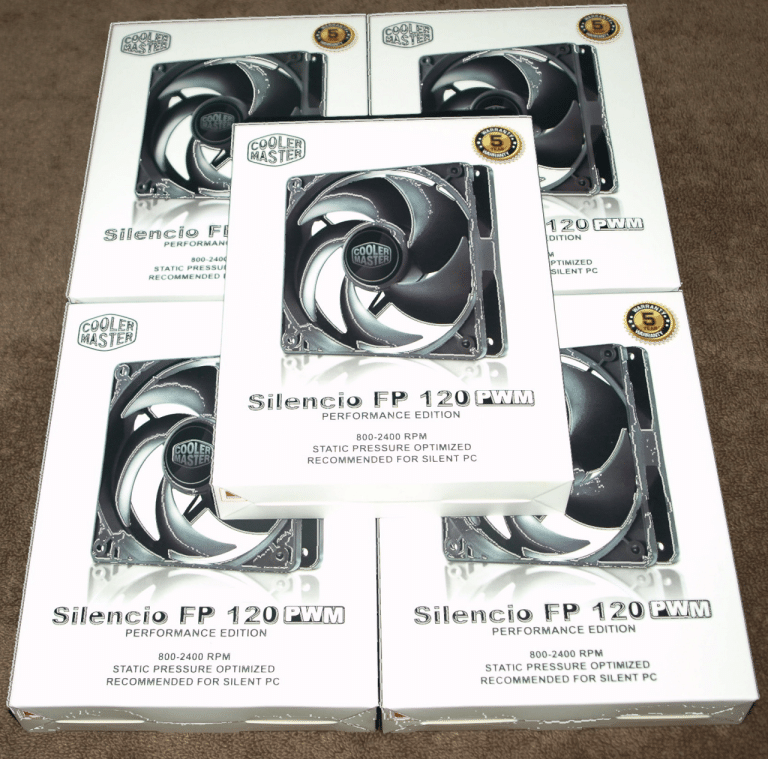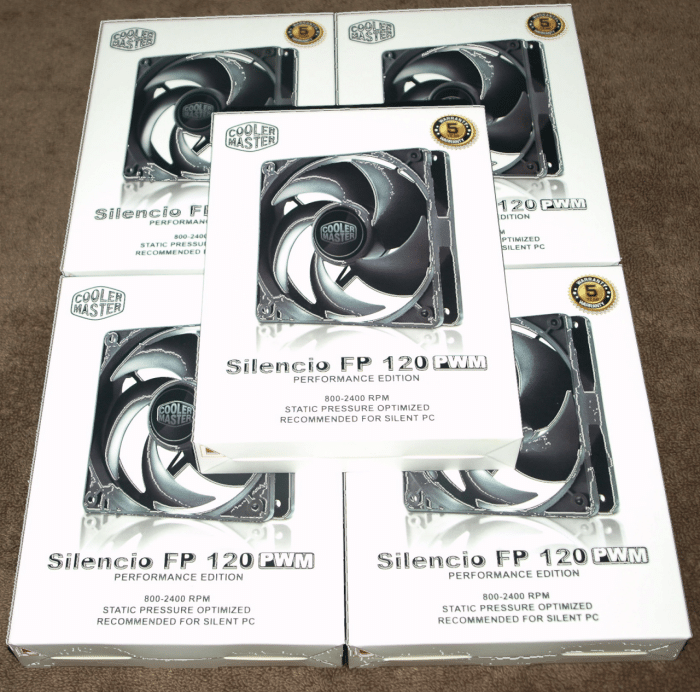 That my friends is a pile of COOLER MASTER cooling performance in a 800 – 2400 RPM Static pressure fan. We recently reviewed the COOLER MASTER  Master Case with a couple of the mods. We added the windowed side and the expanded top for a dual radiator and ended up using a dual radiator cooler from Silverstone and we weren't sure where the noise was coming from so COOLER MASTER sent in a whopping big sack of whisper quiet cooling. Now each COOLER MASTER Silencio FP 120 PWM Fan Performance Edition costs $19.99 each (Amazon) so you are looking at about $100 worth of fans there.
That hundred-dollar investment covers you for 5 long years and a MTBF of 160,000 yes one hundred sixty thousand hours, that's 4 times as long as most fans on the market. Utilizing the highest IP6X revolutionary design which eliminates all dust intrusion on the spindle of the fan helping to extend the life of fan to at least 5 years and probably a lot longer. In our humble opinion a fan isn't just a pretty little spinning thing in your chassis moving air, it's an investment in your computers cooling and if you are like us an investment in your sanity silencing that noisy beast.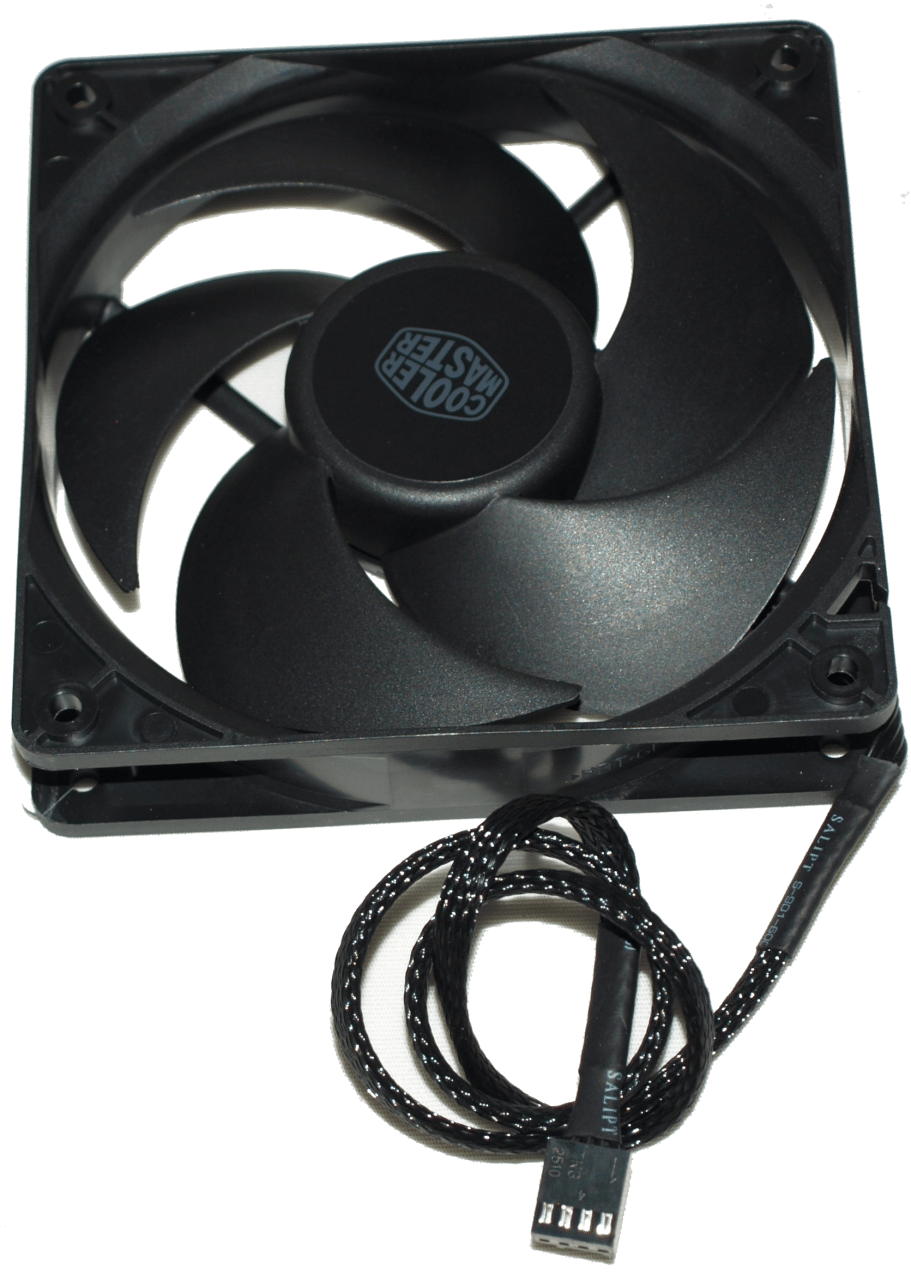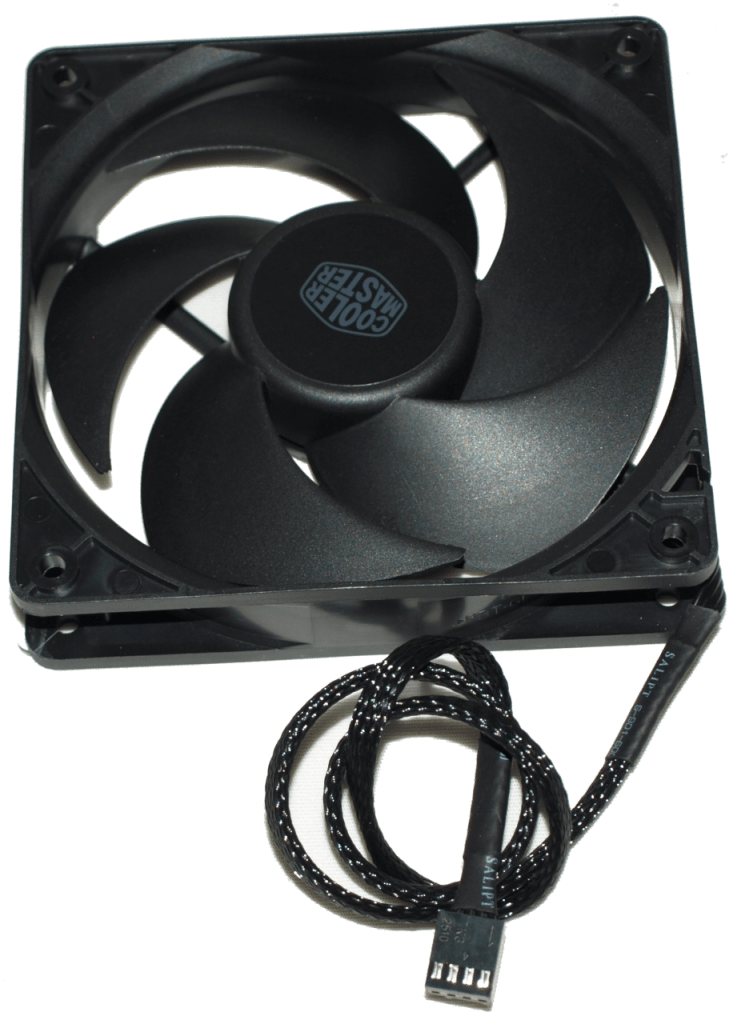 Of course the fans are 4 pin PWN controllable speed but we don't just want a silent PC we want a silent PC that gives good cooling performance and the COOLER MASTER Silencio FP 120 PWM Fan Performance Edition is the fan we have chosen for our Cooling arsenal. The Static Pressure fan is perfect not only for pushing air through tightly spaced vanes on a radiator it's equally at home exhausting heat from the back while drawing cool air in from the front.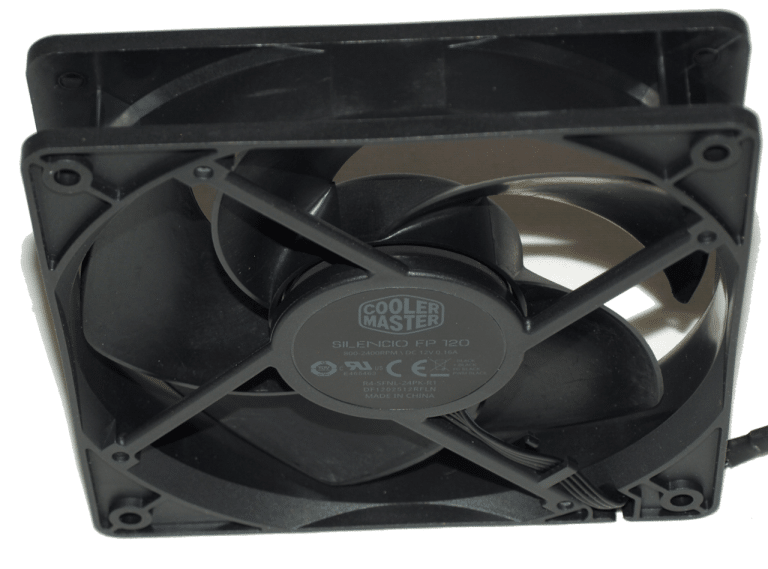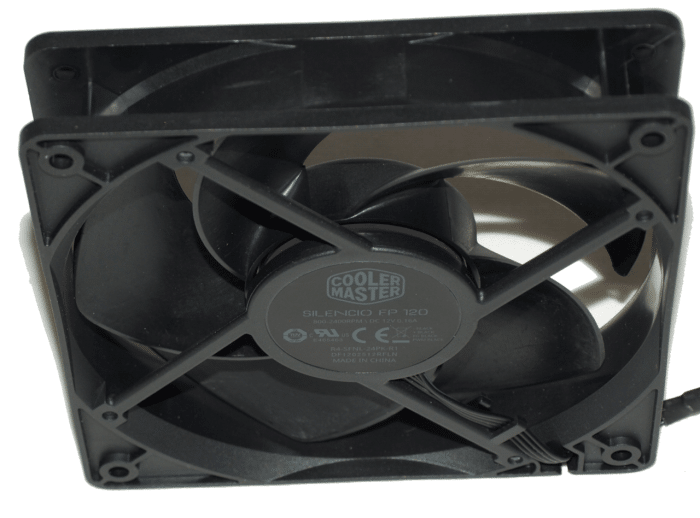 Take a look at those huge scythe like fan blades curled  to an optimal position to allow air to flow in the spinning blades and stacked close enough to the blade behind it to push massive quantities of air at different flow rates. Normal PWN fans have a bit of ticking due to their 4 pin PWM nature but with COOLER MASTERs Silent Driver IC you don't need to worry about that sometimes subsonic ticking that makes you want to rip every fan out of your machine and smash it to bits. The Silent Driver IC's reduce torque impulse for an ultra quiet fan and low fan vibration.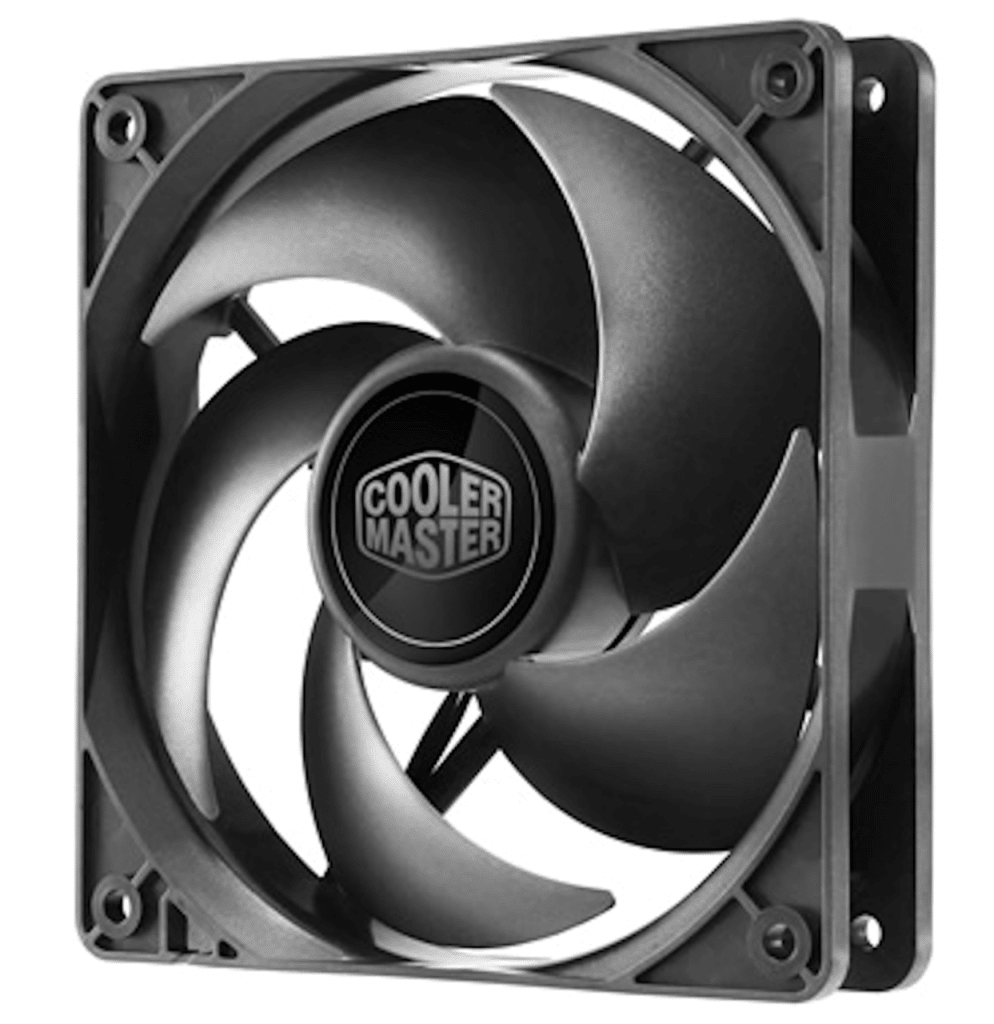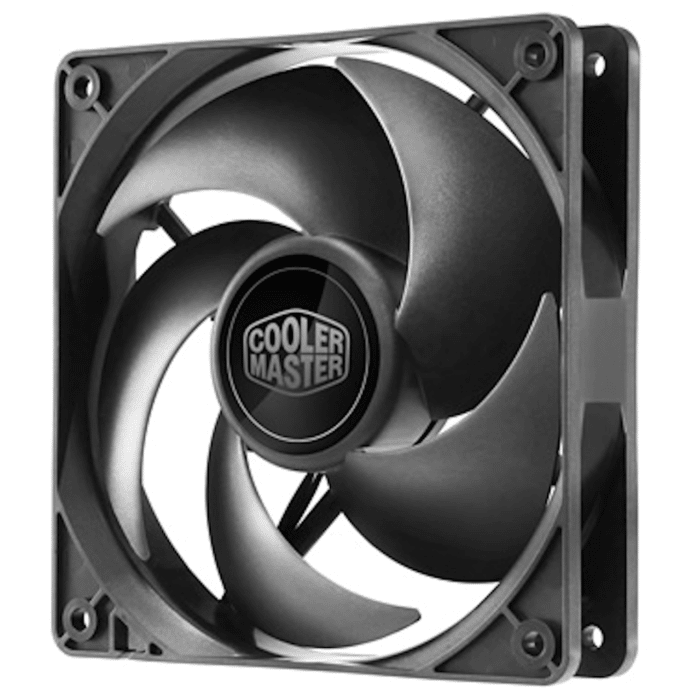 In this shot you get a good look at the fins on the fan which look more like a work of art than a high-tech fan blade but COOLER MASTER has successfully mixed a work of art with a state of the art fan. So state of the art that the fan will stop voltage going to the fan if there's an obstruction. The motor will also read when the obstruction is gone and resume normal fan operation. That feature should eliminate the whop whop whop stab for the off button response. As soon as your system sees a stopped fan you can set an alarm to go off and you'll know your wiring job jobbed one of the fans and you can remove the obstruction and both the fan and the wire will be in good condition.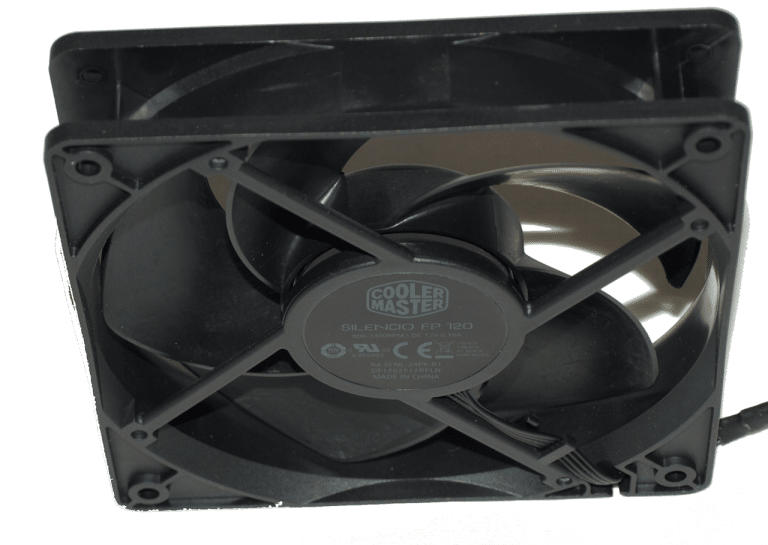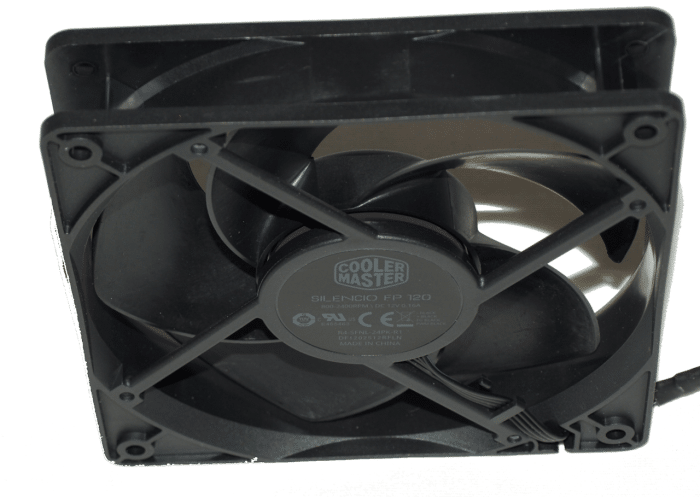 Looking top down you really get the guided tour of precision used in building the COOLER MASTER Silencio FP 120 PWM Fan Performance Edition. Look at the proximity of the fan to the side of the frame and there's barely space for the blade to spin wasting no surface in delivering quiet airflow. We really love fans with short stubby fins that run 2000+ RPM using WW2 airplane blade designs cut a half-inch short of the frame, generally we give them away or on occasion break out the .50 cal and dispose of them properly.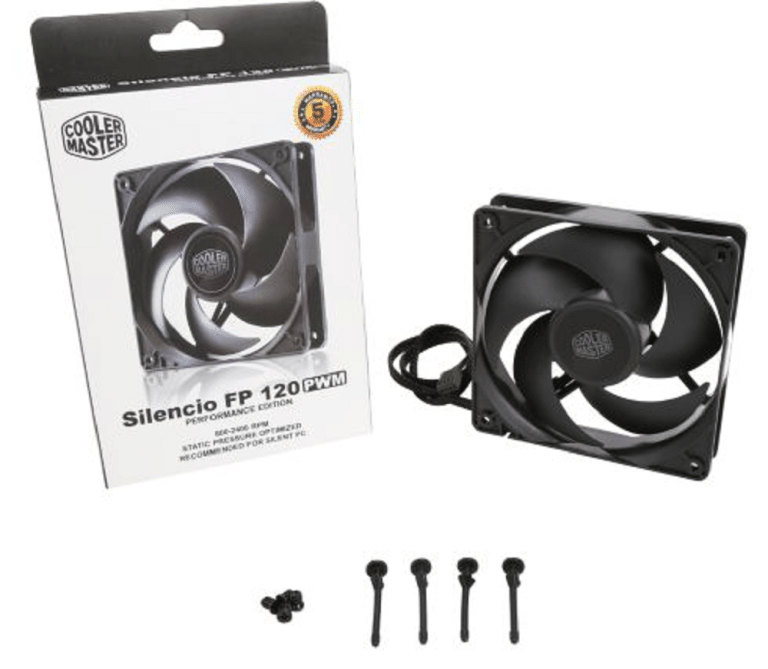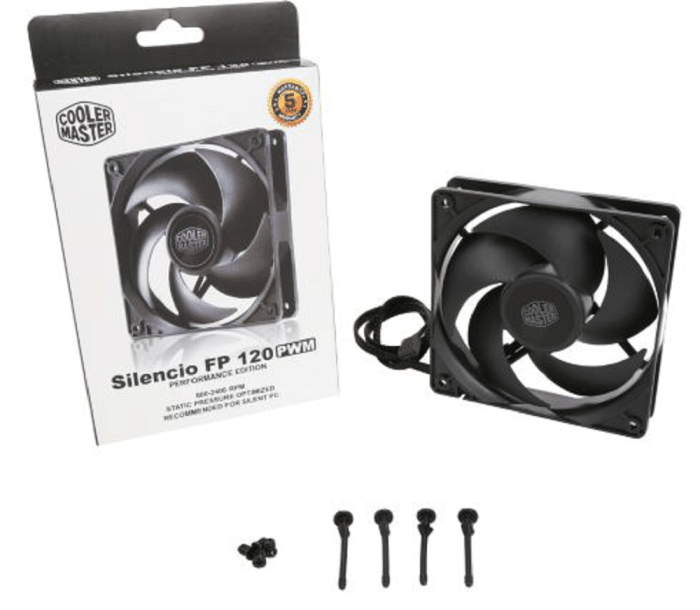 Bundle wise there isn't much just the box, fan, 4 screws and 4 anti-vibration screws.Like many products it's not what you see on the outside it's what's on the inside. The Silencio used a highly engineered Loop Dynamic Bearing that is IP6X the highest dust resistant stand known and the industry leading 5 year warranty with 160,000 hour MTBF show you just how much faith COOLER MASTER has in their product.
Specifications
Model Number

R4-SFL-24PK-R1

Available Color

Black Non-LED

Dimensions

120 x 120 x 25 mm (4.7 x 4.7 x 1 inch)

Speed

800  RPM (PWM) ± 10%

Air Flow

16.5 – 76 CFM (28 – 128 m3/h) ± 10%

Air Pressure

0.48 – 4.8 mmH2O ± 10%

Life Expectancy

160,000 hrs

Noise Level

6.5 – 27 dBA

Bearing Type

Loop Dynamic Bearing (LDB)

Connector

4-Pin (PWM)

Rated Voltage

12 VDC

Rated Current

0.16A

Power Consumption

1.92W

Weight

158g (0.35 lb)

Accessory

MetalScrew x 4




Rubber Anti-vibration Screw x 4

EAN Code

4719512048382

UPC Code

884102027314