Benchmarks
ATTO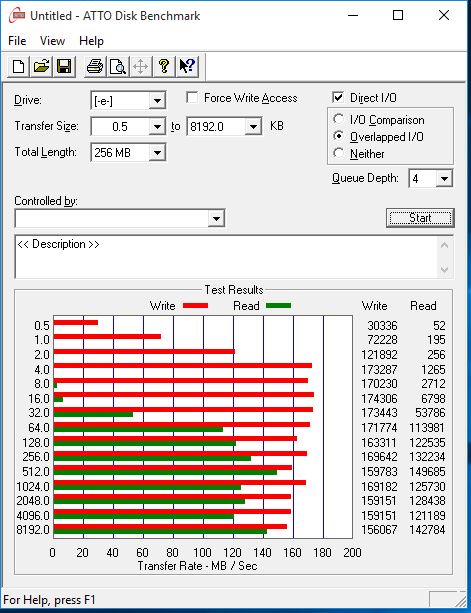 In ATTO early on we are seeing great write speeds early and on the 4k test we are hitting 173.287MB/s and it drops down to 156MB/s on the 8MB test. On the Read side of things we are seeing the speed kicks in at the 512K at 149.685MB/s and ends up at 142MB/s on the 8MB test. We can safely say the drive is running between 113MB/s and 149MB/s from the 32K test up to the 8MB test on Write. We aren't reaching SSD speeds but we aren't reaching SSD prices.
Anvil Storage Utilities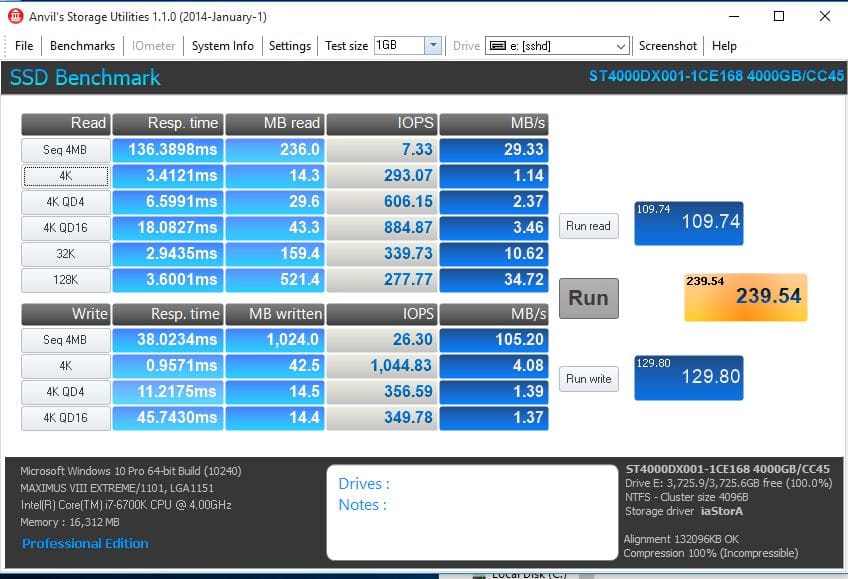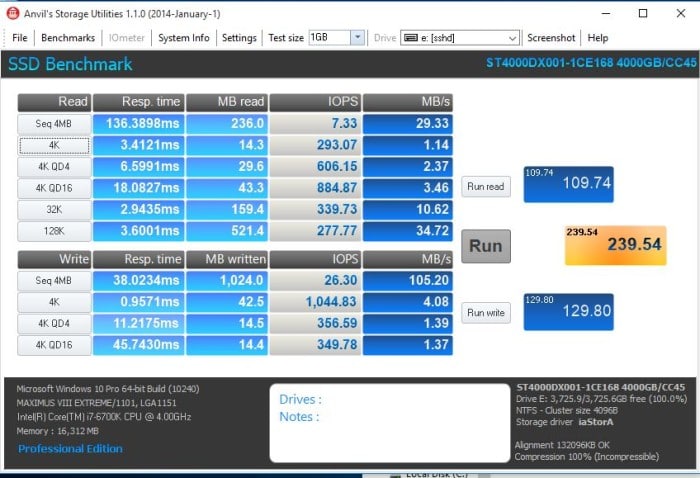 Anvil's Storage utilities sees a sequential 4MB read at 29.33MB/s having read 236MB and 7.33IOPS the 128K Read shows as 34.72MB/s with 277.77 IOPS and the write jumps to 105.20MB/s on the 4MB Sequential. Drop down to the brutal 4k tests and we run between 1.37MB/s and 4.08MB's which is to be expected in such small writes on a platter HD. The small tiny writes are more fitting a server environment where one small piece of information is being changed on a Database, everyday computing we tend to read larger blocks and for that matter write larger blocks.
CrystalDiskMark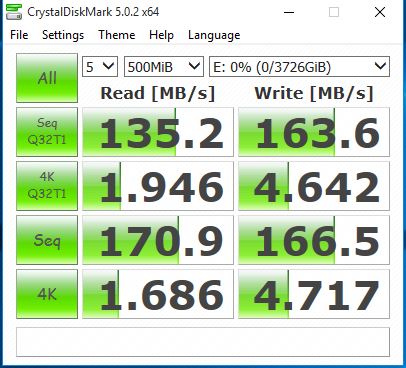 CrystalDIskMark shows speeds on sequential testing from 135MB/s to 170.9MB/s and of course the 4K reads drop to between 1.686MB/S TO 4.62MB/s read and write. Keep in mind that these are individual tests run with prefectch and caches emptied at the beginning of each test. We run the test 3 times and take the median run to report. That's not the Seagate 4TB SSHD's forte, the Seagate SSHD is designed to pick up the files you use most over time and shuffle them to the SSD portion and this type testing gives it little chance to use its learning algorithm.
HD Tune Pro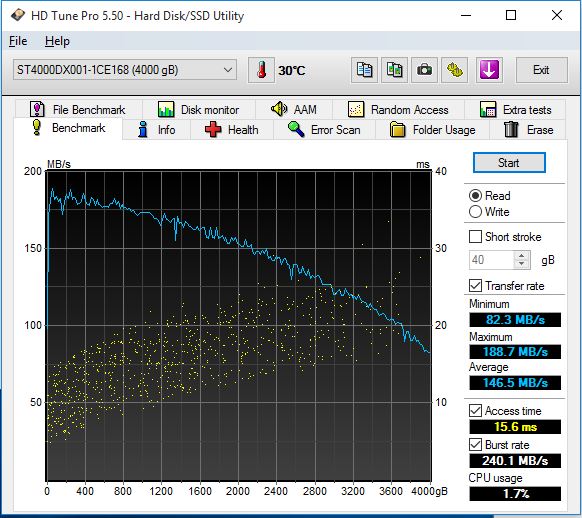 HD Tune Pro what we are concerned with is the average read time which is 146.5MB/s with an access time of 15.6ms and CPU usage of 1.7%. Minimum speed was 82.3MB/s and maximum hit 188.7MB/s which are above average for most common platter drives.