Test Rig
Testing has changed a bit with Windows 10, we disable Auto Updates so the machine isn't downloading updates while we test. We clear the cache and prefetch before test runs and disable the firewall and virus scanner. Windows 10 is updated as much as possible and we manually go on and select updates applying all patches and updates prior to beginning the testing. We run a single SSD or multiple SSD's so there's no drive indexing going on. We shut down the internet to insure no background task is checking for updated Virus Definitions. All non-mandatory system Tray Icons are closed.
Test Rig
"Quadzilla"
Case Type
CPU
Motherboard
Ram
CPU Cooler
Hard Drives
Optical
Liteon DVD Burner
GPU
AMD R9 380 4G
Case Fans
1 x 180mm Mosfet / CPU / Ram cooling fan
1 x 120mm PCI-E Cooling Fan
Docking Stations
None
Testing PSU
Legacy
None
Mouse
Keyboard
Any Attempt Copy This System Configuration May Lead to Bankruptcy
Benchmarks
ATTO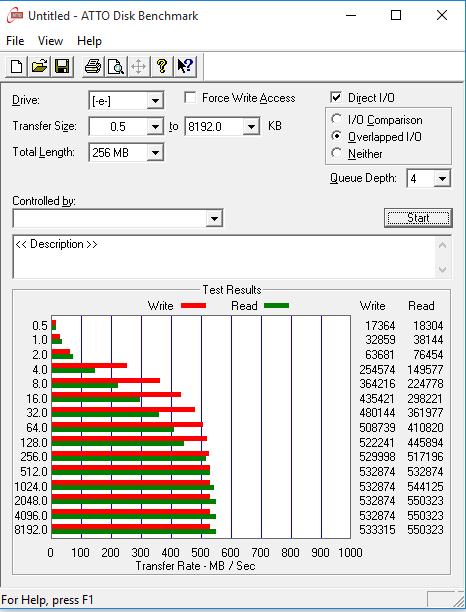 ATTO is the standard most HD vendors use to test the advertised speed of their hard drives and looking at the numbers it's no wonder why they use ATTO. The write speed on the budget oriented Mushkin Atlas Vital reaches 533.315 MB/s which exceeds the advertised speed of 530MB/s. Our Read speed hits 554.125MB/s and as far as ATTO is concerned the Atlas Vital exceeds it's read and write expectations.
Anvil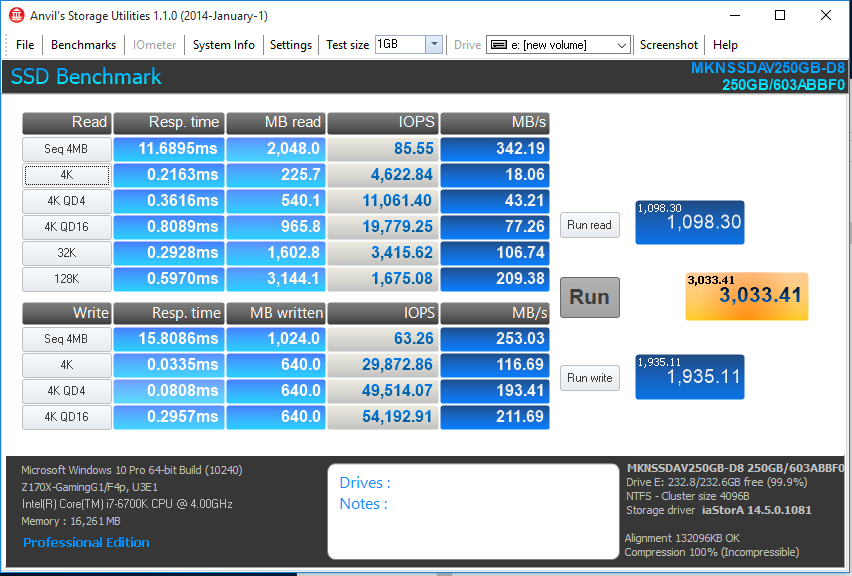 Anvil uses a different method of testing speeds than ATTO and read speeds run between 18.06MB/s for the brutal 4K test to 342.19MB/s for the sequential 4MB test. The write speeds go between 116.69MB/s on the 4K test to 253.03MB/s on the sequential 4MB test.
Of course the difference between ATTO and Anvil is compressible data, ATTO uses 100% compressible data which id ideal for SSD controllers and Anvil uses a more realistic less compressible work load. When you hit less compressible workloads SSD's slow down.
DiskMark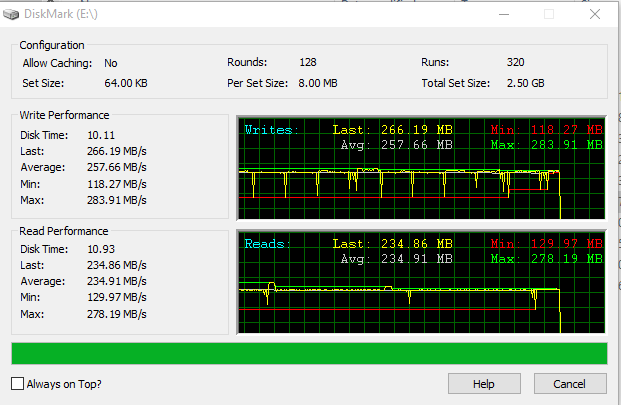 DiskMark is fairly new on the benchmark crew and sees the write performance at 257.66MB/s and the write performance at 234.91MB/s so we can tell that DiskMark is using a pretty realistic workload.