Synthetic Benchmarks
Unigine Heaven
Heaven Benchmark is a GPU-intensive benchmark that hammers graphics cards to the limits. This powerful tool can be effectively used to determine the stability of a GPU under extremely stressful conditions, as well as check the cooling system's potential under maximum heat output. It provides completely unbiased results and generates true, in-game rendering workloads across all platforms.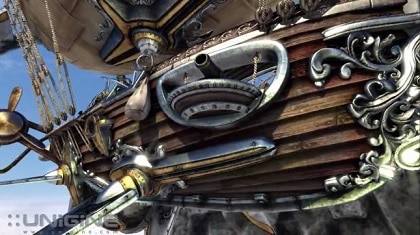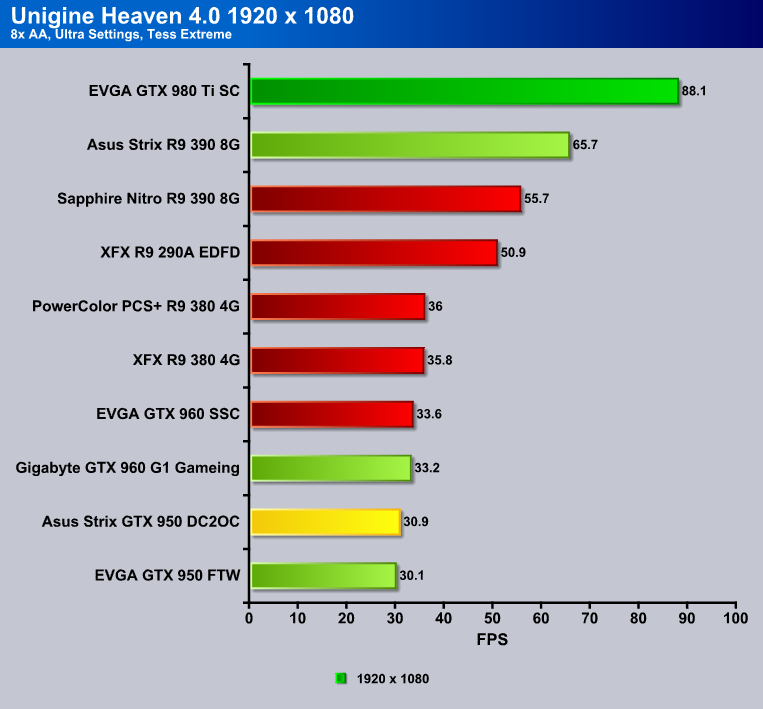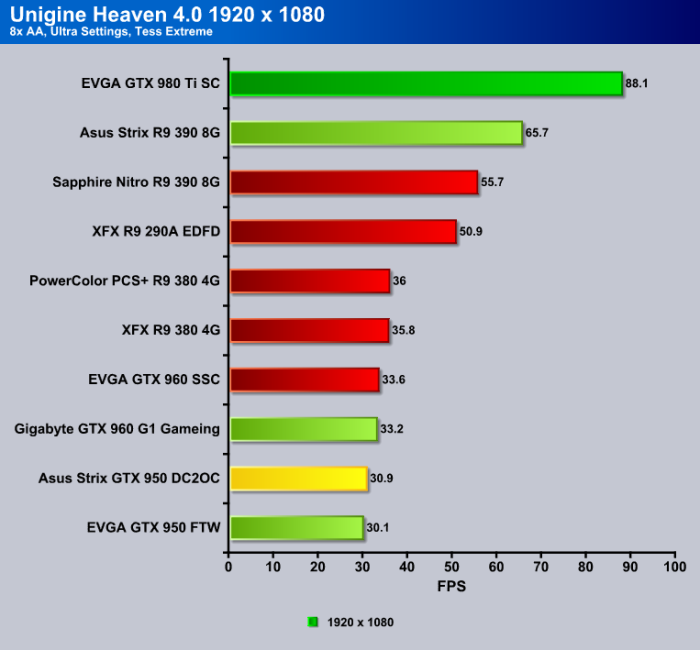 We ran Unigine Heaven 4.0 at the same settings we always use and the ASUS Strix GTX 950 DC2OC turned in a respectable 30.9 FPS and the benchmark ran without stuttering and to our eyes we saw no pauses, micro-stutters or other indications the video card was having problems.
Settings for Unigine Heaven
Unigine Heaven Settings
1920 x 1080
Preset: Custom
Quality: Ultra
Tesselation: Extreme
Stereo 3D: Disabled
Multi Monitor: Disabled
Anti Aliasing: 8x
Full Screen: On
Resolution: Custom
3DMark Testing
Fire Strike
Fire Strike is a DirectX 11 showcase benchmark designed for today's high-performance gaming PCs. It is our most ambitious and technical benchmark ever, featuring real-time graphics rendered with detail and complexity far beyond what is found in other benchmarks and games today.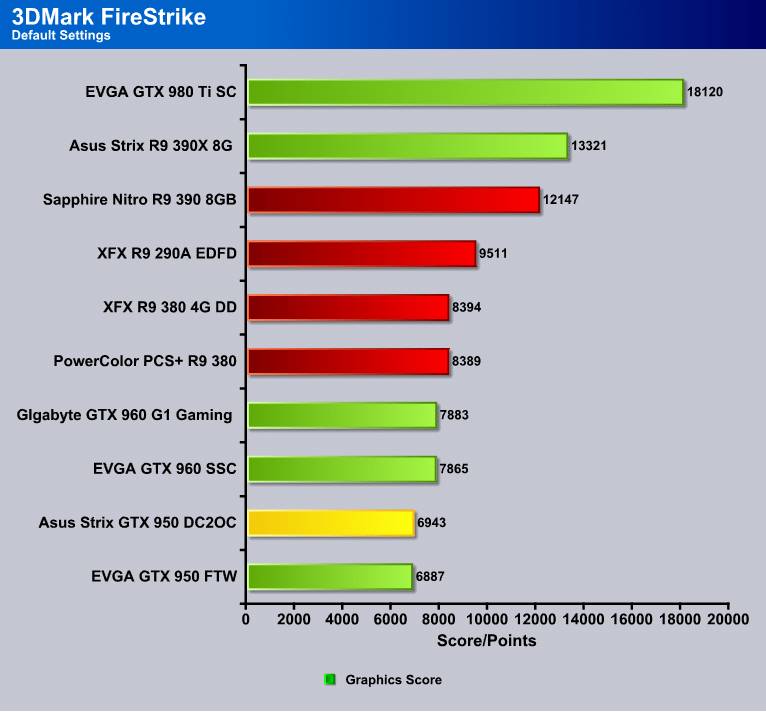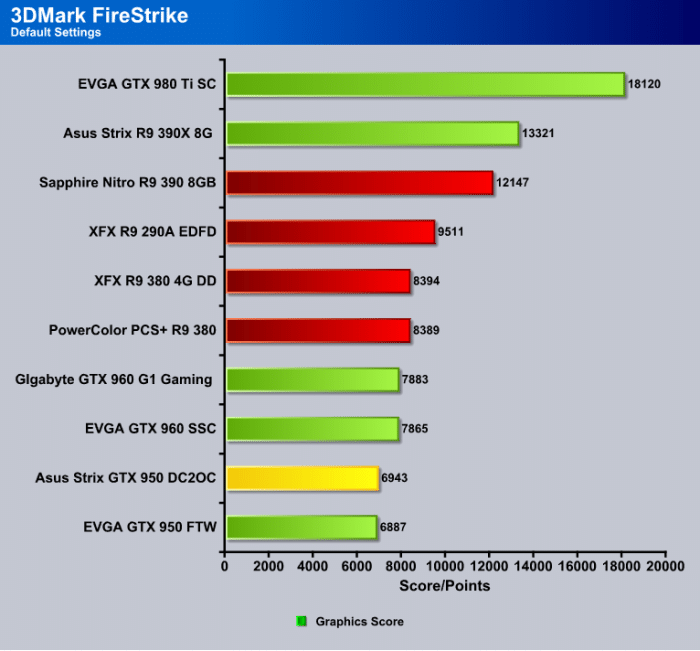 Considering the hardware and the price point of the ASUS Strix GTX 950 DC2OC it's not running that far behind the GTX 960 pack and doing extremely well for a upper tier mainstream offering.
3DMark Skydiver
3DMark Sky Diver is a DirectX 11 benchmark for gaming laptops and mid-range PCs. Use 3DMark Sky Diver to benchmark systems with mainstream graphics cards, mobile GPUs, or integrated graphics.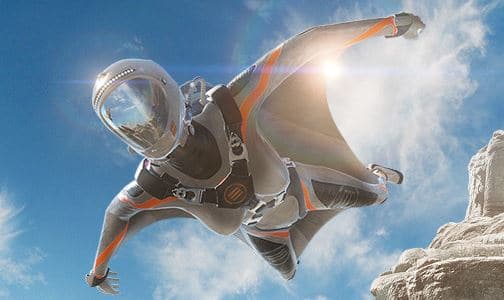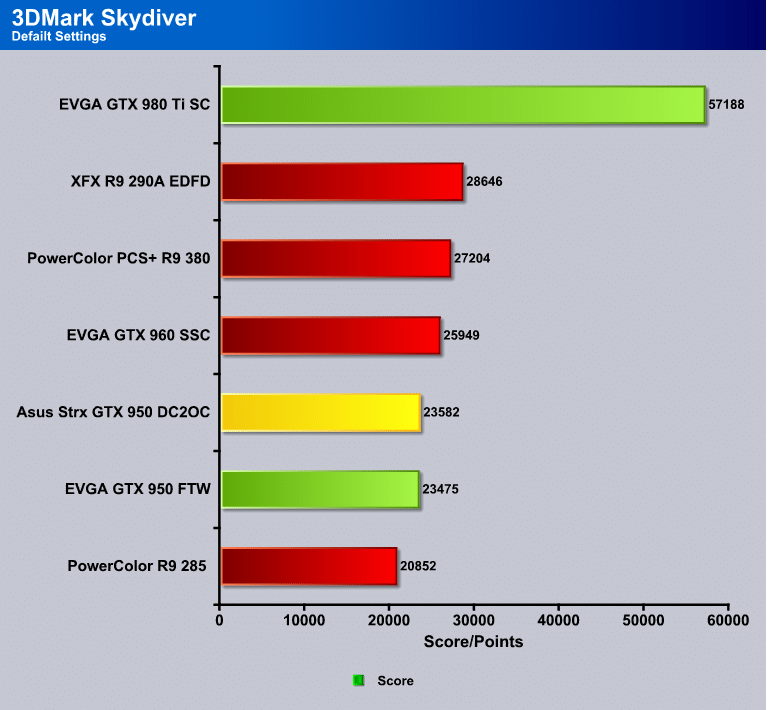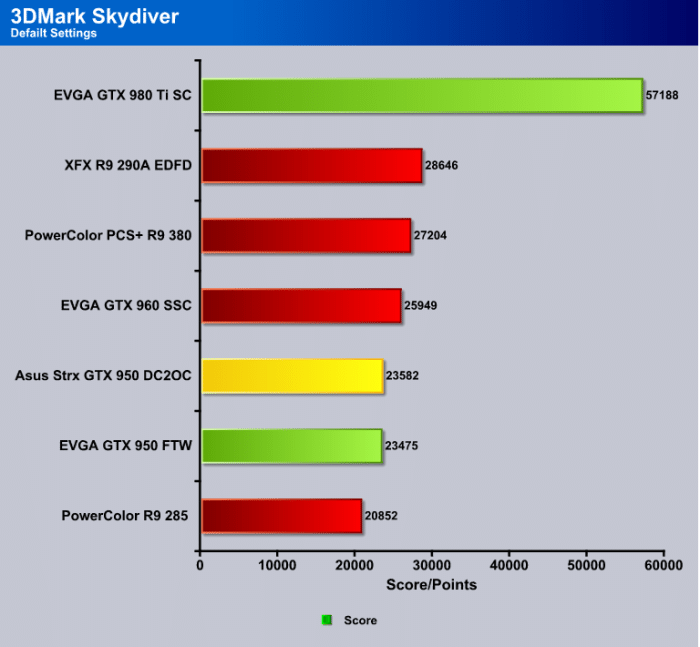 The ASUS Strix GTX 950 DC2OC scored as well as the EVGA GTX 950 so we know we are in the sweet spot for GTX 950 performance and both turned out respectable scores of 23,000+ and GTX 950 is looking like one of the better mainstream offerings we've seen.