Power Consumption
We take power readings at the wall socket using a KillAWatt voltage measurement device and this is total system power. It's the same test system we have used on all the GPU's on the charts so you get a good idea of the power draws from Each GPU. We load the machine and let it run for about 15 minutes so all the Windows background tasks have completed. We have Windows 10 fully updated and for the duration of testing we have the Windows Update Service disabled. Once Windows has finished it's house cleaning tasks we check the temperature using GPU-Z, then fire up MSI's Kombuster and run the GPU up to 100% core usage and let it run at that for 10 minutes then take the Load Power Consumption. Ten Minutes gives the video card time to heat up some and gives us a good solid power reading at load.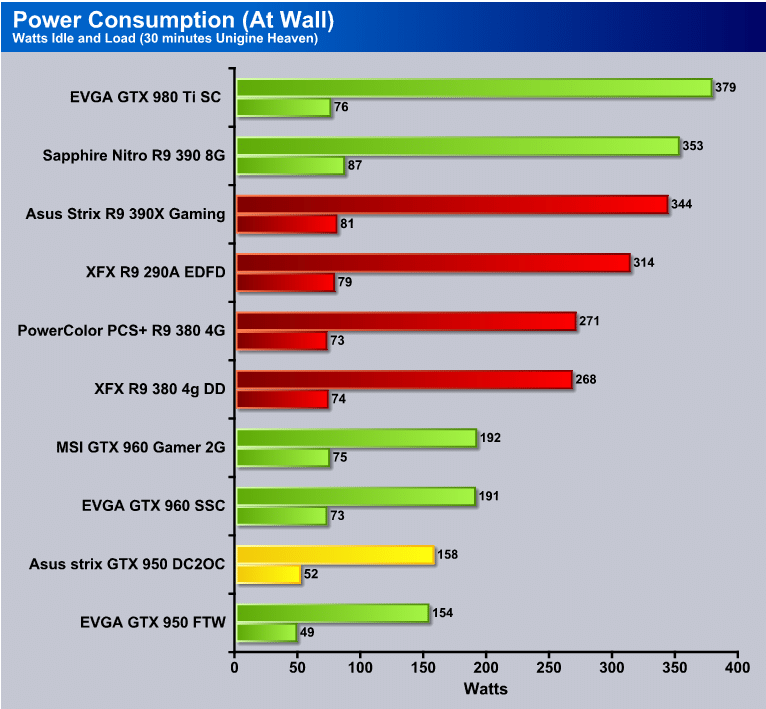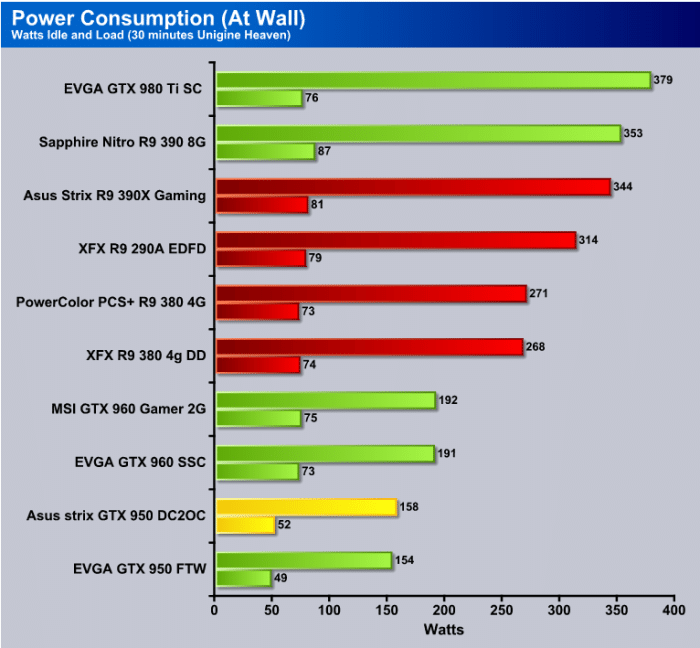 At an idle with the ASUS Strix GTX 950 DC2OC we are idleing at less than a low powered light bulb uses and our reading was 52W on a non overclocked 6700K on the Gigabyte Gaming G1. Once we got Kombuster fired up we were drawing a massive 158W and we are pretty sure we saw the lights flicker, or more likely we blinked because even with the GTX 950 at load we were just sipping at power.
Noise

We all hate noisy or whiny fans that intrude on our gaming / computing time. We run several noise level tests, Complete Idle, spiking load where the graphics load fluctuates between high and low load, and high load. We generally record sound levels sitting next to the tower with the tower at floor shelf level. We put the decibel meter close to where our ear would be and take measurements from there.  To better get an idea of what the sound compares to here is a scale of typical sound levels.
Typical
Sound Levels
| | | |
| --- | --- | --- |
| Jet takeoff (200 feet) | 120 dBA | |
| Construction Site | 110 dBA | |
| Shout (5 feet) | 100 dBA | |
| Heavy truck (50 feet) |  90 dBA | |
| Urban street |  80 dBA | |
| Automobile interior |  70 dBA | |
| Normal conversation (3 feet) |  60 dBA | |
| Office, classroom |  50 dBA | |
| Living room |  40 dBA | |
| Bedroom at night |  30 dBA | |
| Broadcast studio |  20 dBA | |
| Rustling leaves |  10 dBA | |
We turned off everything that was running in the test room cautioned everyone in the vicinity that a violation of the silence would get them ejected from the lab then measured the idle noise from the test rig from 1 Meter away level with the front edge of the board (24 pin power connector side). and at an idle we were hitting a comfy 38dBA, So we loaded up Kombuster and ran the GPU up to 100% for 10 minutes and all we got was a 40.7dBA reading so we have no problem with the sould levels of the ASUS Strix GTX 950 DC2OC.
Thermals
We use the same method to get thermal readings as we do for power consumption. Start the rig and let it idle for 15 minutes then take the Idle reading, once we have the idle reading we fire up Kombuster and run the GPU core at 100% for 10 minutes and check CPU-Z against GPU Tweak 2 then record the highest recorded temperature.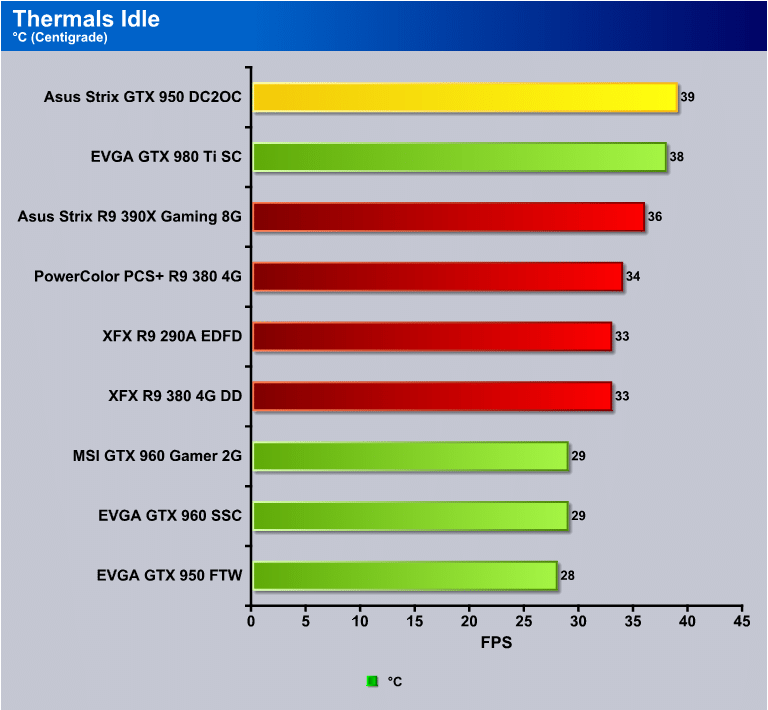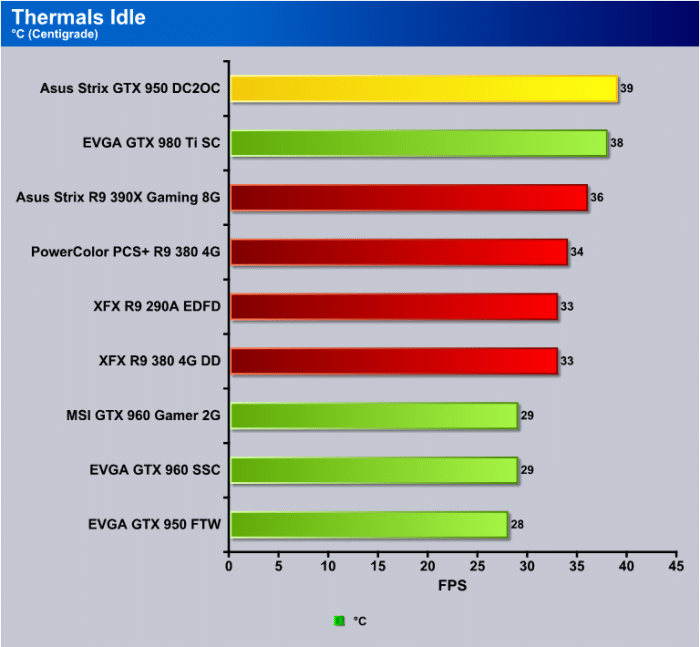 The ASUS Strix GTX 950 DC2OC ran at 39°C and amazingly enough that's the top of the chart and with a Mainstream GM206 with 768 Shaders, Much larger cards with considerably more GPU core to cool were recorded as being cooler than the ASUS Strix GTX 950 DC2OC.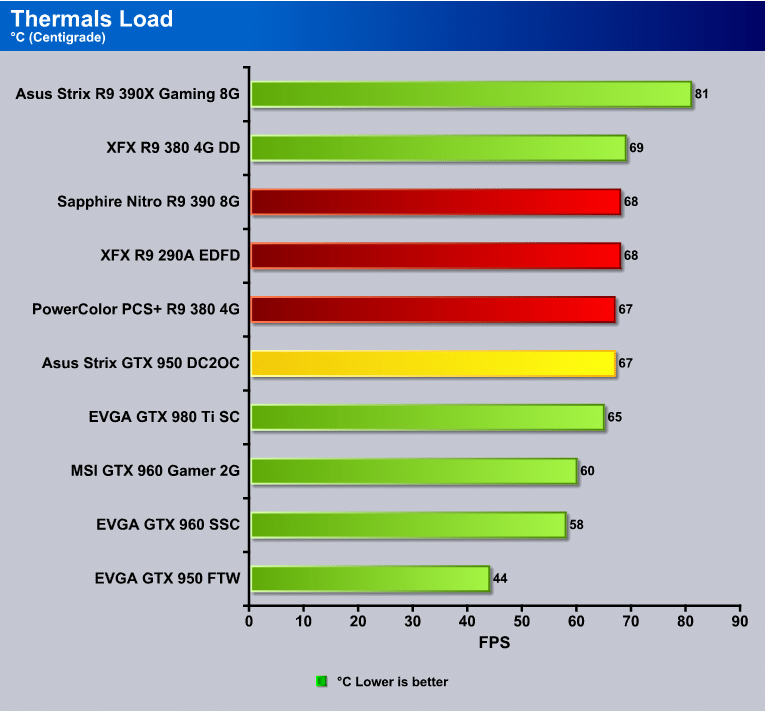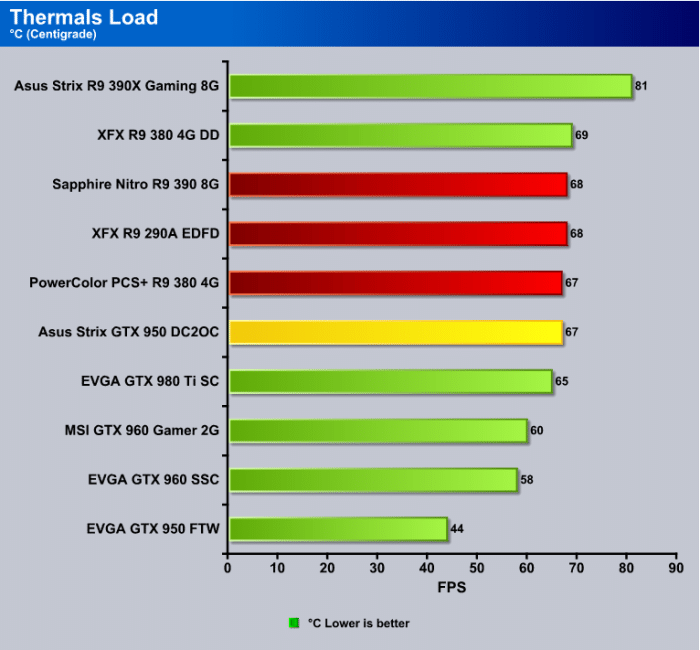 We topped out at 67°C at full load with the fan profile left on auto which is an acceptable temperature as far as GPU;s go but it's still a little warmer than we like to see. Normally the Strix series of cards run nice and cool nd the EVGA GTX 950 FTX came in at 44°C considerably lower than the ASUS Strix GTX 950 DC2OC. We recorded the thermals before removing the cowling and we record factory condition temperatures. We would have been happier if the DirectCU 2 was a little more effective on this card.