Final Thoughts & Conclusion
You may not need all 16,000 DPI the Razer Mamba Chroma Offers and you may not need all 16.8 million colors but it's better to have more than you need than buy a

product and find out it falls short of your expectations. The Razer Mamba Chroma TE has zero chance of falling short of your expectations and we'd venture the bet that in 99% of all cases end users will be thrilled with it. It's priced at $89.99 right now but if you're a serious gamer then that's not a lot to spend for the bling and precision the Razer Mamba Chroma TE offers.
The ergonomic shape of the chroma make it melt into your hand and the button placement is so ergonomically natural the learning curve just slides away. Within minutes of exiting Syanpse we were sneaking and creeping looking and peeping through Crysis 3 and picking out those hard to get head shots easier than ever before. Click a sensitivity button and you can increase or decrease DPI on the fly and the only way that could get better is if it had an LED DPI panel.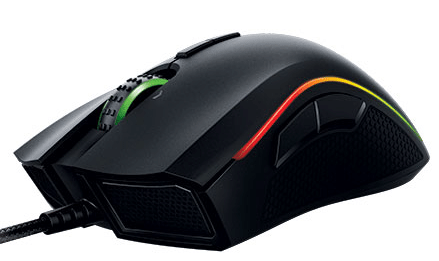 Gaming with the Razer Mamba Chroma TE comes naturally and that's the best indicator of a well thought out product, the product melts away and becomes an extension of your body. You wave your hand and curtains of fire rain down from the heavens decimating your enemy the instant you click the button. Fire up an emergency macro and throw 4 or 5 Ice Rings to kill the enemies close to you then have the macro shift to long-range area coverage spells and with just a couple of seconds you create an escape path through a group of inescapable enemy.
How far you go with the Razer Mamba Chrom TE is really up to you, with the 16k DPI Laser sensor and Synapse to back you up the Mamba Chroma really is Tournament Quality. Being the most precise Mouse in existence at this time, with 16.8 million RGB colors and a hand conforming ergonomic design the Razer Mamba Chroma is well worth a Bjorn3D Golden Bear Award and earned a place at our gaming shrine.