Razer Mamba Chroma Tournement Edition
Razer has gone whole hog on the Chroma gaming devices and this month they sent us a Razer Mamba Chroma Tournament edition with a 5G 16000DPI Laser Sensor. Capable of moving an amazing 210 inches per second at 50G with up to 1000MHz ultra polling and on the fly sensitivity (DPI) adjustments on the mouse itself. Just last month we shot a feedback letter to Razer on DPI on the fly and how impotent it is to a true competition quality mouse and lo and behold they had one on the drawing board already.
This is another righty mouse so you left-handed people are going to miss out on a killer offering from Razer. The Razer Mamba Chroma Tournament edition has a 4 way scroll wheel for up down left and right scrolling and it's programmable so you get the equivalent of 4 more programmable keys.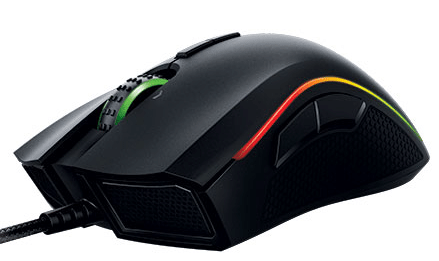 The Mamba Tournament edition is a full-fledged RGB mouse capable of displaying 16.8 Million colors and has sleek racing lines going up each side of the mouse to better utilize the RGB capabilities. Now of course RGB never won anyone any games but with the 5G 16000 DPI on the fly programmable in Razer Synapse the Mamba Chroma Tournament edition isn't some tournament lightweight, its sleek, fits the hand, glides across the mouse mat like a breeze brushing your face and has buttons with programmable sensitivity.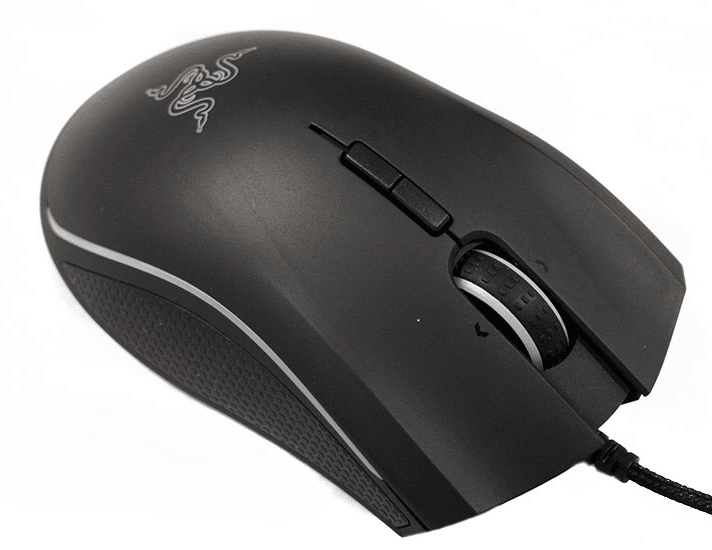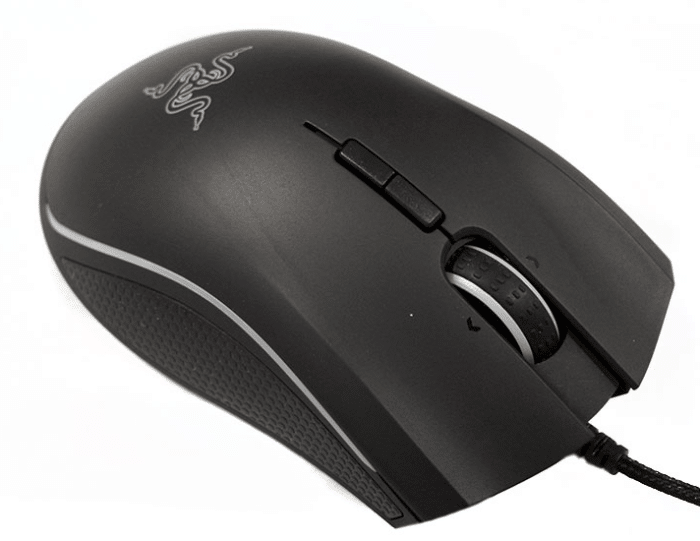 This edition of the Mamba looks very similar to the Wireless Mamba Razer released a short time ago, They made it a wired mouse, added Chroma, tossed that beautiful 16k 5G Laser sensor on it and put out one beautiful mouse. We've had it in the lab for a few days and when it's doing the "Wave" color pattern people are drawn to it like it's some RPG magic item that attracts crowds. The first question they ask is where did we get it and the second is how much it costs. People are set back a little by the $89.99 price but there's a lot of gaming technology under the hood of this mouse. The 16000 DPI Laser sensor is a little overkill we reset the DPI adjustment levels to 8000 DPI tops and that's about as much DPI as we can handle. Of course throw this puppy on some huge 70 inch 4k television 16000 might not flash by your eyes so fast.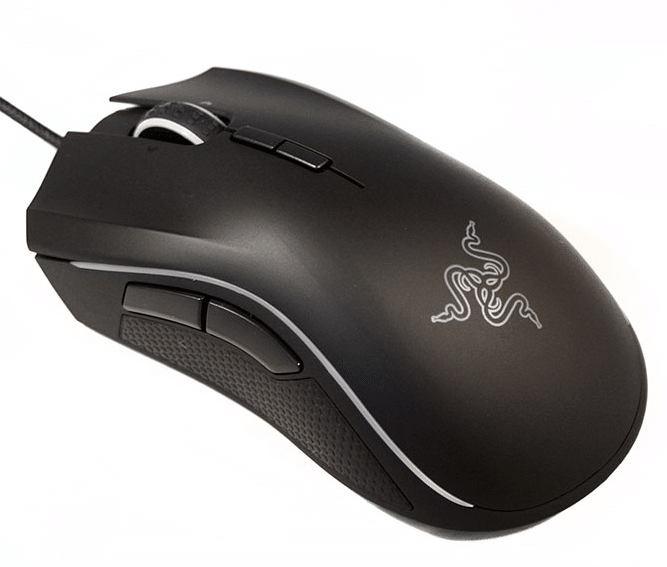 The previous Razer Mamba (wireless) didn't get a Razer logo but the Razer Mamba Chroma TE did get one and it looks great flashing and even better doing the wave. We keep about a dozen high-end mice around the lab and I always keep the CoolerMaster Sentinel (original) close at hand and have for over 5 years. The Razer Mamba Chroma TE will likely take its place it's that good.  It's hard to argue with the worlds most precise 16K Laser sensor.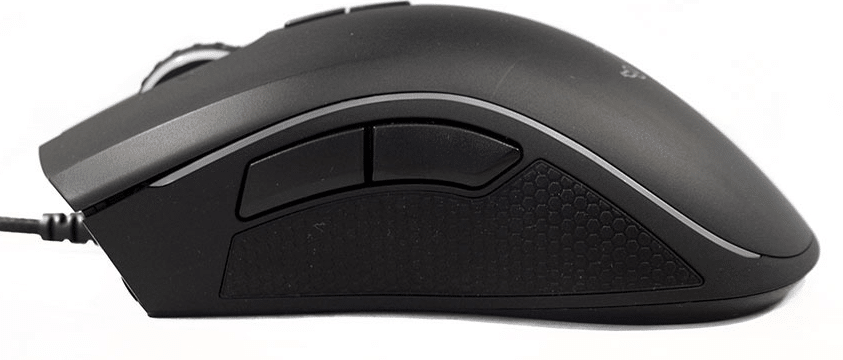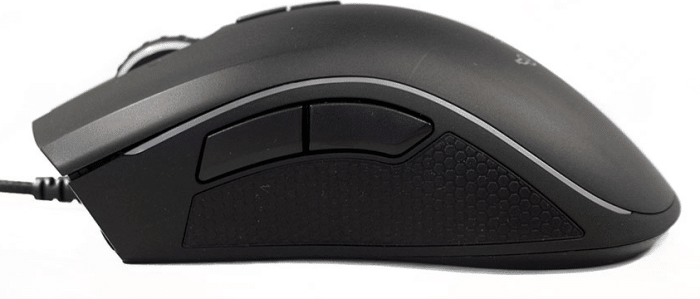 The Mamba Chroma TE has two well placed buttons on the side of the mouse and they fall naturally under your thumb when you're gaming. We fire the Mamba up and ran some FPS, MMORPG, a builder game some SkyRim and some Path Of Exile across several days. We couldn't find a game that the Razer Mamba Chroma TE didn't improve our game play. If you are broadly sweeping an area slowly looking for enemies then just click the Down Sensitivity button and it allows you to sweep slowly, hit zoom on your scope and precisely head shot those pesky AI's out to gun you down.
Sooner or later we have to pp a specifications list out there or we tend to forget some of the great features on the products we look at.
Specifications
Ergonomic right-handed design with textured rubber side grips.
16,000 DPI 5G laser sensor.
210 inches per second / 50 G acceleration.
1000 Hz Ultrapolling / 1 ms response time.
Nine independently programmable buttons including the tilt-click scroll wheel.
Chroma lighting with true 16.8 million customizable colour options.
Inter-device colour synchronization.
Razer Synapse enabled.
Approximate size: 128 mm / 5 in (Length) x 70 mm / 2.76 in (Width) x 42.5 mm / 1.67 in (Height).
Approximate weight: 133 g / 0.29 lbs.
We've gone through some of this already, it's a right-handed mouse with the 5G 16000DPI Laser sensor capable of running 210 inches per second at 50G acceleration. The 1000Hz polling with 1 ms response time is appreciated and adjustable. During a game or regular computing if you see your mouse jump from one spot to shortly ahead of where it was that's usually a low polling mouse. Razer is saying 9 buttons but it's two side buttons, two top buttons, the Sensitivity up and down and the scroll wheel so they are fudging a bit and counting the scroll wheel as more than one. It's more like a multi function button/scroll wheel.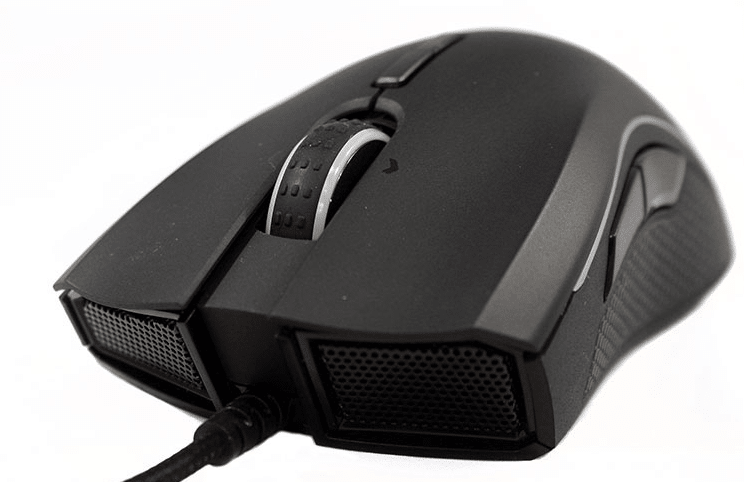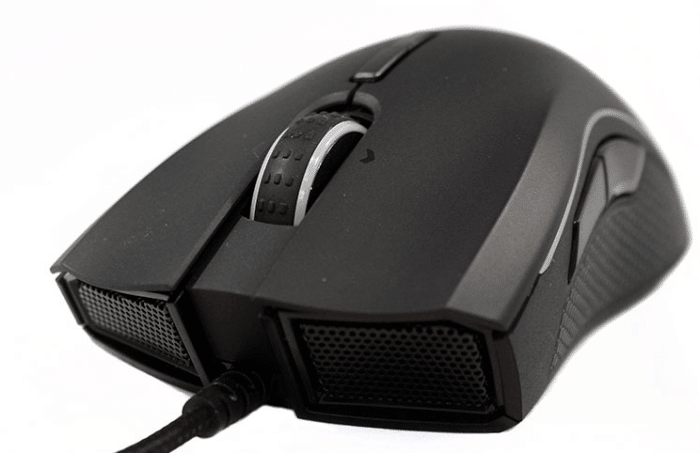 If you look close there you can see the arrow indicating that you can right scroll, get down into Synapse and that might be programmable for left strafe and right strafe and that's always a nice feature to have.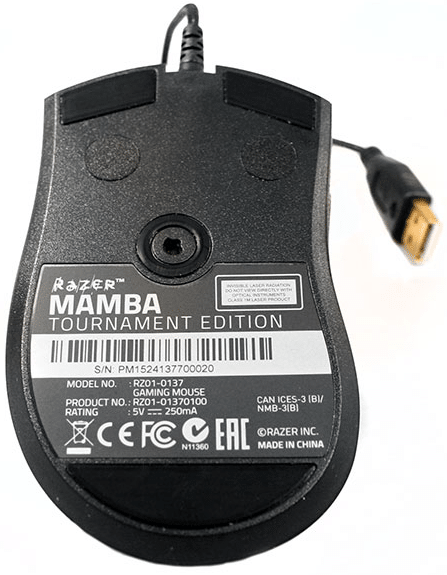 Here's a shot of the bottom of the Razer Mamba Chroma TE and as you can see it's got 3 Teflon feet the usual "Here's what I am" sticker and the scan port for the 5G 16k DPI Laser.