Final Thoughts & Conclusions

We spent more time with the Gigabyte Z170X Gaming 7 for the simple reason that it's such an amazing board at such an amazing price. Now we are talking the second most feature filled board in GIGABYTES lineup and it is based on the Z170 Intel chipset, That chipset will allow a 16x PCI-E graphics card in the first PCI-E slot and if you run SLI or Xfire you will have 8x 8x bandwidth. That's a choice made by Intel for the Z170 chipset and not a decision GIGABYTE gets to make. To get a full 16x 16x you need to go with a PLX chip and that drives the boards price and category into the Flagship Region. The GIGABYTE Z170x comes in at a medium to high tier price of . Other boards run from around $100 and up but they aren't as well-heeled as the GIGABYTE Z170X Gaming 7.
When we look at the Gaming 7 we see a SoundBlaster Creative Sound Core3D Quad Core Sound Processor and GIGABYTE AMP UP technology with replacable upgradable AMPS, and SoundBlaster Creative SBX Pro Studio Audio Suite and fine Gold Nichicon Capacitors. The audio on this beast is audiophile quality and the Quad Core Processor takes the load off the CPU. We see a Gold plated CPU socket, Intel Extreme USB 3.1, Killer Ethernet 2400, Intel HD530 HDMI 2.0, metal plated PCI-E, Sata Express and Turbo B-Clock allowing for an extended BCLK overclock up to 500MHz and down to 90 MHz.
The GIGABYTE Z170X Gaming 7 is so packed full of enthusiast level hardware and bling like the lighted Audio path and LED backplate that literally you can't cover every feature without going into overtime. GIGABYTES Flagship board the GIGABYTE Z170X Gaming G1 sports a hefty (but worth it) price of  Which is more than double the GIGABYTE Z170X Gaming 7. The Gaming G1 contains many of the same exact features that are on the Gaming 7 but with the Gaming 7 you get 8x8x SLI or Xfire, and you get Wi-Fi on the Gaming G1. There are a few features on the Flagship Gaming G1 that you won't get with the Gaming 7 but for single GPU use and a $20 dollar WI-Fi stick you won't have buyers remorse with the Gaming 7 because it's beautifully equipped with enthusiast level hardware but not Hardcore enthusiast. Hardcore enthusiasts are going to want the 16x 16x on the Flagship Gaming G1 but as long as you are single GPU, don't mind using external Wi-Fi and a USB 3.1 Front Panel then the GIGABYTE Z170X Gaming 7 is your best bet for hardcore Enthusiasts that opt for Single GPU operation. Lets face it you can plop a $700 GTX 980 Ti on the Gaming 7 and you are good to go. Want a little more thrill, toss an inexpensive Physics card in there if you're an NVIDIA fan.
Want a budget enthusiast experience, Pop a CPU on the GIGABYTE Z170X Gaming 7, throw a couple of R9 380 4G on there for around $300 and you'll be rocking Xfire and the Skylake platform to the tunes flowing from your Creative sound setup while your CPU sets in a Gold Plated CPU socket surrounded by 10k long life high quality capacitors.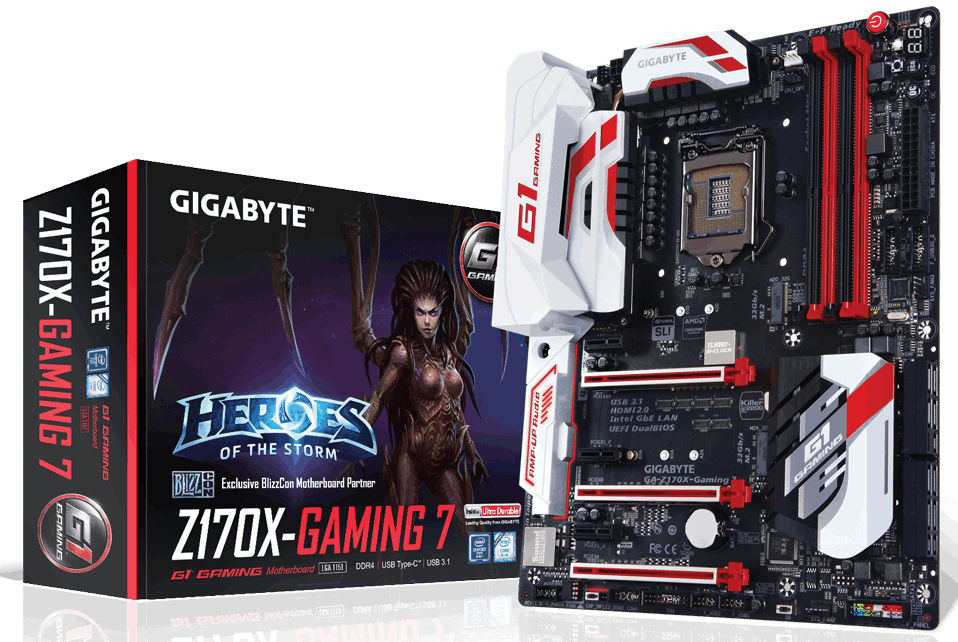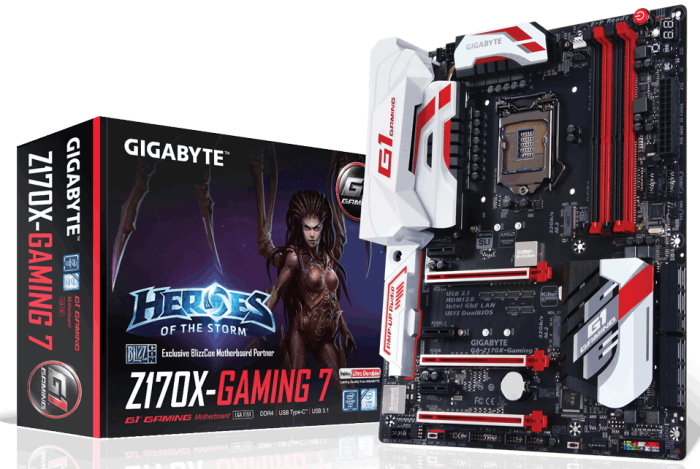 You'll find it hard to go wrong with this Gaming OCing beast and the extra dollars you spend over a "Budget" board will be returned to you in the form of high end electronics fit for any Geek to drool over.
Due to the exceptional Value GIGABYTE incorporated into the Z170X Gaming 7 while packing it with state of the art hardware we find that it is also deserving of the Best Bang For The Buck Award stacked on top the Silver.

Pros
Cons

GIGABYTE Quality
Out Of The World Creative Audio System
10K Capacitors
Premium Quality Components
Easy Tune Auto Overclocker
Turbo B-Clock
Gold Plated CPU Socket
Overclockers Dream

No WI-Fi Which Every Board Should Have