EVGA GTX 950 FTW
Recently Nvidia released the GTX 950, a GPU featuring the power and efficiency of the Maxwell architecture, Direct X 12 support, and solid FPS capability @1080p, without the heavy drain on your wallet. Today we are taking a look at the EVGA GTX 950 FTW, which is one of the budget friendly 950's available on for 179$.  Featuring a serious factory overclock, ACX 2.0 Cooling, and the great looking as well as functional backplate, it is sure to be a sought after GTX 950 variation. The EVGA GTX 950 FTW is based on a 28nm process on the GM206 core, the same hardware you will find on a EVGA GTX 960. The core contains 2.94 billion transistors and 768 shaders, with 64 TMUs and 32 ROPs paired with 2GB of GDDR5 on a 128-bit memory bus. It features VXGI for realistic lighting, support for smooth, tear-free NVIDIA G-SYNC technology, and Dynamic Super Resolution for 4K-quality gaming on 1080P displays. The GTX 950 is not as limited compared to a GTX 960 as the "budget" tag would have us believe. Will you be satisfied with the performance?  Let's jump in and get a look at what the EVGA GTX 950 FTW has to offer.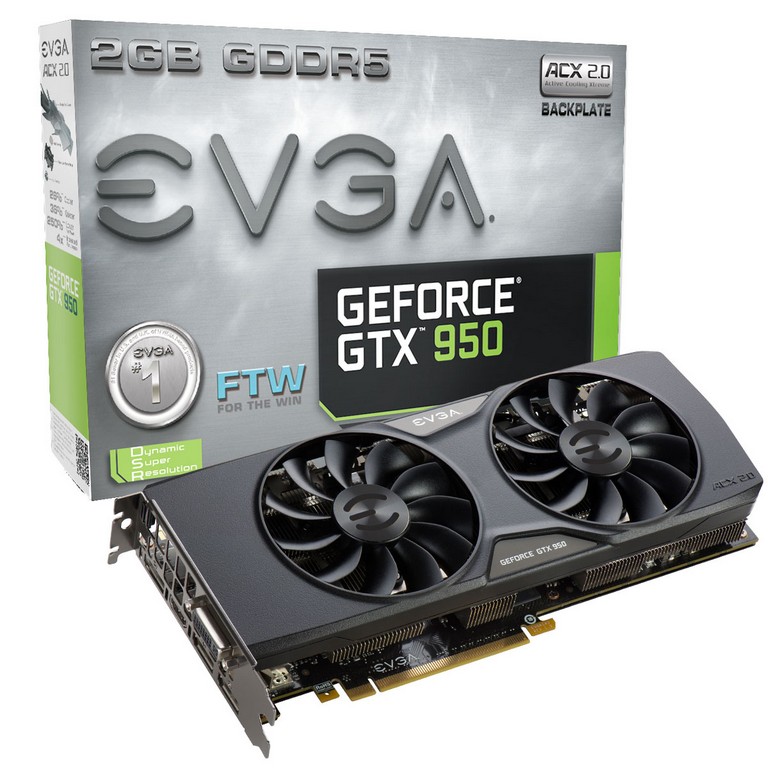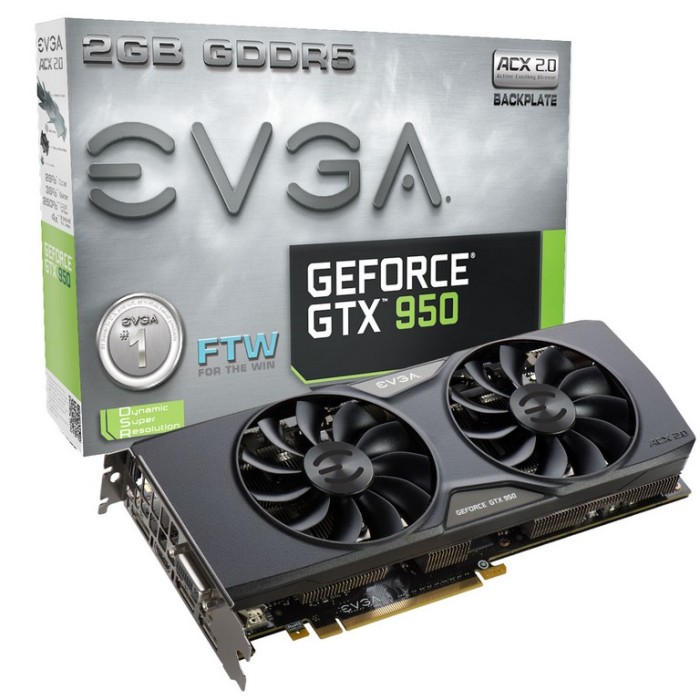 From the factory the FTW comes ready to throw some serious pixels with a base core clock of 1202 MHz and a boost clock of 1405MHz. The GDDR5 memory runs at 1650 (6600) MHz and its Maxwell core gives you full DX12 support. Other features include a back plate, ACX 2.0 (Dual Fan) cooling, Dual BIOS, a 6 + 2 power supply, 1x HDMI, 1x DVI, and 3x Display Port connections.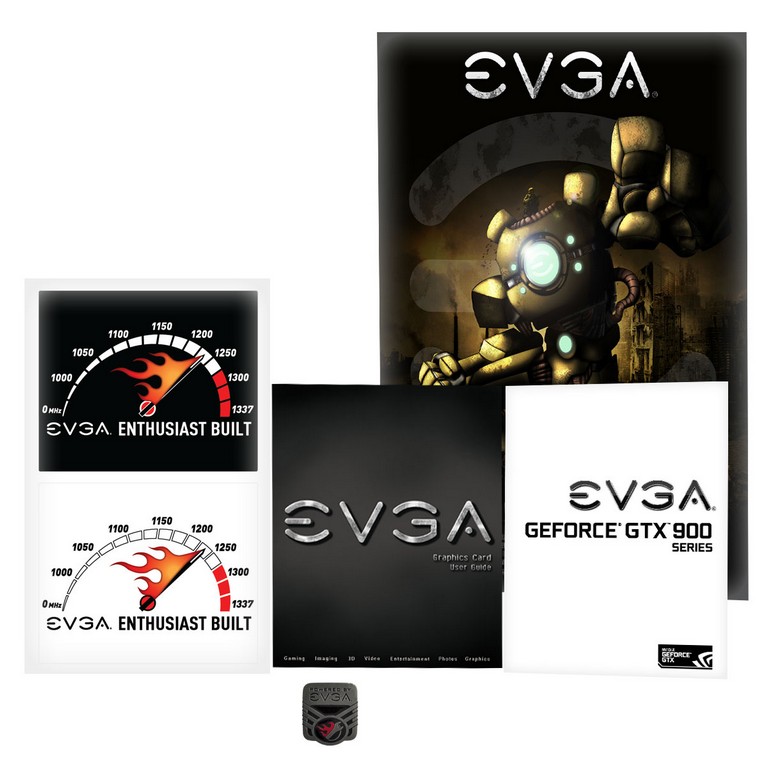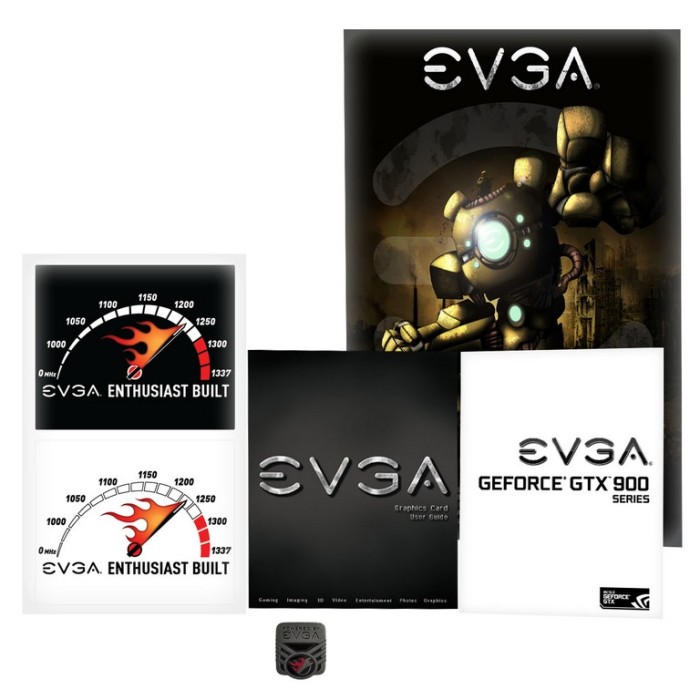 We love when a company includes branded items and gear with a product. EVGA gets instant points for hooking consumers up with not only stickers, but also a case badge and full size poster. When you like a particular company and choose their products it's always cool to get extra goodies with your purchase.
Inside the box you will find:
– EVGA Full Size Poster
– A User Guide and Quick Installation Guide
– A sticker set (Enthusiast Built)
– Driver DVD
– A small note about PCIE 3 compatibility
– EVGA Case Badge
– DVI to VGA Adapter
– 1 x 6-pin to 8-pin Power Adapter (the card uses non-reference 8-pin power connector)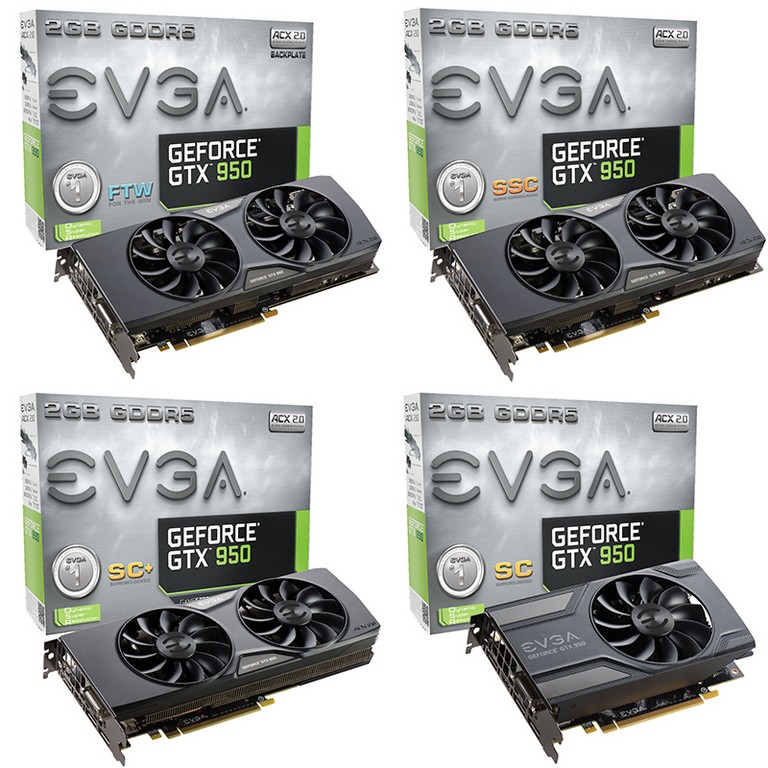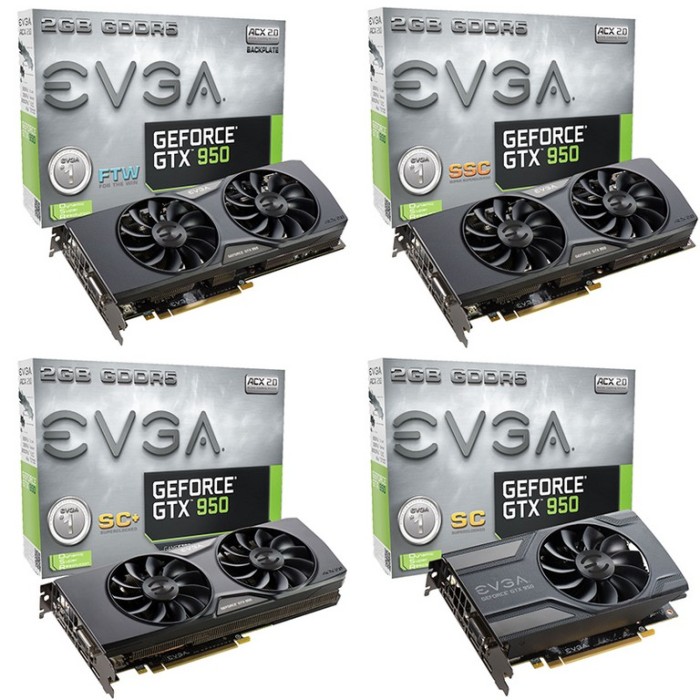 Above we see all the GTX 950 variants available from EVGA.