The ASUSTOR has launched the AS62 and the AS61 series of NAS. Both models are designed for high-performance and mainstream market with the latest Intel Braswell processor. The AS61 comes with dual-core Intel Celeron N3050 CPU while the AS62 comes with the quad core Intel Celeron N3150. Thus, it is clearly that the AS62 is meant for those who need the additional processing power.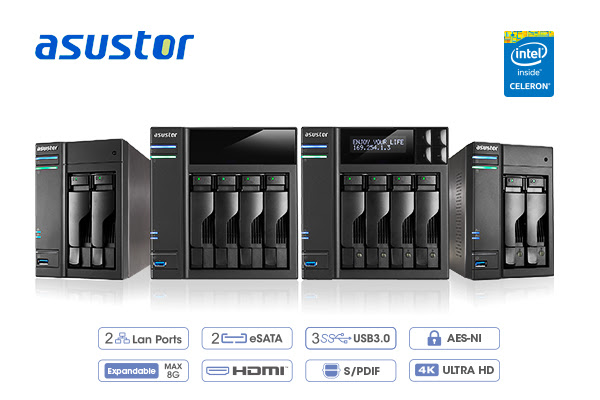 The processor on the AS62 is clocked at 1.6GHz with Turbo to 2.08GHz. The system is pre-configured with 4GB of SODIMM DDR3L that is capable of expandable to 8GB. These two models are designed for high performance with rated read speed of up to 223+ MB/s and write speed up to 220+ MB/s under link aggregation and RAID 1.
The processor on the A61 series on the other hand is clocked at 1.6GHz but is able to Turbo up to 2.16GHz despite the fact it has two core less. This could mean that with light workload the A61 can deliver slightly higher performance over the A62. They RAM got reduced in half to 2GB of SODIMM DDR3L but is capable of expanding to 8GB. The units are also rated with 220+ MB/s read speed but the write speed is a bit slower at 188+ MB/s (link aggregation and RAID 1).
Besides the CPU and RAM difference, the overall design a features are identical as they all come with two Gigabit Ethernet ports, one Super Speed USB 3.0 port on the front. On the back, we will find two USB 3.0 ports, two USB 2.0 ports, two, eSATA, one HDMI 1.4b, 1 SPDIF port, IR receiver. They support RAID 0,1, single, JBOD. Additionally, the four bay units supports more RAID level (5/6/10, RAID 0/1/5+hot spare).
These devices are clearly designed for multimedia streaming in mind as they are capable of playback 4K and 2K ultra high definition multimedia. They are also feature hardware assisted AES-NI encryption to help with data encryption performance. The A62 and A61 series will come with the latest ADM 2.5 firmware with new and strengthened core function such as Internal Backup, enhanced Network Recycle bin and iSCSI LUN snapshots.
The A62 and the A61 series includes 3-year warranty and is launched in global market.