Today we are taking a look at another product from CoolerMaster, the GeminII S524 Ver.2 CPU cooler. Available now on  the GeminII S524 Ver.2 offers flagship level design and construction at a good value. Designed to accommodate newer generation RAM we see generous clearance. The top-down, X-Vents and Air-Guide design promotes cooling of your RAM and motherboard which is a nice bonus. For the CPU we get 5 Continuous Direct Contact copper heat pipes that flow into high grade aluminum shaped fins ready to keep your precious CPU investment cool and healthy. The included fan is a Silencio FP 120 specifically designed for high static pressures to move heat fast and effectively. Let's dive in and check it out.
About CoolerMaster
"Cooler Master was founded with the mission of providing the industry's best thermal solutions. Since its establishment two decades ago, the company has remained faithful to this mission, emerging as a world leader in products and services for companies dealing with devices where heat issues must be resolved. Cooler Master's current business encompasses a comprehensive lineup of thermal solutions for a full range of applications. Its products range from heat sinks and fans to component housing, chassis, and ducting for computers, industrial machinery, telecommunications equipment, and many other devices."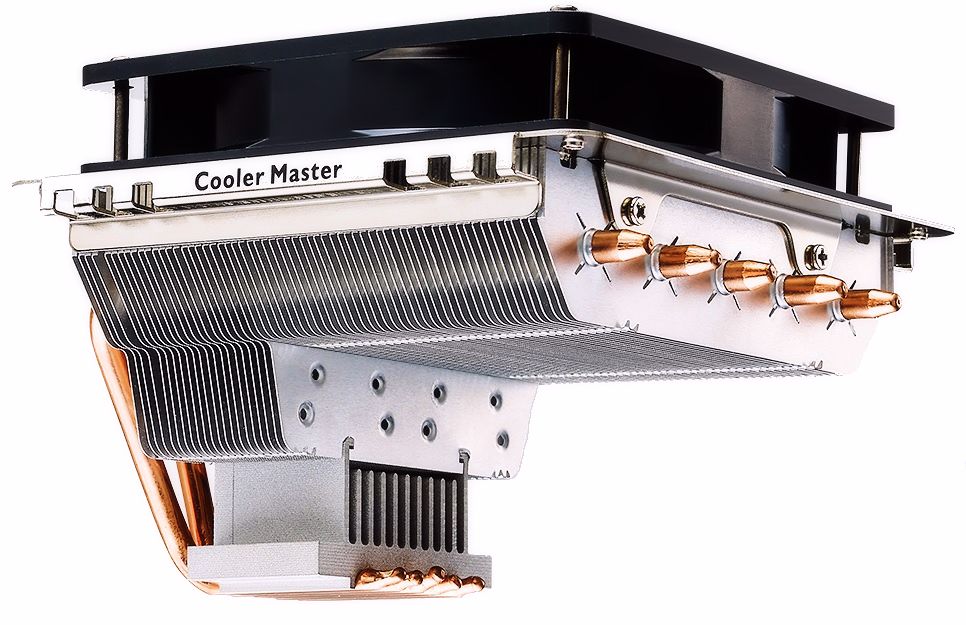 Boom. The GeminII S524 Ver.2 in all it's Continuous Direct Contact 5 heatpipe shaped aluminum fin glory. Immortal Joe and the war boys would be proud of the fine craftsmanship and shiny metals…So shiny…
Features and specifications
CDC (Continuous Direct Contact) tech provides higher dissipation efficiency than previous generation.
Equipped with Silencio FP fan, offering higher air pressure, lower noise level and longer lifespan.
X-Vents and Air-Guide design cools down the temperature of heatsink faster with optimized airflow.
Higher ground clearance for better memory module compatibility.
Compatible with 140mm fans (optional).
Excellent cooling of CPU, memory and components on the motherboard.
Easy-to-use push pin or clip mounting systems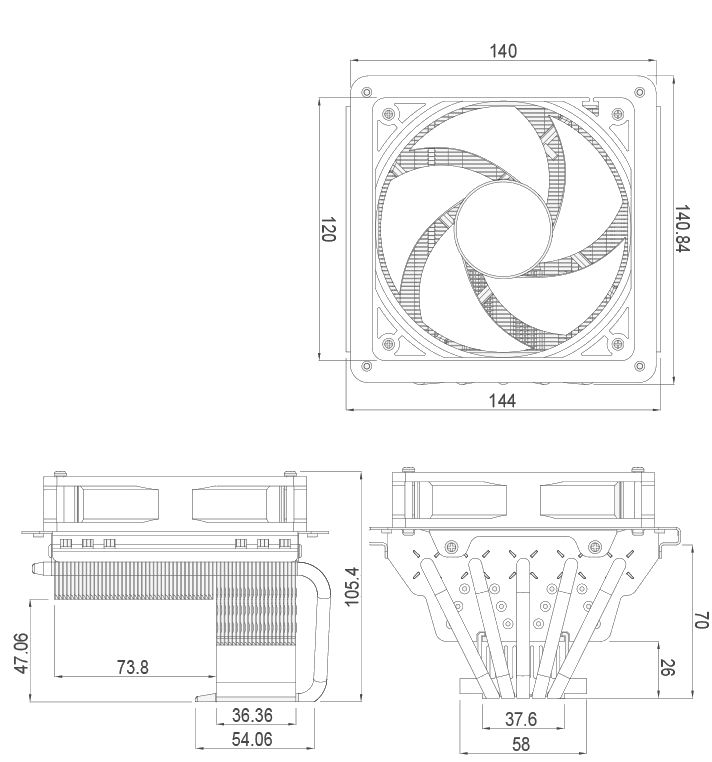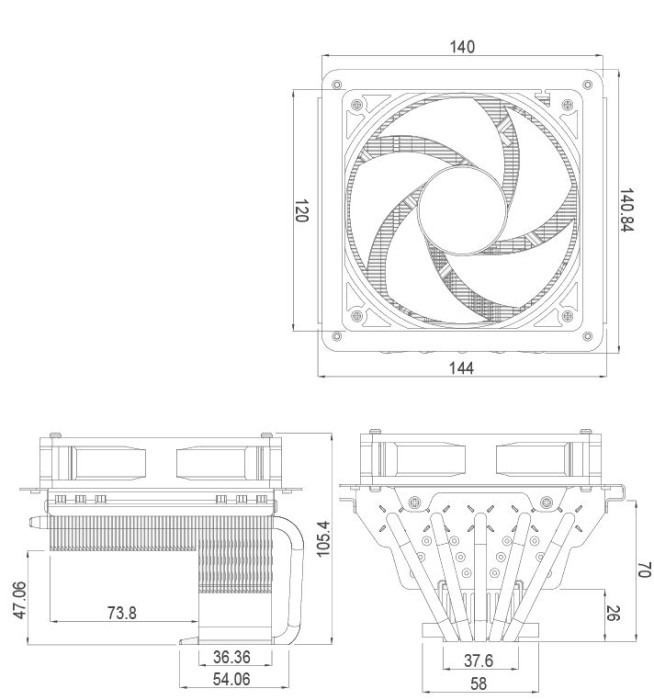 If you are reading this on a mission to replace your stock CPU cooler, take a moment.  With any new hardware purchase be sure to check and make sure your current case and hardware configuration will allow the new upgrade. In this instance size is the factor, it never hurts to get a ruler or tape measure and get eyes on how much clearance is available inside your current PC case. It's obvious a lot of thought went into the sizing and design of the GeminII S524 Ver.2 and it should fit nicely inside all but the tightest of enclosures. Note also the excellent RAM clearance, no worries there.
Inside the Box
Upon opening the box we are greeted with a nice Silencio FP 120 Fan presentation, this ohh-ahh moment was broken when we noticed a super bubbly logo sticker in our face. Took only a moment to smooth out the bubbles with a thick card, but we shouldn't have had to. However, we are confident this was a rare anomaly and you certainly shouldn't worry about being greeted with ol' bubble face.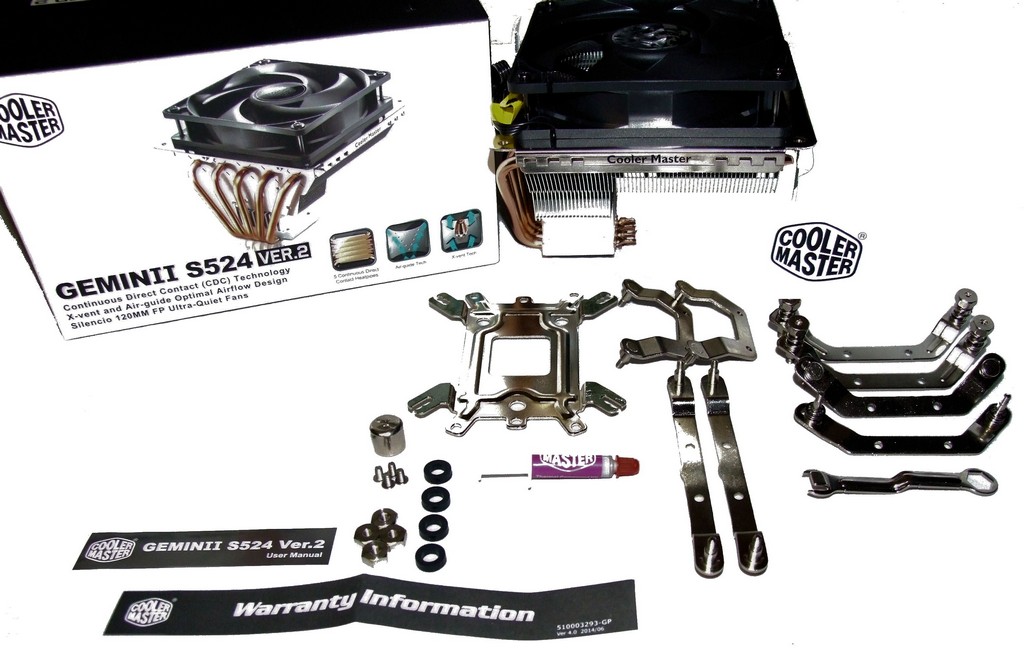 Fully unpacked we get:
GeminII S524 Ver.2 with Silencio FP 120 Fan
Universal Intel/AMD backplate
Mounting hardware for Intel platforms LGA 2011-3/2011/1366/1156/1155/1150/775
Mounting hardware for AMD platforms FM2+/FM2/FM1/AM3+/AM3/AM2+/AM2.
Nifty little wrench for installation
*Full tube of thermal compound
User Manual
Warranty Information Manual
We couldn't find any company stickers included. We love stickers, you love stickers, every product from every company should include stickers.
*Some companies will provide a pre-applied thermal compound with their cooling hardware, good for a single application. CoolerMaster did the cool thing and provided a tube of compound for you to use for future builds, or to share with that one friend who never seems to buy any. Thanks CoolerMaster.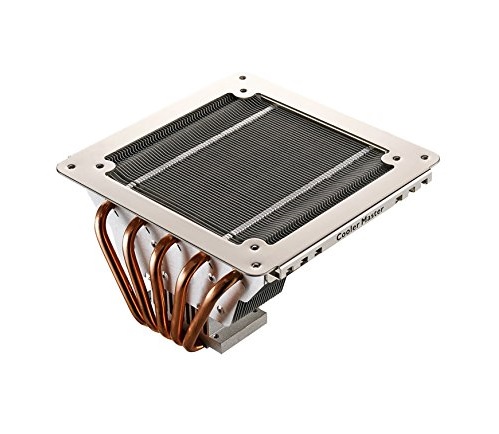 With the Silencio FP 120 fan off we can see once again CoolerMaster is thinking about upgradability as you get mounting holes for both 120 mm and 140 mm fans in case you would like to upgrade later on.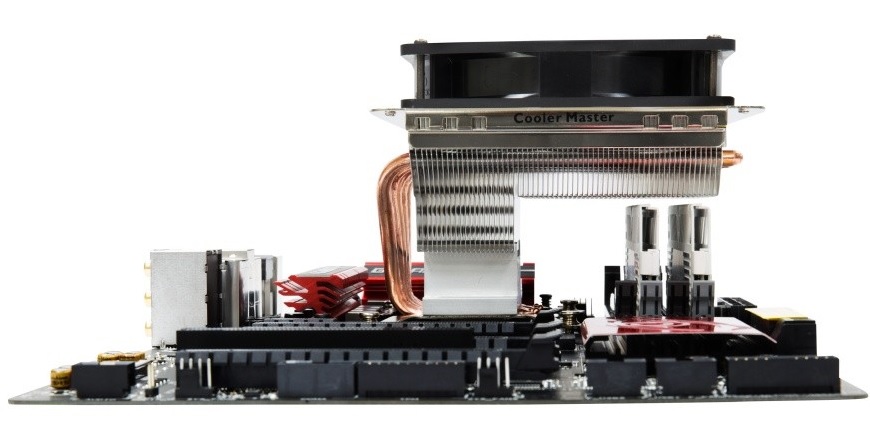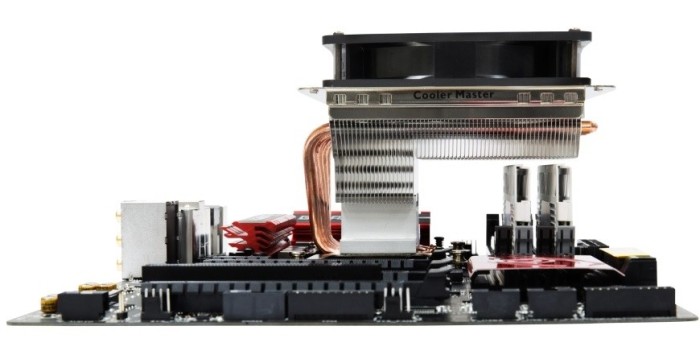 A picture tells a thousand words, this one told us: The GeminII S524 Ver.2 is made with proper clearance to not interfere with your RAM purchase of choice, big fat heat shields and all. The top-down design also helps cool your RAM and motherboard. See those big red MOSFET coolers? They can get hot too, the GeminII S524 Ver.2 can be mounted in varying positions, allowing you to choose where you would like to cool inside the case.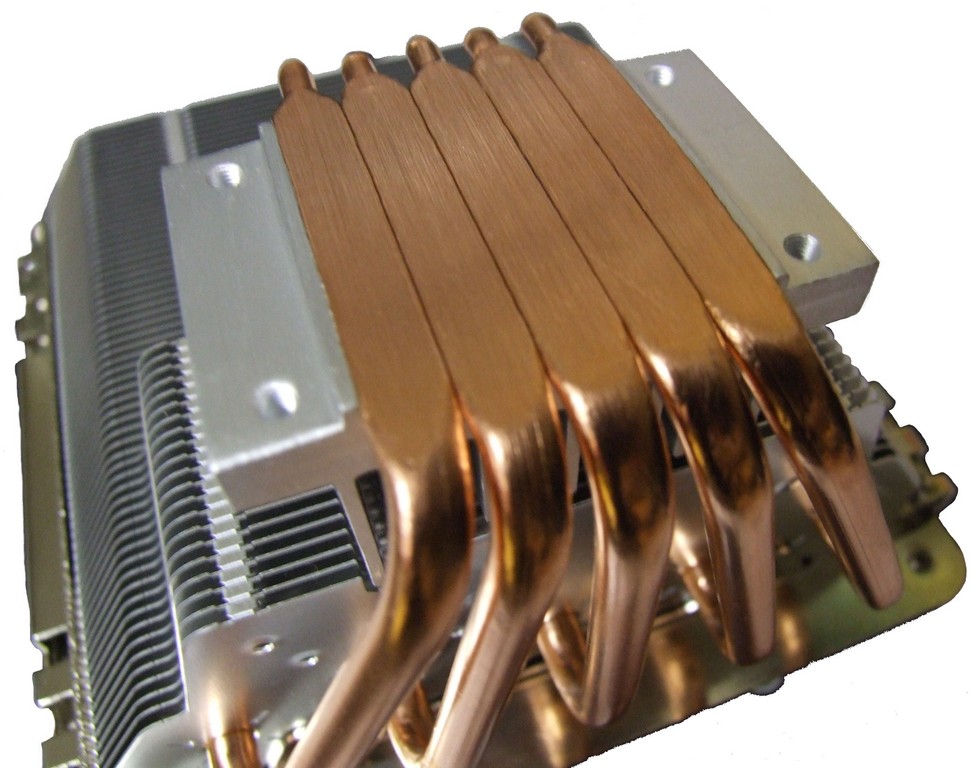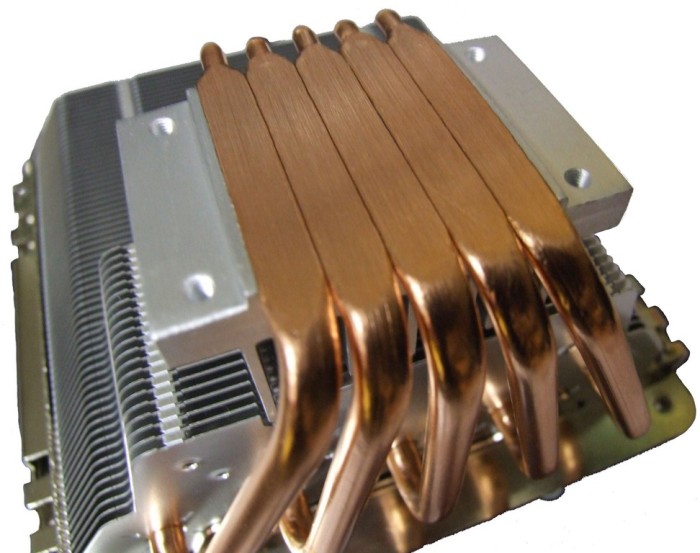 5 Continuous Direct Contact copper heatpipes combined with shaped aluminium cooling fins do a great job of dissipating heat effectively. We note the contact surface as being near perfect with almost zero gap between pipes.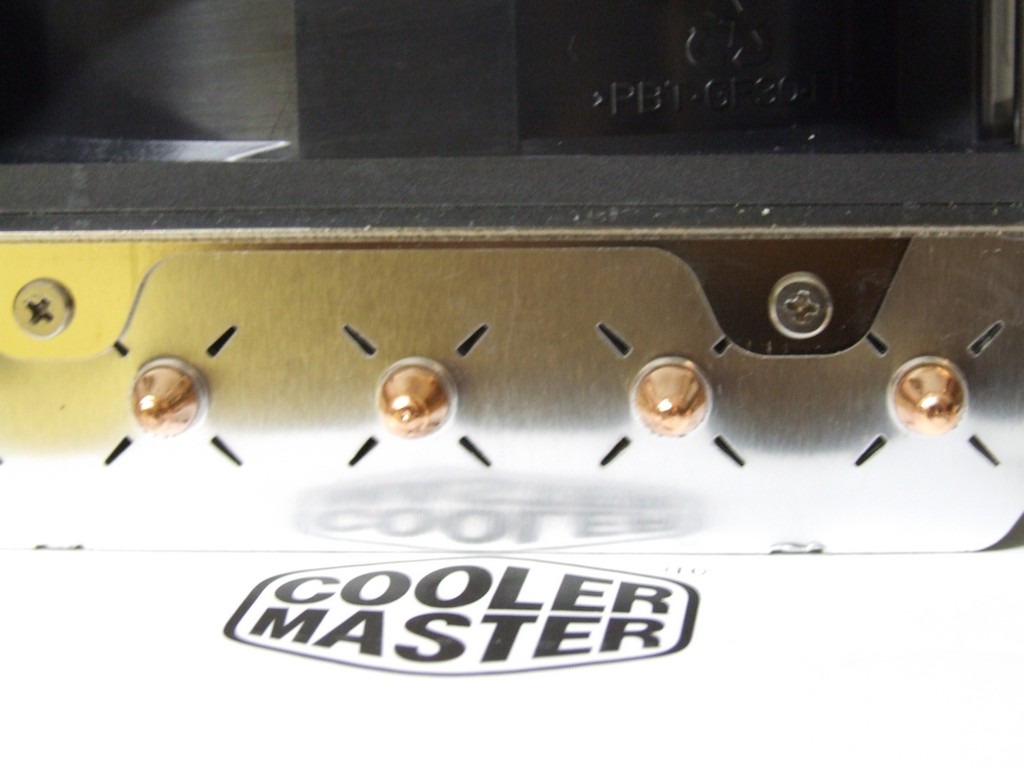 Moving along we see the X-Vents and Air-Guide design. The law of the universe says everything works best at 45 degree angles and it seems CPU cooling is no different. The X-Vents not only look cool but efficiently guide heat away from your CPU.
Testing
For testing it was decided that a consumer looking for a CPU cooler in the GeminII S524 Ver.2's price range would most likely not have the ultimate latest Skylake or X99 game machine. To give a more "relevant to the people" score we decided to test on an i7-860, A platform we imagine is closer to the spec of the average user. For CPU load we ran our favorite demanding games in real world scenarios. As you will see below the GeminII S524 Ver.2 had one job and it passed with flying colors.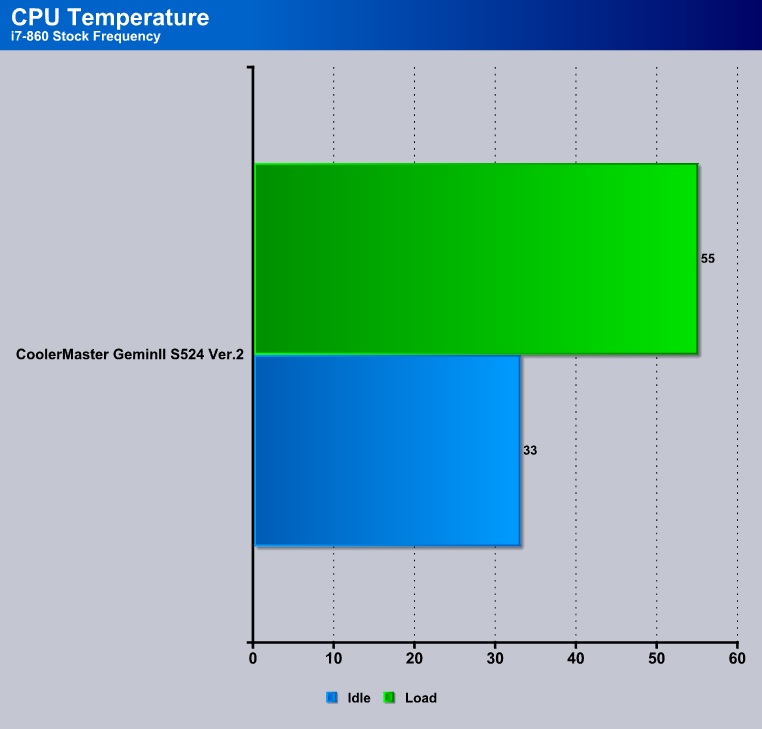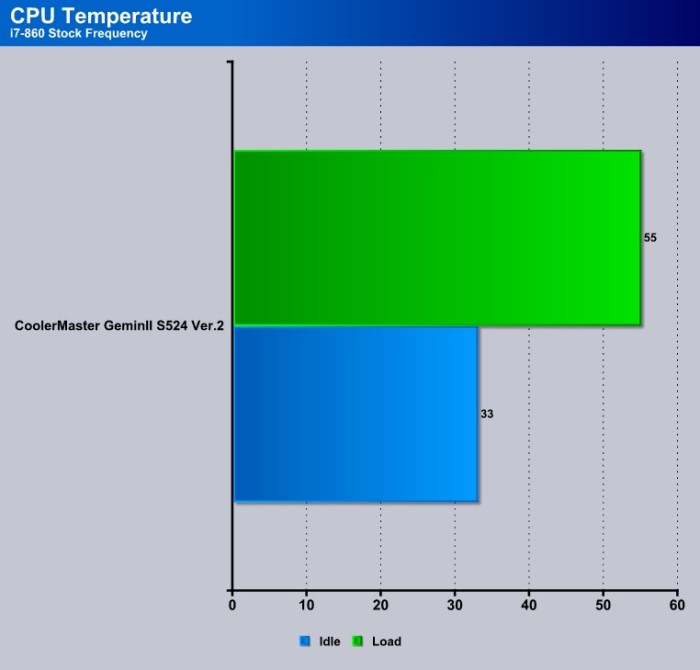 The GeminII S524 Ver.2 is a good product that does an excellent job, but it's not a top performer.
Final Conclusions
The GeminII S524 Ver.2 offers a solid choice for CPU cooling. Featuring all the attention to detail, style, and performance we've come to expect from CoolerMaster on everything from the flagship hardware right down to the budget builder.  We love when a PC component does exactly what it is supposed to do, when the design is calculated and offers options, especially upgrade options. The GeminII S524 Ver.2 has the aesthetics as well, when you get it out of the box you'll feel like you finally got your first shiny after hatching 300 eggs. While we surely like the GeminII S524 Ver.2, we must note there are closed loop liquid cooling systems available

from reputable companies for the same price. Thing is for closed loop systems at this price range we don't expect to get much better temps, combine that with the added component cooling benefits, upgrade options, slick style, and ease of use, the GeminII S524 Ver.2 comes out swinging as a heavy value contender.