Final Thoughts & Conclusion
We aren't here to drag platter drives through the mud, but on a daily basis we hear "My laptop/desktop is so slow. Can you take a look at it?" 90 percent of the time we look at the desktop or laptop and it's running a less than capable platter-based hard drive churning out 35 or 40MB/s on a system that's overloaded with startup programs. But putting the Kingston HyperX Savage 480GB up against a good 7200RPM drive gives us an idea of how much faster the SSD will go than the old, sagging platter drive in a lot of readers' machines.
It used to be that the best single upgrade you could get was more RAM, but in our humble opinion, that has changed to upping your HD game with a drive like the Kingston HyperX Savage 480GB SSD with its quad-core, 8 thread Phison S10 controller, chucking out as much as 560MB/s. We saved one last chart for the conclusion so you can see where we are coming from.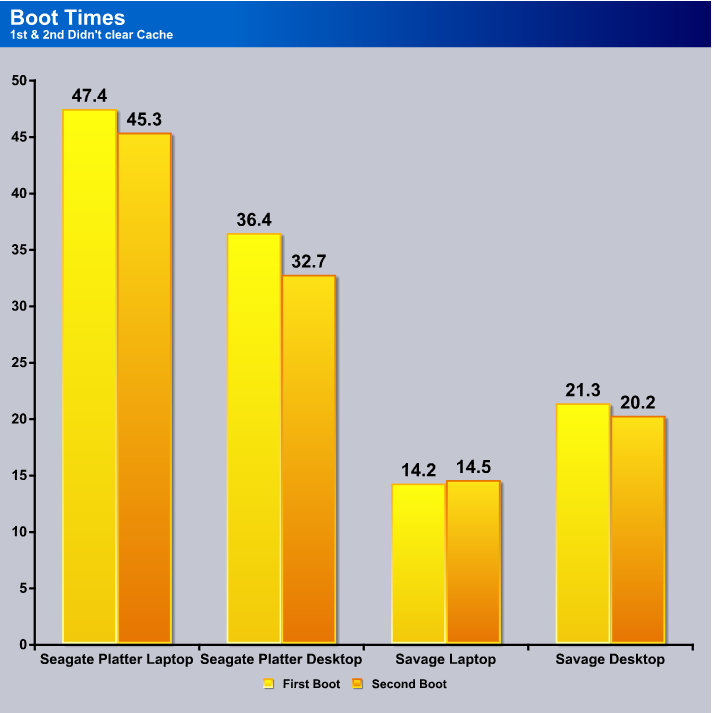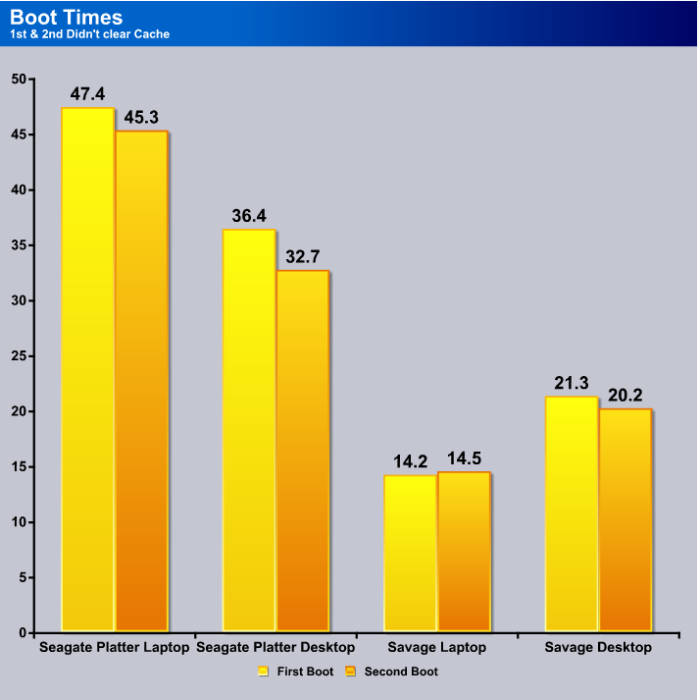 We measured boot times on the desktop and laptop, and after stripping out all the excess startup programs, it took the platter drive 47 seconds to get to the Windows screen. The desktop did a little better with the platter drive and the second boot with prefetch partially loaded it in 37 seconds. Swap over to the Kingston HyperX Savage 480GB SSD and the laptop was booting in 14 or 14 1/2 seconds. The desktop showed the same result, with the Savage SSD speeding up the desktop's boot time as well.
What we are concerned with in this review is laptops. Unless your laptop manufacturer put it in great big jumbo letters in the advertising on your laptop, you have a platter drive. Period. Most of those platter drives end up being 5200 RPM, sluggish to load, and sluggish to handle data, older, inexpensive drives. It's just Corporate America choosing to spend $50 for a cruddy, slow drive with good-sized storage rather than a larger, more expensive SSD that will effectively double the boot speed and impress the end-user with its snappy response and load times.
You can't pick a finer SSD than the Kingston HyperX Savage 480GB SSD. We've used Kingston products since Kingston opened their doors, and we've yet to find a rushed-to-market product or one that wouldn't do exactly what Kingston says it will. There are other models of SSDs out there,and many of them are good, but Kingston knows memory and that's all an SSD is: NAND flash memory with a controller. When we think of dependable memory, we think of Kingston, and over the years we've had and used 30 or so of their memory kits and a dozen SSDs, and none of them have ever failed.
What it boils down to is if you want to boost the speed of your desktop or laptop, look into moving to an SSD. The Kingston HyperX Savage bare drive or Upgrade Kit makes it super easy to migrate to a new drive, and Kingston even includes Acronis software to clone your old drive to the SSD. With Kingston's drives you know you're set, and we saved the bundle pic for last to show you just how ready.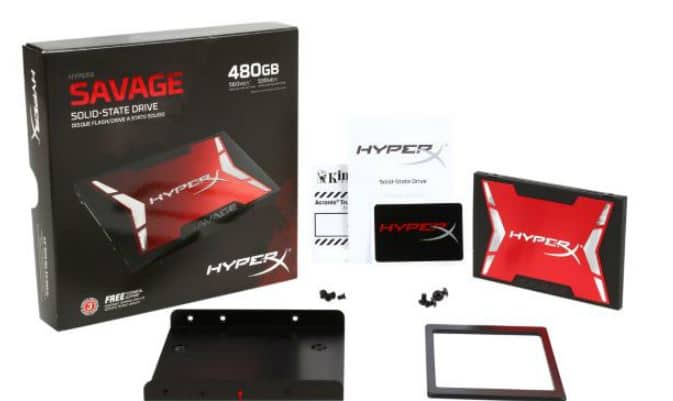 You get the 7mm 480GB HyperX Savage drive, the screws for the drive, and an adapter to mate the drive to machines that need a 9.5mm drive. Kingston even throws in a drive caddy and the aforementioned Acronis software. Now that's a lot of speed and value for $214 USD. Try and buy each of those separately and you're going to find yourself north of $214 pretty fast.

Kingston has a winner in the HyperX Savage drive series, as they all hit close to the theoretical bandwidth limit of SATA III which is 600MB/s. In reality with drives, the real speed limit of SATA III is more like 550-560MB/s, so as far as SATA III 6Gbps drives go, you are looking at the fastest. Faster speeds may appear, but this is as fast as the interface goes.
The tests show that if you want to speed up a sagging desktop or laptop, the easy way to do it is with a Kingston HyperX Savage drive. Put that Savage drive in your dream machine and you won't be disappointed with the speed and response time improvements.
Pros
Cons

Well Fleshed-Out Bundle
Blazing Speed
Long Life Cycle
3 Year Warranty
Phison S10 Controller
Kingston's Great Tech Support

None, Unless You Count Being Spoiled By The Speed.