Test Rigs & Benchmarks
For our Platter Drive VS SSD Shootout, we ran each test 3 times then threw out the low and high score and kept the median result. That median result is reported here.
The Toshiba Laptop
The Factory Description:
Toshiba Satellite C55-A5311 laptop promises ease, comfort and durability when and how you need it and comes highly affordable. This Toshiba Satellite C55-A5311 notebook computer boasts of an Intel Core i3-3120M 2.5GHz CPU processor, 4 GigaByte DDR3 internal memory, 15.6-inch LED-backlit TFT HD widescreen display with 1366 x 768 pixels resolution which is very capable of 720p media playback, Mobile Intel HD graphics controller chipset, and a very spacious 750 GB SATA hard drive storage. This 5.4 lbs Toshiba Satellite C55-A5311 notebook pc features Multiformat DVD±RW optical drive, Wi-Fi 802.11b/g/n access, 1 high-speed USB 3.0 port and 2 standard USB 2.0 ports, Ethernet LAN for internet networks connectivity, HDMI output, built-in high-def webcam plus digital mic, and a multiformat media reader card slot. This C55-A5311 model Toshiba Satellite laptop runs on a pre-installed Windows 8 64-bit operating system and powered by a 6-cell lithium-ion battery pack that lasts under normal usage. Market retail sale price costs $499. Unit is available in satin black color and comes with Microsoft Office 365 trial, Adobe Reader and more useful softwares.
Our laptop was upgraded to 8GB DDR3 1333 and we pulled the 750GB HD and replaced it with a faster Seagate 7200 RPM 500GB model (ST9500420AS) which is a model that they use in this line of laptops and a very common laptop hard drive. We have several lying around the lab.
Much to our surprise, no information can be found regarding the Toshiba's SATA controller and the ST9500420AS is a SATA II 3Gbps drive. It's not our fault that laptop and desktop vendors have been using inexpensive parts and charging premium prices for decades now. If you open any HP, Dell or other commercially available desktop you'll often find a PSU worth about $15 and a ticking timebomb ready to kill your system; so it's not surprising to find a SATA II 3Gbps platter HD in a laptop.
Our Test Rig
Test Rig
"Quadzilla"
Case Type
CPU
Intel Core I7 6700K 4.0 – 4.2GHz
Motherboard
Ram
CPU Cooler
EKWB L360 (EK-Kit L360)
Hard Drives
HyperX Savage 480 GB (Price NewEgg $214.99)Seagate ST9500420AS 500GB (Price NewEgg $118.95)
Optical
Liteon DVD Burner
GPU
Asus Strix R9 390X Gaming 8G OC
Case Fans
1 x 180mm Mosfet / CPU / Ram cooling fan
1 x 120mm PCI-E Cooling Fan
Docking Stations
None
Testing PSU
Legacy
None
Mouse
Keyboard
Any Attempt Copy This System Configuration May Lead to Bankruptcy
Benchmarks
Anvil's Storage Utilities
Anvil's Storage Utilities is a lightweight application developed specifically for helping you perform benchmark tests for assessing the performance of a solid-state drive (SSD) or hard disk drive.
Since this is a portable program, it is important to mention that it doesn't leave any traces in the Windows Registry. You can copy it on any USB flash drive or other device, and take it with you whenever you need to test the performance of your SSD or hard disk drive on the move.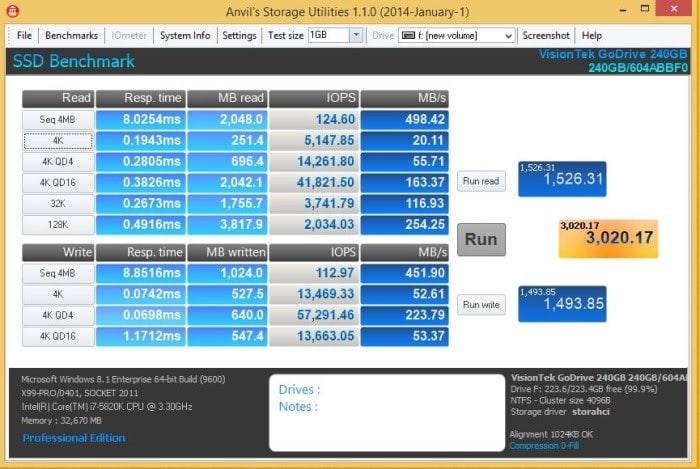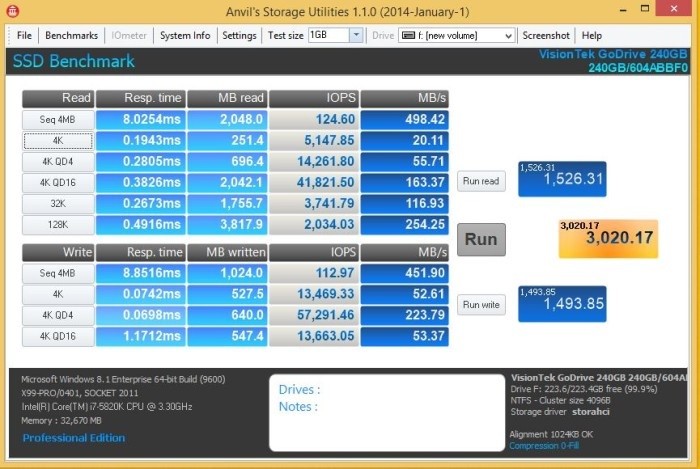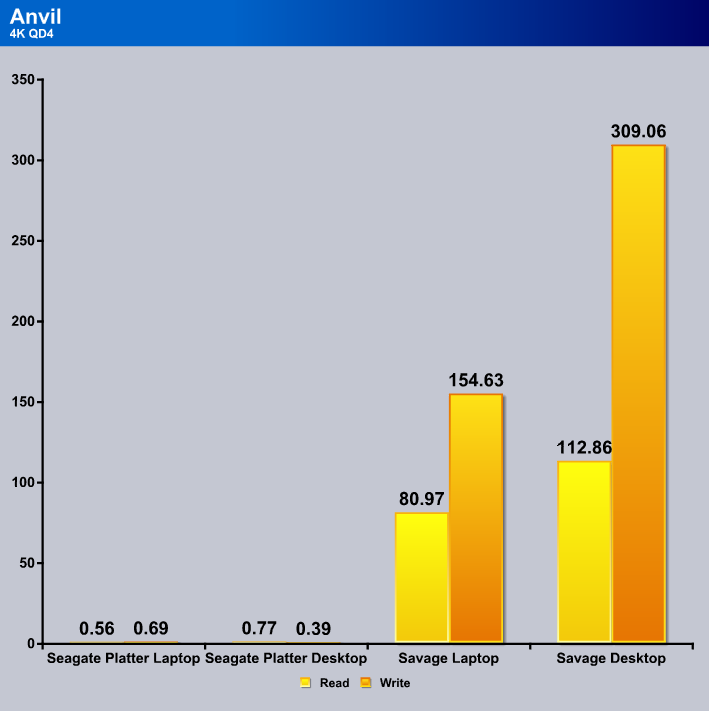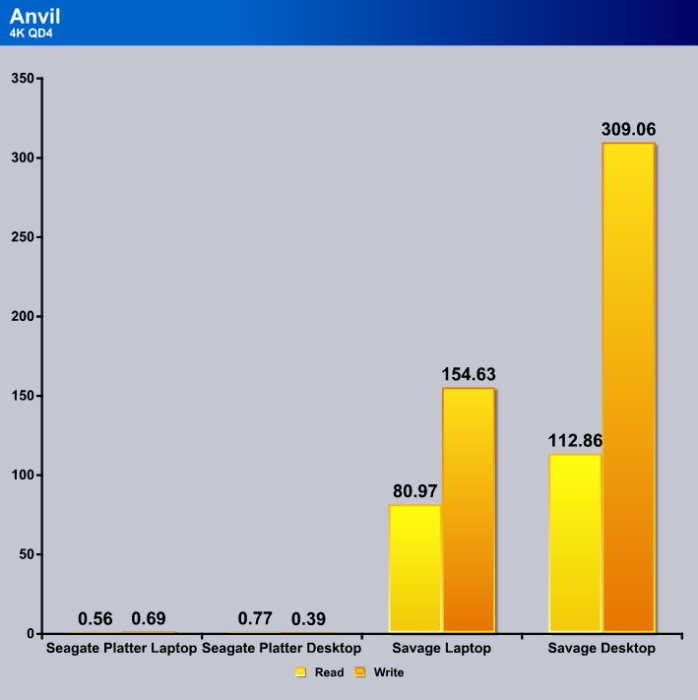 The 4K QD4 test wasn't very kind to the platter drive and in the laptop it scored 0.69MB/s Write and 0.56MB/s Read. Swap out the platter drive for the HyperX Savage 480GB we got 80.97MB/s Read in the laptop and 112.96 on our desktop testbed. The Write results on the Savage hit 154.63MB/s on the laptop and 309.06MB/s on the desktop platform.
Early results are showing that the Kingston Savage 480GB SSD is hundreds of times faster in the 4K QD4 test.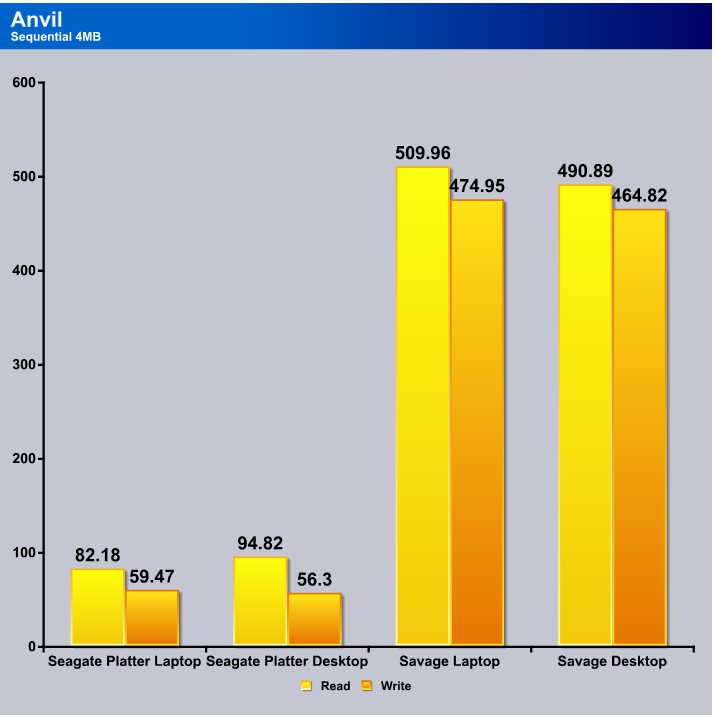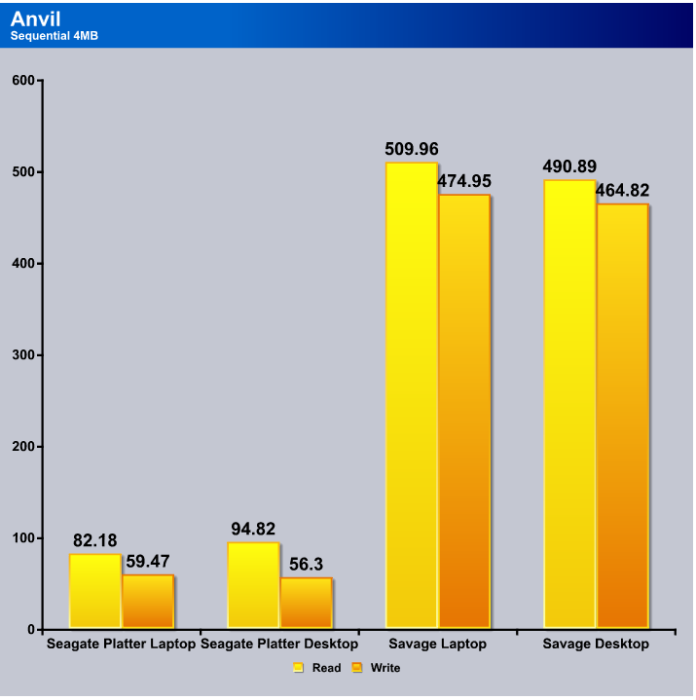 The sequential test in Anvil shows the Seagate drive hitting 82.18MB/s Read and 59.47 MB/s Write, which aren't bad numbers for laptop platter drives. Hook the Seagate up to the desktop and we got 94.82MB/s Read and 56.3 MB/s Write. Looking at the HyperX Savage 480GB SSD in the laptop we hit a whopping 509.96MB/s Read and 474.95 MB/s Write. Platter drives are more suited to sequential reads and writes than they are for short 4K writes and the test bears that out to be true, but they just can't keep up with the SSD running 5x faster.
Now ask yourself the obvious question: "Why does a laptop manufacturer use a SATA II 3Gbps platter drive in a SATA 6G laptop?" Because the platter drive has no hope of exceeding the speed limit of SATA II, but they smarten up and put a SATA III 6Gbps controller in there in case you upgraded to a SSD. Our question would be, with dropping SSD prices, why aren't laptop manufacturers putting SSDs in their laptops by default?
ATTO
As the industry's leading provider of high-performance storage & network connectivity products, ATTO has created a widely accepted Disk Benchmark freeware utility to help measure storage system performance. As one of the top tools utilized in the industry, Disk Benchmark identifies performance in hard drives, solid state drives, RAID arrays as well as connections to storage. Top drive manufacturers, like Hitachi, build and test every drive using the ATTO Disk Benchmark.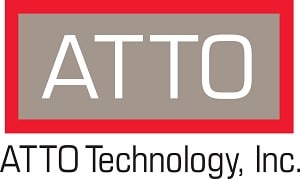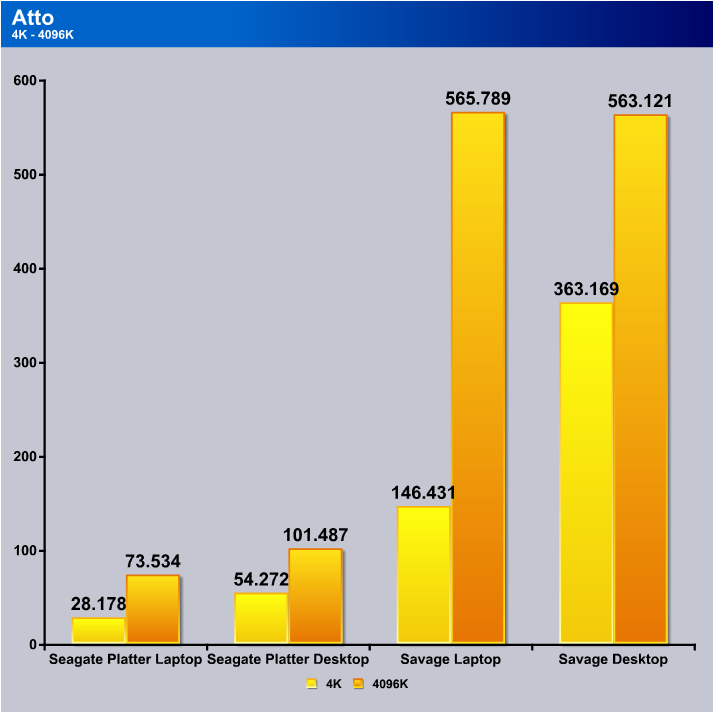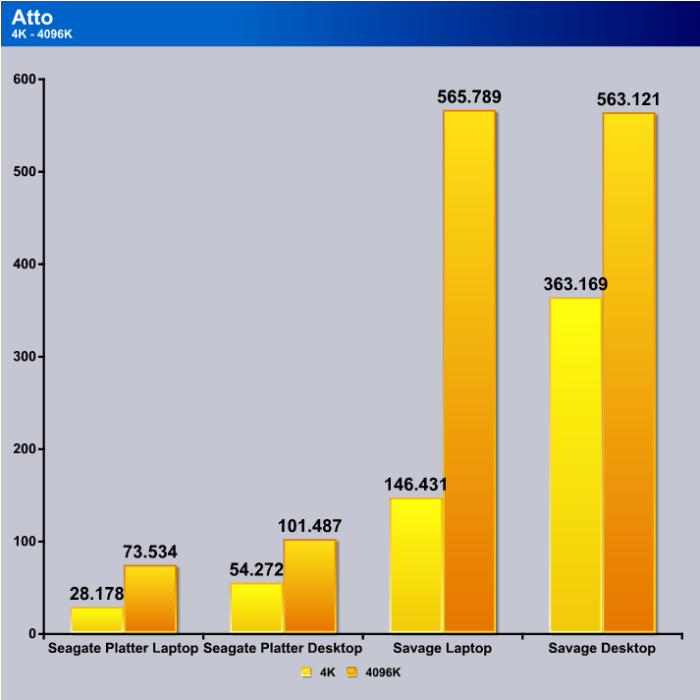 Atto is used by almost all HD manufacturers to give the speed of their drives because it's reliable and produces reproducible results. The Seagate platter drive topped out at 101.487MB/s and that was in the 4096K test in the desktop. On the laptop it topped out at 73.534MB/s and again that was on Read. The Write numbers, well lets just say they are lower than the Read numbers. Switch out to the Kingston HyperX Savage, and on the 4K test in the laptop it scores 146.431MB/s and switch to the 4096K test and it hits 565.789 MB/s Read and 363.169 Write.
CrystalDiskMark
From Crystal Dew World: CrystalDiskMark is a disk benchmark software.It measure sequential reads/writes speed,measure random 512KB, 4KB, 4KB (Queue Depth=32) reads/writes speed,select test data (Random, 0Fill, 1Fill),provide theme support and Multi-Language support.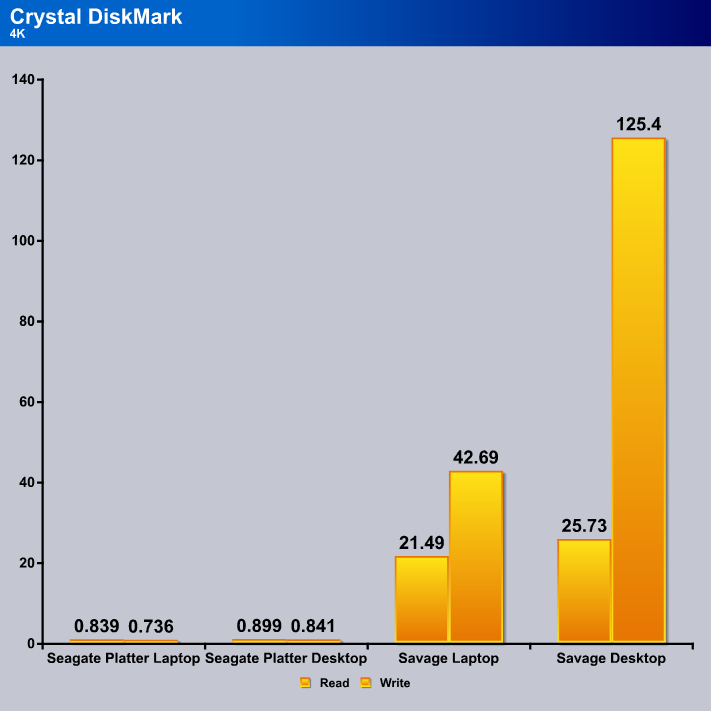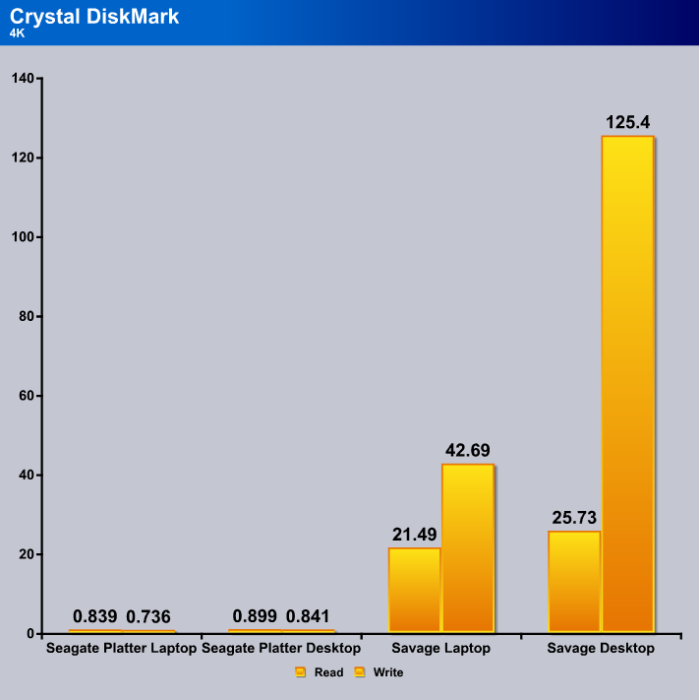 The 4k test in Crystal DiskMark is brutal on every type of drive, and the platter drive couldn't even provide 1MB/s, while the HyperX Savage 480 GB drive struggled in the laptop. The Savage hit 21.49MB/s in the laptop on Read, and it bumped up a little on Write and hit 42.69MB/s. In the desktop the Savage did a little better, and on Write it hit 25.73MB/s and Write it hit 125.4MB/s.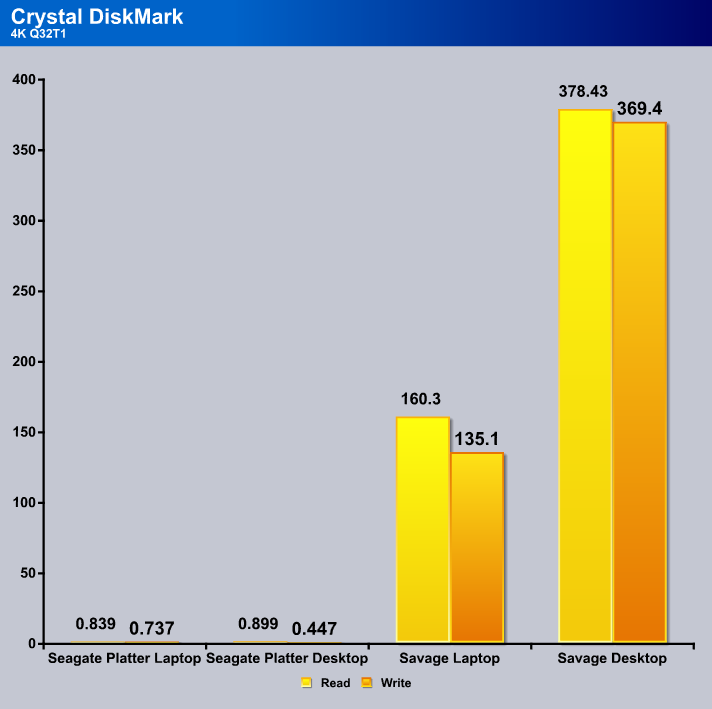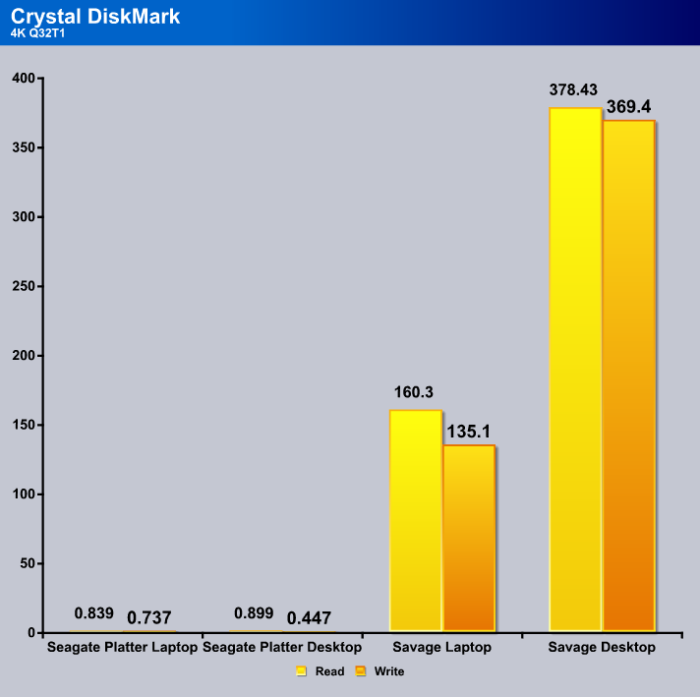 The 4KQ32T1 test sees the Seagate platter drive at below 1MB/s in this test, while the Kingston Savage hits 160.3MB/s Write and 135.1MB/s Read in the laptop. Hooked to the desktop the Savage SSD hits 378.43MB/s Read and 369.4MB/s Write, so we are seeing some differences between the desktop's controller and the laptop's controller. We know that the laptop controller has to be SATA III 6Gbps because we've seen speeds that exceed SATA II's 3Gbps speed limit come from the controller.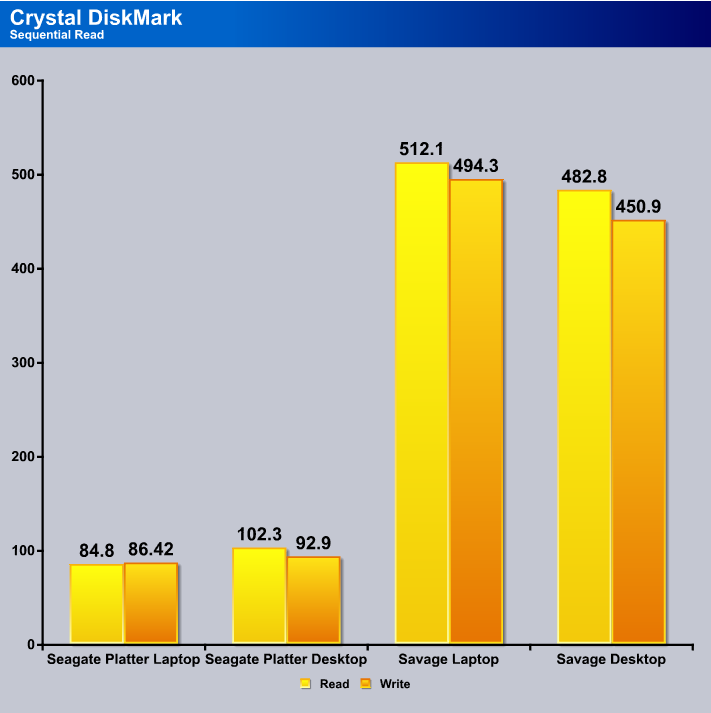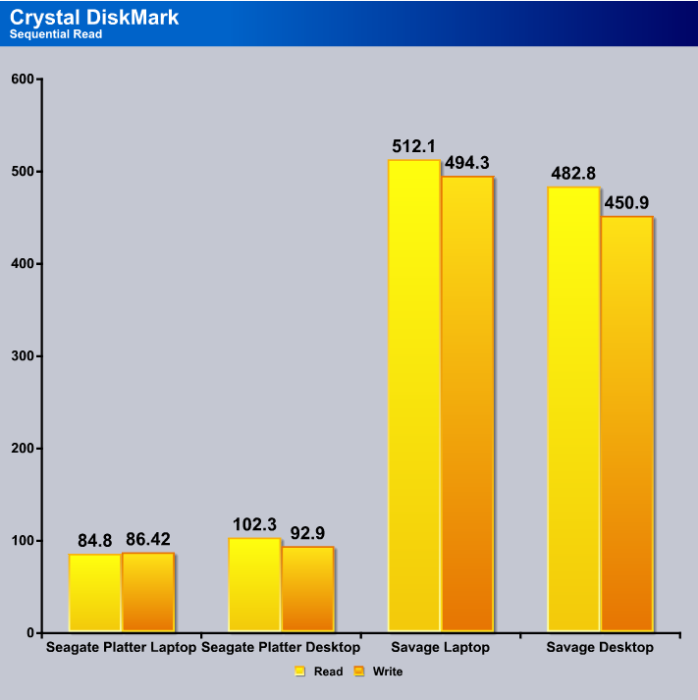 Platter drives do better on sequential reads where the access time and moving the read/write head doesn't affect scores so much. In the Sequential Read test the Seagate platter drive hits 84.8MB/s Read and 86.42MB/s Write in the laptop. Move the Seagate to the desktop and it hits 102.3MB/s Read and 92.9MB/s Write. Turning to the Kingston HyperX Savage in the laptop, the SSD hit 512.1MB/s Read and 494.3MB/s Write. Move it to the desktop and it hits 482.8MB/s Read and 450.9MB/s Write.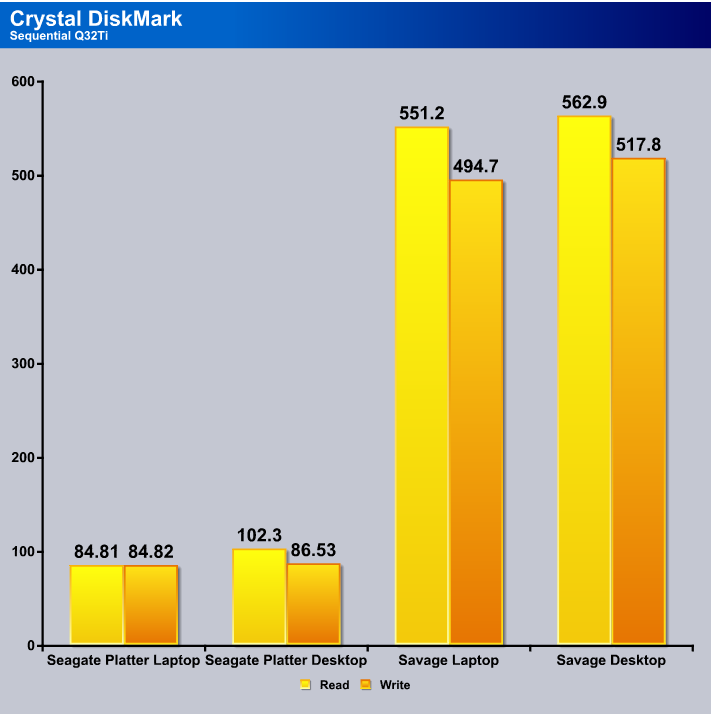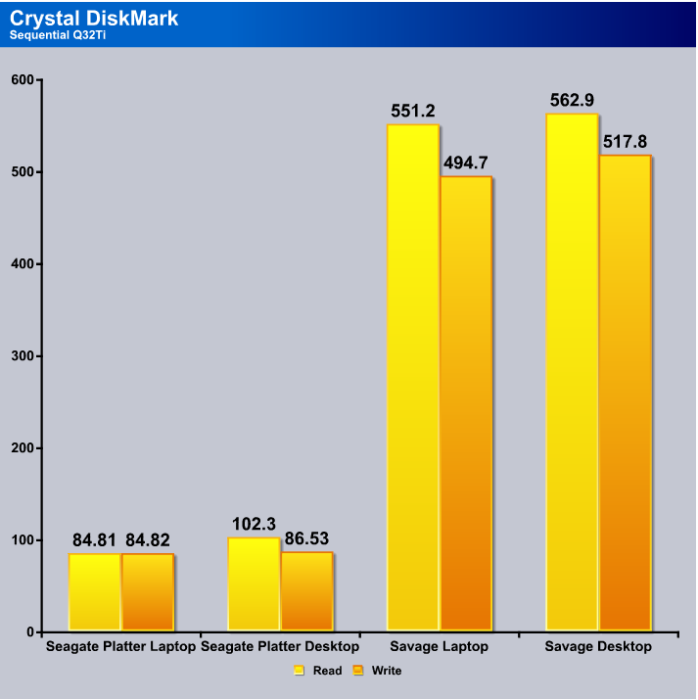 The last test in CDM is the Sequential Q32T1, and the Seagate drive runs around 84MB/s on Read and Write in the laptop. This drive gets a little boost in speed to 102.3MB/s Read and 86.53MB/s Write while in the desktop. Put the Kingston HyperX Savage in the laptop, and it hits 551.2MB/s Read and for Write performance it hits 517.8MB/s.
HDTune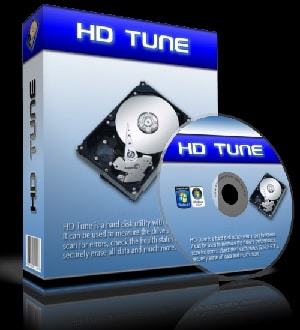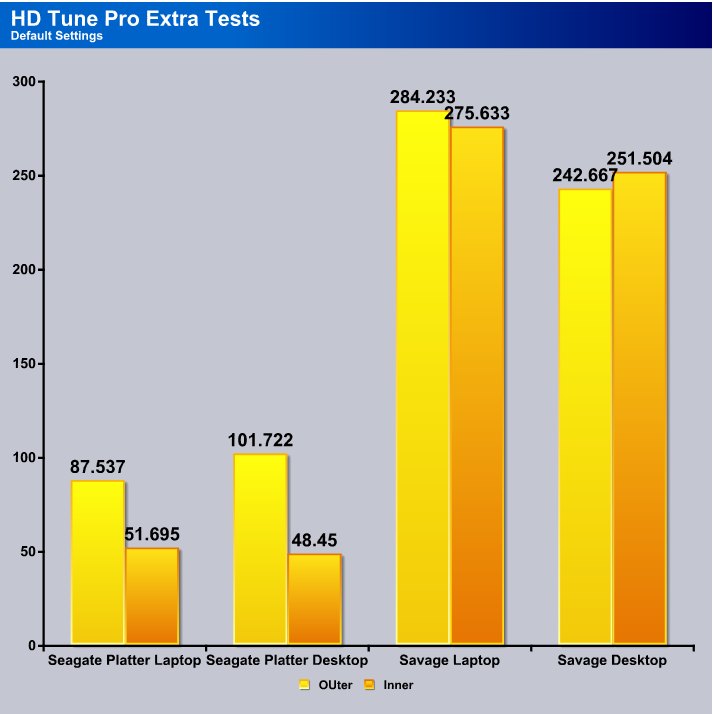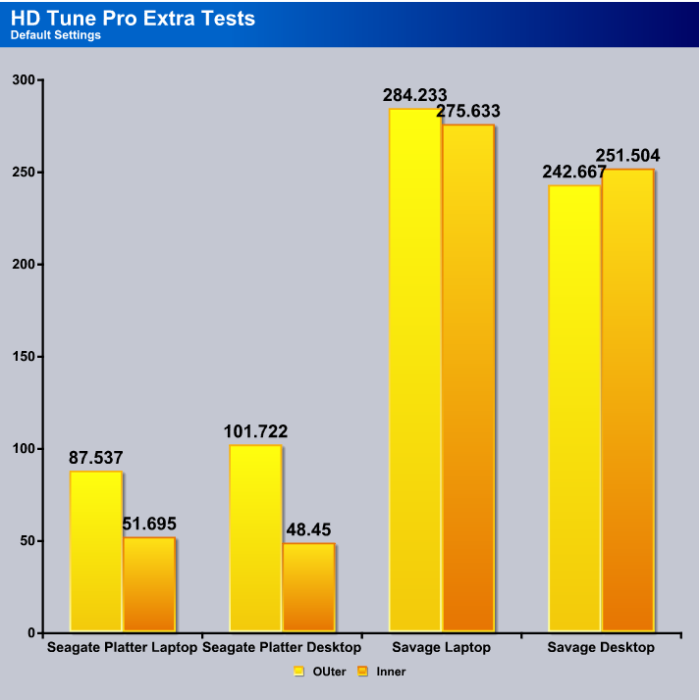 HD Tune Pro tells pretty much the same story that all the other benchmarks tell. The Seagate drive runs at 100MB/s or less on larger transfers and does horrible on smaller transfers. The Kingston HyperX Savage performs more than twice as fast.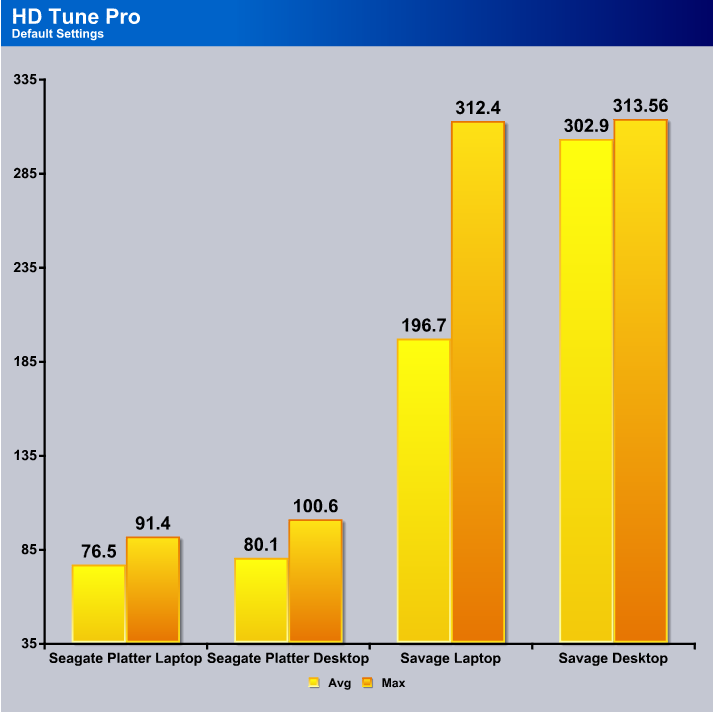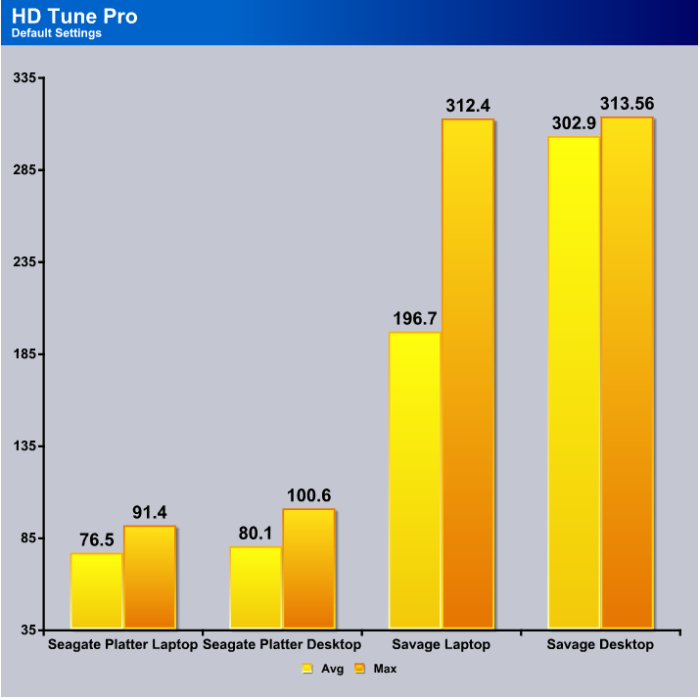 The Seagate platter drive hit 76.5MB/s average and 91.4MB/s max in the laptop. Put it in the desktop and it's 80.1MB/s average and 100.6MB/s max. Looking at the Kingston HyperX Savage 480GB SSD, the average in the laptop was 196.7MB/s and the maximum was 312.4MB/s. Put the Savage in the desktop test rig and it hits 302.9MB/s average and 313.56MB/s max.